Category archive:

Penn State Lady Lions
March, 24, 2012
03/24/12
3:21
PM ET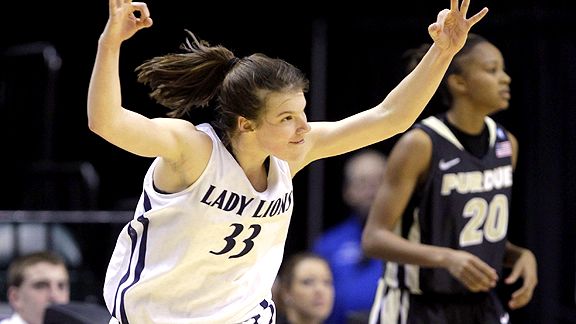 AP Photo/Michael ConroyMaggie Lucas has almost as many free throw attempts (170) as 3-point attempts (189) this season.
KINGSTON, R.I. -- Like a lot of sophomores coming off sensational freshman campaigns, Penn State's Maggie Lucas did a little less this season of that which made her so sensational the first time around. Unlike so many of her peers, it had nothing to do with suffering through any kind of sophomore slump or opposing defenses catching on to her tells.
In fact, doing less of what she did so well last season is the main reason Lucas could be such a headache for Connecticut in Sunday's Sweet 16 game (ESPN2/ESPN3, 4:34 p.m. ET).
Asked Saturday what impressed him most about Penn State's backcourt, Connecticut coach Geno Auriemma went first to the versatility of the Lady Lions, who start Lucas, Alex Bentley and Zhaque Gray in a three-guard lineup. That versatility exists collectively, as the combined skills of the three cover a lot of space on a scouting report. But it's also increasingly true individually for the team's leading scorer.
The best shooter in the Big Ten, Lucas has shed such a one-dimensional label.
She was a deadeye markswoman from the moment she arrived in State College. She shot 42.6 percent from the 3-point line and hit 112 3-pointers as a freshman, figures that ranked her fourth in the nation in 3-pointers per game and 11th in 3-point accuracy. But as impressive as the long-range efforts were, they also represented the bulk of her offensive contributions. More than 60 percent of her field goal attempts as a freshman were from behind the arc, and she shot nearly four times as many 3-pointers as free throws. When the long shot wasn't working or defenses took it away, as in a second-round NCAA tournament loss against DePaul in which she hit 1 of 11 shots, she and the offense suffered together.
One of the things Lucas and the coaching staff talked about during the recruiting process was her desire to play at the next level, a goal that both agreed would require broadening her game beyond her most obvious skill. So rather than rest on her freshman accolades or fall in love with the shot that earned them, a not uncommon development for good shooters, she focused on the rest of her game. The result has been less reliance on the 3-point shot -- Lucas is shooting fewer per game and has almost as many free throw attempts (170) as 3-point attempts (189). She is also averaging 4.7 rebounds, up from 3.1 per game as a freshman, and 2.8 assists, up from 1.6 per game last season.
"The growth in Maggie's game has enhanced our offense," said assistant Kia Damon, the team's de facto offensive coordinator. "Last year she was mostly a catch-and-shoot player and was able to get shots off of Alex's penetration or just people collapsing in on our posts. And what we recognized at the conclusion of last year was in order for her to continue to grow her game and [for] our overall transition game to continue to grow, putting the ball on the floor and getting her own shot was going to become a central part of it."
None of which diminishes the reality that Lucas remains one of the most efficient and prolific shooters in the sport, a player with the range and release to get shots against any defense. There are several good 3-point shooters among the quartet of teams in Kingston, but there is nobody quite like Lucas.
"When it leaves her hand, you don't really need to go rebound or box out," teammate Mia Nickson joked of her first impressions of her teammate's range when Lucas showed up as a freshman. "If you're on defense, go take it out, and if you're on offense, go ahead and start running back. It was just like automatic."
Connecticut has faced its share of standout shooters this season, players like Oklahoma's Aaryn Ellenberg, Louisville's Becky Burke and Duke's Tricia Liston, and has come away largely unscathed. UConn guard Caroline Doty, one of the Huskies tasked with defending perimeter talent, knows Lucas better than most. The two are friends and were former high school teammates in Pennsylvania. Doty knows, too, there aren't any shortcuts in taking away a shooter. Close to 40 minutes of hard work can easily be undone by a couple of slow closeouts or picks not eluded.
"Limit their shots or even the amount of times they touch the ball, always be aware of where they are on the court, know that you can't really help out on [the] off side as much as you want to, or as much as you can," Doty said, cataloging the defensive points of emphasis. "So in the sense of just being aware and staying focused where they are on the defensive end. And then just try to tire them down when we're on offense and they're on the defensive end."
Connecticut's defense usually dictates how opponents play. Rare is the player who can dictate the reverse. Lucas still has to prove she's someone who can do that against the kind of championship-caliber, suffocating defense she will face Sunday afternoon. But she's more prepared than ever before to take her shot at doing just that.
Mostly because her shot could come from anywhere.
January, 15, 2012
01/15/12
9:40
PM ET
Monday morning headline: Big Ten basketball is fun again.
As drama goes, the weekend in women's college basketball would merit at least a passing grade on Rotten Tomatoes. Perhaps the schedule didn't offer anything on the Oscar-worthy scale of Notre Dame beating Connecticut in overtime last weekend, or Kentucky edging Tennessee during the week, but thrills and spills were abundant.
On the heels of a big win at home against Maryland on Thursday, Miami earned a 60-57 victory at Florida State on Sunday when Stefanie Yderstrom hit a 3-pointer in the waning seconds to support Shenise Johnson's 24 points, six rebounds, four assists and four steals. Yderstrom hit 7 of 13 shots from behind the arc in the two wins.
[+] Enlarge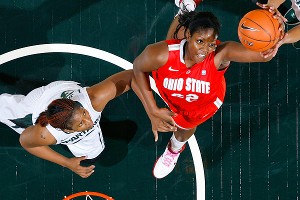 AP Photo/Al GoldisPurdue is unbeaten in Big Ten play, but Ohio State, Michigan State and Nebraska are right behind with 4-1 marks.
Rutgers rallied from a nine-point halftime deficit and held off Louisville in an overtime thriller, easily the biggest win of the season for a team that found itself in the top 10 with just one victory against a ranked team before Saturday's game.
Baylor needed only a half to dismantle Texas behind 32 points and 13 rebounds from Brittney Griner.
But for collective entertainment value, nothing topped the Big Ten. And that sentence has been a long time coming.
As painful as it is to write for someone who is at heart a Midwesterner, the Big Ten has been both boring and bad in recent seasons. At various times since Michigan State last represented the league in the Final Four, the Mountain West, Atlantic 10 or Colonial Athletic Association surpassed it in entertainment value -- and quite possibly in quality.
We won't really know about the quality part until March, when a league with two regional finals appearances and a 26-26 record in the past six NCAA tournaments tries to do something about those numbers. But Sunday offered hope that the race to be the best of whatever the Big Ten is will be worth watching in the weeks ahead.
Purdue, the league's stingiest defense, was at it again against Iowa. The Boilermakers (5-0) claimed sole possession of first place with a 57-53 win in which the Hawkeyes -- inconsistent but far from short on offense this season -- shot just 36 percent from the field. Only one team has reached 70 points against the Boilermakers this season (and curiously, for a team that played Duke, Notre Dame and Texas A&M, among others, it was Central Michigan).
At the other end of the pace spectrum in a game between teams in the top 25 nationally in scoring offense, Penn State evened the season series against Nebraska with a 93-73 road win in Lincoln that bunched up the standings with the Lady Lions at 3-2 and the Cornhuskers at 4-1. In two games, the teams combined for 300 points.
Right there with Nebraska in the one-loss club are Ohio State and Michigan State after the Buckeyes beat the Spartans 64-56 in East Lansing. As poorly as the Spartans played early -- and coach Suzy Merchant pulled out the word "soft" to describe her team's start -- they cut the lead to three points with a little more than five minutes to play. That's when Tayler Hill hit a momentum-crushing 3-pointer en route to 21 points on 8-of-12 shooting, the kind of shot All-Americans make on the road when games start to slip away.
And not too far off the radar, quirky Michigan overcame 28 points from Minnesota freshman Rachel Banham -- who looks at times like the next coming of a familiar Big Ten face, Katie Douglas -- to earn a 61-57 win behind 20 points from Rachel Sheffer and more turnover-free basketball from Jenny Ryan.
Contrasting styles, close games and emerging stars. The weekend didn't prove the Big Ten is ready to win a title again, but it showed it's worth the price of admission.

Johnson
Best individual performance:
Glory Johnson, Tennessee. It wasn't the most breathtaking line, but Johnson's 16 points, 13 rebounds and five steals in an 87-64 victory against Vanderbilt added up to the most impressive half of a senior tandem for the Lady Vols that hopefully isn't about to be separated for any length of time after Shekinna Stricklen sustained a knee injury late in the game (more on Stricklen from the
Knoxville News Sentinel
). A last-seconds loss at Kentucky midweek that ended Tennessee's 36-game SEC winning streak wasn't coming off the boards regardless of the outcome Sunday, so the challenge was to avoid letting that loss linger against a Commodores team capable of exploiting an opening. Just such a scenario was in play for much of the game's first 30 minutes, but thanks in large part to Johnson, Stricklen and fifth-year player Vicki Baugh (and, yes, a healthy dose of freshman Ariel Massengale), the Lady Vols were good enough early to be able to put the game out of reach with some inspired play late.
Best individual performance, below the radar: Lauren Lenhardt, Boise State. Three days after scoring 23 points to lead Boise State to a 65-46 victory against New Mexico, the first game in the Mountain West Conference for the Broncos, Lenhardt topped that effort with 29 points in an 81-75 win at Air Force, her team's first conference road game. The Broncos won a total of three conference games last season in the Western Athletic Conference, but they lead the MWC in scoring by more than six points per game this season behind Lenhardt, a 6-foot-3 junior averaging 13.8 points per game, and senior guard Kati Isham, averaging 15.6 points per game.
Best streak: Courtney Hurt, VCU. Hurt totaled 28 points and 15 rebounds in Virginia Commonwealth's 83-80 win against William and Mary. That's six games in a row for Hurt with at least 15 rebounds and 11 of 12 games with double-digit rebounds, propelling her to the national lead at 12.7 boards per game.
Best team performance: Saint Mary's (Calif.). The Gaels staked themselves to at least a share of West Coast Conference frontrunner status with a 66-63 road win against No. 23 Gonzaga, getting 18 points from Alex Carbonel, almost eight better than her season average. The result marked the first conference loss for Gonzaga since the 2008-09 season, ending the team's 34-game conference winning streak. Saint Mary's now owns wins against both Gonzaga and BYU this season and has lost just once in its past 10 games.
Best team not enough people are paying attention to: St. Bonaventure. More on the Bonnies in the days to come, but a 64-52 win against St. Louis moved them to 3-0 in the Atlantic 10 for the first time in program history, and 16-2 overall. With wins against Marist, Duquesne, St. John's, Temple and West Virginia, and losses against only Delaware and Villanova (the latter without second-leading scorer Megan Van Tatenhove, because of injury), St. Bonaventure has earned more support in the polls than it's getting at the moment. Seven days ago, before a midweek win at Temple and the weekend win against St. Louis, it received just one vote in the AP poll and none in the coaches' poll -- in which St. John's and West Virginia each received votes.
The week ahead
North Carolina at Connecticut (ESPN2, 7 ET Monday): The margin of victory for Connecticut in recent seasons makes it easy to forget that the Huskies claimed the all-time series lead for the first time last season. Despite a soft schedule, North Carolina turns over the ball 19.3 times per game. That's less of a problem when foes like USC-Upstate or Savannah State turn it over 20-plus times, but it is a big problem against teams that aren't physically overmatched, as in blowout losses against Penn State and South Carolina earlier this season. There aren't many imposing post players left on Connecticut's schedule, so a matchup against Clay Shegog is an important test for Stefanie Dolson. Of course, the same is true in reverse for Shegog, who has hit just 4 of 19 shots in three career games against the Huskies.
Rutgers at St. John's (Tuesday): Rutgers kicked off a potentially season-defining three-week stretch with an overtime win against Louisville on Saturday. Games loom against Connecticut, DePaul, Georgetown and Notre Dame before the Super Bowl. But St. John's had quietly been building up a head of steam of its own, including a win against Louisville on Jan. 8 and a win at Syracuse last week, before a setback against Marquette on Sunday. Neither team can afford to lose this one.
Duquesne at Temple (Wednesday): There's quite a crowd forming in the Atlantic 10 when it comes to NCAA tournament positioning. Five A-10 teams were ranked between Nos. 38-54 in last week's RPI, not including Temple at No. 66 or current league co-leaders Charlotte and La Salle. It's difficult to see the league getting more than one or perhaps two at-large bids (Charlie Creme had St. Bonaventure as the only at-large pick in his most recent Bracketology), so every game between contenders takes on the feel of something close to a playoff.
Baylor at Texas Tech (Wednesday): Baylor has lost two regular-season games since the start of last season. One defeat came in Hartford against Connecticut. The other came against Texas Tech in Lubbock on Feb. 19, 2011, a 56-45 setback in which the Lady Bears shot just 26 percent and were beaten on the boards. So far this season, only Tennessee beat Baylor on the boards in a game, and only Iowa State held the Lady Bears to anything less than 40 percent shooting. And yes, it's the last meeting in Lubbock between Griner and Lady Raiders senior Jordan Barncastle.
LSU at Tennessee (Thursday): Kentucky's trip to Georgia the same night might arguably be the bigger game in the SEC, especially after LSU's loss at Florida and Kentucky's win against South Carolina on Sunday, but Nikki Caldwell's first trip to Knoxville as an SEC coach stands out as a must-see game.
Loyola at Marist (Friday): Is this on the list because it's on ESPNU at 6 p.m. ET? Well, yes, now that you mention it. But the combination of a typically light schedule and television provides an opportunity to check in on one of the more familiar mid-major names. It's a longer list than the Red Foxes are used to, but there isn't a bad loss among setbacks against Villanova, Princeton, Boston University, Hofstra, St. Bonaventure and Kansas State. So push back the dinner reservation an hour and watch Red Foxes star Corielle Yarde.
November, 27, 2011
11/27/11
11:17
PM ET
Monday morning headline: New star, familiar fate for Duke
The headline this morning is Baylor's Brittney Griner taking over a game on a court where few opponents ever do so, turning in a second half against Tennessee that will echo from the Great Smoky Mountains to the Rocky Mountains.

Williams
But Mechelle Voepel was on hand to chronicle Baylor's victory in Knoxville, so top billing here goes to the weekend's other game between national championship hopefuls. Other than further confirmation that Natalie Novosel is clutch, this time hitting the winner at the buzzer, Notre Dame's 56-54 win against Duke in the Bahamas showed off a new star for the Blue Devils and a familiar struggle to score at the end of big games in which the team's defense did plenty.
Duke limited Notre Dame to 33 percent shooting from the floor, including just five assists on 18 field goals. And when Blue Devils freshman Elizabeth Williams scored to give her team a 53-51 lead with 2:44 to play, the prospects for a win looked good. After all, Williams was on her way to 16 points, 13 rebounds and seven blocks, not quite the 32 points, 14 rebounds and five blocks Griner totaled against the Fighting Irish a week ago, but ample confirmation, if any was needed, that Williams is the real deal. But the Blue Devils didn't score another field goal, a fitting conclusion for a second half in which they shot 19 percent from the floor.
Duke has the talent to compete for a championship. It has the defense to compete for a championship. The trust factor that teams like Notre Dame have earned on offense? Not yet.

Fussell
Best individual weekend performance: Chassidy Fussell, Texas. The Longhorns played their final game of the weekend in Hawaii after this entry was filed, but the first two efforts are enough to land Fussell in this spot. The sophomore opened the weekend with a career-best 30 points in a 79-53 rout of Virginia that knocked the Cavaliers from the ranks of the unbeaten. Her line wasn't quite as gaudy in Saturday's game against California, but she made the last of her 15 points count, scoring with 1:11 to play to give the Longhorns their first and only lead in a 61-60 win. One sign of growth for Fussell? Despite a cold start from the 3-point line this season (21.4 percent entering Sunday), she's shooting better overall from the field (46.5 percent to 40.1 percent as a freshman).

Best team weekend performance: Nebraska. Make it two wins in two attempts against ranked opponents for the Cornhuskers. Beating USC by 18 points in Lincoln a week before Thanksgiving was impressive, but Sunday's win on the road against No. 24 Florida State was arguably even better. In part that's because it came in Tallahassee, but also because it occurred without a big day from sophomore star Jordan Hooper, who put up 22 points and 13 rebounds against the Women of Troy but shot just 3 of 15 from the floor against the Seminoles (Hooper did get 21 points and eight rebounds in Friday's win against Florida A&M in the tournament hosted by Florida State). Still unbeaten, Nebraska gets a shot at Georgia Tech in Atlanta this week.

Beyond the headlines: Michigan starts strong. Nebraska wasn't the only Big Ten team (nope, still doesn't sound right) to make a case that it could be ranked heading into a big road game against an ACC opponent. Michigan is 7-0 for the first time since 1999 after winning the Paradise Jam by beating Prairie View A&M, Washington State and Marquette. It survived a scare in the first game before blowing out the Cougars by 30 points and the Golden Eagles by 20 points. Junior Jenny Ryan isn't scoring a lot of points, but with 32 assists, 13 turnovers, 42 rebounds and 25 steals in seven games, she's playing the kind of basketball that defines coach Kevin Borseth's style. The schedule so far has been heavy on teams from BCS conferences, albeit not those conference's strongest programs, but the Wolverines now need to show something as they move up in weight class to face Maryland this week and Iowa State this weekend.
Way beyond the headlines: Green Mountains turnaround. Don't start printing banners just yet, but Vermont deserves this much attention. The last most people heard of the Catamounts, Courtney Pilypaitis and May Kotsopoulos were confounding opponents and spellcheckers alike, beating Wisconsin in the first round of the 2010 NCAA tournament and holding their own against Notre Dame in the second round. The interim wasn't pretty. Coach Sharon Dawley left for Massachusetts and new coach Lori Gear McBride, left with a cupboard that was young if not empty, suffered through a 5-25 debut season that included a 95-38 opening loss at Nebraska and 15 consecutive losses before her first win.
Well, with Saturday's win against Texas Southern, the Catamounts are already 6-1 in Gear McBride's second campaign. The Canadian pipeline that runs through Burlington is still flowing with post Lauren Buschmann and guard Kristine Lalonde (although the latter missed both games on the Thanksgiving trip to Texas). Seton Hall transfer Shanai Heber leads the team in assists.
Bet you didn't know they're the Sugar Bears: Central Arkansas had a tough weekend in Texas, going 1-2 in the Texas Tech Classic, but full credit to junior Megan Herbert for reaching a milestone. Listed at just 5 feet, 11 inches, Herbert had 21 points and 13 rebounds in Friday's win against Louisiana-Monroe for her 50th double-double in 68 career games.
Setting the week to come (Monday-Friday)
North Carolina at Penn State (Wednesday): Penn State bounced back well after getting Delle Donned against Delaware, beating Iowa State and host Nevada over the holiday weekend, but a home game against the Tar Heels is their best chance to make a statement before conference play. Alex Bentley (1.21 assist-to-turnover ratio this season, down from 1.71 last season) will need to take care of the ball to avoid feeding the Tar Heels' transition game.
Florida State at Ohio State (Wednesday): Ohio State's Samantha Prahalis has a lot to prove this season without Jantel Lavender around, but credit where credit is due. Prahalis came up big in Sunday's win against a ranked LSU team, leading the Buckeyes with 28 points, eight assists and eight rebounds. With games Wednesday against Florida State and Sunday at Oklahoma, the stage is hers.
Delaware at Princeton (Thursday): You can have the ACC-Big Ten clashes; the best game of the week takes place in Princeton's Jadwin Gym. Delaware's Elena Delle Donne continues to be the best one-woman show this side of Brittney Griner, following up her 40-point effort in a win against Penn State with more typical (for her) lines of 22 points and nine rebounds in a victory against Villanova and 26 points and 18 rebounds against previously unbeaten St. Bonaventure. Meanwhile, unbeaten Princeton is beating some decent teams by double-digit margins, including Saint Joseph's, Villanova and Marist. Niveen Rasheed (17.7 points per game) isn't Delle Donne, but she's darn good.
Hartford at Marist (Thursday): This one is worth the price of admission just to watch Jennifer Rizzotti and Brian Giorgis coach, but it's also a meaningful test for a Hartford team off to a 5-1 start after beating TCU and Central Florida in the latter team's Thanksgiving tournament.
Miami at Michigan State (Thursday): Credit to Spartans coach Suzy Merchant for her willingness to even play road games at places like Florida Gulf Coast, but after losing that one and a neutral-site game against Villanova, this is Michigan State's best chance to regain some national footing. Likewise, for a Hurricanes team without any nonconference road wins of note in recent seasons, it's a chance to prove something in a tough road stop.
March, 19, 2011
03/19/11
12:01
PM ET
STATE COLLEGE, Pa. -- Penn State hadn't lost an NCAA tournament game at Bryce Jordan Center in eight previous attempts. It also hadn't lost an NCAA tournament game of any kind since 2005 -- because it hadn't played one, a streak of five consecutive March misses since losing to Liberty in the first round of that year's tournament.
[+] Enlarge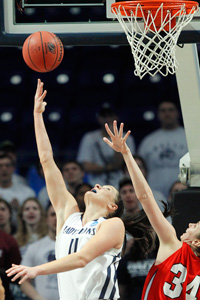 AP PhotoJulia Trogele and Penn State held off Dayton.
Only one of those streaks came to an end Saturday.
Here's a quick look at Penn State's 75-66 victory against Dayton, the first NCAA win for the Lady Lions since 2004.
Turning point: Trailing 65-63, Dayton had a pair of chances to tie the score in the final two minutes, but Penn State senior Julia Trogele came up big both times. On the first possession, Trogele tipped away a post entry that deflected off a Dayton player and out of bounds (one official initially ruled the ball off Trogele before reversing it on consultation with the far-side official). On the second possession, Dayton's Brittany Wilson missed a runner from the right side and Trogele pulled down the defensive rebound, leading to an Alex Bentley basket and a four-point lead on the other end.

Key stat: 1-for-6 FG. Dayton junior Justine Raterman, the team's leading scorer and a player who put up 32 points when the teams played in the regular season, never got going offensively and finished 1-for-6 from the floor. Coming into the game, Raterman said the knee she injured in the Atlantic 10 tournament was fine, but after hitting her first field goal attempt of the game, she didn't seem to have the normal quickness or confidence that makes her one of the best players in the country outside the six major conferences. Odds are neither Raterman nor Jim Jabir will make any sort of excuse because of the injury, but Dayton's best player clearly gave full effort on a less than fully healthy knee. Said Jabir postgame: "Justine's the toughest kid I've ever been around. I think there might be more damage in [the knee] than we think."
Key player: Alex Bentley. Penn State's point guard was more finisher than distributor on this night, and the Lady Lions needed all of her 18 points. Dayton did a nice job maintaining contact, literally and figuratively, with Penn State shooting sensation freshman Maggie Lucas, so Bentley had to become her team's primary scoring option. She was big in the first half with 14 points and came through with two must-have field goals down the stretch. Her final shooting numbers don't look efficient, but she played the role her team needed to perfection.
Miscellany: Dayton looked the more awake of the two teams when the game tipped at a few minutes after 11 a.m. ET, jumping to a 16-8 lead in the first five minutes, but the game turned as soon as Penn State's energy picked up. With Flyers starting point guard Patrice Lalor on the bench for a breather and her team up eight points, Penn State forced six turnovers in the span of two minutes, at the end of which it was in possession of an 18-16 lead. Dayton never really regained its rhythm in the first half, and by the time it made a run in the second half, Penn State had enough cushion to withstand it.
What's next: Penn State awaits the winner of third-seeded DePaul and No. 14 seed Navy. Barring a monumental upset, that likely means the Blue Demons. Penn State is 4-0 all time against the team from Chicago, including 2-0 at home, but given that many of the players weren't walking the last time the teams played in 1992, history won't mean much.