Category archive:

Marist Red Foxes
March, 18, 2012
03/18/12
5:27
PM ET
The master of the mid-majors, Marist coach Brian Giorgis did it again.
A day after Green Bay and Gonzaga booked appearances in the second round, No. 13 seed Marist extended its own run of postseason success with a 76-70 victory against fourth-seeded Georgia. It's Marist's second win in the past six tournaments as a No. 13 seed, meaning it's responsible for a third of all such wins since the field expanded to 64 teams. The last time it happened, in 2007, the Red Foxes didn't stop there, winning a second-round game to reach their first Sweet 16.
Doing more with less has become a way of life for Marist in March.
[+] Enlarge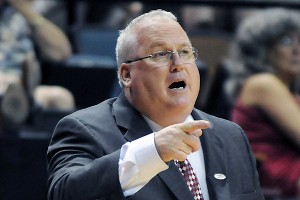 Melina Vastola/US PresswireBrian Giorgis and Marist now meet fifth-seeded St. Bonaventure on Tuesday.
No program beyond the borders of the ACC, Big 12, Big East, Big Ten, Pac-12 or SEC has a longer active streak of consecutive NCAA tournament appearances than the Red Foxes, who are in the midst of their seventh trip in a row. They are 5-6 in those games, a remarkable record of success considering they were the lower seed on all but one occasion (a 76-57 win as the No. 7 seed against DePaul in 2008, the only season in the streak Marist wasn't a double-digit seed).
In fact, if not for an injury that knocked the team's best player, Erica Allenspach, out of action early in a second-round road game against Duke last season, that NCAA tournament record might be .500 or better. The Red Foxes lost that game by just five points, despite having the MAAC Player of the Year for just 13 minutes.
But Giorgis doesn't need what-ifs to make his case. Year by year, the evidence keeps accumulating to make the case that he's one of the best coaches in the country for a simple reason.
Players get better at Marist. It's why the players bigger schools didn't want keep beating those schools in March.
Corielle Yarde (21 points, eight rebounds) and Brandy Gang (18 points) provided two more compelling statements against Georgia.
As Giorgis would be the first to point out, the Red Foxes beat Ohio State in the first round and Middle Tennessee in the second round in 2007 because they had pieces like a veteran point guard in Alisa Kresge, a versatile forward in Meg Dahlman and a freshman just scratching the surface of her talent in Rachele Fitz. They beat DePaul the following season because Fitz had emerged as a bona fide star. They advanced to the second round last season, the first without Fitz, because Allenspach emerged as a cornerstone to lead them through the campaign.
It's always about having the right players for the moment for Giorgis; it's just that those players keep changing.
And so it is that they beat Georgia in no small part because Yarde and Gang emerged as reliable assets after a 5-6 start to the season that included losses against NCAA tournament teams Princeton, St. Bonaventure and Kansas State.
Yarde built toward her role for four seasons. A gifted athlete (just 5-foot-8, she has 31 blocks this season), she served an apprenticeship behind Fitz and Allenspach and inherited the go-to role well prepared for it. As recently as last season, Gang shot 43 percent the floor and averaged essentially eight points and four rebounds per game. To be sure, she played a valuable role behind Allenspach and Yarde, but it wasn't one that necessarily suggested she would be a key figure in a tournament win against Georgia. But after shooting 53 percent from the field and 40 percent from the 3-point line in conference play this season, supplanting Yarde as the leading scorer in MAAC play, she excelled on the biggest of stages Sunday in Tallahassee.
Were that to happen once, it might have nothing to do with coaching. For it to happen again and again, player after player finding her way in Giorgis' system, is more than chance.
If Ohio State coach Jim Foster, who complained bitterly about his team's seed and then went out and lost to a lower seed yet again, wants a real test, he ought to walk a season in Giorgis' shoes. Your opportunity in March is what you make of it, just as your players are what you make of them. Nobody does that better than Giorgis.
November, 30, 2011
11/30/11
12:10
PM ET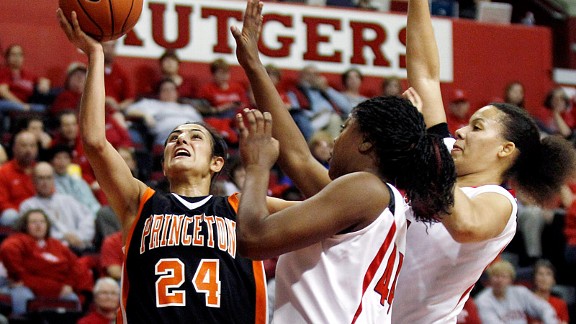 AP Photo/Mel EvansNiveen Rasheed and Princeton play Delaware on Thursday in a mid-major showdown between unbeatens.
1. Gonzaga (4-1)

The No. 1 team holds down that spot in part because of its lone loss, not despite it. Gonzaga dropped a 76-61 decision at Stanford on Nov. 13, but in leading the Cardinal at halftime in that game and looking like they belonged all game, the Bulldogs again showed that they're playing with major talent at the mid-major level. But that only goes so far. Three more significant tests remain on the nonconfernece schedule, beginning with a visit from USC this Sunday, and neither that game nor neutral-site games against Georgia and Dayton come with credit for moral victories.
2. Green Bay (5-0)

The Phoenix extended their regular-season winning streak to 25 games with two victories in Puerto Rico over the holiday weekend. Taking care of business in an 82-62 win against Illinois was a good opening act -- Green Bay should beat Illinois, and it didn't dawdle in taking a 38-25 halftime lead and shooting 50 percent for the game. But the big victory came against No. 25 Georgia Tech. Down 54-48 with 1:24 to play, Green Bay forced overtime on an Adrian Ritchie 3-pointer with two seconds remaining, and then came back from five down in the extra period to win, 67-62. Julie Wojta (20.8 points, 9.0 rebounds, 3.4 assists and 3.4 steals per game) remains as underrated a player as there is in the top 25.
3. Delaware (4-0)

A season ago, Delaware was a middling team with a magnificent player. So is jumping them all the way to No. 3 an overreaction to a few good, early wins? Perhaps, and Thursday's game against Princeton is as meaningful a mid-major showdown as the calendar offers. But this team appears to be more than just Elena Delle Donne (whose 40-point performance in a victory against Penn State is the early frontrunner for game of the year). The biggest statistical difference for the Blue Hens comes from Florida transfer Trumane Lucas. Through four games, she has 15 assists and nine turnovers for a team almost even in assist-to-turnover ratio. A year ago? Try 297 assists and 568 turnovers.
4. Princeton (6-0)

It's worth noting that Delaware started out last season with five wins in a row before an 18-point loss at home to Princeton derailed things. The Tigers look every bit as good this season, if not better. Coming off last season's knee injury, Niveen Rasheed is averaging 17.7 points and 8.2 rebounds per game, including 19 and 12 in a victory against Villanova and 18 and 11 in a win against Marist. And for a team that shot better than 40 percent from the 3-point line a season ago, it's worth noting the strong start this season comes despite little success from the new line.
5. San Diego State (4-1)

Courtney Clements is making an early case for Mountain West honors, all-mid-major honors and just about any other accolade you can come up with. The Arizona transfer is averaging 19.2 points per game in her second season with the Aztecs, shooting 47.9 percent from the floor and 44.8 percent from the 3-point line. She matched Keisha Hampton nearly point for point in a victory against DePaul in Hawaii, and did it without turning the ball over in 37 minutes. A loss to Portland in that tournament keeps San Diego State from climbing higher, but a win at home against Washington on Nov. 26 was a nice recovery.
6. Florida Gulf Coast (3-1)

The season began with a missed opportunity in a 57-51 loss at Seton Hall, but if not exactly a threat in the Big East, Anne Donovan's team is perhaps no longer a mere speed bump. And the Eagles made up for that Seton Hall result with a 59-58 win against Michigan State the week before Thanksgiving behind 20 points and 13 rebounds from Sarah Hansen. Like more than a few markswomen, Kelsey Jacobsen is off to a slow start from the 3-point line, whether or not it's related to the new distance. But well-regarded freshman Whitney Knight is filling the void (5-of-11).
7. Oral Roberts (5-1)

A loss at home against Missouri State over the weekend was the first bit of bad news this season for Oral Roberts, which couldn't stop Casey Garrison. But that doesn't erase the positives of double-digit wins on the road at Wisconsin and at home against Louisiana Tech. As might be expected, Kevi Luper is scoring, hitting for at least 22 points in every game until the Missouri State loss. But Luper also has 12 assists, no small matter for someone who had 29 assists in 34 games a season ago. Road tests at Arkansas and Kansas remain before Christmas.
8. Northern Iowa (4-1)

It's difficult not to imagine what might have been had Jacqui Kalin stayed healthy, but Northern Iowa isn't letting the preseason loss of the reigning Missouri Valley Conference Player of the Year stop it. Other than a four-point loss to Iowa in a game it led with 36 seconds to play, Northern Iowa has steamrolled to wins by an average of 19 points per game. A different player led the team in scoring in each of the wins, a good way to make up for losing one great player. Rachel Madrigal looks positively Kalin-like in averaging 15.4 points, 4.6 rebounds and 3.1 assists per game while shooting 54.9 percent from the floor and 44.8 percent from the 3-point line.
9. Tulane (5-1)

The Green Wave are well on their way to claiming in-state bragging rights with a 4-0 record against Louisiana teams. The biggest of those, of course, was a 65-62 overtime win against LSU on Nov. 19. The Green Wave committed 24 turnovers in that game, but they beat the Lady Tigers on the boards -- freshman Adesuwa Ebomwonyi is averaging five offensive rebounds per game, forming a formidable partnership on the glass with veteran post Brett Benzio.
10. Temple (2-4)

Yes, that's a 2-4 record, and yes, fans of UC Davis, UTEP, James Madison and a host of other unbeaten teams are free at this point to grumble. The Atlantic 10 has been a mystery to this point. In terms of talent, Temple, Duquesne and Dayton still look like locks to make this list by the end of the season. But they also have eight losses between them (Duquesne's only on the hook for one of them, but it was at North Dakota). Temple stays and the other two go for now. That's mostly because aside from an inexplicable loss against Northern Illinois, Temple has taken its turn against worthy competition and held its own. The Owls trailed Ohio State and St. John's by two points in the final minute and Texas A&M by four points with less than three minutes to play.
Next five: Duquesne, UC Davis, Hartford, Marist, James Madison.
November, 10, 2011
11/10/11
3:43
PM ET
The mid-major top 10 returns with the same ground rules. All conferences beyond the BCS six (ACC, Big 12, Big East, Big Ten, Pac-12, SEC) qualify for consideration.
1. Gonzaga
No, Courtney Vandersloot didn't gain additional eligibility. But just as Tennessee won a football national championship the season after Peyton Manning exited, Gonzaga isn't doomed without its All-American. Depth is the reason the Bulldogs will be fine. Few teams in any conference have size like the Bulldogs do in 6-foot-3 sophomore Stephanie Golden, 6-4 freshman Sonja Greinacher (a German youth international who coach Kelly Garves went head-to-head with Louisville to land) and 6-5 freshman Shelby Cheslek. Instant eligibility for Kansas State transfer Taelor Karr is a big backcourt plus.
Key player: Kayla Standish. Seniors Standish and Katelan Redmon give the Bulldogs two established stars, but that doesn't mean Standish, a 6-2 former prep high jump champion, is anywhere close to hitting her ceiling just yet. She's a 20-10-3 (points-rebounds-blocks) threat every time she steps on the court.
Key games: Playing at Stanford on Nov. 13 is the attention grabber, but back-to-back December games against Georgia and Dayton in Las Vegas are the real proving ground.
2. Temple
With just more than 12 minutes to play in its second-round game last season, Temple was within five points of Notre Dame. The Fighting Irish went on a run that carried them all the way to Indianapolis, and the Owls went home, but Tonya Cardoza has taken what Dawn Staley turned around and continued crafting a nationally relevant program. A full season of Hofstra transfer Joelle Connelly inside to complement 6-4 Victoria Macaulay means one more way for Temple to frustrate the heck out of opponents defensively.
Key player: Kristen McCarthy. Point guard Shey Peddy drives the Owls, but she needs a partner. McCarthy's shooting efficiency slipped last season, but she's a do-everything forward.
Key games: There is no shortage, including defending champion Texas A&M in the Bahamas and Duke at home on Dec. 30. Road games against Ohio State and Rutgers are also important tests.
3. Dayton
Preseason scrimmages are usually fool's gold. Consider Justine Raterman's 10 points in a recent Dayton scrimmage the exception to that rule. Reports early this fall were Raterman was on the leading edge of the typical timeframe for rehabbing a torn ACL, an injury she suffered in last season's NCAA tournament, and her presence on the court in the scrimmage seems to confirm as much. With Raterman, an elite player when healthy, alongisde underrated point guard Patrice Lalor, shot-blocking center Casey Nance and freshman Ally Malott, Dayton has Sweet 16 talent.
Key player: Malott. It's a lot to put on a freshman, but McDonald's All-Americans/Under-18 national team players are rare at this level, even for the semi-major A-10. The Ohio native is a 6-4 talent with an all-court game.
Key games: A trip to Connecticut over Thanksgiving break jumps off the page, but games against Boston College, Illinois and Gonzaga in about a two-week span in December might be more useful measures.
4. Green Bay
Like Gonzaga, Green Bay is eager to prove once-in-a-generation players don't mean once-in-a-generation success. Celeste Hoewisch and Kayla Tetschlag are gone, taking a lot of on-court production and even more leadership with them from a team that reached the Sweet 16 and lost just twice all season. But five of seven rotation players return for a program that, at least statistically, doesn't rely on the individual. With senior Hannah Quilling and juniors Lydia Bauer, Adrian Ritchie and Hannah Quilling around, ball possession and 3-point shooting will remain strengths.
Key player: Julie Wojta. You don't survive as a 6-foot post without being versatile, but Wojta thrives in that role by taking versatility to new levels. She led the Phoenix in assists, defensive rebounds and blocks. A quiet presence, at least in comparison to Tetschlag and Hoewisch, leadership is the next thing she'll be asked to provide.
Key games: Playing Illinois and Georgia Tech in Puerto Rico is the best test against top competition, although the Dec. 23 game at Wisconsin has meaning after the offseason coaching carousel.
5. Florida Gulf Coast
Finally eligible for the NCAA tournament after completing the transition to Division I, Florida Gulf Coast might not waste much time availing itself of the new opportunity. Five of the six main rotation players return from a team that went 28-4 a season ago, including leading scorer Sarah Hansen and 3-point wizard Kelsey Jacobson. Newly eligible Oregon State transfer Brittany Kennedy and a freshman class highlighted by top-100 signee Whitney Knight and Greek foward Anthi Chatzigiakoumi suggest depth won't be an issue.
Key player: Courtney Chihil. Any 5-8 player who leads a team in rebounding (5.8 per game) and leads a conference in assist-turnover ratio (1.89) is worth singling out for attention. The one rotation loss, Shannon Murphy, was a big one, but Chihil could soften the loss. She does everything else.
Key games: It isn't the biggest BCS opponent, but a road game at Seton Hall to open the season is a start and sets the stage for a Nov. 19 showdown at home against Michigan State.
6. Duquesne
If you're starting to sense that the Atlantic 10, even with Xavier in rebuilding mode, is on another level, you're right. The third A-10 entry in these rankings missed the NCAA tournament a season ago, but won 24 games, beat Ohio State in Columbus and advanced to the third round of the WNIT. Momentum is building for coach Suzie McConnell-Serio. Five players averaged between 8.2 and 12.6 points per game last season, and four of them return, two of them as mere sophomores. A fifth returnee, guard Jocelyn Ford, averaged 4.9 assists and 4.5 steals per 40 minutes.
Key player: Alex Gensler. Sophomores Wumi Agunbiade and Orsi Szecsi are the potential stars with unlimited ceilings, but Gensler is the senior who grabbed a starting spot as a freshman and carved out a heck of a career. A proficient shooter, she's also the kind of player who will be interesting to track as she adjusts to the new 3-point line.
Key games: Duquesne is setting itself up to miss out on NCAA at-large consideration with a weak nonconference schedule, but the final two weeks of December will include West Virginia and Pittsburgh and could include Florida.
7. Marist
They lost consummate point guard Alisa Kresge and went back to the NCAA tournament. They lost all-time leading scorer Rachele Fitz and went back to the NCAA tournament. Now they lose MAAC Player of the Year Erica Allenspach. And yes, they should go back to the NCAA tournament. Coach Brian Giorgis still has Corielle Yarde, the team's leading rebounder at 5-8 and on Allenspach's heels in just about every other category, and a lot of rotation players who gained experience as freshmen and sophomores last season.
Key player: Kristina Danella. The Massachusetts transfer is eligible after sitting out last season and should play a big role. A 6-1 forward, Danella averaged 11.6 points and 5.6 rebounds as a sophomore at UMass and has 3-point range.
Key games: An early road trip to Princeton makes for an interesting mid-major clash, but the high-profile tests come around Christmas against Auburn (on a neutral court) and when Kansas State comes to Poughkeepsie on Dec. 29.
8. Oakland
South Dakota State proved it's possible for Summit League teams to wedge their way into the national conversation. Oral Roberts is the obvious choice to follow suit this season, but Oakland's defense and ball control could win the day. Led by junior forward Bethany Watterworth (17.9 points per game), the top five scorers return from an Oakland team that won 20 games, led the Summit in field goal defense and finished with a positive assist-turnover ratio last season. Center Brittany Carnago gives the Grizzlies a 6-4 shot-blocking presence few mid-major teams have.
Key player: Watterworth. Mid-major teams can't afford a lot of one-dimensional players, and Watterworth is the kind of all-around star that shines in leagues like the Summit. She averaged nearly a block and steal per game last season, led her team in assists and 3-pointers and finished second in rebounding.
Key games: They won't be long road trips, but bus rides to play Michigan State on Nov. 27 and Purdue on Dec. 20 will give the Grizzlies a chance to compete with the best in the region.
9. Oral Roberts
If nothing else, Oral Roberts is going to be fun to watch. But with five starters and the Summit League's top reserve returning from a team that won a pair of WNIT games, there should be plenty else besides entertainment. The Golden Eagles run, averaging 84.4 points and forcing 23 turnovers per game last season. National scoring and steals leader Kevi Luper (23.7 points per game, 3.7 steals per game) is the embodiment of the team's philosophy.
Key player: Jaci Bigham. Luper is clearly the star of the show, but her backcourt partner since both arrived as freshmen is the X factor. Bigham shot 42.5 percent on 233 3-point attempts as a freshman. That dipped to 31.5 percent on 143 attempts last season, as Jordan Pyle became a bigger part of the offense. Bigham also played through an ACL tear at the end of the season, proving her toughness but delaying the start of her rehabilitation.
Key games: It's a schedule built for a veteran team. The first weekend includes a trip to Wisconsin, and road trips to Houston, Arkansas and Kansas follow, along with home games against Missouri State and Louisiana Tech.
10. Princeton
A season can hardly be considered a missed opportunity when it ends with an Ivy League championship and another trip to the NCAA tournament, but Princeton's chance to be a real March sleeper undeniably went by the wayside when leading scorer Niveen Rasheed suffered a season-ending knee injury after 12 games. If she's back to 100 percent alongside three other returning full-time starters and the player who took her place in the starting lineup, the Tigers once again have the look of a team that could exceed the typical Ivy profile.
Key player: Lauren Edwards. Rasheed is obviously a key player, but she's not alone. Princeton won't have Addie Micir, the team's leader in assists and 3-pointers last season. That makes Edwards, a 6-foot guard coming off back-to-back All-Ivy selections, all the more important in both distribution and long-distance shooting.
Key games: In addition to the game against Marist, Princeton welcomes Delaware and DePaul to Jadwin Gym, in addition to a monumental road game at Stanford and more manageable ones at Drexel and Hofstra.
Next five
11. Saint Joseph's: The Hawks return all five starters and 95 percent of the scoring from a team that went 20-12 and reached the second round of the WNIT. Five regulars had more assists than turnovers for a ball-control team.
12. Missouri State: It hurts losing Tia Mays, who left the program after averaging six rebounds and three blocks per game in her lone season, but Missouri State returns four starters. Senior Casey Garrison is going for a second MVC player of the year award.
13. Chattanooga: The Mocs should be back after missing the postseason (NCAA or WNIT) for the first time since 1999. Leading scorer Whitney Hood (18.8 ppg), shooter Kayla Christopher (41.2 percent on 3-pointers) and playmaker Tenisha Townsend (3.7 assists, 1.71 assist-turnover ratio) return.
14. Delaware: They have one of the 10 or 15 most talented players in the country, and a returning cast that held its own when that player, Elena Delle Donne, was injured for part of last season. But a team that totaled 297 assists against 568 turnovers still needs to prove it's at least the sum of its parts.
15. TCU: A talented freshman class and Iowa State transfer Whitney Williams will help replace Helena Sverrisdottir and Emily Carter, but losing Starr Crawford for the season with concussion-related issues is a big blow.
February, 16, 2011
02/16/11
12:52
PM ET
1. Xavier (21-2, 10-0 Atlantic 10)
There's still a home game against Duquesne, but it looks increasingly like a second consecutive season of A-10 perfection for the Musketeers will come down to the finale at Temple on Feb. 27. Amber Harris and Ta'Shia Phillips get plenty of attention, and deservedly so, but Special Jennings is having an extraordinary senior season. She leads the conference in assist-to-turnover ratio for a team quietly in the back in that category. With conference perfection on the line, she came up with 19 points and eight assists in a 70-66 overtime victory at Dayton on Feb. 5.
2. Green Bay (24-1, 13-0 Horizon League)
A season ago, Green Bay endured a lost weekend in Chicago. This year, it opened the second half at Illinois-Chicago on Feb. 10 with a 19-2 run en route to an 81-50 victory. Two days later, it led Loyola 42-8 at one point in the first half. And those results came on the heels of an 84-25 victory against Youngstown State in which a first-half shutout appeared to be in play. The Phoenix are playing too well not to bump them up to second, and Xavier shouldn't get too comfortable in the top spot. Celeste Hoewisch was slighted in the Naismith midseason top 30 released recently, but the senior pulse of the team is shooting 48.8 percent from the floor, 43.8 percent from the 3-point line and 81.6 percent from the free throw line.
3. Marist (23-2, 14-0 MAAC)
It must be nice when winning by double digits constitutes a close call, but Marist has come up with some closer-than-usual victories of late, including an honest-to-goodness nail-biter in a 54-52 win at Fairfield on Feb. 6. That said, the Red Foxes are still winning by an average of 17 points per game, setting up a closing stretch in which three of their final four opponents own winning conference records. Marist's overall 3-point shooting has actually tailed off slightly in conference play, making freshman Leanne Ockenden (44.1 percent from behind the arc in MAAC play) potentially that much more useful off the bench down the stretch.
4. Gonzaga (22-4, 10-0 WCC)
Courtney Vandersloot keeps moving up the charts. The senior recorded career assist No. 1,000 against Pepperdine on Feb. 12, becoming just the fourth player in NCAA history -- and the first since 1995 -- to reach quadruple figures. The senior has either scored or assisted on 49 percent of the team's field goals this season. A home game against second-place Saint Mary's looms at the end of the month, but all that otherwise stands between the Bulldogs and a spotless conference record are games against three of the four teams with losing records in WCC play.
5. Temple (19-6, 10-0 Atlantic 10)
The Owls have knocked off Duquesne and St. Bonaventure on the road in the past two weeks, leaving an intra-city trip to Saint Joseph's as the toughest remaining test away from home. Shey Peddy is four rebounds shy of leading the team in points, assists, steals, free throw attempts and rebounds. She does have some ground to cover if she wants to catch Victoria Macaulay for the lead in blocks, so the 5-foot-7 star in her first season in Philadelphia is at least mortal. Even with a potential rematch looming a week later in the conference tournament in Lowell, Mass., the finale against Xavier shapes up as one of the season's most interesting games.
6. Houston (20-4, 11-0 Conference USA)
Houston owns a four-game lead with five to play in Conference USA, so there isn't much math to do in working out the magic number to clinch a title. As always, it's worth noting the team is 19-2 with Courtney Taylor in the lineup. Why is it worth noting? Consider Taylor's 21 points, 18 rebounds, three steals and two blocks on the road against Tulane on Feb. 6. After shooting 39.2 percent in nonconference games, Houston is up to 41.7 percent in league play.
7. Louisiana Tech (18-5, 10-0 WAC)
It has taken five overtimes, including four in two games against Fresno State, but Louisiana Tech is still unbeaten in the WAC. The Lady Techsters lead the league in scoring offense during conference play and have hit at least 85 points in each of their past four games. Points per game is the only major team category Tech leads the league in during conference play, but where other contenders have weak spots the Lady Techsters are near the top in every major category (scoring margin, field goal offense, field goal defense, assist-to-turnover ratio, 3-point offense, etc.).
8. Northern Iowa (19-5, 12-1 Missouri Valley)
The winning streak is at 11 games in conference play for the Panthers, who took a big step toward winning the regular-season title and proving themselves relevant beyond the league by beating Missouri State on the road on Feb. 6 and turning around to beat Creighton at home on Feb. 10. Lizzie Boeck had double-doubles in both victories, while Jacqui Kalin scored 44 points and got to the free throw line 23 times. Northern Iowa now faces three road games in nine days, but those games come against the three teams at the bottom of the standings.
9. James Madison (19-6, 12-1 Colonial)
After starting the season 5-5, including losses against Hampton and Monmouth and a pair of overtime victories against Montana and Central Florida, James Madison heads toward March on firmer ground. Wins at home against Old Dominion on Feb. 6 and at Virginia Commonwealth on Feb. 10 put the Dukes out in front in the conference race, although difficult road games remain at Delaware and Hofstra before a home finale against third-place UNC-Wilmington. Boston College transfer Lauren Whitehurst is averaging 8.1 rebounds per game in CAA competition, compared to 4.9 per game prior to conference play.
10. TCU (17-8, 9-2 Mountain West)
TCU trails BYU by a game in the standings, but in a top-heavy league, the Horned Frogs are 3-0 against the only other two teams with winning conference records. The defending champions put a curious two-game slide against New Mexico and Air Force behind them with recent victories against third-place Wyoming, UNLV and San Diego State. Helena Sverrisdottir played 93 minutes combined in those games and turned over the ball a grand total of once.
Next five: Middle Tennessee, Charlotte, Dayton, BYU, Toledo
February, 2, 2011
02/02/11
12:45
AM ET
1. Xavier (17-2, 6-0 Atlantic 10)
The Musketeers appear to be in cruise mode, in the best sense of the term, in the Atlantic 10. They face a challenging two-game road swing this weekend at Dayton and Richmond, but they've won all three of their conference road games to this point by 20-plus points, including an impressive 82-61 victory at Charlotte last week. As much as Xavier returned this season, starting with Amber Harris and Ta'Shia Phillips, it lost a key piece in April Phillips. But in conference play, particularly recently, senior Megan Askew has given Xavier the same rebounding presence April Phillips provided. She's averaging seven rebounds per game over the past five contests.
[+] Enlarge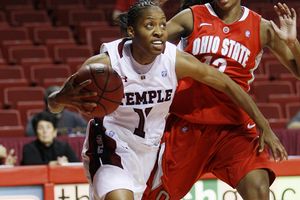 AP Photo/Matt SlocumLike Xavier, Shey Peddy and the Temple Owls are 6-0 in the Atlantic 10.
2. Marist (19-2, 10-0 MAAC)
It's a sign things are going well when you beat the second-place team in your conference by double digits and face questions about what went wrong. That was the case for Marist after a sloppy second half in a 62-52 victory at home against Loyola. Including that win and a subsequent 70-41 victory at Rider, the Red Foxes have won nine games in a row by double figures and haven't allowed more than 52 points since Jan. 2. And if the game against Loyola wasn't pretty, it did reinforce just what kind of player Erica Allenspach is. With her team needing the production, she totaled 22 points on 9-of-10 shooting with 6 rebounds, 3 assists and 1 turnover.
3. Green Bay (20-1, 9-0 Horizon)
Green Bay put together about as complete a performance as a team can in demolishing rival Wisconsin-Milwaukee 87-39 on Jan. 22 and promptly dropped a spot in both Top 25 polls the following week. But beyond that puzzler, Green Bay passed what looks like its toughest test in the Horizon League with a 66-62 victory at previously unbeaten Butler. With 3-point shooter Adrian Ritchie still out of the lineup with a knee injury, do-everything guard Celeste Hoewisch lived up to that label by hitting 6 of 8 shots from the 3-point line in the two-game swing through Butler and Valparaiso.
4. Gonzaga (19-4, 7-0 WCC)
A 70-49 victory at San Diego on Saturday more or less qualifies as a close call for Gonzaga; the Bulldogs' past four wins came by an average margin of 30.8 points, including a 106-77 victory at Saint Mary's, purportedly Gonzaga's chief competition in the WCC. Courtney Vandersloot totaled 45 assists in four games since these rankings last appeared. And Janelle Bekkering, a key complementary piece for any postseason run, hit 14 of 23 shots in the same span. What hurdles remain don't seem likely to trip the Bulldogs (especially prep hurdler Kayla Standish); Gonzaga plays five of its final seven conference games at home, with only a road swing to last-place San Francisco and sixth-place Santa Clara interrupting the stretch.
5. Temple (15-6, 6-0 Atlantic 10)
As well as Xavier is playing, it can't claim to be the only unbeaten team in the Atlantic 10. Unbeaten Temple gets a test Saturday at Duquesne, but it added an impressive 84-56 home victory against Richmond to its profile on Saturday. Wright State transfer Shey Peddy seems to be coming into her own in conference play. Through six league games, Peddy leads the team in free throw attempts, assists and steals, owns a two-to-one assist-to-turnover ratio and is averaging 14.3 points per game, up from 12.1 out of conference. Perhaps not coincidentally, Kristen McCarthy's shooting percentages are also up noticeably in A-10 play.
6. Duquesne (18-3, 5-1 Atlantic 10)
A home loss against Richmond on Jan. 19 put a slight damper on Duquesne's rise, but the team bounced back to win the games it should against La Salle, George Washington and Fordham over the past two weeks. That sets up an opportunity to follow up earlier road victories at Ohio State and Dayton with a big home meeting with Temple this weekend. The game against the Owls will be a matchup of guards on the rise, with Duquesne's Vanessa Abel squaring off against Peddy. A stat-stuffer in everything but points prior to conference play, Abel is averaging 11 points per game in A-10 competition.
7. Louisiana Tech (15-5, 7-0 WAC)
A familiar name makes its first appearance. Louisiana Tech got off to a slow start this season without Shanavia Dowdell, but the past month has been a major success. After a victory against Georgia and narrow loss against Marquette in Miami just before New Year's, Tech opened 2011 with a win against Southern Miss and seven victories in a row in WAC play, including a triple-overtime win at Fresno State on Jan. 13, a 24-point victory against Nevada on Jan. 24 and a successful swing through Idaho this past weekend. All of which sets up Saturday's rematch with Fresno State. Adrienne Johnson ranks first in scoring, fifth in rebounding and third in steals in the WAC.
8. Houston (17-4, 8-0 Conference USA)
It's almost worth noting above that Houston is also 16-2 with Courtney Taylor in the lineup. Then again, Houston was also 36 seconds from being 16-5 overall. Down six points with that much time remaining on the clock in Sunday's game against SMU, Houston scored 11 points in a row for a 72-67 victory. A two-time member of the Conference USA all-defensive team, Taylor might have to fend off a challenge from within this season. Teammate Lesslee Mason had five blocks and three steals against SMU and is averaging 8.9 rebounds, 2.1 blocks and 2.2 steals per game.
9. Dayton (14-7, 5-2 Atlantic 10)
February is a short month, but it's going to offer more than enough to prove once and for all what Dayton is this season. The fun starts Wednesday with a trip to St. Bonaventure, never an easy trek and never an easy team to play. That sets up Saturday's rematch with Xavier after the Flyers pushed the Musketeers to the wire in Cincinnati on Jan. 9. And if that's not enough, trips to Charlotte and Temple loom before the month is three weeks old. The Flyers took care of business building up to this stretch, winning their past four games by double digits, including a 66-55 victory at Richmond on Jan. 22. Worth watching is that as Dayton's pace has slowed against conference foes, its torrid early 3-point shooting has also cooled.
10. Northern Iowa (15-5, 8-1 Missouri Valley)
Granted, Northern Iowa hit a favorable patch of scheduling in recent weeks, but the Missouri Valley leader is doing exactly what needs to be done with a gift like that. Against Evansville, Southern Illinois and Bradley in the team's three most recent games, Northern Iowa has three victories by 24 or more points and has not allowed an opponent to reach 40 points. Not to mention the Panthers already have wins against the two teams tied for second, Creighton and Missouri State. They shoot the 3-pointer often and accurately, value possession and turn over opponents. That's a tried-and-true formula.
Next five: Middle Tennessee, Florida Gulf Coast, TCU, Princeton, Toledo
January, 17, 2011
01/17/11
11:18
PM ET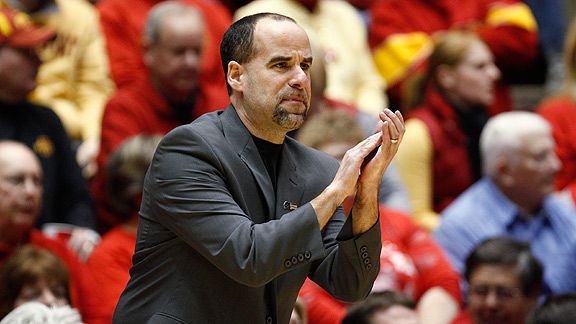 AP Photo/Charlie NeibergallCoach Matt Bollant won his 100th game at Green Bay on Jan. 15.
1. Xavier (14-2, 3-0 Atlantic 10)
A tough 63-59 victory at home against Dayton might be a sign of things to come in an Atlantic 10 full of quality teams this season, but the flagship mid-major program generally keeps rolling along behind Amber Harris and Ta'Shia Phillps. The Musketeers aren't playing very many people this season -- only six played in the win against Dayton on Jan. 9, for instance -- but perhaps that familiarity is paying off when it comes to offensive continuity. Xavier has a positive assist-to-turnover ratio and assists on 60 percent of its field goals, both improvements on last season.
2. Marist (15-2 overall, 6-0 MAAC)
No conference foe has come within 16 points of Marist, which won three of its first six MAAC games by 30 or more points. Erica Allenspach is giving opponents fits, attempting 24 3-pointers and 30 free throws in those six games, but she's not alone in forcing the issue. Pass-first point guard Elise Caron has scored 96 points this season, 49 of them from the free-throw line. When you can't help but foul a point guard who loves to pass and shoots a modest 32.8 percent from the floor, you know the Red Foxes have you befuddled.
3. Green Bay (17-1, 6-0 Horizon)
Already down a guard in Heather Golden, forced to retire because of a knee injury, the Phoenix recently lost starter Adrian Ritchie for as much as a month with a sprained MCL. Replacement Hannah Quilling was essentially a sixth starter coming off the bench before Ritchie's injury, but it's much less clear who picks up Quilling's minutes. Lydia Bauer was starting to see more regular minutes even before Ritchie went down, but is there a seventh member of the rotation? On a happier note, junior post Julie Wojta already has two games of at least 23 points and another 19-point, 11-rebound double-double in 2011. Matt Bollant became the third Green Bay coach (out of three) with 100 victories at the school in a win against UIC on Jan. 15.
4. Gonzaga (15-4, 3-0 West Coast)
It's hardly a blip on the radar for a team that went from North Dakota to Hawaii on the same road trip, but Gonzaga wrapped up a stretch in which it played five of six games away from home, including its first three conference games, with a 65-59 win at Loyola Marymount on Jan. 16. Foul trouble against the Lions notwithstanding, Kayla Standish is averaging 18.3 points and 10.7 rebounds in WCC play. One potentially worrisome sign is Gonzaga's bench actually appears to be getting shorter in conference play, when conventional wisdom might hold there would be more opportunities to spread minutes around.
5. Duquesne (15-2 overall, 2-0 Atlantic 10)
Duquesne did just about everything right in claiming a 37-25 halftime lead at Dayton on Jan. 16, shooting 50 percent from the floor, knocking down 7-of-9 3-pointers and claiming 21 rebounds (all right, the 14 turnovers weren't perfection). But the perseverance the Dukes displayed after squandering that lead in the second half was equally telling. Down 49-48 with seven minutes to play, Duquesne got its final four field goals from four players before free throws sealed a 61-57 win, the team's ninth in a row on the road. The turnovers are problematic as you start looking toward March, but Duquesne shares the ball and plays extremely well together on both ends of the court.
6. Florida Gulf Coast (14-0 overall, 7-0 Atlantic Sun)
Who needs the BCS to finish a season with an unbeaten team that doesn't win the national championship? It's getting toward the time when it's reasonable to ponder a perfect season for the Eagles. They had a scoring margin of 17.3 points per game entering Monday's game against Mercer, while no other Atlantic Sun team was even in positive territory. Then they went out and beat Mercer by 35 points. Having already beaten East Tennessee State on the road Jan. 8, the biggest hurdle, such as it is, might come in the next two weeks, as Florida Gulf Coast plays four consecutive road games.
7. Tulane (15-2 overall, 4-0 Conference USA)
The Green Wave have used the opening weeks of Conference USA play to move up the national rankings in scoring margin, following up a four-point win against SMU with double-digit margins against UAB, East Carolina and Marshall. Tiffany Aidoo is averaging 18 points per game in conference play, shooting 51.6 percent from the 3-point line, while having Danielle Nunn (15 points per game) and Brett Benzio (9.3 rebounds and 5.3 blocks per game in conference) healthy and playing expanded minutes only makes the Green Wave deeper.
8. Bowling Green (15-2 overall, 3-1 MAC)
After back-to-back 90-point performances in victories against Akron and Miami, Bowling Green tumbled in a 44-43 loss at Kent State on Jan. 15. It was the first conference loss since Feb. 10 of last season for the Falcons, a stretch of eight regular-season league games. After piling up 50 assists on 80 fields goals in its first three MAC games, Bowling Green managed just five assists on 14 field goals against Kent State. It will be interesting to see how Curt Miller's team responds on the road Tuesday at Buffalo, the only MAC team with a better field goal defense numbers than Kent State's.
9. Middle Tennessee (14-4 overall, 5-0 Sun Belt)
How do you overcome a staggering amount of turnovers? Score more points. Middle Tennessee is averaging 21 turnovers per game, a number actually on the rise through the team's first five conference games. But the Blue Raiders are also scoring more points against Sun Belt competition, 74.8 points per game compared to 67.2 out of conference. Much of the difference has been supplied by Anne Marie Lanning and Kortni Jones (who also happen to be the two Blue Raiders with positive assist-to-turnover ratios).
10. TCU (12-6, 4-0 Mountain West)
Helena Sverrisdottir isn't shooting as well from the 3-point line, Starr Crawford isn't rebounding as much, Emily Carter isn't scoring as consistently and the Horned Frogs aren't putting up as many points. Did we mention TCU is 4-0 and in first place in the Mountain West? It hasn't always been pretty, but there's no arguing with the results, which already include good road victories at San Diego State and Wyoming. And while the long ball isn't falling for Sverrisdottir, that's a bit of a red herring (the non-red variety being a major Icelandic export). The senior is averaging five assists and five steals in MWC play. Win at home against BYU on Wednesday and TCU will stake a very early claim to control of the conference race.
Next five: Kent State, Princeton, Old Dominion, Houston, Northern Iowa
January, 4, 2011
01/04/11
1:11
PM ET
1. Xavier (10-2)
What to do with Xavier? Would any team on this list have fared better against Stanford than the Musketeers did in a 89-52 loss? Well, the game wasn't at Maples, but Gonzaga, for one, had the Cardinal tied late in the second half, so maybe. But based on Stanford's subsequent work against Connecticut, it's pretty clear the Cardinal are on top of their game at the moment. And while nothing went right for Xavier in California, it's still worth noting that Kevin McGuff's team came out of back-to-back road games at Duke and Stanford with a net rebounding margin in the black (11 rebounds). As long as Amber Harris and Ta'Shia Phillips are in the lineup, it's going to take a conference loss to dislodge the Musketeers from this spot.
2. Marist (10-2)
Weather denied the Red Foxes a final nonconference showdown, when a game at Arizona State was canceled because of a winter storm that trapped them in the wrong time zone. As a result, an 81-65 win against Rider to open MAAC play is the team's lone result since the last rankings. Erica Allenspach scored 21 in the Rider game, meaning she has totaled 75 points, nine assists and a turnover in her past three games.
3. Bowling Green (12-1)
The Falcons have played once since the last rankings, registering a 73-64 win at Butler in a game that wasn't really as competitive as the single-digit margin might indicate. The Falcons beat the Bulldogs on the boards, the third game in a row in which the Falcons had the edge in rebounding. They aren't big time in the post and they definitely revolve around the perimeter trio of Lauren Prochaska, Tracy Pontius and Chrissy Steffen, but their ability to rebound as well as they have this season speaks to the effort by players like Maggie Hennegan and Jen Uhl and the attention to detail in the program.
4. Green Bay (13-1)
Green Bay's move back into the national rankings this season is all the more notable because preseason Horizon League player of the year Kayla Tetschlag wasn't producing quite the numbers fans at the Kress Center have grown accustomed to seeing out of her. The bad news for opponents is Tetschlag might be back. She put up back-to-back double-doubles when the Phoenix opened conference play with victories against Detroit and Wright State. She even made her 1,000th career point count, reaching the milestone on a key late basket against Detroit.
5. Gonzaga (12-4)
It was an opportunity missed in a 70-61 loss against Notre Dame in Seattle, much as it was an opportunity missed against Stanford earlier in the season. But the emergence of Kayla Standish (20 points and 8.3 rebounds per game over the past seven games) alongside Courtney Vandersloot and Katelan Redmon means the Bulldogs remain on track to make some noise in March. Conference play isn't going to present a plethora of challenges, but it's valuable time for Kelly Bowen and Janelle Bekkering (who hit 7 of 11 shots in a win against Southern Utah on Jan. 3) to find their stride. Coach Kelly Graves admits he's still not sure which buttons to push to get the two talented 6-foot wings to play to their potential.
6. Duquesne (12-2)
A big game looms against Pittsburgh on Wednesday, but the holiday season was good to the Dukes, capped by a 71-67 win at Ohio State on Dec. 28. Freshman Wumi Agunbiade fouled out late in the game against the Buckeyes but hung around long enough to put up 17 points and 10 rebounds against Jantel Lavender and OSU. Agunbiade is showing no signs of struggling to adjust from the Canadian high school ranks, averaging 12.3 points, 8.1 rebounds, 2.3 steals and 1.6 blocks per game. Sophomore starter Jocelyn Ford might only average 2.4 points per game, but she put up one of the lines of the early season with 12 points, 10 rebounds, eight assists and nine steals against Ball State on Jan. 2.
7. Florida Gulf Coast (10-0)
A 13-day holiday break between games didn't seem to leave Florida Gulf Coast showing much rust in a 79-39 win against Belmont on Jan. 3 to open conference play in the Atlantic Sun. The Eagles have one of the more pronounced turnover differentials in the nation (they have 23 more assists than turnovers; their opponents have 126 more turnovers than assists). Along those lines, Tom Brady has nothing on Kelsey Jacobson when it comes to taking care of the ball. In 325 minutes in which the sharpshooter has launched 97 shots and assisted on 24 field goals, she has turned the ball over just six times.
8. Middle Tennessee State (10-4)
It has been a season of close calls as much as of upsets for some of the best mid-major teams, and Middle Tennessee added its voice to that chorus with an 81-72 loss at Kentucky on Dec. 29, in which the Blue Raiders led by 10 points with fewer than eight minutes to play. Turnovers proved a big part of their undoing that night (27 in all), as did losing senior Anne Marie Lanning to fouls just as Kentucky turned on the afterburners against Rick Insell's otherwise young team. But spilt milk aside, Middle Tennessee bounced back to open Sun Belt play with a road win at South Alabama, getting 26 points from Lanning and 26 points and 16 rebounds from Ebony Rowe. Perhaps as important, the Blue Raiders got a season debut from Emily Queen, who started 24 games in 2008-09 but battled injuries last season and much of the first half of this season.
9. Princeton (10-3)
From the correction file: Princeton wasn't supposed to fall completely out of the most recent edition of these rankings, merely down a few spots after a double-overtime loss at Saint Joseph's. So consider this reclaiming the spot they were cheated out of last time. The Tigers bounced back from the loss (and the slight) with wins at Davidson and Wake Forest. They have two more games, including the Ivy opener against Penn this weekend, before a nearly three week break from games during finals. The win at Wake Forest came without leading scorer Niveen Rasheed, who suffered a knee injury against Davidson and is to be evaluated this week.
10. Dayton (9-5)
Things are starting to come together for the Flyers, who earned their third victory in a row by beating No. 25 Boston College 89-77 on the ACC team's court on Monday. Point guard Patrice Lalor scored 22 points to lead Dayton in the win, the second time this season a player who last season averaged 5.6 points per game in 32 starts topped 20 points against a BCS opponent (Lalor scored 25 in a win against Minnesota). With a team that returned all but one rotation player from a group that advanced to the second round of the NCAA tournament last season, coach Jim Jabir made a bold decision, dramatically altering his offensive approach to incorporate elements of the style Mike D'Antoni ran with the Phoenix Suns and Paul Westhead has run at various stops and continues to run at Oregon. One obvious result? Dayton has gone from an average 3-point shooting team to an elite one, led by Kristin Daugherty (27-of-45) and Justine Raterman (33-of-64) making the most of all the open looks that come from transition penetration and tired defenders too slow to close out.
Next five: Nevada, Tulane, Charlotte, Houston, TCU
December, 22, 2010
12/22/10
3:43
AM ET
1. Xavier (10-1)
It wasn't enough to escape what sounded like a wild finish at Cameron, but Xavier's defense is back to its normal stifling self -- good news with a trip to Stanford still on the itinerary for next week. In wins on the road at Middle Tennessee on Dec. 9 and at home against Mississippi State on Dec. 17, neither the Blue Raiders nor the Bulldogs cracked 30 percent shooting. But that's small potatoes compared to forcing the Blue Devils (admittedly not the nation's most accurate team) to miss 52 shots on Tuesday. Xavier also beat the Blue Devils on the boards -- in fact, Amber Harris and Ta'Shia Phillips beat the Blue Devils on the boards by themselves.
The bad news is the Musketeers couldn't muster much offense of their own against Duke, but perhaps there is even a silver lining there. Sophomore sharpshooter Katie Rutan returned from an injury absence for the Mississippi State game and upped her contributions off the bench to 20 minutes against Duke. Her range could prove crucial in the rematch of last year's Elite Eight thriller against Stanford.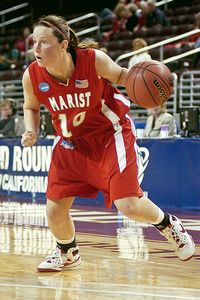 Darryl Dennis/Icon SMIGuard Erica Allenspach helped Marist knock off Nebraska, Louisville and Houston in Las Vegas, scoring 34 points against the Cougars.
2. Marist (9-2)
Even Marist coach Brian Giorgis sounded a little wary earlier this season about the schedule he put together for the Red Foxes, a slate that included a particularly tough eight-game stretch between Thanksgiving and New Year's. With one of those games still to play at Arizona State on Dec. 28, Giorgis looks crazy like a, well, Red Fox. Wins against regional foes Villanova (away), Hartford (away) and Boston University (home) were nice, but the eye-catching results came over the past three days in Las Vegas. Marist knocked off Nebraska, Louisville and Houston in a little more than 48 hours. Corielle Yarde came up big in the opening win against Louisville, totaling 25 points, 10 rebounds and four assists, but Erica Allenspach took it from there. The senior guard was the only Marist player in double figures in either of the past two wins, scoring 20 points against Nebraska and a career-best 34 points against Houston.
3. Bowling Green (11-1)
The Falcons emerged unscathed from their first back-to-back true road games, edging Western Kentucky and rolling over Austin Peay and returning from an extended break with a resounding 82-59 win against Canisius on Dec. 21. One of the team's unsung and undersized posts alongside Maggie Hennegan, Jen Uhl came up big in all three wins to complement the familiar backcourt stars. Uhl had nine points, seven rebounds, two blocks and a steal against Western Kentucky and added 16 points, four rebounds, four assists and three steals against Austin Peay. She also had 14 points in just 16 minutes as the minutes were spread around in the rout of Canisius.
And while celebrating the continuation of Connecticut's winning streak on Tuesday, it's also worth pausing to do the same for Lauren Prochaska as her NCAA-record streak of 70 consecutive made free throws came to a close against the Golden Griffins.
4. Green Bay (11-1)
There's no shame in losing at Marquette, a team that played Connecticut tough on the top-ranked team's home court and looks capable of a strong Big East run. But when you post 20-win seasons with the same annual regularity as the snow falls in Wisconsin, there's not much room for moral victories. That's especially true for this edition of the Phoenix, who came out sloppy against their in-state rival on Dec. 12 and couldn't dig out of a hole caused by 25 turnovers. If you're looking to understand Green Bay's defensive philosophy, consider that its top four scorers also all have between 23 and 33 steals through 11 games.
5. Gonzaga (9-3)
It's not quite Xavier at Duke, but Gonzaga passed its own Tuesday showdown with flying colors in a 91-64 win against BYU, one of two major tests before conference play (along with a neutral-court game in Seattle against Notre Dame on Dec. 29). The Bulldogs have been piling up points since a so-so trip to Hawaii over Thanksgiving. They've scored 80 or more in all five games since that trip and 91 or more in four of those games. Katelan Redmon topped 20 points four times during that stretch and rather quietly ranks in the top 25 nationally in scoring.
6. Houston (8-2)
The Cougars made the most of their first extended run against postseason-caliber competition, knocking off Louisville and Nebraska before falling in the finale to Marist on a neutral court in Las Vegas. Still her team's primary distributor, junior Porsche Landry is enjoying a breakout scoring campaign. The team's leading scorer before the tournament in Vegas, she put up 21 against both the Cardinals and Cornhuskers. Teamed with do-everything standout Courtney Taylor and Brittney Scott, last season's leading scorer, Landry completes a nice trio for Houston to take into Conference USA play.
7. Middle Tennessee (9-3)
One of the toughest mid-major schedules in the country rolls on. Middle Tennessee beat St. Bonaventure and Kansas State on back-to-back nights to begin the week at a tournament in San Antonio. Also since the last edition of the top 10, the Blue Raiders beat Central Florida and James Madison and lost to Xavier (its other losses came against unbeaten Arkansas and Georgia Tech). Ebony Rowe has been stellar as a freshman, but sophomores Kortni Jones and Icelyn Elie (25 points, 16 rebounds against James Madison) also continue to show signs of being part of a young foundation upon which to build through Sun Belt play.
8. Florida Gulf Coast (9-0)
Florida Gulf Coast made the most of its last chance to score a win against a team from a BCS conference, beating Indiana 73-69. Courtney Chihil came close to a triple-double against the Hoosiers, totaling 16 points, 11 assists and nine rebounds. It had been a light schedule over the past two weeks, but senior guard Shannon Murphy made the most of it, too. Murphy played 39 minutes in a win at Troy (12 points, five assists, four steals) on Dec. 12 and all 40 minutes in a win against Florida International (14 points, six assists, three steals) on Dec. 15. Then again, perhaps time management isn't an issue for a player working on three consecutive seasons of all-academic honors in the Atlantic Sun.
9. Charlotte (9-2)
The 49ers nearly fell victim to an upset against VCU, allowing a pair of 20-point scorers in the process. But they escaped that trap on Dec. 11 and put up a line that hinted at both rested (51 rebounds) and rusty (28 turnovers) in beating Arkansas State by 18 points on Dec. 19 after a week away from action. If there's an area of concern, it's probably possession value. Charlotte is averaging better than 20 turnovers a game, a dicey way to make a living in a league with teams like Xavier, Dayton and Temple. But Charlotte also shares with itself -- six players have led or shared the lead in scoring through the team's first 10 games.
10. Central Michigan (7-3)
The Chippewas still have a big game looming against Pitt on New Year's Eve, but they've quietly done nice work against a quality schedule. They turned in a strong showing on the road against a quality Northwestern team on Dec. 11, losing 92-84, and beat Ole Miss 82-66 a week later at home. The latter was the team's first game in the new McGuirk Arena in Mt. Pleasant, Mich., and senior Kaihla Szunko made sure she'll stick around the arena's record book well beyond graduation with a triple-double (21 points, 16 rebounds and 10 steals).
Next five: Drexel, Fresno State, Dayton, Tulane, Nevada