Category archive:

Baylor Lady Bears
September, 26, 2012
09/26/12
7:36
PM ET
BRISTOL, Conn. -- Best player on the board or best player for a system?
It's a question of draft philosophy that Corey Gaines and the Phoenix Mercury will enjoy mulling over for the next six-plus months.
In a draft class headlined by three entirely distinct talents in Brittney Griner, Elena Delle Donne and Skylar Diggins, the team with perhaps the most distinctive style in the WNBA beat the odds Wednesday and landed the No. 1 pick in the draft.
Do the Mercury take a scorer like Delle Donne to push their tempo to something rarely seen beyond the Bonneville Salt Flats? Do they take a floor general like Diggins to conduct an orchestra that already includes the likes of Diana Taurasi and DeWanna Bonner? Or do they take the consensus best player on the board in Griner, even if some will wonder how a dominant post fits in a fast-breaking style?
[+] Enlarge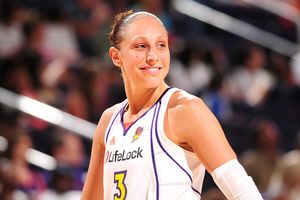 Barry Gossage/Getty ImagesDiana Taurasi's reaction to Phoenix winning the No. 1 pick? "Wow, wow, wow," she texted coach Corey Gaines.
"It's something that will be interesting," Gaines said. "We're going to take our time and look at everything. The greatest thing is now we have a long time to do that; we don't need to rush anything. We're not a traditional-style team at all. We don't do things the way other teams do it. It's because I've learned from [Paul] Westhead. … He does things that makes the team win. I'm sure I'll be making some phone calls and talk to all the coaches I've ever been under in the league and in college.
"It's not going to be a rushed thing. It's going to be something thought out, and something I think hopefully, will bring some big things to Phoenix."
Needless to say, the coach wasn't giving away many state secrets in the minutes after the Mercury defied the odds to land the No. 1 pick. So we're left to debate amongst ourselves the merits of three special players.
You'll hear a lot of scouting reports between now and April, but why not start with one from the man who will coach one of them?
First on Diggins.
"Point guard, hard-nosed, can score, take it to the basket, plays defense, definitely able to impact the game, very intelligent basketball IQ," Gaines said. "You've seen her in some of the games last year tough it out, push her team through something, which is important."
On Delle Donne.
"Pure unadulterated scorer," Gaines said. "I mean, she can score. I saw an interview with her today on NBA TV and she stated, 'I love to shoot the ball.' She loves to score. That's a gift. A lot of players don't have that gift. People don't understand, but someone who gets up 30 shots, it's hard to do. It's not something that everyone can do. If you go to your [YMCA] and try to get up 30 shots, it's not easy. It's a gift."
[+] Enlarge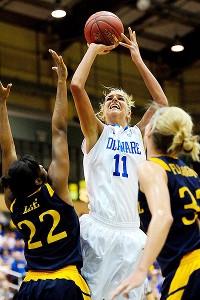 Evan Habeeb/US PresswireElena Delle Donne might be a better fit for Phoenix's up-tempo style of play, but it's hard to see the Mercury passing on Brittney Griner.
And last but never least, on Griner.
"Someone who can definitely change the game defensively and probably change it offensively, too," Gaines said. "The way our team is set up, we have scorers who can hit outside and who can slash and who play the game well -- who won championships, who won gold medals, who won European championships. And DeWanna, who is now added into the mix, has become a superstar herself. We can go really large with, if we [pick] Brittney. And Brittney can rebound, and that's something that's important for us.
"We're a fast-breaking team. There's two things you need: You need rebounding and you need stops. Defensively, she'll get us stops, offensively she'll get us rebounds to go get that break going. And the top teams in the league that play defense -- half court, if I give you a play, you can stop that play. Fast break, you can't. That's why fast breaking is so dangerous. There's nothing you can do. You can't say, 'Run back fast.' That's not going to cut it."
If you choose to read between the lines, it's interesting that Gaines spoke about Diggins and Delle Donne in general terms. He spoke about Griner in terms of how she would specifically fit with the Mercury. Although for what it's worth, if we're delving deep into the intangibles file, he also sounded and looked genuinely captivated by Delle Donne's scoring prowess, like someone talking about the way Coltrane played the saxophone.
A pure hunch is that there will be days between now and April that Delle Donne sits atop the team's draft board. You couldn't design a more perfect player for the system than a 6-foot-5 all-court scorer, who, by the way, is also a terrific rebounder and shot-blocker by any scale that doesn't include Griner.
But in the end, there is no way the Mercury pass on Griner. For good reason. Gaines is a disciple of Westhead, and however things ended in Los Angeles, the latter won an NBA championship with the Lakers in 1980 by pairing Magic Johnson and Kareem Abdul-Jabbar on a team that finished second in the league in points per game. Post players and fast breaks aren't mutually exclusive. And Griner is hardly sedentary; her agility and athleticism at her height are what make her a paradigm-shifting player.
One thing is certain, whether the Mercury take the best player, the best player for the system or someone they think fits both descriptions.
"Those three, you're going to get something," Gaines said.
A text message he received from Taurasi shortly after the results were revealed got to the same point.
"Wow, wow, wow."
February, 26, 2012
02/26/12
9:36
PM ET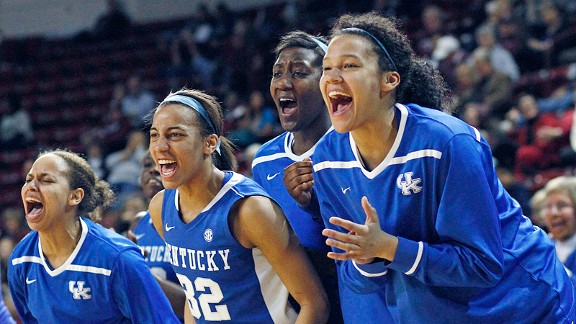 AP Photo/Kerry SmithKentucky opens the SEC tournament on Friday, facing the winner of Auburn-Florida.
A chance to be one of the best players in the nation.
That's how Kentucky coach Matthew Mitchell described what the future might hold for A'dia Mathies not long before her sophomore season began. Almost two seasons later, her exact place on such an inexact list remains up for debate, but she is the go-to player on the first Kentucky team to win an SEC regular-season title in her lifetime. It's a pretty good label in its own right.
Mathies didn't turn in a spectacular line in Sunday's 76-40 win at Mississippi State, a victory that clinched Kentucky's first regular-season title since 1982, but the Wildcats didn't need individual brilliance to get by the Bulldogs. With what is essentially an 11-player rotation, the Wildcats rarely turn one player loose on the box score, relying on that depth and collective defensive effort to force nearly 23 turnovers per game. But from her freshman season, when she scored 32 points in her first NCAA tournament game, and added 21 more in a subsequent win against top-seeded Nebraska, Mathies hinted at a knack for knocking out soliloquies, even in a supporting role alongside Victoria Dunlap.
There have been 14 instances of a Kentucky player scoring at least 20 points in a game this season; Mathies is responsible for 10 of them. Sure, a handful of those came against the likes of Northeastern and Southern Miss, but Mathies also put up 20-plus points in victories against Arkansas, Duke, Louisville and South Carolina. She also turned in a performance that ranks near the top of any list of the best singe-game efforts of the season with 34 of her team's 61 points in a one-point victory against Tennessee. Mathies' shooting percentage remains almost unchanged from an inconsistent sophomore effort, but in more than doubling her 3-point output and dramatically improving her long-range accuracy, she has become a much more efficient scorer. She's not a perfect player, nor is a Kentucky team that recently lost three in a row a perfect champion. But only Baylor need worry about perfection right now. For everyone else, it's about being better than those in the other uniform.
It took three decades for Kentucky to get a chance to celebrate a second conference championship. It shouldn't take much more than 24 months for the Wildcats to welcome a second SEC player of the year to program lore.

Making a case for March: Duke. While we're celebrating regular-season conference titles, full credit to Duke for a March-like performance in beating Miami and North Carolina in roughly the span of 72 hours to clinch the ACC regular-season title.
The math seems to add up to Duke earning a No. 2 seed, no matter the weekend results and no matter what happens in the ACC tournament, but the Blue Devils are trying to keep the calculators working right up to the final hour. More importantly, they showed both a toughness and an offensive efficiency in the two victories that they'll need regardless of seeding. As was the case in a loss against Maryland, rebounding remains an issue without injured starter Richa Jackson -- Miami piled up 19 offensive rebounds and North Carolina totaled 15 against a team that entered the weekend allowing just 12.3 offensive rebounds per game. But the champions, bedeviled so often by offensive inconsistency in recent postseasons, shot 49 percent against the Hurricanes and 52 percent against the Tar Heels, with point guard Chelsea Gray putting an exclamation point on things by setting the single-season assists record.

Novosel
Best individual weekend performance:
Natalie Novosel, Notre Dame. South Florida went on the road and made life difficult for Notre Dame over the weekend, just as it did against Connecticut four weeks ago. And just like Connecticut, which turned to Tiffany Hayes for a big scoring day, Notre Dame turned to a senior to get it out of trouble. Actually, two of them, but Devereaux Peters (17 points, 18 rebounds) has been piling up double-doubles by the bundle in recent weeks. The less predictable boost, at least by recent standards, came from Novosel, whose 32 points nearly matched her total from the previous four games combined and came after a stretch of eight games in which she hit double figures just three times.
Novosel hit all 12 of her free throw attempts against the Bulls. One of the best at getting into seams around the basket and either finishing or drawing a foul (rivaled by few this side of teammate Skylar Diggins in that regard), she's averaging 4.6 free throw attempts per game this season. That isn't bad by almost any standard, but it is down from 5.9 attempts per game a season ago. She's scoring at almost the same overall rate as a season ago, and her team is winning at an even greater rate than it did last season, so Novosel and the Fighting Irish are still doing just fine. But the more whistles you hear, the more likely it is she's driving opponents to distraction.

Best team weekend performance: Princeton. What did Princeton do to merit this? Did you see any other teams clinching berths in the NCAA tournament over the weekend? Or doing so for the third season in a row, for that matter? The Tigers spent the weekend doing what they have done with impressively numbing regularity in Ivy League play in recent seasons, beating Harvard by 30 points and Dartmouth 37 points to wrap up another conference title. That they did it with three games still to play in a league that doesn't hold a tournament is just Princeton's style. A strong contender for the weekend's top individual honors, Niveen Rasheed put up 24 points, 16 rebounds, five steals and four assists against Dartmouth, but she split the vote with teammate Lauren Edwards, who scored 29 points in the same game, including 7-of-10 from the 3-point line.

Raterman
Saving her best for last:
Justine Raterman, Dayton. Raterman's career would not have been diminished had the final week of her final regular season gone differently, but the Flyers senior did what program greats are supposed to do. Raterman scored 25 points in 23 minutes in her final home game, a rout against Xavier, but the performance that mattered most came on the road Saturday against Duquesne. Behind her 32 points (on 12-of-21 shooting), eight rebounds and three steals, the Flyers came away with a 74-69 overtime win. While the No. 3 seed in the Atlantic 10 tournament was already a given, the win keeps a team hovering around 40 in the RPI in the mix for at-large NCAA tournament consideration.

Lending a helping hand: Casey Garrison, Missouri State. Injuries took a toll on several potential mid-major powers this season, most notably those that took the likes of Northern Iowa's Jacqui Kalin and Toledo's Naama Shafir off the court. But the small matter of an injury to her shooting hand isn't stopping Garrison from fueling Missouri State's run in the Missouri Valley Conference. As the Springfield News Leader recounts, Garrison (who already donned a mask this season to play through a broken nose) simply started shooting with her left hand when she sprained the thumb on her more familiar shooting hand. Her first game as a southpaw? She scored 20 points. A lefty off the court, shooting with that hand was apparently nonetheless a relatively new experience. With Garrison leading the way, Missouri State owns first place in the league and 10 victories in a row, including Sunday's 80-76 win at second-place Illinois State.
The week ahead (Monday-Friday)
Notre Dame at Connecticut (ESPN2, 9 p.m. ET Monday): Are we headed for a season in which neither Connecticut nor Tennessee win regular-season conference titles? Kentucky already locked up the SEC, and Notre Dame, which already clinched a share of the Big East title, can go for its first outright title with a win in Hartford. Of course, it might also be just the first of two games between the team in Hartford in the next eight days, if the conference tournament leaves them opposite each other in the final. Skylar Diggins and Natalie Novosel combined for 19 free throws when the Fighting Irish won an overtime thriller in South Bend earlier this season. In 15 games since, only one Connecticut opponent -- the entire team -- attempted as many as 19 free throws (Louisville's 21 attempts on Feb. 7).
Baylor at Texas A&M (ESPN2, 7 p.m. ET Monday): Forget the 12th man; Texas A&M could use a sixth player. In five meetings between these two since the beginning of last season, Texas A&M's bench scored a total of 21 points (17 from Karla Gilbert). That worked out on the fourth try a season ago, and it's not like the Aggies roll bench points against everyone else. But without Danielle Adams and Sydney Colson around, it's a tough way to go about stopping the nation's No. 1 team.
St. John's at Georgetown (Monday): There are still matters of Big East tournament seeding at stake, in addition to a chance for St. John's to post the program's best league record, but this one is big for momentum alone. St. John's didn't win a true road game until Jan. 11 at Syracuse, but wins at Rutgers and, as you might have heard, Connecticut beefed up that road profile. With Da'Shena Stevens coming off a 21-point effort over the weekend, it's worth noting no St. John's player has hit more than five field goals in a game against Georgetown since the 2007-08 season.
Appalachian State at Chattanooga (ESPN3, 7 p.m. ET Monday): It's a chance for Appalachian State to clinch the outright Southern Conference regular-season title, but only if it can beat third-place Chattanooga on the road. Appalachian State's Anna Freeman is one of those quintessential do-everything mid-major players, averaging 15.1 points, 6.3 rebounds, 3.7 steals, 2.7 assists and 2.1 blocks per game.
Florida Gulf Coast versus East Tennessee State (ESPN3, 12 p.m. ET Wednesday): Get Championship Week started by watching a team that has the potential to do something in the main draw -- if it can take care of business in the Atlantic Sun tournament. Florida Gulf Coast faces East Tennessee State in a quarterfinal. This game comes just four days after the same teams met to end the regular season, a 71-64 win for the Eagles that was one of just four wins by single-digit margins in an unbeaten conference season.
Kansas State at Iowa State (Wednesday): There isn't much doubt Kansas State will be in the NCAA tournament, but an overtime loss at Missouri raised more eyebrows when it comes to a team that already seemed to have an inflated RPI. For a team that has shown an ability to go on the road and win, notably at Marist, South Dakota State, Kansas, Oklahoma State, Texas and Texas Tech, adding a win in Ames, Iowa, would be a boost. On the other side, Iowa State needs a win badly, if not desperately, to shore up its own at-large r´esumé.
Oklahoma State at Kansas (Wednesday): Both teams need victories in the struggle for NCAA tournament at-large consideration. Kansas got a badly needed result with a win at Texas Tech last week, fueled by 20 points and eight assists from Angel Goodrich. But the Jayhawks are just 3-8 in their last 11 and playing without Carolyn Davis, do they need to sweep Oklahoma State and Oklahoma?
Louisiana Tech at Fresno State (Thursday): Such is life for a mid-major like Fresno State, that all of the work of a 12-game winning streak and clinching at least a share of the WAC regular-season title can be partly negated by one tough loss. But a 62-61 loss at mid-table San Jose State does damage Fresno State's NCAA tournament at-large potential. Before they can worry about that, or even the conference tournament, the Bulldogs face the best women's basketball rivalry in the WAC. Ki-Ki Moore scored 20 when Fresno State won 61-59 in Louisiana.
February, 20, 2012
02/20/12
12:05
PM ET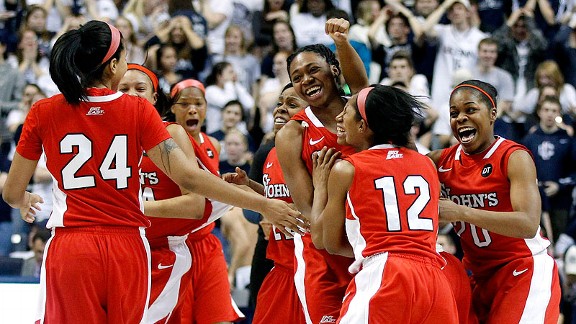 David Butler II/US PresswireWith Saturday's win at UConn, St. John's became only the fifth team to win at Storrs since 1993.
Monday headline: St. John's puts the exclamation point on a wild week
Doubt is a dangerous thing for an athlete. It's a great thing for fans of a sport.
And doubt is suddenly easier to find than discounted Valentine's chocolate.
The truth is we can't know if St. John's 57-56 victory at No. 2 Connecticut on Saturday, which ended the latter's 99-game home winning streak, will leave lingering doubts in the minds of any Huskies. They will say otherwise, regardless of what happens when they next take the court Tuesday at Pittsburgh or a week from now against Notre Dame.
We can't be sure if No. 4 Notre Dame questions its own fallibility after last week's loss at home against West Virginia. After a relatively easy win against Providence on Valentine's Day, the only game the Fighting Irish have played since the loss, Skylar Diggins talked about the importance of her team regaining its "swag and confidence."
Nobody outside of No. 1 Baylor's huddle knows if even a dominant defensive effort in the second half of Saturday's 56-51 win against Texas Tech carries more weight in the Lady Bears' minds than 35 percent shooting or a halftime deficit.
And on and on it goes for what for so long seemed like a race with four favorites, a handful of contenders and a whole mess of pretenders. Is No. 5 Duke damaged goods after losing in the closing seconds at Maryland, the Blue Devils' 16-game ACC winning streak ending in their first game since losing starter Richa Jackson to a season-ending injury? Can No. 8 Kentucky recover after losing its grip on first place in the SEC with a loss at cellar-dwelling Alabama?
What we do know after a nine-day span in which three top-five teams lost, two of them at home against unranked opponents, is that a lot of us don't know quite as much as we thought we did when the month began. If teams like Connecticut can lose at home against unranked St. John's, surely Maryland or Miami can't be counted out on a neutral court in March? There might even be room for a Tennessee surge or a Delaware run on the way to Denver.
For that matter, a St. John's team not deemed one of the best 25 in the nation on Valentine's Day has reason to believe it can get the last laugh by playing games beyond April Fool's Day.
If only because just about every team this side of Stanford was complicit (and the Cardinal had their own eyebrow-raising close calls), there's little reason to think anything other than the favorites are still the favorites. Baylor is still unbeaten and still has Brittney Griner. Connecticut is still limiting opponents to shooter percentages that would rate as barely passable batting averages. Notre Dame's Sklyar Diggins is an increasingly unsolvable puzzle for opponents. Stanford just clinched a conference title. And everyone else still has a question mark for every answer.
But long before St. John's guard Shenneika Smith hit a 3-pointer to silence Gampel Pavilion and give a perpetually plucky Big East overachiever something far sweeter than a moral victory, Geno Auriemma warned of what this season might bring. He was one of the few who never had a doubt that a stretch of days like we just witnessed was possible this season.
"I think history has proven over the past five, six, 10 years, maybe, that the unexpected has been happening," Auriemma said on the eve of the season. "Not necessarily the unexpected in that the unexpected team wins the national championship, but unexpected in terms of who is there at the end. And I think that is going to continue; I really do. I think there are probably teams out there … that are going to all of a sudden kind of put it all together in February and make a run. They're being viewed as kind of fringe players in this play [in the preseason], but I think that time has proven there are more of them making an impact at the end than there ever has been before."

Best weekend team performance: St. John's. You were expecting something else? Saturday's win stands alone as a signature moment in program history, but it hardly came out of nowhere. St. John's led Baylor at halftime when the teams met in December in Madison Square Garden, playing without an injured Da'Shena Stevens and losing Nadirah McKenith to injury during that game, and more recently won at home against Louisville and on the road against Rutgers. Healthy again, Stevens was a big part of both last week's victory against the Scarlet Knights and this week's win against the Huskies, while Smith hit the shot heard around Queens with the 3-pointer to put her team ahead for good in Storrs.
But McKenith's performance can't be overlooked, both on the day and the season. The junior fueled a team effort that produced 65 field goal attempts, the third-most against Connecticut this season, and just nine turnovers, the fewest against Connecticut this season. With seven assists and two turnovers, McKenith became the first player this season to have at least five more assists than turnovers against the Huskies. Before Saturday, St. John's seemed like a veteran team capable of overcoming its own liabilities and beating any opponent on a given night, save one of the members of the very top tier. It's tough to keep that caveat in place now.

Department of turning over a new leaf: Connecticut. The end of any streak on the verge of triple digits is a big deal, but the sky is not falling in Connecticut. Heck, Saturday's loss arguably wasn't the most momentous streak snapped in the state over the weekend, given Trinity College falling short of a squash championship for the first time in 14 years. What the basketball loss did reinforce is just how much Connecticut depends on its defense for offense -- and just how good the defense has been for much of this season. After the game, Auriemma lamented the sizable edge St. John's had in field goal attempts. Some of that had to do with 17 offensive rebounds from the Red Storm, who still have fewer rebounds on the season than their opponents, but it also goes back to ball possession. In addition to limiting opponents to 30.8 field goal shooting, the Huskies are forcing 20.6 turnovers per game this season, more than at any time during the Maya Moore era. Without the scoring opportunities those turnovers provide, Connecticut is left to depend on a half-court offense that, for all the potential of its individual parts, is not as great a collective asset as the team's defense.

Best weekend individual performance: Brittany Hrynko, DePaul. It isn't easy to get attention in the Big East these days without beating Note Dame or Connecticut, but No. 20 DePaul continued its impressive run by ending West Virginia's run of three consecutive wins against ranked teams behind 21 points from Hrynko. The Blue Demons could have crumbled after losing All-American Keisha Hampton to a season-ending injury early in the Big East season. That they remain in the Top 25 and the thick of the Big East race has a lot do with Anna Martin (17.5 points per game in Big East games) and Katherine Harry (10 points and 10.5 rebounds in Big East games). But those two needed help on the road against a Mountaineers team that held Louisville, Notre Dame and Rutgers to 50, 63 and 50 points, respectively, in their three most recent games. Enter Hrynko, a freshman guard, who hit 7-of-14 shots, including 4 of 8 from the 3-point line, and added six assists and four steals in a 77-63 win.

Best weekend individual play: Alyssa Thomas, Maryland. With 4.1 seconds left and Maryland leading Duke by two points in Sunday's ACC showdown, the Terrapins star had Blue Devils star Elizabeth Williams' left arm in her face as the two fought for position on the right block. That stalemate down low forced Duke's Chelsea Gray, after a drive to the baseline on that side of the court, to throw the ball back out to Shay Selby at the top of the key. When Selby released a pass to Haley Peters in the left corner with 2.9 seconds left, no Maryland player was even on the same side of the court as Peters. But by the time Peters released a jumper with 1.3 seconds left, an airborne Thomas was close enough to deflect the shot out of bounds for a block as time expired. Two stops on opposite sides of the court in the span of three seconds at the end of the game. That's how a star who suffered through a 2-for-11 shooting day with five turnovers still plays like an All-American.

Auditioning for a new role: Allison Vernerey, Duke. The bad news for Duke in its first game without Jackson, its fourth-leading rebounder and second-leading offensive rebounder, was Maryland winning the battle of the boards by a 45-36 margin. That included nine offensive rebounds from Tianna Hawkins, who scored the winner on a second-chance opportunity, and 30 total rebounds combined from Hawkins, Thomas and Lynetta Kizer. The good is, well, the Blue Devils are done with the Terrapins for the regular season.
But the rebounding numbers aside, and coach Joanne P. McCallie unsurprisingly singled that out as the difference in the game, Duke got good effort from Vernerey in an expanded role. Playing a season-high 32 minutes, she finished with four offensive rebounds and three defensive rebounds and did her part for a defense that was stingy on Maryland's first looks. There's no getting around how big a blow Jackson's injury is to Duke's chances, but Sunday's game might not be quite as much of an indication of impending calamity as the numbers suggest.

Beyond the big six conferences: Shey Peddy, Temple. There might not be a team suffering through a longer season than Rhode Island, which fell to 1-26 after Sunday's 84-41 loss against Temple, but even the Rams don't give up many lines like that put forth by Temple guard Peddy. Keeping her team a game behind unbeaten St. Bonaventure in the Atlantic 10 race, Peddy took the difficult route to a double-double with 22 points and 10 steals in 29 minutes. After a modest start to the season, Peddy is averaging 18.2 points, 5.0 rebounds, 4.0 assists and 3.1 steals per game in conference play.
The week ahead (Monday-Friday)
Notre Dame at Louisville (ESPN/ESPN3, 2 p.m. ET Monday): Facing games this week against Notre Dame and DePaul, Louisville almost put itself in a world of hurt before rallying for an overtime win at Pittsburgh on Valentine's Day. No team held Notre Dame to fewer points in the postseason last season than Louisville, which dropped a 63-53 decision in the Big East tournament. Skylar Diggins and Natalie Novosel combined to shoot 5 of 15 from the floor with 11 turnovers that day.
Ohio State at Penn State (ESPN2/ESPN3, 7 p.m. ET Monday): The first of two games this week in BCS conferences with first place on the line. For all their history, the Lady Lions are looking to clinch a share of their first Big Ten title since 2004, a drought the Buckeyes have done their fair share to prolong. Already accurate from long range, Maggie Lucas is shooting 56 percent (14 of 25) from the 3-point line in her past five games.
Vanderbilt at Kentucky (ESPN2/ESPN3, 9 p.m. ET Monday): The Wildcats look to snap a three-game losing streak, while the Commodores look to prolong a stretch in which they've won six of seven. Vanderbilt does have two road wins in that run, at Auburn and at Mississippi State, but a win at Tennessee-Martin is its lone road win against a team with a winning conference record. The good news, or bad news, is it gets another shot if Monday doesn't work out, visiting LSU on Thursday.
Texas A&M at Oklahoma (Tuesday): A share of second place is on the line in Norman. The Sooners committed at least 20 turnovers in seven of their first 13 games, a stretch that concluded with 23 turnovers in a 75-58 loss at Texas A&M. They've turned it over 20 times just twice in 13 games since as they look to end a six-game losing streak against the defending national champions.
Nebraska at Michigan State (Thursday): Throw in Purdue visiting Michigan the same night and there will be a lot of jockeying for position as the four teams that begin the week tied for third in the Big Ten look to shore up one of the top four spots and a bye in the first round of the conference tournament. The Cornhuskers close at home against Ohio State and could use another road win here to erase the sting of a three-game losing streak that ended Sunday.
Wichita State at Illinois State (Thursday): The Shockers are tied for first (with Missouri State) in the Missouri Valley and lead the conference in field goal offense and defense, but they face a tough test at third-place Illinois State here. The Redbirds won when these teams met in Wichita, shooting 48 percent against that otherwise-stingy defense.
Miami at Duke (Friday): This is other game for first place this week, and it'll likely be for the regular-season title (although while Miami closes at home against Boston College, Duke still has to visit North Carolina in its final game). Miami got the road win it needed at Maryland last week, but adding a victory in Durham would seem likely to lock up a No. 2 seed in the NCAA tournament. After a huge game earlier in the week against NC State, Pepper Wilson had four fouls in 15 minutes for Miami against Florida State on Sunday. The Hurricanes could use her size against the Blue Devils. Riquna Williams is just 15 of 61 from the floor in three career games against Duke.
January, 23, 2012
01/23/12
12:44
AM ET
Monday morning headline: Duke makes a statement.
Folks in Durham have been calling Chelsea Gray "The Closer" for some time now, and you know, it just might catch on. Gray's 3-pointer with 2 minutes, 56 seconds remaining in Sunday's game against Maryland put the visiting team's comeback on the ropes. Another jumper and two final free throws from Gray finished the job against a resilient opponent.
[+] Enlarge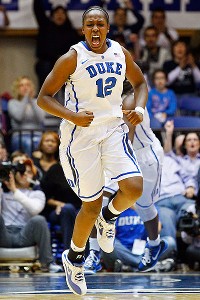 AP Photo/Gerry BroomeChelsea Gray had 17 points and 11 assists Sunday in a 80-72 victory over Maryland, Duke's 10th straight win.
What's more impressive is that, at least on this day, Gray's late shots were 50/50 propositions.
The Blue Devils shot 50 percent from the field for the game -- 50 percent in the first half and 50 percent in the second half. They finished with 16 assists, 11 from Gray, and just nine turnovers in the 80-72 victory. They played like a championship-caliber offense against a defense they couldn't simply overpower or overwhelm. It was just the fourth time in the past four seasons a Duke team shot even 40 percent against a top-10 opponent, just the second time one shot better than 42 percent in such a game.
In five games last season against teams ranked in the top 10 at the time the ball was tipped, the Blue Devils compiled the following field goal percentages: 30.9, 26.8, 28.4, 38.7 and 25.4. They turned over the ball 77 times against 45 assists in those games. That they won three of them -- against Texas A&M and Xavier in the regular season and DePaul in the NCAA tournament -- showed what a team can do with great defense.
The end result of the season, as when their offense deserted them late in a regional final against Baylor a season earlier, showed the limits of that.
The Blue Devils still have defense, particularly with Elizabeth Williams on the floor. Maryland shot just 36.4 percent in the second half in Cameron Indoor Stadium. And no, they aren't going to get 21 points on 10-of-12 shooting from Haley Peters every night. But with another even bigger test looming at home against Connecticut next Monday, perhaps we're seeing a Duke offense that can close games on its own.

Best team weekend performance: Oregon State. Really, Oregon State? Sure, South Carolina is a deserving candidate after improving to 4-2 in the SEC with a road win at No. 22 Vanderbilt on Sunday. Ditto for Iowa State breaking a Big 12 drought with Saturday's victory against No. 20 Texas Tech. There's definitely something to be said for No. 21 Penn State holding off Iowa on Sunday, what was a tough day for a lot of people in State College, Pa., after the passing of Joe Paterno.
But in beating USC 65-61 in overtime Saturday behind 17 points from Sage Indendi, thus earning a split of its trip to Los Angeles after a 69-60 loss at UCLA, Oregon State continued a remarkable climb toward respectability from the depths of Division I.
Say what you want about the advantages offered by the Pac-12, but there's a case to be made that Oregon State was the single worst program in Division I when Scott Rueck took over prior to the 2010-11 season. Mass defections amidst an ugly end to LaVonda Wagner's reign left the Beavers with almost no top-level experience. They went 2-16 in conference play and won just three road games all season, one in the Pac-10. The win against USC was already their third in the Pac-12, splitting every weekend save the California-Stanford trip that most of the league drops. Maybe 3-5 in a league of questionable depth doesn't look like much, but it's a long way from a deep hole.

Best individual weekend performance: Courtney Osborn, Miami (Ohio). Western Michigan's least favorite player at this moment is Osborn. Second on that list is any Bowling Green player who guarded Osborn earlier in the week. One of the most prolific mid-major scorers (18.6 points per game, 23.3 in league play), Osborn produced like someone on a mission in bouncing back from a rare off night with 34 points, eight assists and two steals in Miami's 82-67 win against Western Michigan on Sunday. That came three days after Bowling Green claimed control of the MAC by holding Osborn in check in a win against Miami (the Falcons strengthened their conference claim with a weekend win against Eastern Michigan). Osborn was as efficient as a player can be in Sunday's game, hitting 11-of-15 shots, including 6-of-7 3-pointers, and either scoring or assisting on 19 of her team's 29 field goals.

Best weekend helping hand: Jericka Jenkins, Hampton. How do you keep your teammates from giving you the evil eye when you hit just 4-of-18 shots in a game? Jenkins kept everyone in a Hampton uniform happy, despite her cold shooting, by totaling a career-high 17 assists in a 92-43 win against Norfolk State. That gives Jenkins 29 assists in her past two games and moves her to second in the nation in assists per game (7.6). Throw Hampton's game at Howard on Monday night into the upcoming week's must-follow action. Howard (5-1) is just a game behind unbeaten co-leaders Hampton and Florida A&M in MEAC play.

Shocking turn of events in the Missouri Valley: Wichita State. Look around at the teams with perfect conference records after at least seven games and there are a lot of familiar faces. Duke, Notre Dame and Stanford are hardly surprises. Among mid-majors, teams like Delaware, Green Bay, Marist and Middle Tennessee aren't exactly shockers. Wichita State? Well, yeah, the Shockers are a bit of a surprise at 7-0 in the Missouri Valley. Then again, Wichita State has been trending upward ever since coach Jody Adams arrived four years ago. After a 3-5 start this season, the Shockers have won 10 in a row, including the first even in league play. Chynna Turner led the way Saturday with 24 points in a 78-68 win at Southern Illinois.
The week ahead
Tennessee at Notre Dame (ESPN2, 7 p.m. ET Monday): Less than a year after knocking off Tennessee and Connecticut in back-to-back NCAA tournament games, Notre Dame will look to accomplish something almost equally rare in beating both in the same regular season (even if Baylor beat the Fighting Irish to it this season).
Rebound margin is just about the only meaningful team statistic that favors Tennessee in this game. That isn't to say the Lady Vols are deficient when it comes to the likes of turnover margin, assist-to-turnover ratio, field goal defense, field goal offense or scoring margin, but Glory Johnson and Vicki Baugh could at least theoretically give them an inside presence that Kentucky and Connecticut were never really able to establish in recent competitive losses in South Bend. Remember, Skylar Diggins' late-game heroics in the Elite Eight last season fit that description in part because, with Devereaux Peters in foul trouble, Tennessee was able to stick around with 20 second-chance points in a game that saw the Lady Vols shoot just 33 percent from the floor and 21 percent from the 3-point line.
Michigan State at Purdue (Monday): The Boilermakers are the Big Ten's lone unbeaten and have allowed just five opponents to reach 60 points this season. But with road games remaining at Iowa, Ohio State, Michigan State and Michigan, continuing to defend their home court is a must. Purdue's seniors have never beaten Michigan State, and Brittany Rayburn is just 12 of 55 from the field in those games. But with Michigan State coming off a loss against Minnesota, the same team Rayburn torched for an NCAA record-tying 12 3-pointers on Jan. 12, is the time right?
Chattanooga at Davidson/Charleston Southern at High Point (Monday): It's a double dose of conference showdowns in the state of North Carolina. Chattanooga (8-1) leads Davidson (7-2) by a game in the Southern Conference, with Appalachian State (7-1) wedged in the middle after handing Chattanooga that lone league loss over the weekend. In addition to averaging 14.4 points and 9.2 rebounds per game, Davidson's Sophia Aleksandravicius is one of just eight players in Division I averaging at least three blocks per game. In the Big South, High Point puts a perfect league start (6-0) on the line two days after Cheyenne Parker's 14 points, 22 rebounds and eight blocks against Coastal Carolina.
Texas Tech at Kansas (Wednesday): Texas Tech might still be ranked in at least one poll when the teams meet, but which one is the real contender? Kansas point guard Angel Goodrich had 28 points on 11-of-16 shooting to keep the final score respectable in a loss against Texas A&M over the weekend, but the nation's assists leader also had 11 turnovers. With games looming at Baylor and Texas A&M and home against Oklahoma, this might be the game that determines whether the Jayhawks go into a tailspin. The Lady Raiders are already there after four losses in a row, the weekend loss at Iowa State the first of those that came by more than eight points.
Hofstra at Delaware (Thursday): There's never a bad opportunity to watch Elena Delle Donne in action (be it on the court or in a flash mob), but pitting her against Hofstra's Shante Evans makes for a particularly compelling duel. Evans had 21 points and 13 rebounds in a weekend win against Northeastern that gave coach Krista Kilburn-Steveskey her 100th career win and is averaging 18 points and 10.4 rebounds. At 6-1 in the Colonial, Hofstra is just a game behind Delaware.
Baylor at Oklahoma (Thursday): If there is a loss coming for Baylor, where could it be? It seems unlikely to come in Waco -- well, it seems unlikely to come anywhere, but even more unlikely at home. And other than a Feb. 27 trip to Texas A&M, this trip to Norman could be the biggest stumbling block. The Lady Bears squeaked out an 82-81 win in this game a season ago when Danielle Robinson's potential winner rimmed out, that despite Baylor hitting 13-of-27 shots from the 3-point line. It would be easier to think this one could be close if the Sooners still had Robinson, but they are the Big 12's most accurate and prolific 3-point shooting team.
Georgia at Vanderbilt (Thursday): Vandy presumably won't be ranked by the time the teams meet in Nashville, but with wins against Oklahoma and Florida State about all the Commodores have on the "for" side of the ledger at the moment, it's time to worry more about at-large credentials than poll credentials. Vanderbilt is averaging 10.7 assists and 21.5 turnovers per game in SEC play, compared to 19.2 assists and 15.1 turnover per game beforehand.
December, 11, 2011
12/11/11
5:52
PM ET
NEW YORK -- Monday morning headline: Tennessee aces new test.
Tennessee has a heck of a role model when it comes to leadership under adversity.
During a timeout in the opening game of Sunday's Maggie Dixon Classic between Baylor and St. John's, Tennessee coach Pat Summitt made her way onto the court at Madison Square Garden to accept an award named for the late coach and given to members of the women's basketball community fighting particularly courageous battles. Even in the midst of a game proving to be closer than most expected, the players and coaches of both teams broke their huddles, stood and applauded, one testament in a day full of them to just how universal is the support for the legendary coach of the Lady Vols as she battles early onset Alzheimer's.
[+] Enlarge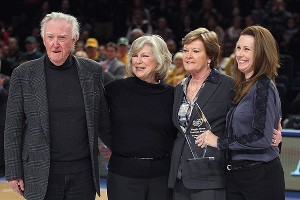 Alan Maglaque/US PresswirePat Summitt was honored with the Maggie Dixon courage award at Madison Square Garden on Sunday.
By comparison, playing 40 minutes of basketball without a freshman point guard is hard to file under the category of a hardship. On the other hand, the essence of Summitt's battle -- to some degree the essence of her career -- is that you fight the battles in front of you, no questions asked and no excuses given.
For Summitt's team in the second game of Sunday's doubleheader, that meant playing its first game without Ariel Massengale.
For the first time in a long time, Tennessee has a point guard who fits all the classic criteria of the position and could potentially fit them as well as anyone playing the position at the moment. In her first six games in orange, Massengale totaled 35 assists and just 15 turnovers against a schedule loaded with postseason-caliber foes.
But the Lady Vols will be without Massengale for two to three weeks because of a dislocated finger, a stretch that includes road games at Rutgers, UCLA and Stanford.
Not having a point guard played a big part in Tennessee's downfall in the NCAA tournament a season ago, but that wasn't the case Sunday against a tournament-caliber team. It wasn't always pretty for a team with just nine assists, but they got the ball inside enough to earn 35 trips to the free throw line and score 50 points in the paint.
Shekinna Stricklen admitted some nerves in reprising the role of point guard she filled in recent seasons, possibly at the expense of her all-around All-American game, but between her efforts and those of scoring guard Meighan Simmons and even a wing with a good handle like Taber Spani, the Lady Vols got the job done.
"She's a great point guard," associate coach Holly Warlick said of Massengale. "You can't teach an instinct of a point guard. You just can't. That's a sign of what Ariel Massengale means to this team and what we needed. She's a great leader, but she leads by example. She's smart, she sees the open floor. You can't tell a guard everything to do, and a great guard -- a great point guard -- sees things. They get the ball to whoever needs it when they need it. That's what Ariel Massengale does.
"Look, Shekinna Stricklen, Meighan Simmons, they're very good guards, but they don't have probably the quality as a Massengale has. It doesn't matter if she's a freshman or a senior. That is not taught, what Massengale has."
It only gets more difficult Tuesday night against the pressure of Rutgers and C. Vivian Stringer's defense. But if the Lady Vols currently lack a point guard with skills that can't be taught, they do seem to have a surplus of players who are willing to learn.
Co-best individual performance, Maggie Dixon Classic edition: Brooklyn Pope. Is it more surprising that Pope led Baylor with 19 points in a win against St. John's, or that she didn't commit a single foul in 30 minutes on the court against the Red Storm? Pope averages 11.0 points and 7.0 rebounds per game, but even after her lengthy stay on the court Sunday, she does it all in just 18.2 minutes per game. Run those numbers for a full 40 minutes and Pope would average 24.2 points and 15.4 rebounds -- Griner-esque, to say the least. So why the limited work? Well, before avoiding the whistle against St. John's, Pope also averaged 4.6 fouls per 40 minutes, emblematic of an overzealousness that often earned her a place behind Kim Mulkey on the bench.
Co-best individual performance, Maggie Dixon Classic edition: Alicia Manning. The senior forward isn't a one-for-one swap for Massengale when it comes to her position, but Manning saw a lot more playing time off the bench as part of a rotation that didn't include the freshman point guard. All she did with the newfound workload was contribute 12 points, 12 rebounds and four steals. For programs like Tennessee and Connecticut, there is a fine line between overrating role players who look better because of their surroundings and underrating those same sort of players who fall in the shadow of stars. Manning has always seemed like she fit the latter category more than the former, an athletic 6-foot-1 forward with some touch and an endless motor.
[+] Enlarge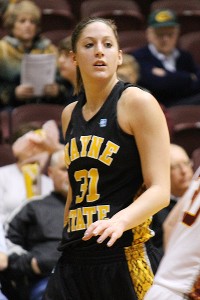 Courtesy of Graham HaysAshley Arlen played at Iowa State before transferring to Wayne State College (Neb.).
Best blast from the past: Ashley Arlen, Wayne State College. Time and resources make it difficult to dwell on the happenings in Division II, but Big 12 fans might well remember Arlen's name. As a freshman, she averaged 3.5 points and 3.1 rebounds per game in regular minutes for an Iowa State team that advanced to within a game of the Final Four. I was fortunate enough during a weekend trip to South Dakota to find Arlen back on a path that could end with a trip to the Final Four, albeit one in San Antonio this year and not Denver.
Arlen transferred to Div. II Wayne State (Neb.) after one season in Ames, Iowa, and now averages better than 20 points per game for a team that entered the weekend ranked fourth. In Friday's game against Northern State (S.D.), where our paths crossed, she went for 27 points, six rebounds, three blocks and three steals. She still looked every bit a Division I player as a 6-2 forward with athleticism and a soft touch from beyond the arc, but she also looked and sounded about as happy as a basketball player can.
Wayne State coach Chris Kielsmeier won a national championship in Division III before taking his current job and isn't taking the gift of three seasons of Arlen for granted.
"She's a tremendous leader and extremely competitive," Kielsmeier said of a player who last season became Wayne State's first All-American. "She loves the game, wants to continue to play the game overseas with any opportunities that she can. … You're fortunate to be able to recruit someone like that, and she's a special player that has changed our program."
We so often hear about the beginning of the story when a player leaves a program looking for a different fit, but it was good to see the other end of the timeline.
The week ahead (Monday-Friday)
Tennessee at Rutgers (ESPN, 7 p.m. ET Tuesday): Rutgers doesn't lack for opportunities when it comes to big games against teams like Connecticut and Notre Dame in the Big East, but this is a chance to score as big a win as the program has had in quite some time. The Scarlet Knights will probably rise or fall based on perimeter play, and how much they can frustrate the Lady Vols without Massengale, but the boards are also a point of interest. Can a Rutgers team without a great deal of size maintain the rebounding advantage it has held all season?
DePaul at Princeton (Tuesday): This game looked more appealing before DePaul dropped Sunday's game by a sizable margin and Princeton suffered a surprising 13-point loss at Navy. But a win against the Blue Demons would still be a major achievement for the Ivy League powerhouse. And lest it go unsaid, credit to DePaul's Doug Bruno for not only going to play at Princeton but playing at Illinois State less than a week later.
UCLA at LSU (Tuesday): UCLA's remaining schedule before the end of the year: at LSU, versus Tennessee, at Temple, at Saint Joseph's, versus California, versus Temple. Good luck with that. But for all the obvious reasons, you know this week's game has special meaning for both Lady Tigers coach Nikki Caldwell and the Bruins she left behind.
Arizona State at DePaul (Friday): With the holidays approaching and many schools immersed in finals, it's a lean week of games of any kind, so we'll give the Blue Demons a second spot. Doug Bruno's team is in the middle of a tough stretch of the schedule and welcomes an Arizona State team off to a surprising 7-1 start but playing just its second road game.
November, 13, 2011
11/13/11
10:39
PM ET
Monday morning headline: Stanford is off and running.
Gonzaga stayed with Stanford for a half Sunday, saddling the Cardinal with their first halftime deficit at home since Jan. 30, 2010, a stretch of 24 games at Maples Pavilion. Texas hung around, too, seizing on home-court advantage and a shorthanded opponent to stay within five points with 10 minutes to play against the Cardinal on Friday.
[+] Enlarge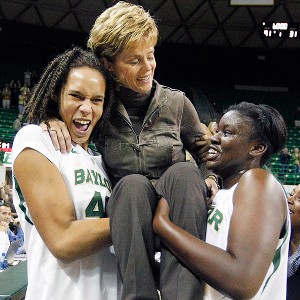 AP Photo/LM OteroKim Mulkey got a lift from 6-foot-8 Brittney Griner, left, and 6-4 Sune Agbuke after winning her 300th game.
But after three days of the 2011-12 regular season, it's pretty clear that if you want to knock down Stanford, you had best bring a knockout punch.
Testing itself while other contenders test their attention spans during the second half of blowouts against overmatched opponents, Stanford beat Texas 72-59 on the road without Nnemkadi Ogwumike (unspecified upper body injury). Then it beat Gonzaga 76-61 in large part because of the elder half of the Ogwumike sisters. With Gonzaga constantly looking to push the tempo and having already turned an early 24-14 deficit into a 30-29 lead, Stanford kept punching the ball inside for run-ending, soul-sapping baskets down low. Nneka finished with 33 points and 18 rebounds against Gonzaga, while younger sister Chiney followed up 16 points and 14 rebounds against the Longhorns with 19 points against the Bulldogs.
The Cardinal have a star capable of taking over a game and singlehandedly reversing momentum. And they have a team that can win without her.
That's not bad work for a season barely 72 hours old.

Best individual weekend performance: Alex Gensler. The elder Ogwumike probably deserves top billing for her effort against Gonzaga, but since we've been over that, it's worth giving some space to Duquesne's Alex Gensler. The senior guard made sure the Dukes avoided a potential opening stumble by scoring a career-high 33 points, including a career-best eight 3-pointers from the new line, in a 74-70 win at Saint Francis. Part of what landed Duquesne in the preseason mid-major top 10 is the balance the team displayed last season, with five players averaging between 8.2 and 12.6 points per game. But if balance is nice over the span of a season, sometimes there's no substitute for a single hot hand over the span of 40 minutes.

Best team weekend performance: Maryland. It isn't going to soothe the sting of an embarrassing loss in a game of more import in the NCAA tournament last spring, but Maryland's 72-53 win against Georgetown on Sunday is the only game that matters to the current state of affairs for both teams. The Terrapins exploited everything a team is supposed to try and exploit against the Hoyas, limiting Sugar Rodgers to 1-of-12 shooting, forcing other shooters to beat them (the Hoyas hit 2 of 17 3-pointers) and dominating the glass. Alyssa Thomas and Tiana Hawkins combined for just two fewer rebounds than Georgetown. An 84-46 win against Loyola to open the regular season isn't without merit, either. There are contending teams that will register far less convincing wins against far more inferior teams in the season's opening weeks.
Best individual performance, coaching division: Kim Mulkey. Granted, it wasn't Mulkey's toughest assignment -- although Chattanooga should have a much better season than the final score in Waco indicates -- but win No. 300 is a big deal. Baylor's 91-31 demolition of the Mocs provided Mulkey her milestone win. And come to think of it, trying to balance while being carried on the shoulders of 6-foot-8 Brittney Griner and anyone else on the roster, as Mulkey was after the win, might be among the tougher challenges of her career.

Biggest surprise: Villanova beating Michigan State. Mulkey wasn't the only coach to hit a milestone over the weekend. In fact, Villanova's Harry Perretta doubled her up by collecting win No. 600 in Sunday's 76-47 win against Iona. He's just the seventh Division I coach to total 600 wins at one school. But nobody is probably more pleased than Perretta himself that the milestone was overshadowed by win No. 599. That came courtesy of a 75-64 win against No. 25 Michigan State on Friday, the first against a ranked foe for the Wildcats in more than two years.
Villanova's next three games come at Marist and Princeton and home against Delaware, quality opponents that should test what Perretta has on his hands with Rachel Roberts and Lauren Burford (a combined 13-of-24 shooting from the 3-point line through two games).

Beyond the headlines: Xavier tries to stay in the game: No team took a bigger offseason hit than Xavier, which dropped from No. 5 in the final AP poll last season to the suburbs of oblivion. We know first-year coach Amy Waugh's hand doesn't include two aces, Amber Harris and Ta'Shia Phillips, but the Musketeers could at least stay at the table if forwards Amber Gray and Marquette transfer Jessica Pachko form a productive partnership and guard Tyeasha Moss emerges as a go-to player. Moss had 22 points, 12 rebounds and four assists in an opening win against Eastern Kentucky, but she used 17 shots to get those points. Against a schedule still loaded with the kind of opponents you book when you have two WNBA giants, the defenses are only going to get more difficult, starting with Monday's trip to Mississippi State and Sunday's visit to Louisville.
Nobody expects Xavier to get back to the rarified air of recent seasons, and Waugh is going to pile up some early losses to go along with her first career win. But if you forget who used to here and only look at the talent that is here, there is at least enough potential to make this a team worth keeping tabs on as Atlantic 10 season nears.
Setting up the week to come (Monday-Friday)
• Louisville at Texas A&M (ESPNU, 4 p.m. ET Tuesday): The matinee between teams with a lot of familiar faces on the perimeter -- Tyra White, Sydney Carter, Becky Burke and Tia Gibbs among them -- also features some new faces in the paint. Texas A&M's Kelsey Bone managed just 11 points and one rebound while battling foul trouble in her first game for the Aggies, while Cierra Warren scored 18 points in just 12 minutes for Louisville in an opening win against Missouri State. It appears Louisville will be without Shoni Schimmel, forced to sit out two games as a result of playing in a non-sanctioned 3-on-3 tournament, but highly touted freshman Sara Hammond stepped into the void with 13 points and 13 rebounds in the team's first game.
• Miami at Tennessee (ESPN2, 6 p.m. ET Tuesday): This one is the definition of new school against old school when it comes to program prestige. Shenise Johnson was, well, Shenise Johnson in Miami's opener against Texas-Pan American, falling one assist shy of a triple-double and two steals shy of a quadruple double (she finished with 20 points, 13 rebounds, nine assists and eight steals -- and just nine field-goal attempts). But the question in Knoxville is what can the supporting cast -- namely Stefanie Yderstrom and Morgan Stromando -- do for Johnson and Riquna Williams. We know the Hurricanes have the stars to compete for a title. This is the first of many chances for them to prove they have a supporting cast fit for a trip to Denver.
• Georgetown at LSU (Wednesday): Yes, Georgetown can't afford many shooting performances like the one Sugar Rodgers had against Maryland on Sunday. But in arguably the team's brightest moment last season, when it pushed Connecticut to the limit on a neutral court in the Sweet 16, Rodgers shot a woeful 3 of 17 from the floor. The rest of the team shot 21-for-45 that day. So as much as we wait to see how Rodgers bounces back against an always-tough LSU defense, we also wait to see how her supporting cast responds (at least outside of Tia Magee, who more than held her own Sunday).
• Penn State at Delaware (Thursday): There is some meat on Delaware's nonconference schedule this season, meaning plenty of opportunities to see Elena Delle Donne against quality opposition. That wasn't so much the case as she poured in 33 points in an opening win against Rhode Island, but this game is the best of all worlds -- a opponent that can challenge her physically but which has little interest in slowing down the game.
• South Dakota State at Middle Tennessee (Thursday): A lot of coaches for successful mid-major programs hold to the principle that it does them little good to play each other, the loser incurring more damage than the winner reaps benefit. That's not the case for South Dakota State's Aaron Johnston and Middle Tennessee's Rick Insell, and the sport is better for it. I'm intrigued to see Ashley Eide's second line after the Jackrabbits junior put up 27 points (with eight turnovers) in a win against Utah State.
January, 30, 2011
01/30/11
6:48
PM ET
Monday
Oral Roberts at Oakland: With a 76-74 win against IPFW on Saturday, Oral Roberts completed a season sweep of the third-place Mastodons and improved to 10-0 in the Summit League. That leaves Oakland as the biggest obstacle in the way of a conference title. Yet when the teams met in Tulsa on New Year's Eve, Oral Roberts won by 22 points. Kevi Luper is a prolific shoot-first scoring guard who put up 29 in the last meeting, but Jordan Pyle (25 points, 8 rebounds) and Jaci Bigham (18 points, 11 assists) led the way against IPFW. Oakland, which beat Illinois and lost to Penn State in overtime earlier this season, scored 100 points against Centenary on Saturday without a single player attempting more than eight field goals.
Tuesday
Georgetown at Louisville: The Cardinals secured one important victory Saturday against Rutgers; Tuesday brings an opportunity to add a second of supreme postseason importance. Jeff Walz's team wasn't in Charlie Creme's Jan. 18 Bracketology, but the subsequent win against the Scarlet Knights moved the Cardinals to 5-3 in the Big East. And while there are no guarantees in the league, Louisville has three winnable road games remaining at Villanova, South Florida and Providence, as well as a home game against Seton Hall. It's difficult to imagine a team with 10 Big East victories missing the NCAA tournament, and Tuesday's game could end up being No. 10 when all is said and done.
Wednesday
North Carolina at Florida State: The Tar Heels got well after last week's loss against Maryland with predictable victories at home against Virginia and Virginia Tech. The two games produced six double-digit rebound performances for the Tar Heels. That's worth noting because, well, it's a lot of rebounds, but also because Florida State hammered North Carolina on the boards in an 83-72 win in Chapel Hill last season with Jacinta Monroe. For its part, Florida State was outrebounded by both Boston College and NC State last week, despite winning both games. It was a curious week for Alexa Deluzio, who entered with 34 fouls in her team's first 20 games and then picked up nine against the Eagles and Wolfpack.
Oklahoma at Baylor: If you want evidence as to why Sherri Coale might just be the best coach in college basketball, look at Oklahoma's recent victories against Texas Tech and Oklahoma State. In both cases, Coale maneuvered her team to victory despite seeing the Sooners beaten on the boards and struggling to contain opposing offenses. If you want evidence as to why it's still not clear exactly what Oklahoma is this season, well, look at Texas Tech and Oklahoma State beating the Sooners on the boards and shooting 46.8 percent from the field. The Sooners won two of three games against Baylor last season, and hit just seven 3-pointers in 125 minutes in doing it. With Whitney Hand healthy and Aaryn Ellenberg and Morgan Hook around, will they be able to spread Baylor's suffocating defense?
Wyoming at BYU: TCU's penchant for puzzling losses (Air Force joining New Mexico on that list) opens the door for a first-place showdown between two teams that already lost to the Horned Frogs. The Cowgirls still don't have a road win against a team with a winning record, but they're statistically dominant, leading in scoring margin and field goal differential in conference play. Four days should be ample recovery time, but four Wyoming players played at least 38 minutes in Saturday's victory against San Diego State. BYU guard Mindy Bonham is coming off a productive week, totaling 14 points, 9 assists and 8 rebounds in a win at San Diego State and 18 points and 10 assists in a home victory against New Mexico.
Thursday
Auburn at Kentucky: Nell Fortner's team left itself a lot of work to do after understandable early losses against the likes of Florida State and Duke mushroomed into a funk that included neutral-site losses against South Florida and Sacred Heart, but things seem to quietly be coming together. Sunday's victory against South Carolina made it 6-2 in the SEC for an Auburn squad whose field goal offense and field goal defense are both improving in conference play. And with Kentucky riding a six-game winning streak in advance of Tennessee's visit on Feb. 7, might the Wildcats fall into the proverbial trap game? Kentucky loves to harass guards, so the matchup against Morgan Toles (2.9 assist-to-turnover ratio) should be fun to track.
Penn State at Michigan: Both teams beat preseason conference favorite Ohio State within the past week. The problem for Michigan is that it followed up that performance with a loss at cellar-dwelling Minnesota on Sunday. Penn State beat the Buckeyes by following a familiar script: shoot the ball well enough to offset a propensity for turnovers. Freshman sensation Maggie Lucas hit 6 of 8 3-pointers for Penn State against Ohio State. The Lady Lions are running a turnover deficit in conference play after accumulating a significant surplus early in the season, but as long as they shoot 45.9 percent from the 3-point line, they can get away with it.
California at Arizona: It's too early for an elimination game, but this sure feels like something close as both teams begin the second half of Pac-10 play. The Bears play the league's bottom four teams at home down the stretch, and their five toughest games on the road. The Wildcats face the opposite scenario, making this a hinge game for each side. When these two teams met in the Bay Area, Cal nearly doubled up Arizona on the boards in an 80-60 victory. The Wildcats might be the worst rebounding team not currently running in the red in rebound margin. In addition to that game against Cal, they were outrebounded against USC and UCLA over the weekend by 14 and 24, respectively.
Friday
Princeton at Harvard: Few teams were more dominant relative to their conference competition last season than Princeton. Friday night will reveal whether a repeat is in order. The Tigers improved to 3-0 in Ivy play with a victory at Yale on Saturday. All three wins came by double digits and all came without star forward Niveen Rasheed, out for the season with a knee injury. Without Rasheed, Addie Micir and Lauren Edwards have taken the scoring lead, and with the exception of the Yale victory, Princeton has relied more heavily on 3-pointers. Harvard point guard (and phenomenally named) Brogan Berry has 14 assists and just two turnovers during Harvard's 3-0 Ivy start.
December, 12, 2010
12/12/10
10:01
PM ET
Four things that caught my eye
1. Morgan Hook might be the nation's most dangerous H-O-R-S-E player. Oklahoma football coach Bob Stoops briefly joined color analyst Billy Tubbs on the regional television call of Sunday's game between Sherri Coale's Sooners and New Mexico, meaning they were short only Barry Switzer and possibly the spirit of the late Bud Wilkinson in putting together a heck of a panel on how to make the most of home-field or home-court advantage in Norman, Okla.
[+] Enlarge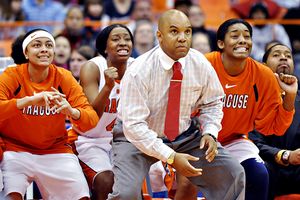 AP Photo/Kevin RivoliSyracuse coach Quentin Hillsman might get criticized for a lack of travel before the conference season starts, but Saturday's home upset of Ohio State was huge.
Then again, by the time the game was over, Sooners freshman guard Morgan Hook might have ranked as the foremost expert on the subject in attendance.
Hook scored her first 15 points on 3-pointers against a Lobos team that refused to play the role of sacrificial lamb. Hook has scored 32 of her 40 field goals this season from behind the arc -- a number that includes hitting 19 of her last 25 3-point attempts at home. But it was her field goal from point-blank range that saved the day for the Sooners and suggested she's more than a shooter.
With the Sooners down one with 10.2 seconds remaining, she got the ball back after making a sideline inbounds pass (the Lobos doubled Danielle Robinson) and needed just three dribbles to get to the opposite side of the paint and finish a long, scooping layup in traffic.
Oklahoma looks like the dictionary definition of a young team that's going to be better in March than it is right now, particularly if Whitney Hand returns from a long injury layoff as anything close to her old self. But between Hook and Aaryn Ellenberg, who struggled Sunday but more than proved her potential in last week's loss against Ohio State, the present isn't too bad alongside Robinson.
And just as last year's escape at Marist early in the season marked a step in that team's evolution and in Nyeshia Stevenson's development as a go-to option, Sunday might prove the same for Hook and the Sooners.
2. Tennessee has more options than an Army-Navy football game. Chelsea at Tottenham was an enjoyable Sunday morning appetizer for the main course of Tennessee at Texas, so perhaps I just had depth on the brain after Chelsea afforded itself the luxury of bringing on Didier Drogba and Frank Lampard as subs. But even as Pat Summitt shortened her bench on the road at Texas, playing four players for 30-plus minutes and giving double-digit minutes to just six players in all, two fewer than in any previous game this season, Tennessee's depth stood out -- even if only in the form of potential energy.
It wasn't that Summitt couldn't go deeper; it's that she had the luxury not to, having found a lineup that the Longhorns couldn't stop and having kept those players fresh in previous games. Consider one of the answers on the postgame quote sheet from Texas coach Gail Goestenkors after her team's 92-77 loss.
"We didn't know what kind of lineup they would start," Goestenkors said. "They have changed their lineups a little bit recently. When [Kelley] Cain's in there they are so big and strong, and when [Shekinna] Stricklen is out on the perimeter, they are one of the toughest, tallest teams to guard. Lately they have been going a little bit smaller, with Kamiko [Williams] in there and [Meighan] Simmons. They have one of the quickest backcourts in the country, so they aren't as big."
And so after Angie Bjorklund got all of her 20 points in the first half, Williams and Simmons took over in the second, with Stricklen and Johnson doing all that was needed inside against the small Longhorns.
To a large degree, we know what Connecticut is. It's just nobody has figured out how to stop that for the past two-plus seasons. And while Baylor and Stanford have taken the occasional loss (albeit mostly at the hands of Connecticut), the same is essentially true of those two teams, the next tests on Tennessee's schedule. The Lady Bears and Cardinal are going to get better at being who they are between now and March, but the basic essence of what they are isn't going to change -- doesn't need to change. What's intriguing about Tennessee is it's not entirely clear what the Lady Vols are -- or that they need to be the same thing every time out. Maybe the Georgetown loss suggests the Lady Vols are still working through it themselves, but when you've got perhaps the deepest roster out there, you've got a lot of looks to throw at opponents.
3. Syracuse showed its doubters something. Syracuse still needs to schedule some road games to be played before Auld Lang Syne is retired each year, but folks like me need recipes for crow with all the leftovers from the Orange knocking off Ohio State on Saturday. Soft early schedule notwithstanding, Syracuse showed off a tough interior in owning the glass against an Ohio State team with Jantel Lavender collecting 14 offensive rebounds despite shooting a more-than-respectable 43.8 percent from the floor and holding an overall 43-33 rebounding edge. And in a battle of New York-area point guards that precedes the coming weekend's showdown at Madison Square Garden between Ohio State's Samantha Prahalis and Connecticut's Bria Hartley, Syracuse senior Erica Morrow got the best of Prahalis with 27 points and just two turnovers in 39 minutes.
Syracuse gets another chance to make a statement when it faces Baylor on a neutral court in the Bahamas on Dec. 21, but the Orange and coach Quentin Hillsman deserve their due. It's easy to play the bully against the likes of Cornell, Maryland-Eastern Shore and Delaware State. It's not easy against Ohio State, and it deserves a tip of the cap.
4. April Sykes is still here. Rutgers sophomore Monique Oliver had the starring role in Rutgers' biggest win of the young season, totaling 21 points and 17 rebounds against Georgetown on Dec. 9, but that game and Sunday's loss at Boston College offered a glimpse at an April Sykes long rumored but rarely seen. Sykes scored 17 points against Georgetown and 32 points against Boston College, and finished the two games a combined 11-of-21 on 3-point attempts. Those two efforts alone total more than a quarter of the points she scored all last season, and she's just 32 points shy of matching her single-season high. It's not the big game next Sunday, but Rutgers matching up with Texas A&M as the opening act for Connecticut and Ohio State looks more and more intriguing.
The week ahead
Monday: The Windy City derby between DePaul (11-1) and Northwestern (8-1) merits the spotlight for reasons beyond a light schedule. DePaul's Keisha Hampton became the program's 25th player to reach 1,000 points during Saturday's win against Northern Illinois, and the junior has scored 20 percent of those points during this season's first 12 games. Forced by injuries to play 38 minutes a game last season, DePaul point guard Sam Quigley's assist-to-turnover ratio has gone from 1.34 last season to 2.15 in much more manageable minutes this season. For Northwestern, which beat DePaul last season for the first time in more than a decade, senior center Amy Jaeschke is coming off a 37-point, 17-rebound effort against Central Michigan on Saturday.
New Mexico State's trip to Michigan marks the day's only other game between teams with winning records. The Wolverines' four losses this season came against Xavier, Marquette, Texas A&M and Iowa State (with only the Xavier game in Ann Arbor), hardly an embarrassing state of affairs. And particularly in wins against Wake Forest and Kansas, they seem to be playing Kevin Borseth's brand of basketball.
Tuesday: Whatever rotation Tennessee uses when it travels down the road from Austin to Waco and a matchup against Baylor, everyone who gets on the court better bring something to the table. Of course, where Brittney Griner is concerned, it will help the Lady Vols if Kelley Cain is one of those players on the court. Cain left Sunday's game with what was described on the broadcast as a right hip contusion. Baylor hasn't played since beating Minnesota on Dec. 5, but Griner is working on a string of four consecutive games with at least 20 points. Perhaps just as impressively, she had a total of five turnovers in those games. Griner doesn't get enough credit for taking care of the ball better than most posts. There might be times when she's still too cautious in making an offensive move, or when she shoots going away from the basket, but she doesn't give away possessions.
Saint Mary's (Calif.) at Arkansas-Little Rock isn't quite the game it could have been before Thanksgiving, but it's still an inter-region mid-major clash. And it still features a pair of intriguing leads in Little Rock's Chastity Reed and Saint Mary's Louella Tomlinson. Reed didn't travel to her team's weekend loss at Memphis, its third defeat in a row, for what the Memphis Commercial Appeal described as disciplinary reasons.
Wednesday: Wisconsin and Washington State aren't making reservations for Indianapolis, but they're the first and last BCS conference schools on Wyoming's schedule, starting with the Badgers traveling to Laramie for Wednesday's game (the Cougars visit on Saturday). So while it would be fun to see Wyoming's dynamic duo of Hillary Carlson and Aubrey Vandiver (33.3 points and 17.8 rebounds per game between them) play some higher-profile games, this will have to do.
What says Big East like an Ohio River rivalry between Louisville and Cincinnati? Just wait until TCU joins the mix. But geography aside, Wednesday's conference game is the third tough test in a row for the Bearcats, who started the season with five consecutive wins before losses at Dayton and at home against Xavier. It's also an intriguing individual matchup of breakout backcourt stars between Louisville freshman Shoni Schimmel and Cincinnati senior Shareese Ulis, who put up 24 points on 8-of-16 shooting in the 69-61 loss against Xavier a week ago.
Thursday: Stanford has a key stretch looming with a road trip to Tennessee this coming weekend and home games against Xavier and Connecticut after Christmas, but the Cardinal aren't taking it easy in advance of all of that, instead heading to Chicago to face DePaul on Thursday. They didn't look rusty Sunday against Fresno State after a long layoff for finals, including 10 points and 11 rebounds off the bench from Sarah Boothe. Because if there's one thing Stanford didn't have enough of on a roster with more double-double potential than In-N-Out, it's size.
Put Arizona State's Charli Turner Thorne on the list of coaches willing to go where so many others fear to tread -- tough mid-major gyms. Arizona State's visit to South Dakota State starts a nice weekend of basketball for fans in Brookings, where the hometown Jackrabbits also host Iowa on Saturday. Reserve Steph Paluch (17 assists, 14 turnovers) is the only South Dakota State player with more assists than turnovers, something reflected in a loss at Northern Iowa on Saturday in which the Summit League team had 26 turnovers and nine assists.
Friday: Tulane already knocked off LSU and gets a shot at sweeping the state's big names when Louisiana Tech comes calling Friday. The Green Wave will be coming off more than a week and a half without a game, an annual break that has generally been pretty kind to them (winning the first game back in four of the past five seasons, including at South Florida last season).
Speaking of Tulane and Louisiana Tech, those are the two teams to beat Mississippi State this season, a fact the Lady Bulldogs will find it difficult to keep true on the road against Xavier (not to mention Wednesday's game at Southern Miss).