Category archive:

Stanford Cardinal
November, 13, 2011
11/13/11
10:39
PM ET
Monday morning headline: Stanford is off and running.
Gonzaga stayed with Stanford for a half Sunday, saddling the Cardinal with their first halftime deficit at home since Jan. 30, 2010, a stretch of 24 games at Maples Pavilion. Texas hung around, too, seizing on home-court advantage and a shorthanded opponent to stay within five points with 10 minutes to play against the Cardinal on Friday.
[+] Enlarge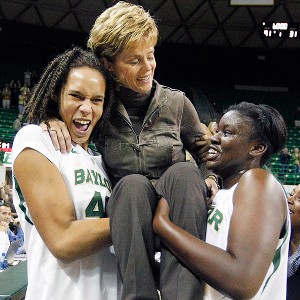 AP Photo/LM OteroKim Mulkey got a lift from 6-foot-8 Brittney Griner, left, and 6-4 Sune Agbuke after winning her 300th game.
But after three days of the 2011-12 regular season, it's pretty clear that if you want to knock down Stanford, you had best bring a knockout punch.
Testing itself while other contenders test their attention spans during the second half of blowouts against overmatched opponents, Stanford beat Texas 72-59 on the road without Nnemkadi Ogwumike (unspecified upper body injury). Then it beat Gonzaga 76-61 in large part because of the elder half of the Ogwumike sisters. With Gonzaga constantly looking to push the tempo and having already turned an early 24-14 deficit into a 30-29 lead, Stanford kept punching the ball inside for run-ending, soul-sapping baskets down low. Nneka finished with 33 points and 18 rebounds against Gonzaga, while younger sister Chiney followed up 16 points and 14 rebounds against the Longhorns with 19 points against the Bulldogs.
The Cardinal have a star capable of taking over a game and singlehandedly reversing momentum. And they have a team that can win without her.
That's not bad work for a season barely 72 hours old.

Best individual weekend performance: Alex Gensler. The elder Ogwumike probably deserves top billing for her effort against Gonzaga, but since we've been over that, it's worth giving some space to Duquesne's Alex Gensler. The senior guard made sure the Dukes avoided a potential opening stumble by scoring a career-high 33 points, including a career-best eight 3-pointers from the new line, in a 74-70 win at Saint Francis. Part of what landed Duquesne in the preseason mid-major top 10 is the balance the team displayed last season, with five players averaging between 8.2 and 12.6 points per game. But if balance is nice over the span of a season, sometimes there's no substitute for a single hot hand over the span of 40 minutes.

Best team weekend performance: Maryland. It isn't going to soothe the sting of an embarrassing loss in a game of more import in the NCAA tournament last spring, but Maryland's 72-53 win against Georgetown on Sunday is the only game that matters to the current state of affairs for both teams. The Terrapins exploited everything a team is supposed to try and exploit against the Hoyas, limiting Sugar Rodgers to 1-of-12 shooting, forcing other shooters to beat them (the Hoyas hit 2 of 17 3-pointers) and dominating the glass. Alyssa Thomas and Tiana Hawkins combined for just two fewer rebounds than Georgetown. An 84-46 win against Loyola to open the regular season isn't without merit, either. There are contending teams that will register far less convincing wins against far more inferior teams in the season's opening weeks.
Best individual performance, coaching division: Kim Mulkey. Granted, it wasn't Mulkey's toughest assignment -- although Chattanooga should have a much better season than the final score in Waco indicates -- but win No. 300 is a big deal. Baylor's 91-31 demolition of the Mocs provided Mulkey her milestone win. And come to think of it, trying to balance while being carried on the shoulders of 6-foot-8 Brittney Griner and anyone else on the roster, as Mulkey was after the win, might be among the tougher challenges of her career.

Biggest surprise: Villanova beating Michigan State. Mulkey wasn't the only coach to hit a milestone over the weekend. In fact, Villanova's Harry Perretta doubled her up by collecting win No. 600 in Sunday's 76-47 win against Iona. He's just the seventh Division I coach to total 600 wins at one school. But nobody is probably more pleased than Perretta himself that the milestone was overshadowed by win No. 599. That came courtesy of a 75-64 win against No. 25 Michigan State on Friday, the first against a ranked foe for the Wildcats in more than two years.
Villanova's next three games come at Marist and Princeton and home against Delaware, quality opponents that should test what Perretta has on his hands with Rachel Roberts and Lauren Burford (a combined 13-of-24 shooting from the 3-point line through two games).

Beyond the headlines: Xavier tries to stay in the game: No team took a bigger offseason hit than Xavier, which dropped from No. 5 in the final AP poll last season to the suburbs of oblivion. We know first-year coach Amy Waugh's hand doesn't include two aces, Amber Harris and Ta'Shia Phillips, but the Musketeers could at least stay at the table if forwards Amber Gray and Marquette transfer Jessica Pachko form a productive partnership and guard Tyeasha Moss emerges as a go-to player. Moss had 22 points, 12 rebounds and four assists in an opening win against Eastern Kentucky, but she used 17 shots to get those points. Against a schedule still loaded with the kind of opponents you book when you have two WNBA giants, the defenses are only going to get more difficult, starting with Monday's trip to Mississippi State and Sunday's visit to Louisville.
Nobody expects Xavier to get back to the rarified air of recent seasons, and Waugh is going to pile up some early losses to go along with her first career win. But if you forget who used to here and only look at the talent that is here, there is at least enough potential to make this a team worth keeping tabs on as Atlantic 10 season nears.
Setting up the week to come (Monday-Friday)
• Louisville at Texas A&M (ESPNU, 4 p.m. ET Tuesday): The matinee between teams with a lot of familiar faces on the perimeter -- Tyra White, Sydney Carter, Becky Burke and Tia Gibbs among them -- also features some new faces in the paint. Texas A&M's Kelsey Bone managed just 11 points and one rebound while battling foul trouble in her first game for the Aggies, while Cierra Warren scored 18 points in just 12 minutes for Louisville in an opening win against Missouri State. It appears Louisville will be without Shoni Schimmel, forced to sit out two games as a result of playing in a non-sanctioned 3-on-3 tournament, but highly touted freshman Sara Hammond stepped into the void with 13 points and 13 rebounds in the team's first game.
• Miami at Tennessee (ESPN2, 6 p.m. ET Tuesday): This one is the definition of new school against old school when it comes to program prestige. Shenise Johnson was, well, Shenise Johnson in Miami's opener against Texas-Pan American, falling one assist shy of a triple-double and two steals shy of a quadruple double (she finished with 20 points, 13 rebounds, nine assists and eight steals -- and just nine field-goal attempts). But the question in Knoxville is what can the supporting cast -- namely Stefanie Yderstrom and Morgan Stromando -- do for Johnson and Riquna Williams. We know the Hurricanes have the stars to compete for a title. This is the first of many chances for them to prove they have a supporting cast fit for a trip to Denver.
• Georgetown at LSU (Wednesday): Yes, Georgetown can't afford many shooting performances like the one Sugar Rodgers had against Maryland on Sunday. But in arguably the team's brightest moment last season, when it pushed Connecticut to the limit on a neutral court in the Sweet 16, Rodgers shot a woeful 3 of 17 from the floor. The rest of the team shot 21-for-45 that day. So as much as we wait to see how Rodgers bounces back against an always-tough LSU defense, we also wait to see how her supporting cast responds (at least outside of Tia Magee, who more than held her own Sunday).
• Penn State at Delaware (Thursday): There is some meat on Delaware's nonconference schedule this season, meaning plenty of opportunities to see Elena Delle Donne against quality opposition. That wasn't so much the case as she poured in 33 points in an opening win against Rhode Island, but this game is the best of all worlds -- a opponent that can challenge her physically but which has little interest in slowing down the game.
• South Dakota State at Middle Tennessee (Thursday): A lot of coaches for successful mid-major programs hold to the principle that it does them little good to play each other, the loser incurring more damage than the winner reaps benefit. That's not the case for South Dakota State's Aaron Johnston and Middle Tennessee's Rick Insell, and the sport is better for it. I'm intrigued to see Ashley Eide's second line after the Jackrabbits junior put up 27 points (with eight turnovers) in a win against Utah State.
January, 16, 2011
01/16/11
11:58
PM ET
Monday
Connecticut at North Carolina (ESPN2/ESPN3.com, 7 p.m. ET): The Huskies picked apart the Tar Heels the past two seasons, showing what happens when a team that relies on size, speed and forcing mistakes meets a team with equal size and speed that doesn't get flustered.
The Tar Heels still aren't going to run away from the Huskies, and Geno Auriemma's young team has shown it isn't easily flustered, but the size could be a factor with Tina Charles out of the mix -- assuming the ACC side holds onto the ball long enough to get it into the post or get shots up to allow for offensive rebounding opportunities. One positive for North Carolina is that these Tar Heels value possession far better than recent vintages. Led by point guard Cetera DeGraffenreid, who has just 24 turnovers in 466 minutes, North Carolina is averaging only 16 turnovers per game. No Tar Heels team has averaged fewer than 19 turnovers per game since the 2005-06 season. The bad news is that as the competition level has increased, so have the Tar Heels' turnovers in the past three games -- 18 against Georgia Tech in a loss, 20 against Boston College in a win and 22 in Friday's win against NC State. That's music to Connecticut's transition-minded ears.
North Carolina A&T at Hampton: It's a showdown for first place in the MEAC, although North Carolina A&T's loss at Howard on Saturday means it's not a meeting of conference unbeatens. WIth a road win at James Madison and a win at home against Florida already to its credit, Hampton has shown it can play at a high level. The Pirates have also won all four of their MEAC games by at least 16 points, including the last three by more than 20 points. As a team, they don't value the ball particularly well (260 turnovers in 16 games), but point guard Jericka Jenkins ranks among national leaders with a 3.12 assist-to-turnover ratio.
Tuesday
Georgetown at Notre Dame: Sugar Rodgers scored at least 19 points in each of Georgetown's first three Big East games and at least 24 points in each of the team's past three games against Clemson, Syracuse and Marquette, but those streaks came to crashing halts Saturday in the Hoyas' 49-45 win at Providence. Rodgers hit 1-of-8 shots in 27 minutes, just the second time in her career she has finished with a single field goal. For its part, Notre Dame showed no ill effects from a tough loss against Connecticut, routing Louisville by 20 points and Pitt by 32 points last week. The Fighting Irish have been outrebounded just three times this season, so it's difficult to imagine Georgetown duplicating that feat it accomplished in beating the Irish last season.
Wednesday
Texas at Texas A&M: Was Sunday's memorable game against Oklahoma that included a lost lead, a frantic comeback and an eventual overtime loss a step in the right direction, another disappointment, or both for Texas? We can debate that; the Longhorns have to turn around and play another rival in Texas A&M. The bad news is the Longhorns are 0-3 in the Big 12 this season, 7-16 against Baylor, Oklahoma and Texas A&M under Gail Goestenkors and shot 30 percent with 23 turnovers against the Sooners. The good news is despite all of that, they didn't quit and got big shot after big shot from Chassidy Fussell down the stretch to force overtime.
Texas Tech at Oklahoma: The other half of one of the past weekend's most exciting games heads home to play the only one-loss unranked team in a BCS conference. That's the price the Lady Raiders play for a soft schedule and three modest victories to open Big 12 play, but win in Norman and everything changes. Chynna Brown has been a key to the team's early conference success, averaging 14.3 points and 29 minutes in Big 12 play, compared to 5.4 points and 14.9 minutes out of conference (although she really began to heat up after the Christmas break).
Danielle Robinson, Whitney Hand and Aaryn Ellenberg combined to take 62 of Oklahoma's 77 shots against Texas and took 70 percent of the team's shots in Hand's first four games back. By way of comparison, LeBron James, Dwyane Wade and Chris Bosh account for 62 percent of the Miami Heat's field goal attempts.
Saint Joseph's at Temple: After a strong start this season, Saint Joseph's dropped back-to-back home games against Xavier and Charlotte last week to fall to 1-2 in the Atlantic 10. Rebounding is unlikely to become a statistic the Hawks dominate, but double-digit deficits like the ones against the Musketeers and 49ers are tough to overcome. For Temple, unbeaten in its first three A-10 games, Kristen McCarthy sizzles. She opened with 22 points and nine rebounds in a win at Charlotte and is shooting 51 percent, including 43 percent from the 3-point line, in A-10 play.
BYU at TCU: It's a clash of unbeatens atop the Mountain West standings in Fort Worth. Stuck in neutral at 6-6 after a home loss against Georgia just before Christmas, TCU is now 12-6 overall and 4-0 in conference play, including a big 68-47 road win at Wyoming last Wednesday. Helena Sverrisdottir had just six more assists than turnovers in 14 games out of conference but is already nine ahead in four MWC games. BYU's only true road win this season came against BYU-Hawaii, Utah Valley and Air Force, leaving plenty for the Cougars to prove in Texas.
Thursday
UCLA at Stanford: In UCLA's only loss, LSU got to the free-throw line 22 times and beat the Bruins on the boards in Westwood. In 15 wins, the Bruins averaged 21.5 free-throw attempts to 14.8 for their opponents, and 38.5 rebounds to 30.1 for their opponents, including edges in both categories in wins against Notre Dame and Temple. For all its ample size and toughness, Stanford gets to the free-throw line surprisingly infrequently -- it's one of just two top-10 teams, along with Michigan State, that has more 3-point attempts than free-throw attempts.
Michigan at Northwestern: It might not have looked like a big game when the schedules came out, but there is potentially a lot riding on Thursday's contest in Evanston. Michigan is 3-1 against ranked teams in the past month and could conceivably move into a tie atop the Big Ten with a win. Northwestern got its first win against Ohio State since 1999 last week but is 1-2 on the road in conference play after Sunday's loss at Purdue. The program's NCAA tournament hopes (it hasn't been since 1997) might ride on defending their home turf.
Friday
Georgia Tech at Duke: For Georgia Tech, the best ACC start in program history hinges on Monday's game at Wake Forest, but Friday's game at Cameron Indoor Stadium will tell a lot about whether this is a Yellow Jackets team with any chance to produce the best ending in program history. Georgia Tech hasn't come within 10 points of Duke since the 2006-07 season and hasn't beaten Duke since the 1993-94 season. Brilliant but not always economical in her shooting, Jasmine Thomas hit 14-of-23 shots in a pair of wins last season.
February, 6, 2010
02/06/10
4:55
PM ET
With the season's opening games less than two weeks away, it's time to take a quick tour -- two by two this year -- through some of the best teams out there.
No. 9 Stanford
It's not easy to fly under the radar as a freshman at Stanford. Last year brought the collegiate debut of Ashley Hansen, the only high schooler invited to the Team USA selection camp in 2008. That might seem like hard hype to top, but Kelsey and Teagan Gerhart, two of Toby's little sisters, will keep the family name alive and well as older brother moves on to the NFL.
Teagan, in particular, holds special interest as a pitcher for a team with two of the best all-around players in the sport in Hansen and Alissa Haber and returning starters at a total of seven positions -- but which must replace Missy Penna in the circle. It's also worth noting that as long a shadow as Penna cast, junior Ashley Chinn would likely move into fifth all time in strikeouts at Stanford just by duplicating her first two seasons -- and she's likely to pitch significantly more than that.
No. 10 Georgia Tech
[+] Enlarge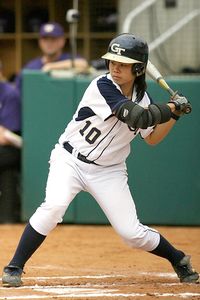 Jerry Pillarelli/Georgia Tech AthleticsExpect a big season from Georgia Tech second baseman Jen Yee.
Like any upwardly mobile program looking to prove its staying power among the sport's elite, Georgia Tech must show it can replace the attrition of graduation without skipping a beat. Gone from the team that reached the program's first super regional are Whitney Haller, the ACC's all-time RBIs leader, as well as key contributors Tiffany Johnson and Blair Shimandle.
But not every lineup change from the final game a season ago against Washington is a potential problem. If the Yellow Jackets enter this season with some question marks, one of them must come as the punctuation to asking if there is a better middle infield anywhere in the country.
Absent during last season's NCAA tournament, Kelsi Weseman is ready to rejoin second baseman Jen Yee in the heart of the order and the middle of the diamond.
Weseman didn't play in the super regional against Washington or in the regional the Yellow Jackets won after she broke her arm in the seventh inning of the ACC title game against Florida State. Those games notwithstanding. she ranked third in the ACC in batting average, fourth in slugging percentage and second in on-base percentage (trailing Yee in all three categories).
Only three freshmen nationally posted better slugging percentages: Northwestern's Adrienne Monka, New Mexico State's Tiare Jennings and Radford's Leigh Godfrey.
"She's a hard worker," Perkins said of the soft-spoken sophomore. "She came a long way on range and her arm strength and even with her bat. I mean, I didn't know she was going to be on fire with her bat. She grew up playing baseball, and usually kids that payed baseball at a young age, they end up being successful hitting for softball. ... But I didn't know she'd be that great. I thought she'd be solid for us on defense, and that's what we needed. We wanted her to come in there and play for four years, and lucky for us, I think that's what is going to happen. But you don't really see that she is going to have that much success. We play a tough schedule; we play a competitive schedule. And to have her succeed is pretty awesome."
Georgia Tech has plenty of familiar faces from its national exposure in super regionals, including standouts Yee, pitcher and third baseman Kristen Adkins and outfielder Christy Jones. It also adds some new faces of note, including freshman pitcher Hope Rush and Florida transfer Kristine Priebe. But if Weseman, who resumed defensive work in the fall and hitting this winter, comes through again, it will be one very big answer.
"I think people, since she was a freshman, they kept just trying to take their chances with her and not with [Yee and Haller]," Perkins said. "So it will be interesting to see what happens this year. I think some people will pitch around her and maybe try to find a weakness this year, but I know she's also been working really hard on maybe some things she struggled with last year."
Graham Hays covers softball for ESPN.com. E-mail him at Graham.Hays@espn3.com.