Category archive:

Texas A&M Aggies
December, 4, 2011
12/04/11
10:25
PM ET
Monday morning headline: Statements or suggestions?
Statement wins. They're not just for college football anymore! Thankfully, since the only subjective judgment used in basketball's postseason is between No. 64 and No. 65, not No. 2 and No. 3, style points from Sunday's games are nothing more than conversation fodder. But four games between ranked teams make for a lot of fodder.
Ranking the statements made:
1. Purdue beating Texas A&M: More on the Boilermakers in a minute.

2. Ohio State beating Oklahoma: A year is a long time to wait for a mulligan, but that's what Ohio State earned with a big win at Oklahoma. The Buckeyes beat the Sooners a year ago to improve to 7-0 and promptly lost four of their next five games, and six of their next nine, locking in the script for a team that was never as consistent or as good as you got the feeling it should have been with Jantel Lavender and Samantha Prahalis. The schedule through the end of the month is much kinder this time around, and after adding a victory in Norman to home wins against Temple, Florida State and LSU, it's once again tempting to believe this team has some long-range potential. Averaging a shade more than 21 points per game for the season, Tayler Hill averaged 24.5 points in those four signature wins. She also shot 48.2 percent in those games.
[+] Enlarge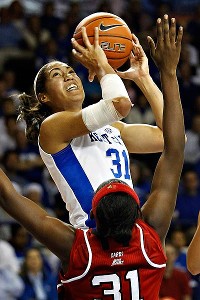 AP Photo/James CrispSamantha Drake shoots over Louisville's Asia Taylor in the Wildcats' 74-54 victory Sunday.
3. Kentucky beating Louisville: A'dia Mathies got the best of Shoni Schimmel in a battle of Bluegrass State guards (albeit one a transplant), and Kentucky's 74-54 win just about evened the score in the series after last season's 78-52 drubbing at the hands of Louisville. This one matters most because Kentucky's schedule was lighter than a helium balloon floating in the International Space Station coming into Sunday, making it tough to know what to think of life after Victoria Dunlap (and before Connecticut transfer Samarie Walker becomes eligible following the fall semester). The problem is Sunday seemed to prove Kentucky can turn people over and play hard for Matthew Mitchell, two things we already knew. If the Wildcats repeat the 3-point shooting (10-for-19) at Duke on Thursday, then we've got a statement.
4. Tennessee beating Texas: Don't get angry, Lady Vols Nation. You're only fourth because your team's elite credentials mean beating Texas is more taking care of business than making a statement. The rebounding (49-38) is what we expect. The 3-point shooting (11-for-21) can't be counted on every game, but it's nice to know it's there. The impressive part? Just nine turnovers. Against its three toughest opponents this season, Tennessee now has just 33 turnovers (including 13 against Miami and 11 against Baylor). Tennessee didn't play Miami a season ago, but if you substitute Louisville in its place, the Lady Vols had 58 turnovers in three similar games.
Best team weekend performance: Purdue. A season ago, Purdue lost a tough home game against Maryland in the ACC/Big Ten Challenge. It then lost its next two games at Notre Dame and Texas A&M. There's no shame in those defeats, but losing by 21 points in South Bend and a cringe-inducing 45 points in College Station pushed the Boilermakers completely out of the national conversation the rest of the way. Well, Purdue had ample reason to look at Thursday's loss at Duke as one that got away, a 40-39 lead with 11:58 to play vanishing in a game-ending 25-13 run by the Blue Devils. Purdue couldn't buy a shot, couldn't get a rebound and couldn't stop turning over the ball when it mattered.
So what did Sharon Versyp's team do three days later against the defending national champion? Turn a nine-point deficit with 15:39 to play into a 60-51 win. Purdue matched Texas A&M on the boards, getting 12 rebounds from Sam Ostarello, in addition to four steals and two blocks. Brittany Rayburn and Courtney Moses hit 5 of 10 shots from behind the arc and matched seven turnovers against a tough defense with seven assists.
It's a statement win all on its own. It's an even better one given what preceded it.

Best individual weekend performance: Chucky Jeffery, Colorado. The number of unbeaten teams is already dwindling toward single digits, with few real surprises amid names like Baylor, Connecticut, Delaware and Green Bay. One name that does jump out is Colorado, it of the 18-16 record last season. Playing a schedule that nobody will confuse with those favored by teams like Rutgers or Tennessee helps, and Sunday's 68-59 victory against Idaho might not rank high on the statement scale, but unbeaten is unbeaten. Jeffery ensured the Buffaloes still fit the category with 30 points and 10 rebounds against the Vandals. For the season, she's averaging 18.3 points. 9.4 rebounds and 4.1 assists while shooting 54 percent from the floor and 44 percent from the 3-point line, so, you know, expect to see her name here again at some point.

Best individual off-the-radar weekend performance: JaQuayla Berry, North Carolina A&T. It's never too early to start conference play. All right, it's ridiculously early to start conference play, but the MEAC is one of several leagues doing it anyway. Berry gets the nod here for filling up the stat sheet with 28 points, 14 rebounds, five assists and three steals in a game that mattered, North Carolina A&T's 84-74 win against North Carolina Central. Berry was third in the nation in steals per game last season.

Best mid-major team: Green Bay. The next mid-major top 10 isn't until next week, but consider this an unofficial change at the top. Gonzaga dropped a 58-51 decision against USC at home Sunday, while Green Bay completed a weekend that began with a win Friday against in-state rival Marquette and ended with a 74-67 victory over Northern Iowa on Sunday. Senior post Julie Wojta was at it again, with a double-double against Marquette and a career-best 26 points against Northern Iowa, but keep an eye on redshirt freshman Megan Lukan. Phoenix coaches last season compared Lukan to Celeste Hoewisch at the same point in her career (both redshirted their first season in Green Bay). Lukan had 12 points and three steals against Marquette and 13 points against Northern Iowa. Lukan is a keeper.
Setting up the week ahead (Monday-Friday)
Rutgers at Miami (Monday): Not a single Rutgers player averaged 30 minutes per game through the team's first eight contests, which is saying something for a program that recently seemed capable of using players for 30 minutes a half. It's early, and there have been a couple of bench-friendly wins against teams like Lehigh and La Salle, but will depth actually be an asset for the Scarlet Knights? Speaking of spreading the wealth, Miami's Morgan Stroman led the Hurricanes with 20 points in last week's win at Michigan State, the first time a player other than Shenise Johnson or Riquna Williams led them in scoring since Dec. 18, 2010 (Stroman against UC Riverside).
Texas A&M at Connecticut (ESPN2, 7 p.m. ET Tuesday): There's something about the Women's College Cup, college soccer's version of the Final Four, that doesn't sit well with the Aggies. Long the Big 12's flagship soccer team, Texas A&M has a strong claim to being the best program never to reach the signature event. And now for the second year in a row, Gary Blair's basketball team dropped its first game of the season over College Cup weekend. OK, maybe I've been around too much soccer this weekend. The Aggies bounced back from a loss at Duke last season with a big victory against Purdue in their next game. Now coming off a loss at Purdue, they need Sydney Carter and Adrienne Pratcher (combined 3-for-21 versus Purdue) to at least play Bria Hartley and Caroline Doty to a standstill to have a chance in Hartford in the Jimmy V Classic.
Duke at Kentucky (Thursday): Duke's Chelsea Gray is in the middle of any conversation about the weekend's best performance after going for 14 points, 13 assists, 11 rebounds and six steals (and just one turnover) in a 92-43 rout of Pittsburgh on Sunday. Now the challenge is to see how she and Chloe Wells hold up against the pressure Kentucky applies. This has all the makings of a game in which both teams approach 30 turnovers, but if Wells and Gray take care of the ball and get looks inside for Elizabeth Williams and at the 3-point line for Tricia Liston, look out. For the season, the Blue Devils are still running a positive assist-turnover ratio.
January, 23, 2011
01/23/11
8:48
PM ET
Monday
Iowa at Ohio State: The schedules are favorable for both of these Big Ten preseason favorites after this week, which also includes Iowa hosting Michigan State on Thursday, but that will be small comfort for Monday's loser. Iowa is both a dangerous and prolific 3-point shooting team, but it is not an efficient 3-point shooting team, hitting just 29.2 percent of its shots behind the arc. That makes it all the more important for the Hawkeyes to value possession and give shooters maximum opportunities -- in four losses, Iowa averaged 16.5 turnovers, compared to 14.3 in 15 wins. Considering all four games were in play late, those possessions mattered. In the wake of Sarah Schulze's unfortunate knee injury for Ohio State, Ashley Adams becomes one of the most intriguing names in the conference after the 6-foot-5 freshman put up 13 points, nine rebounds, five blocks and four assists in Thursday's win at Illinois.
Miami at Florida State: The polls differ on which team should be favored, but Miami seems to have the most to gain in this ACC clash. The Hurricanes can validate a 4-0 conference start lacking in marquee wins by earning their biggest road result of the season (granted, it would top a short list). Both teams live at the free-throw line, even if they sometimes look like strangers in a strange land at the charity stripe (both shoot 67 percent from the line). Riquna Williams and Shenise Johnson weren't the problem in Miami's only loss this season at Nebraska; it was the rest of the team shooting 10 of 29 from the floor. So who steps up alongside the Miami stars?
Tuesday
West Virginia at Georgetown: It promises to be a telling week for West Virginia, which also travels to DePaul on Saturday, as Mike Carey's team looks to win on the road against ranked competition. This will be the fourth game in 11 days for the Mountaineers, but easy wins against Marshall on Jan. 19 and South Florida on Jan. 22 allowed Carey to rest key players, including Madina Ali, playing with a stress fracture in her right leg.
Wednesday
Connecticut at Rutgers: With due respect to Pittsburgh, which trailed by just six points at halftime of its game at Connecticut last week, this shapes up as a better game by which to gauge the Huskies without Samarie Walker, if only because it's in Piscataway and the Huskies and Scarlet Knights don't always play nice by the banks of the Raritan River. Two seasons ago, the game at Rutgers featured 32 fouls. Three seasons ago, the last time the Huskies lost a Big East regular-season game, two Huskies finished with four fouls and two more had three fouls. Without Walker, Geno Auriemma is going to have to get creative if his team -- and particularly freshman post Stefanie Dolson -- runs into foul trouble.
Texas A&M at Oklahoma: Texas A&M took 11 more shots than Iowa State in Saturday's 60-51 win, the first for the Aggies in Ames and the first home loss for the Cyclones in their past 20 games. That shouldn't be a surprise; entering play on Saturday, Gary Blair's team averaged 16.2 more field goal attempts per game than its opponents, easily the best such mark among teams in the top 20. Danielle Adams had been shooting just 41.7 percent from the floor in conference play before hitting 10 of 19 shots against the Cyclones.
Charlotte at Richmond: In doesn't get any easier for Richmond, which experienced A-10 life to the fullest last week with a big victory at Duquesne and a tough loss at home against Dayton, its first in conference play. The Spiders held the Flyers to three assists and forced 22 turnovers on Saturday but couldn't overcome the visitors collecting 51 rebounds and going to the free-throw line 31 times. That doesn't bode well against a Charlotte team that, despite being beaten soundly on the boards in Saturday's loss against Xavier, is tied for the conference lead in rebounding margin and leads the league in free-throw attempts. Neither team can afford to let Temple pull too far ahead in what might still be a race for second behind Xavier.
Thursday
Green Bay at Butler: Is it the game of the year in the Horizon? Both teams will be perfect at 7-0 in league play entering the night. Last season's game in Indianapolis was a three-point contest inside the final minute before the Phoenix held on for the season sweep. The senior trio of Brittany Bowen, Chloe Hamilton and Alyssa Pittman leads the Bulldogs, while sophomore Lydia Bauer and junior Hannah Quilling are emerging as ever more consistent complementary options for the Phoenix with backcourt starter Adrian Ritchie still sidelined by a sprained MCL. Quilling totaled five points, six rebounds, three steals and 11 assists, and Bauer scored a career-high 20 points in Green Bay's 85-39 demolition of Wisconsin-Milwaukee over the weekend.
"Lydia is as good a shooter as anybody in our league," Green Bay coach Mat Bollant said after the Milwaukee win. "It's exciting to see her taking steps. She was out for a long time with the shoulder injury, so it's taken her a little while to get back in great shape and to get her legs underneath her."
Gonzaga at Saint Mary's: It's another mid-major with a national profile going on the road to face its primary conference challenger. Blowout victories against Santa Clara and San Francisco over the weekend allowed Gonzaga to make ample use of its bench, and Meghan Winters seized the opportunity by hitting 6-of-13 3-point attempts. But it's Saint Mary's most likely to make use of the long-distance shot in this game, with Kate Gaze, Jasmine Smith and Suzie Davis all shooting better than 40 percent. The game also pits the conference's two top shot blockers, although national leader Louella Tomlinson has more than a bit of a cushion on Kayla Standish.
Arizona at USC: The Wildcats are 4-3 in the league at the moment, but as their place on the outside in Charlie Creme's most recent Bracketology suggests, they could use a road win -- preferably against a team other than the Pacific Northwest quartet at the bottom of the conference standings. The Women of Troy simply aren't shooting well enough to consistently beat quality competition, but Briana Gilbreath knocked down 14-of-30 shots against California and Stanford over the weekend, albeit both times in losses.
Friday
Wake Forest at Maryland: There aren't any truly compelling matchups to close the work week, but after Maryland needed overtime to escape with a victory at Virginia on Friday and then cruised past North Carolina by 23 points on Sunday, it might at least be interesting to see if the Terrapins come out focused for a weekend that also includes a low-profile game against Longwood. Maryland didn't have the same leading scorer in back-to-back games until freshman standout Alyssa Thomas made it two in a row at Virginia and then three in a row against North Carolina.
January, 16, 2011
01/16/11
11:58
PM ET
Monday
Connecticut at North Carolina (ESPN2/ESPN3.com, 7 p.m. ET): The Huskies picked apart the Tar Heels the past two seasons, showing what happens when a team that relies on size, speed and forcing mistakes meets a team with equal size and speed that doesn't get flustered.
The Tar Heels still aren't going to run away from the Huskies, and Geno Auriemma's young team has shown it isn't easily flustered, but the size could be a factor with Tina Charles out of the mix -- assuming the ACC side holds onto the ball long enough to get it into the post or get shots up to allow for offensive rebounding opportunities. One positive for North Carolina is that these Tar Heels value possession far better than recent vintages. Led by point guard Cetera DeGraffenreid, who has just 24 turnovers in 466 minutes, North Carolina is averaging only 16 turnovers per game. No Tar Heels team has averaged fewer than 19 turnovers per game since the 2005-06 season. The bad news is that as the competition level has increased, so have the Tar Heels' turnovers in the past three games -- 18 against Georgia Tech in a loss, 20 against Boston College in a win and 22 in Friday's win against NC State. That's music to Connecticut's transition-minded ears.
North Carolina A&T at Hampton: It's a showdown for first place in the MEAC, although North Carolina A&T's loss at Howard on Saturday means it's not a meeting of conference unbeatens. WIth a road win at James Madison and a win at home against Florida already to its credit, Hampton has shown it can play at a high level. The Pirates have also won all four of their MEAC games by at least 16 points, including the last three by more than 20 points. As a team, they don't value the ball particularly well (260 turnovers in 16 games), but point guard Jericka Jenkins ranks among national leaders with a 3.12 assist-to-turnover ratio.
Tuesday
Georgetown at Notre Dame: Sugar Rodgers scored at least 19 points in each of Georgetown's first three Big East games and at least 24 points in each of the team's past three games against Clemson, Syracuse and Marquette, but those streaks came to crashing halts Saturday in the Hoyas' 49-45 win at Providence. Rodgers hit 1-of-8 shots in 27 minutes, just the second time in her career she has finished with a single field goal. For its part, Notre Dame showed no ill effects from a tough loss against Connecticut, routing Louisville by 20 points and Pitt by 32 points last week. The Fighting Irish have been outrebounded just three times this season, so it's difficult to imagine Georgetown duplicating that feat it accomplished in beating the Irish last season.
Wednesday
Texas at Texas A&M: Was Sunday's memorable game against Oklahoma that included a lost lead, a frantic comeback and an eventual overtime loss a step in the right direction, another disappointment, or both for Texas? We can debate that; the Longhorns have to turn around and play another rival in Texas A&M. The bad news is the Longhorns are 0-3 in the Big 12 this season, 7-16 against Baylor, Oklahoma and Texas A&M under Gail Goestenkors and shot 30 percent with 23 turnovers against the Sooners. The good news is despite all of that, they didn't quit and got big shot after big shot from Chassidy Fussell down the stretch to force overtime.
Texas Tech at Oklahoma: The other half of one of the past weekend's most exciting games heads home to play the only one-loss unranked team in a BCS conference. That's the price the Lady Raiders play for a soft schedule and three modest victories to open Big 12 play, but win in Norman and everything changes. Chynna Brown has been a key to the team's early conference success, averaging 14.3 points and 29 minutes in Big 12 play, compared to 5.4 points and 14.9 minutes out of conference (although she really began to heat up after the Christmas break).
Danielle Robinson, Whitney Hand and Aaryn Ellenberg combined to take 62 of Oklahoma's 77 shots against Texas and took 70 percent of the team's shots in Hand's first four games back. By way of comparison, LeBron James, Dwyane Wade and Chris Bosh account for 62 percent of the Miami Heat's field goal attempts.
Saint Joseph's at Temple: After a strong start this season, Saint Joseph's dropped back-to-back home games against Xavier and Charlotte last week to fall to 1-2 in the Atlantic 10. Rebounding is unlikely to become a statistic the Hawks dominate, but double-digit deficits like the ones against the Musketeers and 49ers are tough to overcome. For Temple, unbeaten in its first three A-10 games, Kristen McCarthy sizzles. She opened with 22 points and nine rebounds in a win at Charlotte and is shooting 51 percent, including 43 percent from the 3-point line, in A-10 play.
BYU at TCU: It's a clash of unbeatens atop the Mountain West standings in Fort Worth. Stuck in neutral at 6-6 after a home loss against Georgia just before Christmas, TCU is now 12-6 overall and 4-0 in conference play, including a big 68-47 road win at Wyoming last Wednesday. Helena Sverrisdottir had just six more assists than turnovers in 14 games out of conference but is already nine ahead in four MWC games. BYU's only true road win this season came against BYU-Hawaii, Utah Valley and Air Force, leaving plenty for the Cougars to prove in Texas.
Thursday
UCLA at Stanford: In UCLA's only loss, LSU got to the free-throw line 22 times and beat the Bruins on the boards in Westwood. In 15 wins, the Bruins averaged 21.5 free-throw attempts to 14.8 for their opponents, and 38.5 rebounds to 30.1 for their opponents, including edges in both categories in wins against Notre Dame and Temple. For all its ample size and toughness, Stanford gets to the free-throw line surprisingly infrequently -- it's one of just two top-10 teams, along with Michigan State, that has more 3-point attempts than free-throw attempts.
Michigan at Northwestern: It might not have looked like a big game when the schedules came out, but there is potentially a lot riding on Thursday's contest in Evanston. Michigan is 3-1 against ranked teams in the past month and could conceivably move into a tie atop the Big Ten with a win. Northwestern got its first win against Ohio State since 1999 last week but is 1-2 on the road in conference play after Sunday's loss at Purdue. The program's NCAA tournament hopes (it hasn't been since 1997) might ride on defending their home turf.
Friday
Georgia Tech at Duke: For Georgia Tech, the best ACC start in program history hinges on Monday's game at Wake Forest, but Friday's game at Cameron Indoor Stadium will tell a lot about whether this is a Yellow Jackets team with any chance to produce the best ending in program history. Georgia Tech hasn't come within 10 points of Duke since the 2006-07 season and hasn't beaten Duke since the 1993-94 season. Brilliant but not always economical in her shooting, Jasmine Thomas hit 14-of-23 shots in a pair of wins last season.
January, 9, 2011
01/09/11
10:51
PM ET
Monday
Florida Gulf Coast at USC Upstate: An otherwise light schedule just means more of the spotlight is available for an Atlantic Sun showdown between teams focused on regular-season glory. Florida Gulf Coast knocked off NCAA tournament regular East Tennessee State on Saturday in conference play and looks to secure another big road win here. USC Upstate dropped to 4-1 in conference play with a loss against Stetson on Saturday but has the league's leading scorer and rebounder in Chelsea McMillan (16.4 ppg, 10.2 rpg). Kelsey Jacobson needed just 10 shots to lead Florida Gulf Coast with 21 points Saturday, hitting five of 10 3-pointers and all six of her free throws.
Tuesday
West Virginia at Marquette: With apologies to St. Bonaventure, a good team with a distinctive style, this is the biggest true road test to date for No. 7 West Virginia. Before games against Seton Hall and Cincinnati last week, coach Mike Carey said the team was still adjusting to having Sarah Miles back. And while the Mountaineers didn't need anything close to perfection to rout both foes, 40 turnovers, including seven from Miles, suggests the adjustment continues. For Marquette, having the Angel Robinson who helped spark Saturday's double-overtime upset at Georgetown (18 points, eight rebounds, seven assists, three turnovers) will be critical. She's just 8-of-34 from the field with 10 turnovers in three career games against the Mountaineers.
Illinois State at Missouri State: With Creighton off to a 3-0 start in Missouri Valley play and looking strong, neither of these teams wants to be saddled so early with a second league loss. Sophomore forward Christina Shorter, last season's MVC Freshman of the Year, led the Bears in each of their first two conference wins, scoring a total of 40 points in those games. But she attempted just seven shots to go with four fouls in 22 minutes in an 80-69 loss at Northern Iowa last week.
Wednesday
TCU at Wyoming: The Cowgirls effectively put all their eggs in the conference basket by playing a weak early schedule, but the strategy seems to be working thus far. Wyoming's Aubrey Vandiver put up 24 points in Saturday's win at New Mexico, and a win in Albuquerque is worth something, no matter what kind of season the Lobos are having. TCU has four wins in a row since a heartbreaking last-second loss against Georgia, including a 49-47 road win at San Diego State on Wednesday. Helena Sverrisdottir became TCU's all-time assists leader in Saturday's win over UNLV, totaling 24 points, seven rebounds and seven steals to go with her six assists.
Texas A&M at Oklahoma State: Has reality set in for No. 25 Oklahoma State, which opened Big 12 play Sunday with a 63-45 loss at Kansas State? The Cowgirls head to Baylor after Wednesday's game against the Aggies, so it's going to take some work to avoid an 0-3 league start after cracking the Top 25 with a 12-1 start to the season. No. 5 Texas A&M, on the other hand, hasn't won by fewer than 25 points since a loss at Duke early in December. During that seven-game stretch, point guard Sydney Colson has 52 assists against just 12 turnovers.
Louisville at Notre Dame: Louisville plays at No. 12 Notre Dame on Wednesday and at No. 2 Connecticut on Saturday, a road trip that could only be less appealing if it came with a layover in Vladivostok. But the game in South Bend is big, both as a test of where the Cardinals fit in the Big East table after a 3-0 league start and whether Notre Dame builds off or wallows in Saturday's heartbreaker against Connecticut. Monique Reid has been on fire of late for the Cardinals, scoring 20 or more in three consecutive games, including 24 points in a win over St. John's on Tuesday and 29 points against Pitt on Sunday.
Thursday
Iowa at Michigan State: It's the second week of January, and only three Big Ten teams own winning records in conference play, so 3-0 versus 2-2 qualifies as a big deal, especially when it's No. 13 Michigan State and No. 22 Iowa in possession of those records. The Spartans obliterated Wisconsin and Michigan on the boards in wins last week and lead the Big Ten in rebounding margin, but the Hawkeyes are second in the category. In two games against Iowa last season, Michigan State totaled just nine second-chance points and was outrebounded by 17. The Hawkeyes won both games.
Oregon at USC: The Ducks bounced back from a rough opening weekend of conference play with wins at home against Washington and Washington State, but Paul Westhead's team wasn't exactly dominant on the stat sheet in either victory. If Oregon is going to be any sort of factor in the league, it needs to win on the road outside the Pacific Northwest -- and USC is at least a better bet for that than Stanford or UCLA. On the flip side, if USC's Briana Gilbreath, Ashley Corral and Jacki Gemelos can't get their shot back on track against a defense allowing 48.5 percent shooting in four Pac-10 games, the Women of Troy might have reason to worry.
Tennessee at Florida: Is this a potential game or a potential rout? It depends on which Florida you believe is the real deal. The Gators are 8-0 at home, including noteworthy victories against Charlotte, Old Dominion and Arkansas. They're just 1-5 in true road games, although the one came in Sunday's win at South Carolina, in which the Gators shot 56.5 percent. One thing that should worry Florida fans is that their team has more turnovers than the opponent in all three SEC games thus far. If No. 6 Tennessee has a weakness, it might be its propensity for turnovers (see: Georgetown). But 20 turnovers won't hurt the Lady Vols if they force 30.
Friday
Duke at Florida State: No. 3 Duke had plenty of headline performances last week, including Chelsea Gray's fortunate "shot" to beat Kentucky, and a pair of big scoring nights from Jasmine Thomas against the Wildcats and Maryland. But don't overlook Tricia Liston's seemingly small supporting role. Liston hit three of seven 3-point attempts in the wins, one more than the total long-distance contributions of every other Duke player not named Jasmine Thomas. While the 3-point line was largely a barren wasteland for the Blue Devils last season, it's now home to a number of role players -- including Liston, Gray, Shay Selby and Kathleen Scheer -- who can play the role of X factor on a given day.
December, 7, 2010
12/07/10
12:32
AM ET
DURHAM, N.C. -- Sydney Colson played anything but the perfect game Monday night against No. 5 Duke, and there's no denying Texas A&M suffered without its starting senior point guard on the court for much of the second half because of foul trouble.
[+] Enlarge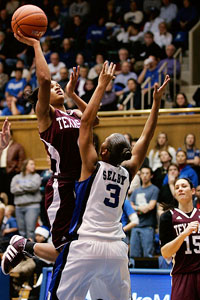 Mark Dolejs/US PresswireSydney Carter (above) is a more-than-capable point guard, but the junior and Texas A&M are at their best when Sydney Colson is on the court.
Playing with three fouls and more than 16 minutes remaining, Colson was called for a reach-in foul well beyond the 3-point line on the defensive end and had to sit for nearly eight minutes. Considering Colson still finished with more assists (eight) in her 26 minutes on the court than Duke did in the entire game (seven), her absence was pronounced for a team that shot 34 percent on the night.
"It was huge," Texas A&M coach Gary Blair said. "There was no excuse for her foul. We were playing soft, just trying to get [the clock] down to the last five minutes. She made that fourth foul with 16-something to go. It was just a reaching foul. But she knows. We've had that problem a lot over the years because she either strips you or they go the other way with it.
"That's just something we've got to get better on, and she knows it."
And yet losing a game on the road in December against a top-five opponent won't hurt the Aggies nearly as much as losing Colson for an extended period again -- a point driven home as the injury-plagued guard lay on the ground holding her ankle in the first half. After a few moments to gather herself, she walked off under her own power and returned not long after.
The intervening minutes might have set a record for the longest time a fan base held its breath.
Texas A&M is a different team with Colson on the court and at something close to full strength. That combination was in short supply last season and early this season (Monday was just her third start) due to a litany of injuries. There was a foot problem early this season and a stress reaction in her left fibula last season, none necessarily related to the sizable brace she still wears on her right knee because of an ACL tear prior to the 2008-09 season.
Colson has 29 assists in just 127 minutes this season, or 9.1 assists per 40 minutes, an amount of time on the court Blair might be happy to have her average for two games. When Texas A&M jumped to an early 10-point lead on Friday, Colson was right in the middle of it, pushing transition and ballhawking on defense. In the first three minutes of the game, she had assists to three different Aggies.
Texas A&M does have alternatives, a necessity considering the ever-changing state of Colson's status.
"Sydney Carter's a pretty good point guard," Blair said of the junior who finished with 13 points against Duke. "She's leading the Big 12 in assist-turnover ratio. … Those two have shared the position for a long time; we've got no problem with Carter playing."
But if Colson is playing alongside her or in relief of her, other teams have a substantial problem. And even if Monday wasn't Colson's best game, the fact that it also wasn't her last for any length of time is good news for Texas A&M.