Category archive:

UCLA Bruins
February, 5, 2012
02/05/12
10:46
PM ET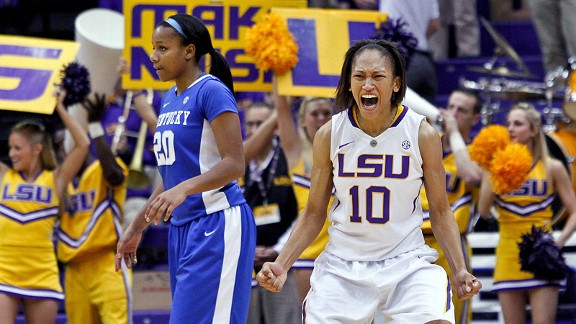 Derick E. Hingle/US PresswireAdrienne Webb and LSU topped No. 5 Kentucky despite 24 turnovers.
Monday morning headline: Kentucky leaves the door open.
The last time Kentucky was 21-3, which also happens to be the only time prior to this season that Kentucky was 21-3, Madonna had yet to record a No. 1 hit and Eli Manning was 2 years old.
That was the 1982-83 season, and the nearly three decades between then and now represent one more reason a 61-51 loss at LSU on Sunday is hardly cause for panic.
Good teams lose games, particularly in places like Baton Rouge. That said, you take the good with the bad when you apply for membership in college basketball's elite. And in at least cracking open the door it could have slammed shut on the rest of the SEC, Kentucky showed some familiar, if far from crippling, vulnerabilities on the road.
LSU turned over the ball 26 times against Kentucky's pressure, three fewer turnovers than teams average this season against the Wildcats but hardly a model of ball control. The same was true of Middle Tennessee, which turned over the ball 28 times in a 70-58 win against Kentucky in late December. Even Notre Dame gave away the ball 22 times in beating the Wildcats, who never relent in running wave after wave of pressure at foes.
So what's the catch? In addition to all those turnovers forced, and the total is 701 and counting through 24 games, Kentucky has allowed opponents to record just 218 assists. But Notre Dame, Middle Tennessee and LSU, the three teams to come away with wins, accounted for 48 of those assists, nearly one out of every four against Kentucky this season. The Lady Tigers fed the turnover machine, allowing the Wildcats to score 26 of their 51 points off them, but they also recorded assists on 11 of 17 field goals, shot 57 percent from the field and went to the line 31 times. Kentucky is going to get its turnovers more often than not, but it seems to be the other possessions, the ones that end in bad shots and flustered sets, where opponents give away the game. Credit Adrienne Webb and the rest of the Lady Tigers for not joining that list on this day in Baton Rouge.

Weekend's best team performance: UCLA. Leading Washington State by just three points with a little more than 11 minutes remaining in Saturday's Pac-12 game, UCLA used a 25-4 run to blow the game wide open with almost four minutes still remaining on the clock.
Yet much as Bruins coach Cori Close might have wished to pull her key players for those final minutes of the blowout, for reasons of recuperation as much as mercy, she had no such options.
At least the first-year coach didn't have to waste much time learning names.

Walker
In the race for second in the Pac-12, which is what the conference boils down to with Stanford around, UCLA remains in the thick of things at 7-4, one game behind California in advance of Thursday's trip to Berkeley. The remaining schedule isn't particularly friendly to UCLA, beginning with the back end of the Bay Area trip and a game at Stanford, but even the opportunity to write their own ending is a major achievement for a team with essentially six players.
Three players -- starters Jasmine Dixon and Atonye Nyingifa and reserve Moriah Faulk -- are out for the season with injuries, while two top recruits never made it to Westwood after former coach Nikki Caldwell left for LSU. The roster carnage left the Bruins at 8-10 overall and 3-4 in the league following a loss against Oregon on Jan. 21.
But the four-game winning streak that was extended Saturday has a lot to do with six players doing all they can and one player, in particular, filling the role of at least two. Junior Markel Walker finished with a triple-double against the Cougars: 14 points, 15 rebounds and 10 assists. In the four wins, she averaged 17 points, 12.3 rebounds and 5.5 assists.

Weekend's best individual performance: Chelsea Poppens, Iowa State. There's a good story brewing at Iowa State, one that will be a great story when coach Bill Fennelly is able to tell it at full volume. With Fennelly undergoing treatment for a cancerous lesion on his vocal cords, Iowa State dropped its first five conference games (a rugged opening stretch with road games at Oklahoma, Kansas and Texas and no relief at home against Baylor and Texas A&M).
Well, the Cyclones have won four of five since that opening stretch, including a 71-56 victory against Texas on Saturday. Poppens totaled 27 points and 10 rebounds in just 24 minutes against the Longhorns, hitting 9-of-11 shots from the floor. The junior forward topped 20 points three times in the past five games.

Michigan's best import: Porsché Poole, Michigan State. A kid from Ohio who shares a spelling, if not a pronunciation with the most ostentatious of foreign import automobiles? It doesn't seem like a perfect match, but Poole is the heart of Michigan State's resurgence. A week after rescuing the Spartans from a potential fifth consecutive defeat with 32 points, six rebounds and six assists in a win against Penn State, she came up with 23 points, nine rebounds and five assists in a 65-63 victory against Michigan. In what had been essentially a one-possession game for the entire second half, Poole cut a four-point deficit in half with 2:14 to play, assisted on Lykendra Johnson's tying basket with 53 seconds remaining and hit the winner with 3.9 seconds to play.

Best defense on campus: Davidson. The Wildcats are 10-2 in the Southern Conference and in the thick of the title race with Appalachian State and Chattanooga. They're also second in the conference in field goal defense, so Davidson knows its way around a stop or two. But the first-half line from Saturday's game against Charleston still stands out: Davidson 24, Charleston 4. The Wildcats won the game 46-23, holding Charleston to 10 percent shooting. For the record, Davidson's football team gave up more than 23 points six times this season.

Part of the club: UTEP. Bowling Green, Delaware, Green Bay, Miami, Stanford and UTEP all reached 20 wins over the weekend (Florida Gulf Coast and Gonzaga got there Thursday). The last of those might be the one flying most under the radar. UTEP doesn't have the schedule strength of some of its mid-major counterparts, but with a 20-2 record, two 10-game winning streaks and a perfect 9-0 record in Conference USA, it is doing something right. For one thing, the Miners are ensuring opponents don't do much right. UTEP is limiting teams to 32.5 percent shooting and forcing 18.7 turnovers per game.
The (busy, busy) week ahead
Maryland at Georgia Tech (Monday): After a loss against Virginia Tech on Jan. 26, Maryland coach Brenda Frese said her team had an open discussion as to which direction it wanted to go from there. Maryland blitzed Boston College in its only game since that loss, but Monday's game against a Georgia Tech team half a game ahead in the ACC standings will reveal more about the answer. It didn't have Alyssa Thomas in the game against the Virginia Tech, but she was back against Boston College and had 24 points and 11 rebounds in an earlier win against Georgia Tech.
North Carolina at Duke (ESPN2/ESPN3, 7 p.m. ET Monday): With road games at Duke on Monday and at Miami on Wednesday, North Carolina could make a run at the story of the regular season or drop completely out of the ACC discussion before Valentine's Day and risk playing itself onto the NCAA tournament bubble against a backloaded schedule. No doubt Elizabeth Williams will figure prominently in any success for the Blue Devils, but keep an eye on Allison Vernerey. No Duke player has a better career scoring average against the Tar Heels than Vernerey (9.4 points per game in five games).
Oklahoma at Baylor (Monday): Things didn't go so well for the Sooners in the first game in Norman, and the return match in Waco isn't likely going to be any better if Aaryn Ellenberg, Whitney Hand and Morgan Hook shoot 2-of-16 from the 3-point line again. Then again, a lot of teams keep digging deeper when they find themselves in an early hole against the nation's top-ranked team. Baylor was No. 12 in the nation in 3-point field goal defense entering the weekend, but no team ranked in the top 30 in that statistic had faced more 3-point attempts.
Oral Roberts at South Dakota State (Monday): There are a lot of high-profile games on Monday's schedule, but there's a good one slightly off the radar in Brookings, S.D. The home team has a two-game lead on Oral Roberts in the Summit League standings, but South Dakota State's lone conference setback came in a 71-65 loss at Oral Roberts. In fact, the Jackrabbits have dropped five regular-season games in a row against Kevi Luper and the Golden Eagles, dating back to the 2009-10 season.
American at Lehigh (Wednesday): Seeding is everything in one-bid leagues without a neutral site for the conference tournament. American (8-0) can all but wrap up the regular-season title and No. 1 seed in the Patriot if it gets a win on the road against second-place Lehigh (6-2). After some close calls early, including a 55-49 home victory against Lehigh, American won each of its past three conference games by at least 23 points.
Tennessee at Vanderbilt (Thursday): Kentucky's loss against LSU opened a door to the SEC title that seemed to close when Tennessee dropped a stunner at home against South Carolina midweek. The Lady Vols are strong overall against the 3-pointer (giving up shots at just a 25.8 percent clip), but both Notre Dame's Skylar Diggins (5 of 7) and South Carolina's Markeshia Garant (7 of 12) punished them recently. It was a high point in an otherwise decisive loss for Vanderbilt, but will Christina Foggie (5 of 12) be able to replicate her shooting from the team's first meeting?
Gonzaga at BYU (Thursday): Given Stanford's domination in the Pac-12, this might be the best conference game west of the Continental Divide this season. Or at least one half of the best home-and-home series. BYU bounced back from a surprise loss at Pepperdine on Feb. 2 to rout Saint Mary's on Saturday. That helped create a little breathing room between Gonzaga (10-1), BYU (9-2) and the rest of the conference. The Cougars get their next four games at home before a trip to Gonzaga to wrap up the regular season.
Fairfield at Marist (Friday): It likely won't be the case by the end of the night Monday, but Marist opens the week in the unfamiliar territory of second place in the MAAC, half a game behind Fairfield in advance of Friday's tilt (Marist could pull into a tie with a win when it hosts Saint Peter's on Monday). The Red Foxes dropped a 48-44 decision at Manhattan on Saturday, ending a 34-game regular-season conference winning streak.
December, 11, 2011
12/11/11
5:52
PM ET
NEW YORK -- Monday morning headline: Tennessee aces new test.
Tennessee has a heck of a role model when it comes to leadership under adversity.
During a timeout in the opening game of Sunday's Maggie Dixon Classic between Baylor and St. John's, Tennessee coach Pat Summitt made her way onto the court at Madison Square Garden to accept an award named for the late coach and given to members of the women's basketball community fighting particularly courageous battles. Even in the midst of a game proving to be closer than most expected, the players and coaches of both teams broke their huddles, stood and applauded, one testament in a day full of them to just how universal is the support for the legendary coach of the Lady Vols as she battles early onset Alzheimer's.
[+] Enlarge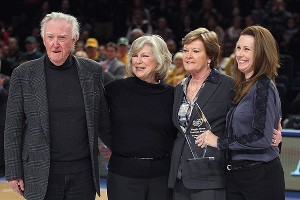 Alan Maglaque/US PresswirePat Summitt was honored with the Maggie Dixon courage award at Madison Square Garden on Sunday.
By comparison, playing 40 minutes of basketball without a freshman point guard is hard to file under the category of a hardship. On the other hand, the essence of Summitt's battle -- to some degree the essence of her career -- is that you fight the battles in front of you, no questions asked and no excuses given.
For Summitt's team in the second game of Sunday's doubleheader, that meant playing its first game without Ariel Massengale.
For the first time in a long time, Tennessee has a point guard who fits all the classic criteria of the position and could potentially fit them as well as anyone playing the position at the moment. In her first six games in orange, Massengale totaled 35 assists and just 15 turnovers against a schedule loaded with postseason-caliber foes.
But the Lady Vols will be without Massengale for two to three weeks because of a dislocated finger, a stretch that includes road games at Rutgers, UCLA and Stanford.
Not having a point guard played a big part in Tennessee's downfall in the NCAA tournament a season ago, but that wasn't the case Sunday against a tournament-caliber team. It wasn't always pretty for a team with just nine assists, but they got the ball inside enough to earn 35 trips to the free throw line and score 50 points in the paint.
Shekinna Stricklen admitted some nerves in reprising the role of point guard she filled in recent seasons, possibly at the expense of her all-around All-American game, but between her efforts and those of scoring guard Meighan Simmons and even a wing with a good handle like Taber Spani, the Lady Vols got the job done.
"She's a great point guard," associate coach Holly Warlick said of Massengale. "You can't teach an instinct of a point guard. You just can't. That's a sign of what Ariel Massengale means to this team and what we needed. She's a great leader, but she leads by example. She's smart, she sees the open floor. You can't tell a guard everything to do, and a great guard -- a great point guard -- sees things. They get the ball to whoever needs it when they need it. That's what Ariel Massengale does.
"Look, Shekinna Stricklen, Meighan Simmons, they're very good guards, but they don't have probably the quality as a Massengale has. It doesn't matter if she's a freshman or a senior. That is not taught, what Massengale has."
It only gets more difficult Tuesday night against the pressure of Rutgers and C. Vivian Stringer's defense. But if the Lady Vols currently lack a point guard with skills that can't be taught, they do seem to have a surplus of players who are willing to learn.
Co-best individual performance, Maggie Dixon Classic edition: Brooklyn Pope. Is it more surprising that Pope led Baylor with 19 points in a win against St. John's, or that she didn't commit a single foul in 30 minutes on the court against the Red Storm? Pope averages 11.0 points and 7.0 rebounds per game, but even after her lengthy stay on the court Sunday, she does it all in just 18.2 minutes per game. Run those numbers for a full 40 minutes and Pope would average 24.2 points and 15.4 rebounds -- Griner-esque, to say the least. So why the limited work? Well, before avoiding the whistle against St. John's, Pope also averaged 4.6 fouls per 40 minutes, emblematic of an overzealousness that often earned her a place behind Kim Mulkey on the bench.
Co-best individual performance, Maggie Dixon Classic edition: Alicia Manning. The senior forward isn't a one-for-one swap for Massengale when it comes to her position, but Manning saw a lot more playing time off the bench as part of a rotation that didn't include the freshman point guard. All she did with the newfound workload was contribute 12 points, 12 rebounds and four steals. For programs like Tennessee and Connecticut, there is a fine line between overrating role players who look better because of their surroundings and underrating those same sort of players who fall in the shadow of stars. Manning has always seemed like she fit the latter category more than the former, an athletic 6-foot-1 forward with some touch and an endless motor.
[+] Enlarge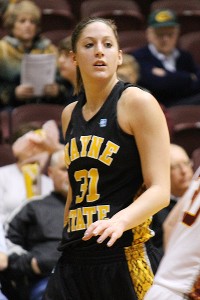 Courtesy of Graham HaysAshley Arlen played at Iowa State before transferring to Wayne State College (Neb.).
Best blast from the past: Ashley Arlen, Wayne State College. Time and resources make it difficult to dwell on the happenings in Division II, but Big 12 fans might well remember Arlen's name. As a freshman, she averaged 3.5 points and 3.1 rebounds per game in regular minutes for an Iowa State team that advanced to within a game of the Final Four. I was fortunate enough during a weekend trip to South Dakota to find Arlen back on a path that could end with a trip to the Final Four, albeit one in San Antonio this year and not Denver.
Arlen transferred to Div. II Wayne State (Neb.) after one season in Ames, Iowa, and now averages better than 20 points per game for a team that entered the weekend ranked fourth. In Friday's game against Northern State (S.D.), where our paths crossed, she went for 27 points, six rebounds, three blocks and three steals. She still looked every bit a Division I player as a 6-2 forward with athleticism and a soft touch from beyond the arc, but she also looked and sounded about as happy as a basketball player can.
Wayne State coach Chris Kielsmeier won a national championship in Division III before taking his current job and isn't taking the gift of three seasons of Arlen for granted.
"She's a tremendous leader and extremely competitive," Kielsmeier said of a player who last season became Wayne State's first All-American. "She loves the game, wants to continue to play the game overseas with any opportunities that she can. … You're fortunate to be able to recruit someone like that, and she's a special player that has changed our program."
We so often hear about the beginning of the story when a player leaves a program looking for a different fit, but it was good to see the other end of the timeline.
The week ahead (Monday-Friday)
Tennessee at Rutgers (ESPN, 7 p.m. ET Tuesday): Rutgers doesn't lack for opportunities when it comes to big games against teams like Connecticut and Notre Dame in the Big East, but this is a chance to score as big a win as the program has had in quite some time. The Scarlet Knights will probably rise or fall based on perimeter play, and how much they can frustrate the Lady Vols without Massengale, but the boards are also a point of interest. Can a Rutgers team without a great deal of size maintain the rebounding advantage it has held all season?
DePaul at Princeton (Tuesday): This game looked more appealing before DePaul dropped Sunday's game by a sizable margin and Princeton suffered a surprising 13-point loss at Navy. But a win against the Blue Demons would still be a major achievement for the Ivy League powerhouse. And lest it go unsaid, credit to DePaul's Doug Bruno for not only going to play at Princeton but playing at Illinois State less than a week later.
UCLA at LSU (Tuesday): UCLA's remaining schedule before the end of the year: at LSU, versus Tennessee, at Temple, at Saint Joseph's, versus California, versus Temple. Good luck with that. But for all the obvious reasons, you know this week's game has special meaning for both Lady Tigers coach Nikki Caldwell and the Bruins she left behind.
Arizona State at DePaul (Friday): With the holidays approaching and many schools immersed in finals, it's a lean week of games of any kind, so we'll give the Blue Demons a second spot. Doug Bruno's team is in the middle of a tough stretch of the schedule and welcomes an Arizona State team off to a surprising 7-1 start but playing just its second road game.
January, 16, 2011
01/16/11
11:58
PM ET
Monday
Connecticut at North Carolina (ESPN2/ESPN3.com, 7 p.m. ET): The Huskies picked apart the Tar Heels the past two seasons, showing what happens when a team that relies on size, speed and forcing mistakes meets a team with equal size and speed that doesn't get flustered.
The Tar Heels still aren't going to run away from the Huskies, and Geno Auriemma's young team has shown it isn't easily flustered, but the size could be a factor with Tina Charles out of the mix -- assuming the ACC side holds onto the ball long enough to get it into the post or get shots up to allow for offensive rebounding opportunities. One positive for North Carolina is that these Tar Heels value possession far better than recent vintages. Led by point guard Cetera DeGraffenreid, who has just 24 turnovers in 466 minutes, North Carolina is averaging only 16 turnovers per game. No Tar Heels team has averaged fewer than 19 turnovers per game since the 2005-06 season. The bad news is that as the competition level has increased, so have the Tar Heels' turnovers in the past three games -- 18 against Georgia Tech in a loss, 20 against Boston College in a win and 22 in Friday's win against NC State. That's music to Connecticut's transition-minded ears.
North Carolina A&T at Hampton: It's a showdown for first place in the MEAC, although North Carolina A&T's loss at Howard on Saturday means it's not a meeting of conference unbeatens. WIth a road win at James Madison and a win at home against Florida already to its credit, Hampton has shown it can play at a high level. The Pirates have also won all four of their MEAC games by at least 16 points, including the last three by more than 20 points. As a team, they don't value the ball particularly well (260 turnovers in 16 games), but point guard Jericka Jenkins ranks among national leaders with a 3.12 assist-to-turnover ratio.
Tuesday
Georgetown at Notre Dame: Sugar Rodgers scored at least 19 points in each of Georgetown's first three Big East games and at least 24 points in each of the team's past three games against Clemson, Syracuse and Marquette, but those streaks came to crashing halts Saturday in the Hoyas' 49-45 win at Providence. Rodgers hit 1-of-8 shots in 27 minutes, just the second time in her career she has finished with a single field goal. For its part, Notre Dame showed no ill effects from a tough loss against Connecticut, routing Louisville by 20 points and Pitt by 32 points last week. The Fighting Irish have been outrebounded just three times this season, so it's difficult to imagine Georgetown duplicating that feat it accomplished in beating the Irish last season.
Wednesday
Texas at Texas A&M: Was Sunday's memorable game against Oklahoma that included a lost lead, a frantic comeback and an eventual overtime loss a step in the right direction, another disappointment, or both for Texas? We can debate that; the Longhorns have to turn around and play another rival in Texas A&M. The bad news is the Longhorns are 0-3 in the Big 12 this season, 7-16 against Baylor, Oklahoma and Texas A&M under Gail Goestenkors and shot 30 percent with 23 turnovers against the Sooners. The good news is despite all of that, they didn't quit and got big shot after big shot from Chassidy Fussell down the stretch to force overtime.
Texas Tech at Oklahoma: The other half of one of the past weekend's most exciting games heads home to play the only one-loss unranked team in a BCS conference. That's the price the Lady Raiders play for a soft schedule and three modest victories to open Big 12 play, but win in Norman and everything changes. Chynna Brown has been a key to the team's early conference success, averaging 14.3 points and 29 minutes in Big 12 play, compared to 5.4 points and 14.9 minutes out of conference (although she really began to heat up after the Christmas break).
Danielle Robinson, Whitney Hand and Aaryn Ellenberg combined to take 62 of Oklahoma's 77 shots against Texas and took 70 percent of the team's shots in Hand's first four games back. By way of comparison, LeBron James, Dwyane Wade and Chris Bosh account for 62 percent of the Miami Heat's field goal attempts.
Saint Joseph's at Temple: After a strong start this season, Saint Joseph's dropped back-to-back home games against Xavier and Charlotte last week to fall to 1-2 in the Atlantic 10. Rebounding is unlikely to become a statistic the Hawks dominate, but double-digit deficits like the ones against the Musketeers and 49ers are tough to overcome. For Temple, unbeaten in its first three A-10 games, Kristen McCarthy sizzles. She opened with 22 points and nine rebounds in a win at Charlotte and is shooting 51 percent, including 43 percent from the 3-point line, in A-10 play.
BYU at TCU: It's a clash of unbeatens atop the Mountain West standings in Fort Worth. Stuck in neutral at 6-6 after a home loss against Georgia just before Christmas, TCU is now 12-6 overall and 4-0 in conference play, including a big 68-47 road win at Wyoming last Wednesday. Helena Sverrisdottir had just six more assists than turnovers in 14 games out of conference but is already nine ahead in four MWC games. BYU's only true road win this season came against BYU-Hawaii, Utah Valley and Air Force, leaving plenty for the Cougars to prove in Texas.
Thursday
UCLA at Stanford: In UCLA's only loss, LSU got to the free-throw line 22 times and beat the Bruins on the boards in Westwood. In 15 wins, the Bruins averaged 21.5 free-throw attempts to 14.8 for their opponents, and 38.5 rebounds to 30.1 for their opponents, including edges in both categories in wins against Notre Dame and Temple. For all its ample size and toughness, Stanford gets to the free-throw line surprisingly infrequently -- it's one of just two top-10 teams, along with Michigan State, that has more 3-point attempts than free-throw attempts.
Michigan at Northwestern: It might not have looked like a big game when the schedules came out, but there is potentially a lot riding on Thursday's contest in Evanston. Michigan is 3-1 against ranked teams in the past month and could conceivably move into a tie atop the Big Ten with a win. Northwestern got its first win against Ohio State since 1999 last week but is 1-2 on the road in conference play after Sunday's loss at Purdue. The program's NCAA tournament hopes (it hasn't been since 1997) might ride on defending their home turf.
Friday
Georgia Tech at Duke: For Georgia Tech, the best ACC start in program history hinges on Monday's game at Wake Forest, but Friday's game at Cameron Indoor Stadium will tell a lot about whether this is a Yellow Jackets team with any chance to produce the best ending in program history. Georgia Tech hasn't come within 10 points of Duke since the 2006-07 season and hasn't beaten Duke since the 1993-94 season. Brilliant but not always economical in her shooting, Jasmine Thomas hit 14-of-23 shots in a pair of wins last season.
February, 8, 2010
02/08/10
6:16
PM ET
It's time to take a quick tour -- two by two this year -- through some of the best teams out there.
No. 5 Alabama
[+] Enlarge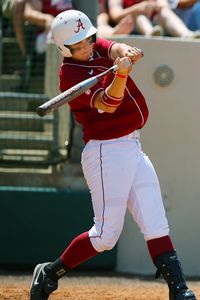 Alabama Athletics for ESPN.comPlayer of the Year candidate Charlotte Morgan could see action at first base, pitcher or designated player.
Crimson Tide fans won't soon forget last year's seniors. Kellie Eubanks, Ashley Holcombe, Kelley Montalvo, Lauren Parker and Brittany Rogers might have fallen short of bringing Alabama -- and the SEC -- its first national championship. But following in the footsetps of legends like Kelly Kretschman and Stephanie VanBrakle, the quintet cemented the program's place as a giant in the sport and one of the toughest tickets in Tuscaloosa.
But forgive Alabama fans if they push those names at least temporarily to the back of their minds; it's going to take some frontal-lobe space to follow the new team.
Alabama coach Pat Murphy can commiserate.
"We're really not even close for a cemented lineup because we lost so many kids," Murphy said in late January. "And [the graduated players] have been there -- like Brittany was the leadoff for four years -- so we've just got to pick and choose. We could have a different lineup 50 games probably. Whoever is hot or whoever is doing what they need to do, that's probably who is going to be in there."
What the five seniors meant to the team can't really be completely quantified. But we can give it a shot: 241 hits, 62 extra-base hits, 153 RBIs, 197 runs, 97 steals.
The extra-base hit mark represented 39.7 percent of the team's total -- and that was the smallest percentage of the team's totals among those five stats.
So why is Alabama still championship material and the No. 5 team here, a ranking actually lower than both official preseason polls? Because Murphy didn't stop recruiting when last year's seniors signed on, and all those lineup options he talks about are as much a sign of abundance as apprehension.
The Crimson Tide still have returning ace Kelsi Dunne in the circle and Player of the Year candidate Charlotte Morgan to pencil in at first base, pitcher or designated player. They also have Cassie Reilly-Boccia, who tied Morgan and Montalvo for the team lead in on-base percentage and led the team with 16 doubles. They still have Jazlyn Lunceford, whose grand-slam heroics in the World Series didn't come of nowhere, but instead out of a 1.075 OPS in part-time duty. And they still have Jennifer Fenton, who trailed only Morgan in batting average and Rogers in steals.
And with freshman Courtney Conley, one of a number of expected contributors in the incoming class, they have someone who sounds a heck of a lot like those who just left.
"I think mentally she is very, very good, very mature," Murphy said of Conley. "Her confidence is very good. She's one of those freshmen that, when people come to watch us, they don't believe she's a freshman. And that's what you love to hear as a coach. So she's ahead of the game in that respect. She carries herself very well. She treats it like it's her profession and she does a really good job. She works really hard. She knows she's got things to work on but she's just very prepared.
"You'll see the lights on [in the batting cages] and she's out there by herself. That's pretty good as a freshman."
No. 6 UCLA
After exiting the NCAA tournament before the World Series, formerly a place that seemed the program's birthright, in two of the last three seasons, UCLA may benefit from entering a season with at least a passable opportunity to play the "doubt" card.
On talent alone, it's difficult to argue against the Bruins. They ranked ninth in the NCAA in runs per game last season, third in slugging percentage and backed up that lineup with their best fielding numbers of the decade (the latter an especially noticeable improvement on recent seasons). They return all but one player from that mix, and as good as Amanda Kamekona was, getting Samantha Camuso back after a shoulder injury kept her out all of last season effectively negates even that loss.
And while the Bruins barely cracked the top 50 in team ERA last season and have just two shutouts in their last 17 NCAA tournament games, pitching looks like a potential strength with the additions of Washington transfer Aleah Macon and freshman Destiny Rodino. But now the Bruins need to prove the sum is equal to the parts.
Graham Hays covers softball for ESPN.com. E-mail him at Graham.Hays@espn3.com.