Category archive:

Tennessee Lady Volunteers
January, 2, 2012
01/02/12
11:21
AM ET
Monday morning headline: Nebraska makes itself at home in Big Ten. Coaches love to caution after early wins that conference play is a long road, but the Big Ten's newest team isn't likely to need the reminder.
Nebraska's first three nonconference road trips of the season took it to Flagstaff, Ariz., Tallahassee, Fla., and Atlanta, all of which are roughly the same distance from Lincoln as State College, Pa., where the Cornhuskers opened their first season of Big Ten competition Friday night with a 71-63 win against No. 17 Penn State.

Hooper
Welcome to the Big Ten. Don't forget to pack an extra magazine or two for those flights.
The curious geography of conference realignment aside, the win lends credence to the notion that the arrival of the Cornhuskers could further shake up a race that has more often than not come down to some combination of Iowa, Michigan State, Ohio State and Purdue in recent seasons. And in an entirely non-coincidental development, it's possible that the Big Ten's best player by the end of the season will turn out to have been absent from the preseason all-conference teams selected by coaches and media.
Jordan Hooper still has plenty of competition for Big Ten individual bragging rights from the likes of Ohio State's Tayler Hill and Samantha Prahalis, Penn State's Alex Bentley and Iowa's Jaime Printy, if not also from teammate Lindsey Moore. But Hooper made an opening statement that ought to resonate for some time. The Nebraska sophomore totaled 31 points and 12 rebounds against the Lady Lions. The only other player to collect at least 30 points and 10 rebounds against Penn State this season was Elena Delle Donne, good company to keep.
With an emerging star in Hooper (21.2 points, 9.2 rebounds per game on the season) and one of the nation's best point guards in Moore (16.2 points per game, 5.8 assists per game, 1.6 assist-to-turnover ratio and 41.5 percent shooting from the 3-point line, compared to 34 percent last season and 29 percent as a freshman), the Cornhuskers have the top-line talent to go to places like State College, Columbus, Iowa City and East Lansing and win.
But it doesn't stop there for a team that, as someone pointed out to me earlier this season, is getting one last push from former All-American Kelsey Griffin. One of two freshmen to start the game against the Lady Lions, Emily Cady totaled 10 rebounds and two blocks. And at various times, Cady, Hailie Sample and Brandi Jeffery have all shown the ability to contribute in big ways. The connection to Griffin? This is the class that signed after watching her lead Nebraska to a 32-2 record and a No. 1 seed in the NCAA tournament.

Rodgers
Best individual weekend performance: Sugar Rodgers, Georgetown. Granted, the stakes weren't as high as when Rodgers scored 24 points to help Georgetown rout Miami a week earlier, but she didn't show any holiday rust against Vermont and Dartmouth in the latter's Blue Sky Classic. Rodgers scored 34 points in 32 minutes in an opening victory against Vermont, and then went out the next day and made that look workmanlike by comparison, scoring a career-high 39 points in 26 minutes against host Dartmouth. That's 97 points in the final 10 days of 2011, and she didn't even play the University of Washington football team.

Best team weekend performance: Middle Tennessee. This is playing fast and loose with the notion of the weekend, since Middle Tennessee's victory Saturday against South Alabama wasn't the stuff of legend, but stretching it to an extended holiday timeline hauls in a big upset win against Kentucky last Wednesday. Despite playing heavy minutes against a Wildcats defense with no shortage of fresh bodies, Icelyn Elie and Ebony Rowe combined to hit 16-of-21 shots from the floor and 12-of-14 shots from the free-throw line. Kortni Jones finished with 10 turnovers but committed just three in 20 minutes in the second half, as the Blue Raiders withstood Kentucky's inevitable charge. When you play the kind of schedule Rick Insell does, you're going to take some lumps (a 6-5 record to start the season) if you don't have an Alysha Clark or Chrissy Givens, former MTSU superstars. You're also going to be prepared for games like the one against Kentucky.

Mid-major watch: West Coast Conference surprise. So perhaps BYU, sixth in last week's mid-major rankings, isn't the team No. 24 Gonzaga needs to worry about in the West Coast Conference. Or at the very least, perhaps it isn't the only team to worry about. BYU's WCC debut ended with a thud in a 54-48 loss at Saint Mary's. The Gaels shot 29 percent and turned over the ball 20 times, but they bludgeoned the Cougars 43-31 on the glass, including 17 offensive rebounds, and got to the free-throw line 28 times. Saint Mary's used 30 points and 12 rebounds from Maryland transfer Jackie Nared and Jasmine Smith, the key components of a résumé that includes victories against Virginia Tech, Oregon and Oregon State (Smith scored 35 at Oregon on Dec. 21, two days after Nared scored 26 at Oregon State).
The week ahead (Monday-Friday)
Miami at North Carolina (Monday): If both teams enter with something to prove, does it negate the possibility of either proving anything? Final Four teams don't lose the way Miami lost at Georgetown before Christmas, failing to break 50 points in a 71-46 drubbing, leaving a team with two road wins, one of which was against Alaska-Anchorage, with questions to answer as it hits the road in ACC play. The Hurricanes scored their biggest road victory last season in Chapel Hill, but they might not want to duplicate a formula that saw Riquna Williams take 31 shots while Shenise Johnson took just nine (admittedly in 27 foul-plagued minutes).
DePaul at Georgetown (Tuesday): It's a matchup of two of the Big East's top three scorers, and Keisha Hampton isn't even in that mix (at least she's back on the court). As mentioned above, Rodgers enters the second conference game for both teams on a tear, but she isn't the only one. DePaul's Anna Martin scored 30 points against Northern Illinois on Dec. 31 to ensure Doug Bruno earned career win No. 500 before the calendar turned to 2012. Martin has scored at least 20 points in three consecutive games and is third in the conference at 19 points per game.
West Virginia at Connecticut (Wednesday): Connecticut doesn't fall for trap games, but there isn't anything appealing about facing West Virginia three days before a big game against Notre Dame in South Bend. The Huskies are 23-1 in the all-time series against the Mountaineers, but Mike Carey's teams have given them some fights in recent seasons, including last season's 57-51 Connecticut win in Morgantown. West Virginia turns over the ball too much for its own good in this kind of game, but the Mountaineers also play Carey's typically suffocating, physical defense.
Michigan at Michigan State (Wednesday): Speaking of series domination, Michigan State has treated its supposed in-state rival like one of the state's MAC directional schools in recent seasons. And by recent, I mean since the turn of the century. The Wolverines haven't won in East Lansing since 2001 and are 1-17 overall in the past 18 meetings. But Kevin Borseth's team enters this game with a 12-2 record after crushing Illinois 70-50 in its Big Ten opener. Michigan's Jenny Ryan has 18 assists and one turnover in her last 107 minutes on the court.
Iowa State at Oklahoma (Wednesday): Another midweek game that is far more intriguing than the lack of rankings might suggest. The Sooners have won five in a row since falling to .500 with three consecutive losses against Vanderbilt, Ohio State and Fresno State, with a different leading scorer in each of the past four victories. Iowa State's opponents in the Cyclone Challenge last week, Buffalo and New Hampshire, aren't Big 12 quality, but it's still worth noting that Chelsea Poppens piled up 33 points and 29 rebounds in the team's two easy wins.
Georgia at Tennessee (Thursday): Without being dismissive of a 12-2 team, there isn't anything Georgia does demonstrably better than Tennessee. The Bulldogs force more turnovers, but they also did much of that damage against the kind of teams they should turn over 25-plus times per game. The Lady Vols have the rebounding and shooting (although they are 3-of-21 on 3-pointers in the past three halves of basketball) to win even if they get a little sloppy with the ball. But if the Bulldogs can't force those miscues, it's tough to envision any path to victory.
December, 11, 2011
12/11/11
5:52
PM ET
NEW YORK -- Monday morning headline: Tennessee aces new test.
Tennessee has a heck of a role model when it comes to leadership under adversity.
During a timeout in the opening game of Sunday's Maggie Dixon Classic between Baylor and St. John's, Tennessee coach Pat Summitt made her way onto the court at Madison Square Garden to accept an award named for the late coach and given to members of the women's basketball community fighting particularly courageous battles. Even in the midst of a game proving to be closer than most expected, the players and coaches of both teams broke their huddles, stood and applauded, one testament in a day full of them to just how universal is the support for the legendary coach of the Lady Vols as she battles early onset Alzheimer's.
[+] Enlarge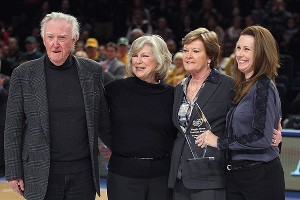 Alan Maglaque/US PresswirePat Summitt was honored with the Maggie Dixon courage award at Madison Square Garden on Sunday.
By comparison, playing 40 minutes of basketball without a freshman point guard is hard to file under the category of a hardship. On the other hand, the essence of Summitt's battle -- to some degree the essence of her career -- is that you fight the battles in front of you, no questions asked and no excuses given.
For Summitt's team in the second game of Sunday's doubleheader, that meant playing its first game without Ariel Massengale.
For the first time in a long time, Tennessee has a point guard who fits all the classic criteria of the position and could potentially fit them as well as anyone playing the position at the moment. In her first six games in orange, Massengale totaled 35 assists and just 15 turnovers against a schedule loaded with postseason-caliber foes.
But the Lady Vols will be without Massengale for two to three weeks because of a dislocated finger, a stretch that includes road games at Rutgers, UCLA and Stanford.
Not having a point guard played a big part in Tennessee's downfall in the NCAA tournament a season ago, but that wasn't the case Sunday against a tournament-caliber team. It wasn't always pretty for a team with just nine assists, but they got the ball inside enough to earn 35 trips to the free throw line and score 50 points in the paint.
Shekinna Stricklen admitted some nerves in reprising the role of point guard she filled in recent seasons, possibly at the expense of her all-around All-American game, but between her efforts and those of scoring guard Meighan Simmons and even a wing with a good handle like Taber Spani, the Lady Vols got the job done.
"She's a great point guard," associate coach Holly Warlick said of Massengale. "You can't teach an instinct of a point guard. You just can't. That's a sign of what Ariel Massengale means to this team and what we needed. She's a great leader, but she leads by example. She's smart, she sees the open floor. You can't tell a guard everything to do, and a great guard -- a great point guard -- sees things. They get the ball to whoever needs it when they need it. That's what Ariel Massengale does.
"Look, Shekinna Stricklen, Meighan Simmons, they're very good guards, but they don't have probably the quality as a Massengale has. It doesn't matter if she's a freshman or a senior. That is not taught, what Massengale has."
It only gets more difficult Tuesday night against the pressure of Rutgers and C. Vivian Stringer's defense. But if the Lady Vols currently lack a point guard with skills that can't be taught, they do seem to have a surplus of players who are willing to learn.
Co-best individual performance, Maggie Dixon Classic edition: Brooklyn Pope. Is it more surprising that Pope led Baylor with 19 points in a win against St. John's, or that she didn't commit a single foul in 30 minutes on the court against the Red Storm? Pope averages 11.0 points and 7.0 rebounds per game, but even after her lengthy stay on the court Sunday, she does it all in just 18.2 minutes per game. Run those numbers for a full 40 minutes and Pope would average 24.2 points and 15.4 rebounds -- Griner-esque, to say the least. So why the limited work? Well, before avoiding the whistle against St. John's, Pope also averaged 4.6 fouls per 40 minutes, emblematic of an overzealousness that often earned her a place behind Kim Mulkey on the bench.
Co-best individual performance, Maggie Dixon Classic edition: Alicia Manning. The senior forward isn't a one-for-one swap for Massengale when it comes to her position, but Manning saw a lot more playing time off the bench as part of a rotation that didn't include the freshman point guard. All she did with the newfound workload was contribute 12 points, 12 rebounds and four steals. For programs like Tennessee and Connecticut, there is a fine line between overrating role players who look better because of their surroundings and underrating those same sort of players who fall in the shadow of stars. Manning has always seemed like she fit the latter category more than the former, an athletic 6-foot-1 forward with some touch and an endless motor.
[+] Enlarge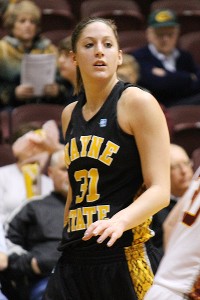 Courtesy of Graham HaysAshley Arlen played at Iowa State before transferring to Wayne State College (Neb.).
Best blast from the past: Ashley Arlen, Wayne State College. Time and resources make it difficult to dwell on the happenings in Division II, but Big 12 fans might well remember Arlen's name. As a freshman, she averaged 3.5 points and 3.1 rebounds per game in regular minutes for an Iowa State team that advanced to within a game of the Final Four. I was fortunate enough during a weekend trip to South Dakota to find Arlen back on a path that could end with a trip to the Final Four, albeit one in San Antonio this year and not Denver.
Arlen transferred to Div. II Wayne State (Neb.) after one season in Ames, Iowa, and now averages better than 20 points per game for a team that entered the weekend ranked fourth. In Friday's game against Northern State (S.D.), where our paths crossed, she went for 27 points, six rebounds, three blocks and three steals. She still looked every bit a Division I player as a 6-2 forward with athleticism and a soft touch from beyond the arc, but she also looked and sounded about as happy as a basketball player can.
Wayne State coach Chris Kielsmeier won a national championship in Division III before taking his current job and isn't taking the gift of three seasons of Arlen for granted.
"She's a tremendous leader and extremely competitive," Kielsmeier said of a player who last season became Wayne State's first All-American. "She loves the game, wants to continue to play the game overseas with any opportunities that she can. … You're fortunate to be able to recruit someone like that, and she's a special player that has changed our program."
We so often hear about the beginning of the story when a player leaves a program looking for a different fit, but it was good to see the other end of the timeline.
The week ahead (Monday-Friday)
Tennessee at Rutgers (ESPN, 7 p.m. ET Tuesday): Rutgers doesn't lack for opportunities when it comes to big games against teams like Connecticut and Notre Dame in the Big East, but this is a chance to score as big a win as the program has had in quite some time. The Scarlet Knights will probably rise or fall based on perimeter play, and how much they can frustrate the Lady Vols without Massengale, but the boards are also a point of interest. Can a Rutgers team without a great deal of size maintain the rebounding advantage it has held all season?
DePaul at Princeton (Tuesday): This game looked more appealing before DePaul dropped Sunday's game by a sizable margin and Princeton suffered a surprising 13-point loss at Navy. But a win against the Blue Demons would still be a major achievement for the Ivy League powerhouse. And lest it go unsaid, credit to DePaul's Doug Bruno for not only going to play at Princeton but playing at Illinois State less than a week later.
UCLA at LSU (Tuesday): UCLA's remaining schedule before the end of the year: at LSU, versus Tennessee, at Temple, at Saint Joseph's, versus California, versus Temple. Good luck with that. But for all the obvious reasons, you know this week's game has special meaning for both Lady Tigers coach Nikki Caldwell and the Bruins she left behind.
Arizona State at DePaul (Friday): With the holidays approaching and many schools immersed in finals, it's a lean week of games of any kind, so we'll give the Blue Demons a second spot. Doug Bruno's team is in the middle of a tough stretch of the schedule and welcomes an Arizona State team off to a surprising 7-1 start but playing just its second road game.
December, 4, 2011
12/04/11
10:25
PM ET
Monday morning headline: Statements or suggestions?
Statement wins. They're not just for college football anymore! Thankfully, since the only subjective judgment used in basketball's postseason is between No. 64 and No. 65, not No. 2 and No. 3, style points from Sunday's games are nothing more than conversation fodder. But four games between ranked teams make for a lot of fodder.
Ranking the statements made:
1. Purdue beating Texas A&M: More on the Boilermakers in a minute.

2. Ohio State beating Oklahoma: A year is a long time to wait for a mulligan, but that's what Ohio State earned with a big win at Oklahoma. The Buckeyes beat the Sooners a year ago to improve to 7-0 and promptly lost four of their next five games, and six of their next nine, locking in the script for a team that was never as consistent or as good as you got the feeling it should have been with Jantel Lavender and Samantha Prahalis. The schedule through the end of the month is much kinder this time around, and after adding a victory in Norman to home wins against Temple, Florida State and LSU, it's once again tempting to believe this team has some long-range potential. Averaging a shade more than 21 points per game for the season, Tayler Hill averaged 24.5 points in those four signature wins. She also shot 48.2 percent in those games.
[+] Enlarge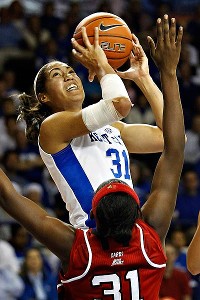 AP Photo/James CrispSamantha Drake shoots over Louisville's Asia Taylor in the Wildcats' 74-54 victory Sunday.
3. Kentucky beating Louisville: A'dia Mathies got the best of Shoni Schimmel in a battle of Bluegrass State guards (albeit one a transplant), and Kentucky's 74-54 win just about evened the score in the series after last season's 78-52 drubbing at the hands of Louisville. This one matters most because Kentucky's schedule was lighter than a helium balloon floating in the International Space Station coming into Sunday, making it tough to know what to think of life after Victoria Dunlap (and before Connecticut transfer Samarie Walker becomes eligible following the fall semester). The problem is Sunday seemed to prove Kentucky can turn people over and play hard for Matthew Mitchell, two things we already knew. If the Wildcats repeat the 3-point shooting (10-for-19) at Duke on Thursday, then we've got a statement.
4. Tennessee beating Texas: Don't get angry, Lady Vols Nation. You're only fourth because your team's elite credentials mean beating Texas is more taking care of business than making a statement. The rebounding (49-38) is what we expect. The 3-point shooting (11-for-21) can't be counted on every game, but it's nice to know it's there. The impressive part? Just nine turnovers. Against its three toughest opponents this season, Tennessee now has just 33 turnovers (including 13 against Miami and 11 against Baylor). Tennessee didn't play Miami a season ago, but if you substitute Louisville in its place, the Lady Vols had 58 turnovers in three similar games.
Best team weekend performance: Purdue. A season ago, Purdue lost a tough home game against Maryland in the ACC/Big Ten Challenge. It then lost its next two games at Notre Dame and Texas A&M. There's no shame in those defeats, but losing by 21 points in South Bend and a cringe-inducing 45 points in College Station pushed the Boilermakers completely out of the national conversation the rest of the way. Well, Purdue had ample reason to look at Thursday's loss at Duke as one that got away, a 40-39 lead with 11:58 to play vanishing in a game-ending 25-13 run by the Blue Devils. Purdue couldn't buy a shot, couldn't get a rebound and couldn't stop turning over the ball when it mattered.
So what did Sharon Versyp's team do three days later against the defending national champion? Turn a nine-point deficit with 15:39 to play into a 60-51 win. Purdue matched Texas A&M on the boards, getting 12 rebounds from Sam Ostarello, in addition to four steals and two blocks. Brittany Rayburn and Courtney Moses hit 5 of 10 shots from behind the arc and matched seven turnovers against a tough defense with seven assists.
It's a statement win all on its own. It's an even better one given what preceded it.

Best individual weekend performance: Chucky Jeffery, Colorado. The number of unbeaten teams is already dwindling toward single digits, with few real surprises amid names like Baylor, Connecticut, Delaware and Green Bay. One name that does jump out is Colorado, it of the 18-16 record last season. Playing a schedule that nobody will confuse with those favored by teams like Rutgers or Tennessee helps, and Sunday's 68-59 victory against Idaho might not rank high on the statement scale, but unbeaten is unbeaten. Jeffery ensured the Buffaloes still fit the category with 30 points and 10 rebounds against the Vandals. For the season, she's averaging 18.3 points. 9.4 rebounds and 4.1 assists while shooting 54 percent from the floor and 44 percent from the 3-point line, so, you know, expect to see her name here again at some point.

Best individual off-the-radar weekend performance: JaQuayla Berry, North Carolina A&T. It's never too early to start conference play. All right, it's ridiculously early to start conference play, but the MEAC is one of several leagues doing it anyway. Berry gets the nod here for filling up the stat sheet with 28 points, 14 rebounds, five assists and three steals in a game that mattered, North Carolina A&T's 84-74 win against North Carolina Central. Berry was third in the nation in steals per game last season.

Best mid-major team: Green Bay. The next mid-major top 10 isn't until next week, but consider this an unofficial change at the top. Gonzaga dropped a 58-51 decision against USC at home Sunday, while Green Bay completed a weekend that began with a win Friday against in-state rival Marquette and ended with a 74-67 victory over Northern Iowa on Sunday. Senior post Julie Wojta was at it again, with a double-double against Marquette and a career-best 26 points against Northern Iowa, but keep an eye on redshirt freshman Megan Lukan. Phoenix coaches last season compared Lukan to Celeste Hoewisch at the same point in her career (both redshirted their first season in Green Bay). Lukan had 12 points and three steals against Marquette and 13 points against Northern Iowa. Lukan is a keeper.
Setting up the week ahead (Monday-Friday)
Rutgers at Miami (Monday): Not a single Rutgers player averaged 30 minutes per game through the team's first eight contests, which is saying something for a program that recently seemed capable of using players for 30 minutes a half. It's early, and there have been a couple of bench-friendly wins against teams like Lehigh and La Salle, but will depth actually be an asset for the Scarlet Knights? Speaking of spreading the wealth, Miami's Morgan Stroman led the Hurricanes with 20 points in last week's win at Michigan State, the first time a player other than Shenise Johnson or Riquna Williams led them in scoring since Dec. 18, 2010 (Stroman against UC Riverside).
Texas A&M at Connecticut (ESPN2, 7 p.m. ET Tuesday): There's something about the Women's College Cup, college soccer's version of the Final Four, that doesn't sit well with the Aggies. Long the Big 12's flagship soccer team, Texas A&M has a strong claim to being the best program never to reach the signature event. And now for the second year in a row, Gary Blair's basketball team dropped its first game of the season over College Cup weekend. OK, maybe I've been around too much soccer this weekend. The Aggies bounced back from a loss at Duke last season with a big victory against Purdue in their next game. Now coming off a loss at Purdue, they need Sydney Carter and Adrienne Pratcher (combined 3-for-21 versus Purdue) to at least play Bria Hartley and Caroline Doty to a standstill to have a chance in Hartford in the Jimmy V Classic.
Duke at Kentucky (Thursday): Duke's Chelsea Gray is in the middle of any conversation about the weekend's best performance after going for 14 points, 13 assists, 11 rebounds and six steals (and just one turnover) in a 92-43 rout of Pittsburgh on Sunday. Now the challenge is to see how she and Chloe Wells hold up against the pressure Kentucky applies. This has all the makings of a game in which both teams approach 30 turnovers, but if Wells and Gray take care of the ball and get looks inside for Elizabeth Williams and at the 3-point line for Tricia Liston, look out. For the season, the Blue Devils are still running a positive assist-turnover ratio.
March, 28, 2011
03/28/11
8:20
PM ET
DAYTON, Ohio -- If old rivals are to meet in the Final Four, it will have to be the fourth meeting of the season between Notre Dame and Connecticut instead of the first meeting in four years between Pat Summitt and Geno Auriemma.
But the Fighting Irish will gladly let their Big East rivals worry about settling those details against Duke on Tuesday night. The team in green had another college basketball dynasty in its sights on Monday night in Dayton, and it got the job done as it had all season -- suffocating its opponent on defense while showing off an efficient offense.
[+] Enlarge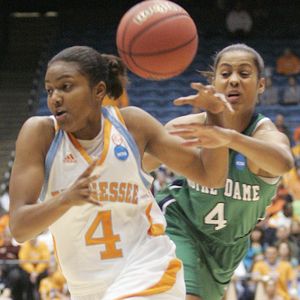 AP Photo/Skip PetersonTennessee players will have nightmares about Skylar Diggins after her performance Monday.
In other words, Notre Dame played like the team it was all season. Tennessee played like the teams Notre Dame beat all season.
Some initial thoughts on Notre Dame's 73-59 win to become the first entrant in the Final Four.
Key player: Skylar Diggins. What more do you want out of your lead guard than to score points (24 to lead all players) shoot better than 50 percent from the floor (9-of-17 from the field), keep others involved (four assists) and generally maintain her composure in a game that at times had all the poise of the minutes after a Best Buy opens on Black Friday.
Best supporting actress: Becca Bruszewski. Playing with a brace on her left knee as a result of an injury sustained in the regional semifinal against Oklahoma, and with fellow frontcourt presence Devereaux Peters in foul trouble for most of the night, Bruszewski did a little bit of everything in a lot of minutes. She finished with 13 points and eight rebounds, but her presence on the court against Tennessee's big bodies exceeded those numbers.
Turning point: With a little more than five minutes to play and her team in the midst of a rally that had trimmed its deficit to four points, Tennessee's Kelley Cain drew a foul on Bruszewski while posting up on offense. But after getting to her feet, Cain stepped back toward the still prone Bruszewski and was whistled for a technical foul for taunting. Natalie Novosel converted only one of two free throws before the ball reverted to Tennessee on the original foul, but the entire sequence seemed to take some wind out of the Lady Vols' sails.
X factor: Notre Dame built its lead largely without the services of Peters, as a result of the aforementioned fouls, but she was in the middle of things to provide the soul-crushing plays with Tennessee on the ropes. The first came when she took a perfect pass from Novosel on a fast break to earn a chance for a three-point play with four minutes to play (even if she missed the free throw). The next came barely 20 seconds later, when she converted a layup over a defender on Diggins' alley-oop to push the lead to 12 points. Those were the only two baskets arguably the most athletic player on the court scored, but they effectively put away a game that appeared headed to the wire.
Key stat: Six turnovers. That's all Notre Dame had in the second half after a sloppy first half in which it committed 10 turnovers that led to nine of Tennessee's 24 points (and might have led to more if the Lady Vols hadn't been equally sloppy with the ball). It was never a pretty game, but Notre Dame stopped feeding Tennessee's best offense and settled into its own, shooting nearly 50 percent from the floor in the second half.
Freshman jitters: Meighan Simmons didn't score her first field goal until fewer than three minutes remained in the game and finished 1-of-11 from the floor. After a nice drive on one of the game's opening possessions, absolutely nothing went right for the talented freshman -- including the end of that first drive, when the ball rolled off the rim for a miss. Simmons picked up two quick fouls, watched most of the first half from the bench and then seemed to be too eager to make up for lost time in forcing shots in the second half. Part of what made Simmons' season remarkable was how little she looked like a freshman down the stretch, but unfortunately for Tennessee, her inexperience was apparent in this game.
What's next: A short road trip down US-31 from South Bend to Indianapolis for Notre Dame, which is back in the Final Four for the first time since winning a national championship in 2001. The Fighting Irish earned that trip with a win in a regional final against an SEC team from Tennessee, albeit Vanderbilt. It is Notre Dame's third Final Four appearance in all.
As for possible opponents, Notre Dame is 4-1 all-time against Duke, although the two teams have played just once since 1998, a win for the Fighting Irish in 2004. Connecticut, as you may gather, is a more familiar opponent. The teams played three times this season, and although the Huskies won all three, the games in South Bend in January and in the Big East tournament earlier this month were two of the tougher tests provided Connecticut all season.
March, 26, 2011
03/26/11
2:00
PM ET
DAYTON, Ohio -- Ohio may just want to close its southern border at this point.
A day after the Ohio State men's team was eliminated from the NCAA tournament by southern neighbor Kentucky, Tennessee did the same to the Ohio State women's team by an 85-75 score, backed by the orange-clad, full-throated support of fans who made the drive north and took over University of Dayton arena.
[+] Enlarge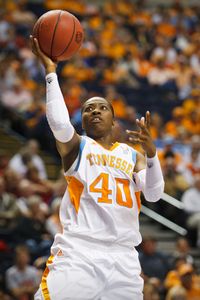 Darrell Walker/Icon SMIShekinna Stricklen led the way for Tennessee with 20 points.
Running on all cylinders from the start on offense, Tennessee nevertheless dug itself a halftime hole courtesy of some soft defense and a strong offensive performance from Ohio State's Samantha Prahalis and Jantel Lavender, among others. But a strong showing on both ends in the second half allowed the Lady Vols to gradually build a cushion. Behind 20 points from Shekinna Stricklen, 18 points from freshman Meighan Simmons and 16 points from Kelley Cain, Tennessee is going back to the Elite Eight for the first time since 2008.
Turning point: With just under 17 minutes to play in the second half and the game tied in a track meet of traded baskets and sketchy defense, Ohio State's Samantha Prahalis found herself with the ball and a two-on-none break. But as she let off the accelerator and drifted in for the finish, Tennessee's Simmons came from well behind the play to swat the layup in the direction of the Ohio State pep band behind the basket.
After an Ohio State miss off the inbounds, Simmons eventually scored on the ensuing possession to give Tennessee a 48-46 advantage, a lead it wouldn't relinquish. The block didn't settle the game by any stretch of the imagination -- Ohio State had plenty of opportunities the rest of the way -- but it seemed to provide a spark for a Tennessee team that had looked flat on the defensive end up to that point.
Key player: Kelley Cain. Take your pick between Simmons and Cain, but the 6-foot-6 post showed exactly why Tennessee wanted her in the starting lineup, her first such assignment since Feb. 10. Cain scored three baskets in the game's first three minutes to immediately establish the Lady Vols' post game and make Ohio State's Jantel Lavender and Ashley Adams expend energy on that end of the court. Cain may be a 35-minute player at this point because of a litany of physical ailments, but the minutes she played Saturday made all the difference.
Key stat: 53.6 percent. Entering Saturday's game, 53.6 percent was the best an opponent had shot against Tennessee in 30 appearances and 129 games in the NCAA tournament all time. And it still is, despite how unlikely that outcome appeared for much of the game. Ohio State shot 66.7 percent in the first half, the result of an offense that moved the ball extremely well and a Tennessee defense that looked extremely passive for long stretches. But a more energized group limited the Buckeyes to 39.5 percent shooting over the final 20 minutes.
What's next: The winner of the day's second game between Notre Dame and Oklahoma awaits in Monday's regional final. Tennessee is one of 13 schools to win at least one championship in women's basketball. Notre Dame is one of just two of those 12 other schools, along with Texas Tech, against whom Tennessee has never lost. The Lady Vols are 20-0 all time against the Fighting Irish, most recently winning a Sweet 16 encounter in 2008 in Oklahoma City. The Fighting Irish have come within single digits just three times in those 20 meetings, most recently in 1992.
There is less history between Tennessee and Oklahoma, although three of the five meetings have come in the past four seasons. One expected meeting that never materialized was right here in Dayton in 2007, when an Oklahoma team led by Courtney Paris was upset by Mississippi in the Sweet 16. Ole Miss went on to lose to Tennessee in the regional final.
January, 9, 2011
01/09/11
10:51
PM ET
Monday
Florida Gulf Coast at USC Upstate: An otherwise light schedule just means more of the spotlight is available for an Atlantic Sun showdown between teams focused on regular-season glory. Florida Gulf Coast knocked off NCAA tournament regular East Tennessee State on Saturday in conference play and looks to secure another big road win here. USC Upstate dropped to 4-1 in conference play with a loss against Stetson on Saturday but has the league's leading scorer and rebounder in Chelsea McMillan (16.4 ppg, 10.2 rpg). Kelsey Jacobson needed just 10 shots to lead Florida Gulf Coast with 21 points Saturday, hitting five of 10 3-pointers and all six of her free throws.
Tuesday
West Virginia at Marquette: With apologies to St. Bonaventure, a good team with a distinctive style, this is the biggest true road test to date for No. 7 West Virginia. Before games against Seton Hall and Cincinnati last week, coach Mike Carey said the team was still adjusting to having Sarah Miles back. And while the Mountaineers didn't need anything close to perfection to rout both foes, 40 turnovers, including seven from Miles, suggests the adjustment continues. For Marquette, having the Angel Robinson who helped spark Saturday's double-overtime upset at Georgetown (18 points, eight rebounds, seven assists, three turnovers) will be critical. She's just 8-of-34 from the field with 10 turnovers in three career games against the Mountaineers.
Illinois State at Missouri State: With Creighton off to a 3-0 start in Missouri Valley play and looking strong, neither of these teams wants to be saddled so early with a second league loss. Sophomore forward Christina Shorter, last season's MVC Freshman of the Year, led the Bears in each of their first two conference wins, scoring a total of 40 points in those games. But she attempted just seven shots to go with four fouls in 22 minutes in an 80-69 loss at Northern Iowa last week.
Wednesday
TCU at Wyoming: The Cowgirls effectively put all their eggs in the conference basket by playing a weak early schedule, but the strategy seems to be working thus far. Wyoming's Aubrey Vandiver put up 24 points in Saturday's win at New Mexico, and a win in Albuquerque is worth something, no matter what kind of season the Lobos are having. TCU has four wins in a row since a heartbreaking last-second loss against Georgia, including a 49-47 road win at San Diego State on Wednesday. Helena Sverrisdottir became TCU's all-time assists leader in Saturday's win over UNLV, totaling 24 points, seven rebounds and seven steals to go with her six assists.
Texas A&M at Oklahoma State: Has reality set in for No. 25 Oklahoma State, which opened Big 12 play Sunday with a 63-45 loss at Kansas State? The Cowgirls head to Baylor after Wednesday's game against the Aggies, so it's going to take some work to avoid an 0-3 league start after cracking the Top 25 with a 12-1 start to the season. No. 5 Texas A&M, on the other hand, hasn't won by fewer than 25 points since a loss at Duke early in December. During that seven-game stretch, point guard Sydney Colson has 52 assists against just 12 turnovers.
Louisville at Notre Dame: Louisville plays at No. 12 Notre Dame on Wednesday and at No. 2 Connecticut on Saturday, a road trip that could only be less appealing if it came with a layover in Vladivostok. But the game in South Bend is big, both as a test of where the Cardinals fit in the Big East table after a 3-0 league start and whether Notre Dame builds off or wallows in Saturday's heartbreaker against Connecticut. Monique Reid has been on fire of late for the Cardinals, scoring 20 or more in three consecutive games, including 24 points in a win over St. John's on Tuesday and 29 points against Pitt on Sunday.
Thursday
Iowa at Michigan State: It's the second week of January, and only three Big Ten teams own winning records in conference play, so 3-0 versus 2-2 qualifies as a big deal, especially when it's No. 13 Michigan State and No. 22 Iowa in possession of those records. The Spartans obliterated Wisconsin and Michigan on the boards in wins last week and lead the Big Ten in rebounding margin, but the Hawkeyes are second in the category. In two games against Iowa last season, Michigan State totaled just nine second-chance points and was outrebounded by 17. The Hawkeyes won both games.
Oregon at USC: The Ducks bounced back from a rough opening weekend of conference play with wins at home against Washington and Washington State, but Paul Westhead's team wasn't exactly dominant on the stat sheet in either victory. If Oregon is going to be any sort of factor in the league, it needs to win on the road outside the Pacific Northwest -- and USC is at least a better bet for that than Stanford or UCLA. On the flip side, if USC's Briana Gilbreath, Ashley Corral and Jacki Gemelos can't get their shot back on track against a defense allowing 48.5 percent shooting in four Pac-10 games, the Women of Troy might have reason to worry.
Tennessee at Florida: Is this a potential game or a potential rout? It depends on which Florida you believe is the real deal. The Gators are 8-0 at home, including noteworthy victories against Charlotte, Old Dominion and Arkansas. They're just 1-5 in true road games, although the one came in Sunday's win at South Carolina, in which the Gators shot 56.5 percent. One thing that should worry Florida fans is that their team has more turnovers than the opponent in all three SEC games thus far. If No. 6 Tennessee has a weakness, it might be its propensity for turnovers (see: Georgetown). But 20 turnovers won't hurt the Lady Vols if they force 30.
Friday
Duke at Florida State: No. 3 Duke had plenty of headline performances last week, including Chelsea Gray's fortunate "shot" to beat Kentucky, and a pair of big scoring nights from Jasmine Thomas against the Wildcats and Maryland. But don't overlook Tricia Liston's seemingly small supporting role. Liston hit three of seven 3-point attempts in the wins, one more than the total long-distance contributions of every other Duke player not named Jasmine Thomas. While the 3-point line was largely a barren wasteland for the Blue Devils last season, it's now home to a number of role players -- including Liston, Gray, Shay Selby and Kathleen Scheer -- who can play the role of X factor on a given day.
December, 12, 2010
12/12/10
10:01
PM ET
Four things that caught my eye
1. Morgan Hook might be the nation's most dangerous H-O-R-S-E player. Oklahoma football coach Bob Stoops briefly joined color analyst Billy Tubbs on the regional television call of Sunday's game between Sherri Coale's Sooners and New Mexico, meaning they were short only Barry Switzer and possibly the spirit of the late Bud Wilkinson in putting together a heck of a panel on how to make the most of home-field or home-court advantage in Norman, Okla.
[+] Enlarge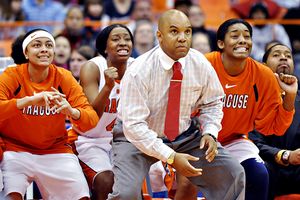 AP Photo/Kevin RivoliSyracuse coach Quentin Hillsman might get criticized for a lack of travel before the conference season starts, but Saturday's home upset of Ohio State was huge.
Then again, by the time the game was over, Sooners freshman guard Morgan Hook might have ranked as the foremost expert on the subject in attendance.
Hook scored her first 15 points on 3-pointers against a Lobos team that refused to play the role of sacrificial lamb. Hook has scored 32 of her 40 field goals this season from behind the arc -- a number that includes hitting 19 of her last 25 3-point attempts at home. But it was her field goal from point-blank range that saved the day for the Sooners and suggested she's more than a shooter.
With the Sooners down one with 10.2 seconds remaining, she got the ball back after making a sideline inbounds pass (the Lobos doubled Danielle Robinson) and needed just three dribbles to get to the opposite side of the paint and finish a long, scooping layup in traffic.
Oklahoma looks like the dictionary definition of a young team that's going to be better in March than it is right now, particularly if Whitney Hand returns from a long injury layoff as anything close to her old self. But between Hook and Aaryn Ellenberg, who struggled Sunday but more than proved her potential in last week's loss against Ohio State, the present isn't too bad alongside Robinson.
And just as last year's escape at Marist early in the season marked a step in that team's evolution and in Nyeshia Stevenson's development as a go-to option, Sunday might prove the same for Hook and the Sooners.
2. Tennessee has more options than an Army-Navy football game. Chelsea at Tottenham was an enjoyable Sunday morning appetizer for the main course of Tennessee at Texas, so perhaps I just had depth on the brain after Chelsea afforded itself the luxury of bringing on Didier Drogba and Frank Lampard as subs. But even as Pat Summitt shortened her bench on the road at Texas, playing four players for 30-plus minutes and giving double-digit minutes to just six players in all, two fewer than in any previous game this season, Tennessee's depth stood out -- even if only in the form of potential energy.
It wasn't that Summitt couldn't go deeper; it's that she had the luxury not to, having found a lineup that the Longhorns couldn't stop and having kept those players fresh in previous games. Consider one of the answers on the postgame quote sheet from Texas coach Gail Goestenkors after her team's 92-77 loss.
"We didn't know what kind of lineup they would start," Goestenkors said. "They have changed their lineups a little bit recently. When [Kelley] Cain's in there they are so big and strong, and when [Shekinna] Stricklen is out on the perimeter, they are one of the toughest, tallest teams to guard. Lately they have been going a little bit smaller, with Kamiko [Williams] in there and [Meighan] Simmons. They have one of the quickest backcourts in the country, so they aren't as big."
And so after Angie Bjorklund got all of her 20 points in the first half, Williams and Simmons took over in the second, with Stricklen and Johnson doing all that was needed inside against the small Longhorns.
To a large degree, we know what Connecticut is. It's just nobody has figured out how to stop that for the past two-plus seasons. And while Baylor and Stanford have taken the occasional loss (albeit mostly at the hands of Connecticut), the same is essentially true of those two teams, the next tests on Tennessee's schedule. The Lady Bears and Cardinal are going to get better at being who they are between now and March, but the basic essence of what they are isn't going to change -- doesn't need to change. What's intriguing about Tennessee is it's not entirely clear what the Lady Vols are -- or that they need to be the same thing every time out. Maybe the Georgetown loss suggests the Lady Vols are still working through it themselves, but when you've got perhaps the deepest roster out there, you've got a lot of looks to throw at opponents.
3. Syracuse showed its doubters something. Syracuse still needs to schedule some road games to be played before Auld Lang Syne is retired each year, but folks like me need recipes for crow with all the leftovers from the Orange knocking off Ohio State on Saturday. Soft early schedule notwithstanding, Syracuse showed off a tough interior in owning the glass against an Ohio State team with Jantel Lavender collecting 14 offensive rebounds despite shooting a more-than-respectable 43.8 percent from the floor and holding an overall 43-33 rebounding edge. And in a battle of New York-area point guards that precedes the coming weekend's showdown at Madison Square Garden between Ohio State's Samantha Prahalis and Connecticut's Bria Hartley, Syracuse senior Erica Morrow got the best of Prahalis with 27 points and just two turnovers in 39 minutes.
Syracuse gets another chance to make a statement when it faces Baylor on a neutral court in the Bahamas on Dec. 21, but the Orange and coach Quentin Hillsman deserve their due. It's easy to play the bully against the likes of Cornell, Maryland-Eastern Shore and Delaware State. It's not easy against Ohio State, and it deserves a tip of the cap.
4. April Sykes is still here. Rutgers sophomore Monique Oliver had the starring role in Rutgers' biggest win of the young season, totaling 21 points and 17 rebounds against Georgetown on Dec. 9, but that game and Sunday's loss at Boston College offered a glimpse at an April Sykes long rumored but rarely seen. Sykes scored 17 points against Georgetown and 32 points against Boston College, and finished the two games a combined 11-of-21 on 3-point attempts. Those two efforts alone total more than a quarter of the points she scored all last season, and she's just 32 points shy of matching her single-season high. It's not the big game next Sunday, but Rutgers matching up with Texas A&M as the opening act for Connecticut and Ohio State looks more and more intriguing.
The week ahead
Monday: The Windy City derby between DePaul (11-1) and Northwestern (8-1) merits the spotlight for reasons beyond a light schedule. DePaul's Keisha Hampton became the program's 25th player to reach 1,000 points during Saturday's win against Northern Illinois, and the junior has scored 20 percent of those points during this season's first 12 games. Forced by injuries to play 38 minutes a game last season, DePaul point guard Sam Quigley's assist-to-turnover ratio has gone from 1.34 last season to 2.15 in much more manageable minutes this season. For Northwestern, which beat DePaul last season for the first time in more than a decade, senior center Amy Jaeschke is coming off a 37-point, 17-rebound effort against Central Michigan on Saturday.
New Mexico State's trip to Michigan marks the day's only other game between teams with winning records. The Wolverines' four losses this season came against Xavier, Marquette, Texas A&M and Iowa State (with only the Xavier game in Ann Arbor), hardly an embarrassing state of affairs. And particularly in wins against Wake Forest and Kansas, they seem to be playing Kevin Borseth's brand of basketball.
Tuesday: Whatever rotation Tennessee uses when it travels down the road from Austin to Waco and a matchup against Baylor, everyone who gets on the court better bring something to the table. Of course, where Brittney Griner is concerned, it will help the Lady Vols if Kelley Cain is one of those players on the court. Cain left Sunday's game with what was described on the broadcast as a right hip contusion. Baylor hasn't played since beating Minnesota on Dec. 5, but Griner is working on a string of four consecutive games with at least 20 points. Perhaps just as impressively, she had a total of five turnovers in those games. Griner doesn't get enough credit for taking care of the ball better than most posts. There might be times when she's still too cautious in making an offensive move, or when she shoots going away from the basket, but she doesn't give away possessions.
Saint Mary's (Calif.) at Arkansas-Little Rock isn't quite the game it could have been before Thanksgiving, but it's still an inter-region mid-major clash. And it still features a pair of intriguing leads in Little Rock's Chastity Reed and Saint Mary's Louella Tomlinson. Reed didn't travel to her team's weekend loss at Memphis, its third defeat in a row, for what the Memphis Commercial Appeal described as disciplinary reasons.
Wednesday: Wisconsin and Washington State aren't making reservations for Indianapolis, but they're the first and last BCS conference schools on Wyoming's schedule, starting with the Badgers traveling to Laramie for Wednesday's game (the Cougars visit on Saturday). So while it would be fun to see Wyoming's dynamic duo of Hillary Carlson and Aubrey Vandiver (33.3 points and 17.8 rebounds per game between them) play some higher-profile games, this will have to do.
What says Big East like an Ohio River rivalry between Louisville and Cincinnati? Just wait until TCU joins the mix. But geography aside, Wednesday's conference game is the third tough test in a row for the Bearcats, who started the season with five consecutive wins before losses at Dayton and at home against Xavier. It's also an intriguing individual matchup of breakout backcourt stars between Louisville freshman Shoni Schimmel and Cincinnati senior Shareese Ulis, who put up 24 points on 8-of-16 shooting in the 69-61 loss against Xavier a week ago.
Thursday: Stanford has a key stretch looming with a road trip to Tennessee this coming weekend and home games against Xavier and Connecticut after Christmas, but the Cardinal aren't taking it easy in advance of all of that, instead heading to Chicago to face DePaul on Thursday. They didn't look rusty Sunday against Fresno State after a long layoff for finals, including 10 points and 11 rebounds off the bench from Sarah Boothe. Because if there's one thing Stanford didn't have enough of on a roster with more double-double potential than In-N-Out, it's size.
Put Arizona State's Charli Turner Thorne on the list of coaches willing to go where so many others fear to tread -- tough mid-major gyms. Arizona State's visit to South Dakota State starts a nice weekend of basketball for fans in Brookings, where the hometown Jackrabbits also host Iowa on Saturday. Reserve Steph Paluch (17 assists, 14 turnovers) is the only South Dakota State player with more assists than turnovers, something reflected in a loss at Northern Iowa on Saturday in which the Summit League team had 26 turnovers and nine assists.
Friday: Tulane already knocked off LSU and gets a shot at sweeping the state's big names when Louisiana Tech comes calling Friday. The Green Wave will be coming off more than a week and a half without a game, an annual break that has generally been pretty kind to them (winning the first game back in four of the past five seasons, including at South Florida last season).
Speaking of Tulane and Louisiana Tech, those are the two teams to beat Mississippi State this season, a fact the Lady Bulldogs will find it difficult to keep true on the road against Xavier (not to mention Wednesday's game at Southern Miss).
November, 21, 2010
11/21/10
11:46
PM ET
BURLINGTON, Vt. -- If Boston College is going to make a run at its first NCAA tournament appearance since 2006 with just nine players on the roster, it's going to need to steal a game or two from the six teams picked to finish ahead of it in the ACC.
The good news is that if the first four games of Kristen Doherty's college career are any indication, the Eagles have a thief as entertaining to watch as anything this side of the "Oceans" movie franchise.
[+] Enlarge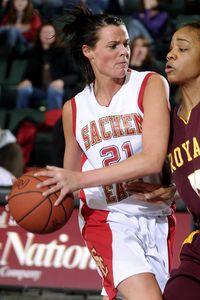 AP Photo/Hans PenninkKristen Doherty, who played for Sachem East (New York) in high school, was HoopGurlz's No. 12 recruit last year.
Doherty and Boston College breezed through the TD Bank Women's Basketball Classic over the weekend, beating Dartmouth 87-61 on Friday and host Vermont 85-50 on Sunday to improve to 4-0 this season after earlier wins against Boston University and Hartford. The competition will get considerably more difficult (mid-major powers last season, Hartford and Vermont are both off to slow starts in rebuilding seasons), but Doherty's numbers so far this season would turn heads if they came against YMCA weekend warriors, let alone Division I teams.
In four games, the freshman who was ranked No. 12 nationally among incoming recruits by HoopGurlz has 23 rebounds, 20 assists, 22 steals and just two turnovers in 129 minutes.
A one-dimensional freshman can still be a valuable commodity if she's consistent within those limitations. A freshman whose game spans the number of dimensions usually reserved for something written by Stephen Hawking or the late Carl Sagan is something else entirely.
"She's not really a freshman," Boston College coach Sylvia Crawley said. "She is a special player. She gets what we're doing defensively; she just gets it. She knows where to be at the right time, anticipates very, very well. We're pressing a lot, and we put her in positions where she's able to see the floor and anticipate for steals at the end of the press. She just kind of steadies our team, even though she's a freshman."
That Doherty, who averaged close to 30 points per game in high school, is also an elite scoring prospect was on display Saturday, when she hit 7 of 10 shots from the field, including all five of her 3-point attempts, to lead all scorers with 21 points. But what made her earlier box score stuffing all the more impressive is that it came while she was working through a cold shooting start, hitting just 10 of 33 shots in her first three games. Rather than get flustered or unnerved by the misses, she made up for it -- and them some -- in other areas.
"I was getting frustrated, but that's not the whole part of the game, so I really focused on my defense," Doherty said. "Each game, Coach gave me specific defensive assignments and told me to lock down, stop them from scoring. I really focused on that, and I knew once I got into the flow of things and really got comfortable, my shot would just fall. But I really focused on defense."
A valuable lesson in bringing an all-around game with you to college? Well, sure, but ask Doherty about the roots of her defensive prowess and she takes on the embarrassed look of someone who just banked in a 3-pointer from the corner. She got a lot of steals in high school, but she is the first to admit that end of the court wasn't exactly a priority until the Boston College coaches called her in during preseason and told her she could be -- and the team needed her to be -- a stopper.
"She was not a defensive player at all in high school," Crawley said. "But when I was recruiting her, I could tell that she was capable of playing good defense. She's smart enough to be a good defender. Not the quickest player in the world but she understands her body and what she can and cannot do. And because she's so smart and anticipates so well, she gets more steals than players who are twice as fast as her."
At least against Vermont, Doherty's steals weren't the result of a player poaching at the expense of neglecting an assignment elsewhere, even if she has some freedom to roam in Crawley's system. More representative was a play in which she started to move toward trapping a Vermont player on the sideline, only to sense the play developing too quickly away from her, retreat back to the weak side to be in position for a rebound, push the ball up the court on the dribble and deliver a perfect pass to facilitate a teammate's layup.
The short-staffed Eagles have their work cut out for them trying to run with some of the rosters in the ACC. But adding Doherty to a mix that already includes posts Carolyn Swords and Stefanie Murphy and a pass-first point guard in Jaclyn Thoman makes for a compelling development.
Four things that caught my eye
1. The Preseason WNIT champions won't need to go for a WNIT double this season. To put this in the context of the coming week, it's a lot easier to be picky about apples if you're on the hook for only four apple pies, not 40 of them. A season ago, Purdue's Brittany Rayburn took 134 more shots -- roughly four more per game -- than anyone else on her team and shot worse than 40 percent. Rayburn might be an Indiana native, and thus born with an urge to shoot, but that volume wasn't due to any lack of conscience. Purdue simply didn't have a lot of scoring options.
Capped by Sunday's win against DePaul in the championship game of the Preseason WNIT, the Boilermakers spent their first four games hinting that that's no longer the case. Drey Mingo, eligible after sitting out last season as a transfer from Maryland, scored 21 points and stepped outside to knock down three key 3-pointers. Freshman Courtney Moses beat DePaul's pressure and hit three big free throws to give Purdue the lead for good at 47-44. And even on an otherwise off night offensively, Antionette Howard, eligible after sitting out last season as a transfer from Florida State, followed Moses' free throws with a big basket. All of which followed the same script as wins against Austin Peay, Toledo and South Dakota State. And all of which helped Rayburn score 21 points on 5-of-11 shooting, keeping her at 50 percent this season.
[+] Enlarge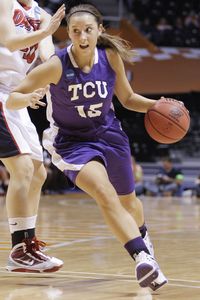 AP Photo/Mark HumphreyTCU's Emily Carter scored a school-record 43 points in a double-overtime win over SMU last Wednesday.
2. We might learn how big a star Emily Carter is this week. TCU has a big week ahead, with games against West Virginia, Iowa State and Virginia in the U.S. Virgin Islands offering a chance to either solidify or lose its place in the top 25. Helena Sverrisdottir, Iceland's best import this side of Siggi's yogurt, has long been the main attraction for the Horned Frogs, and rightly so. But it's not Sverrisdottir averaging 30 points per game.
Carter, a senior, isn't exactly a secret, earning first-team All-Mountain West honors after last season and again this preseason, but she wasn't part of any of the notable award preseason watch lists. That won't be the case after the season if she keeps producing like she did this past week, following a school-record 43-point performance in TCU's double-overtime win against SMU and 22 points in a win against Texas-San Antonio. A consistent 40 percent shooter from the 3-point line through most of her time at TCU, Carter has also gotten to the free throw line 37 times through three games (hitting 35 of those attempts).
3. It's easy to see why Jeff Walz is excited about Shoni Schimmel. Connecticut's Bria Hartley showed nerves of steel in knocking down big shots at the end of the Huskies' win against Baylor, but at least she got a warm-up game. Louisville freshman Schimmel had no such luck, playing her first official college game in front of more than 22,000 fans and with Pat Summitt and the iconic Tennessee Lady Vols on the other bench.
But after a tough, seven-turnover first half in that game, Schimmel has come on strong. She had just one turnover in the second half against Tennessee and has 16 assists against two turnovers in three subsequent games. Granted, Ohio, Houston Baptist and SE Missouri State aren't the toughest assignments, but those will come in upcoming games against Xavier, Old Dominion, Kentucky, Dayton, Marist and Nebraska, among others. And Schimmel should be ready.
4. Was Sunday a turning point for Glory Johnson? It kind of has to come with a question mark when it involves the übertalented Johnson, right? It's possible that Tennessee can reach the Final Four and win a championship getting exactly what it always has from Johnson -- the occasionally great, frequently good and sometimes mystifying. There certainly isn't a shortage of talent in Knoxville, with or without Johnson leading the way inside. But if you're going to pick one player who can swing the season, the junior from Knoxville is a good one with which to start. According to the recap of Sunday's win against Arizona State, Summitt said she was too hard on Johnson at halftime, after pulling her in the first half, but the message seemed to hit home. Johnson's 14 points and 15 rebounds marked her first double-double since Jan. 28 of last season against Auburn, a span of 19 games. The points are good, and double figures should be within reach almost on putbacks alone most nights, but if coach and player really are on the same page, Johnson can affect a game through defense and rebounding like few others in the country.
The week ahead
Monday: Raised in Oklahoma, Adrian Wiggins brings his Fresno State team to Norman to face the Sooners in a clash between major and mid-major. The Bulldogs aren't shooting the ball well thus far (39.7 percent overall and 26.5 percent from the 3-point line in four games), but the matchup between Fresno State star Jaleesa Ross and Danielle Robinson should be a good one. … Off to a 4-0 start, Portland looks for a second consecutive victory against a Pac-10 opponent when it visits Oregon (the Pilots beat Washington State on Thursday). Portland's ReZina TecleMariam has been fantastic, averaging 14 points, 6.3 assists, 4.5 rebounds and 3.5 steals.
Tuesday: Maybe Georgia's football team doesn't want to travel across the country anymore, but credit to Andy Landers for going to Los Angeles to face USC in advance of a Thanksgiving visit to Loyola Marymount's tournament. USC had more than twice as many turnovers as assists in its first two games (a win against Gonzaga and a loss at Duke), but it kept things under control in Sunday's 82-60 win against Long Beach State by at least matching 20 turnovers with 20 assists. … In-state bragging rights haven't been much of an issue for LSU since about the time Louisiana Tech slipped out of the national championship picture, but Tulane visits Baton Rouge with thoughts of adding its name to the mix. The Green Wave already blitzed one SEC team, Mississippi State, by 20 points and pair five double-digit scorers with a defense limiting opponents to 32 percent shooting. Tulane is 3-0 for the first time since the 2001-02 season, when it reached the second round of the NCAA tournament.
Wednesday: Not every team is getting an early start on the holiday, with a good night of basketball on tap. Duke's visit to Pittsburgh might be the marquee matchup, with the Blue Devils looking to impress in their second road game of the season (and the first of four in a row away from Cameron) after a 75-62 win at Auburn in which the Tigers were within single digits inside the final six minutes. … Wisconsin will look to avoid going 0-2 against in-state foes when it welcomes Marquette to Madison. The Badgers got blitzed in Green Bay on Thursday and then lost in overtime at home against Kansas on Sunday, despite 27 points from Alyssa Karel in her season debut. … Mid-major fans will want to keep an eye on Illinois State's visit to South Dakota State. The Redbirds followed a big opening win at Illinois with home wins by double digits against Eastern Illinois and SIU-Edwardsville. They're turning the ball over more than in recent seasons, but they also have five players averaging between 9.7 and 11.3 points per game and own the boards thus far.
Thursday: Enjoy your turkey.