Category archive:

Tulane Green Wave
January, 17, 2011
01/17/11
11:18
PM ET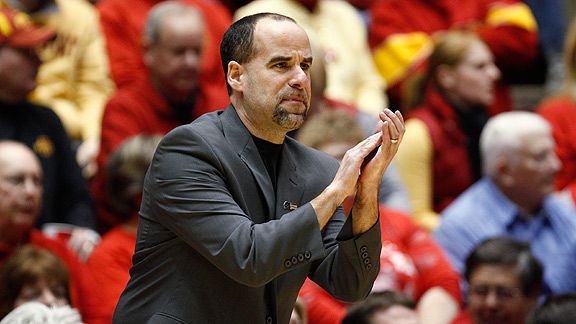 AP Photo/Charlie NeibergallCoach Matt Bollant won his 100th game at Green Bay on Jan. 15.
1. Xavier (14-2, 3-0 Atlantic 10)
A tough 63-59 victory at home against Dayton might be a sign of things to come in an Atlantic 10 full of quality teams this season, but the flagship mid-major program generally keeps rolling along behind Amber Harris and Ta'Shia Phillps. The Musketeers aren't playing very many people this season -- only six played in the win against Dayton on Jan. 9, for instance -- but perhaps that familiarity is paying off when it comes to offensive continuity. Xavier has a positive assist-to-turnover ratio and assists on 60 percent of its field goals, both improvements on last season.
2. Marist (15-2 overall, 6-0 MAAC)
No conference foe has come within 16 points of Marist, which won three of its first six MAAC games by 30 or more points. Erica Allenspach is giving opponents fits, attempting 24 3-pointers and 30 free throws in those six games, but she's not alone in forcing the issue. Pass-first point guard Elise Caron has scored 96 points this season, 49 of them from the free-throw line. When you can't help but foul a point guard who loves to pass and shoots a modest 32.8 percent from the floor, you know the Red Foxes have you befuddled.
3. Green Bay (17-1, 6-0 Horizon)
Already down a guard in Heather Golden, forced to retire because of a knee injury, the Phoenix recently lost starter Adrian Ritchie for as much as a month with a sprained MCL. Replacement Hannah Quilling was essentially a sixth starter coming off the bench before Ritchie's injury, but it's much less clear who picks up Quilling's minutes. Lydia Bauer was starting to see more regular minutes even before Ritchie went down, but is there a seventh member of the rotation? On a happier note, junior post Julie Wojta already has two games of at least 23 points and another 19-point, 11-rebound double-double in 2011. Matt Bollant became the third Green Bay coach (out of three) with 100 victories at the school in a win against UIC on Jan. 15.
4. Gonzaga (15-4, 3-0 West Coast)
It's hardly a blip on the radar for a team that went from North Dakota to Hawaii on the same road trip, but Gonzaga wrapped up a stretch in which it played five of six games away from home, including its first three conference games, with a 65-59 win at Loyola Marymount on Jan. 16. Foul trouble against the Lions notwithstanding, Kayla Standish is averaging 18.3 points and 10.7 rebounds in WCC play. One potentially worrisome sign is Gonzaga's bench actually appears to be getting shorter in conference play, when conventional wisdom might hold there would be more opportunities to spread minutes around.
5. Duquesne (15-2 overall, 2-0 Atlantic 10)
Duquesne did just about everything right in claiming a 37-25 halftime lead at Dayton on Jan. 16, shooting 50 percent from the floor, knocking down 7-of-9 3-pointers and claiming 21 rebounds (all right, the 14 turnovers weren't perfection). But the perseverance the Dukes displayed after squandering that lead in the second half was equally telling. Down 49-48 with seven minutes to play, Duquesne got its final four field goals from four players before free throws sealed a 61-57 win, the team's ninth in a row on the road. The turnovers are problematic as you start looking toward March, but Duquesne shares the ball and plays extremely well together on both ends of the court.
6. Florida Gulf Coast (14-0 overall, 7-0 Atlantic Sun)
Who needs the BCS to finish a season with an unbeaten team that doesn't win the national championship? It's getting toward the time when it's reasonable to ponder a perfect season for the Eagles. They had a scoring margin of 17.3 points per game entering Monday's game against Mercer, while no other Atlantic Sun team was even in positive territory. Then they went out and beat Mercer by 35 points. Having already beaten East Tennessee State on the road Jan. 8, the biggest hurdle, such as it is, might come in the next two weeks, as Florida Gulf Coast plays four consecutive road games.
7. Tulane (15-2 overall, 4-0 Conference USA)
The Green Wave have used the opening weeks of Conference USA play to move up the national rankings in scoring margin, following up a four-point win against SMU with double-digit margins against UAB, East Carolina and Marshall. Tiffany Aidoo is averaging 18 points per game in conference play, shooting 51.6 percent from the 3-point line, while having Danielle Nunn (15 points per game) and Brett Benzio (9.3 rebounds and 5.3 blocks per game in conference) healthy and playing expanded minutes only makes the Green Wave deeper.
8. Bowling Green (15-2 overall, 3-1 MAC)
After back-to-back 90-point performances in victories against Akron and Miami, Bowling Green tumbled in a 44-43 loss at Kent State on Jan. 15. It was the first conference loss since Feb. 10 of last season for the Falcons, a stretch of eight regular-season league games. After piling up 50 assists on 80 fields goals in its first three MAC games, Bowling Green managed just five assists on 14 field goals against Kent State. It will be interesting to see how Curt Miller's team responds on the road Tuesday at Buffalo, the only MAC team with a better field goal defense numbers than Kent State's.
9. Middle Tennessee (14-4 overall, 5-0 Sun Belt)
How do you overcome a staggering amount of turnovers? Score more points. Middle Tennessee is averaging 21 turnovers per game, a number actually on the rise through the team's first five conference games. But the Blue Raiders are also scoring more points against Sun Belt competition, 74.8 points per game compared to 67.2 out of conference. Much of the difference has been supplied by Anne Marie Lanning and Kortni Jones (who also happen to be the two Blue Raiders with positive assist-to-turnover ratios).
10. TCU (12-6, 4-0 Mountain West)
Helena Sverrisdottir isn't shooting as well from the 3-point line, Starr Crawford isn't rebounding as much, Emily Carter isn't scoring as consistently and the Horned Frogs aren't putting up as many points. Did we mention TCU is 4-0 and in first place in the Mountain West? It hasn't always been pretty, but there's no arguing with the results, which already include good road victories at San Diego State and Wyoming. And while the long ball isn't falling for Sverrisdottir, that's a bit of a red herring (the non-red variety being a major Icelandic export). The senior is averaging five assists and five steals in MWC play. Win at home against BYU on Wednesday and TCU will stake a very early claim to control of the conference race.
Next five: Kent State, Princeton, Old Dominion, Houston, Northern Iowa