Category archive:

Green Bay Phoenix
February, 13, 2012
02/13/12
1:54
PM ET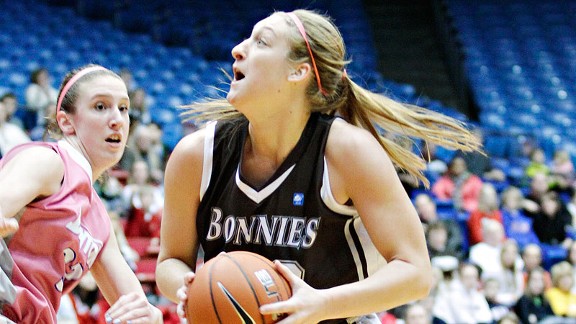 Tim G. Zechar/Icon SMISt. Bonaventure, which hasn't lost since Dec. 29, has won 13 consecutive games.
1. Delaware (22-1 overall, 13-0 Colonial Athletic Association)
That Delaware had at least a little something going for it even before Elena Delle Donne showed up was clear when coach Tina Martin picked up career victory No. 300, all at Delaware, in Sunday's win at Georgia State. And even while Delle Donne was busy collecting 31 points, 8 rebounds, 2 blocks and 2 steals in just 25 minutes in Sunday's game, there were hints of why this is a team with the right supporting cast for a once-in-a-lifetime star. Lauren Carra scored 19 points, including 3-of-6 shooting from the 3-point line, Danielle Parker totaled 11 points, 8 rebounds, 6 assists and 6 steals, Trumae Lucas finished with 9 assists and 1 turnover and the whole cast limited Georgia State to 36 percent shooting and forced 25 turnovers. Georgia State isn't a good team, but with Delaware facing challenging road games this weekend against teams that do fit that label, Hofstra and Drexel, the Blue Hens used the warm-up game to offer a nice reminder of why there's more than one reason to like them.
2. St. Bonaventure (24-2 overall, 11-0 Atlantic 10)
The Bonnies remain perfect in 2012, and the math starts to look pretty simple to complete a perfect conference season and claim the No. 1 seed in the Atlantic 10 tournament. All that remains for St. Bonaventure is home games against Xavier and Fordham and a road trip to Rhode Island, teams with a combined 5-25 A-10 record at the moment. Along with an earlier win at Temple, Saturday's 56-55 win at Dayton might have been the most impressive of the conference slate (although those nonconference road wins at West Virginia and St. John's also gained some sheen after those teams went to Notre Dame and Rutgers, respectively, and won Sunday). Against Dayton, the Bonnies got just three points from Jessica Jenkins, but showed they have other go-to options (17 points, 8 rebounds by Megan Van Tatenhove) and plenty of depth (13 points off the bench from CeCe Dixon).
3. Green Bay (21-1 overall, 11-1 Horizon League)
Losing one regular-season game every 14 months ought to buy a team leeway, but Green Bay falls from the top spot after a 70-58 home loss against Detroit. Playing without injured starter Sarah Eichler, one of its best one-on-one defenders, Green Bay saw several streaks come to an end against Detroit, including a 40-game regular-season winning streak, 27-game home winning streak and 36-game conference winning streak. So how did the Phoenix respond two days later? How about what might be the line of the year in college basketball from should-be-All-American Julie Wojta: 30 points, 20 rebounds, 8 steals, 5 assists and 4 blocks in a 64-59 win against Wright State, the league's third-best team.
4. Florida Gulf Coast (23-2 overall, 15-0 Atlantic Sun)
Since a five-point loss against NC State in Hawaii on Dec. 28, Florida Gulf Coast has won 15 in a row, 12 of those games by double digits. That probably says something about both the Eagles and the Atlantic Sun, but if the past week in women's college basketball proved anything, it's that winning isn't ever a given. Florida Gulf Coast hit just two 3-pointers in Saturday's win against Belmont, missing 17 shots from the arc, but such shooting woes for the nation's most prolific 3-point shooting team don't matter much when you limit the league's third-place team to 34 points and 31 percent shooting.
5. BYU (22-4 overall, 10-2 West Coast Conference)
BYU scored 46 points in the second half of its conference showdown against Gonzaga. It could have skipped the first half. A 70-40 victory for the Cougars on Feb. 9 goes down as one of the more eyebrow-raising scores of the season, mid-major or otherwise, even if the Bulldogs still hold a half-game lead in the standings (with a game remaining against BYU on Feb. 25 in Spokane). BYU is as balanced as any team in the nation when it comes to finishing; four players have attempted between 217 and 236 field goals. But there's one hand distributing most of the makes. Haley Steed has double-digit assists in back-to-back games and is closing on the top five nationally in assists per game.
6. Princeton (17-4 overall, 7-0 Ivy League)
Expect the Tigers to keep saying all the right things about the Ivy League, and Friday-Saturday back-to-backs aren't easy regardless of the opponent, but there isn't much left to challenge this team until the postseason. Princeton rolled through the often-tricky Dartmouth-Harvard road trip without a worry over the weekend, winning by 31 and 28 points, respectively. It's not hurting them at the moment, so perhaps it isn't a problem, but it's interesting that a team that was so strong in assist-to-turnover ratio in recent seasons is currently working with a mediocre 0.80 ratio.
7. Fresno State (20-4 overall, 8-0 WAC)
Their opponents shoot a better percentage from the floor than they do. Their opponents get more rebounds than they do. So how do the Bulldogs keep rolling along? The winners of nine in a row, including five road games in the past three and a half weeks, the Bulldogs keep getting more opportunities than the teams they play and make those opportunities count for more. Not since the fifth game of the season has an opponent had fewer turnovers than Fresno State, which ranks in the top 10 nationally in turnover margin. Throw in the chance to hit 18 of 29 shots from the 3-point line, as Fresno State did against Nevada on Saturday, and it's easy to explain this ranking.
8. Middle Tennessee (21-5 overall, 13-0 Sun Belt)
The wins haven't come easy, with three of Middle Tennessee's four February victories by single digits, including a 67-64 escape against Western Kentucky, but they have come. With just two reserves averaging more than seven minutes a game, the Blue Raiders need at least one of their familiar faces to step up at all times. Icelyn Elie has done so of late. The team's third-leading scorer topped 20 points in three of the past four games. The Blue Raiders can lock up the best record in the Sun Belt with a win Saturday against Florida Atlantic (ESPN3, 4 p.m. ET).
9. Gonzaga (22-4 overall, 10-2 West Coast Conference)
With a 1-2 record against BYU and Saint Mary's, including that 30-point rout at the hands of the Cougars, Gonzaga is not on firm ground here, owing its standing in large part to neutral-site victories against Georgia and Dayton in December. The good news is the remaining three regular-season games are all at home, including the Feb. 25 tilt with BYU. Also on the positive side of the ledger, Gonzaga is running a positive assist-to-turnover ratio at the moment, with 450 assists against 400 turnovers. Why is that worth noting for a team that ranked among the national leaders last season with 245 more assists than turnovers? Because take away Courtney Vandersloot, and last season's team actually finished with a negative assist-to-turnover ratio.
10. Temple (16-8 overall, 9-1 Atlantic 10)
Temple returns on the strength of nine consecutive wins in the Atlantic 10, keeping the Owls at least nominally in the race for the top seed in the Atlantic 10 tournament, despite St. Bonaventure's torrid pace. Other than a loss at Northern Illinois, there aren't any head-scratchers on the Temple résumé, with only Villanova an NCAA tournament question mark among the seven other teams to beat Tonya Cardoza's team. Conference play has been a boon to all involved, but Victoria Macaulay more than most. The 6-foot-4 junior center is averaging 10.5 points, 8.5 rebounds and 2.2 blocks per game in Atlantic 10 games.
Next five: South Dakota State, UTEP, Marist, San Diego State, Central Arkansas
January, 25, 2012
01/25/12
1:11
AM ET
1. Green Bay (17-0 overall, 7-0 Horizon)

The Phoenix -- one of only two mid-major teams in the top 10 nationally in scoring margin, along with Florida Gulf Coast -- keep rolling. So, too, does All-American candidate Julie Wojta, but Green Bay is much more than one player. Coach Matt Bollant talked recently about wanting his players to be more aggressive going to the rim, rather than relying on the 3-pointer, but it's easy to see from whence the temptation comes. One reason the Phoenix cracked the top 10 in the coaches' poll for the first time is they are a better outside shooting team than last year's Sweet 16 edition, particularly given the new 3-point line. Led by Lydia Bauer (40.8 percent from behind the arc) and Adrian Ritchie (35.4 percent), the Phoenix are hitting 6.6 3-pointers per game at 36.6 percent, compared to 5.3 per game at 35.7 percent a season ago. Yet they also average 19.2 free throw attempts per game, exactly the same mark as a season ago because Bauer, Ritchie and Sarah Eichler have each already topped last season's attempts.
2. Delaware (16-1 overall, 7-0 Colonial Athletic Association)

After averaging 33 points per game over a three-game stretch to begin the new year, Elena Delle Donne is averaging "just" 20.3 points in her four most recent games. Trouble for the Blue Hens? Not so much. Delaware's opponents are shooting just 34.9 percent this season, and that's down to 32.9 percent in Colonial play. Delle Donne remains the only player averaging double digits for the season, but Lauren Carra is averaging 10.7 points per game in seven conference games. And tied for eighth in the conference in assists? That would be Delle Donne. She's not bad.
3. St. Bonaventure (18-2 overall, 5-0 Atlantic 10)

The Bonnies didn't take the easy route before conference play, winning big games on the road against the likes of St. John's and West Virginia, and they aren't taking the easy route to the top of the Atlantic 10. Charlotte, Duquesne, Richmond and Temple are a combined 0-4 against St. Bonaventure and 12-2 against the rest of the Atlantic 10. The Temple win Jan. 11 and the Charlotte win Jan. 21 are part of an 8-0 road record for the Bonnies this season. Along with road games at Duquesne and Dayton in February, Wednesday's home game against Saint Joseph's looks on paper like one of the few hurdles remaining between this team and a No. 1 seed in the conference tournament.
4. Florida Gulf Coast (17-2 overall. 9-0 Atlantic Sun)

For Florida Gulf Coast, it's live by the 3-pointer or, well, win by slightly less by the 3-pointer. The nation's most prolific team from behind the arc suffered through a 7-for-31 night in its most recent game at Stetson, the team closest to the Eagles in the Atlantic Sun standings. On the road and shooting 23 percent on their bread and butter? What seemed like a sure recipe for a loss was instead a 59-55 win. Granted, Florida Gulf Coast probably isn't going to pull many March upsets if it isn't at its best from the 3-point line, but good teams find ways to win on bad nights.
5. Princeton (13-4 overall, 3-0 Ivy League)

Most of the teams on this list have little difficulty winning conference games, but Princeton is taking it to extremes in Ivy League play. The Tigers, who are in the middle of their annual midwinter schedule lull, won their first three Ivy games by an average of 41 points per game. The Tigers are crushing conference opponents on the boards, holding an advantage of better than 25 rebounds per game, but that isn't entirely new. Despite playing a tough schedule out of conference, the Tigers own a nearly double-digit rebound margin per game for the entire season. Credit that mid-major rarity to Niveen Rasheed and Devona Allgood inside, but also to a group of guards who rebound well.
6. Gonzaga (17-3 overall, 6-1 West Coast Conference)

Since beating Georgia and Dayton in Las Vegas just before Christmas, Gonzaga has run off seven wins by double-digit margins, including five on the road in conference play. Unfortunately for its cause, it also lost a game in that stretch against Saint Mary's, its only game against the other teams currently in the top three in the WCC. Oregon State transfer Haiden Palmer and Kansas State transfer Taelor Karr continue to keep the Bulldogs in business from the 3-point line. On the season, they account for 63 of the team's 95 3-pointers.
7. BYU (18-3 overall, 7-1 West Coast Conference)

The Cougars entered the AP Top 25 this week, making the WCC the only mid-major league with two ranked teams (Saint Mary's is receiving votes in the AP poll and beat both BYU and Gonzaga already, only to fall a half-game off the pace in a buzzer-beater loss at San Francisco on Monday). BYU has yet to play Gonzaga and lost at Saint Mary's on New Year's Eve, but it did earn a road win of value at San Diego on Jan. 14. Redshirt sophomore reserve Stephanie Vermunt doesn't have the necessary attempts to qualify for the national lead, but she's putting together a memorable season from the 3-point line, converting at 55.8 percent on 29-of-52 shooting from long distance.
8. Bowling Green (16-3 overall. 6-0 Mid-American)

The season started slowly for Bowling Green, at least by its standards, as the program sought to replace Lauren Prochaska and Tracy Pontius. They narrowly missed an upset against Purdue and dropped games at Dayton and Creighton, their three best nonconference opponents. But there's no secret as to why the Falcons now look like a team that might get to play postseason basketball in their new building, a first- and second-round NCAA tournament site. Duke transfer Alexis Rogers is averaging 20.3 points per game in conference play, up nearly 10 per game over nonconference action, giving Curt Miller a viable one-two punch with junior Chrissy Steffen (14.6 points per game).
9. Middle Tennessee (16-5 overall. 8-0 Sun Belt)

Another familiar name is reclaiming familiar territory in the top 10. The Blue Raiders haven't looked back since beating Kentucky just before January arrived, winning seven in a row since as part of an overall 10-game winning streak. Ebony Rowe remains a force, averaging 17.3 points and 9.6 rebounds per game overall, but she has had plenty of help in Sun Belt play. Assists leader Kortni Jones had at least a share of the scoring lead in five of the first eight conference games, including important road wins at South Alabama and Florida Atlantic.
10. Fresno State (15-4, 3-1 Western Athletic)

A 73-71 loss at UNLV early in January was a setback for a team that would have liked a quality road win to go with its home upset against Oklahoma earlier in the season. Still, that defeat didn't derail the Bulldogs. They close out January at home against San Jose State and Hawaii after winning their previous four games by an average of 21 points per game. Ki-Ki Moore remains the go-to option, but sophomore Taylor Thompson had a hot hand in the first three WAC games, averaging 13 points, 4.7 rebounds, 3.0 assists and 3.0 steals per game. The team's leader in assists, Thompson has just 30 turnovers in 582 minutes this season.
Next five: Hofstra, UTEP, Marist, San Diego State, St. Mary's
December, 26, 2011
12/26/11
8:14
PM ET
1. Green Bay (10-0)

The Phoenix remained unbeaten on the season with a win at Wisconsin on Dec. 23 and improved to 32-1 in the 2011 calendar year. When the only team that beats you in a 12-month period has Brittney Griner in the middle, you're doing something right. Julie Wojta (20.7 points, 9.9 rebounds, 3.4 steals per game) remains a marvel and tormented new Wisconsin coach Bobbie Kelsey as much as she did old Wisconsin coach Lisa Stone, scoring 29 points in a 65-49 victory against the Badgers. And while this team isn't quite as reliant on takeaways for defensive success as that other team that plays in Green Bay, the Phoenix remain among the best in the nation at making you give up the ball.
2. Delaware (9-0)

The road to an unbeaten regular season still runs through road trips to James Madison and Hofstra, among other challenging Colonial Athletic Association stops. But the game that could define Delaware's season will be against Maryland on Dec. 29 -- if, and only if, those teams beat East Carolina and Lafayette, respectively to reach the final of the Terrapin Classic. As if she didn't have enough amazing numbers, Elena Delle Donne has played 293 minutes and taken 165 field goal attempts and 66 free throws -- and turned over the ball just 12 times.
3. Gonzaga (10-2)

Las Vegas was kind to Gonzaga, with wins against Georgia and Dayton in the Holiday Hoops Classic providing much-needed quality results for a team with two games remaining against BYU and little else of RPI consequence. Katelan Redmon topped 20 points in both victories in Vegas, while Kansas State transfer Taelor Karr totaled 11 assists and just three turnovers in 62 minutes. Karr and Haiden Palmer are shooting a combined 39.5 percent from the 3-point line (34-for-86). The rest of the team is shooting 18.9 percent (17 of 90).
4. St. Bonaventure (11-1)

The only loss came in November at the hands of Delle Donne and Delaware (and she was at least forced to take 26 shots to get her 26 points in that game), and a win against Marist adds another prize to a list that includes victories at St. John's and West Virginia. It's time to take the Bonnies seriously in the crowded Atlantic 10 race. This week's game against Villanova will likely have a lower score than most bowl games -- and potentially some hockey games -- but like some of Harry Perretta's best teams, Jim Crowley's Bonnies are masters of their own style.
5. Florida Gulf Coast (8-1)

Florida Gulf Coast opens the post-Christmas portion of its schedule against NC State in Hawaii, but it had little trouble dispatching another ACC foe to wrap things up before the brief holiday break. The Eagles hit 17 3-pointers in a 69-41 victory against Virginia Tech on Dec. 21 and have reached double digits in that category in every game since an opening loss at Seton Hall. Kelsey Jacobson went for 17 points against the Hokies, including five 3-pointers. She has taken 87 shots this season; 79 of them have come from beyond the 3-point line.
6. BYU (11-2)

The Cougars enter their first West Coast Conference season with a 10-game winning streak, including neutral-site wins against Arizona and Syracuse and a home victory against Utah. Guard Haley Steed had a noteworthy line in an 82-53 win against Nevada before Christmas, totaling 11 assists without committing a turnover or attempting a field goal or free throw in 23 minutes. A sixth-year senior finally getting a good run of health, she scored 15 points in her second college game against Stanford -- and a lineup that included Candice Wiggins and Brooke Smith.
7. Duquesne (10-2)

A 62-49 loss at Florida to close the pre-holiday schedule was a definite downer for the Dukes, but they get a chance to erase some of that sting with road games against Pittsburgh, James Madison and St. Bonaventure before the first week of January is in the books. A big comeback against West Virginia on Dec. 17 helped keep them in the top 10, as does the belief that they can't possibly repeat an 0-for-19 shooting performance from the 3-point line against Florida.
8. Hofstra (9-2)

With wins against St. John's and Marist, Hofstra at least has control of the Hudson River (and that's not even counting a victory against Manhattan's Kansas State). Shante Evans came up big in the mid-major battle against the Red Foxes on Dec. 22, going for 29 points and 18 rebounds -- 13 of them on the offensive glass. With a star in Evans, a steady senior point guard in Candice Bellocchio, a scoring threat in Katelyn Loper and an X factor in Nicole Capurso, who has scored 20 twice this season despite 29.5 percent shooting, the Pride bear watching.
9. Fresno State (10-3)

Mid-major programs aren't supposed to beat Oklahoma the season after losing the star player who was a first-team, all-conference selection three years running, but that's exactly what Fresno State did on Dec. 8. Exit Jaleesa Ross, enter Washington State transfer Ki-Ki Moore, who averaged 17.7 points and 8.8 rebounds in six December wins, including four in a row after the victory against the Sooners. A Jan. 6 game at UNLV won't generate big headlines, but it's a good road test before Fresno State enters WAC play.
10. Princeton (8-4)

December was unkind to the Tigers, and January doesn't offer many opportunities for redemption with just three games on the schedule because of those pesky Princeton academics. (The Tigers do have December games remaining against Hofstra and Drexel.) But other than a loss at Navy, losses against Delaware and DePaul at home and Stanford on the road aren't entirely negative. One problem? Princeton can't buy a 3-pointer. A team that shot 41 percent on 17 attempts per game a season ago is shooting worse than 30 percent on similar attempts this season.
Next five: Hampton, Missouri State, Tulane, Dayton, UNLV
December, 4, 2011
12/04/11
10:25
PM ET
Monday morning headline: Statements or suggestions?
Statement wins. They're not just for college football anymore! Thankfully, since the only subjective judgment used in basketball's postseason is between No. 64 and No. 65, not No. 2 and No. 3, style points from Sunday's games are nothing more than conversation fodder. But four games between ranked teams make for a lot of fodder.
Ranking the statements made:
1. Purdue beating Texas A&M: More on the Boilermakers in a minute.

2. Ohio State beating Oklahoma: A year is a long time to wait for a mulligan, but that's what Ohio State earned with a big win at Oklahoma. The Buckeyes beat the Sooners a year ago to improve to 7-0 and promptly lost four of their next five games, and six of their next nine, locking in the script for a team that was never as consistent or as good as you got the feeling it should have been with Jantel Lavender and Samantha Prahalis. The schedule through the end of the month is much kinder this time around, and after adding a victory in Norman to home wins against Temple, Florida State and LSU, it's once again tempting to believe this team has some long-range potential. Averaging a shade more than 21 points per game for the season, Tayler Hill averaged 24.5 points in those four signature wins. She also shot 48.2 percent in those games.
[+] Enlarge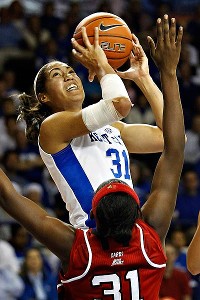 AP Photo/James CrispSamantha Drake shoots over Louisville's Asia Taylor in the Wildcats' 74-54 victory Sunday.
3. Kentucky beating Louisville: A'dia Mathies got the best of Shoni Schimmel in a battle of Bluegrass State guards (albeit one a transplant), and Kentucky's 74-54 win just about evened the score in the series after last season's 78-52 drubbing at the hands of Louisville. This one matters most because Kentucky's schedule was lighter than a helium balloon floating in the International Space Station coming into Sunday, making it tough to know what to think of life after Victoria Dunlap (and before Connecticut transfer Samarie Walker becomes eligible following the fall semester). The problem is Sunday seemed to prove Kentucky can turn people over and play hard for Matthew Mitchell, two things we already knew. If the Wildcats repeat the 3-point shooting (10-for-19) at Duke on Thursday, then we've got a statement.
4. Tennessee beating Texas: Don't get angry, Lady Vols Nation. You're only fourth because your team's elite credentials mean beating Texas is more taking care of business than making a statement. The rebounding (49-38) is what we expect. The 3-point shooting (11-for-21) can't be counted on every game, but it's nice to know it's there. The impressive part? Just nine turnovers. Against its three toughest opponents this season, Tennessee now has just 33 turnovers (including 13 against Miami and 11 against Baylor). Tennessee didn't play Miami a season ago, but if you substitute Louisville in its place, the Lady Vols had 58 turnovers in three similar games.
Best team weekend performance: Purdue. A season ago, Purdue lost a tough home game against Maryland in the ACC/Big Ten Challenge. It then lost its next two games at Notre Dame and Texas A&M. There's no shame in those defeats, but losing by 21 points in South Bend and a cringe-inducing 45 points in College Station pushed the Boilermakers completely out of the national conversation the rest of the way. Well, Purdue had ample reason to look at Thursday's loss at Duke as one that got away, a 40-39 lead with 11:58 to play vanishing in a game-ending 25-13 run by the Blue Devils. Purdue couldn't buy a shot, couldn't get a rebound and couldn't stop turning over the ball when it mattered.
So what did Sharon Versyp's team do three days later against the defending national champion? Turn a nine-point deficit with 15:39 to play into a 60-51 win. Purdue matched Texas A&M on the boards, getting 12 rebounds from Sam Ostarello, in addition to four steals and two blocks. Brittany Rayburn and Courtney Moses hit 5 of 10 shots from behind the arc and matched seven turnovers against a tough defense with seven assists.
It's a statement win all on its own. It's an even better one given what preceded it.

Best individual weekend performance: Chucky Jeffery, Colorado. The number of unbeaten teams is already dwindling toward single digits, with few real surprises amid names like Baylor, Connecticut, Delaware and Green Bay. One name that does jump out is Colorado, it of the 18-16 record last season. Playing a schedule that nobody will confuse with those favored by teams like Rutgers or Tennessee helps, and Sunday's 68-59 victory against Idaho might not rank high on the statement scale, but unbeaten is unbeaten. Jeffery ensured the Buffaloes still fit the category with 30 points and 10 rebounds against the Vandals. For the season, she's averaging 18.3 points. 9.4 rebounds and 4.1 assists while shooting 54 percent from the floor and 44 percent from the 3-point line, so, you know, expect to see her name here again at some point.

Best individual off-the-radar weekend performance: JaQuayla Berry, North Carolina A&T. It's never too early to start conference play. All right, it's ridiculously early to start conference play, but the MEAC is one of several leagues doing it anyway. Berry gets the nod here for filling up the stat sheet with 28 points, 14 rebounds, five assists and three steals in a game that mattered, North Carolina A&T's 84-74 win against North Carolina Central. Berry was third in the nation in steals per game last season.

Best mid-major team: Green Bay. The next mid-major top 10 isn't until next week, but consider this an unofficial change at the top. Gonzaga dropped a 58-51 decision against USC at home Sunday, while Green Bay completed a weekend that began with a win Friday against in-state rival Marquette and ended with a 74-67 victory over Northern Iowa on Sunday. Senior post Julie Wojta was at it again, with a double-double against Marquette and a career-best 26 points against Northern Iowa, but keep an eye on redshirt freshman Megan Lukan. Phoenix coaches last season compared Lukan to Celeste Hoewisch at the same point in her career (both redshirted their first season in Green Bay). Lukan had 12 points and three steals against Marquette and 13 points against Northern Iowa. Lukan is a keeper.
Setting up the week ahead (Monday-Friday)
Rutgers at Miami (Monday): Not a single Rutgers player averaged 30 minutes per game through the team's first eight contests, which is saying something for a program that recently seemed capable of using players for 30 minutes a half. It's early, and there have been a couple of bench-friendly wins against teams like Lehigh and La Salle, but will depth actually be an asset for the Scarlet Knights? Speaking of spreading the wealth, Miami's Morgan Stroman led the Hurricanes with 20 points in last week's win at Michigan State, the first time a player other than Shenise Johnson or Riquna Williams led them in scoring since Dec. 18, 2010 (Stroman against UC Riverside).
Texas A&M at Connecticut (ESPN2, 7 p.m. ET Tuesday): There's something about the Women's College Cup, college soccer's version of the Final Four, that doesn't sit well with the Aggies. Long the Big 12's flagship soccer team, Texas A&M has a strong claim to being the best program never to reach the signature event. And now for the second year in a row, Gary Blair's basketball team dropped its first game of the season over College Cup weekend. OK, maybe I've been around too much soccer this weekend. The Aggies bounced back from a loss at Duke last season with a big victory against Purdue in their next game. Now coming off a loss at Purdue, they need Sydney Carter and Adrienne Pratcher (combined 3-for-21 versus Purdue) to at least play Bria Hartley and Caroline Doty to a standstill to have a chance in Hartford in the Jimmy V Classic.
Duke at Kentucky (Thursday): Duke's Chelsea Gray is in the middle of any conversation about the weekend's best performance after going for 14 points, 13 assists, 11 rebounds and six steals (and just one turnover) in a 92-43 rout of Pittsburgh on Sunday. Now the challenge is to see how she and Chloe Wells hold up against the pressure Kentucky applies. This has all the makings of a game in which both teams approach 30 turnovers, but if Wells and Gray take care of the ball and get looks inside for Elizabeth Williams and at the 3-point line for Tricia Liston, look out. For the season, the Blue Devils are still running a positive assist-turnover ratio.
November, 30, 2011
11/30/11
12:10
PM ET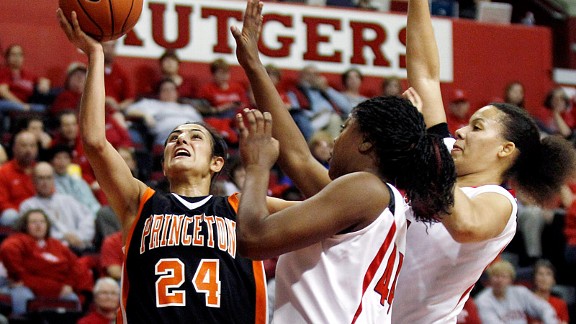 AP Photo/Mel EvansNiveen Rasheed and Princeton play Delaware on Thursday in a mid-major showdown between unbeatens.
1. Gonzaga (4-1)

The No. 1 team holds down that spot in part because of its lone loss, not despite it. Gonzaga dropped a 76-61 decision at Stanford on Nov. 13, but in leading the Cardinal at halftime in that game and looking like they belonged all game, the Bulldogs again showed that they're playing with major talent at the mid-major level. But that only goes so far. Three more significant tests remain on the nonconfernece schedule, beginning with a visit from USC this Sunday, and neither that game nor neutral-site games against Georgia and Dayton come with credit for moral victories.
2. Green Bay (5-0)

The Phoenix extended their regular-season winning streak to 25 games with two victories in Puerto Rico over the holiday weekend. Taking care of business in an 82-62 win against Illinois was a good opening act -- Green Bay should beat Illinois, and it didn't dawdle in taking a 38-25 halftime lead and shooting 50 percent for the game. But the big victory came against No. 25 Georgia Tech. Down 54-48 with 1:24 to play, Green Bay forced overtime on an Adrian Ritchie 3-pointer with two seconds remaining, and then came back from five down in the extra period to win, 67-62. Julie Wojta (20.8 points, 9.0 rebounds, 3.4 assists and 3.4 steals per game) remains as underrated a player as there is in the top 25.
3. Delaware (4-0)

A season ago, Delaware was a middling team with a magnificent player. So is jumping them all the way to No. 3 an overreaction to a few good, early wins? Perhaps, and Thursday's game against Princeton is as meaningful a mid-major showdown as the calendar offers. But this team appears to be more than just Elena Delle Donne (whose 40-point performance in a victory against Penn State is the early frontrunner for game of the year). The biggest statistical difference for the Blue Hens comes from Florida transfer Trumane Lucas. Through four games, she has 15 assists and nine turnovers for a team almost even in assist-to-turnover ratio. A year ago? Try 297 assists and 568 turnovers.
4. Princeton (6-0)

It's worth noting that Delaware started out last season with five wins in a row before an 18-point loss at home to Princeton derailed things. The Tigers look every bit as good this season, if not better. Coming off last season's knee injury, Niveen Rasheed is averaging 17.7 points and 8.2 rebounds per game, including 19 and 12 in a victory against Villanova and 18 and 11 in a win against Marist. And for a team that shot better than 40 percent from the 3-point line a season ago, it's worth noting the strong start this season comes despite little success from the new line.
5. San Diego State (4-1)

Courtney Clements is making an early case for Mountain West honors, all-mid-major honors and just about any other accolade you can come up with. The Arizona transfer is averaging 19.2 points per game in her second season with the Aztecs, shooting 47.9 percent from the floor and 44.8 percent from the 3-point line. She matched Keisha Hampton nearly point for point in a victory against DePaul in Hawaii, and did it without turning the ball over in 37 minutes. A loss to Portland in that tournament keeps San Diego State from climbing higher, but a win at home against Washington on Nov. 26 was a nice recovery.
6. Florida Gulf Coast (3-1)

The season began with a missed opportunity in a 57-51 loss at Seton Hall, but if not exactly a threat in the Big East, Anne Donovan's team is perhaps no longer a mere speed bump. And the Eagles made up for that Seton Hall result with a 59-58 win against Michigan State the week before Thanksgiving behind 20 points and 13 rebounds from Sarah Hansen. Like more than a few markswomen, Kelsey Jacobsen is off to a slow start from the 3-point line, whether or not it's related to the new distance. But well-regarded freshman Whitney Knight is filling the void (5-of-11).
7. Oral Roberts (5-1)

A loss at home against Missouri State over the weekend was the first bit of bad news this season for Oral Roberts, which couldn't stop Casey Garrison. But that doesn't erase the positives of double-digit wins on the road at Wisconsin and at home against Louisiana Tech. As might be expected, Kevi Luper is scoring, hitting for at least 22 points in every game until the Missouri State loss. But Luper also has 12 assists, no small matter for someone who had 29 assists in 34 games a season ago. Road tests at Arkansas and Kansas remain before Christmas.
8. Northern Iowa (4-1)

It's difficult not to imagine what might have been had Jacqui Kalin stayed healthy, but Northern Iowa isn't letting the preseason loss of the reigning Missouri Valley Conference Player of the Year stop it. Other than a four-point loss to Iowa in a game it led with 36 seconds to play, Northern Iowa has steamrolled to wins by an average of 19 points per game. A different player led the team in scoring in each of the wins, a good way to make up for losing one great player. Rachel Madrigal looks positively Kalin-like in averaging 15.4 points, 4.6 rebounds and 3.1 assists per game while shooting 54.9 percent from the floor and 44.8 percent from the 3-point line.
9. Tulane (5-1)

The Green Wave are well on their way to claiming in-state bragging rights with a 4-0 record against Louisiana teams. The biggest of those, of course, was a 65-62 overtime win against LSU on Nov. 19. The Green Wave committed 24 turnovers in that game, but they beat the Lady Tigers on the boards -- freshman Adesuwa Ebomwonyi is averaging five offensive rebounds per game, forming a formidable partnership on the glass with veteran post Brett Benzio.
10. Temple (2-4)

Yes, that's a 2-4 record, and yes, fans of UC Davis, UTEP, James Madison and a host of other unbeaten teams are free at this point to grumble. The Atlantic 10 has been a mystery to this point. In terms of talent, Temple, Duquesne and Dayton still look like locks to make this list by the end of the season. But they also have eight losses between them (Duquesne's only on the hook for one of them, but it was at North Dakota). Temple stays and the other two go for now. That's mostly because aside from an inexplicable loss against Northern Illinois, Temple has taken its turn against worthy competition and held its own. The Owls trailed Ohio State and St. John's by two points in the final minute and Texas A&M by four points with less than three minutes to play.
Next five: Duquesne, UC Davis, Hartford, Marist, James Madison.
November, 10, 2011
11/10/11
3:43
PM ET
The mid-major top 10 returns with the same ground rules. All conferences beyond the BCS six (ACC, Big 12, Big East, Big Ten, Pac-12, SEC) qualify for consideration.
1. Gonzaga
No, Courtney Vandersloot didn't gain additional eligibility. But just as Tennessee won a football national championship the season after Peyton Manning exited, Gonzaga isn't doomed without its All-American. Depth is the reason the Bulldogs will be fine. Few teams in any conference have size like the Bulldogs do in 6-foot-3 sophomore Stephanie Golden, 6-4 freshman Sonja Greinacher (a German youth international who coach Kelly Garves went head-to-head with Louisville to land) and 6-5 freshman Shelby Cheslek. Instant eligibility for Kansas State transfer Taelor Karr is a big backcourt plus.
Key player: Kayla Standish. Seniors Standish and Katelan Redmon give the Bulldogs two established stars, but that doesn't mean Standish, a 6-2 former prep high jump champion, is anywhere close to hitting her ceiling just yet. She's a 20-10-3 (points-rebounds-blocks) threat every time she steps on the court.
Key games: Playing at Stanford on Nov. 13 is the attention grabber, but back-to-back December games against Georgia and Dayton in Las Vegas are the real proving ground.
2. Temple
With just more than 12 minutes to play in its second-round game last season, Temple was within five points of Notre Dame. The Fighting Irish went on a run that carried them all the way to Indianapolis, and the Owls went home, but Tonya Cardoza has taken what Dawn Staley turned around and continued crafting a nationally relevant program. A full season of Hofstra transfer Joelle Connelly inside to complement 6-4 Victoria Macaulay means one more way for Temple to frustrate the heck out of opponents defensively.
Key player: Kristen McCarthy. Point guard Shey Peddy drives the Owls, but she needs a partner. McCarthy's shooting efficiency slipped last season, but she's a do-everything forward.
Key games: There is no shortage, including defending champion Texas A&M in the Bahamas and Duke at home on Dec. 30. Road games against Ohio State and Rutgers are also important tests.
3. Dayton
Preseason scrimmages are usually fool's gold. Consider Justine Raterman's 10 points in a recent Dayton scrimmage the exception to that rule. Reports early this fall were Raterman was on the leading edge of the typical timeframe for rehabbing a torn ACL, an injury she suffered in last season's NCAA tournament, and her presence on the court in the scrimmage seems to confirm as much. With Raterman, an elite player when healthy, alongisde underrated point guard Patrice Lalor, shot-blocking center Casey Nance and freshman Ally Malott, Dayton has Sweet 16 talent.
Key player: Malott. It's a lot to put on a freshman, but McDonald's All-Americans/Under-18 national team players are rare at this level, even for the semi-major A-10. The Ohio native is a 6-4 talent with an all-court game.
Key games: A trip to Connecticut over Thanksgiving break jumps off the page, but games against Boston College, Illinois and Gonzaga in about a two-week span in December might be more useful measures.
4. Green Bay
Like Gonzaga, Green Bay is eager to prove once-in-a-generation players don't mean once-in-a-generation success. Celeste Hoewisch and Kayla Tetschlag are gone, taking a lot of on-court production and even more leadership with them from a team that reached the Sweet 16 and lost just twice all season. But five of seven rotation players return for a program that, at least statistically, doesn't rely on the individual. With senior Hannah Quilling and juniors Lydia Bauer, Adrian Ritchie and Hannah Quilling around, ball possession and 3-point shooting will remain strengths.
Key player: Julie Wojta. You don't survive as a 6-foot post without being versatile, but Wojta thrives in that role by taking versatility to new levels. She led the Phoenix in assists, defensive rebounds and blocks. A quiet presence, at least in comparison to Tetschlag and Hoewisch, leadership is the next thing she'll be asked to provide.
Key games: Playing Illinois and Georgia Tech in Puerto Rico is the best test against top competition, although the Dec. 23 game at Wisconsin has meaning after the offseason coaching carousel.
5. Florida Gulf Coast
Finally eligible for the NCAA tournament after completing the transition to Division I, Florida Gulf Coast might not waste much time availing itself of the new opportunity. Five of the six main rotation players return from a team that went 28-4 a season ago, including leading scorer Sarah Hansen and 3-point wizard Kelsey Jacobson. Newly eligible Oregon State transfer Brittany Kennedy and a freshman class highlighted by top-100 signee Whitney Knight and Greek foward Anthi Chatzigiakoumi suggest depth won't be an issue.
Key player: Courtney Chihil. Any 5-8 player who leads a team in rebounding (5.8 per game) and leads a conference in assist-turnover ratio (1.89) is worth singling out for attention. The one rotation loss, Shannon Murphy, was a big one, but Chihil could soften the loss. She does everything else.
Key games: It isn't the biggest BCS opponent, but a road game at Seton Hall to open the season is a start and sets the stage for a Nov. 19 showdown at home against Michigan State.
6. Duquesne
If you're starting to sense that the Atlantic 10, even with Xavier in rebuilding mode, is on another level, you're right. The third A-10 entry in these rankings missed the NCAA tournament a season ago, but won 24 games, beat Ohio State in Columbus and advanced to the third round of the WNIT. Momentum is building for coach Suzie McConnell-Serio. Five players averaged between 8.2 and 12.6 points per game last season, and four of them return, two of them as mere sophomores. A fifth returnee, guard Jocelyn Ford, averaged 4.9 assists and 4.5 steals per 40 minutes.
Key player: Alex Gensler. Sophomores Wumi Agunbiade and Orsi Szecsi are the potential stars with unlimited ceilings, but Gensler is the senior who grabbed a starting spot as a freshman and carved out a heck of a career. A proficient shooter, she's also the kind of player who will be interesting to track as she adjusts to the new 3-point line.
Key games: Duquesne is setting itself up to miss out on NCAA at-large consideration with a weak nonconference schedule, but the final two weeks of December will include West Virginia and Pittsburgh and could include Florida.
7. Marist
They lost consummate point guard Alisa Kresge and went back to the NCAA tournament. They lost all-time leading scorer Rachele Fitz and went back to the NCAA tournament. Now they lose MAAC Player of the Year Erica Allenspach. And yes, they should go back to the NCAA tournament. Coach Brian Giorgis still has Corielle Yarde, the team's leading rebounder at 5-8 and on Allenspach's heels in just about every other category, and a lot of rotation players who gained experience as freshmen and sophomores last season.
Key player: Kristina Danella. The Massachusetts transfer is eligible after sitting out last season and should play a big role. A 6-1 forward, Danella averaged 11.6 points and 5.6 rebounds as a sophomore at UMass and has 3-point range.
Key games: An early road trip to Princeton makes for an interesting mid-major clash, but the high-profile tests come around Christmas against Auburn (on a neutral court) and when Kansas State comes to Poughkeepsie on Dec. 29.
8. Oakland
South Dakota State proved it's possible for Summit League teams to wedge their way into the national conversation. Oral Roberts is the obvious choice to follow suit this season, but Oakland's defense and ball control could win the day. Led by junior forward Bethany Watterworth (17.9 points per game), the top five scorers return from an Oakland team that won 20 games, led the Summit in field goal defense and finished with a positive assist-turnover ratio last season. Center Brittany Carnago gives the Grizzlies a 6-4 shot-blocking presence few mid-major teams have.
Key player: Watterworth. Mid-major teams can't afford a lot of one-dimensional players, and Watterworth is the kind of all-around star that shines in leagues like the Summit. She averaged nearly a block and steal per game last season, led her team in assists and 3-pointers and finished second in rebounding.
Key games: They won't be long road trips, but bus rides to play Michigan State on Nov. 27 and Purdue on Dec. 20 will give the Grizzlies a chance to compete with the best in the region.
9. Oral Roberts
If nothing else, Oral Roberts is going to be fun to watch. But with five starters and the Summit League's top reserve returning from a team that won a pair of WNIT games, there should be plenty else besides entertainment. The Golden Eagles run, averaging 84.4 points and forcing 23 turnovers per game last season. National scoring and steals leader Kevi Luper (23.7 points per game, 3.7 steals per game) is the embodiment of the team's philosophy.
Key player: Jaci Bigham. Luper is clearly the star of the show, but her backcourt partner since both arrived as freshmen is the X factor. Bigham shot 42.5 percent on 233 3-point attempts as a freshman. That dipped to 31.5 percent on 143 attempts last season, as Jordan Pyle became a bigger part of the offense. Bigham also played through an ACL tear at the end of the season, proving her toughness but delaying the start of her rehabilitation.
Key games: It's a schedule built for a veteran team. The first weekend includes a trip to Wisconsin, and road trips to Houston, Arkansas and Kansas follow, along with home games against Missouri State and Louisiana Tech.
10. Princeton
A season can hardly be considered a missed opportunity when it ends with an Ivy League championship and another trip to the NCAA tournament, but Princeton's chance to be a real March sleeper undeniably went by the wayside when leading scorer Niveen Rasheed suffered a season-ending knee injury after 12 games. If she's back to 100 percent alongside three other returning full-time starters and the player who took her place in the starting lineup, the Tigers once again have the look of a team that could exceed the typical Ivy profile.
Key player: Lauren Edwards. Rasheed is obviously a key player, but she's not alone. Princeton won't have Addie Micir, the team's leader in assists and 3-pointers last season. That makes Edwards, a 6-foot guard coming off back-to-back All-Ivy selections, all the more important in both distribution and long-distance shooting.
Key games: In addition to the game against Marist, Princeton welcomes Delaware and DePaul to Jadwin Gym, in addition to a monumental road game at Stanford and more manageable ones at Drexel and Hofstra.
Next five
11. Saint Joseph's: The Hawks return all five starters and 95 percent of the scoring from a team that went 20-12 and reached the second round of the WNIT. Five regulars had more assists than turnovers for a ball-control team.
12. Missouri State: It hurts losing Tia Mays, who left the program after averaging six rebounds and three blocks per game in her lone season, but Missouri State returns four starters. Senior Casey Garrison is going for a second MVC player of the year award.
13. Chattanooga: The Mocs should be back after missing the postseason (NCAA or WNIT) for the first time since 1999. Leading scorer Whitney Hood (18.8 ppg), shooter Kayla Christopher (41.2 percent on 3-pointers) and playmaker Tenisha Townsend (3.7 assists, 1.71 assist-turnover ratio) return.
14. Delaware: They have one of the 10 or 15 most talented players in the country, and a returning cast that held its own when that player, Elena Delle Donne, was injured for part of last season. But a team that totaled 297 assists against 568 turnovers still needs to prove it's at least the sum of its parts.
15. TCU: A talented freshman class and Iowa State transfer Whitney Williams will help replace Helena Sverrisdottir and Emily Carter, but losing Starr Crawford for the season with concussion-related issues is a big blow.
November, 9, 2011
11/09/11
1:47
PM ET
Delaware star Elena Delle Donne might be the biggest name in the mid-major ranks, but she's not the only player who bears watching. From established stars to breakthrough candidates, here are 10 players to keep an eye on from beyond the BCS conferences.
Wumi Agunbiade, Duquesne

She didn't receive a lot of attention in the discussion of the nation's best freshmen last season, but it wasn't for a lack of supporting evidence. The 6-foot-2 Canadian did earn Atlantic 10 Rookie of the Year honors after averaging 11.2 points, 7.2 rebounds, 1.5 blocks and 1.5 steals for the Dukes (just for good measure, she also hit 16 3-pointers). No other A-10 player ranked in the top 15 in the conference in rebounds, steals and blocks.
Sophia Aleksandravicius, Davidson

A stranger in a strange land (which is to say, a New Yorker in North Carolina), Aleksandravicius is becoming a familiar face when it comes to Big South accolades. A versatile 6-4 forward, she averaged 16.5 points, 9.0 rebounds, 3.1 blocks and 1.7 steals last season. She's one of just three returning players in Division I who averaged at least three blocks per game last season, joining Baylor's Brittney Griner and Texas' Ashley Gayle. Fouling her won't help, either. After shooting 68.5 percent from the free throw line as a freshman, she improved to 82.6 percent last season.
Brogan Berry, Harvard

Princeton will be difficult to unseat in the Ivy League, particularly if Niveen Rasheed returns at full strength from last season's knee injury, but Berry is going to do her best to give Harvard an opportunity. Specifically, she's going to do her best to get her teammates opportunities. The 5-8 Ohio native averaged 4.6 assists per game as a junior and ranked ninth in the nation in assist-to-turnover ratio. She's not all pass, holding onto the ball often enough to lead the Crimson by averaging 13.6 points per game and shoot 39 percent from the 3-point line.
Casey Garrison, Missouri State

It's not the way anyone wanted her to become the favorite, but the season-ending injury sustained by Northern Iowa standout Jacqui Kalin leaves Garrison as the clear front-runner for top individual honors in the Missouri Valley Conference, an award named in honor of former Missouri State star Jackie Stiles. Although Garrison apparently shrank over the summer, going from 6-foot in last year's media guide to 5-11 this season (old age is catching up to the senior), she remains a big guard (5.7 rebounds, 187 free throw attempts) with a small guard's playmaking eye.
Courtney Hurt, VCU

Even with Dawn Evans gone, Elena Delle Donne isn't the only player in the Colonial Athletic Association who could make a run at All-American honors. Hurt came close to doing just that last season when she averaged 23.2 points per game (second in the nation) and 12.4 rebounds (first in the nation). Short of a potential meeting with Miami in a tournament hosted by the Hurricanes, VCU doesn't have a lot of marquee games on the schedule with which to showcase Hurt, but another season of double-doubles will attract attention.
Kevi Luper, Oral Roberts

Do I hear 1,000 points in a season? It's a possibility for Luper, who scored 806 points last season as a sophomore to lead the nation at 23.7 points per game. The latter has to make her one of the only players to lead the nation in scoring in a season in which her scoring average dropped (she averaged 24.4 points per game as a freshman). She is what she is on the offensive end -- she totaled just 29 assists in 1,179 minutes last season -- but when you shoot 38 percent from the 3-point line and 84 percent from the free throw line, how wise is passing, anyway?
Kamile Nacickaite, Drexel

Schools shifting conferences is all the rage these days, but there's no truth to the rumor that Drexel applied to play in the next European championship. Following in the footsteps of former Drexel standout Gabriela Marginean on a roster that rarely lacks for international flavor, Nacickaite is poised for big things this season. The Lithuanian guard averaged 17.6 points and 6.3 rebounds per game last season as a junior. She shot an astounding 47.8 percent from the 3-point line on 157 attempts, compared to 40.7 percent on 295 2-point attempts.
Shey Peddy, Temple

Take heart, Eagles fans. Not every new arrival struggles in the City of Brotherly Love. A standout in the Horizon League at Wright State, Peddy had no trouble adjusting to a slightly tougher level of competition in the Atlantic 10 in her first season on the court for the Owls. It's always a good sign when a team's leading scorer also piles up defensive accolades, and Peddy managed both of those things last season. Just to make sure she had all her bases covered, the 5-7 star also led the team in assists and missed doing so on the boards by just three rebounds.
Adrian Ritchie, Green Bay

Phoenix senior Julie Wojta was a strong contender for the Horizon preseason player of the year (that honor went to Youngstown State's Brandi Brown), but last year's Sweet 16 participants need others to step up around her to keep the dynasty healthy. A long-limbed 5-11 guard, Ritchie has the tools for a breakthrough junior campaign. She played through injuries last season but still shot 37 percent from the 3-point line, finished second on the team in 3-pointers despite missing five games and finished with nearly a 2-1 assist-to-turnover ratio.
Katie Sheahin, Loyola (Md.)

There is life in the MAAC beyond Marist (just don't expect the Red Foxes to give up the conference crown). Loyola's Sheahin was named the league's top defender last season as a sophomore after the 5-10 guard averaged 3.5 steals and 1.1 blocks per game. There were 21 players in Division I who averaged at least three steals a game last season. Only three of those also blocked at least a shot per game: Sheahin, Appalachian State's Anna Freeman and former Kentucky star Victoria Dunlap. Sheahin also led the Greyhounds in assists and averaged 13.1 points per game.
March, 11, 2011
03/11/11
11:11
PM ET
Editor's note: ESPN.com's Graham Hays tracked every move of the Green Bay Phoenix on Thursday and Friday as they prepared for their Horizon League tournament semifinal matchup. Through blog entries and photos, Hays chronicled what took place in between practice sessions and games and captured the personalities behind the players we see on the court. Next week, Hays will recap the experience. Until then, check out his final blog from the journey below.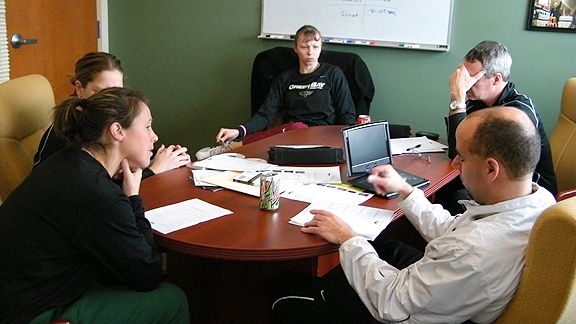 Graham Hays(Clockwise from top) Assistant Amanda Leonhard, associate coach Mike Divilbiss, coach Matt Bollant, director of operations A.J. Whitehead and assistant Sarah Bronk gather in Bollant's office.
Among the things Green Bay coach Matt Bollant earned with an 89-41 victory against Loyola in a Horizon League quarterfinal on Wednesday was a reasonable departure time from the Kress Center and a decent night of sleep (or as close as a coach can come to one in March). Having faced semifinal opponent Wright State just six days earlier in the final weekend of the regular season, winning by 21 points on the road, Bollant felt comfortable saving tape-watching for the following morning. So after an early conference call Thursday morning with league officials to go over details of Green Bay's duties as host for the semifinals and the championship round, Bollant and his staff got to work on how to contain Wright State guard LaShawna Thomas and post Molly Fox, who had missed the previous game with an injury.
The Diet Mountain Dew in front of Bollant is the coach's drink of choice at all hours, not to mention a potentially useful winter-weather tool for melting snow, ice, cement and stomach lining.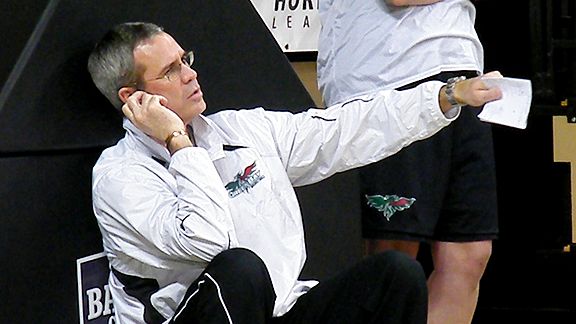 Graham HaysAssociate coach Mike Divilbiss had a front-row seat at Friday's shootaround.
Green Bay isn't taking its place in the NCAA tournament or the remainder of the conference tournament for granted, but there were some bracket-related travel plans already being made on Thursday. Around midday, as he watched tape on Wright State, associate coach Mike Divilbiss learned his daughter Chantel's North Idaho College basketball team was seeded fifth in the National Junior College Athletic Association national tournament and would face Georgia Perimeter in a first-round game in Salina, Kan., next Wednesday. A Winona State (Minnesota) graduate, Divilbiss spent 21 years as head coach of Lewis-Clark State College and the University of Idaho. When he took the job as Bollant's top assistant at Green Bay, Chantel relocated across the country for her senior year of high school, a story about as old as time in the coaching community. But now Divilbiss will go the distance for her.
As he did last year when Chantel's team reached the postseason, Divilbiss will leave after finding out where the Phoenix are headed in the NCAA tournament. He will drive roughly 13 hours (more or less, depending on the cruise-control settings) from Green Bay to Salina for her game Wednesday afternoon. Then he'll drive back after the game, in time to leave for the NCAA tournament -- unless, of course, the selection committee wants to do him a favor and send Green Bay to Wichita.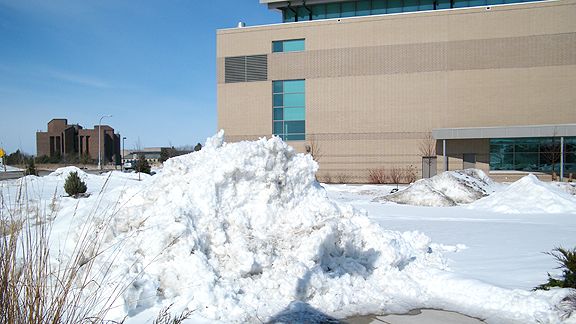 Graham HaysA recent snow storm piled up outside of Green Bay's Kress Center.
Spring break arrived at Green Bay with the close of classes on Friday. The students dispersed rapidly, but the snow, which made a late surge against the end of winter earlier this week when about six inches fell, has not exited with quite the same alacrity. Nonetheless, even among the players who won't be headed anywhere until the end of next week for the first round of the NCAA tournament, there was a giddiness in the afternoon walk-through that bordered on hyperactivity, right down to Hannah Quilling sinking a post-practice three-quarters court shot that she launched with two hands over her head like a soccer player taking a long throw-in (sadly, undocumented on film).
"Maybe it's something about the spring weather," senior Heather Golden mused earlier.
As Bollant quickly pointed out, only in Green Bay does the temperature approaching 40 degrees constitute the onset of spring.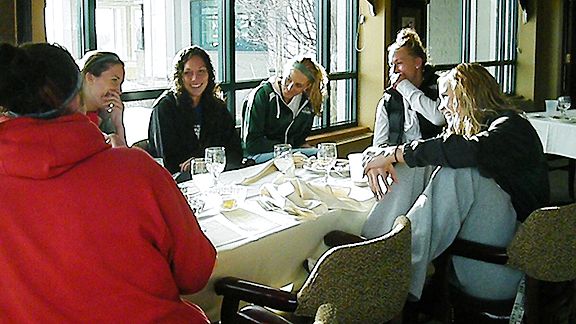 Graham HaysThe Phoenix gathered for a pregame dinner at Green Bay Country Club. Sarah Eichler is pictured with her back to the camera. From left to right, Julie Wojta, Katie Bushman, Kayla Tetschlag, Hannah Quilling and Jenny Gilbertson.
Other than a deer looking at a very tough wedge out of the woods on one of the holes close to the clubhouse, the Green Bay Country Club was more or less deserted when the Phoenix arrived for their pregame meal about four hours before Friday's tip against Wright State. It's too bad, because odds are the regulars don't get dinner conversation like this with any regularity.
A discussion across tables that to some degree began with players questioning Divilbiss about how much knew about the characters on "Jersey Shore" (a little more than he initially let on, it turned out) somehow found its way into the territory of adolescent embarrassments -- both of action and fashion. Bollant? Locked for an entire period inside a locker in which he was laying in wait by a culprit who still walks the streets unpunished to this day. But the line of the day went to junior star Julie Wojta, who defended herself against the slings and arrows of teammates recalling her youthful style indiscretions by noting she went through an awkward phase. How long of an awkward phase?
"Fifth grade through junior year of high school," she admitted.
If only they hadn't been so uptight about the impending game.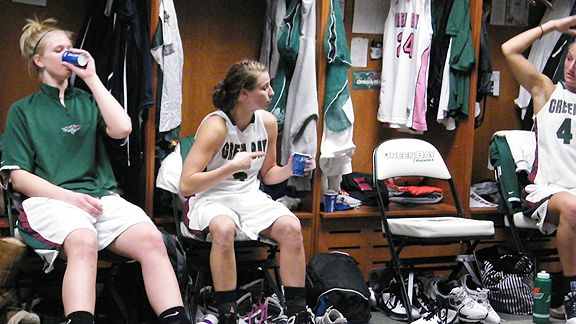 Graham HaysSenior guard Celeste Hoewisch, the Horizon League co-player of the year, sits in the team locker room at halftime of Friday's semifinal versus Wright State.
Green Bay headed to the locker room at halftime of Friday's semifinal leading by a seemingly comfortable 39-25 margin, but there was more than a bit of frustration in the air after a foul-plagued first half in which the Phoenix committed seven turnovers and watched Thomas score 13 points. It wasn't a bad performance -- they also had 11 assists and forced Thomas to take 13 shots for those points while committing five turnovers. It just wasn't 55-16, the halftime score of the quarterfinal victory two days earlier.
The first person to speak inside the locker room while the coaches met in the hallway outside, as she is during most timeouts and as she was in Wednesday's game, Celeste Hoewisch first ran off a litany of things all involved could do better. But unlike the game against Loyola, when she cautioned, or more precisely, admonished, her teammates not to let the mood get too light, she encouraged them to remember they were up 14 and had yet to hit top gear.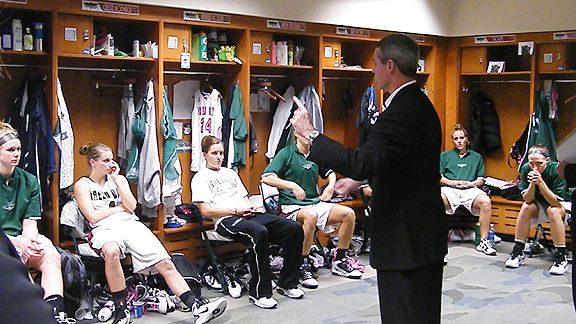 Graham HaysFollowing a players-only portion of the halftime meeting, the coaches add their perspective.
Once Hoewisch, joined by Kayla Tetschlag and Hannah Quilling, had her say in the players-only portion of the break, Bollant entered and ran through the adjustments the team needed to make, both tactical against the likes of Thomas and mental to prevent the hurried mistakes with the ball that crept up in the opening 20 minutes. As the time in the locker room was coming to a close, Divilbiss offered a simple question that Hoewisch anticipated before he even asked it. It didn't trump all the work the coaches had done over the previous 36 hours to counter Wright State's sets or tailor Green Bay's pressure defense to the specifics of an opponent with a dynamic guard and good shooters, but it would cut to the core at any game.
"Are you enjoying the fight?" he asked.
By the first media timeout, a little more than four minutes into the second half, the lead had grown to 20 points. Four minutes later, it reached 25 points. By the end, Green Bay had a 95-65 win and 56 second-half points, topping its production from the first half against Loyola. The Phoenix turned over the ball just twice in the final 20 minutes; hit nine 3-pointers, including five from Lydia Bauer; and shot almost 50 percent overall from the floor. Only the 24 free throws Wright State attempted in the second half kept the final score from getting even more out of hand.
As the man who asked the question said after the game, they enjoyed the fight.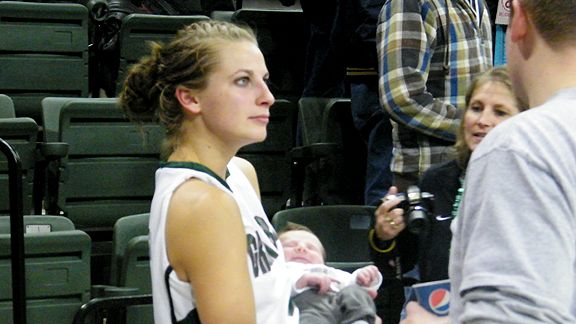 Graham HaysSenior Celeste Hoewisch met her week-old nephew, Micah, for the first time Friday.
Only after totaling 17 points in 22 minutes against Wright State, giving her 40 points in 43 minutes in two games in the conference tournament, did Hoewisch meet her newest nephew, Micah, for the first time. And for all the words still to be written about the Phoenix, there aren't a thousand that tell a better story of a program than a picture of a point guard, a leader and an aunt twice over.
If you missed any of Hays' coverage along the way:
• Entry 1: "It smells sometimes"
Team manager Nellie Schafer plays an important role in Green Bay's success.
• Entry 2: Map of the (future) stars
Finding players other teams should have been interested in is the Phoenix's strength, even if those players have to look up Green Bay on the map.
• Entry 3: Juggling class and court
When it's time to blow off some steam and celebrate another victory, Hannah Quilling hits … the library.
• Entry 4: Ever-focused Hoewisch
Celeste Hoewisch will meet her week-old nephew for the first time before Friday's game. But don't expect the senior point guard to be distracted.
• Entry 5: Tetschlag's media blitz
Kayla Tetschlag embraces the responsibilities (and fun that goes with them) of being a student-athlete.
March, 11, 2011
03/11/11
1:29
AM ET
Editor's note: ESPN.com's Graham Hays is tracking every move of the Green Bay Phoenix on Thursday and Friday as they navigate through the Horizon League tournament in search of an automatic NCAA tournament bid. Through blog entries and photos, Hays will chronicle what takes place in between practice sessions and games, and who the personalities are behind the players we merely see on the court. Check back for more updates.
[+] Enlarge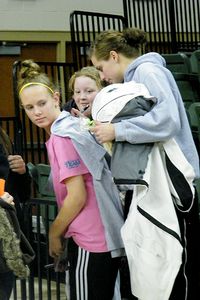 Graham HaysSenior point guard Celeste Hoewisch always has plenty of autograph seekers.
GREEN BAY, Wis. -- Celeste Hoewisch will meet her newest fan for the first time on Friday.
In and of itself, this is not a particularly unique development for someone who signs her share of autographs. If not at quite the pace a certain Hollywood train wreck adds Twitter followers, Hoewisch nonetheless stockpiles new fans just about every time she takes the court at home, as she will against Wright State in a Horizon League tournament semifinal on Friday. The senior point guard has a way of winning over people watching her play for the first time. Their affection grows every time she throws her body between larger opponents -- a mostly redundant term in the case of the 5-foot-7 Hoewisch -- in pursuit of a rebound, or when she chases down an errant pass against Green Bay's pressure, looking for all the world like the proverbial little sister finally sticking it to her tormenters in a game of keep away.
At halftime of Wednesday's win against Loyola, having been knocked to the ground more than half a dozen times during the first half, Hoewisch asked for an ibuprofen for her headache. It's precisely because she's an incurable pain in the you-know-what for opponents that fans adore her and fans elsewhere grudgingly respect her.
It's just that most of those new fans, short of a late Green Bay marketing idea for a strange timeout contest, won't ever have one of the best guards in the history of the Horizon League on call to babysit for them.
Friday, Hoewisch will meet her newest nephew, Micah, for the first time, a little more than a week after his birth.
Just don't expect the Horizon League co-player of the year to be distracted. Like the best efforts of every other team in the conference, aunthood (in addition to marriage for someone who got engaged over the Christmas break) has thus far failed to distract her from the tunnel vision with which she competes on the court.
Barely a week ago, Hoewisch was preparing to play a game on the road against Wright State when she received a text that one of her older sisters, Kaylin, was going into labor with her second child back in Wisconsin.
"She did that last year to me with Elijah; I was on the road at, I think, Cleveland State," Hoewisch said of her first nephew. "She likes to do that."
In this instance, Hoewisch handed off her phone to trainer Dusty Lang to track updates and then put up 11 points, four assists and four steals in a 21-point Phoenix victory. Of course, when coach Matt Bollant entered the locker room to deliver his postgame comments, he found his players huddled around Hoewisch's cell phone, looking at pictures of Micah.
Playing point guard is one thing, but it doesn't measure up to playing aunt -- if for no other reason than she's the one on the hook to discipline her teammates if they start looking like they need a nap.
"You never realize how much you can love someone you only know for a day," Hoewisch said. "You don't even know them, and you just love them so much. It's an amazing feeling. You kind of feel a big part of their life -- and you don't have to deal with them when you don't want them. When they're acting up, you give them to mom and dad.
"But you still get to enjoy them and feel a part of their lives."
March, 10, 2011
03/10/11
7:38
PM ET
Editor's note: ESPN.com's Graham Hays is tracking every move of the Green Bay Phoenix on Thursday and Friday as they navigate through the Horizon League tournament in search of an automatic NCAA tournament bid. Through blog entries and photos, Hays will chronicle what takes place in between practice sessions and games, and who the personalities are behind the players we merely see on the court. Check back for more updates.
[+] Enlarge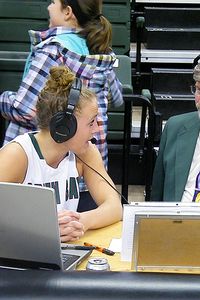 Graham HaysHannah Quilling, a human biology major, averages 5.3 points, 3.6 assists, 2.4 rebounds and 25.6 minutes per game.
GREEN BAY, Wis. -- Where does a starter on one of the nation's best basketball teams go to blow off some steam and celebrate a dominant collective performance in a conference tournament quarterfinal?
Try the fourth floor of the library, which despite its unlimited potential as such, is not the name of a trendy nightspot.
"Well, we've got this whole school thing going on," senior Hannah Quilling noted.
March might be the month when college basketball reigns supreme for those no longer enrolled in the institutions represented by the teams, but at countless schools, it's also a month chock full of midterms, papers and other general unpleasantness. And if you think postseason basketball is a win-or-go-home proposition, try organic chemistry.
Still in her jersey and shorts as she stood in the team lounge not long after Wednesday's win against Loyola, Quilling was also a little more than 12 hours away from an exam in ecology, part of her curriculum as a human biology major. So much for soaking up a big win.
A junior from Eau Claire, Wis., with one of the most visible (and audible) personalities on the team, Quilling receives more than a bit of good-natured verbal abuse for taking the longest to get ready of anyone on the team after a game or going out on the town -- abuse that comes her way from teammates, staff, coaches and, it seems, just about anyone who has met her. But if Wednesday's schedule is any indication, she does have some time-management skills to go with that dawdling degree.
Before the game against Loyola, Quilling made it to her classes in comparative physiology and organic chemistry, went through the team walk-through and then skipped the pregame team meal to study for the all-essay exam. She played 21 minutes in the rout against the Ramblers, totaling four assists and two steals, and then held court on the postgame radio show before finally heading to the locker room and emerging to mingle briefly with friends.
Then it was off to study, even though it isn't the easiest time of year to push basketball to the mental back burner.
"Right now, this part of the season during tournament time, I think it's always in your mind," Quilling said. "You can't get it out, even if you want to. Whether its professors wishing you luck or students wishing you luck or cheerleaders you see in the hallway wishing you luck. You can't really get it out of your mind."
So how did it go?
"The last one, there was a test right at the beginning, and I thought it went horrible," Quilling laughed after practice Thursday. "And I got it back and I got an A on it. And this one I think went well, so I'm actually excited to get this one back. But it was kind of stressful for a while. Me and a kid I study with, we came in at 6 o'clock and started cramming right from there up until 9:30."
Quilling is a basketball player through and through, a guard with no small amount OF playmaking ability and no shortage of shooting range. But she's also the daughter of a day-care owner and wants to pursue a career working with kids as a physician assistant. The result is a schedule not unfamiliar to college students, to be sure, but unenviable all the same. And while her teammates would surely suggest she could book an extra hour or two of sleep simply by getting dressed at the same speed she plays basketball, she makes her own style work. Even if that meant going on limited sleep on this occasion.
"Maybe even a little later than 12:30, but I don't want my mom to think I never sleep. She starts worrying," Quilling quipped of when she went to sleep before her early morning wake-up call. "I'm just one of those people who doesn't need a lot of sleep to function normally, or as normally as possible."
With that she got up, slung her bag over her shoulder and headed off to an organic chemistry lab.