Category archive:

Depaul Blue Demons
December, 11, 2011
12/11/11
5:52
PM ET
NEW YORK -- Monday morning headline: Tennessee aces new test.
Tennessee has a heck of a role model when it comes to leadership under adversity.
During a timeout in the opening game of Sunday's Maggie Dixon Classic between Baylor and St. John's, Tennessee coach Pat Summitt made her way onto the court at Madison Square Garden to accept an award named for the late coach and given to members of the women's basketball community fighting particularly courageous battles. Even in the midst of a game proving to be closer than most expected, the players and coaches of both teams broke their huddles, stood and applauded, one testament in a day full of them to just how universal is the support for the legendary coach of the Lady Vols as she battles early onset Alzheimer's.
[+] Enlarge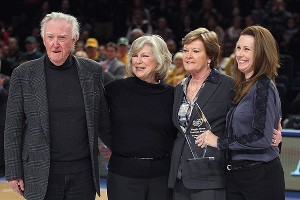 Alan Maglaque/US PresswirePat Summitt was honored with the Maggie Dixon courage award at Madison Square Garden on Sunday.
By comparison, playing 40 minutes of basketball without a freshman point guard is hard to file under the category of a hardship. On the other hand, the essence of Summitt's battle -- to some degree the essence of her career -- is that you fight the battles in front of you, no questions asked and no excuses given.
For Summitt's team in the second game of Sunday's doubleheader, that meant playing its first game without Ariel Massengale.
For the first time in a long time, Tennessee has a point guard who fits all the classic criteria of the position and could potentially fit them as well as anyone playing the position at the moment. In her first six games in orange, Massengale totaled 35 assists and just 15 turnovers against a schedule loaded with postseason-caliber foes.
But the Lady Vols will be without Massengale for two to three weeks because of a dislocated finger, a stretch that includes road games at Rutgers, UCLA and Stanford.
Not having a point guard played a big part in Tennessee's downfall in the NCAA tournament a season ago, but that wasn't the case Sunday against a tournament-caliber team. It wasn't always pretty for a team with just nine assists, but they got the ball inside enough to earn 35 trips to the free throw line and score 50 points in the paint.
Shekinna Stricklen admitted some nerves in reprising the role of point guard she filled in recent seasons, possibly at the expense of her all-around All-American game, but between her efforts and those of scoring guard Meighan Simmons and even a wing with a good handle like Taber Spani, the Lady Vols got the job done.
"She's a great point guard," associate coach Holly Warlick said of Massengale. "You can't teach an instinct of a point guard. You just can't. That's a sign of what Ariel Massengale means to this team and what we needed. She's a great leader, but she leads by example. She's smart, she sees the open floor. You can't tell a guard everything to do, and a great guard -- a great point guard -- sees things. They get the ball to whoever needs it when they need it. That's what Ariel Massengale does.
"Look, Shekinna Stricklen, Meighan Simmons, they're very good guards, but they don't have probably the quality as a Massengale has. It doesn't matter if she's a freshman or a senior. That is not taught, what Massengale has."
It only gets more difficult Tuesday night against the pressure of Rutgers and C. Vivian Stringer's defense. But if the Lady Vols currently lack a point guard with skills that can't be taught, they do seem to have a surplus of players who are willing to learn.
Co-best individual performance, Maggie Dixon Classic edition: Brooklyn Pope. Is it more surprising that Pope led Baylor with 19 points in a win against St. John's, or that she didn't commit a single foul in 30 minutes on the court against the Red Storm? Pope averages 11.0 points and 7.0 rebounds per game, but even after her lengthy stay on the court Sunday, she does it all in just 18.2 minutes per game. Run those numbers for a full 40 minutes and Pope would average 24.2 points and 15.4 rebounds -- Griner-esque, to say the least. So why the limited work? Well, before avoiding the whistle against St. John's, Pope also averaged 4.6 fouls per 40 minutes, emblematic of an overzealousness that often earned her a place behind Kim Mulkey on the bench.
Co-best individual performance, Maggie Dixon Classic edition: Alicia Manning. The senior forward isn't a one-for-one swap for Massengale when it comes to her position, but Manning saw a lot more playing time off the bench as part of a rotation that didn't include the freshman point guard. All she did with the newfound workload was contribute 12 points, 12 rebounds and four steals. For programs like Tennessee and Connecticut, there is a fine line between overrating role players who look better because of their surroundings and underrating those same sort of players who fall in the shadow of stars. Manning has always seemed like she fit the latter category more than the former, an athletic 6-foot-1 forward with some touch and an endless motor.
[+] Enlarge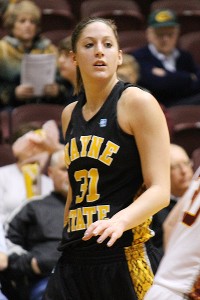 Courtesy of Graham HaysAshley Arlen played at Iowa State before transferring to Wayne State College (Neb.).
Best blast from the past: Ashley Arlen, Wayne State College. Time and resources make it difficult to dwell on the happenings in Division II, but Big 12 fans might well remember Arlen's name. As a freshman, she averaged 3.5 points and 3.1 rebounds per game in regular minutes for an Iowa State team that advanced to within a game of the Final Four. I was fortunate enough during a weekend trip to South Dakota to find Arlen back on a path that could end with a trip to the Final Four, albeit one in San Antonio this year and not Denver.
Arlen transferred to Div. II Wayne State (Neb.) after one season in Ames, Iowa, and now averages better than 20 points per game for a team that entered the weekend ranked fourth. In Friday's game against Northern State (S.D.), where our paths crossed, she went for 27 points, six rebounds, three blocks and three steals. She still looked every bit a Division I player as a 6-2 forward with athleticism and a soft touch from beyond the arc, but she also looked and sounded about as happy as a basketball player can.
Wayne State coach Chris Kielsmeier won a national championship in Division III before taking his current job and isn't taking the gift of three seasons of Arlen for granted.
"She's a tremendous leader and extremely competitive," Kielsmeier said of a player who last season became Wayne State's first All-American. "She loves the game, wants to continue to play the game overseas with any opportunities that she can. … You're fortunate to be able to recruit someone like that, and she's a special player that has changed our program."
We so often hear about the beginning of the story when a player leaves a program looking for a different fit, but it was good to see the other end of the timeline.
The week ahead (Monday-Friday)
Tennessee at Rutgers (ESPN, 7 p.m. ET Tuesday): Rutgers doesn't lack for opportunities when it comes to big games against teams like Connecticut and Notre Dame in the Big East, but this is a chance to score as big a win as the program has had in quite some time. The Scarlet Knights will probably rise or fall based on perimeter play, and how much they can frustrate the Lady Vols without Massengale, but the boards are also a point of interest. Can a Rutgers team without a great deal of size maintain the rebounding advantage it has held all season?
DePaul at Princeton (Tuesday): This game looked more appealing before DePaul dropped Sunday's game by a sizable margin and Princeton suffered a surprising 13-point loss at Navy. But a win against the Blue Demons would still be a major achievement for the Ivy League powerhouse. And lest it go unsaid, credit to DePaul's Doug Bruno for not only going to play at Princeton but playing at Illinois State less than a week later.
UCLA at LSU (Tuesday): UCLA's remaining schedule before the end of the year: at LSU, versus Tennessee, at Temple, at Saint Joseph's, versus California, versus Temple. Good luck with that. But for all the obvious reasons, you know this week's game has special meaning for both Lady Tigers coach Nikki Caldwell and the Bruins she left behind.
Arizona State at DePaul (Friday): With the holidays approaching and many schools immersed in finals, it's a lean week of games of any kind, so we'll give the Blue Demons a second spot. Doug Bruno's team is in the middle of a tough stretch of the schedule and welcomes an Arizona State team off to a surprising 7-1 start but playing just its second road game.
March, 19, 2011
03/19/11
12:08
PM ET
STATE COLLEGE, Pa. -- After losing to Notre Dame in the semifinals of the Big East tournament, DePaul coach Doug Bruno talked about entering the time of year where it's "crash-and-burn" basketball, a variation on the theme of win-or-go-home postseason reality. His team very nearly lived up to his phrase in the first round against Navy, escaping only with a 56-43 win.
[+] Enlarge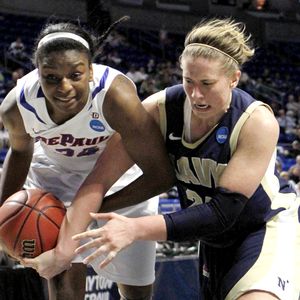 AP Photo/Keith SrakocicNavy's Jade Geif gave DePaul defenders fits.
Some quick thoughts on a game in which the Blue Demons started slowly and never really picked up much steam.
Turning point: Navy's Jade Geif scored coming out of a timeout with 10:33 to play in the second half to cut DePaul's lead to a single point at 41-40. DePaul's China Threatt, 28 seconds after checking in for the first time in the half, then hit a 3-pointer at the other end to give the Blue Demons a four-point lead. Not only was it her only basket of the game, it was only her team's second 3-pointer in 13 attempts.
After forcing Navy into a shot-clock violation on the ensuing possession, DePaul got a layup from Anna Martin to push the lead to six points. The Midshipmen didn't break, but they never got closer than five points the rest of the way.
Key stat: 0-68. That was the all-time record for No. 14 seeds in NCAA tournament play entering Saturday's game at Bryce Jordan Center.
Key players: Jade Geif and Angela Myers. DePaul got some big baskets from Martin and a couple of important 3-pointers from Threatt and Deirdre Naughton, but Navy's duo of Geif and Myers deserve top billing for making use of the opportunity provided by a more talented opponent. Geif finished with 14 points and 12 rebounds, playing bigger than her size throughout, and Myers finished with 13 points, three assists and three steals.
Miscellany: The game marked just the third time this season that DePaul hit as few as three 3-pointers, converting just 3-of-15 shots from behind the arc. The first time was a win against SIU-Edwardsville (1-of-9) and the second a loss at Arizona State (2-of-10). … There was a distinct sisterly vibe going on in State College. In the day's first game, Dayton senior Kristin Daugherty and sophomore Kari Daugherty played together for the final time. In the second game, Navy freshman Audrey Bauer played the first game of an all-Bauer weekend -- older sister Lydia will suit up for Green Bay in Sunday's first-round game against Arkansas-Little Rock. And that doesn't even touch on DePaul's Sam Quigley, continuing the Quigley line in the Windy City started by Allie. … After the game, DePaul players offered a classy gesture by standing in a line behind the Navy players as the Navy pep band played the school's alma mater.
What's next: DePaul advanced to face Penn State on Monday night.
March, 7, 2011
03/07/11
11:59
PM ET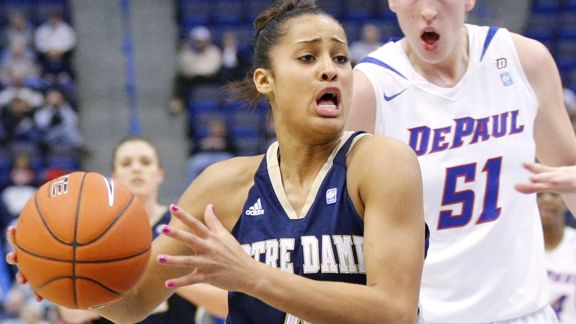 David Butler II/US PresswireSkylar Diggins' Notre Dame last reached the Big East tournament final 10 years ago.
HARTFORD, Conn. -- The best player in the Big East -- and the big, wide world of college basketball for that matter -- makes her final appearance in her second home Tuesday at the XL Center. Monday's semifinal nightcap between Notre Dame and DePaul, once Moore was done dismantling Rutgers, determined which team would take the final shot at beating Moore for the first time in Hartford.
Notre Dame earned that privilege with a 71-67 victory against DePaul in a back-and-forth game, the second game in a week between the two to come down to the final minute. But as much as the game sets up the Big East finale this season, it also offered a glimpse of what's to come in the conference, which will apparently not fold up shop once Moore departs.
Someone has to be the best player in the conference next season. And in different ways, Notre Dame's Skylar Diggins and DePaul's Keisha Hampton made sure their names will be near the list.
From the outset, DePaul looked like a team that needed something special to counter the prevailing winds of misfortune. The Blue Demons went more than five minutes without a point to open the game, throwing away a few possessions, to be sure, but also watching plenty of balls explore every part of the rim without falling in. And with the Fighting Irish trio of Devereaux Peters, Becca Bruszewski and Natalie Achonwa playing outstanding interior defense against Felicia Chester, who suffered through a shooting night not far removed from what Jayne Appel endured in the national championship game last season, DePaul's typical inside-outside balance crumbled.
In stepped Hampton, who scored inside, outside and anywhere else she could find enough space to get off a shot.
[+] Enlarge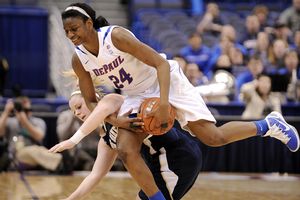 AP Photo/Fred BeckhamKeisha Hampton scored a career-high 31 points in DePaul's losing effort.
"Hampton, wow. Wow,'" Notre Dame coach Muffet McGraw began in an what was entirely accurate summation of the performance. "She can really play. She did an outstanding job. We couldn't stop her."
DePaul's leading scorer this season took that label to a new level with a career-high 31 points on 11-of-22 shooting, including 3-of-6 from the 3-point line and 6-of-8 from the free-throw line. Surely one of a small number of players with 150 3-point attempts and 150 free-throw attempts this season, she is a rare mix of skills on offense, all of which happened to be on display at or near their peak against the Fighting Irish.
"I just tried to do it in various ways," Hampton said. "Trying to get to the lane, shoot the 3, post up -- whatever I could do to help my team win."
But if nobody on the court was quite Hampton's offensive equal for the full 40 minutes, Diggins was there with her in the minutes that mattered most.
With just less than three minutes to play, Hampton converted a three-point play to give DePaul a 63-62 lead. Less than a minute later, Diggins corralled a loose ball at around three-quarters court and weaved her way through the defense before drawing a foul at the basket. She hit both free throws for a 64-63 lead.
Hampton took it from there, scoring at the basket with just more than 90 seconds to play, only to see Diggins hit the lane like a running back spotting a hole and finish with a scooping layup to give the Fighting Irish a 66-65 lead, one it would hold for good, although only after a great defensive play from Brittany Mallory forced a Hampton turnover in the final 30 seconds.
McGraw said it was difficult to pick out a player of the game for her team, and it was on a night when Peters was at times a force, freshman Achonwa played big minutes and Mallory made the key stop. But everything that happened in the closing minutes seemed to stem from the aggressive play of the point guard setting a tone.
"Every time we got the ball in transition, that was what we wanted," Notre Dame coach Muffet McGraw said of Diggins. "She's attacking the basket, getting to the foul line -- that's the best shot we're going to get. I was just so happy to have the ball in her hands. I mean, she changes the game at the speed that she plays at, her attack mentality, her competitiveness. She makes a huge difference in our team."
Diggins finished with 19 points, four assists, six rebounds, a block and a steal. Hampton added four rebounds, three assists and two blocks (although she at least altered more shots than that) to her point total. And in the end, Diggins and Notre Dame won this round, just as Hampton and DePaul won the last round.
And for both, it was the kind of performance on a postseason stage required of any contender for Moore's title.
"It's one and out and that's why it's such a great tournament, so this is absolutely practice for that," DePaul coach Doug Bruno said. "And this is the kind of game that you're going to play every game from this point forward. It's going to be this kind of close basketball game, a tough basketball game, a basketball game that's going to come down to a couple of possessions, just like it did eight days ago and we were on top."