Category archive:

Yale Bulldogs
December, 22, 2010
12/22/10
3:43
AM ET
1. Xavier (10-1)
It wasn't enough to escape what sounded like a wild finish at Cameron, but Xavier's defense is back to its normal stifling self -- good news with a trip to Stanford still on the itinerary for next week. In wins on the road at Middle Tennessee on Dec. 9 and at home against Mississippi State on Dec. 17, neither the Blue Raiders nor the Bulldogs cracked 30 percent shooting. But that's small potatoes compared to forcing the Blue Devils (admittedly not the nation's most accurate team) to miss 52 shots on Tuesday. Xavier also beat the Blue Devils on the boards -- in fact, Amber Harris and Ta'Shia Phillips beat the Blue Devils on the boards by themselves.
The bad news is the Musketeers couldn't muster much offense of their own against Duke, but perhaps there is even a silver lining there. Sophomore sharpshooter Katie Rutan returned from an injury absence for the Mississippi State game and upped her contributions off the bench to 20 minutes against Duke. Her range could prove crucial in the rematch of last year's Elite Eight thriller against Stanford.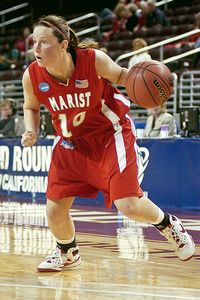 Darryl Dennis/Icon SMIGuard Erica Allenspach helped Marist knock off Nebraska, Louisville and Houston in Las Vegas, scoring 34 points against the Cougars.
2. Marist (9-2)
Even Marist coach Brian Giorgis sounded a little wary earlier this season about the schedule he put together for the Red Foxes, a slate that included a particularly tough eight-game stretch between Thanksgiving and New Year's. With one of those games still to play at Arizona State on Dec. 28, Giorgis looks crazy like a, well, Red Fox. Wins against regional foes Villanova (away), Hartford (away) and Boston University (home) were nice, but the eye-catching results came over the past three days in Las Vegas. Marist knocked off Nebraska, Louisville and Houston in a little more than 48 hours. Corielle Yarde came up big in the opening win against Louisville, totaling 25 points, 10 rebounds and four assists, but Erica Allenspach took it from there. The senior guard was the only Marist player in double figures in either of the past two wins, scoring 20 points against Nebraska and a career-best 34 points against Houston.
3. Bowling Green (11-1)
The Falcons emerged unscathed from their first back-to-back true road games, edging Western Kentucky and rolling over Austin Peay and returning from an extended break with a resounding 82-59 win against Canisius on Dec. 21. One of the team's unsung and undersized posts alongside Maggie Hennegan, Jen Uhl came up big in all three wins to complement the familiar backcourt stars. Uhl had nine points, seven rebounds, two blocks and a steal against Western Kentucky and added 16 points, four rebounds, four assists and three steals against Austin Peay. She also had 14 points in just 16 minutes as the minutes were spread around in the rout of Canisius.
And while celebrating the continuation of Connecticut's winning streak on Tuesday, it's also worth pausing to do the same for Lauren Prochaska as her NCAA-record streak of 70 consecutive made free throws came to a close against the Golden Griffins.
4. Green Bay (11-1)
There's no shame in losing at Marquette, a team that played Connecticut tough on the top-ranked team's home court and looks capable of a strong Big East run. But when you post 20-win seasons with the same annual regularity as the snow falls in Wisconsin, there's not much room for moral victories. That's especially true for this edition of the Phoenix, who came out sloppy against their in-state rival on Dec. 12 and couldn't dig out of a hole caused by 25 turnovers. If you're looking to understand Green Bay's defensive philosophy, consider that its top four scorers also all have between 23 and 33 steals through 11 games.
5. Gonzaga (9-3)
It's not quite Xavier at Duke, but Gonzaga passed its own Tuesday showdown with flying colors in a 91-64 win against BYU, one of two major tests before conference play (along with a neutral-court game in Seattle against Notre Dame on Dec. 29). The Bulldogs have been piling up points since a so-so trip to Hawaii over Thanksgiving. They've scored 80 or more in all five games since that trip and 91 or more in four of those games. Katelan Redmon topped 20 points four times during that stretch and rather quietly ranks in the top 25 nationally in scoring.
6. Houston (8-2)
The Cougars made the most of their first extended run against postseason-caliber competition, knocking off Louisville and Nebraska before falling in the finale to Marist on a neutral court in Las Vegas. Still her team's primary distributor, junior Porsche Landry is enjoying a breakout scoring campaign. The team's leading scorer before the tournament in Vegas, she put up 21 against both the Cardinals and Cornhuskers. Teamed with do-everything standout Courtney Taylor and Brittney Scott, last season's leading scorer, Landry completes a nice trio for Houston to take into Conference USA play.
7. Middle Tennessee (9-3)
One of the toughest mid-major schedules in the country rolls on. Middle Tennessee beat St. Bonaventure and Kansas State on back-to-back nights to begin the week at a tournament in San Antonio. Also since the last edition of the top 10, the Blue Raiders beat Central Florida and James Madison and lost to Xavier (its other losses came against unbeaten Arkansas and Georgia Tech). Ebony Rowe has been stellar as a freshman, but sophomores Kortni Jones and Icelyn Elie (25 points, 16 rebounds against James Madison) also continue to show signs of being part of a young foundation upon which to build through Sun Belt play.
8. Florida Gulf Coast (9-0)
Florida Gulf Coast made the most of its last chance to score a win against a team from a BCS conference, beating Indiana 73-69. Courtney Chihil came close to a triple-double against the Hoosiers, totaling 16 points, 11 assists and nine rebounds. It had been a light schedule over the past two weeks, but senior guard Shannon Murphy made the most of it, too. Murphy played 39 minutes in a win at Troy (12 points, five assists, four steals) on Dec. 12 and all 40 minutes in a win against Florida International (14 points, six assists, three steals) on Dec. 15. Then again, perhaps time management isn't an issue for a player working on three consecutive seasons of all-academic honors in the Atlantic Sun.
9. Charlotte (9-2)
The 49ers nearly fell victim to an upset against VCU, allowing a pair of 20-point scorers in the process. But they escaped that trap on Dec. 11 and put up a line that hinted at both rested (51 rebounds) and rusty (28 turnovers) in beating Arkansas State by 18 points on Dec. 19 after a week away from action. If there's an area of concern, it's probably possession value. Charlotte is averaging better than 20 turnovers a game, a dicey way to make a living in a league with teams like Xavier, Dayton and Temple. But Charlotte also shares with itself -- six players have led or shared the lead in scoring through the team's first 10 games.
10. Central Michigan (7-3)
The Chippewas still have a big game looming against Pitt on New Year's Eve, but they've quietly done nice work against a quality schedule. They turned in a strong showing on the road against a quality Northwestern team on Dec. 11, losing 92-84, and beat Ole Miss 82-66 a week later at home. The latter was the team's first game in the new McGuirk Arena in Mt. Pleasant, Mich., and senior Kaihla Szunko made sure she'll stick around the arena's record book well beyond graduation with a triple-double (21 points, 16 rebounds and 10 steals).
Next five: Drexel, Fresno State, Dayton, Tulane, Nevada
December, 19, 2010
12/19/10
2:18
PM ET
NEW HAVEN, Conn. -- Maybe they wanted a lasting reminder of the moment. Maybe they just wanted photographic evidence to show the skeptics. But in the minutes after Saturday's game, more than a few fans at Yale's Payne Whitney Gymnasium pulled out cameras and snapped shots of the scoreboard.
[+] Enlarge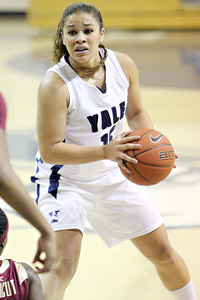 Yale AthleticsSophomore guard Megan Vasquez scored a career-high 25 points Saturday.
Yale 91, No. 14 Florida State 85.
When teams trot out the line after an upset that nobody believed in them beforehand, it's usually bunk. But for Yale, which won its opening game of the season in overtime against Holy Cross and then proceeded to lose seven in a row before welcoming the Seminoles, the sum total of people who believed a win was possible were probably on hand in the crowd of 656 -- a crowd which, by the sound of it, was evenly split between fans of the two teams.
The result was, quite simply, unbelievable. At least for everyone but the Bulldogs.
"We knew we were a good basketball team," Yale coach Chris Gobrecht said. "We were talking about how we were probably the best 1-7 basketball team in the country. We've just been dealing with a lot. We've had a ton of people out. This was the closest we've come to being whole all year. … I think Florida State probably had their minds on something else, and I'm sure that was not their best performance by any means. But we stepped up and took advantage of the opportunity."
How it unfolded was almost as surprising as the win itself. Yale gave up the first basket of the game, a three-point play for Alexa Deluzio, and promptly went on an 11-0 run to claim an eight-point lead before the game was even three minutes old. With 9:47 to play in the opening half, Florida State trailed by 13 points, its largest deficit of the season. Yale's 55 points in the first half were more than the Seminoles allowed in 40 minutes in six of their first 10 games. And on and on the numbers go, just as Yale kept pushing the ball at a team that entered the week ranked No. 27 in the nation in field goal defense.
"We played a really selfish game, and Yale played a really unselfish game," Florida State coach Sue Semrau said. "And that's the result."
It might have been an old-school Ivy League gym, but this was anything but Pete Carril's Princeton giving the shot clock a workout.
"We play a fast game, we push the ball," Gobrecht said. "We're comfortable at that tempo; I thought Florida State was a little uncomfortable with that tempo. That was the difference; we were able to play at a tempo that we were a little more comfortable than they were."
All the more remarkable, Yale played without senior captain Yoyo Greenfield in the backcourt. But in Greenfield's absence, two of the reasons for Yale's abundant optimism seized the spotlight. Freshman Janna Graf and sophomore Megan Vasquez combined for 47 points, with career highs of 25 from Vasquez and 22 from Graf.
Graf missed the first five weeks of the season, including the preseason and first three games of the regular season, with mono and didn't make her first career start until Dec. 6 against Fairleigh Dickinson. Vasquez returned to the lineup Dec. 8 against Sacred Heart after missing two games with a concussion (the result of a collision with Greenfield and the reason the latter remains sidelined with a concussion). But against a team that reached a regional final in last season's NCAA tournament, two players whose short- and long-term experiences should have rendered them little more than deer in headlights hunted down the favorite.
"She knows the game really well," Gobrecht said of Graf. "You saw her, she gets a lot of her scoring because she knows where to be. She plays very well off the ball. And she's skilled, she's strong -- so many times, physically, we just have a hard time matching up. You just get physically overmatched. And [Graf and Vasquez] are two kids that are going to be able to physically handle it, even at that level, because they're both big and have some muscle tone."
Three years ago, Yale lost 100-44 at home against Stanford. Last year, it was an 82-46 loss in New Haven against Arizona State. Neither Vasquez nor Graf were around for the Stanford game. Vasquez played 29 minutes off the bench as a freshman against the Sun Devils and missed 13 of a team-high 16 shots. But Saturday's game wasn't just different than those two encounters from the outset, as the Bulldogs rode the early wave of momentum to the halftime lead; it was different when the Seminoles made their run in the second half and twice took four-point leads with fewer than eight minutes to play.
Yale isn't Florida State's equal on a basketball court, but nobody could convince them of that on Saturday night.
"I think we went into this thinking we could win," Graf said. "I think we've all matured, and I think the program has matured, that we don't go into games thinking, 'Oh, we're just coming to play.' I think we just handled it like every other game. We knew its importance, and we wanted to prove to everyone we were as good as Florida State and we could have also won those previous games [this season]."
It's a leap of faith to believe Yale is that much better than its record, or that the result against Florida State was more than a collision of circumstances creating a one-time miracle. But if Yale went into Saturday's game believing in itself, it's safe to assume that belief isn't going away anytime soon.
"This would be No. 1," Yale coach Chris Gobrecht said of where the win ranked. "The time we took the Ivy championship away from Harvard, that might be No. 2."
No offense to Harvard, but that says it all.