Category archive:

Florida State Seminoles
January, 30, 2011
01/30/11
6:48
PM ET
Monday
Oral Roberts at Oakland: With a 76-74 win against IPFW on Saturday, Oral Roberts completed a season sweep of the third-place Mastodons and improved to 10-0 in the Summit League. That leaves Oakland as the biggest obstacle in the way of a conference title. Yet when the teams met in Tulsa on New Year's Eve, Oral Roberts won by 22 points. Kevi Luper is a prolific shoot-first scoring guard who put up 29 in the last meeting, but Jordan Pyle (25 points, 8 rebounds) and Jaci Bigham (18 points, 11 assists) led the way against IPFW. Oakland, which beat Illinois and lost to Penn State in overtime earlier this season, scored 100 points against Centenary on Saturday without a single player attempting more than eight field goals.
Tuesday
Georgetown at Louisville: The Cardinals secured one important victory Saturday against Rutgers; Tuesday brings an opportunity to add a second of supreme postseason importance. Jeff Walz's team wasn't in Charlie Creme's Jan. 18 Bracketology, but the subsequent win against the Scarlet Knights moved the Cardinals to 5-3 in the Big East. And while there are no guarantees in the league, Louisville has three winnable road games remaining at Villanova, South Florida and Providence, as well as a home game against Seton Hall. It's difficult to imagine a team with 10 Big East victories missing the NCAA tournament, and Tuesday's game could end up being No. 10 when all is said and done.
Wednesday
North Carolina at Florida State: The Tar Heels got well after last week's loss against Maryland with predictable victories at home against Virginia and Virginia Tech. The two games produced six double-digit rebound performances for the Tar Heels. That's worth noting because, well, it's a lot of rebounds, but also because Florida State hammered North Carolina on the boards in an 83-72 win in Chapel Hill last season with Jacinta Monroe. For its part, Florida State was outrebounded by both Boston College and NC State last week, despite winning both games. It was a curious week for Alexa Deluzio, who entered with 34 fouls in her team's first 20 games and then picked up nine against the Eagles and Wolfpack.
Oklahoma at Baylor: If you want evidence as to why Sherri Coale might just be the best coach in college basketball, look at Oklahoma's recent victories against Texas Tech and Oklahoma State. In both cases, Coale maneuvered her team to victory despite seeing the Sooners beaten on the boards and struggling to contain opposing offenses. If you want evidence as to why it's still not clear exactly what Oklahoma is this season, well, look at Texas Tech and Oklahoma State beating the Sooners on the boards and shooting 46.8 percent from the field. The Sooners won two of three games against Baylor last season, and hit just seven 3-pointers in 125 minutes in doing it. With Whitney Hand healthy and Aaryn Ellenberg and Morgan Hook around, will they be able to spread Baylor's suffocating defense?
Wyoming at BYU: TCU's penchant for puzzling losses (Air Force joining New Mexico on that list) opens the door for a first-place showdown between two teams that already lost to the Horned Frogs. The Cowgirls still don't have a road win against a team with a winning record, but they're statistically dominant, leading in scoring margin and field goal differential in conference play. Four days should be ample recovery time, but four Wyoming players played at least 38 minutes in Saturday's victory against San Diego State. BYU guard Mindy Bonham is coming off a productive week, totaling 14 points, 9 assists and 8 rebounds in a win at San Diego State and 18 points and 10 assists in a home victory against New Mexico.
Thursday
Auburn at Kentucky: Nell Fortner's team left itself a lot of work to do after understandable early losses against the likes of Florida State and Duke mushroomed into a funk that included neutral-site losses against South Florida and Sacred Heart, but things seem to quietly be coming together. Sunday's victory against South Carolina made it 6-2 in the SEC for an Auburn squad whose field goal offense and field goal defense are both improving in conference play. And with Kentucky riding a six-game winning streak in advance of Tennessee's visit on Feb. 7, might the Wildcats fall into the proverbial trap game? Kentucky loves to harass guards, so the matchup against Morgan Toles (2.9 assist-to-turnover ratio) should be fun to track.
Penn State at Michigan: Both teams beat preseason conference favorite Ohio State within the past week. The problem for Michigan is that it followed up that performance with a loss at cellar-dwelling Minnesota on Sunday. Penn State beat the Buckeyes by following a familiar script: shoot the ball well enough to offset a propensity for turnovers. Freshman sensation Maggie Lucas hit 6 of 8 3-pointers for Penn State against Ohio State. The Lady Lions are running a turnover deficit in conference play after accumulating a significant surplus early in the season, but as long as they shoot 45.9 percent from the 3-point line, they can get away with it.
California at Arizona: It's too early for an elimination game, but this sure feels like something close as both teams begin the second half of Pac-10 play. The Bears play the league's bottom four teams at home down the stretch, and their five toughest games on the road. The Wildcats face the opposite scenario, making this a hinge game for each side. When these two teams met in the Bay Area, Cal nearly doubled up Arizona on the boards in an 80-60 victory. The Wildcats might be the worst rebounding team not currently running in the red in rebound margin. In addition to that game against Cal, they were outrebounded against USC and UCLA over the weekend by 14 and 24, respectively.
Friday
Princeton at Harvard: Few teams were more dominant relative to their conference competition last season than Princeton. Friday night will reveal whether a repeat is in order. The Tigers improved to 3-0 in Ivy play with a victory at Yale on Saturday. All three wins came by double digits and all came without star forward Niveen Rasheed, out for the season with a knee injury. Without Rasheed, Addie Micir and Lauren Edwards have taken the scoring lead, and with the exception of the Yale victory, Princeton has relied more heavily on 3-pointers. Harvard point guard (and phenomenally named) Brogan Berry has 14 assists and just two turnovers during Harvard's 3-0 Ivy start.
December, 19, 2010
12/19/10
2:18
PM ET
NEW HAVEN, Conn. -- Maybe they wanted a lasting reminder of the moment. Maybe they just wanted photographic evidence to show the skeptics. But in the minutes after Saturday's game, more than a few fans at Yale's Payne Whitney Gymnasium pulled out cameras and snapped shots of the scoreboard.
[+] Enlarge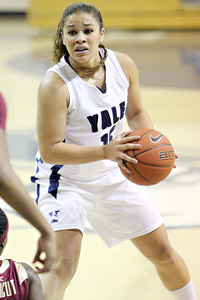 Yale AthleticsSophomore guard Megan Vasquez scored a career-high 25 points Saturday.
Yale 91, No. 14 Florida State 85.
When teams trot out the line after an upset that nobody believed in them beforehand, it's usually bunk. But for Yale, which won its opening game of the season in overtime against Holy Cross and then proceeded to lose seven in a row before welcoming the Seminoles, the sum total of people who believed a win was possible were probably on hand in the crowd of 656 -- a crowd which, by the sound of it, was evenly split between fans of the two teams.
The result was, quite simply, unbelievable. At least for everyone but the Bulldogs.
"We knew we were a good basketball team," Yale coach Chris Gobrecht said. "We were talking about how we were probably the best 1-7 basketball team in the country. We've just been dealing with a lot. We've had a ton of people out. This was the closest we've come to being whole all year. … I think Florida State probably had their minds on something else, and I'm sure that was not their best performance by any means. But we stepped up and took advantage of the opportunity."
How it unfolded was almost as surprising as the win itself. Yale gave up the first basket of the game, a three-point play for Alexa Deluzio, and promptly went on an 11-0 run to claim an eight-point lead before the game was even three minutes old. With 9:47 to play in the opening half, Florida State trailed by 13 points, its largest deficit of the season. Yale's 55 points in the first half were more than the Seminoles allowed in 40 minutes in six of their first 10 games. And on and on the numbers go, just as Yale kept pushing the ball at a team that entered the week ranked No. 27 in the nation in field goal defense.
"We played a really selfish game, and Yale played a really unselfish game," Florida State coach Sue Semrau said. "And that's the result."
It might have been an old-school Ivy League gym, but this was anything but Pete Carril's Princeton giving the shot clock a workout.
"We play a fast game, we push the ball," Gobrecht said. "We're comfortable at that tempo; I thought Florida State was a little uncomfortable with that tempo. That was the difference; we were able to play at a tempo that we were a little more comfortable than they were."
All the more remarkable, Yale played without senior captain Yoyo Greenfield in the backcourt. But in Greenfield's absence, two of the reasons for Yale's abundant optimism seized the spotlight. Freshman Janna Graf and sophomore Megan Vasquez combined for 47 points, with career highs of 25 from Vasquez and 22 from Graf.
Graf missed the first five weeks of the season, including the preseason and first three games of the regular season, with mono and didn't make her first career start until Dec. 6 against Fairleigh Dickinson. Vasquez returned to the lineup Dec. 8 against Sacred Heart after missing two games with a concussion (the result of a collision with Greenfield and the reason the latter remains sidelined with a concussion). But against a team that reached a regional final in last season's NCAA tournament, two players whose short- and long-term experiences should have rendered them little more than deer in headlights hunted down the favorite.
"She knows the game really well," Gobrecht said of Graf. "You saw her, she gets a lot of her scoring because she knows where to be. She plays very well off the ball. And she's skilled, she's strong -- so many times, physically, we just have a hard time matching up. You just get physically overmatched. And [Graf and Vasquez] are two kids that are going to be able to physically handle it, even at that level, because they're both big and have some muscle tone."
Three years ago, Yale lost 100-44 at home against Stanford. Last year, it was an 82-46 loss in New Haven against Arizona State. Neither Vasquez nor Graf were around for the Stanford game. Vasquez played 29 minutes off the bench as a freshman against the Sun Devils and missed 13 of a team-high 16 shots. But Saturday's game wasn't just different than those two encounters from the outset, as the Bulldogs rode the early wave of momentum to the halftime lead; it was different when the Seminoles made their run in the second half and twice took four-point leads with fewer than eight minutes to play.
Yale isn't Florida State's equal on a basketball court, but nobody could convince them of that on Saturday night.
"I think we went into this thinking we could win," Graf said. "I think we've all matured, and I think the program has matured, that we don't go into games thinking, 'Oh, we're just coming to play.' I think we just handled it like every other game. We knew its importance, and we wanted to prove to everyone we were as good as Florida State and we could have also won those previous games [this season]."
It's a leap of faith to believe Yale is that much better than its record, or that the result against Florida State was more than a collision of circumstances creating a one-time miracle. But if Yale went into Saturday's game believing in itself, it's safe to assume that belief isn't going away anytime soon.
"This would be No. 1," Yale coach Chris Gobrecht said of where the win ranked. "The time we took the Ivy championship away from Harvard, that might be No. 2."
No offense to Harvard, but that says it all.
March, 28, 2010
03/28/10
4:46
PM ET
DAYTON, Ohio -- If the first game of the day in Dayton showed what the tournament appears more and more likely to be remembered for in another week, the second game offered a good example of what fans who watched it the past two weeks will remember.
Big shots, surprise stats, seedings thrown out the window and drama to the buzzer.
In this case, right down to Mississippi State star Alexis Rack's long 3-pointer.
But unlike four years ago in Dayton, fortune was not with an SEC underdog from the state of Mississippi. Ole Miss knocked off Courtney Paris and Oklahoma on that afternoon, but No. 3 seed Florida State held on for a 74-71 win against seventh-seeded Mississippi State on Sunday and earned the right to a rematch with Connecticut.
Neither Florida State's Courtney Ward nor Rack seemed destined for her best game of the season in the early going. Ward picked up two first-half fouls, and Gray suffered from a long day of being guarded by Seminoles defensive ace Angel Gray. But down the stretch, Ward simply came up with more plays en route to 14 points, seven assists, five rebounds and just two turnovers. She drove the comeback in the second half and made associate coach Cori Close look prophetic.

"People talk about Jacinta Monroe a lot, and obviously she's a spectacular player, but we go as Courtney Ward goes," Close said the day before the game.

Ward went in the second half, and Florida State is going to its first regional final as a result.
Alysha Harvin was the star, but the Seminoles got big lifts from complementary players in Alexa Deluzio and Cierra Bravard. Particularly in the first half, Deluzio provided relief from Ward's two fouls with six points and an assist. At one point, with the Bulldogs making noise about pulling away at 22-18, she hit a baseline jumper, altered a shot on the other end, got the defensive rebound and went end-to-end to score again to tie things up. Bravard also came through in the opening half but saved her most important touches for post finishes down the stretch.
With as good a job as the Seminoles (particularly Gray) did on Rack throughout the game, you have to give full credit to Mississippi State's Chanel Mokango and Mary Kathryn Govero. Stopping Rack was supposed to be the recipe for stopping Mississippi State, but Govero's outside shooting and Mokango's play inside against Monroe were the reasons this came down to Rack's potential tying shot at the buzzer.