Category archive:

Notre Dame Fighting Irish
September, 26, 2012
09/26/12
7:36
PM ET
BRISTOL, Conn. -- Best player on the board or best player for a system?
It's a question of draft philosophy that Corey Gaines and the Phoenix Mercury will enjoy mulling over for the next six-plus months.
In a draft class headlined by three entirely distinct talents in Brittney Griner, Elena Delle Donne and Skylar Diggins, the team with perhaps the most distinctive style in the WNBA beat the odds Wednesday and landed the No. 1 pick in the draft.
Do the Mercury take a scorer like Delle Donne to push their tempo to something rarely seen beyond the Bonneville Salt Flats? Do they take a floor general like Diggins to conduct an orchestra that already includes the likes of Diana Taurasi and DeWanna Bonner? Or do they take the consensus best player on the board in Griner, even if some will wonder how a dominant post fits in a fast-breaking style?
[+] Enlarge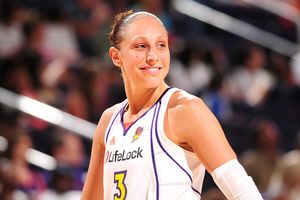 Barry Gossage/Getty ImagesDiana Taurasi's reaction to Phoenix winning the No. 1 pick? "Wow, wow, wow," she texted coach Corey Gaines.
"It's something that will be interesting," Gaines said. "We're going to take our time and look at everything. The greatest thing is now we have a long time to do that; we don't need to rush anything. We're not a traditional-style team at all. We don't do things the way other teams do it. It's because I've learned from [Paul] Westhead. … He does things that makes the team win. I'm sure I'll be making some phone calls and talk to all the coaches I've ever been under in the league and in college.
"It's not going to be a rushed thing. It's going to be something thought out, and something I think hopefully, will bring some big things to Phoenix."
Needless to say, the coach wasn't giving away many state secrets in the minutes after the Mercury defied the odds to land the No. 1 pick. So we're left to debate amongst ourselves the merits of three special players.
You'll hear a lot of scouting reports between now and April, but why not start with one from the man who will coach one of them?
First on Diggins.
"Point guard, hard-nosed, can score, take it to the basket, plays defense, definitely able to impact the game, very intelligent basketball IQ," Gaines said. "You've seen her in some of the games last year tough it out, push her team through something, which is important."
On Delle Donne.
"Pure unadulterated scorer," Gaines said. "I mean, she can score. I saw an interview with her today on NBA TV and she stated, 'I love to shoot the ball.' She loves to score. That's a gift. A lot of players don't have that gift. People don't understand, but someone who gets up 30 shots, it's hard to do. It's not something that everyone can do. If you go to your [YMCA] and try to get up 30 shots, it's not easy. It's a gift."
[+] Enlarge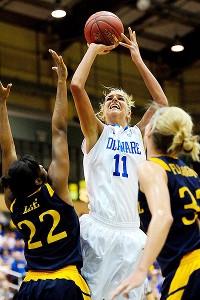 Evan Habeeb/US PresswireElena Delle Donne might be a better fit for Phoenix's up-tempo style of play, but it's hard to see the Mercury passing on Brittney Griner.
And last but never least, on Griner.
"Someone who can definitely change the game defensively and probably change it offensively, too," Gaines said. "The way our team is set up, we have scorers who can hit outside and who can slash and who play the game well -- who won championships, who won gold medals, who won European championships. And DeWanna, who is now added into the mix, has become a superstar herself. We can go really large with, if we [pick] Brittney. And Brittney can rebound, and that's something that's important for us.
"We're a fast-breaking team. There's two things you need: You need rebounding and you need stops. Defensively, she'll get us stops, offensively she'll get us rebounds to go get that break going. And the top teams in the league that play defense -- half court, if I give you a play, you can stop that play. Fast break, you can't. That's why fast breaking is so dangerous. There's nothing you can do. You can't say, 'Run back fast.' That's not going to cut it."
If you choose to read between the lines, it's interesting that Gaines spoke about Diggins and Delle Donne in general terms. He spoke about Griner in terms of how she would specifically fit with the Mercury. Although for what it's worth, if we're delving deep into the intangibles file, he also sounded and looked genuinely captivated by Delle Donne's scoring prowess, like someone talking about the way Coltrane played the saxophone.
A pure hunch is that there will be days between now and April that Delle Donne sits atop the team's draft board. You couldn't design a more perfect player for the system than a 6-foot-5 all-court scorer, who, by the way, is also a terrific rebounder and shot-blocker by any scale that doesn't include Griner.
But in the end, there is no way the Mercury pass on Griner. For good reason. Gaines is a disciple of Westhead, and however things ended in Los Angeles, the latter won an NBA championship with the Lakers in 1980 by pairing Magic Johnson and Kareem Abdul-Jabbar on a team that finished second in the league in points per game. Post players and fast breaks aren't mutually exclusive. And Griner is hardly sedentary; her agility and athleticism at her height are what make her a paradigm-shifting player.
One thing is certain, whether the Mercury take the best player, the best player for the system or someone they think fits both descriptions.
"Those three, you're going to get something," Gaines said.
A text message he received from Taurasi shortly after the results were revealed got to the same point.
"Wow, wow, wow."
February, 26, 2012
02/26/12
9:36
PM ET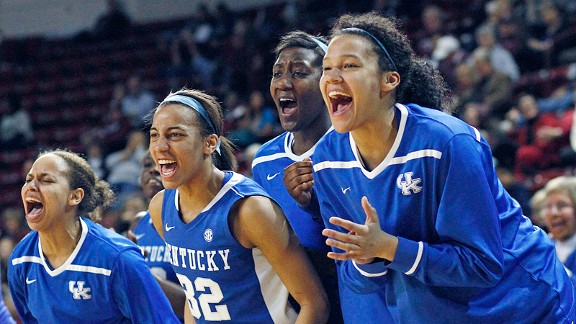 AP Photo/Kerry SmithKentucky opens the SEC tournament on Friday, facing the winner of Auburn-Florida.
A chance to be one of the best players in the nation.
That's how Kentucky coach Matthew Mitchell described what the future might hold for A'dia Mathies not long before her sophomore season began. Almost two seasons later, her exact place on such an inexact list remains up for debate, but she is the go-to player on the first Kentucky team to win an SEC regular-season title in her lifetime. It's a pretty good label in its own right.
Mathies didn't turn in a spectacular line in Sunday's 76-40 win at Mississippi State, a victory that clinched Kentucky's first regular-season title since 1982, but the Wildcats didn't need individual brilliance to get by the Bulldogs. With what is essentially an 11-player rotation, the Wildcats rarely turn one player loose on the box score, relying on that depth and collective defensive effort to force nearly 23 turnovers per game. But from her freshman season, when she scored 32 points in her first NCAA tournament game, and added 21 more in a subsequent win against top-seeded Nebraska, Mathies hinted at a knack for knocking out soliloquies, even in a supporting role alongside Victoria Dunlap.
There have been 14 instances of a Kentucky player scoring at least 20 points in a game this season; Mathies is responsible for 10 of them. Sure, a handful of those came against the likes of Northeastern and Southern Miss, but Mathies also put up 20-plus points in victories against Arkansas, Duke, Louisville and South Carolina. She also turned in a performance that ranks near the top of any list of the best singe-game efforts of the season with 34 of her team's 61 points in a one-point victory against Tennessee. Mathies' shooting percentage remains almost unchanged from an inconsistent sophomore effort, but in more than doubling her 3-point output and dramatically improving her long-range accuracy, she has become a much more efficient scorer. She's not a perfect player, nor is a Kentucky team that recently lost three in a row a perfect champion. But only Baylor need worry about perfection right now. For everyone else, it's about being better than those in the other uniform.
It took three decades for Kentucky to get a chance to celebrate a second conference championship. It shouldn't take much more than 24 months for the Wildcats to welcome a second SEC player of the year to program lore.

Making a case for March: Duke. While we're celebrating regular-season conference titles, full credit to Duke for a March-like performance in beating Miami and North Carolina in roughly the span of 72 hours to clinch the ACC regular-season title.
The math seems to add up to Duke earning a No. 2 seed, no matter the weekend results and no matter what happens in the ACC tournament, but the Blue Devils are trying to keep the calculators working right up to the final hour. More importantly, they showed both a toughness and an offensive efficiency in the two victories that they'll need regardless of seeding. As was the case in a loss against Maryland, rebounding remains an issue without injured starter Richa Jackson -- Miami piled up 19 offensive rebounds and North Carolina totaled 15 against a team that entered the weekend allowing just 12.3 offensive rebounds per game. But the champions, bedeviled so often by offensive inconsistency in recent postseasons, shot 49 percent against the Hurricanes and 52 percent against the Tar Heels, with point guard Chelsea Gray putting an exclamation point on things by setting the single-season assists record.

Novosel
Best individual weekend performance:
Natalie Novosel, Notre Dame. South Florida went on the road and made life difficult for Notre Dame over the weekend, just as it did against Connecticut four weeks ago. And just like Connecticut, which turned to Tiffany Hayes for a big scoring day, Notre Dame turned to a senior to get it out of trouble. Actually, two of them, but Devereaux Peters (17 points, 18 rebounds) has been piling up double-doubles by the bundle in recent weeks. The less predictable boost, at least by recent standards, came from Novosel, whose 32 points nearly matched her total from the previous four games combined and came after a stretch of eight games in which she hit double figures just three times.
Novosel hit all 12 of her free throw attempts against the Bulls. One of the best at getting into seams around the basket and either finishing or drawing a foul (rivaled by few this side of teammate Skylar Diggins in that regard), she's averaging 4.6 free throw attempts per game this season. That isn't bad by almost any standard, but it is down from 5.9 attempts per game a season ago. She's scoring at almost the same overall rate as a season ago, and her team is winning at an even greater rate than it did last season, so Novosel and the Fighting Irish are still doing just fine. But the more whistles you hear, the more likely it is she's driving opponents to distraction.

Best team weekend performance: Princeton. What did Princeton do to merit this? Did you see any other teams clinching berths in the NCAA tournament over the weekend? Or doing so for the third season in a row, for that matter? The Tigers spent the weekend doing what they have done with impressively numbing regularity in Ivy League play in recent seasons, beating Harvard by 30 points and Dartmouth 37 points to wrap up another conference title. That they did it with three games still to play in a league that doesn't hold a tournament is just Princeton's style. A strong contender for the weekend's top individual honors, Niveen Rasheed put up 24 points, 16 rebounds, five steals and four assists against Dartmouth, but she split the vote with teammate Lauren Edwards, who scored 29 points in the same game, including 7-of-10 from the 3-point line.

Raterman
Saving her best for last:
Justine Raterman, Dayton. Raterman's career would not have been diminished had the final week of her final regular season gone differently, but the Flyers senior did what program greats are supposed to do. Raterman scored 25 points in 23 minutes in her final home game, a rout against Xavier, but the performance that mattered most came on the road Saturday against Duquesne. Behind her 32 points (on 12-of-21 shooting), eight rebounds and three steals, the Flyers came away with a 74-69 overtime win. While the No. 3 seed in the Atlantic 10 tournament was already a given, the win keeps a team hovering around 40 in the RPI in the mix for at-large NCAA tournament consideration.

Lending a helping hand: Casey Garrison, Missouri State. Injuries took a toll on several potential mid-major powers this season, most notably those that took the likes of Northern Iowa's Jacqui Kalin and Toledo's Naama Shafir off the court. But the small matter of an injury to her shooting hand isn't stopping Garrison from fueling Missouri State's run in the Missouri Valley Conference. As the Springfield News Leader recounts, Garrison (who already donned a mask this season to play through a broken nose) simply started shooting with her left hand when she sprained the thumb on her more familiar shooting hand. Her first game as a southpaw? She scored 20 points. A lefty off the court, shooting with that hand was apparently nonetheless a relatively new experience. With Garrison leading the way, Missouri State owns first place in the league and 10 victories in a row, including Sunday's 80-76 win at second-place Illinois State.
The week ahead (Monday-Friday)
Notre Dame at Connecticut (ESPN2, 9 p.m. ET Monday): Are we headed for a season in which neither Connecticut nor Tennessee win regular-season conference titles? Kentucky already locked up the SEC, and Notre Dame, which already clinched a share of the Big East title, can go for its first outright title with a win in Hartford. Of course, it might also be just the first of two games between the team in Hartford in the next eight days, if the conference tournament leaves them opposite each other in the final. Skylar Diggins and Natalie Novosel combined for 19 free throws when the Fighting Irish won an overtime thriller in South Bend earlier this season. In 15 games since, only one Connecticut opponent -- the entire team -- attempted as many as 19 free throws (Louisville's 21 attempts on Feb. 7).
Baylor at Texas A&M (ESPN2, 7 p.m. ET Monday): Forget the 12th man; Texas A&M could use a sixth player. In five meetings between these two since the beginning of last season, Texas A&M's bench scored a total of 21 points (17 from Karla Gilbert). That worked out on the fourth try a season ago, and it's not like the Aggies roll bench points against everyone else. But without Danielle Adams and Sydney Colson around, it's a tough way to go about stopping the nation's No. 1 team.
St. John's at Georgetown (Monday): There are still matters of Big East tournament seeding at stake, in addition to a chance for St. John's to post the program's best league record, but this one is big for momentum alone. St. John's didn't win a true road game until Jan. 11 at Syracuse, but wins at Rutgers and, as you might have heard, Connecticut beefed up that road profile. With Da'Shena Stevens coming off a 21-point effort over the weekend, it's worth noting no St. John's player has hit more than five field goals in a game against Georgetown since the 2007-08 season.
Appalachian State at Chattanooga (ESPN3, 7 p.m. ET Monday): It's a chance for Appalachian State to clinch the outright Southern Conference regular-season title, but only if it can beat third-place Chattanooga on the road. Appalachian State's Anna Freeman is one of those quintessential do-everything mid-major players, averaging 15.1 points, 6.3 rebounds, 3.7 steals, 2.7 assists and 2.1 blocks per game.
Florida Gulf Coast versus East Tennessee State (ESPN3, 12 p.m. ET Wednesday): Get Championship Week started by watching a team that has the potential to do something in the main draw -- if it can take care of business in the Atlantic Sun tournament. Florida Gulf Coast faces East Tennessee State in a quarterfinal. This game comes just four days after the same teams met to end the regular season, a 71-64 win for the Eagles that was one of just four wins by single-digit margins in an unbeaten conference season.
Kansas State at Iowa State (Wednesday): There isn't much doubt Kansas State will be in the NCAA tournament, but an overtime loss at Missouri raised more eyebrows when it comes to a team that already seemed to have an inflated RPI. For a team that has shown an ability to go on the road and win, notably at Marist, South Dakota State, Kansas, Oklahoma State, Texas and Texas Tech, adding a win in Ames, Iowa, would be a boost. On the other side, Iowa State needs a win badly, if not desperately, to shore up its own at-large r´esumé.
Oklahoma State at Kansas (Wednesday): Both teams need victories in the struggle for NCAA tournament at-large consideration. Kansas got a badly needed result with a win at Texas Tech last week, fueled by 20 points and eight assists from Angel Goodrich. But the Jayhawks are just 3-8 in their last 11 and playing without Carolyn Davis, do they need to sweep Oklahoma State and Oklahoma?
Louisiana Tech at Fresno State (Thursday): Such is life for a mid-major like Fresno State, that all of the work of a 12-game winning streak and clinching at least a share of the WAC regular-season title can be partly negated by one tough loss. But a 62-61 loss at mid-table San Jose State does damage Fresno State's NCAA tournament at-large potential. Before they can worry about that, or even the conference tournament, the Bulldogs face the best women's basketball rivalry in the WAC. Ki-Ki Moore scored 20 when Fresno State won 61-59 in Louisiana.
November, 27, 2011
11/27/11
11:17
PM ET
Monday morning headline: New star, familiar fate for Duke
The headline this morning is Baylor's Brittney Griner taking over a game on a court where few opponents ever do so, turning in a second half against Tennessee that will echo from the Great Smoky Mountains to the Rocky Mountains.

Williams
But Mechelle Voepel was on hand to chronicle Baylor's victory in Knoxville, so top billing here goes to the weekend's other game between national championship hopefuls. Other than further confirmation that Natalie Novosel is clutch, this time hitting the winner at the buzzer, Notre Dame's 56-54 win against Duke in the Bahamas showed off a new star for the Blue Devils and a familiar struggle to score at the end of big games in which the team's defense did plenty.
Duke limited Notre Dame to 33 percent shooting from the floor, including just five assists on 18 field goals. And when Blue Devils freshman Elizabeth Williams scored to give her team a 53-51 lead with 2:44 to play, the prospects for a win looked good. After all, Williams was on her way to 16 points, 13 rebounds and seven blocks, not quite the 32 points, 14 rebounds and five blocks Griner totaled against the Fighting Irish a week ago, but ample confirmation, if any was needed, that Williams is the real deal. But the Blue Devils didn't score another field goal, a fitting conclusion for a second half in which they shot 19 percent from the floor.
Duke has the talent to compete for a championship. It has the defense to compete for a championship. The trust factor that teams like Notre Dame have earned on offense? Not yet.

Fussell
Best individual weekend performance: Chassidy Fussell, Texas. The Longhorns played their final game of the weekend in Hawaii after this entry was filed, but the first two efforts are enough to land Fussell in this spot. The sophomore opened the weekend with a career-best 30 points in a 79-53 rout of Virginia that knocked the Cavaliers from the ranks of the unbeaten. Her line wasn't quite as gaudy in Saturday's game against California, but she made the last of her 15 points count, scoring with 1:11 to play to give the Longhorns their first and only lead in a 61-60 win. One sign of growth for Fussell? Despite a cold start from the 3-point line this season (21.4 percent entering Sunday), she's shooting better overall from the field (46.5 percent to 40.1 percent as a freshman).

Best team weekend performance: Nebraska. Make it two wins in two attempts against ranked opponents for the Cornhuskers. Beating USC by 18 points in Lincoln a week before Thanksgiving was impressive, but Sunday's win on the road against No. 24 Florida State was arguably even better. In part that's because it came in Tallahassee, but also because it occurred without a big day from sophomore star Jordan Hooper, who put up 22 points and 13 rebounds against the Women of Troy but shot just 3 of 15 from the floor against the Seminoles (Hooper did get 21 points and eight rebounds in Friday's win against Florida A&M in the tournament hosted by Florida State). Still unbeaten, Nebraska gets a shot at Georgia Tech in Atlanta this week.

Beyond the headlines: Michigan starts strong. Nebraska wasn't the only Big Ten team (nope, still doesn't sound right) to make a case that it could be ranked heading into a big road game against an ACC opponent. Michigan is 7-0 for the first time since 1999 after winning the Paradise Jam by beating Prairie View A&M, Washington State and Marquette. It survived a scare in the first game before blowing out the Cougars by 30 points and the Golden Eagles by 20 points. Junior Jenny Ryan isn't scoring a lot of points, but with 32 assists, 13 turnovers, 42 rebounds and 25 steals in seven games, she's playing the kind of basketball that defines coach Kevin Borseth's style. The schedule so far has been heavy on teams from BCS conferences, albeit not those conference's strongest programs, but the Wolverines now need to show something as they move up in weight class to face Maryland this week and Iowa State this weekend.
Way beyond the headlines: Green Mountains turnaround. Don't start printing banners just yet, but Vermont deserves this much attention. The last most people heard of the Catamounts, Courtney Pilypaitis and May Kotsopoulos were confounding opponents and spellcheckers alike, beating Wisconsin in the first round of the 2010 NCAA tournament and holding their own against Notre Dame in the second round. The interim wasn't pretty. Coach Sharon Dawley left for Massachusetts and new coach Lori Gear McBride, left with a cupboard that was young if not empty, suffered through a 5-25 debut season that included a 95-38 opening loss at Nebraska and 15 consecutive losses before her first win.
Well, with Saturday's win against Texas Southern, the Catamounts are already 6-1 in Gear McBride's second campaign. The Canadian pipeline that runs through Burlington is still flowing with post Lauren Buschmann and guard Kristine Lalonde (although the latter missed both games on the Thanksgiving trip to Texas). Seton Hall transfer Shanai Heber leads the team in assists.
Bet you didn't know they're the Sugar Bears: Central Arkansas had a tough weekend in Texas, going 1-2 in the Texas Tech Classic, but full credit to junior Megan Herbert for reaching a milestone. Listed at just 5 feet, 11 inches, Herbert had 21 points and 13 rebounds in Friday's win against Louisiana-Monroe for her 50th double-double in 68 career games.
Setting the week to come (Monday-Friday)
North Carolina at Penn State (Wednesday): Penn State bounced back well after getting Delle Donned against Delaware, beating Iowa State and host Nevada over the holiday weekend, but a home game against the Tar Heels is their best chance to make a statement before conference play. Alex Bentley (1.21 assist-to-turnover ratio this season, down from 1.71 last season) will need to take care of the ball to avoid feeding the Tar Heels' transition game.
Florida State at Ohio State (Wednesday): Ohio State's Samantha Prahalis has a lot to prove this season without Jantel Lavender around, but credit where credit is due. Prahalis came up big in Sunday's win against a ranked LSU team, leading the Buckeyes with 28 points, eight assists and eight rebounds. With games Wednesday against Florida State and Sunday at Oklahoma, the stage is hers.
Delaware at Princeton (Thursday): You can have the ACC-Big Ten clashes; the best game of the week takes place in Princeton's Jadwin Gym. Delaware's Elena Delle Donne continues to be the best one-woman show this side of Brittney Griner, following up her 40-point effort in a win against Penn State with more typical (for her) lines of 22 points and nine rebounds in a victory against Villanova and 26 points and 18 rebounds against previously unbeaten St. Bonaventure. Meanwhile, unbeaten Princeton is beating some decent teams by double-digit margins, including Saint Joseph's, Villanova and Marist. Niveen Rasheed (17.7 points per game) isn't Delle Donne, but she's darn good.
Hartford at Marist (Thursday): This one is worth the price of admission just to watch Jennifer Rizzotti and Brian Giorgis coach, but it's also a meaningful test for a Hartford team off to a 5-1 start after beating TCU and Central Florida in the latter team's Thanksgiving tournament.
Miami at Michigan State (Thursday): Credit to Spartans coach Suzy Merchant for her willingness to even play road games at places like Florida Gulf Coast, but after losing that one and a neutral-site game against Villanova, this is Michigan State's best chance to regain some national footing. Likewise, for a Hurricanes team without any nonconference road wins of note in recent seasons, it's a chance to prove something in a tough road stop.
March, 28, 2011
03/28/11
8:20
PM ET
DAYTON, Ohio -- If old rivals are to meet in the Final Four, it will have to be the fourth meeting of the season between Notre Dame and Connecticut instead of the first meeting in four years between Pat Summitt and Geno Auriemma.
But the Fighting Irish will gladly let their Big East rivals worry about settling those details against Duke on Tuesday night. The team in green had another college basketball dynasty in its sights on Monday night in Dayton, and it got the job done as it had all season -- suffocating its opponent on defense while showing off an efficient offense.
[+] Enlarge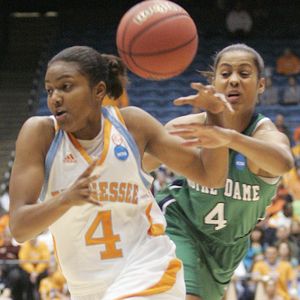 AP Photo/Skip PetersonTennessee players will have nightmares about Skylar Diggins after her performance Monday.
In other words, Notre Dame played like the team it was all season. Tennessee played like the teams Notre Dame beat all season.
Some initial thoughts on Notre Dame's 73-59 win to become the first entrant in the Final Four.
Key player: Skylar Diggins. What more do you want out of your lead guard than to score points (24 to lead all players) shoot better than 50 percent from the floor (9-of-17 from the field), keep others involved (four assists) and generally maintain her composure in a game that at times had all the poise of the minutes after a Best Buy opens on Black Friday.
Best supporting actress: Becca Bruszewski. Playing with a brace on her left knee as a result of an injury sustained in the regional semifinal against Oklahoma, and with fellow frontcourt presence Devereaux Peters in foul trouble for most of the night, Bruszewski did a little bit of everything in a lot of minutes. She finished with 13 points and eight rebounds, but her presence on the court against Tennessee's big bodies exceeded those numbers.
Turning point: With a little more than five minutes to play and her team in the midst of a rally that had trimmed its deficit to four points, Tennessee's Kelley Cain drew a foul on Bruszewski while posting up on offense. But after getting to her feet, Cain stepped back toward the still prone Bruszewski and was whistled for a technical foul for taunting. Natalie Novosel converted only one of two free throws before the ball reverted to Tennessee on the original foul, but the entire sequence seemed to take some wind out of the Lady Vols' sails.
X factor: Notre Dame built its lead largely without the services of Peters, as a result of the aforementioned fouls, but she was in the middle of things to provide the soul-crushing plays with Tennessee on the ropes. The first came when she took a perfect pass from Novosel on a fast break to earn a chance for a three-point play with four minutes to play (even if she missed the free throw). The next came barely 20 seconds later, when she converted a layup over a defender on Diggins' alley-oop to push the lead to 12 points. Those were the only two baskets arguably the most athletic player on the court scored, but they effectively put away a game that appeared headed to the wire.
Key stat: Six turnovers. That's all Notre Dame had in the second half after a sloppy first half in which it committed 10 turnovers that led to nine of Tennessee's 24 points (and might have led to more if the Lady Vols hadn't been equally sloppy with the ball). It was never a pretty game, but Notre Dame stopped feeding Tennessee's best offense and settled into its own, shooting nearly 50 percent from the floor in the second half.
Freshman jitters: Meighan Simmons didn't score her first field goal until fewer than three minutes remained in the game and finished 1-of-11 from the floor. After a nice drive on one of the game's opening possessions, absolutely nothing went right for the talented freshman -- including the end of that first drive, when the ball rolled off the rim for a miss. Simmons picked up two quick fouls, watched most of the first half from the bench and then seemed to be too eager to make up for lost time in forcing shots in the second half. Part of what made Simmons' season remarkable was how little she looked like a freshman down the stretch, but unfortunately for Tennessee, her inexperience was apparent in this game.
What's next: A short road trip down US-31 from South Bend to Indianapolis for Notre Dame, which is back in the Final Four for the first time since winning a national championship in 2001. The Fighting Irish earned that trip with a win in a regional final against an SEC team from Tennessee, albeit Vanderbilt. It is Notre Dame's third Final Four appearance in all.
As for possible opponents, Notre Dame is 4-1 all-time against Duke, although the two teams have played just once since 1998, a win for the Fighting Irish in 2004. Connecticut, as you may gather, is a more familiar opponent. The teams played three times this season, and although the Huskies won all three, the games in South Bend in January and in the Big East tournament earlier this month were two of the tougher tests provided Connecticut all season.
March, 26, 2011
03/26/11
4:07
PM ET
DAYTON, Ohio -- The smiles weren't confined to Irish eyes on Saturday. Then again, there was plenty to grin about.
[+] Enlarge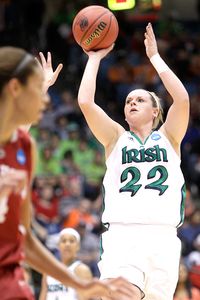 AP Photo/Al BehrmanBrittany Mallory put on a clinic in Notre Dame's Sweet 16 rout of Oklahoma.
Playing well enough on both ends of the court to build a double-digit lead in the first half and maintain it throughout the second half, Notre Dame cruised to a 78-53 win against Oklahoma in the day's second regional semifinal.
Senior Brittany Mallory, one of the many Fighting Irish players who couldn't contain an occasional smile as the game unfolded in almost perfect fashion for the No. 2 seed, led all scorers with 20 points. Skylar Diggins set a career high with 12 assists and Devereaux Peters finished with 17 points and 13 rebounds, her second consecutive double-double.
Some quick thoughts on the action from Dayton:
Turning point: It wasn't quite a return to the Dust Bowl, but all that was missing from Oklahoma's first-half scoring drought were tumbleweeds blowing across the court. When Oklahoma's Joanna McFarland stepped to the line with a chance to complete a three-point play with a little more than 12 minutes left in the first half, the score was tied 13-13. McFarland missed the free throw and the Sooners missed just about everything else the rest of the half (with plenty of help from Notre Dame's defense). They scored just two field goals the rest of the period, and even that only with the assistance of Danielle Robinson's runner with five seconds remaining before halftime.
Key player: Devereaux Peters. When you can block a shot on the baseline, give the ball up to a guard and still beat everyone down the court to get fouled shooting a layup on the ensuing fast break, you may just have a special skill set. Or for that matter, when you're a 6-foot-2 post who can pick Robinson's pocket at the top of your team's full-court pressure, as Peters did at one point. Peters was a player for whom Oklahoma just didn't have a counter.
Key stat: 6. Mallory's 3-pointers were more than she totaled in Notre Dame's past eight games, including an 0-for-6 dry spell against Utah and Temple in the first two rounds of the NCAA tournament. She is the Fighting Irish's most prolific long-range shooter, and even with the recent drought, one of its most accurate at nearly 41 percent. Notre Dame is not a team that relies on the 3-pointer, but Mallory's hot hand made the team's inside game -- be it from the post players or penetration from Diggins and Natalie Novosel -- that much more difficult to defend.
Fond farewell: It wasn't a fitting ending for either player, but Ohio State senior Jantel Lavender and Oklahoma senior Danielle Robinson both exited the college game doing all they could to prolong their careers. Lavender battled Tennessee's rotating big bodies to the point of exhaustion and finished with 19 points, 10 rebounds, five assists and four blocks in the first game. Stymied by a good defensive effort from Notre Dame, Robinson still managed to go out with 16 points and five assists.
What's next: Notre Dame advances to Monday's regional final against Tennessee and will play for its first trip to the Final Four since winning the national championship in 2001.
March, 7, 2011
03/07/11
11:59
PM ET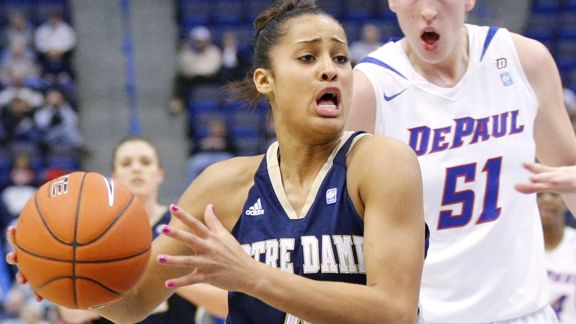 David Butler II/US PresswireSkylar Diggins' Notre Dame last reached the Big East tournament final 10 years ago.
HARTFORD, Conn. -- The best player in the Big East -- and the big, wide world of college basketball for that matter -- makes her final appearance in her second home Tuesday at the XL Center. Monday's semifinal nightcap between Notre Dame and DePaul, once Moore was done dismantling Rutgers, determined which team would take the final shot at beating Moore for the first time in Hartford.
Notre Dame earned that privilege with a 71-67 victory against DePaul in a back-and-forth game, the second game in a week between the two to come down to the final minute. But as much as the game sets up the Big East finale this season, it also offered a glimpse of what's to come in the conference, which will apparently not fold up shop once Moore departs.
Someone has to be the best player in the conference next season. And in different ways, Notre Dame's Skylar Diggins and DePaul's Keisha Hampton made sure their names will be near the list.
From the outset, DePaul looked like a team that needed something special to counter the prevailing winds of misfortune. The Blue Demons went more than five minutes without a point to open the game, throwing away a few possessions, to be sure, but also watching plenty of balls explore every part of the rim without falling in. And with the Fighting Irish trio of Devereaux Peters, Becca Bruszewski and Natalie Achonwa playing outstanding interior defense against Felicia Chester, who suffered through a shooting night not far removed from what Jayne Appel endured in the national championship game last season, DePaul's typical inside-outside balance crumbled.
In stepped Hampton, who scored inside, outside and anywhere else she could find enough space to get off a shot.
[+] Enlarge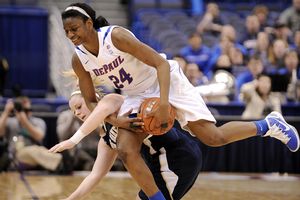 AP Photo/Fred BeckhamKeisha Hampton scored a career-high 31 points in DePaul's losing effort.
"Hampton, wow. Wow,'" Notre Dame coach Muffet McGraw began in an what was entirely accurate summation of the performance. "She can really play. She did an outstanding job. We couldn't stop her."
DePaul's leading scorer this season took that label to a new level with a career-high 31 points on 11-of-22 shooting, including 3-of-6 from the 3-point line and 6-of-8 from the free-throw line. Surely one of a small number of players with 150 3-point attempts and 150 free-throw attempts this season, she is a rare mix of skills on offense, all of which happened to be on display at or near their peak against the Fighting Irish.
"I just tried to do it in various ways," Hampton said. "Trying to get to the lane, shoot the 3, post up -- whatever I could do to help my team win."
But if nobody on the court was quite Hampton's offensive equal for the full 40 minutes, Diggins was there with her in the minutes that mattered most.
With just less than three minutes to play, Hampton converted a three-point play to give DePaul a 63-62 lead. Less than a minute later, Diggins corralled a loose ball at around three-quarters court and weaved her way through the defense before drawing a foul at the basket. She hit both free throws for a 64-63 lead.
Hampton took it from there, scoring at the basket with just more than 90 seconds to play, only to see Diggins hit the lane like a running back spotting a hole and finish with a scooping layup to give the Fighting Irish a 66-65 lead, one it would hold for good, although only after a great defensive play from Brittany Mallory forced a Hampton turnover in the final 30 seconds.
McGraw said it was difficult to pick out a player of the game for her team, and it was on a night when Peters was at times a force, freshman Achonwa played big minutes and Mallory made the key stop. But everything that happened in the closing minutes seemed to stem from the aggressive play of the point guard setting a tone.
"Every time we got the ball in transition, that was what we wanted," Notre Dame coach Muffet McGraw said of Diggins. "She's attacking the basket, getting to the foul line -- that's the best shot we're going to get. I was just so happy to have the ball in her hands. I mean, she changes the game at the speed that she plays at, her attack mentality, her competitiveness. She makes a huge difference in our team."
Diggins finished with 19 points, four assists, six rebounds, a block and a steal. Hampton added four rebounds, three assists and two blocks (although she at least altered more shots than that) to her point total. And in the end, Diggins and Notre Dame won this round, just as Hampton and DePaul won the last round.
And for both, it was the kind of performance on a postseason stage required of any contender for Moore's title.
"It's one and out and that's why it's such a great tournament, so this is absolutely practice for that," DePaul coach Doug Bruno said. "And this is the kind of game that you're going to play every game from this point forward. It's going to be this kind of close basketball game, a tough basketball game, a basketball game that's going to come down to a couple of possessions, just like it did eight days ago and we were on top."
January, 16, 2011
01/16/11
11:58
PM ET
Monday
Connecticut at North Carolina (ESPN2/ESPN3.com, 7 p.m. ET): The Huskies picked apart the Tar Heels the past two seasons, showing what happens when a team that relies on size, speed and forcing mistakes meets a team with equal size and speed that doesn't get flustered.
The Tar Heels still aren't going to run away from the Huskies, and Geno Auriemma's young team has shown it isn't easily flustered, but the size could be a factor with Tina Charles out of the mix -- assuming the ACC side holds onto the ball long enough to get it into the post or get shots up to allow for offensive rebounding opportunities. One positive for North Carolina is that these Tar Heels value possession far better than recent vintages. Led by point guard Cetera DeGraffenreid, who has just 24 turnovers in 466 minutes, North Carolina is averaging only 16 turnovers per game. No Tar Heels team has averaged fewer than 19 turnovers per game since the 2005-06 season. The bad news is that as the competition level has increased, so have the Tar Heels' turnovers in the past three games -- 18 against Georgia Tech in a loss, 20 against Boston College in a win and 22 in Friday's win against NC State. That's music to Connecticut's transition-minded ears.
North Carolina A&T at Hampton: It's a showdown for first place in the MEAC, although North Carolina A&T's loss at Howard on Saturday means it's not a meeting of conference unbeatens. WIth a road win at James Madison and a win at home against Florida already to its credit, Hampton has shown it can play at a high level. The Pirates have also won all four of their MEAC games by at least 16 points, including the last three by more than 20 points. As a team, they don't value the ball particularly well (260 turnovers in 16 games), but point guard Jericka Jenkins ranks among national leaders with a 3.12 assist-to-turnover ratio.
Tuesday
Georgetown at Notre Dame: Sugar Rodgers scored at least 19 points in each of Georgetown's first three Big East games and at least 24 points in each of the team's past three games against Clemson, Syracuse and Marquette, but those streaks came to crashing halts Saturday in the Hoyas' 49-45 win at Providence. Rodgers hit 1-of-8 shots in 27 minutes, just the second time in her career she has finished with a single field goal. For its part, Notre Dame showed no ill effects from a tough loss against Connecticut, routing Louisville by 20 points and Pitt by 32 points last week. The Fighting Irish have been outrebounded just three times this season, so it's difficult to imagine Georgetown duplicating that feat it accomplished in beating the Irish last season.
Wednesday
Texas at Texas A&M: Was Sunday's memorable game against Oklahoma that included a lost lead, a frantic comeback and an eventual overtime loss a step in the right direction, another disappointment, or both for Texas? We can debate that; the Longhorns have to turn around and play another rival in Texas A&M. The bad news is the Longhorns are 0-3 in the Big 12 this season, 7-16 against Baylor, Oklahoma and Texas A&M under Gail Goestenkors and shot 30 percent with 23 turnovers against the Sooners. The good news is despite all of that, they didn't quit and got big shot after big shot from Chassidy Fussell down the stretch to force overtime.
Texas Tech at Oklahoma: The other half of one of the past weekend's most exciting games heads home to play the only one-loss unranked team in a BCS conference. That's the price the Lady Raiders play for a soft schedule and three modest victories to open Big 12 play, but win in Norman and everything changes. Chynna Brown has been a key to the team's early conference success, averaging 14.3 points and 29 minutes in Big 12 play, compared to 5.4 points and 14.9 minutes out of conference (although she really began to heat up after the Christmas break).
Danielle Robinson, Whitney Hand and Aaryn Ellenberg combined to take 62 of Oklahoma's 77 shots against Texas and took 70 percent of the team's shots in Hand's first four games back. By way of comparison, LeBron James, Dwyane Wade and Chris Bosh account for 62 percent of the Miami Heat's field goal attempts.
Saint Joseph's at Temple: After a strong start this season, Saint Joseph's dropped back-to-back home games against Xavier and Charlotte last week to fall to 1-2 in the Atlantic 10. Rebounding is unlikely to become a statistic the Hawks dominate, but double-digit deficits like the ones against the Musketeers and 49ers are tough to overcome. For Temple, unbeaten in its first three A-10 games, Kristen McCarthy sizzles. She opened with 22 points and nine rebounds in a win at Charlotte and is shooting 51 percent, including 43 percent from the 3-point line, in A-10 play.
BYU at TCU: It's a clash of unbeatens atop the Mountain West standings in Fort Worth. Stuck in neutral at 6-6 after a home loss against Georgia just before Christmas, TCU is now 12-6 overall and 4-0 in conference play, including a big 68-47 road win at Wyoming last Wednesday. Helena Sverrisdottir had just six more assists than turnovers in 14 games out of conference but is already nine ahead in four MWC games. BYU's only true road win this season came against BYU-Hawaii, Utah Valley and Air Force, leaving plenty for the Cougars to prove in Texas.
Thursday
UCLA at Stanford: In UCLA's only loss, LSU got to the free-throw line 22 times and beat the Bruins on the boards in Westwood. In 15 wins, the Bruins averaged 21.5 free-throw attempts to 14.8 for their opponents, and 38.5 rebounds to 30.1 for their opponents, including edges in both categories in wins against Notre Dame and Temple. For all its ample size and toughness, Stanford gets to the free-throw line surprisingly infrequently -- it's one of just two top-10 teams, along with Michigan State, that has more 3-point attempts than free-throw attempts.
Michigan at Northwestern: It might not have looked like a big game when the schedules came out, but there is potentially a lot riding on Thursday's contest in Evanston. Michigan is 3-1 against ranked teams in the past month and could conceivably move into a tie atop the Big Ten with a win. Northwestern got its first win against Ohio State since 1999 last week but is 1-2 on the road in conference play after Sunday's loss at Purdue. The program's NCAA tournament hopes (it hasn't been since 1997) might ride on defending their home turf.
Friday
Georgia Tech at Duke: For Georgia Tech, the best ACC start in program history hinges on Monday's game at Wake Forest, but Friday's game at Cameron Indoor Stadium will tell a lot about whether this is a Yellow Jackets team with any chance to produce the best ending in program history. Georgia Tech hasn't come within 10 points of Duke since the 2006-07 season and hasn't beaten Duke since the 1993-94 season. Brilliant but not always economical in her shooting, Jasmine Thomas hit 14-of-23 shots in a pair of wins last season.
January, 9, 2011
01/09/11
10:51
PM ET
Monday
Florida Gulf Coast at USC Upstate: An otherwise light schedule just means more of the spotlight is available for an Atlantic Sun showdown between teams focused on regular-season glory. Florida Gulf Coast knocked off NCAA tournament regular East Tennessee State on Saturday in conference play and looks to secure another big road win here. USC Upstate dropped to 4-1 in conference play with a loss against Stetson on Saturday but has the league's leading scorer and rebounder in Chelsea McMillan (16.4 ppg, 10.2 rpg). Kelsey Jacobson needed just 10 shots to lead Florida Gulf Coast with 21 points Saturday, hitting five of 10 3-pointers and all six of her free throws.
Tuesday
West Virginia at Marquette: With apologies to St. Bonaventure, a good team with a distinctive style, this is the biggest true road test to date for No. 7 West Virginia. Before games against Seton Hall and Cincinnati last week, coach Mike Carey said the team was still adjusting to having Sarah Miles back. And while the Mountaineers didn't need anything close to perfection to rout both foes, 40 turnovers, including seven from Miles, suggests the adjustment continues. For Marquette, having the Angel Robinson who helped spark Saturday's double-overtime upset at Georgetown (18 points, eight rebounds, seven assists, three turnovers) will be critical. She's just 8-of-34 from the field with 10 turnovers in three career games against the Mountaineers.
Illinois State at Missouri State: With Creighton off to a 3-0 start in Missouri Valley play and looking strong, neither of these teams wants to be saddled so early with a second league loss. Sophomore forward Christina Shorter, last season's MVC Freshman of the Year, led the Bears in each of their first two conference wins, scoring a total of 40 points in those games. But she attempted just seven shots to go with four fouls in 22 minutes in an 80-69 loss at Northern Iowa last week.
Wednesday
TCU at Wyoming: The Cowgirls effectively put all their eggs in the conference basket by playing a weak early schedule, but the strategy seems to be working thus far. Wyoming's Aubrey Vandiver put up 24 points in Saturday's win at New Mexico, and a win in Albuquerque is worth something, no matter what kind of season the Lobos are having. TCU has four wins in a row since a heartbreaking last-second loss against Georgia, including a 49-47 road win at San Diego State on Wednesday. Helena Sverrisdottir became TCU's all-time assists leader in Saturday's win over UNLV, totaling 24 points, seven rebounds and seven steals to go with her six assists.
Texas A&M at Oklahoma State: Has reality set in for No. 25 Oklahoma State, which opened Big 12 play Sunday with a 63-45 loss at Kansas State? The Cowgirls head to Baylor after Wednesday's game against the Aggies, so it's going to take some work to avoid an 0-3 league start after cracking the Top 25 with a 12-1 start to the season. No. 5 Texas A&M, on the other hand, hasn't won by fewer than 25 points since a loss at Duke early in December. During that seven-game stretch, point guard Sydney Colson has 52 assists against just 12 turnovers.
Louisville at Notre Dame: Louisville plays at No. 12 Notre Dame on Wednesday and at No. 2 Connecticut on Saturday, a road trip that could only be less appealing if it came with a layover in Vladivostok. But the game in South Bend is big, both as a test of where the Cardinals fit in the Big East table after a 3-0 league start and whether Notre Dame builds off or wallows in Saturday's heartbreaker against Connecticut. Monique Reid has been on fire of late for the Cardinals, scoring 20 or more in three consecutive games, including 24 points in a win over St. John's on Tuesday and 29 points against Pitt on Sunday.
Thursday
Iowa at Michigan State: It's the second week of January, and only three Big Ten teams own winning records in conference play, so 3-0 versus 2-2 qualifies as a big deal, especially when it's No. 13 Michigan State and No. 22 Iowa in possession of those records. The Spartans obliterated Wisconsin and Michigan on the boards in wins last week and lead the Big Ten in rebounding margin, but the Hawkeyes are second in the category. In two games against Iowa last season, Michigan State totaled just nine second-chance points and was outrebounded by 17. The Hawkeyes won both games.
Oregon at USC: The Ducks bounced back from a rough opening weekend of conference play with wins at home against Washington and Washington State, but Paul Westhead's team wasn't exactly dominant on the stat sheet in either victory. If Oregon is going to be any sort of factor in the league, it needs to win on the road outside the Pacific Northwest -- and USC is at least a better bet for that than Stanford or UCLA. On the flip side, if USC's Briana Gilbreath, Ashley Corral and Jacki Gemelos can't get their shot back on track against a defense allowing 48.5 percent shooting in four Pac-10 games, the Women of Troy might have reason to worry.
Tennessee at Florida: Is this a potential game or a potential rout? It depends on which Florida you believe is the real deal. The Gators are 8-0 at home, including noteworthy victories against Charlotte, Old Dominion and Arkansas. They're just 1-5 in true road games, although the one came in Sunday's win at South Carolina, in which the Gators shot 56.5 percent. One thing that should worry Florida fans is that their team has more turnovers than the opponent in all three SEC games thus far. If No. 6 Tennessee has a weakness, it might be its propensity for turnovers (see: Georgetown). But 20 turnovers won't hurt the Lady Vols if they force 30.
Friday
Duke at Florida State: No. 3 Duke had plenty of headline performances last week, including Chelsea Gray's fortunate "shot" to beat Kentucky, and a pair of big scoring nights from Jasmine Thomas against the Wildcats and Maryland. But don't overlook Tricia Liston's seemingly small supporting role. Liston hit three of seven 3-point attempts in the wins, one more than the total long-distance contributions of every other Duke player not named Jasmine Thomas. While the 3-point line was largely a barren wasteland for the Blue Devils last season, it's now home to a number of role players -- including Liston, Gray, Shay Selby and Kathleen Scheer -- who can play the role of X factor on a given day.
March, 22, 2010
03/22/10
12:22
AM ET
They won't play the Canadian anthem at Freedom Hall in Louisville before Monday's second-round game between No. 4 seed Kentucky and fifth-seeded Michigan State, but with Ontario native Kalisha Keane lined up alongside her Spartans teammates, it wouldn't be without receptive ears.
Just as they could play it before Dayton's Kendel Ross takes the court against Tennessee. Or when Vermont starters Courtnay Pilypaitis, May Kotsopoulos, Kendra Seto and three of their teammates play Notre Dame. Or as they could have when Keane's sister, Tamika, faced Notre Dame in the first round. (With Canadian Natalie Achonwa among the headliners of the Irish's recruiting class, South Bend might want the practice.)
[+] Enlarge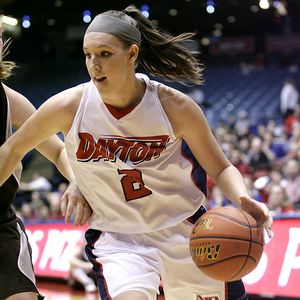 Tim G. Zechar/Icon SMIDayton's Kendel Ross is one of many proud Canadians making their presence felt in the NCAA tournament.
Or when Gonzaga's Janelle Bekkering and Nebraska's Harleen Sidhu and Kaitlin Burke play their respective second-round games.
Look around the rosters in the NCAA, and it starts to feel like a Canadian invasion that you don't need the late John Candy to sell. They're here, and they aren't trying to blend in.
"I definitely feel Canadian," Ross said earlier this season with an appropriately Canadian mix of chagrinned pride. "I don't let people forget it either. I have the Canadian hat, scarf, mitts on. I'm very proud of where I'm from."
And as most of the above players have already demonstrated, they can take over the tournament as well.
Dayton's second-leading scorer this season, Ross not only helped the Flyers reach the NCAA tournament for the first time but helped them in their memorable comeback win against TCU in the first round with team highs of 17 points and 11 rebounds. Pilypaitis and Kotsopoulos combined for 39 points, 12 rebounds and six assists to finally get underdogs in the win column in No. 10 Vermont's mild seed-line upset of No. 7 Wisconsin.
And while Keane didn't have her best day against Bowling Green in the first round, Michigan State's leading scorer could be a key figure against Kentucky in the second round.
"I think those Canadian kids just have a sense of maturity about them, too, and just such a high basketball IQ, too," Michigan State coach Suzy Merchant said. "They just get it. They play in such a way, and they play so many games up there compared to what we can do in the States. Most of our [high school] kids are like 20-2 at the end of their season and [the Canadians] are like 45-15. They just play so many more games than we do, and I think that, over time, gives them that sense of experience and wealth of knowledge."
They also stick together, particularly those from the relative provincial basketball hotbeds of Ontario and British Columbia. In the days leading up to Sunday's game against the Catamounts, Pilypaitis reached out to Keane via the Web for a scouting report on the Big Ten's Badgers.
Of course, even Canadians have their shameful secrets.
"I can't skate; I still can't to this day," Ross admitted. "I took it for five years, and I can't do it. For some reason. I'm not coordinated or balanced enough to do it. So I was thrown into a basketball league, and that's just kind of the direction I took."
The direction turned out to be south across the border.