Category archive:

Kentucky Wildcats
February, 26, 2012
02/26/12
9:36
PM ET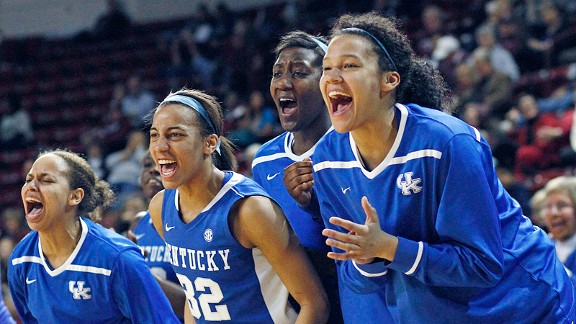 AP Photo/Kerry SmithKentucky opens the SEC tournament on Friday, facing the winner of Auburn-Florida.
A chance to be one of the best players in the nation.
That's how Kentucky coach Matthew Mitchell described what the future might hold for A'dia Mathies not long before her sophomore season began. Almost two seasons later, her exact place on such an inexact list remains up for debate, but she is the go-to player on the first Kentucky team to win an SEC regular-season title in her lifetime. It's a pretty good label in its own right.
Mathies didn't turn in a spectacular line in Sunday's 76-40 win at Mississippi State, a victory that clinched Kentucky's first regular-season title since 1982, but the Wildcats didn't need individual brilliance to get by the Bulldogs. With what is essentially an 11-player rotation, the Wildcats rarely turn one player loose on the box score, relying on that depth and collective defensive effort to force nearly 23 turnovers per game. But from her freshman season, when she scored 32 points in her first NCAA tournament game, and added 21 more in a subsequent win against top-seeded Nebraska, Mathies hinted at a knack for knocking out soliloquies, even in a supporting role alongside Victoria Dunlap.
There have been 14 instances of a Kentucky player scoring at least 20 points in a game this season; Mathies is responsible for 10 of them. Sure, a handful of those came against the likes of Northeastern and Southern Miss, but Mathies also put up 20-plus points in victories against Arkansas, Duke, Louisville and South Carolina. She also turned in a performance that ranks near the top of any list of the best singe-game efforts of the season with 34 of her team's 61 points in a one-point victory against Tennessee. Mathies' shooting percentage remains almost unchanged from an inconsistent sophomore effort, but in more than doubling her 3-point output and dramatically improving her long-range accuracy, she has become a much more efficient scorer. She's not a perfect player, nor is a Kentucky team that recently lost three in a row a perfect champion. But only Baylor need worry about perfection right now. For everyone else, it's about being better than those in the other uniform.
It took three decades for Kentucky to get a chance to celebrate a second conference championship. It shouldn't take much more than 24 months for the Wildcats to welcome a second SEC player of the year to program lore.

Making a case for March: Duke. While we're celebrating regular-season conference titles, full credit to Duke for a March-like performance in beating Miami and North Carolina in roughly the span of 72 hours to clinch the ACC regular-season title.
The math seems to add up to Duke earning a No. 2 seed, no matter the weekend results and no matter what happens in the ACC tournament, but the Blue Devils are trying to keep the calculators working right up to the final hour. More importantly, they showed both a toughness and an offensive efficiency in the two victories that they'll need regardless of seeding. As was the case in a loss against Maryland, rebounding remains an issue without injured starter Richa Jackson -- Miami piled up 19 offensive rebounds and North Carolina totaled 15 against a team that entered the weekend allowing just 12.3 offensive rebounds per game. But the champions, bedeviled so often by offensive inconsistency in recent postseasons, shot 49 percent against the Hurricanes and 52 percent against the Tar Heels, with point guard Chelsea Gray putting an exclamation point on things by setting the single-season assists record.

Novosel
Best individual weekend performance:
Natalie Novosel, Notre Dame. South Florida went on the road and made life difficult for Notre Dame over the weekend, just as it did against Connecticut four weeks ago. And just like Connecticut, which turned to Tiffany Hayes for a big scoring day, Notre Dame turned to a senior to get it out of trouble. Actually, two of them, but Devereaux Peters (17 points, 18 rebounds) has been piling up double-doubles by the bundle in recent weeks. The less predictable boost, at least by recent standards, came from Novosel, whose 32 points nearly matched her total from the previous four games combined and came after a stretch of eight games in which she hit double figures just three times.
Novosel hit all 12 of her free throw attempts against the Bulls. One of the best at getting into seams around the basket and either finishing or drawing a foul (rivaled by few this side of teammate Skylar Diggins in that regard), she's averaging 4.6 free throw attempts per game this season. That isn't bad by almost any standard, but it is down from 5.9 attempts per game a season ago. She's scoring at almost the same overall rate as a season ago, and her team is winning at an even greater rate than it did last season, so Novosel and the Fighting Irish are still doing just fine. But the more whistles you hear, the more likely it is she's driving opponents to distraction.

Best team weekend performance: Princeton. What did Princeton do to merit this? Did you see any other teams clinching berths in the NCAA tournament over the weekend? Or doing so for the third season in a row, for that matter? The Tigers spent the weekend doing what they have done with impressively numbing regularity in Ivy League play in recent seasons, beating Harvard by 30 points and Dartmouth 37 points to wrap up another conference title. That they did it with three games still to play in a league that doesn't hold a tournament is just Princeton's style. A strong contender for the weekend's top individual honors, Niveen Rasheed put up 24 points, 16 rebounds, five steals and four assists against Dartmouth, but she split the vote with teammate Lauren Edwards, who scored 29 points in the same game, including 7-of-10 from the 3-point line.

Raterman
Saving her best for last:
Justine Raterman, Dayton. Raterman's career would not have been diminished had the final week of her final regular season gone differently, but the Flyers senior did what program greats are supposed to do. Raterman scored 25 points in 23 minutes in her final home game, a rout against Xavier, but the performance that mattered most came on the road Saturday against Duquesne. Behind her 32 points (on 12-of-21 shooting), eight rebounds and three steals, the Flyers came away with a 74-69 overtime win. While the No. 3 seed in the Atlantic 10 tournament was already a given, the win keeps a team hovering around 40 in the RPI in the mix for at-large NCAA tournament consideration.

Lending a helping hand: Casey Garrison, Missouri State. Injuries took a toll on several potential mid-major powers this season, most notably those that took the likes of Northern Iowa's Jacqui Kalin and Toledo's Naama Shafir off the court. But the small matter of an injury to her shooting hand isn't stopping Garrison from fueling Missouri State's run in the Missouri Valley Conference. As the Springfield News Leader recounts, Garrison (who already donned a mask this season to play through a broken nose) simply started shooting with her left hand when she sprained the thumb on her more familiar shooting hand. Her first game as a southpaw? She scored 20 points. A lefty off the court, shooting with that hand was apparently nonetheless a relatively new experience. With Garrison leading the way, Missouri State owns first place in the league and 10 victories in a row, including Sunday's 80-76 win at second-place Illinois State.
The week ahead (Monday-Friday)
Notre Dame at Connecticut (ESPN2, 9 p.m. ET Monday): Are we headed for a season in which neither Connecticut nor Tennessee win regular-season conference titles? Kentucky already locked up the SEC, and Notre Dame, which already clinched a share of the Big East title, can go for its first outright title with a win in Hartford. Of course, it might also be just the first of two games between the team in Hartford in the next eight days, if the conference tournament leaves them opposite each other in the final. Skylar Diggins and Natalie Novosel combined for 19 free throws when the Fighting Irish won an overtime thriller in South Bend earlier this season. In 15 games since, only one Connecticut opponent -- the entire team -- attempted as many as 19 free throws (Louisville's 21 attempts on Feb. 7).
Baylor at Texas A&M (ESPN2, 7 p.m. ET Monday): Forget the 12th man; Texas A&M could use a sixth player. In five meetings between these two since the beginning of last season, Texas A&M's bench scored a total of 21 points (17 from Karla Gilbert). That worked out on the fourth try a season ago, and it's not like the Aggies roll bench points against everyone else. But without Danielle Adams and Sydney Colson around, it's a tough way to go about stopping the nation's No. 1 team.
St. John's at Georgetown (Monday): There are still matters of Big East tournament seeding at stake, in addition to a chance for St. John's to post the program's best league record, but this one is big for momentum alone. St. John's didn't win a true road game until Jan. 11 at Syracuse, but wins at Rutgers and, as you might have heard, Connecticut beefed up that road profile. With Da'Shena Stevens coming off a 21-point effort over the weekend, it's worth noting no St. John's player has hit more than five field goals in a game against Georgetown since the 2007-08 season.
Appalachian State at Chattanooga (ESPN3, 7 p.m. ET Monday): It's a chance for Appalachian State to clinch the outright Southern Conference regular-season title, but only if it can beat third-place Chattanooga on the road. Appalachian State's Anna Freeman is one of those quintessential do-everything mid-major players, averaging 15.1 points, 6.3 rebounds, 3.7 steals, 2.7 assists and 2.1 blocks per game.
Florida Gulf Coast versus East Tennessee State (ESPN3, 12 p.m. ET Wednesday): Get Championship Week started by watching a team that has the potential to do something in the main draw -- if it can take care of business in the Atlantic Sun tournament. Florida Gulf Coast faces East Tennessee State in a quarterfinal. This game comes just four days after the same teams met to end the regular season, a 71-64 win for the Eagles that was one of just four wins by single-digit margins in an unbeaten conference season.
Kansas State at Iowa State (Wednesday): There isn't much doubt Kansas State will be in the NCAA tournament, but an overtime loss at Missouri raised more eyebrows when it comes to a team that already seemed to have an inflated RPI. For a team that has shown an ability to go on the road and win, notably at Marist, South Dakota State, Kansas, Oklahoma State, Texas and Texas Tech, adding a win in Ames, Iowa, would be a boost. On the other side, Iowa State needs a win badly, if not desperately, to shore up its own at-large r´esumé.
Oklahoma State at Kansas (Wednesday): Both teams need victories in the struggle for NCAA tournament at-large consideration. Kansas got a badly needed result with a win at Texas Tech last week, fueled by 20 points and eight assists from Angel Goodrich. But the Jayhawks are just 3-8 in their last 11 and playing without Carolyn Davis, do they need to sweep Oklahoma State and Oklahoma?
Louisiana Tech at Fresno State (Thursday): Such is life for a mid-major like Fresno State, that all of the work of a 12-game winning streak and clinching at least a share of the WAC regular-season title can be partly negated by one tough loss. But a 62-61 loss at mid-table San Jose State does damage Fresno State's NCAA tournament at-large potential. Before they can worry about that, or even the conference tournament, the Bulldogs face the best women's basketball rivalry in the WAC. Ki-Ki Moore scored 20 when Fresno State won 61-59 in Louisiana.
February, 5, 2012
02/05/12
10:46
PM ET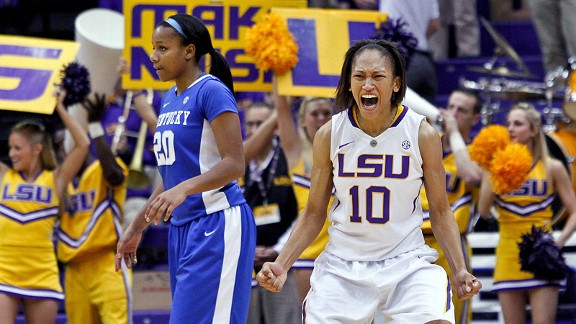 Derick E. Hingle/US PresswireAdrienne Webb and LSU topped No. 5 Kentucky despite 24 turnovers.
Monday morning headline: Kentucky leaves the door open.
The last time Kentucky was 21-3, which also happens to be the only time prior to this season that Kentucky was 21-3, Madonna had yet to record a No. 1 hit and Eli Manning was 2 years old.
That was the 1982-83 season, and the nearly three decades between then and now represent one more reason a 61-51 loss at LSU on Sunday is hardly cause for panic.
Good teams lose games, particularly in places like Baton Rouge. That said, you take the good with the bad when you apply for membership in college basketball's elite. And in at least cracking open the door it could have slammed shut on the rest of the SEC, Kentucky showed some familiar, if far from crippling, vulnerabilities on the road.
LSU turned over the ball 26 times against Kentucky's pressure, three fewer turnovers than teams average this season against the Wildcats but hardly a model of ball control. The same was true of Middle Tennessee, which turned over the ball 28 times in a 70-58 win against Kentucky in late December. Even Notre Dame gave away the ball 22 times in beating the Wildcats, who never relent in running wave after wave of pressure at foes.
So what's the catch? In addition to all those turnovers forced, and the total is 701 and counting through 24 games, Kentucky has allowed opponents to record just 218 assists. But Notre Dame, Middle Tennessee and LSU, the three teams to come away with wins, accounted for 48 of those assists, nearly one out of every four against Kentucky this season. The Lady Tigers fed the turnover machine, allowing the Wildcats to score 26 of their 51 points off them, but they also recorded assists on 11 of 17 field goals, shot 57 percent from the field and went to the line 31 times. Kentucky is going to get its turnovers more often than not, but it seems to be the other possessions, the ones that end in bad shots and flustered sets, where opponents give away the game. Credit Adrienne Webb and the rest of the Lady Tigers for not joining that list on this day in Baton Rouge.

Weekend's best team performance: UCLA. Leading Washington State by just three points with a little more than 11 minutes remaining in Saturday's Pac-12 game, UCLA used a 25-4 run to blow the game wide open with almost four minutes still remaining on the clock.
Yet much as Bruins coach Cori Close might have wished to pull her key players for those final minutes of the blowout, for reasons of recuperation as much as mercy, she had no such options.
At least the first-year coach didn't have to waste much time learning names.

Walker
In the race for second in the Pac-12, which is what the conference boils down to with Stanford around, UCLA remains in the thick of things at 7-4, one game behind California in advance of Thursday's trip to Berkeley. The remaining schedule isn't particularly friendly to UCLA, beginning with the back end of the Bay Area trip and a game at Stanford, but even the opportunity to write their own ending is a major achievement for a team with essentially six players.
Three players -- starters Jasmine Dixon and Atonye Nyingifa and reserve Moriah Faulk -- are out for the season with injuries, while two top recruits never made it to Westwood after former coach Nikki Caldwell left for LSU. The roster carnage left the Bruins at 8-10 overall and 3-4 in the league following a loss against Oregon on Jan. 21.
But the four-game winning streak that was extended Saturday has a lot to do with six players doing all they can and one player, in particular, filling the role of at least two. Junior Markel Walker finished with a triple-double against the Cougars: 14 points, 15 rebounds and 10 assists. In the four wins, she averaged 17 points, 12.3 rebounds and 5.5 assists.

Weekend's best individual performance: Chelsea Poppens, Iowa State. There's a good story brewing at Iowa State, one that will be a great story when coach Bill Fennelly is able to tell it at full volume. With Fennelly undergoing treatment for a cancerous lesion on his vocal cords, Iowa State dropped its first five conference games (a rugged opening stretch with road games at Oklahoma, Kansas and Texas and no relief at home against Baylor and Texas A&M).
Well, the Cyclones have won four of five since that opening stretch, including a 71-56 victory against Texas on Saturday. Poppens totaled 27 points and 10 rebounds in just 24 minutes against the Longhorns, hitting 9-of-11 shots from the floor. The junior forward topped 20 points three times in the past five games.

Michigan's best import: Porsché Poole, Michigan State. A kid from Ohio who shares a spelling, if not a pronunciation with the most ostentatious of foreign import automobiles? It doesn't seem like a perfect match, but Poole is the heart of Michigan State's resurgence. A week after rescuing the Spartans from a potential fifth consecutive defeat with 32 points, six rebounds and six assists in a win against Penn State, she came up with 23 points, nine rebounds and five assists in a 65-63 victory against Michigan. In what had been essentially a one-possession game for the entire second half, Poole cut a four-point deficit in half with 2:14 to play, assisted on Lykendra Johnson's tying basket with 53 seconds remaining and hit the winner with 3.9 seconds to play.

Best defense on campus: Davidson. The Wildcats are 10-2 in the Southern Conference and in the thick of the title race with Appalachian State and Chattanooga. They're also second in the conference in field goal defense, so Davidson knows its way around a stop or two. But the first-half line from Saturday's game against Charleston still stands out: Davidson 24, Charleston 4. The Wildcats won the game 46-23, holding Charleston to 10 percent shooting. For the record, Davidson's football team gave up more than 23 points six times this season.

Part of the club: UTEP. Bowling Green, Delaware, Green Bay, Miami, Stanford and UTEP all reached 20 wins over the weekend (Florida Gulf Coast and Gonzaga got there Thursday). The last of those might be the one flying most under the radar. UTEP doesn't have the schedule strength of some of its mid-major counterparts, but with a 20-2 record, two 10-game winning streaks and a perfect 9-0 record in Conference USA, it is doing something right. For one thing, the Miners are ensuring opponents don't do much right. UTEP is limiting teams to 32.5 percent shooting and forcing 18.7 turnovers per game.
The (busy, busy) week ahead
Maryland at Georgia Tech (Monday): After a loss against Virginia Tech on Jan. 26, Maryland coach Brenda Frese said her team had an open discussion as to which direction it wanted to go from there. Maryland blitzed Boston College in its only game since that loss, but Monday's game against a Georgia Tech team half a game ahead in the ACC standings will reveal more about the answer. It didn't have Alyssa Thomas in the game against the Virginia Tech, but she was back against Boston College and had 24 points and 11 rebounds in an earlier win against Georgia Tech.
North Carolina at Duke (ESPN2/ESPN3, 7 p.m. ET Monday): With road games at Duke on Monday and at Miami on Wednesday, North Carolina could make a run at the story of the regular season or drop completely out of the ACC discussion before Valentine's Day and risk playing itself onto the NCAA tournament bubble against a backloaded schedule. No doubt Elizabeth Williams will figure prominently in any success for the Blue Devils, but keep an eye on Allison Vernerey. No Duke player has a better career scoring average against the Tar Heels than Vernerey (9.4 points per game in five games).
Oklahoma at Baylor (Monday): Things didn't go so well for the Sooners in the first game in Norman, and the return match in Waco isn't likely going to be any better if Aaryn Ellenberg, Whitney Hand and Morgan Hook shoot 2-of-16 from the 3-point line again. Then again, a lot of teams keep digging deeper when they find themselves in an early hole against the nation's top-ranked team. Baylor was No. 12 in the nation in 3-point field goal defense entering the weekend, but no team ranked in the top 30 in that statistic had faced more 3-point attempts.
Oral Roberts at South Dakota State (Monday): There are a lot of high-profile games on Monday's schedule, but there's a good one slightly off the radar in Brookings, S.D. The home team has a two-game lead on Oral Roberts in the Summit League standings, but South Dakota State's lone conference setback came in a 71-65 loss at Oral Roberts. In fact, the Jackrabbits have dropped five regular-season games in a row against Kevi Luper and the Golden Eagles, dating back to the 2009-10 season.
American at Lehigh (Wednesday): Seeding is everything in one-bid leagues without a neutral site for the conference tournament. American (8-0) can all but wrap up the regular-season title and No. 1 seed in the Patriot if it gets a win on the road against second-place Lehigh (6-2). After some close calls early, including a 55-49 home victory against Lehigh, American won each of its past three conference games by at least 23 points.
Tennessee at Vanderbilt (Thursday): Kentucky's loss against LSU opened a door to the SEC title that seemed to close when Tennessee dropped a stunner at home against South Carolina midweek. The Lady Vols are strong overall against the 3-pointer (giving up shots at just a 25.8 percent clip), but both Notre Dame's Skylar Diggins (5 of 7) and South Carolina's Markeshia Garant (7 of 12) punished them recently. It was a high point in an otherwise decisive loss for Vanderbilt, but will Christina Foggie (5 of 12) be able to replicate her shooting from the team's first meeting?
Gonzaga at BYU (Thursday): Given Stanford's domination in the Pac-12, this might be the best conference game west of the Continental Divide this season. Or at least one half of the best home-and-home series. BYU bounced back from a surprise loss at Pepperdine on Feb. 2 to rout Saint Mary's on Saturday. That helped create a little breathing room between Gonzaga (10-1), BYU (9-2) and the rest of the conference. The Cougars get their next four games at home before a trip to Gonzaga to wrap up the regular season.
Fairfield at Marist (Friday): It likely won't be the case by the end of the night Monday, but Marist opens the week in the unfamiliar territory of second place in the MAAC, half a game behind Fairfield in advance of Friday's tilt (Marist could pull into a tie with a win when it hosts Saint Peter's on Monday). The Red Foxes dropped a 48-44 decision at Manhattan on Saturday, ending a 34-game regular-season conference winning streak.
December, 4, 2011
12/04/11
10:25
PM ET
Monday morning headline: Statements or suggestions?
Statement wins. They're not just for college football anymore! Thankfully, since the only subjective judgment used in basketball's postseason is between No. 64 and No. 65, not No. 2 and No. 3, style points from Sunday's games are nothing more than conversation fodder. But four games between ranked teams make for a lot of fodder.
Ranking the statements made:
1. Purdue beating Texas A&M: More on the Boilermakers in a minute.

2. Ohio State beating Oklahoma: A year is a long time to wait for a mulligan, but that's what Ohio State earned with a big win at Oklahoma. The Buckeyes beat the Sooners a year ago to improve to 7-0 and promptly lost four of their next five games, and six of their next nine, locking in the script for a team that was never as consistent or as good as you got the feeling it should have been with Jantel Lavender and Samantha Prahalis. The schedule through the end of the month is much kinder this time around, and after adding a victory in Norman to home wins against Temple, Florida State and LSU, it's once again tempting to believe this team has some long-range potential. Averaging a shade more than 21 points per game for the season, Tayler Hill averaged 24.5 points in those four signature wins. She also shot 48.2 percent in those games.
[+] Enlarge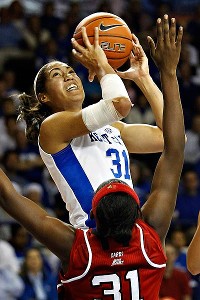 AP Photo/James CrispSamantha Drake shoots over Louisville's Asia Taylor in the Wildcats' 74-54 victory Sunday.
3. Kentucky beating Louisville: A'dia Mathies got the best of Shoni Schimmel in a battle of Bluegrass State guards (albeit one a transplant), and Kentucky's 74-54 win just about evened the score in the series after last season's 78-52 drubbing at the hands of Louisville. This one matters most because Kentucky's schedule was lighter than a helium balloon floating in the International Space Station coming into Sunday, making it tough to know what to think of life after Victoria Dunlap (and before Connecticut transfer Samarie Walker becomes eligible following the fall semester). The problem is Sunday seemed to prove Kentucky can turn people over and play hard for Matthew Mitchell, two things we already knew. If the Wildcats repeat the 3-point shooting (10-for-19) at Duke on Thursday, then we've got a statement.
4. Tennessee beating Texas: Don't get angry, Lady Vols Nation. You're only fourth because your team's elite credentials mean beating Texas is more taking care of business than making a statement. The rebounding (49-38) is what we expect. The 3-point shooting (11-for-21) can't be counted on every game, but it's nice to know it's there. The impressive part? Just nine turnovers. Against its three toughest opponents this season, Tennessee now has just 33 turnovers (including 13 against Miami and 11 against Baylor). Tennessee didn't play Miami a season ago, but if you substitute Louisville in its place, the Lady Vols had 58 turnovers in three similar games.
Best team weekend performance: Purdue. A season ago, Purdue lost a tough home game against Maryland in the ACC/Big Ten Challenge. It then lost its next two games at Notre Dame and Texas A&M. There's no shame in those defeats, but losing by 21 points in South Bend and a cringe-inducing 45 points in College Station pushed the Boilermakers completely out of the national conversation the rest of the way. Well, Purdue had ample reason to look at Thursday's loss at Duke as one that got away, a 40-39 lead with 11:58 to play vanishing in a game-ending 25-13 run by the Blue Devils. Purdue couldn't buy a shot, couldn't get a rebound and couldn't stop turning over the ball when it mattered.
So what did Sharon Versyp's team do three days later against the defending national champion? Turn a nine-point deficit with 15:39 to play into a 60-51 win. Purdue matched Texas A&M on the boards, getting 12 rebounds from Sam Ostarello, in addition to four steals and two blocks. Brittany Rayburn and Courtney Moses hit 5 of 10 shots from behind the arc and matched seven turnovers against a tough defense with seven assists.
It's a statement win all on its own. It's an even better one given what preceded it.

Best individual weekend performance: Chucky Jeffery, Colorado. The number of unbeaten teams is already dwindling toward single digits, with few real surprises amid names like Baylor, Connecticut, Delaware and Green Bay. One name that does jump out is Colorado, it of the 18-16 record last season. Playing a schedule that nobody will confuse with those favored by teams like Rutgers or Tennessee helps, and Sunday's 68-59 victory against Idaho might not rank high on the statement scale, but unbeaten is unbeaten. Jeffery ensured the Buffaloes still fit the category with 30 points and 10 rebounds against the Vandals. For the season, she's averaging 18.3 points. 9.4 rebounds and 4.1 assists while shooting 54 percent from the floor and 44 percent from the 3-point line, so, you know, expect to see her name here again at some point.

Best individual off-the-radar weekend performance: JaQuayla Berry, North Carolina A&T. It's never too early to start conference play. All right, it's ridiculously early to start conference play, but the MEAC is one of several leagues doing it anyway. Berry gets the nod here for filling up the stat sheet with 28 points, 14 rebounds, five assists and three steals in a game that mattered, North Carolina A&T's 84-74 win against North Carolina Central. Berry was third in the nation in steals per game last season.

Best mid-major team: Green Bay. The next mid-major top 10 isn't until next week, but consider this an unofficial change at the top. Gonzaga dropped a 58-51 decision against USC at home Sunday, while Green Bay completed a weekend that began with a win Friday against in-state rival Marquette and ended with a 74-67 victory over Northern Iowa on Sunday. Senior post Julie Wojta was at it again, with a double-double against Marquette and a career-best 26 points against Northern Iowa, but keep an eye on redshirt freshman Megan Lukan. Phoenix coaches last season compared Lukan to Celeste Hoewisch at the same point in her career (both redshirted their first season in Green Bay). Lukan had 12 points and three steals against Marquette and 13 points against Northern Iowa. Lukan is a keeper.
Setting up the week ahead (Monday-Friday)
Rutgers at Miami (Monday): Not a single Rutgers player averaged 30 minutes per game through the team's first eight contests, which is saying something for a program that recently seemed capable of using players for 30 minutes a half. It's early, and there have been a couple of bench-friendly wins against teams like Lehigh and La Salle, but will depth actually be an asset for the Scarlet Knights? Speaking of spreading the wealth, Miami's Morgan Stroman led the Hurricanes with 20 points in last week's win at Michigan State, the first time a player other than Shenise Johnson or Riquna Williams led them in scoring since Dec. 18, 2010 (Stroman against UC Riverside).
Texas A&M at Connecticut (ESPN2, 7 p.m. ET Tuesday): There's something about the Women's College Cup, college soccer's version of the Final Four, that doesn't sit well with the Aggies. Long the Big 12's flagship soccer team, Texas A&M has a strong claim to being the best program never to reach the signature event. And now for the second year in a row, Gary Blair's basketball team dropped its first game of the season over College Cup weekend. OK, maybe I've been around too much soccer this weekend. The Aggies bounced back from a loss at Duke last season with a big victory against Purdue in their next game. Now coming off a loss at Purdue, they need Sydney Carter and Adrienne Pratcher (combined 3-for-21 versus Purdue) to at least play Bria Hartley and Caroline Doty to a standstill to have a chance in Hartford in the Jimmy V Classic.
Duke at Kentucky (Thursday): Duke's Chelsea Gray is in the middle of any conversation about the weekend's best performance after going for 14 points, 13 assists, 11 rebounds and six steals (and just one turnover) in a 92-43 rout of Pittsburgh on Sunday. Now the challenge is to see how she and Chloe Wells hold up against the pressure Kentucky applies. This has all the makings of a game in which both teams approach 30 turnovers, but if Wells and Gray take care of the ball and get looks inside for Elizabeth Williams and at the 3-point line for Tricia Liston, look out. For the season, the Blue Devils are still running a positive assist-turnover ratio.
January, 3, 2011
01/03/11
11:32
AM ET
MONDAY
Dayton at Boston College: The toughest week of the season for Dayton begins in Boston. The Flyers play the Eagles on Monday in a game that could be delayed by overheating scoreboards before traveling to Cincinnati for their Atlantic 10 opener against in-state rival Xavier. The Flyers played 15 people in a 101-80 win against Harvard on Thursday, hitting triple digits for the third time this season. Boston College has scored at least 80 points in all but one game (not coincidentally, a loss at Michigan).
Richmond at Virginia: It's another nonconference test for an Atlantic 10 team, as Richmond puts a five-game winning streak on the line in Charlottesville. It's just the 16th meeting between the I-64 neighbors and the first since 2007, but it's a good chance for Spiders senior Brittani Shells (20.8 points per game) to grab some attention.
TUESDAY
Kentucky at Duke: Classes are still out at Duke, so Kentucky isn't likely to get the full force of the Cameron atmosphere. But the Wildcats can expect the full force of Duke's defense, which is more than enough to worry about for most visitors. Kentucky's Keyla Snowden led the Wildcats in scoring in back-to-back wins last week against Middle Tennessee and UT-Martin, hitting 9-of-16 shots from the 3-point line.
Syracuse at Georgetown: It's the first true road game of the season for Syracuse (yes, you read that right). The Orange's NCAA tournament hopes a season ago likely crashed on the rocks of conference losses at South Florida, Providence and Villanova, and this season's conference road slate is considerably more challenging.
St. John's at Louisville: Both teams are 1-0 in Big East play and both are also candidates for a top-four finish in the conference and the two days off that brings during the conference tournament. But with as many as 10 teams potentially also in that scrum, even early January games take on extra importance. St. John's leading scorer Shenneika Smith shot 20 percent (7-of-35) in her team's two losses and 46 percent in its 12 wins.
WEDNESDAY
Villanova at Connecticut: There are worse teams to welcome for a team looking to regain rhythm after a first loss in 91 games, but there aren't as many as you might think looking at Villanova's record. Playing the Wildcats and their deliberate style is an exercise in maintaining patience -- or at least sanity. Maya Moore has attempted just five free throws in 109 career minutes against Villanova, something she might be pointedly looking to change in the wake of the Stanford game.
Pittsburgh at Duquesne: The Pittsburgh derby shapes up as particularly compelling this season, with the Dukes rolling after last week's win at Ohio State and subsequent victories against Austin Peay and Ball State. In one of the season's statistical quirks, both of Duquesne's leading rebounders -- freshman Wumi Agunbiade and senior Samantha Pollino -- have more offensive rebounds than defensive rebounds.
Miami at Kent State: It's an early meaningful game in the MAC, and it's also a battle of two outstanding all-around guards in Miami's Courtney Osborn (18.9 points, 4.3 assists and 3.4 rebounds per game) and Kent State's Jamilah Humes (14.5 ppg, 4.5 apg, 3.4 rpg).
THURSDAY
Michigan at Purdue: Ohio State and Iowa are a combined 0-3 in league play, and Michigan is responsible for two of those results. After beating Ohio State for the first time in 15 tries on Dec. 30, the Wolverines turned around and won at Iowa on Sunday. Five Michigan players scored at least 15 points in one of the two games. A win at Purdue could make the weekend home game against arch rival Michigan State a showdown for first place.
Kentucky at Arkansas: Perhaps the Wildcats will have time to wave to Lexington as they head from Durham, N.C., to Fayetteville, Ark., to open SEC play. As for Arkansas, are five days enough to go from unbeaten to must-win? The Razorbacks made a statement with a victory against Oklahoma before Christmas but lost for the first time in their own conference opener at Florida on Sunday. They opened league play 0-6 last season and 0-4 two seasons ago.
Maryland at Duke:With Maryland coming off back-to-back quality wins against St. John's at home and Saint Joseph's on the road, this rivalry looks as enticing as it has in several seasons. The boards will be big. That Maryland is one of the nation's statistically dominant rebounding teams came into question after St. John's claimed an edge on the boards, but hang with the Blue Devils and any questions will be answered.
Idaho at Nevada (ESPNU, 11 p.m. ET): This isn't just about plugging company programming. Nevada is very much a team worth taking an afternoon nap to stay up and watch, with wins already against NC State, San Diego State, Illinois State and BYU. The win against the Cougars came Saturday without leading scorer Tahnee Robinson (22.7 ppg, 6.5 rpg), who the Reno Gazette-Journal reported missed the game because of a death in the family.
FRIDAY
Temple at Charlotte: The Atlantic 10 is much more than Xavier, much as the Musketeers carry the flag for the league in the national spotlight. And even if it's for second place, the race between these two teams, Duquesne, Saint Joseph's, Dayton, Richmond and St. Bonaventure is crowded and compelling.
Sacred Heart at Fairleigh Dickinson: Sacred Heart's Callan Taylor faces FDU's Mariyah Laury in a game between two of the Northeast Conference's three top scorers this season. Picked ninth in the league in the preseason, FDU is already 2-0 in NEC play.
December, 5, 2010
12/05/10
11:55
PM ET
WINSTON-SALEM, N.C. -- A blanket of snow outside kept the crowd inside Joel Coliseum to a bare minimum for Saturday's game between No. 13 Georgetown and host Wake Forest, but the library quiet just made it that much easier to hear a voice that could have been heard had the place filled to Tim Duncan-era capacity.
"Sugar, you've got to …"
Play basketball Mad Libs for the rest of the sentiment: defend, rebound, hustle. Pretty much any admonition you can think of, Georgetown assistant Keith Brown tacked it on to the end of a bellow directed squarely at Sugar Rodgers, the reigning Big East rookie of the year. And this was on a night when Rodgers led all scorers with 20 points on 6-of-10 shooting in a 64-49 win to help the Hoyas improve to 7-1.
Rodgers was an unqualified success story last season, averaging 17.6 points and setting a program record with 83 3-pointers. But with more college games ahead of her than behind, she remains a work in progress -- not altogether unlike the team around her, a team with the talent to beat Tennessee by 11 points the day after losing to Missouri by nine points. And neither Brown nor her head coach let her forget.
"She knows she has a lot of work because we tell her every day," Georgetown coach Terri Williams-Flournoy said. "We don't sugarcoat her at all."
Against Wake Forest, much of the positive, and otherwise, reinforcement came when Wake Forest had the ball. A key part of Georgetown's omnipresent pressure, Rodgers had 60 steals last season -- good but perhaps not as many as her talent indicates is possible in 30-plus minutes per game. And ballhawking, relatively speaking, is the easy part of playing defense for the Hoyas. Rodgers has a distinctive quick release on the offensive end, looking at times as though she starts her shooting motion while a pass is still en route. It's the slow grind of playing 30 seconds on the other end that takes time.
"She's the type of kid that you have to stay on top of because she is very good," Williams-Flournoy said. "Things do come easily for her, so she does have a tendency to get lazy and take breaks on the defensive end and pick it up on the offensive end. So we're trying to get her to understand that to be a full, rounded player, she's got to play both ends of the court."
Rodgers carries an undeniably heavy burden on the offensive end. She took roughly one-quarter of the team's field goal attempts last season, and she's on the same pace this season. As of the Wake Forest game, Monica McNutt is the only other Hoyas player averaging more than seven points per game. When the Hoyas need a big shot, as when Tennessee made its run late in that game when the teams met in the Virgin Islands around Thanksgiving, or as Georgetown overcame a sluggish start and a good effort from the Demon Deacons to claim the lead for good late in the first half of Saturday's game, it's Rodgers who is going to get the ball.
And as suggested by the final score in the Tennessee game, or the 26 wins last season, she's generally going to do something pretty special with it. But the Hoyas will have leads to protect, particularly as Big East play arrives, only if the defense earns them by wearing down opponents and taking away the ball.
"To be honest with you, we have to turn teams over because we can't rebound," Williams-Flournoy said. "That's almost like our only defense to not getting any rebounds; we've got to turn them over. I think we've gotten outrebounded every game, but we're 7-1. Maybe we outrebounded Augusta State. Maybe."
They did get the best of Augusta State, as well as La Salle, on the boards, but it's easy to see where she's coming from. Georgetown has quality wins over Maryland, Georgia Tech, Tennessee, Richmond and Wake Forest despite losing the battle of the boards in all five games. What the Hoyas have is 98 steals and 197 turnovers forced in eight games, including 15 steals and 29 turnovers forced in the win over Tennessee, assuredly one of the biggest in program history. If Rodgers is as big a part of that as she is the offense, Georgetown will be an intriguing team come March.
And so even on snowy nights on the road in December, when it's quiet enough to hear the sound of the net as one of Rodgers' shots rips through it, Williams-Flournoy, Brown and the rest of the coaching staff will keep the volume dialed up on making their best player even better.
"She's got to play defense constantly, all the time, because that's what we do," Williams-Flournoy said. "Our defense dictates our offense. It does not work the other way."
Three things that caught my eye
1. The battle for Kentucky is on. Texas has the edge when it comes to in-state rivalries this season, with Baylor and Texas A&M fighting for space in the top 10 and the Longhorns angling to make a move, but put the state of Kentucky squarely in the conversation for No. 2 on that list. Getting a signature win to go with respectable losses against Tennessee and at Xavier and Old Dominion, Louisville handled No. 9 Kentucky with surprising ease in a 78-52 victory Sunday. Freshman Shoni Schimmel scored 26 for the Cardinals and, despite eight turnovers, is playing remarkably efficient basketball for a freshman (shooting 47.2 percent from the floor and 39.7 percent from the 3-point line to go with a 1.5 assist-to-turnover ratio). The domino effect is Becky Burke can return to the shooter's role she thrived in alongside Angel McCoughtry -- and in scoring 21 points on 6-of-12 shooting from behind the arc against Kentucky.
As long as Jeff Walz and Matthew Mitchell are on the sidelines, the battle for state supremacy is one worth watching.
2. Unbeaten, untied and unproven describes more than a few teams. We're coming up on the end of the first month of games, and there are still 16 unbeaten teams, including seven that weren't ranked in last week's Top 25. Among that latter group is Oklahoma State, which followed a supremely soft opening stretch with quality wins over New Mexico, Arkansas-Little Rock and, most recently, Wisconsin on Sunday. None of the three wins came easy, and it's a long Big 12 road ahead, but it's still an accomplishment for a team that lost 43.4 points, 10.7 rebounds, 7.1 assists and three steals per game with the departures of Andrea Riley and Tegan Cunningham.
Fellow unbeaten Arkansas also took a step toward legitimizing a fast start against a modest schedule with 65-54 win at Utah on Saturday, following a win at UTEP over Thanksgiving weekend and against Middle Tennessee earlier this season. After suffering through a bit of a sophomore slump, at least statistically, C'eira Ricketts seems to be closer to the form that earned her a share of SEC freshman of the year honors two seasons ago.
3. North Dakota State earned a big win. North Dakota State lost by 18 points at home and 25 points on the road against its rival to the south last season, seemingly an indication of how far ahead the Jackrabbits had surged as the two programs make their way in the Division I world. So full points to the Bison for ending a 10-game losing streak against the Jackrabbits with a 78-71 win on the road in Brookings, S.D. Hannah Linz scored 12 points for North Dakota State, which is almost certainly 12 more points than anyone else diagnosed with Hodgkin's lymphoma in April scored this past weekend.
The week ahead
Monday: Having spent the weekend in the Triangle, I can attest that it will be frigid in Durham on Monday night. But hopefully the lure of No. 5 Duke versus No. 7 Texas A&M (ESPN2, 7 p.m. ET) will bring the students out and make Cameron the hot, noisy place of basketball lore. This is a big stage for Aggies guard Sydney Carter, who has been tremendous taking care of the basketball (27 assists, eight turnovers) with Sydney Colson limited. Can Carter keep things running against all the pressure Jasmine Thomas and the Blue Devils will apply? … No. 21 Green Bay can't overlook a road trip to Eastern Michigan, which has a good pair of guards in Tavelyn James and Cassie Schrock and gave Ohio State a bit of a game earlier this season.
Tuesday: Speaking of Georgetown and Rodgers, they get another ACC test with a trip to Miami. The Hurricanes missed an opportunity to make a statement early against Nebraska, but they've rolled through some more modest competition in recent weeks. Riquna Williams had significantly more turnovers than assists last season, but she's working with about a three-to-one assist-to-turnover ratio so far this season. … It's never too early for a conference game, as DePaul and Pitt get their Big East schedules under way in Pittsburgh. The Blue Demons have been shooting the lights out (37.4 percent from the 3-point line), taking care of the ball and scoring at an Oregon football-like clip, so a conference road game should be a good measuring stick.
Wednesday: Nebraska doesn't get an easy game as it attempts to bounce back from Sunday's surprising loss to Indiana. The Huskers visit in-state foe Creighton. … Cal State Bakersfield has dropped three of its past four games to fall to 7-3, but give the Roadrunners credit for playing up with their schedule, beating San Diego State and Oregon this season. Fresno State's visit is a rare chance to get a big game at home. (Bakersfield also will play Dayton at home three days before Christmas.) Albany transfer Britney McGee has an interesting line so far for Bakersfield, averaging 7.5 3-point attempts per game but also 5.8 rebounds.
Thursday: Iowa consistently produces some good players, but you're not talking about the Lake Baikal of recruiting. Which is another way of saying it's nice to have bragging rights when Iowa (six Iowa natives on the roster) and Iowa State (five Iowa natives) meet. Iowa showed some resolve in bouncing back from a tough loss at North Carolina to beat Kansas State three days later. Lauren Mansfield, the Cyclones' latest Aussie import, is shooting 47.6 percent (10-of-21) from the 3-point line and 30 percent from inside the arc -- not to mention seven assists per game. … Xavier again proves it will go anywhere and play anyone with a trip to Murfreesboro, Tenn., to play Middle Tennessee (ESPN3.com, 8 p.m. ET). The Blue Raiders have hit 48 3-pointers in seven games, and the starting trio of Anne Marie Lanning, Tina Stewart and Kortni Jones has 46 of them.
Friday: It might not fall under the marquee heading, but Oakland visits Toledo in a nonconference tilt between teams likely to be in the mix for their respective automatic NCAA bids.
March, 23, 2010
03/23/10
12:07
AM ET
LOUISVILLE, Ky. -- The pressure of the moment didn't get to No. 4 seed Kentucky in Monday's 70-52 win against fifth-seeded Michigan State in the second round of the NCAA tournament.
Pressure, in fact, got the Wildcats to a regional semifinal for the first time since 1982.
It was appropriate that what had once been a back-and-forth affair in the first half ended with the Wildcats taking what amounted to an extended victory lap in front of a decidedly partisan blue-clad crowd at Freedom Hall, already abandoned by former tenant Louisville. Appropriate because the Wildcats play a game better suited for the Kentucky Motor Speedway. Strong, fast and powerful.
[+] Enlarge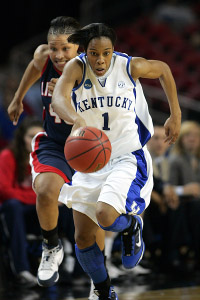 Mark Zerof/US PresswireKentucky freshman A'dia Mathies was a terror in the Wildcats' second round win.
"Give them a lot of credit; I think the way they play, their style lends itself to being pretty physical, gets you to play a little bit faster than what you want to," Michigan State coach Suzy Merchant lamented, perhaps in reference to a decided foul disparity in favor of the Wildcats but also in recognition of their strengths. "There was a period of time when I thought we were handling it; then, we got a little fatigued and things kind of melted down a little bit."
Kentucky got the games it needed from stars Victoria Dunlap and A'dia Mathies, two players without whom the Wildcats weren't going anywhere this season or this tournament. Dunlap, the SEC Player of the Year, finished with 21 points, eight rebounds and momentum-building defensive plays. Mathies couldn't match the point production of her tournament debut, but the freshman had eight points, six rebounds, five assists, four steals and two blocks.
It was also only fair that Amber Smith was the most visible part of the victory lap, matching her 19 first-half minutes with 19 more in the second half.
"I've always said that Amber starts it all," Kentucky coach Matthew Mitchell said. "Defensively, she picks the ball up, the pressure starts there. And we're all about trying to speed a team up, trying to make it difficult for you to operate, and so if we don't have tremendous pressure to start the defense, it doesn't work. So she starts that, and then we've worked extremely hard on where she needs to be when we get the rebound, and she does that really, really well. Point guard's an important position and she did a good job tonight."
Smith scored just six points and hit just one of her eight shots from the floor, that one coming on an uncontested break ahead of the pack with the game out of reach. But it was as impressive a 1-for-8 night as you're likely to see in the postseason. From the opening tip, she harassed Michigan State's guards like a little sister on a long car ride who finds new ways to annoy in sticking only to the literal definition of not touching her siblings. She sprinted end to end time and again, shadowing, bothering, tiring the Spartans.
She ran full speed into a pick by Aisha Jefferson like a race car blowing a tire in the corner and plowing into the wall, picked herself up and barely a minute later threw her body into the paint and pulled a ball away from Cetera Washington for one of the half-dozen unofficial steals that went with the three that showed up on the stat sheet.
"My role is to bring energy and just to get my teammates involved and to get after it on defense and make it really hard for their point guard to get them in their offense," Smith said. "It's just to bring a lot of energy and a lot of effort."
That's why she's as much an embodiment of this Kentucky team's identity as her higher-profile teammates, and it's what was missing when the Wildcats struggled against a game Liberty team in the first round. Mathies earned the headlines in that one with 32 points, but Mitchell singled out Smith for at least mild criticism after the win, suggesting without anyone bringing her name up specifically that she didn't have one of her best games and that he expected more out of her Monday night.
Message received.
"I just thought she played a lot better," Mitchell said. "And the thing I was telling her was as you progress in the tournament and play a tougher team, she really needed to step up and play. I think she knew that. We didn't talk a whole lot about it. She's a veteran player; she understands how important she is to the team, and she answered the bell. We clearly could not have won the game the way we did if she hadn't pushed the tempo and applied the pressure. She was huge tonight."
And when Kentucky's defense has its leader, it's a sight to behold.
Michigan State committed only 18 turnovers, five fewer than Kentucky had forced per game entering the night. At times, especially from the first media timeout of the game through halftime, guards Brittney Thomas and Jasmine Thomas did an outstanding job of absorbing the pressure and keeping the Spartans from falling into a frenetic pace. But as they and their teammates slowed down in the second half, the game sped up. It didn't lead to turnovers in every instance, but it led to plenty of forced shots, missed opportunities and tied legs on defense.
Kentucky guard Rebecca Gray may only be a sophomore, but she still has a unique perspective on pressure defense, having played a season in Sylvia Hatchell's 1-3-1 zone pressure at North Carolina before transferring back to her home state to play in Mitchell's man-to-man madness. To her way of thinking, Kentucky's style takes an even greater toll on opponents, physically and mentally, and the look they saw in the eyes of the Spartans in the second half was familiar.
"We just devoted ourselves to getting into condition and committed to everything we could to make sure we got to this point," Gray said of the team's offseason work. "And you saw today, physically, we were the better team and we just lasted as long as we could. And we saw them wearing down and it just made you feel good, like all the hard work paid off."
Fast, aggressive, and as Merchant noted, physical, the Wildcats looked anything but the product of a down year for the SEC in beating Michigan State. They are a heavyweight on their own merits, even if they look like they qualify for a lesser weight class.
"I've heard some coaches in our league say that it doesn't translate from the film quite the same as it is live," Mitchell said of the team's physical defense. "We're just such a small team that I just think it's easy for you to see that and just naturally think we're not going to be that tough. These kids are not very tall, but they are strong."
And with Smith and her mates, that means the pressure is on the other team.
March, 21, 2010
03/21/10
8:44
PM ET
LOUISVILLE, Ky. -- The differences likely to define Monday's second-round game between No. 4 seed Kentucky and No. 5 seed Michigan State are about as subtle as the differences in accents between Kentucky coach Matthew Mitchell's drawl and Michigan State coach Suzy Merchant's Midwestern vowels.
In other words, you don't need to be John Wooden to spot the battleground.
Michigan State is big, most notably in the form of 6-foot-9 Allyssa DeHaan, but more tellingly in the big frames the Spartans deploy across the court. Seemingly the whole roster is about 6-1 and solid. The Spartans are a good, if perhaps not great, rebounding team. And more than that, they excel when fans start to notice the shot clock and opponents start to notice the toll cutting through the middle or bodying up on defense is taking.
Kentucky can't claim similar size. Liberty entered the NCAA tournament as the nation's leader in rebounding margin, but it was still striking to see the Flames come away from their first-round game against the Wildcats with a 38-26 edge on the boards. It's not a perfect measure, but if Lykendra Johnson, Aisha Jefferson, Lauren Aitch and even DeHaan start piling up rebounds, it could be an indication of bigger problems for Kentucky.
"I was disappointed in the rebounding," Mitchell said after his team advanced behind 32 points from freshman A'dia Mathies. "It is something that you're trying to get prepared for going into the game. That was an area of strength for them. It's been at times for us an Achilles' heel of sorts, and then we've had some performances when we were able to rebound."
But if the Spartans are to make use of the glass, particularly on the offensive end, they first have to get the ball to the basket. Kentucky makes up for what second chances its opponents get and it doesn't by denying teams first chances on a lot of possessions. Mitchell's team ranked 14th nationally in steals and forces better than 20 turnovers per game. The Spartans take reasonably good care of the basketball, but Monday will be a whole new challenge for everyone, particularly Brittney Thomas, who leads her team in both assists and minutes per game.
Bowling Green isn't Kentucky defensively, but Thomas and Michigan State's guards were stellar in that regard in the first round. How they contend with Amber Smith and the forefront of the Wildcats' pressure will be telling.