Stanford returns core group of veterans
February, 6, 2010
02/06/10
4:55
PM ET
With the season's opening games less than two weeks away, it's time to take a quick tour -- two by two this year -- through some of the best teams out there.
No. 9 Stanford
It's not easy to fly under the radar as a freshman at Stanford. Last year brought the collegiate debut of Ashley Hansen, the only high schooler invited to the Team USA selection camp in 2008. That might seem like hard hype to top, but Kelsey and Teagan Gerhart, two of Toby's little sisters, will keep the family name alive and well as older brother moves on to the NFL.
Teagan, in particular, holds special interest as a pitcher for a team with two of the best all-around players in the sport in Hansen and Alissa Haber and returning starters at a total of seven positions -- but which must replace Missy Penna in the circle. It's also worth noting that as long a shadow as Penna cast, junior Ashley Chinn would likely move into fifth all time in strikeouts at Stanford just by duplicating her first two seasons -- and she's likely to pitch significantly more than that.
No. 10 Georgia Tech
[+] Enlarge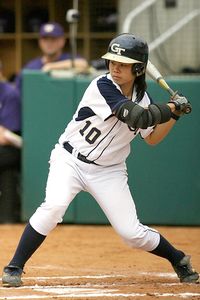 Jerry Pillarelli/Georgia Tech AthleticsExpect a big season from Georgia Tech second baseman Jen Yee.
Like any upwardly mobile program looking to prove its staying power among the sport's elite, Georgia Tech must show it can replace the attrition of graduation without skipping a beat. Gone from the team that reached the program's first super regional are Whitney Haller, the ACC's all-time RBIs leader, as well as key contributors Tiffany Johnson and Blair Shimandle.
But not every lineup change from the final game a season ago against Washington is a potential problem. If the Yellow Jackets enter this season with some question marks, one of them must come as the punctuation to asking if there is a better middle infield anywhere in the country.
Absent during last season's NCAA tournament, Kelsi Weseman is ready to rejoin second baseman Jen Yee in the heart of the order and the middle of the diamond.
Weseman didn't play in the super regional against Washington or in the regional the Yellow Jackets won after she broke her arm in the seventh inning of the ACC title game against Florida State. Those games notwithstanding. she ranked third in the ACC in batting average, fourth in slugging percentage and second in on-base percentage (trailing Yee in all three categories).
Only three freshmen nationally posted better slugging percentages: Northwestern's Adrienne Monka, New Mexico State's Tiare Jennings and Radford's Leigh Godfrey.
"She's a hard worker," Perkins said of the soft-spoken sophomore. "She came a long way on range and her arm strength and even with her bat. I mean, I didn't know she was going to be on fire with her bat. She grew up playing baseball, and usually kids that payed baseball at a young age, they end up being successful hitting for softball. ... But I didn't know she'd be that great. I thought she'd be solid for us on defense, and that's what we needed. We wanted her to come in there and play for four years, and lucky for us, I think that's what is going to happen. But you don't really see that she is going to have that much success. We play a tough schedule; we play a competitive schedule. And to have her succeed is pretty awesome."
Georgia Tech has plenty of familiar faces from its national exposure in super regionals, including standouts Yee, pitcher and third baseman Kristen Adkins and outfielder Christy Jones. It also adds some new faces of note, including freshman pitcher Hope Rush and Florida transfer Kristine Priebe. But if Weseman, who resumed defensive work in the fall and hitting this winter, comes through again, it will be one very big answer.
"I think people, since she was a freshman, they kept just trying to take their chances with her and not with [Yee and Haller]," Perkins said. "So it will be interesting to see what happens this year. I think some people will pitch around her and maybe try to find a weakness this year, but I know she's also been working really hard on maybe some things she struggled with last year."
Graham Hays covers softball for ESPN.com. E-mail him at Graham.Hays@espn3.com.