O Canada
March, 22, 2010
03/22/10
12:22
AM ET
They won't play the Canadian anthem at Freedom Hall in Louisville before Monday's second-round game between No. 4 seed Kentucky and fifth-seeded Michigan State, but with Ontario native Kalisha Keane lined up alongside her Spartans teammates, it wouldn't be without receptive ears.
Just as they could play it before Dayton's Kendel Ross takes the court against Tennessee. Or when Vermont starters Courtnay Pilypaitis, May Kotsopoulos, Kendra Seto and three of their teammates play Notre Dame. Or as they could have when Keane's sister, Tamika, faced Notre Dame in the first round. (With Canadian Natalie Achonwa among the headliners of the Irish's recruiting class, South Bend might want the practice.)
[+] Enlarge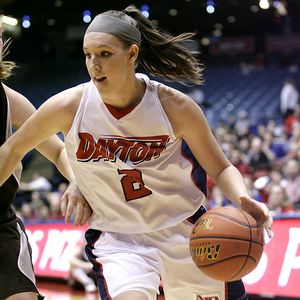 Tim G. Zechar/Icon SMIDayton's Kendel Ross is one of many proud Canadians making their presence felt in the NCAA tournament.
Or when Gonzaga's Janelle Bekkering and Nebraska's Harleen Sidhu and Kaitlin Burke play their respective second-round games.
Look around the rosters in the NCAA, and it starts to feel like a Canadian invasion that you don't need the late John Candy to sell. They're here, and they aren't trying to blend in.
"I definitely feel Canadian," Ross said earlier this season with an appropriately Canadian mix of chagrinned pride. "I don't let people forget it either. I have the Canadian hat, scarf, mitts on. I'm very proud of where I'm from."
And as most of the above players have already demonstrated, they can take over the tournament as well.
Dayton's second-leading scorer this season, Ross not only helped the Flyers reach the NCAA tournament for the first time but helped them in their memorable comeback win against TCU in the first round with team highs of 17 points and 11 rebounds. Pilypaitis and Kotsopoulos combined for 39 points, 12 rebounds and six assists to finally get underdogs in the win column in No. 10 Vermont's mild seed-line upset of No. 7 Wisconsin.
And while Keane didn't have her best day against Bowling Green in the first round, Michigan State's leading scorer could be a key figure against Kentucky in the second round.
"I think those Canadian kids just have a sense of maturity about them, too, and just such a high basketball IQ, too," Michigan State coach Suzy Merchant said. "They just get it. They play in such a way, and they play so many games up there compared to what we can do in the States. Most of our [high school] kids are like 20-2 at the end of their season and [the Canadians] are like 45-15. They just play so many more games than we do, and I think that, over time, gives them that sense of experience and wealth of knowledge."
They also stick together, particularly those from the relative provincial basketball hotbeds of Ontario and British Columbia. In the days leading up to Sunday's game against the Catamounts, Pilypaitis reached out to Keane via the Web for a scouting report on the Big Ten's Badgers.
Of course, even Canadians have their shameful secrets.
"I can't skate; I still can't to this day," Ross admitted. "I took it for five years, and I can't do it. For some reason. I'm not coordinated or balanced enough to do it. So I was thrown into a basketball league, and that's just kind of the direction I took."
The direction turned out to be south across the border.