Pressure the key as Kentucky advances
March, 23, 2010
03/23/10
12:07
AM ET
LOUISVILLE, Ky. -- The pressure of the moment didn't get to No. 4 seed Kentucky in Monday's 70-52 win against fifth-seeded Michigan State in the second round of the NCAA tournament.
Pressure, in fact, got the Wildcats to a regional semifinal for the first time since 1982.
It was appropriate that what had once been a back-and-forth affair in the first half ended with the Wildcats taking what amounted to an extended victory lap in front of a decidedly partisan blue-clad crowd at Freedom Hall, already abandoned by former tenant Louisville. Appropriate because the Wildcats play a game better suited for the Kentucky Motor Speedway. Strong, fast and powerful.
[+] Enlarge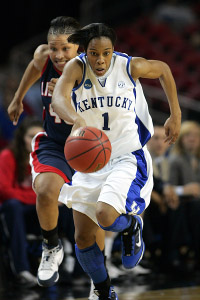 Mark Zerof/US PresswireKentucky freshman A'dia Mathies was a terror in the Wildcats' second round win.
"Give them a lot of credit; I think the way they play, their style lends itself to being pretty physical, gets you to play a little bit faster than what you want to," Michigan State coach Suzy Merchant lamented, perhaps in reference to a decided foul disparity in favor of the Wildcats but also in recognition of their strengths. "There was a period of time when I thought we were handling it; then, we got a little fatigued and things kind of melted down a little bit."
Kentucky got the games it needed from stars Victoria Dunlap and A'dia Mathies, two players without whom the Wildcats weren't going anywhere this season or this tournament. Dunlap, the SEC Player of the Year, finished with 21 points, eight rebounds and momentum-building defensive plays. Mathies couldn't match the point production of her tournament debut, but the freshman had eight points, six rebounds, five assists, four steals and two blocks.
It was also only fair that Amber Smith was the most visible part of the victory lap, matching her 19 first-half minutes with 19 more in the second half.
"I've always said that Amber starts it all," Kentucky coach Matthew Mitchell said. "Defensively, she picks the ball up, the pressure starts there. And we're all about trying to speed a team up, trying to make it difficult for you to operate, and so if we don't have tremendous pressure to start the defense, it doesn't work. So she starts that, and then we've worked extremely hard on where she needs to be when we get the rebound, and she does that really, really well. Point guard's an important position and she did a good job tonight."
Smith scored just six points and hit just one of her eight shots from the floor, that one coming on an uncontested break ahead of the pack with the game out of reach. But it was as impressive a 1-for-8 night as you're likely to see in the postseason. From the opening tip, she harassed Michigan State's guards like a little sister on a long car ride who finds new ways to annoy in sticking only to the literal definition of not touching her siblings. She sprinted end to end time and again, shadowing, bothering, tiring the Spartans.
She ran full speed into a pick by Aisha Jefferson like a race car blowing a tire in the corner and plowing into the wall, picked herself up and barely a minute later threw her body into the paint and pulled a ball away from Cetera Washington for one of the half-dozen unofficial steals that went with the three that showed up on the stat sheet.
"My role is to bring energy and just to get my teammates involved and to get after it on defense and make it really hard for their point guard to get them in their offense," Smith said. "It's just to bring a lot of energy and a lot of effort."
That's why she's as much an embodiment of this Kentucky team's identity as her higher-profile teammates, and it's what was missing when the Wildcats struggled against a game Liberty team in the first round. Mathies earned the headlines in that one with 32 points, but Mitchell singled out Smith for at least mild criticism after the win, suggesting without anyone bringing her name up specifically that she didn't have one of her best games and that he expected more out of her Monday night.
Message received.
"I just thought she played a lot better," Mitchell said. "And the thing I was telling her was as you progress in the tournament and play a tougher team, she really needed to step up and play. I think she knew that. We didn't talk a whole lot about it. She's a veteran player; she understands how important she is to the team, and she answered the bell. We clearly could not have won the game the way we did if she hadn't pushed the tempo and applied the pressure. She was huge tonight."
And when Kentucky's defense has its leader, it's a sight to behold.
Michigan State committed only 18 turnovers, five fewer than Kentucky had forced per game entering the night. At times, especially from the first media timeout of the game through halftime, guards Brittney Thomas and Jasmine Thomas did an outstanding job of absorbing the pressure and keeping the Spartans from falling into a frenetic pace. But as they and their teammates slowed down in the second half, the game sped up. It didn't lead to turnovers in every instance, but it led to plenty of forced shots, missed opportunities and tied legs on defense.
Kentucky guard Rebecca Gray may only be a sophomore, but she still has a unique perspective on pressure defense, having played a season in Sylvia Hatchell's 1-3-1 zone pressure at North Carolina before transferring back to her home state to play in Mitchell's man-to-man madness. To her way of thinking, Kentucky's style takes an even greater toll on opponents, physically and mentally, and the look they saw in the eyes of the Spartans in the second half was familiar.
"We just devoted ourselves to getting into condition and committed to everything we could to make sure we got to this point," Gray said of the team's offseason work. "And you saw today, physically, we were the better team and we just lasted as long as we could. And we saw them wearing down and it just made you feel good, like all the hard work paid off."
Fast, aggressive, and as Merchant noted, physical, the Wildcats looked anything but the product of a down year for the SEC in beating Michigan State. They are a heavyweight on their own merits, even if they look like they qualify for a lesser weight class.
"I've heard some coaches in our league say that it doesn't translate from the film quite the same as it is live," Mitchell said of the team's physical defense. "We're just such a small team that I just think it's easy for you to see that and just naturally think we're not going to be that tough. These kids are not very tall, but they are strong."
And with Smith and her mates, that means the pressure is on the other team.