Moore's treys only add to UConn's arsenal
March, 28, 2010
03/28/10
1:49
PM ET
DAYTON, Ohio -- All you really needed to know about Sunday's game between top-seeded Connecticut and fourth-seeded Iowa State was a halftime score.
[+] Enlarge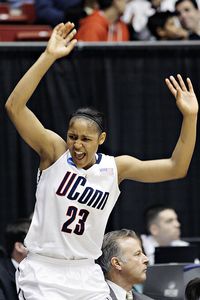 AP Photo/Al BehrmanMaya Moore hit all four of her 3-point attempts in the first half, outscoring Iowa State 16-14 at the break all by herself.
Not the actual halftime score displayed at University of Dayton Arena, mind you, but a tally that told its own tale.
Maya Moore 16, Iowa State 14.
And Moore sat and watched from the bench with two fouls for the final 10 minutes, 36 seconds of the half.
The details ended up typically lopsided by the final buzzer. Connecticut advanced with a 74-36 win, its 34th victory this season by 20 or more points, and awaits the winner of Sunday's second game between No. 3 seed Florida State and No. 7 seed Mississippi State. Moore led the way for the Huskies with 25 points, never picking up a third foul after the break and matching a career high for points in the NCAA tournament.
But as much as any Connecticut game ever comes down to one or two things, the game essentially turned on -- or at least was summed up by -- what Moore did in those opening 10 minutes and what her teammates did on defense after she went out with her second foul.
Like a true heavyweight champ, the Huskies put the Cyclones on the ropes and then put them down for the count.
If there is an area in which Connecticut is at least merely one of several teams in the upper tier, rather than in a tier all its own, it's 3-point shooting. The Huskies entered Sunday's game ranked No. 55 in the nation in 3-point accuracy, third among the four teams in Dayton. It was Iowa State that entered with the shooting profile, ranked fifth nationally in accuracy and 11th in prolificness.
But Moore found herself with room to shoot after the Huskies made all of one pass against Iowa State's zone on their second possession and drained a 3-pointer to open the scoring. Then she hit another 38 seconds later when a defender was slow to step to the corner. Two more followed before she came out of the game. Four attempts, four makes -- and that after hitting all four of her 3-point attempts in the second round against Temple. She finally missed a 3-pointer midway through the second half but finished 5-of-7 from behind the arc for the day.
In her final five games of Big East play and the conference tournament -- four games against NCAA tournament teams and another against Syracuse -- Moore shot just 4-for-25 from the arc, and the Huskies as a whole shot 28 percent from long range. They still won all those games with varying degrees of ease. But when Moore and the Huskies open things up from outside -- Kelly Faris added a career-best four 3-pointers one game after hitting all three of her attempts against Temple -- they are that much better than whatever "normal" is for a team on a 75-0 run.
And as if realizing the stage was open when Moore went out, the Huskies spent the final 10 minutes of the half showing why the points they score are always only half the story.
With one of the Huskies' two All-Americans, and UConn's hottest hand in this game, on the bench in foul trouble, Iowa State scored four points in more than 10 minutes of basketball. A Cyclones team that led the Big 12 in rebounding margin managed just three offensive rebounds in the half. It hit 6 of 26 shots from the floor and would have forced someone on the staff to make a run to the drugstore for some triple-A's if the shot-clock buzzer had been battery-operated. For the game, Iowa State managed just 15-of-53 shooting overall and 6-of-25 shooting from the 3-point line.
Iowa State was a beaten team in the second half, with its effort still there but almost any semblance of confidence or cohesion long since abandoned. With Moore and without, the Huskies simply were better.