Opening weekend observations
November, 14, 2010
11/14/10
11:28
PM ET
How much of a difference is there between reloading and rebuilding? Judging by the events at the Devaney Center in Lincoln, Neb., on Saturday afternoon, there's at least 57 points' worth of difference. A meeting of two programs facing very similar challenges entering the season offered two very different conclusions as Nebraska opened its season with a record-breaking 95-38 win against Vermont.
[+] Enlarge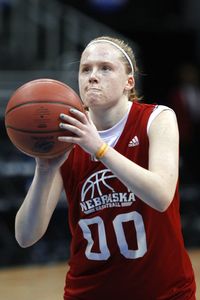 AP Photo/Ed ZurgaSophomore Lindsey Moore hit a career-high five 3-pointers as Nebraska nailed a school-record 17 treys to beat Vermont 95-38 Saturday.
Nebraska averaged 77.4 points last season, good for 10th in the nation as it claimed a No. 1 seed in the NCAA tournament. But it lost 44.4 of those points per game in the forms of starters Kelsey Griffin, Cory Montgomery and Yvonne Turner (not to mention a few more from three other seniors). Not that Vermont likely offered much in the way of sympathy. The Catamounts didn't just lose five starters -- including program cornerstones Courtney Pilypaitis and May Kotsopoulos to graduation and promising freshman Kendra Seto to transfer -- but their coach as well, when Sharon Dawley took the job at Massachusetts.
So for new Vermont coach Lori Gear McBride, the task is most definitely to rebuild from the ground up. For Nebraska coach Connie Yori, the ground remains a long way down.
The Huskers hit a school-record 17 3-pointers on Saturday, besting the old record by five. Point guard Lindsey Moore, who hit 24 3-pointers on 28.9 percent shooting during an otherwise stellar freshman season in 2009-10, knocked down five in the opener. Junior Kaitlyn Burke, who played in just six games before taking a redshirt last season, hit all four of her 3-point attempts. And freshman Jordan Hooper, showing no shyness in her collegiate debut, hit three of her seven attempts from behind the line. Nebraska isn't going to do that every game, but it says something that the Huskers have the personnel to do it in even one game.
Moore, Burke and Dominique Kelley (a rare cold hand from outside against Vermont who still scored 13 points) make for a nice backcourt foundation. A highly decorated prep forward in the state, Hooper is an athletic presence at forward whose potential, at least, is not altogether unlike a certain former All-American -- only with more range. And in 6-foot-3 Catheryn Redmon and 6-4 Jessica Periago, there is size and skill inside.
Even if Saturday was an outlier, that doesn't seem like the core of a rebuilding effort.
There is a sense that Nebraska's No. 23 preseason ranking is a remnant of last season's success, a final tribute to what the team was, rather than what it is. And maybe if Nebraska wasn't the reigning conference champion, this particular collection of talent might not draw the early attention of voters. But at least on first glance, it's a group that has the potential to earn its own plaudits down the road.
Of course, a good first day doesn't guarantee much over the course of a season. Two years ago, Nebraska opened its campaign with a 96-47 win against Weber State, a game in which the Huskers knocked down a program record 12 3-pointers. Without Griffin, who missed the entire season because of injuries, they finished the season with a first-round WNIT loss and a 15-16 record.
Four things that caught my eye
[+] Enlarge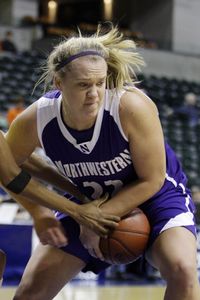 AP Photo/Michael ConroyAmy Jaeschke has been one of the Big Ten's best posts for a while, and dropped 28 points on LSU on Sunday.
Northwestern could be ready to make a move. All Joe McKeown needed was a little time. Of course, inheriting a 6-5 center with All-American skills didn't hurt. The Wildcats got the season started in a big way with a 71-62 win against LSU (on the heels of a 66-37 win against Dartmouth in the actual opener). Senior center Amy Jaeschke had 28 points and four blocks against the Tigers, while junior forward Brittany Orban did some of the dirty work with 18 points and 17 rebounds. With a skilled point guard running things in Beth Marshall, Northwestern has potential to make some noise.
Illinois State made a statement. Former Redbirds coach Robin Pingeton got her tenure at Missouri off on the right foot with a win against Memphis, but took the first loss of a major rebuilding effort against Eastern Illinois on Sunday. The news was better for her old team. Minus its old coach and three starters from last season's WNIT semifinals team, Illinois State knocked off Illinois on the Big Ten team's court to open the Stephanie Glance era. The Redbirds did it despite attempting just five 3-pointers, getting to the free throw line 30 times and beating the Illini on the boards. Next up for the Redbirds? Eastern Illinois. Well, that shouldn't lead to any comparisons or anything.
Oklahoma has some big question marks in the post, and that's not a bad thing. Always willing to go on the road and take on a challenge, Oklahoma struggled for the first 30 minutes of its opener at Milwaukee but rode Danielle Robinson's near triple-double (20 points, 11 assists, 8 steals) to a comfortable win. The win had its rough spots, including a modest 31-28 rebounding edge against the undersized Horizon League team, but while the Sooners look like a perimeter-oriented squad, they showed potential inside with sophomore Joanna McFarland and junior-college transfer Jelena Cerina, among others on a crowded bench.
Justine Raterman is really good. Ohio State All-American Jantel Lavender put up 37 points against Temple (and 26 points, 9 rebounds and 7 assists against Eastern Michigan), Connecticut's Tiffany Hayes went for 32 against Holy Cross and Meighan Simmons put up 22 in her Tennessee debut. There were plenty of great individual performances over the weekend, but few were better than Justine Raterman's run against Penn State. Dayton dropped a 112-107 double-overtime decision, but Raterman went for 32 points and nine rebounds in 44 minutes -- a marathon effort under any circumstance and positively amazing given Dayton's rotation. That Flyers coach Jim Jabir wanted and/or needed her on the court that much tells you plenty about the game she had and the player she is.
The week ahead
Monday: No. 5 Duke hosting USC ranks as the highlight. The Women of Troy opened the season with a 79-73 win against Gonzaga in which Michael Cooper's team shot 63 percent in the second half. But against Duke's pressure, USC needs to improve on 25 turnovers in its opener. … Other highlights include No. 14 Florida State visiting Auburn after Seminoles freshman Natasha Howard debuted with 20 points and seven rebounds against Alabama State and No. 6 Xavier visiting Michigan. … Outside the rankings, Toledo's Naama Shafir (20 points, 6 assists versus St. Francis) gets a big WNIT stage at Purdue.
Tuesday: The showdown in Hartford isn't the only game of note on the schedule, even if it's the only one likely to make "SportsCenter." In addition to Connecticut-Baylor, No. 13 Georgetown hosts Maryland with Beltway-ish bragging rights on the line. The Terrapins played 13 players against Monmouth on Saturday, so Brenda Frese's presumably shortened rotation will bear watching. … Arkansas-Little Rock travels to Texas A&M, giving Chastity Reed a chance to prove she's the best player on the court against a big-time opponent.
Wednesday: Ohio State's visit to Baton Rouge looks like the best of the bunch, even after the Tigers dropped their opener. This will be the second tough road game of the season's first six days for the Buckeyes, after Friday's win at Temple. … Maybe it won't be "first to 100 wins" when Miami visits Nebraska, but it should be a good offensive show and a real test of just where the Huskers are right now. … Someone is going to be 3-0 after NC State and Alabama meet in Tuscaloosa, reason enough to keep an eye on it.
Thursday: Brand recognition alone makes No. 15 UCLA at No. 12 Notre Dame an interesting matchup, but it's a chance for the Bruins to score a move to 3-0 after quality wins at San Diego State and at home against UC Santa Barbara. Assuming Notre Dame gets by Morehead State on Monday, it's a first opportunity for the Fighting Irish to show their stuff against a top foe. … With apologies to Monmouth, Seton Hall, NJIT and the rest, Garden State bragging rights are on the line when Princeton visits Rutgers. Princeton committed 28 turnovers in a 60-50 loss at home last season, so Tigers guards Lauren Polansky and Addie Micir are on the hot seat.