Lauren Prochaska points way for Falcons
December, 7, 2010
12/07/10
5:38
PM ET
As a kid growing up in Ohio, Lauren Prochaska liked few things quite so much as staying outside and shooting a basketball, no matter how much her parents tried to convince her that it was time to come in for the night.
Left to deal with the result on college basketball courts around the country, teams such as Vanderbilt probably wish the Bowling Green senior still showed such an aversion to coming inside. And that her teammates didn't seem so willing to follow her aggressive lead.
[+] Enlarge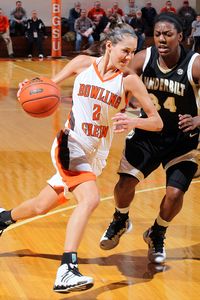 Brad Phalin/BGSU Photo ServicesLauren Prochaska and Bowling Green (8-1) beat then-No. 23 Vanderbilt last week.
Long one of the flagship mid-major programs under coach Curt Miller, Bowling Green is again rolling toward a date with the NCAA tournament. After a surprising season-opening loss at Evansville, the Falcons have rolled off eight wins in a row heading into Thursday's road game at Western Kentucky (where Bowling Green will manage the geographically curious feat of playing on the road in Bowling Green). Highlighting the run was last week's 79-68 victory against a Vanderbilt team ranked No. 23 at the time, the fourth win in program history against a ranked opponent and the second season in a row it earned one against the Commodores.
The result was the embodiment of one of Miller's oft-repeated mantras, and one in particularly sharp focus after the Evansville loss, in which the team attempted just six free throws.
"One of the biggest things that Coach talks about a lot is our toughness," Prochaska said. "I think the tougher we get, the better team we will become. If we really learn to battle and fight on every possession, that will just makes us a better team."
To that end, Prochaska led the way against Vanderbilt in distinctive Prochaska fashion, hitting five 3-pointers and all 10 of her free throws on her way to a game-high 31 points. She already is the school's all-time leader in 3-pointers and is second in free throws made, having converted 69 of 70 attempts from the charity stripe in nine games this season. Her ability to mix the finesse skills of a marksman with a willingness to absorb punishment in the paint and dole out punishment of her own to overzealous defenders looking to take away her outside shot is a blueprint for how the Falcons compete against all comers.
She's not alone. The senior backcourt duo of Prochaska and Tracy Pontius was a big reason Bowling Green entered the season with the profile of mid-major power, but the lineup's two new starters are big reasons the Falcons still look so good a month into the season.
A transfer from St. Louis who was voted a team captain before playing her first game for the Falcons last season, redshirt senior Maggie Hennegan has stepped in for Tara Breske and filled the role of undersized post. She led the team with 11 rebounds against Vanderbilt and is part of the reason a team that annually operates with a rebound surplus of one or two per game finds itself beating opponents this season by nearly eight rebounds per game.
"Maggie's our warrior," Prochaska said. "She battles and fights every possession of the game. When she's outmatched in the post, she still finds ways to score and get offensive rebounds for us. I think her presence in the post has been a big deal for us since Tara left."
And filling the starting spot vacated by Tamika Nurse, sophomore Chrissy Steffen adds perimeter size, defense and shooting at 6 feet -- the same height as Hennegan inside.
"Chrissy is really long, a good athlete," Prochaska said. "She's a great defender; she gets a lot of steals with her long arms. And on the offensive end, she's a good shooter, but she also gets to the hoop really well. I think her all-around game is what's been impressive so far this year."
Bowling Green can't afford many more games like Evansville, in or out of conference. There are no more ranked teams on the schedule, and wins against Vanderbilt, Creighton and Arkansas-Little Rock might not be enough to build an at-large profile for the NCAA tournament, should the need arise. But if their reality is that of a mid-major, the Falcons still will look to make any such debates moot by playing hard, playing tough and playing like one of the best teams in the country -- whoever is on the other side of the court.
"I think it's an honor to be labeled as one of the top mid-major programs," Prochaska said. "It's a credit to the coaching staff and all the players who played here before us, so that's an honor to us. But we still want to be one of the elite teams, not just a mid-major."
Mid-major top-10 rankings
1. Xavier (8-0): There was a close call against USC, but Amber Harris and Ta'Shia Phillips responded with 48 points and 30 rebounds in a 69-66 win. The Duke and Stanford road trips later this month loom large, but this week's game at Middle Tennessee might be no easy task with Katie Rutan still battling an ankle injury. Rutan's absence would mean another chance for freshman Ashley Wanninger to prove herself a long-range option off the bench.
2. Green Bay (8-0): A trip to Cancun offered a chance to get some quality competition on a neutral court, and the Phoenix rolled over Hartford and Utah and outlasted Penn State to improve to 3-0 against the Big Ten. It's early, but Sunday's game at Marquette looms as the biggest remaining hurdle between Green Bay and a run at a perfect regular season. For a team already loaded with proven talent, sophomore Adrian Ritchie emerging as the leading scorer through eight games is a pleasant surprise.
3. Bowling Green (8-1): See above.
4. Princeton (5-2): The reigning Ivy League champs took another near-miss with a 74-68 loss at Vanderbilt, playing the Commodores largely even after a slow start and cutting the deficit to two points with less than six minutes to play. The good news is they were in that game at Vanderbilt's tournament because of a 60-59 win against USC. Addie Micir hit six 3-pointers in that game and is 12-of-22 from behind the arc in Princeton's past three games.
5. Tulane (7-1): The challenges of success became apparent immediately after the big win against LSU just before Thanksgiving. Tulane lost its next game against Portland State and lost Brittany Lindsey to a concussion. But the Green Wave bounced back with wins against Fullerton, Saint Joseph's and Detroit, not a murderers' row but worthwhile tests of focus. Brett Benzio pulled down 28 rebounds in those wins.
6. Charlotte (6-2): The team's best wins to this point are moral victories, but a 61-55 loss against Duke is worth noting, as is a 76-70 loss at Florida, to a slightly lesser degree. The 49ers held the Blue Devils to 30 percent shooting in their game and nearly matched them in rebounds (55-50). Eligible after sitting out last season as a transfer, Epiphany Woodson leads the team in assists (and had six assists and just two turnovers against Duke).
7. Gonzaga (6-3): It wasn't quite Virginia Tech playing James Madison in football five days after playing Boise State, but playing Ole Miss in Hawaii three days after a road game at North Dakota (and five days after a battle at home against Stanford) was a recipe for trouble. The resulting loss, in which Ole Miss piled up a 48-29 rebounding edge, prevented a rematch of last season's NCAA tournament game against North Carolina. The Bulldogs instead routed North Carolina Central and survived against Washington State (which they play again Thursday).
8. Dayton (5-3): The Flyers made Jim Jabir tops all time in wins at the school in fitting fashion, putting up triple digits in a 102-69 win against Toledo over the weekend. That makes three wins -- and 263 points -- in three games since a baffling home loss against Illinois-Chicago. The next three and a half weeks will reveal a lot, with games against Louisvile, San Diego State, Boston College and either USC or Colorado. For now, Dayton's good outweighs the bad in an up-and-down start.
9. Fresno State (6-2): Emma Andrews wasted little time making her presence felt in her first game back after suffering an injury this past spring. The Australian senior hit the game-winning shot to lift Fresno State past TCU over the weekend. Sophomore Rosie Moult, another of Fresno's plentiful Aussies, has stepped up in the early schedule, improving from 7.3 points and 4.9 rebounds per game as a freshman to 11.4 points and 6.8 rebounds this season.
10. Florida Gulf Coast (6-0): In a landscape where mid-majors are struggling to pick up wins against their major peers, Florida Gulf Coast can at least call on wins against the Big East (Seton Hall) and ACC (Virginia Tech). Kelsey Jacobsen might be the nation's leader in total distance on shots, firing off 52 3-point attempts in the team's first six games. And as long as she's hitting them at a solid 36.5 percent clip, it's easy to see why.
Next five: TCU, Illinois State, Missouri State, Houston, Drexel