Yale knocks off No. 14 Florida State
December, 19, 2010
12/19/10
2:18
PM ET
NEW HAVEN, Conn. -- Maybe they wanted a lasting reminder of the moment. Maybe they just wanted photographic evidence to show the skeptics. But in the minutes after Saturday's game, more than a few fans at Yale's Payne Whitney Gymnasium pulled out cameras and snapped shots of the scoreboard.
[+] Enlarge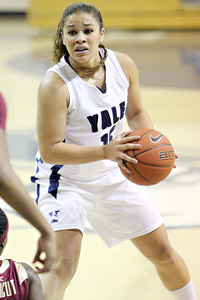 Yale AthleticsSophomore guard Megan Vasquez scored a career-high 25 points Saturday.
Yale 91, No. 14 Florida State 85.
When teams trot out the line after an upset that nobody believed in them beforehand, it's usually bunk. But for Yale, which won its opening game of the season in overtime against Holy Cross and then proceeded to lose seven in a row before welcoming the Seminoles, the sum total of people who believed a win was possible were probably on hand in the crowd of 656 -- a crowd which, by the sound of it, was evenly split between fans of the two teams.
The result was, quite simply, unbelievable. At least for everyone but the Bulldogs.
"We knew we were a good basketball team," Yale coach Chris Gobrecht said. "We were talking about how we were probably the best 1-7 basketball team in the country. We've just been dealing with a lot. We've had a ton of people out. This was the closest we've come to being whole all year. … I think Florida State probably had their minds on something else, and I'm sure that was not their best performance by any means. But we stepped up and took advantage of the opportunity."
How it unfolded was almost as surprising as the win itself. Yale gave up the first basket of the game, a three-point play for Alexa Deluzio, and promptly went on an 11-0 run to claim an eight-point lead before the game was even three minutes old. With 9:47 to play in the opening half, Florida State trailed by 13 points, its largest deficit of the season. Yale's 55 points in the first half were more than the Seminoles allowed in 40 minutes in six of their first 10 games. And on and on the numbers go, just as Yale kept pushing the ball at a team that entered the week ranked No. 27 in the nation in field goal defense.
"We played a really selfish game, and Yale played a really unselfish game," Florida State coach Sue Semrau said. "And that's the result."
It might have been an old-school Ivy League gym, but this was anything but Pete Carril's Princeton giving the shot clock a workout.
"We play a fast game, we push the ball," Gobrecht said. "We're comfortable at that tempo; I thought Florida State was a little uncomfortable with that tempo. That was the difference; we were able to play at a tempo that we were a little more comfortable than they were."
All the more remarkable, Yale played without senior captain Yoyo Greenfield in the backcourt. But in Greenfield's absence, two of the reasons for Yale's abundant optimism seized the spotlight. Freshman Janna Graf and sophomore Megan Vasquez combined for 47 points, with career highs of 25 from Vasquez and 22 from Graf.
Graf missed the first five weeks of the season, including the preseason and first three games of the regular season, with mono and didn't make her first career start until Dec. 6 against Fairleigh Dickinson. Vasquez returned to the lineup Dec. 8 against Sacred Heart after missing two games with a concussion (the result of a collision with Greenfield and the reason the latter remains sidelined with a concussion). But against a team that reached a regional final in last season's NCAA tournament, two players whose short- and long-term experiences should have rendered them little more than deer in headlights hunted down the favorite.
"She knows the game really well," Gobrecht said of Graf. "You saw her, she gets a lot of her scoring because she knows where to be. She plays very well off the ball. And she's skilled, she's strong -- so many times, physically, we just have a hard time matching up. You just get physically overmatched. And [Graf and Vasquez] are two kids that are going to be able to physically handle it, even at that level, because they're both big and have some muscle tone."
Three years ago, Yale lost 100-44 at home against Stanford. Last year, it was an 82-46 loss in New Haven against Arizona State. Neither Vasquez nor Graf were around for the Stanford game. Vasquez played 29 minutes off the bench as a freshman against the Sun Devils and missed 13 of a team-high 16 shots. But Saturday's game wasn't just different than those two encounters from the outset, as the Bulldogs rode the early wave of momentum to the halftime lead; it was different when the Seminoles made their run in the second half and twice took four-point leads with fewer than eight minutes to play.
Yale isn't Florida State's equal on a basketball court, but nobody could convince them of that on Saturday night.
"I think we went into this thinking we could win," Graf said. "I think we've all matured, and I think the program has matured, that we don't go into games thinking, 'Oh, we're just coming to play.' I think we just handled it like every other game. We knew its importance, and we wanted to prove to everyone we were as good as Florida State and we could have also won those previous games [this season]."
It's a leap of faith to believe Yale is that much better than its record, or that the result against Florida State was more than a collision of circumstances creating a one-time miracle. But if Yale went into Saturday's game believing in itself, it's safe to assume that belief isn't going away anytime soon.
"This would be No. 1," Yale coach Chris Gobrecht said of where the win ranked. "The time we took the Ivy championship away from Harvard, that might be No. 2."
No offense to Harvard, but that says it all.