Louisiana Tech breaks into poll
February, 2, 2011
02/02/11
12:45
AM ET
1. Xavier (17-2, 6-0 Atlantic 10)
The Musketeers appear to be in cruise mode, in the best sense of the term, in the Atlantic 10. They face a challenging two-game road swing this weekend at Dayton and Richmond, but they've won all three of their conference road games to this point by 20-plus points, including an impressive 82-61 victory at Charlotte last week. As much as Xavier returned this season, starting with Amber Harris and Ta'Shia Phillips, it lost a key piece in April Phillips. But in conference play, particularly recently, senior Megan Askew has given Xavier the same rebounding presence April Phillips provided. She's averaging seven rebounds per game over the past five contests.
[+] Enlarge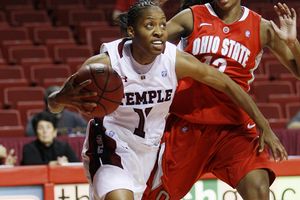 AP Photo/Matt SlocumLike Xavier, Shey Peddy and the Temple Owls are 6-0 in the Atlantic 10.
2. Marist (19-2, 10-0 MAAC)
It's a sign things are going well when you beat the second-place team in your conference by double digits and face questions about what went wrong. That was the case for Marist after a sloppy second half in a 62-52 victory at home against Loyola. Including that win and a subsequent 70-41 victory at Rider, the Red Foxes have won nine games in a row by double figures and haven't allowed more than 52 points since Jan. 2. And if the game against Loyola wasn't pretty, it did reinforce just what kind of player Erica Allenspach is. With her team needing the production, she totaled 22 points on 9-of-10 shooting with 6 rebounds, 3 assists and 1 turnover.
3. Green Bay (20-1, 9-0 Horizon)
Green Bay put together about as complete a performance as a team can in demolishing rival Wisconsin-Milwaukee 87-39 on Jan. 22 and promptly dropped a spot in both Top 25 polls the following week. But beyond that puzzler, Green Bay passed what looks like its toughest test in the Horizon League with a 66-62 victory at previously unbeaten Butler. With 3-point shooter Adrian Ritchie still out of the lineup with a knee injury, do-everything guard Celeste Hoewisch lived up to that label by hitting 6 of 8 shots from the 3-point line in the two-game swing through Butler and Valparaiso.
4. Gonzaga (19-4, 7-0 WCC)
A 70-49 victory at San Diego on Saturday more or less qualifies as a close call for Gonzaga; the Bulldogs' past four wins came by an average margin of 30.8 points, including a 106-77 victory at Saint Mary's, purportedly Gonzaga's chief competition in the WCC. Courtney Vandersloot totaled 45 assists in four games since these rankings last appeared. And Janelle Bekkering, a key complementary piece for any postseason run, hit 14 of 23 shots in the same span. What hurdles remain don't seem likely to trip the Bulldogs (especially prep hurdler Kayla Standish); Gonzaga plays five of its final seven conference games at home, with only a road swing to last-place San Francisco and sixth-place Santa Clara interrupting the stretch.
5. Temple (15-6, 6-0 Atlantic 10)
As well as Xavier is playing, it can't claim to be the only unbeaten team in the Atlantic 10. Unbeaten Temple gets a test Saturday at Duquesne, but it added an impressive 84-56 home victory against Richmond to its profile on Saturday. Wright State transfer Shey Peddy seems to be coming into her own in conference play. Through six league games, Peddy leads the team in free throw attempts, assists and steals, owns a two-to-one assist-to-turnover ratio and is averaging 14.3 points per game, up from 12.1 out of conference. Perhaps not coincidentally, Kristen McCarthy's shooting percentages are also up noticeably in A-10 play.
6. Duquesne (18-3, 5-1 Atlantic 10)
A home loss against Richmond on Jan. 19 put a slight damper on Duquesne's rise, but the team bounced back to win the games it should against La Salle, George Washington and Fordham over the past two weeks. That sets up an opportunity to follow up earlier road victories at Ohio State and Dayton with a big home meeting with Temple this weekend. The game against the Owls will be a matchup of guards on the rise, with Duquesne's Vanessa Abel squaring off against Peddy. A stat-stuffer in everything but points prior to conference play, Abel is averaging 11 points per game in A-10 competition.
7. Louisiana Tech (15-5, 7-0 WAC)
A familiar name makes its first appearance. Louisiana Tech got off to a slow start this season without Shanavia Dowdell, but the past month has been a major success. After a victory against Georgia and narrow loss against Marquette in Miami just before New Year's, Tech opened 2011 with a win against Southern Miss and seven victories in a row in WAC play, including a triple-overtime win at Fresno State on Jan. 13, a 24-point victory against Nevada on Jan. 24 and a successful swing through Idaho this past weekend. All of which sets up Saturday's rematch with Fresno State. Adrienne Johnson ranks first in scoring, fifth in rebounding and third in steals in the WAC.
8. Houston (17-4, 8-0 Conference USA)
It's almost worth noting above that Houston is also 16-2 with Courtney Taylor in the lineup. Then again, Houston was also 36 seconds from being 16-5 overall. Down six points with that much time remaining on the clock in Sunday's game against SMU, Houston scored 11 points in a row for a 72-67 victory. A two-time member of the Conference USA all-defensive team, Taylor might have to fend off a challenge from within this season. Teammate Lesslee Mason had five blocks and three steals against SMU and is averaging 8.9 rebounds, 2.1 blocks and 2.2 steals per game.
9. Dayton (14-7, 5-2 Atlantic 10)
February is a short month, but it's going to offer more than enough to prove once and for all what Dayton is this season. The fun starts Wednesday with a trip to St. Bonaventure, never an easy trek and never an easy team to play. That sets up Saturday's rematch with Xavier after the Flyers pushed the Musketeers to the wire in Cincinnati on Jan. 9. And if that's not enough, trips to Charlotte and Temple loom before the month is three weeks old. The Flyers took care of business building up to this stretch, winning their past four games by double digits, including a 66-55 victory at Richmond on Jan. 22. Worth watching is that as Dayton's pace has slowed against conference foes, its torrid early 3-point shooting has also cooled.
10. Northern Iowa (15-5, 8-1 Missouri Valley)
Granted, Northern Iowa hit a favorable patch of scheduling in recent weeks, but the Missouri Valley leader is doing exactly what needs to be done with a gift like that. Against Evansville, Southern Illinois and Bradley in the team's three most recent games, Northern Iowa has three victories by 24 or more points and has not allowed an opponent to reach 40 points. Not to mention the Panthers already have wins against the two teams tied for second, Creighton and Missouri State. They shoot the 3-pointer often and accurately, value possession and turn over opponents. That's a tried-and-true formula.
Next five: Middle Tennessee, Florida Gulf Coast, TCU, Princeton, Toledo