Plenty of talent left after Moore departs
March, 7, 2011
03/07/11
11:59
PM ET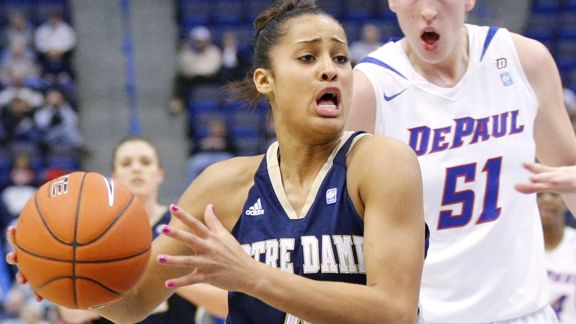 David Butler II/US PresswireSkylar Diggins' Notre Dame last reached the Big East tournament final 10 years ago.
HARTFORD, Conn. -- The best player in the Big East -- and the big, wide world of college basketball for that matter -- makes her final appearance in her second home Tuesday at the XL Center. Monday's semifinal nightcap between Notre Dame and DePaul, once Moore was done dismantling Rutgers, determined which team would take the final shot at beating Moore for the first time in Hartford.
Notre Dame earned that privilege with a 71-67 victory against DePaul in a back-and-forth game, the second game in a week between the two to come down to the final minute. But as much as the game sets up the Big East finale this season, it also offered a glimpse of what's to come in the conference, which will apparently not fold up shop once Moore departs.
Someone has to be the best player in the conference next season. And in different ways, Notre Dame's Skylar Diggins and DePaul's Keisha Hampton made sure their names will be near the list.
From the outset, DePaul looked like a team that needed something special to counter the prevailing winds of misfortune. The Blue Demons went more than five minutes without a point to open the game, throwing away a few possessions, to be sure, but also watching plenty of balls explore every part of the rim without falling in. And with the Fighting Irish trio of Devereaux Peters, Becca Bruszewski and Natalie Achonwa playing outstanding interior defense against Felicia Chester, who suffered through a shooting night not far removed from what Jayne Appel endured in the national championship game last season, DePaul's typical inside-outside balance crumbled.
In stepped Hampton, who scored inside, outside and anywhere else she could find enough space to get off a shot.
[+] Enlarge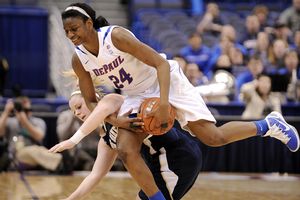 AP Photo/Fred BeckhamKeisha Hampton scored a career-high 31 points in DePaul's losing effort.
"Hampton, wow. Wow,'" Notre Dame coach Muffet McGraw began in an what was entirely accurate summation of the performance. "She can really play. She did an outstanding job. We couldn't stop her."
DePaul's leading scorer this season took that label to a new level with a career-high 31 points on 11-of-22 shooting, including 3-of-6 from the 3-point line and 6-of-8 from the free-throw line. Surely one of a small number of players with 150 3-point attempts and 150 free-throw attempts this season, she is a rare mix of skills on offense, all of which happened to be on display at or near their peak against the Fighting Irish.
"I just tried to do it in various ways," Hampton said. "Trying to get to the lane, shoot the 3, post up -- whatever I could do to help my team win."
But if nobody on the court was quite Hampton's offensive equal for the full 40 minutes, Diggins was there with her in the minutes that mattered most.
With just less than three minutes to play, Hampton converted a three-point play to give DePaul a 63-62 lead. Less than a minute later, Diggins corralled a loose ball at around three-quarters court and weaved her way through the defense before drawing a foul at the basket. She hit both free throws for a 64-63 lead.
Hampton took it from there, scoring at the basket with just more than 90 seconds to play, only to see Diggins hit the lane like a running back spotting a hole and finish with a scooping layup to give the Fighting Irish a 66-65 lead, one it would hold for good, although only after a great defensive play from Brittany Mallory forced a Hampton turnover in the final 30 seconds.
McGraw said it was difficult to pick out a player of the game for her team, and it was on a night when Peters was at times a force, freshman Achonwa played big minutes and Mallory made the key stop. But everything that happened in the closing minutes seemed to stem from the aggressive play of the point guard setting a tone.
"Every time we got the ball in transition, that was what we wanted," Notre Dame coach Muffet McGraw said of Diggins. "She's attacking the basket, getting to the foul line -- that's the best shot we're going to get. I was just so happy to have the ball in her hands. I mean, she changes the game at the speed that she plays at, her attack mentality, her competitiveness. She makes a huge difference in our team."
Diggins finished with 19 points, four assists, six rebounds, a block and a steal. Hampton added four rebounds, three assists and two blocks (although she at least altered more shots than that) to her point total. And in the end, Diggins and Notre Dame won this round, just as Hampton and DePaul won the last round.
And for both, it was the kind of performance on a postseason stage required of any contender for Moore's title.
"It's one and out and that's why it's such a great tournament, so this is absolutely practice for that," DePaul coach Doug Bruno said. "And this is the kind of game that you're going to play every game from this point forward. It's going to be this kind of close basketball game, a tough basketball game, a basketball game that's going to come down to a couple of possessions, just like it did eight days ago and we were on top."