Editor's note: ESPN.com's Graham Hays is tracking every move of the Green Bay Phoenix on Thursday and Friday as they navigate through the Horizon League tournament in search of an automatic NCAA tournament bid. Through constant blog entries and photos, Hays will chronicle what takes place in between practice sessions and games, and who the personalities are behind the players we merely see on the court. Check back throughout the next two days for more updates.
GREEN BAY, Wis. -- It looked like Green Bay hardly broke a sweat in winning its first game in the Horizon League tournament. The nation's 11th-ranked team jumped to a 55-16 halftime lead against Loyola and eased to the finish line for an 86-35 victory behind 23 points in an economical 22 minutes from senior Celeste Hoewisch.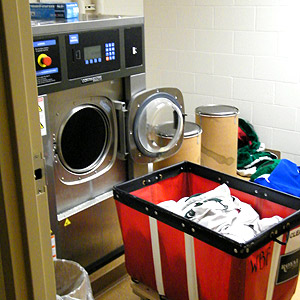 Courtesy of Graham HaysLong after Green Bay's games are over, team manager Nellie Schafer has plenty of work to do to make sure the Phoenix look their best.
But after the fans had drifted contentedly into the fresh spring snow outside, and even as players mingled with family and friends by the court, the laundry room in the depths of the Kress Center told a different story.
"I love to serve and be there," said Green Bay sophomore and team manager Nellie Schafer as she glanced down at the recently worn jerseys in her hands, and added almost as an afterthought, "Even though it smells sometimes."
The Phoenix earned the right to host Wednesday's quarterfinal, as well as the remaining rounds of the tournament, by compiling an 18-0 record in the league, winning all but four of those games by double digits. And as long as they remain in contention for a seventh tournament title in 10 tries since the Horizon League was born out of the old Midwestern Collegiate Conference in 2001, I'll be behind the scenes with them to offer an all-access look at the program.
As it turns out, even the program's dirty laundry is to its credit.
If you want to know what enables Green Bay, a mid-major collection of largely local kids, to put itself on the cusp of the top 10 and a top-four seed in the NCAA tournament, you could certainly start with the defense that forced 24 turnovers against Loyola, or with the individual talents of Hoewisch and Kayla Tetschlag (the Horizon League Co-Players of the Year) and likely future POY recipient Julie Wojta, among others.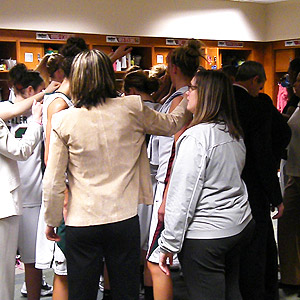 Courtesy of Graham HaysGraham Hays is tracking Green Bay's every move Thursday and Friday in the Horizon League tournament.
You could also start with the story Tetschlag told recently on senior day about a moment that took place early in her junior season, when Schafer was a nervous freshman in her first days as a manager. Sitting in the locker room before practice, Tetschlag had tied one shoe when she paused to continue a conversation before she tied the second. But as she talked, she felt a slight tug on the untied shoe and looked down to find Schafer tying the laces.
As managerial attentiveness went, it was a step or two beyond handing out a cup of water. And while it was a small moment, it's often those that leave a lasting impression.
"It was just a gesture that totally illustrates her as a person, and how she goes above and beyond for us," Tetschlag said Wednesday.
As part of a program built with kids and staff from Wisconsin and its neighboring states, Schafer came to Green Bay from the comparatively far-flung land of Wichita, Kan. Drawn to Wisconsin by family ties, primarily a grandmother with whom she was particularly close, Schafer said she originally hoped to play basketball at Division III St. Norbert but ultimately jumped at the chance to become a part of the Phoenix program as a manager.
She didn't understand just how much a part of the program until the same grandmother passed away from breast cancer in the fall of Schafer's freshman year.
"They meant so much for me when they were there for me at that time," Schafer said.
The entire team showed up for the funeral.
"We didn't know her all that well, but we knew she was close to her grandma," Tetschlag said. "We just did little gestures here and there, just to show her that she was part of our family and we were going to embrace her."
Now Schafer takes care of them, perhaps not to the extent of prowling for untied laces, but in just about every other respect. As on this night, she's usually among the last to leave the Kress Center, not letting the small matter of a looming midterm in Western Civilization deter her from making sure her players will look their best for Friday's semifinal against Wright State.
"It's something that bugs some people, the time commitment, because I'm kind of like a student-athlete," Schafer said. "All my classes are scheduled around practice time; when they drive to places, I go with them, so I miss school. But I wouldn't trade it for the world. They're some of my closest friends."
As it turns out, a lot of sweat behind the scenes goes into making things look easy, as Green Bay did when the lights went on Wednesday night. And if you want to understand what allows a team to win on the court like Green Bay does, you need to understand the people involved off the court, from the senior star wearing the jersey to the sophomore manager taking care of it. Welcome to Green Bay.