Juggling course work with court time
March, 10, 2011
03/10/11
7:38
PM ET
Editor's note: ESPN.com's Graham Hays is tracking every move of the Green Bay Phoenix on Thursday and Friday as they navigate through the Horizon League tournament in search of an automatic NCAA tournament bid. Through blog entries and photos, Hays will chronicle what takes place in between practice sessions and games, and who the personalities are behind the players we merely see on the court. Check back for more updates.
[+] Enlarge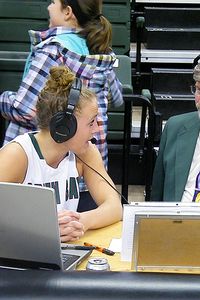 Graham HaysHannah Quilling, a human biology major, averages 5.3 points, 3.6 assists, 2.4 rebounds and 25.6 minutes per game.
GREEN BAY, Wis. -- Where does a starter on one of the nation's best basketball teams go to blow off some steam and celebrate a dominant collective performance in a conference tournament quarterfinal?
Try the fourth floor of the library, which despite its unlimited potential as such, is not the name of a trendy nightspot.
"Well, we've got this whole school thing going on," senior Hannah Quilling noted.
March might be the month when college basketball reigns supreme for those no longer enrolled in the institutions represented by the teams, but at countless schools, it's also a month chock full of midterms, papers and other general unpleasantness. And if you think postseason basketball is a win-or-go-home proposition, try organic chemistry.
Still in her jersey and shorts as she stood in the team lounge not long after Wednesday's win against Loyola, Quilling was also a little more than 12 hours away from an exam in ecology, part of her curriculum as a human biology major. So much for soaking up a big win.
A junior from Eau Claire, Wis., with one of the most visible (and audible) personalities on the team, Quilling receives more than a bit of good-natured verbal abuse for taking the longest to get ready of anyone on the team after a game or going out on the town -- abuse that comes her way from teammates, staff, coaches and, it seems, just about anyone who has met her. But if Wednesday's schedule is any indication, she does have some time-management skills to go with that dawdling degree.
Before the game against Loyola, Quilling made it to her classes in comparative physiology and organic chemistry, went through the team walk-through and then skipped the pregame team meal to study for the all-essay exam. She played 21 minutes in the rout against the Ramblers, totaling four assists and two steals, and then held court on the postgame radio show before finally heading to the locker room and emerging to mingle briefly with friends.
Then it was off to study, even though it isn't the easiest time of year to push basketball to the mental back burner.
"Right now, this part of the season during tournament time, I think it's always in your mind," Quilling said. "You can't get it out, even if you want to. Whether its professors wishing you luck or students wishing you luck or cheerleaders you see in the hallway wishing you luck. You can't really get it out of your mind."
So how did it go?
"The last one, there was a test right at the beginning, and I thought it went horrible," Quilling laughed after practice Thursday. "And I got it back and I got an A on it. And this one I think went well, so I'm actually excited to get this one back. But it was kind of stressful for a while. Me and a kid I study with, we came in at 6 o'clock and started cramming right from there up until 9:30."
Quilling is a basketball player through and through, a guard with no small amount OF playmaking ability and no shortage of shooting range. But she's also the daughter of a day-care owner and wants to pursue a career working with kids as a physician assistant. The result is a schedule not unfamiliar to college students, to be sure, but unenviable all the same. And while her teammates would surely suggest she could book an extra hour or two of sleep simply by getting dressed at the same speed she plays basketball, she makes her own style work. Even if that meant going on limited sleep on this occasion.
"Maybe even a little later than 12:30, but I don't want my mom to think I never sleep. She starts worrying," Quilling quipped of when she went to sleep before her early morning wake-up call. "I'm just one of those people who doesn't need a lot of sleep to function normally, or as normally as possible."
With that she got up, slung her bag over her shoulder and headed off to an organic chemistry lab.