Meeting fans means a lot for Tetschlag
March, 11, 2011
03/11/11
6:59
PM ET
Editor's note: ESPN.com's Graham Hays is tracking every move of the Green Bay Phoenix on Thursday and Friday as they navigate through the Horizon League tournament in search of an automatic NCAA tournament bid. Through blog entries and photos, Hays will chronicle what takes place in between practice sessions and games, and who the personalities are behind the players we merely see on the court. Check back for more updates.
[+] Enlarge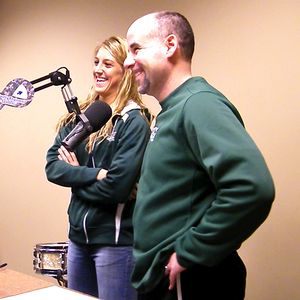 Courtesy Graham HaysKayla Tetschlag and coach Matt Bollant stopped by radio station WNFL in Green Bay on Friday morning.
GREEN BAY, Wis. -- Asked on a local radio show Friday morning what she wants to do with her business degree, Kayla Tetschlag didn't hesitate in laying out her detailed plan to capitalize on the ample academic awards she has piled up at Green Bay when not busy accumulating 1,000 points and 500 rebounds on the basketball court.
She wants to keep playing basketball. Then again, it hasn't been a bad career move to this point.
The reality is there aren't many open positions in the WNBA for post players who are 5 feet, 11 inches (as Tetschlag claims contrast to the extra inch the media guide awards her), even one who has demonstrated an ability to defend on the perimeter and knock down outside shots. But should that not come to pass, the globe offers a lot of professional playing options for someone with a willingness to travel (her minor in Spanish doesn't hurt Tetschlag's case, either).
If you listen to people like Green Bay athletic director Ken Bothof tell it, Tetschlag is not far short of becoming the Maya Moore of the area business community -- the equivalent of a franchise cornerstone who just about everyone he runs into would like to bring aboard whenever her basketball odyssey brings her back within range of Green Bay or her hometown of Sheboygan.
Tetschlag makes up for any lack of size in the frontcourt with quick hands and a talent for finding open spaces in crowded territory and open airspace through which to get her shot over, around or under an opponent. She's just as nimble in public, as she demonstrated in ducking and weaving her way through a few oddball questions on the kind of sports-talk show that isn't averse to breaking out the sound effects. She parried queriers about the team's tanning philosophy and played along with one of the hosts when he challenged her to a 3-point contest and a tennis match (she was a prep player of some consequence), all to get the word out about that night's game against Wright State and a NCAA tournament selection show party at the Kress Center on Monday night.
Like a lot of successful college athletes, especially in a sport like basketball that carries a high profile in local communities, Tetschlag has dealt with things like media interviews since her freshman year in high school. There was a time when she tried to prepare for them like some sort of exam, thinking through potential questions and fashioning how she might respond to them. Now the entirely unnatural act of fielding questions from strangers for the consumption of hundreds or thousands of people you might not ever meet feels like second nature, she said. As she rides to the radio station, she seems anything but preoccupied, the stop just one more thing to cross off her game-day checklist.
And while there might be better parts of it than playing along with radio schtick or talking about said schtick with internet bloggers, the full array of off-court opportunities are as much a perk of the position to her as the price to pay for playing.
"It's my favorite part," Tetschlag said. "I love just talking to people and meeting people. I think that's something that the average student doesn't necessarily always get. You don't get that from a class or an internship necessarily. So the experience of talking to media, talking to little girls who are your biggest fans and their parents, and getting out in the community, I think is the most fun. I've built the best relationships with people that I think I'm going to maintain after I leave here."
Campaigns for the White House often begin with the door-to-door politics of primaries in places like New Hampshire, and while nothing brings fans through the doors quite like winning about 90 percent of your games, it doesn't hurt that a good chunk of the thousands of fans who have watched the Green Bay women's team for years feel like they have some personal investment in the players.
"Games are more fun to watch when you have a personal relationship with that person because you can talk to them about it afterward or you can just relate to them better," Tetschlag said. "I know that because I know that I enjoy watching those games more. I love watching the people who took the time to talk to me and get to know me."
So perhaps Tetschlag isn't putting off real life by pursuing a professional career wherever the opportunity arises. Perhaps she's just getting to work on the next part of her business education.