Life in pictures with Green Bay
March, 11, 2011
03/11/11
11:11
PM ET
Editor's note: ESPN.com's Graham Hays tracked every move of the Green Bay Phoenix on Thursday and Friday as they prepared for their Horizon League tournament semifinal matchup. Through blog entries and photos, Hays chronicled what took place in between practice sessions and games and captured the personalities behind the players we see on the court. Next week, Hays will recap the experience. Until then, check out his final blog from the journey below.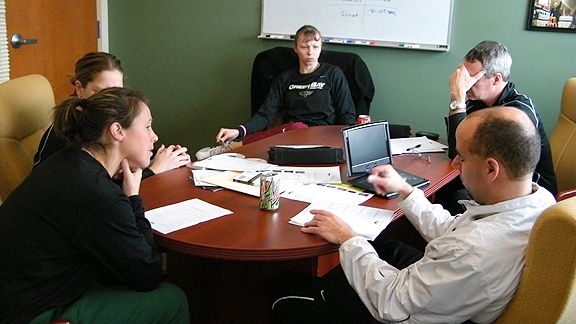 Graham Hays(Clockwise from top) Assistant Amanda Leonhard, associate coach Mike Divilbiss, coach Matt Bollant, director of operations A.J. Whitehead and assistant Sarah Bronk gather in Bollant's office.
Among the things Green Bay coach Matt Bollant earned with an 89-41 victory against Loyola in a Horizon League quarterfinal on Wednesday was a reasonable departure time from the Kress Center and a decent night of sleep (or as close as a coach can come to one in March). Having faced semifinal opponent Wright State just six days earlier in the final weekend of the regular season, winning by 21 points on the road, Bollant felt comfortable saving tape-watching for the following morning. So after an early conference call Thursday morning with league officials to go over details of Green Bay's duties as host for the semifinals and the championship round, Bollant and his staff got to work on how to contain Wright State guard LaShawna Thomas and post Molly Fox, who had missed the previous game with an injury.
The Diet Mountain Dew in front of Bollant is the coach's drink of choice at all hours, not to mention a potentially useful winter-weather tool for melting snow, ice, cement and stomach lining.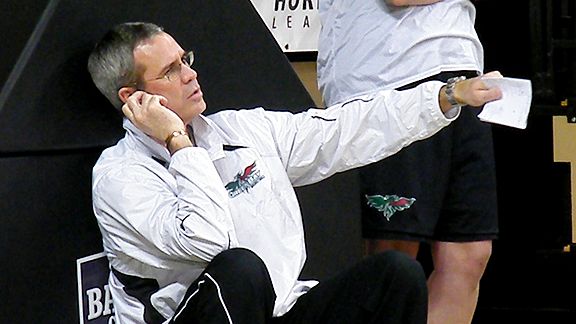 Graham HaysAssociate coach Mike Divilbiss had a front-row seat at Friday's shootaround.
Green Bay isn't taking its place in the NCAA tournament or the remainder of the conference tournament for granted, but there were some bracket-related travel plans already being made on Thursday. Around midday, as he watched tape on Wright State, associate coach Mike Divilbiss learned his daughter Chantel's North Idaho College basketball team was seeded fifth in the National Junior College Athletic Association national tournament and would face Georgia Perimeter in a first-round game in Salina, Kan., next Wednesday. A Winona State (Minnesota) graduate, Divilbiss spent 21 years as head coach of Lewis-Clark State College and the University of Idaho. When he took the job as Bollant's top assistant at Green Bay, Chantel relocated across the country for her senior year of high school, a story about as old as time in the coaching community. But now Divilbiss will go the distance for her.
As he did last year when Chantel's team reached the postseason, Divilbiss will leave after finding out where the Phoenix are headed in the NCAA tournament. He will drive roughly 13 hours (more or less, depending on the cruise-control settings) from Green Bay to Salina for her game Wednesday afternoon. Then he'll drive back after the game, in time to leave for the NCAA tournament -- unless, of course, the selection committee wants to do him a favor and send Green Bay to Wichita.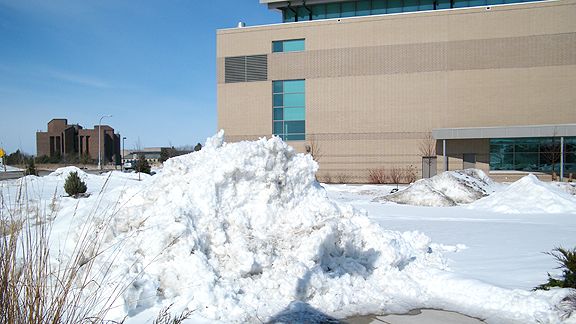 Graham HaysA recent snow storm piled up outside of Green Bay's Kress Center.
Spring break arrived at Green Bay with the close of classes on Friday. The students dispersed rapidly, but the snow, which made a late surge against the end of winter earlier this week when about six inches fell, has not exited with quite the same alacrity. Nonetheless, even among the players who won't be headed anywhere until the end of next week for the first round of the NCAA tournament, there was a giddiness in the afternoon walk-through that bordered on hyperactivity, right down to Hannah Quilling sinking a post-practice three-quarters court shot that she launched with two hands over her head like a soccer player taking a long throw-in (sadly, undocumented on film).
"Maybe it's something about the spring weather," senior Heather Golden mused earlier.
As Bollant quickly pointed out, only in Green Bay does the temperature approaching 40 degrees constitute the onset of spring.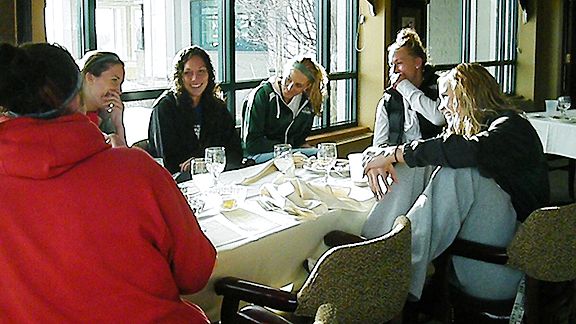 Graham HaysThe Phoenix gathered for a pregame dinner at Green Bay Country Club. Sarah Eichler is pictured with her back to the camera. From left to right, Julie Wojta, Katie Bushman, Kayla Tetschlag, Hannah Quilling and Jenny Gilbertson.
Other than a deer looking at a very tough wedge out of the woods on one of the holes close to the clubhouse, the Green Bay Country Club was more or less deserted when the Phoenix arrived for their pregame meal about four hours before Friday's tip against Wright State. It's too bad, because odds are the regulars don't get dinner conversation like this with any regularity.
A discussion across tables that to some degree began with players questioning Divilbiss about how much knew about the characters on "Jersey Shore" (a little more than he initially let on, it turned out) somehow found its way into the territory of adolescent embarrassments -- both of action and fashion. Bollant? Locked for an entire period inside a locker in which he was laying in wait by a culprit who still walks the streets unpunished to this day. But the line of the day went to junior star Julie Wojta, who defended herself against the slings and arrows of teammates recalling her youthful style indiscretions by noting she went through an awkward phase. How long of an awkward phase?
"Fifth grade through junior year of high school," she admitted.
If only they hadn't been so uptight about the impending game.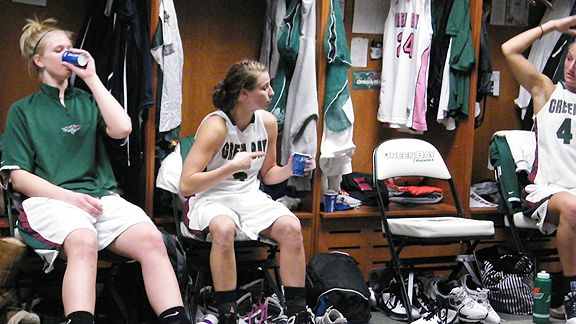 Graham HaysSenior guard Celeste Hoewisch, the Horizon League co-player of the year, sits in the team locker room at halftime of Friday's semifinal versus Wright State.
Green Bay headed to the locker room at halftime of Friday's semifinal leading by a seemingly comfortable 39-25 margin, but there was more than a bit of frustration in the air after a foul-plagued first half in which the Phoenix committed seven turnovers and watched Thomas score 13 points. It wasn't a bad performance -- they also had 11 assists and forced Thomas to take 13 shots for those points while committing five turnovers. It just wasn't 55-16, the halftime score of the quarterfinal victory two days earlier.
The first person to speak inside the locker room while the coaches met in the hallway outside, as she is during most timeouts and as she was in Wednesday's game, Celeste Hoewisch first ran off a litany of things all involved could do better. But unlike the game against Loyola, when she cautioned, or more precisely, admonished, her teammates not to let the mood get too light, she encouraged them to remember they were up 14 and had yet to hit top gear.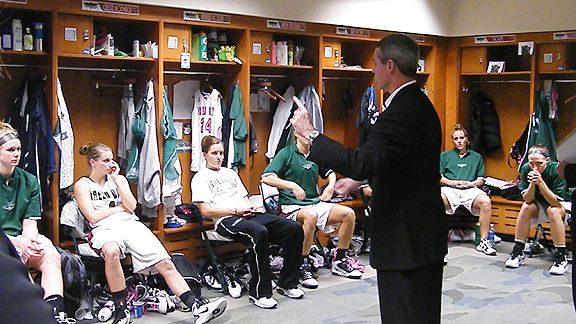 Graham HaysFollowing a players-only portion of the halftime meeting, the coaches add their perspective.
Once Hoewisch, joined by Kayla Tetschlag and Hannah Quilling, had her say in the players-only portion of the break, Bollant entered and ran through the adjustments the team needed to make, both tactical against the likes of Thomas and mental to prevent the hurried mistakes with the ball that crept up in the opening 20 minutes. As the time in the locker room was coming to a close, Divilbiss offered a simple question that Hoewisch anticipated before he even asked it. It didn't trump all the work the coaches had done over the previous 36 hours to counter Wright State's sets or tailor Green Bay's pressure defense to the specifics of an opponent with a dynamic guard and good shooters, but it would cut to the core at any game.
"Are you enjoying the fight?" he asked.
By the first media timeout, a little more than four minutes into the second half, the lead had grown to 20 points. Four minutes later, it reached 25 points. By the end, Green Bay had a 95-65 win and 56 second-half points, topping its production from the first half against Loyola. The Phoenix turned over the ball just twice in the final 20 minutes; hit nine 3-pointers, including five from Lydia Bauer; and shot almost 50 percent overall from the floor. Only the 24 free throws Wright State attempted in the second half kept the final score from getting even more out of hand.
As the man who asked the question said after the game, they enjoyed the fight.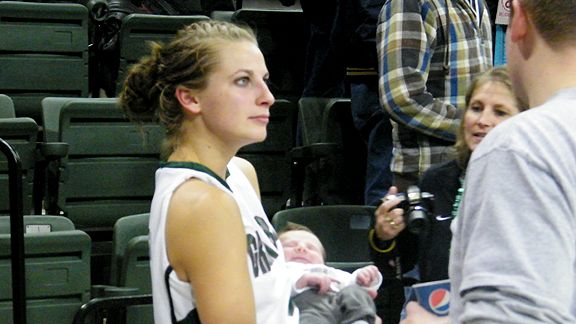 Graham HaysSenior Celeste Hoewisch met her week-old nephew, Micah, for the first time Friday.
Only after totaling 17 points in 22 minutes against Wright State, giving her 40 points in 43 minutes in two games in the conference tournament, did Hoewisch meet her newest nephew, Micah, for the first time. And for all the words still to be written about the Phoenix, there aren't a thousand that tell a better story of a program than a picture of a point guard, a leader and an aunt twice over.
If you missed any of Hays' coverage along the way:
• Entry 1: "It smells sometimes"
Team manager Nellie Schafer plays an important role in Green Bay's success.
• Entry 2: Map of the (future) stars
Finding players other teams should have been interested in is the Phoenix's strength, even if those players have to look up Green Bay on the map.
• Entry 3: Juggling class and court
When it's time to blow off some steam and celebrate another victory, Hannah Quilling hits … the library.
• Entry 4: Ever-focused Hoewisch
Celeste Hoewisch will meet her week-old nephew for the first time before Friday's game. But don't expect the senior point guard to be distracted.
• Entry 5: Tetschlag's media blitz
Kayla Tetschlag embraces the responsibilities (and fun that goes with them) of being a student-athlete.