Delaware jumps to No. 3 spot
November, 30, 2011
11/30/11
12:10
PM ET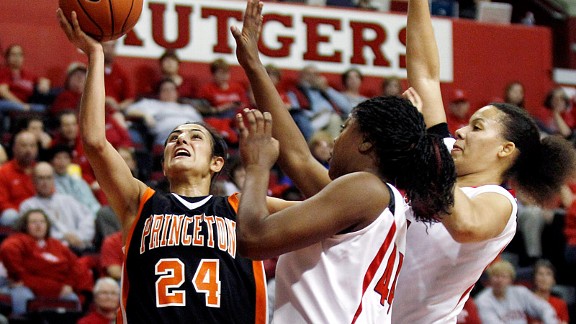 AP Photo/Mel EvansNiveen Rasheed and Princeton play Delaware on Thursday in a mid-major showdown between unbeatens.
1. Gonzaga (4-1)

The No. 1 team holds down that spot in part because of its lone loss, not despite it. Gonzaga dropped a 76-61 decision at Stanford on Nov. 13, but in leading the Cardinal at halftime in that game and looking like they belonged all game, the Bulldogs again showed that they're playing with major talent at the mid-major level. But that only goes so far. Three more significant tests remain on the nonconfernece schedule, beginning with a visit from USC this Sunday, and neither that game nor neutral-site games against Georgia and Dayton come with credit for moral victories.
2. Green Bay (5-0)

The Phoenix extended their regular-season winning streak to 25 games with two victories in Puerto Rico over the holiday weekend. Taking care of business in an 82-62 win against Illinois was a good opening act -- Green Bay should beat Illinois, and it didn't dawdle in taking a 38-25 halftime lead and shooting 50 percent for the game. But the big victory came against No. 25 Georgia Tech. Down 54-48 with 1:24 to play, Green Bay forced overtime on an Adrian Ritchie 3-pointer with two seconds remaining, and then came back from five down in the extra period to win, 67-62. Julie Wojta (20.8 points, 9.0 rebounds, 3.4 assists and 3.4 steals per game) remains as underrated a player as there is in the top 25.
3. Delaware (4-0)

A season ago, Delaware was a middling team with a magnificent player. So is jumping them all the way to No. 3 an overreaction to a few good, early wins? Perhaps, and Thursday's game against Princeton is as meaningful a mid-major showdown as the calendar offers. But this team appears to be more than just Elena Delle Donne (whose 40-point performance in a victory against Penn State is the early frontrunner for game of the year). The biggest statistical difference for the Blue Hens comes from Florida transfer Trumane Lucas. Through four games, she has 15 assists and nine turnovers for a team almost even in assist-to-turnover ratio. A year ago? Try 297 assists and 568 turnovers.
4. Princeton (6-0)

It's worth noting that Delaware started out last season with five wins in a row before an 18-point loss at home to Princeton derailed things. The Tigers look every bit as good this season, if not better. Coming off last season's knee injury, Niveen Rasheed is averaging 17.7 points and 8.2 rebounds per game, including 19 and 12 in a victory against Villanova and 18 and 11 in a win against Marist. And for a team that shot better than 40 percent from the 3-point line a season ago, it's worth noting the strong start this season comes despite little success from the new line.
5. San Diego State (4-1)

Courtney Clements is making an early case for Mountain West honors, all-mid-major honors and just about any other accolade you can come up with. The Arizona transfer is averaging 19.2 points per game in her second season with the Aztecs, shooting 47.9 percent from the floor and 44.8 percent from the 3-point line. She matched Keisha Hampton nearly point for point in a victory against DePaul in Hawaii, and did it without turning the ball over in 37 minutes. A loss to Portland in that tournament keeps San Diego State from climbing higher, but a win at home against Washington on Nov. 26 was a nice recovery.
6. Florida Gulf Coast (3-1)

The season began with a missed opportunity in a 57-51 loss at Seton Hall, but if not exactly a threat in the Big East, Anne Donovan's team is perhaps no longer a mere speed bump. And the Eagles made up for that Seton Hall result with a 59-58 win against Michigan State the week before Thanksgiving behind 20 points and 13 rebounds from Sarah Hansen. Like more than a few markswomen, Kelsey Jacobsen is off to a slow start from the 3-point line, whether or not it's related to the new distance. But well-regarded freshman Whitney Knight is filling the void (5-of-11).
7. Oral Roberts (5-1)

A loss at home against Missouri State over the weekend was the first bit of bad news this season for Oral Roberts, which couldn't stop Casey Garrison. But that doesn't erase the positives of double-digit wins on the road at Wisconsin and at home against Louisiana Tech. As might be expected, Kevi Luper is scoring, hitting for at least 22 points in every game until the Missouri State loss. But Luper also has 12 assists, no small matter for someone who had 29 assists in 34 games a season ago. Road tests at Arkansas and Kansas remain before Christmas.
8. Northern Iowa (4-1)

It's difficult not to imagine what might have been had Jacqui Kalin stayed healthy, but Northern Iowa isn't letting the preseason loss of the reigning Missouri Valley Conference Player of the Year stop it. Other than a four-point loss to Iowa in a game it led with 36 seconds to play, Northern Iowa has steamrolled to wins by an average of 19 points per game. A different player led the team in scoring in each of the wins, a good way to make up for losing one great player. Rachel Madrigal looks positively Kalin-like in averaging 15.4 points, 4.6 rebounds and 3.1 assists per game while shooting 54.9 percent from the floor and 44.8 percent from the 3-point line.
9. Tulane (5-1)

The Green Wave are well on their way to claiming in-state bragging rights with a 4-0 record against Louisiana teams. The biggest of those, of course, was a 65-62 overtime win against LSU on Nov. 19. The Green Wave committed 24 turnovers in that game, but they beat the Lady Tigers on the boards -- freshman Adesuwa Ebomwonyi is averaging five offensive rebounds per game, forming a formidable partnership on the glass with veteran post Brett Benzio.
10. Temple (2-4)

Yes, that's a 2-4 record, and yes, fans of UC Davis, UTEP, James Madison and a host of other unbeaten teams are free at this point to grumble. The Atlantic 10 has been a mystery to this point. In terms of talent, Temple, Duquesne and Dayton still look like locks to make this list by the end of the season. But they also have eight losses between them (Duquesne's only on the hook for one of them, but it was at North Dakota). Temple stays and the other two go for now. That's mostly because aside from an inexplicable loss against Northern Illinois, Temple has taken its turn against worthy competition and held its own. The Owls trailed Ohio State and St. John's by two points in the final minute and Texas A&M by four points with less than three minutes to play.
Next five: Duquesne, UC Davis, Hartford, Marist, James Madison.