Boilers make statement with A&M upset
December, 4, 2011
12/04/11
10:25
PM ET
Monday morning headline: Statements or suggestions?
Statement wins. They're not just for college football anymore! Thankfully, since the only subjective judgment used in basketball's postseason is between No. 64 and No. 65, not No. 2 and No. 3, style points from Sunday's games are nothing more than conversation fodder. But four games between ranked teams make for a lot of fodder.
Ranking the statements made:
1. Purdue beating Texas A&M: More on the Boilermakers in a minute.

2. Ohio State beating Oklahoma: A year is a long time to wait for a mulligan, but that's what Ohio State earned with a big win at Oklahoma. The Buckeyes beat the Sooners a year ago to improve to 7-0 and promptly lost four of their next five games, and six of their next nine, locking in the script for a team that was never as consistent or as good as you got the feeling it should have been with Jantel Lavender and Samantha Prahalis. The schedule through the end of the month is much kinder this time around, and after adding a victory in Norman to home wins against Temple, Florida State and LSU, it's once again tempting to believe this team has some long-range potential. Averaging a shade more than 21 points per game for the season, Tayler Hill averaged 24.5 points in those four signature wins. She also shot 48.2 percent in those games.
[+] Enlarge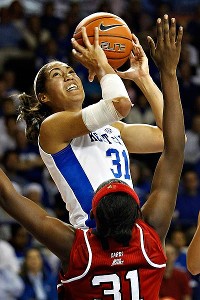 AP Photo/James CrispSamantha Drake shoots over Louisville's Asia Taylor in the Wildcats' 74-54 victory Sunday.
3. Kentucky beating Louisville: A'dia Mathies got the best of Shoni Schimmel in a battle of Bluegrass State guards (albeit one a transplant), and Kentucky's 74-54 win just about evened the score in the series after last season's 78-52 drubbing at the hands of Louisville. This one matters most because Kentucky's schedule was lighter than a helium balloon floating in the International Space Station coming into Sunday, making it tough to know what to think of life after Victoria Dunlap (and before Connecticut transfer Samarie Walker becomes eligible following the fall semester). The problem is Sunday seemed to prove Kentucky can turn people over and play hard for Matthew Mitchell, two things we already knew. If the Wildcats repeat the 3-point shooting (10-for-19) at Duke on Thursday, then we've got a statement.
4. Tennessee beating Texas: Don't get angry, Lady Vols Nation. You're only fourth because your team's elite credentials mean beating Texas is more taking care of business than making a statement. The rebounding (49-38) is what we expect. The 3-point shooting (11-for-21) can't be counted on every game, but it's nice to know it's there. The impressive part? Just nine turnovers. Against its three toughest opponents this season, Tennessee now has just 33 turnovers (including 13 against Miami and 11 against Baylor). Tennessee didn't play Miami a season ago, but if you substitute Louisville in its place, the Lady Vols had 58 turnovers in three similar games.
Best team weekend performance: Purdue. A season ago, Purdue lost a tough home game against Maryland in the ACC/Big Ten Challenge. It then lost its next two games at Notre Dame and Texas A&M. There's no shame in those defeats, but losing by 21 points in South Bend and a cringe-inducing 45 points in College Station pushed the Boilermakers completely out of the national conversation the rest of the way. Well, Purdue had ample reason to look at Thursday's loss at Duke as one that got away, a 40-39 lead with 11:58 to play vanishing in a game-ending 25-13 run by the Blue Devils. Purdue couldn't buy a shot, couldn't get a rebound and couldn't stop turning over the ball when it mattered.
So what did Sharon Versyp's team do three days later against the defending national champion? Turn a nine-point deficit with 15:39 to play into a 60-51 win. Purdue matched Texas A&M on the boards, getting 12 rebounds from Sam Ostarello, in addition to four steals and two blocks. Brittany Rayburn and Courtney Moses hit 5 of 10 shots from behind the arc and matched seven turnovers against a tough defense with seven assists.
It's a statement win all on its own. It's an even better one given what preceded it.

Best individual weekend performance: Chucky Jeffery, Colorado. The number of unbeaten teams is already dwindling toward single digits, with few real surprises amid names like Baylor, Connecticut, Delaware and Green Bay. One name that does jump out is Colorado, it of the 18-16 record last season. Playing a schedule that nobody will confuse with those favored by teams like Rutgers or Tennessee helps, and Sunday's 68-59 victory against Idaho might not rank high on the statement scale, but unbeaten is unbeaten. Jeffery ensured the Buffaloes still fit the category with 30 points and 10 rebounds against the Vandals. For the season, she's averaging 18.3 points. 9.4 rebounds and 4.1 assists while shooting 54 percent from the floor and 44 percent from the 3-point line, so, you know, expect to see her name here again at some point.

Best individual off-the-radar weekend performance: JaQuayla Berry, North Carolina A&T. It's never too early to start conference play. All right, it's ridiculously early to start conference play, but the MEAC is one of several leagues doing it anyway. Berry gets the nod here for filling up the stat sheet with 28 points, 14 rebounds, five assists and three steals in a game that mattered, North Carolina A&T's 84-74 win against North Carolina Central. Berry was third in the nation in steals per game last season.

Best mid-major team: Green Bay. The next mid-major top 10 isn't until next week, but consider this an unofficial change at the top. Gonzaga dropped a 58-51 decision against USC at home Sunday, while Green Bay completed a weekend that began with a win Friday against in-state rival Marquette and ended with a 74-67 victory over Northern Iowa on Sunday. Senior post Julie Wojta was at it again, with a double-double against Marquette and a career-best 26 points against Northern Iowa, but keep an eye on redshirt freshman Megan Lukan. Phoenix coaches last season compared Lukan to Celeste Hoewisch at the same point in her career (both redshirted their first season in Green Bay). Lukan had 12 points and three steals against Marquette and 13 points against Northern Iowa. Lukan is a keeper.
Setting up the week ahead (Monday-Friday)
Rutgers at Miami (Monday): Not a single Rutgers player averaged 30 minutes per game through the team's first eight contests, which is saying something for a program that recently seemed capable of using players for 30 minutes a half. It's early, and there have been a couple of bench-friendly wins against teams like Lehigh and La Salle, but will depth actually be an asset for the Scarlet Knights? Speaking of spreading the wealth, Miami's Morgan Stroman led the Hurricanes with 20 points in last week's win at Michigan State, the first time a player other than Shenise Johnson or Riquna Williams led them in scoring since Dec. 18, 2010 (Stroman against UC Riverside).
Texas A&M at Connecticut (ESPN2, 7 p.m. ET Tuesday): There's something about the Women's College Cup, college soccer's version of the Final Four, that doesn't sit well with the Aggies. Long the Big 12's flagship soccer team, Texas A&M has a strong claim to being the best program never to reach the signature event. And now for the second year in a row, Gary Blair's basketball team dropped its first game of the season over College Cup weekend. OK, maybe I've been around too much soccer this weekend. The Aggies bounced back from a loss at Duke last season with a big victory against Purdue in their next game. Now coming off a loss at Purdue, they need Sydney Carter and Adrienne Pratcher (combined 3-for-21 versus Purdue) to at least play Bria Hartley and Caroline Doty to a standstill to have a chance in Hartford in the Jimmy V Classic.
Duke at Kentucky (Thursday): Duke's Chelsea Gray is in the middle of any conversation about the weekend's best performance after going for 14 points, 13 assists, 11 rebounds and six steals (and just one turnover) in a 92-43 rout of Pittsburgh on Sunday. Now the challenge is to see how she and Chloe Wells hold up against the pressure Kentucky applies. This has all the makings of a game in which both teams approach 30 turnovers, but if Wells and Gray take care of the ball and get looks inside for Elizabeth Williams and at the 3-point line for Tricia Liston, look out. For the season, the Blue Devils are still running a positive assist-turnover ratio.