All hail the Big Ten (finally!)
January, 15, 2012
01/15/12
9:40
PM ET
Monday morning headline: Big Ten basketball is fun again.
As drama goes, the weekend in women's college basketball would merit at least a passing grade on Rotten Tomatoes. Perhaps the schedule didn't offer anything on the Oscar-worthy scale of Notre Dame beating Connecticut in overtime last weekend, or Kentucky edging Tennessee during the week, but thrills and spills were abundant.
On the heels of a big win at home against Maryland on Thursday, Miami earned a 60-57 victory at Florida State on Sunday when Stefanie Yderstrom hit a 3-pointer in the waning seconds to support Shenise Johnson's 24 points, six rebounds, four assists and four steals. Yderstrom hit 7 of 13 shots from behind the arc in the two wins.
[+] Enlarge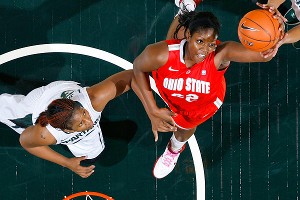 AP Photo/Al GoldisPurdue is unbeaten in Big Ten play, but Ohio State, Michigan State and Nebraska are right behind with 4-1 marks.
Rutgers rallied from a nine-point halftime deficit and held off Louisville in an overtime thriller, easily the biggest win of the season for a team that found itself in the top 10 with just one victory against a ranked team before Saturday's game.
Baylor needed only a half to dismantle Texas behind 32 points and 13 rebounds from Brittney Griner.
But for collective entertainment value, nothing topped the Big Ten. And that sentence has been a long time coming.
As painful as it is to write for someone who is at heart a Midwesterner, the Big Ten has been both boring and bad in recent seasons. At various times since Michigan State last represented the league in the Final Four, the Mountain West, Atlantic 10 or Colonial Athletic Association surpassed it in entertainment value -- and quite possibly in quality.
We won't really know about the quality part until March, when a league with two regional finals appearances and a 26-26 record in the past six NCAA tournaments tries to do something about those numbers. But Sunday offered hope that the race to be the best of whatever the Big Ten is will be worth watching in the weeks ahead.
Purdue, the league's stingiest defense, was at it again against Iowa. The Boilermakers (5-0) claimed sole possession of first place with a 57-53 win in which the Hawkeyes -- inconsistent but far from short on offense this season -- shot just 36 percent from the field. Only one team has reached 70 points against the Boilermakers this season (and curiously, for a team that played Duke, Notre Dame and Texas A&M, among others, it was Central Michigan).
At the other end of the pace spectrum in a game between teams in the top 25 nationally in scoring offense, Penn State evened the season series against Nebraska with a 93-73 road win in Lincoln that bunched up the standings with the Lady Lions at 3-2 and the Cornhuskers at 4-1. In two games, the teams combined for 300 points.
Right there with Nebraska in the one-loss club are Ohio State and Michigan State after the Buckeyes beat the Spartans 64-56 in East Lansing. As poorly as the Spartans played early -- and coach Suzy Merchant pulled out the word "soft" to describe her team's start -- they cut the lead to three points with a little more than five minutes to play. That's when Tayler Hill hit a momentum-crushing 3-pointer en route to 21 points on 8-of-12 shooting, the kind of shot All-Americans make on the road when games start to slip away.
And not too far off the radar, quirky Michigan overcame 28 points from Minnesota freshman Rachel Banham -- who looks at times like the next coming of a familiar Big Ten face, Katie Douglas -- to earn a 61-57 win behind 20 points from Rachel Sheffer and more turnover-free basketball from Jenny Ryan.
Contrasting styles, close games and emerging stars. The weekend didn't prove the Big Ten is ready to win a title again, but it showed it's worth the price of admission.

Johnson
Best individual performance:
Glory Johnson, Tennessee. It wasn't the most breathtaking line, but Johnson's 16 points, 13 rebounds and five steals in an 87-64 victory against Vanderbilt added up to the most impressive half of a senior tandem for the Lady Vols that hopefully isn't about to be separated for any length of time after Shekinna Stricklen sustained a knee injury late in the game (more on Stricklen from the
Knoxville News Sentinel
). A last-seconds loss at Kentucky midweek that ended Tennessee's 36-game SEC winning streak wasn't coming off the boards regardless of the outcome Sunday, so the challenge was to avoid letting that loss linger against a Commodores team capable of exploiting an opening. Just such a scenario was in play for much of the game's first 30 minutes, but thanks in large part to Johnson, Stricklen and fifth-year player Vicki Baugh (and, yes, a healthy dose of freshman Ariel Massengale), the Lady Vols were good enough early to be able to put the game out of reach with some inspired play late.
Best individual performance, below the radar: Lauren Lenhardt, Boise State. Three days after scoring 23 points to lead Boise State to a 65-46 victory against New Mexico, the first game in the Mountain West Conference for the Broncos, Lenhardt topped that effort with 29 points in an 81-75 win at Air Force, her team's first conference road game. The Broncos won a total of three conference games last season in the Western Athletic Conference, but they lead the MWC in scoring by more than six points per game this season behind Lenhardt, a 6-foot-3 junior averaging 13.8 points per game, and senior guard Kati Isham, averaging 15.6 points per game.
Best streak: Courtney Hurt, VCU. Hurt totaled 28 points and 15 rebounds in Virginia Commonwealth's 83-80 win against William and Mary. That's six games in a row for Hurt with at least 15 rebounds and 11 of 12 games with double-digit rebounds, propelling her to the national lead at 12.7 boards per game.
Best team performance: Saint Mary's (Calif.). The Gaels staked themselves to at least a share of West Coast Conference frontrunner status with a 66-63 road win against No. 23 Gonzaga, getting 18 points from Alex Carbonel, almost eight better than her season average. The result marked the first conference loss for Gonzaga since the 2008-09 season, ending the team's 34-game conference winning streak. Saint Mary's now owns wins against both Gonzaga and BYU this season and has lost just once in its past 10 games.
Best team not enough people are paying attention to: St. Bonaventure. More on the Bonnies in the days to come, but a 64-52 win against St. Louis moved them to 3-0 in the Atlantic 10 for the first time in program history, and 16-2 overall. With wins against Marist, Duquesne, St. John's, Temple and West Virginia, and losses against only Delaware and Villanova (the latter without second-leading scorer Megan Van Tatenhove, because of injury), St. Bonaventure has earned more support in the polls than it's getting at the moment. Seven days ago, before a midweek win at Temple and the weekend win against St. Louis, it received just one vote in the AP poll and none in the coaches' poll -- in which St. John's and West Virginia each received votes.
The week ahead
North Carolina at Connecticut (ESPN2, 7 ET Monday): The margin of victory for Connecticut in recent seasons makes it easy to forget that the Huskies claimed the all-time series lead for the first time last season. Despite a soft schedule, North Carolina turns over the ball 19.3 times per game. That's less of a problem when foes like USC-Upstate or Savannah State turn it over 20-plus times, but it is a big problem against teams that aren't physically overmatched, as in blowout losses against Penn State and South Carolina earlier this season. There aren't many imposing post players left on Connecticut's schedule, so a matchup against Clay Shegog is an important test for Stefanie Dolson. Of course, the same is true in reverse for Shegog, who has hit just 4 of 19 shots in three career games against the Huskies.
Rutgers at St. John's (Tuesday): Rutgers kicked off a potentially season-defining three-week stretch with an overtime win against Louisville on Saturday. Games loom against Connecticut, DePaul, Georgetown and Notre Dame before the Super Bowl. But St. John's had quietly been building up a head of steam of its own, including a win against Louisville on Jan. 8 and a win at Syracuse last week, before a setback against Marquette on Sunday. Neither team can afford to lose this one.
Duquesne at Temple (Wednesday): There's quite a crowd forming in the Atlantic 10 when it comes to NCAA tournament positioning. Five A-10 teams were ranked between Nos. 38-54 in last week's RPI, not including Temple at No. 66 or current league co-leaders Charlotte and La Salle. It's difficult to see the league getting more than one or perhaps two at-large bids (Charlie Creme had St. Bonaventure as the only at-large pick in his most recent Bracketology), so every game between contenders takes on the feel of something close to a playoff.
Baylor at Texas Tech (Wednesday): Baylor has lost two regular-season games since the start of last season. One defeat came in Hartford against Connecticut. The other came against Texas Tech in Lubbock on Feb. 19, 2011, a 56-45 setback in which the Lady Bears shot just 26 percent and were beaten on the boards. So far this season, only Tennessee beat Baylor on the boards in a game, and only Iowa State held the Lady Bears to anything less than 40 percent shooting. And yes, it's the last meeting in Lubbock between Griner and Lady Raiders senior Jordan Barncastle.
LSU at Tennessee (Thursday): Kentucky's trip to Georgia the same night might arguably be the bigger game in the SEC, especially after LSU's loss at Florida and Kentucky's win against South Carolina on Sunday, but Nikki Caldwell's first trip to Knoxville as an SEC coach stands out as a must-see game.
Loyola at Marist (Friday): Is this on the list because it's on ESPNU at 6 p.m. ET? Well, yes, now that you mention it. But the combination of a typically light schedule and television provides an opportunity to check in on one of the more familiar mid-major names. It's a longer list than the Red Foxes are used to, but there isn't a bad loss among setbacks against Villanova, Princeton, Boston University, Hofstra, St. Bonaventure and Kansas State. So push back the dinner reservation an hour and watch Red Foxes star Corielle Yarde.