Tiffany Hayes steals the headlines
January, 29, 2012
01/29/12
11:04
PM ET
Monday morning headline: Tiffany Hayes goes where no Connecticut player had gone before
Precisely where to place Tiffany Hayes in the canon of Connecticut lore has never been an easy question to answer. On at least one count, she just made it simple.
No Connecticut player ever scored more points in back-to-back games than Hayes. Not Kerry Bascom, Rebecca Lobo, Nykesha Sales, Diana Taurasi or Maya Moore.
The senior earned that bit of history with 68 points in the past week, setting a career high with 35 points at Syracuse on Thursday and nearly matching it with 33 points against South Florida on Saturday. The regular season is 2½ months old, yet Hayes was so prolific that 20 percent of her total points came within 48 hours.
It was a great sustained performance from a player who has as much ability to alter the national championship picture as anyone.
We know how much Brittney Griner and Odyssey Sims offer. We know what to expect from Skylar Diggins and Natalie Novosel. We see Nneka and Chiney Ogwumike at their best time and again. What you see is what you get.
[+] Enlarge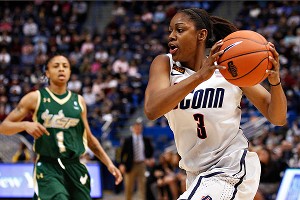 David Butler II/US PresswireTiffany Hayes is a guard with the ability to beat anybody off the dribble, shoot from any distance, pass, rebound and ball hawk.
It's never quite clear what we're supposed to see when it comes to Hayes, whether she absorbs unwarranted skepticism because she's held to the impossible standard of the All-Americans who preceded her in a Connecticut uniform or whether she has been the beneficiary of the team for which she plays and the talent that surrounds her.
After the South Florida win, Connecticut coach Geno Auriemma said there aren't 20 players in the country he would rather have than Hayes, an allusion to the Wooden Award midseason list of 20 players that included Connecticut's Bria Hartley and Kaleena Mosqueda-Lewis but not Hayes. Auriemma added with whatever degree of hyperbole you choose to ascribe to it that he thought Hayes could average 35 points per game if she played for another, presumably less balanced, team.
The specifics of the past week's scoring surge aside, there's a case there to be made. Hayes is a guard who shoots 56 percent from the floor and 42 percent from the 3-point line and averages 5.9 rebounds, 3.3 assists and 2.2 steals per game, one who turns over the ball barely twice per game. Some of those numbers, particularly the shooting percentages, are improvements on her career averages, but the basic picture is what it has been since she arrived four seasons ago. She is a guard with the ability to do everything -- beat anybody off the dribble, shoot from any distance, pass, rebound and ball hawk.
In the aftermath of a horrific shooting night against Stanford early in the season in which Hayes hit just 3 of 15 shots, missing all eight attempts in the first half, Auriemma lauded her rebounding (she led all players in the game with 13 rebounds and with her six assists) as a sign of maturity. The performance seemed to put in deed the words she spoke before the season about inheriting all that came with being a senior and the leading returning scorer.
"My confidence was up and down all the time last year, and that definitely affected my play," Hayes said before this season about a junior campaign in which much was expected after Tina Charles' graduation. "So this year, I'm just looking to stay positive no matter what. If I'm doing something wrong, I can figure out something else out to help with the team. If I'm not making shots, I can set a good screen, I can get steals, anything like that to stay positive, keep a positive attitude no matter what."
But after a 4-of-12 shooting night with no free throw attempts in a loss against Baylor and 2-of-7 shooting with four turnovers in a loss against Notre Dame, Hayes again found herself the subject of negative energy. Hartley played well in both losses, but Connecticut needed someone else to step up on offense (as freshman Mosqueda-Lewis had against Stanford). If Hayes is one of the 20 best players in the country, the thinking goes, she bears the expectation of living up to that in the biggest games.
The actual record Hayes set in the games against Syracuse and South Florida is slightly arbitrary, if impressive nonetheless, given the company it involves. The immediate importance of it is as a reminder that a player who should finish her career in the top 10 in career scoring at Connecticut still has an opportunity to write her own legacy.

Best weekend team performance: Michigan State. Technically, the Spartans could have lost Sunday's game against Penn State and not been asked to turn in their jerseys and skip the remainder of the season. For practical purposes, it was win or fade into irrelevance. Thanks in large part to Porsche Poole, who finished with 32 points, 6 rebounds, 6 assists and 3 steals, the Spartans took the only lead that ultimately mattered in a back-and-forth contest and held on for an 83-77 victory. The result leaves Michigan State half a game behind Michigan for fifth in the Big Ten, with a trip to Ann Arbor next on the schedule, and takes at least some of the sting out of an overtime loss at home against Illinois last week (a loss in which Poole scored 28 points, while we're on the subject of back-to-back scoring prowess).

Best weekend individual performance: Jessica Jenkins, St. Bonaventure. Playing without third-leading scorer Armelia Horton on account of illness, St. Bonaventure rolled to a 75-57 win at La Salle on Saturday to improve to 20-2 overall, 7-0 in the Atlantic 10 and 9-0 on the road this season. The Bonnies are off to the best start in program history despite playing without Horton for four games and without second-leading scorer Megan Van Tatenhove for four games. That says a lot about the team's depth. It also says something about its senior star. Jenkins scored 28 points against La Salle, hitting eight 3-pointers and playing 32 minutes without a turnover. Already the A-10's all-time leader in 3-pointers with 303, she is 14 shy of the top 20 in NCAA history.

Best individual weekend performance, off the radar: Megan Herbert, Central Arkansas. This isn't the first mention of the Central Arkansas junior, nor is it likely to be the last with performances like the one she turned in against McNeese State in a battle for first place in the Southland Conference on Saturday. Herbert played all 50 minutes in her team's double-overtime win and finished with 32 points and 15 rebounds. She's averaging 16.2 points and 10.4 rebounds per game for a team that is 16-4 overall and moved into a tie with McNeese State at 6-1 in the conference with the win. Oh yes, and the reigning Southland Player of the Year , the one with a career average of 11.7 rebounds per game, is still just 5 feet, 11 inches.

Second-best imitation of someone taller: Callan Taylor, Sacred Heart. Herbert might be among the best inch-for-inch players in the country (the nation's leading rebounder entering the weekend, Morehead State junior Ashar Harris is also just 5-11), but Sacred Heart's Taylor is also in the debate. The 6-foot senior totaled 18 points and 12 rebounds in her team's win against Mount St. Mary's to maintain a one-game lead in the Northeast Conference. Taylor is averaging 17.2 points and 10.2 rebounds per game this season and has 12 double-doubles, including three in a row.
The week ahead
Connecticut at Duke (ESPN2, 7 p.m. ET Monday): It can't be a must-win game if it's a nonconference contest in late January, but it's a must-show-something game for Duke if it wants to make a case that the national title race is more than four favorites.
The matchup inside between Elizabeth Williams and Stefanie Dolson will be fun to watch. The overall rebounding battle between two teams that go to the glass at every position on the court should be intense. The possession battle will be fascinating (Connecticut rolled to a 36-point win last season, but it's at least worth noting that it turned over the ball 20 times in the process, something that's easier to ignore when Maya Moore is hitting 11 of 17 shots). But if not quite as prominent as any of those factors, the 3-point line could be important to the Blue Devils. They aren't a prolific team from the arc, but Tricia Liston and Chelsea Gray are efficient long-distance shooters. The only two teams that had much success in that regard against the Huskies this season were Villanova and South Florida, which -- for different reasons (system for the Wildcats and personnel for the Bulls) -- are difficult to imitate. Baylor and Notre Dame beat Connecticut at home without getting much from the 3-point line.
Maybe Duke can do the same, but don't bet on it.
South Dakota State at Oakland (Monday): Currently alone in first place in the Summit League, South Dakota State visits third-place Oakland on Monday and hosts second-place Oral Roberts a week later. For a team that managed just 22 points in a loss earlier this season, South Dakota State has hit a vein of scoring. With Jennie Sunnarborg averaging 19.2 points per game against Summit League competition, the Jackrabbits are second in the conference in scoring at 72.8 points per game, compared with 52.8 out of conference.
Notre Dame at Rutgers (Tuesday): Notre Dame's 71-56 victory at St. John's marked the first time this season that the Fighting Irish failed to beat an unranked opponent by at least 20 points. But playing a ranked Rutgers team on the road might be the biggest hurdle remaining before a rematch against Connecticut at the end of the regular season. The Fighting Irish hold a 16-11 series edge on the Scarlet Knights, but they are just 4-9 in Piscataway, N.J. (granted, one of the four was a 75-63 win with Skylar Diggins, Natalie Novosel and Brittany Mallory in 2010). It will be shame if Khadijah Rushdan is unavailable for Rutgers after suffering a head injury in Sunday's loss at Georgetown.
Oklahoma at Kansas (Tuesday): It was always going to be a race for second in the Big 12 this season, but it wasn't necessarily obvious that this would be a key game in that race. Tied with Oklahoma and Kansas State for second at 5-3, Kansas plays its next four games against Oklahoma and Texas at home and Texas A&M and Kansas State on the road, a 13-day stretch that will reveal something about the team's staying power. The Jayhawks last beat the Sooners in the 1998-99 season, with that result followed by 14 consecutive defeats.
Texas A&M at Texas Tech (Wednesday): Seven Big 12 teams are piled up somewhere between 5-3 and 3-5 behind undefeated Baylor, and this doesn't look like a conference that's going to get eight bids to the NCAA tournament. The Lady Raiders finally snapped the five-game losing streak that followed a 14-0 start with a 75-71 victory against Texas on Saturday, and they did it without leading scorer Kierra Mallard. A 6-4 record the rest of the way would mean .500 in the conference, but Wednesday's game is one of just five at home and Mallard's availability remains uncertain.
Nebraska at Purdue (Thursday): This already shaped up as a fascinating contrast between the Big Ten's third-best scoring team and its stingiest defense, but Purdue's loss against Iowa on Saturday and Ohio State's somewhat stunning loss against Minnesota on Sunday combine to make it a huge game in the championship race. It's the only meeting this season between the two teams, and the Cornhuskers could emerge tied for first with four of their final six games at home, including a season-ender against Ohio State.