Delaware takes over the top spot
February, 13, 2012
02/13/12
1:54
PM ET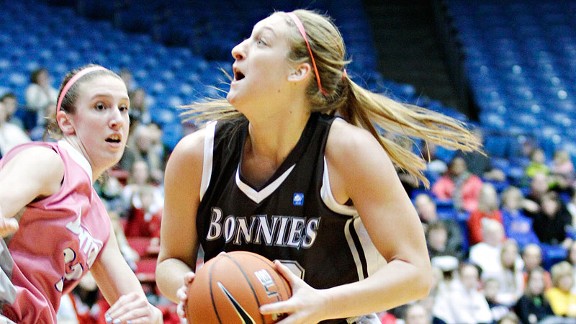 Tim G. Zechar/Icon SMISt. Bonaventure, which hasn't lost since Dec. 29, has won 13 consecutive games.
1. Delaware (22-1 overall, 13-0 Colonial Athletic Association)
That Delaware had at least a little something going for it even before Elena Delle Donne showed up was clear when coach Tina Martin picked up career victory No. 300, all at Delaware, in Sunday's win at Georgia State. And even while Delle Donne was busy collecting 31 points, 8 rebounds, 2 blocks and 2 steals in just 25 minutes in Sunday's game, there were hints of why this is a team with the right supporting cast for a once-in-a-lifetime star. Lauren Carra scored 19 points, including 3-of-6 shooting from the 3-point line, Danielle Parker totaled 11 points, 8 rebounds, 6 assists and 6 steals, Trumae Lucas finished with 9 assists and 1 turnover and the whole cast limited Georgia State to 36 percent shooting and forced 25 turnovers. Georgia State isn't a good team, but with Delaware facing challenging road games this weekend against teams that do fit that label, Hofstra and Drexel, the Blue Hens used the warm-up game to offer a nice reminder of why there's more than one reason to like them.
2. St. Bonaventure (24-2 overall, 11-0 Atlantic 10)
The Bonnies remain perfect in 2012, and the math starts to look pretty simple to complete a perfect conference season and claim the No. 1 seed in the Atlantic 10 tournament. All that remains for St. Bonaventure is home games against Xavier and Fordham and a road trip to Rhode Island, teams with a combined 5-25 A-10 record at the moment. Along with an earlier win at Temple, Saturday's 56-55 win at Dayton might have been the most impressive of the conference slate (although those nonconference road wins at West Virginia and St. John's also gained some sheen after those teams went to Notre Dame and Rutgers, respectively, and won Sunday). Against Dayton, the Bonnies got just three points from Jessica Jenkins, but showed they have other go-to options (17 points, 8 rebounds by Megan Van Tatenhove) and plenty of depth (13 points off the bench from CeCe Dixon).
3. Green Bay (21-1 overall, 11-1 Horizon League)
Losing one regular-season game every 14 months ought to buy a team leeway, but Green Bay falls from the top spot after a 70-58 home loss against Detroit. Playing without injured starter Sarah Eichler, one of its best one-on-one defenders, Green Bay saw several streaks come to an end against Detroit, including a 40-game regular-season winning streak, 27-game home winning streak and 36-game conference winning streak. So how did the Phoenix respond two days later? How about what might be the line of the year in college basketball from should-be-All-American Julie Wojta: 30 points, 20 rebounds, 8 steals, 5 assists and 4 blocks in a 64-59 win against Wright State, the league's third-best team.
4. Florida Gulf Coast (23-2 overall, 15-0 Atlantic Sun)
Since a five-point loss against NC State in Hawaii on Dec. 28, Florida Gulf Coast has won 15 in a row, 12 of those games by double digits. That probably says something about both the Eagles and the Atlantic Sun, but if the past week in women's college basketball proved anything, it's that winning isn't ever a given. Florida Gulf Coast hit just two 3-pointers in Saturday's win against Belmont, missing 17 shots from the arc, but such shooting woes for the nation's most prolific 3-point shooting team don't matter much when you limit the league's third-place team to 34 points and 31 percent shooting.
5. BYU (22-4 overall, 10-2 West Coast Conference)
BYU scored 46 points in the second half of its conference showdown against Gonzaga. It could have skipped the first half. A 70-40 victory for the Cougars on Feb. 9 goes down as one of the more eyebrow-raising scores of the season, mid-major or otherwise, even if the Bulldogs still hold a half-game lead in the standings (with a game remaining against BYU on Feb. 25 in Spokane). BYU is as balanced as any team in the nation when it comes to finishing; four players have attempted between 217 and 236 field goals. But there's one hand distributing most of the makes. Haley Steed has double-digit assists in back-to-back games and is closing on the top five nationally in assists per game.
6. Princeton (17-4 overall, 7-0 Ivy League)
Expect the Tigers to keep saying all the right things about the Ivy League, and Friday-Saturday back-to-backs aren't easy regardless of the opponent, but there isn't much left to challenge this team until the postseason. Princeton rolled through the often-tricky Dartmouth-Harvard road trip without a worry over the weekend, winning by 31 and 28 points, respectively. It's not hurting them at the moment, so perhaps it isn't a problem, but it's interesting that a team that was so strong in assist-to-turnover ratio in recent seasons is currently working with a mediocre 0.80 ratio.
7. Fresno State (20-4 overall, 8-0 WAC)
Their opponents shoot a better percentage from the floor than they do. Their opponents get more rebounds than they do. So how do the Bulldogs keep rolling along? The winners of nine in a row, including five road games in the past three and a half weeks, the Bulldogs keep getting more opportunities than the teams they play and make those opportunities count for more. Not since the fifth game of the season has an opponent had fewer turnovers than Fresno State, which ranks in the top 10 nationally in turnover margin. Throw in the chance to hit 18 of 29 shots from the 3-point line, as Fresno State did against Nevada on Saturday, and it's easy to explain this ranking.
8. Middle Tennessee (21-5 overall, 13-0 Sun Belt)
The wins haven't come easy, with three of Middle Tennessee's four February victories by single digits, including a 67-64 escape against Western Kentucky, but they have come. With just two reserves averaging more than seven minutes a game, the Blue Raiders need at least one of their familiar faces to step up at all times. Icelyn Elie has done so of late. The team's third-leading scorer topped 20 points in three of the past four games. The Blue Raiders can lock up the best record in the Sun Belt with a win Saturday against Florida Atlantic (ESPN3, 4 p.m. ET).
9. Gonzaga (22-4 overall, 10-2 West Coast Conference)
With a 1-2 record against BYU and Saint Mary's, including that 30-point rout at the hands of the Cougars, Gonzaga is not on firm ground here, owing its standing in large part to neutral-site victories against Georgia and Dayton in December. The good news is the remaining three regular-season games are all at home, including the Feb. 25 tilt with BYU. Also on the positive side of the ledger, Gonzaga is running a positive assist-to-turnover ratio at the moment, with 450 assists against 400 turnovers. Why is that worth noting for a team that ranked among the national leaders last season with 245 more assists than turnovers? Because take away Courtney Vandersloot, and last season's team actually finished with a negative assist-to-turnover ratio.
10. Temple (16-8 overall, 9-1 Atlantic 10)
Temple returns on the strength of nine consecutive wins in the Atlantic 10, keeping the Owls at least nominally in the race for the top seed in the Atlantic 10 tournament, despite St. Bonaventure's torrid pace. Other than a loss at Northern Illinois, there aren't any head-scratchers on the Temple résumé, with only Villanova an NCAA tournament question mark among the seven other teams to beat Tonya Cardoza's team. Conference play has been a boon to all involved, but Victoria Macaulay more than most. The 6-foot-4 junior center is averaging 10.5 points, 8.5 rebounds and 2.2 blocks per game in Atlantic 10 games.
Next five: South Dakota State, UTEP, Marist, San Diego State, Central Arkansas