Upsets prove anything is possible
February, 20, 2012
02/20/12
12:05
PM ET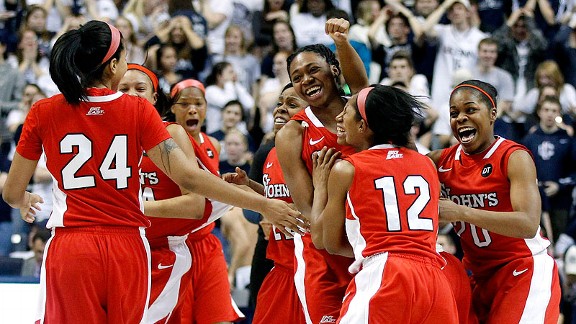 David Butler II/US PresswireWith Saturday's win at UConn, St. John's became only the fifth team to win at Storrs since 1993.
Monday headline: St. John's puts the exclamation point on a wild week
Doubt is a dangerous thing for an athlete. It's a great thing for fans of a sport.
And doubt is suddenly easier to find than discounted Valentine's chocolate.
The truth is we can't know if St. John's 57-56 victory at No. 2 Connecticut on Saturday, which ended the latter's 99-game home winning streak, will leave lingering doubts in the minds of any Huskies. They will say otherwise, regardless of what happens when they next take the court Tuesday at Pittsburgh or a week from now against Notre Dame.
We can't be sure if No. 4 Notre Dame questions its own fallibility after last week's loss at home against West Virginia. After a relatively easy win against Providence on Valentine's Day, the only game the Fighting Irish have played since the loss, Skylar Diggins talked about the importance of her team regaining its "swag and confidence."
Nobody outside of No. 1 Baylor's huddle knows if even a dominant defensive effort in the second half of Saturday's 56-51 win against Texas Tech carries more weight in the Lady Bears' minds than 35 percent shooting or a halftime deficit.
And on and on it goes for what for so long seemed like a race with four favorites, a handful of contenders and a whole mess of pretenders. Is No. 5 Duke damaged goods after losing in the closing seconds at Maryland, the Blue Devils' 16-game ACC winning streak ending in their first game since losing starter Richa Jackson to a season-ending injury? Can No. 8 Kentucky recover after losing its grip on first place in the SEC with a loss at cellar-dwelling Alabama?
What we do know after a nine-day span in which three top-five teams lost, two of them at home against unranked opponents, is that a lot of us don't know quite as much as we thought we did when the month began. If teams like Connecticut can lose at home against unranked St. John's, surely Maryland or Miami can't be counted out on a neutral court in March? There might even be room for a Tennessee surge or a Delaware run on the way to Denver.
For that matter, a St. John's team not deemed one of the best 25 in the nation on Valentine's Day has reason to believe it can get the last laugh by playing games beyond April Fool's Day.
If only because just about every team this side of Stanford was complicit (and the Cardinal had their own eyebrow-raising close calls), there's little reason to think anything other than the favorites are still the favorites. Baylor is still unbeaten and still has Brittney Griner. Connecticut is still limiting opponents to shooter percentages that would rate as barely passable batting averages. Notre Dame's Sklyar Diggins is an increasingly unsolvable puzzle for opponents. Stanford just clinched a conference title. And everyone else still has a question mark for every answer.
But long before St. John's guard Shenneika Smith hit a 3-pointer to silence Gampel Pavilion and give a perpetually plucky Big East overachiever something far sweeter than a moral victory, Geno Auriemma warned of what this season might bring. He was one of the few who never had a doubt that a stretch of days like we just witnessed was possible this season.
"I think history has proven over the past five, six, 10 years, maybe, that the unexpected has been happening," Auriemma said on the eve of the season. "Not necessarily the unexpected in that the unexpected team wins the national championship, but unexpected in terms of who is there at the end. And I think that is going to continue; I really do. I think there are probably teams out there … that are going to all of a sudden kind of put it all together in February and make a run. They're being viewed as kind of fringe players in this play [in the preseason], but I think that time has proven there are more of them making an impact at the end than there ever has been before."

Best weekend team performance: St. John's. You were expecting something else? Saturday's win stands alone as a signature moment in program history, but it hardly came out of nowhere. St. John's led Baylor at halftime when the teams met in December in Madison Square Garden, playing without an injured Da'Shena Stevens and losing Nadirah McKenith to injury during that game, and more recently won at home against Louisville and on the road against Rutgers. Healthy again, Stevens was a big part of both last week's victory against the Scarlet Knights and this week's win against the Huskies, while Smith hit the shot heard around Queens with the 3-pointer to put her team ahead for good in Storrs.
But McKenith's performance can't be overlooked, both on the day and the season. The junior fueled a team effort that produced 65 field goal attempts, the third-most against Connecticut this season, and just nine turnovers, the fewest against Connecticut this season. With seven assists and two turnovers, McKenith became the first player this season to have at least five more assists than turnovers against the Huskies. Before Saturday, St. John's seemed like a veteran team capable of overcoming its own liabilities and beating any opponent on a given night, save one of the members of the very top tier. It's tough to keep that caveat in place now.

Department of turning over a new leaf: Connecticut. The end of any streak on the verge of triple digits is a big deal, but the sky is not falling in Connecticut. Heck, Saturday's loss arguably wasn't the most momentous streak snapped in the state over the weekend, given Trinity College falling short of a squash championship for the first time in 14 years. What the basketball loss did reinforce is just how much Connecticut depends on its defense for offense -- and just how good the defense has been for much of this season. After the game, Auriemma lamented the sizable edge St. John's had in field goal attempts. Some of that had to do with 17 offensive rebounds from the Red Storm, who still have fewer rebounds on the season than their opponents, but it also goes back to ball possession. In addition to limiting opponents to 30.8 field goal shooting, the Huskies are forcing 20.6 turnovers per game this season, more than at any time during the Maya Moore era. Without the scoring opportunities those turnovers provide, Connecticut is left to depend on a half-court offense that, for all the potential of its individual parts, is not as great a collective asset as the team's defense.

Best weekend individual performance: Brittany Hrynko, DePaul. It isn't easy to get attention in the Big East these days without beating Note Dame or Connecticut, but No. 20 DePaul continued its impressive run by ending West Virginia's run of three consecutive wins against ranked teams behind 21 points from Hrynko. The Blue Demons could have crumbled after losing All-American Keisha Hampton to a season-ending injury early in the Big East season. That they remain in the Top 25 and the thick of the Big East race has a lot do with Anna Martin (17.5 points per game in Big East games) and Katherine Harry (10 points and 10.5 rebounds in Big East games). But those two needed help on the road against a Mountaineers team that held Louisville, Notre Dame and Rutgers to 50, 63 and 50 points, respectively, in their three most recent games. Enter Hrynko, a freshman guard, who hit 7-of-14 shots, including 4 of 8 from the 3-point line, and added six assists and four steals in a 77-63 win.

Best weekend individual play: Alyssa Thomas, Maryland. With 4.1 seconds left and Maryland leading Duke by two points in Sunday's ACC showdown, the Terrapins star had Blue Devils star Elizabeth Williams' left arm in her face as the two fought for position on the right block. That stalemate down low forced Duke's Chelsea Gray, after a drive to the baseline on that side of the court, to throw the ball back out to Shay Selby at the top of the key. When Selby released a pass to Haley Peters in the left corner with 2.9 seconds left, no Maryland player was even on the same side of the court as Peters. But by the time Peters released a jumper with 1.3 seconds left, an airborne Thomas was close enough to deflect the shot out of bounds for a block as time expired. Two stops on opposite sides of the court in the span of three seconds at the end of the game. That's how a star who suffered through a 2-for-11 shooting day with five turnovers still plays like an All-American.

Auditioning for a new role: Allison Vernerey, Duke. The bad news for Duke in its first game without Jackson, its fourth-leading rebounder and second-leading offensive rebounder, was Maryland winning the battle of the boards by a 45-36 margin. That included nine offensive rebounds from Tianna Hawkins, who scored the winner on a second-chance opportunity, and 30 total rebounds combined from Hawkins, Thomas and Lynetta Kizer. The good is, well, the Blue Devils are done with the Terrapins for the regular season.
But the rebounding numbers aside, and coach Joanne P. McCallie unsurprisingly singled that out as the difference in the game, Duke got good effort from Vernerey in an expanded role. Playing a season-high 32 minutes, she finished with four offensive rebounds and three defensive rebounds and did her part for a defense that was stingy on Maryland's first looks. There's no getting around how big a blow Jackson's injury is to Duke's chances, but Sunday's game might not be quite as much of an indication of impending calamity as the numbers suggest.

Beyond the big six conferences: Shey Peddy, Temple. There might not be a team suffering through a longer season than Rhode Island, which fell to 1-26 after Sunday's 84-41 loss against Temple, but even the Rams don't give up many lines like that put forth by Temple guard Peddy. Keeping her team a game behind unbeaten St. Bonaventure in the Atlantic 10 race, Peddy took the difficult route to a double-double with 22 points and 10 steals in 29 minutes. After a modest start to the season, Peddy is averaging 18.2 points, 5.0 rebounds, 4.0 assists and 3.1 steals per game in conference play.
The week ahead (Monday-Friday)
Notre Dame at Louisville (ESPN/ESPN3, 2 p.m. ET Monday): Facing games this week against Notre Dame and DePaul, Louisville almost put itself in a world of hurt before rallying for an overtime win at Pittsburgh on Valentine's Day. No team held Notre Dame to fewer points in the postseason last season than Louisville, which dropped a 63-53 decision in the Big East tournament. Skylar Diggins and Natalie Novosel combined to shoot 5 of 15 from the floor with 11 turnovers that day.
Ohio State at Penn State (ESPN2/ESPN3, 7 p.m. ET Monday): The first of two games this week in BCS conferences with first place on the line. For all their history, the Lady Lions are looking to clinch a share of their first Big Ten title since 2004, a drought the Buckeyes have done their fair share to prolong. Already accurate from long range, Maggie Lucas is shooting 56 percent (14 of 25) from the 3-point line in her past five games.
Vanderbilt at Kentucky (ESPN2/ESPN3, 9 p.m. ET Monday): The Wildcats look to snap a three-game losing streak, while the Commodores look to prolong a stretch in which they've won six of seven. Vanderbilt does have two road wins in that run, at Auburn and at Mississippi State, but a win at Tennessee-Martin is its lone road win against a team with a winning conference record. The good news, or bad news, is it gets another shot if Monday doesn't work out, visiting LSU on Thursday.
Texas A&M at Oklahoma (Tuesday): A share of second place is on the line in Norman. The Sooners committed at least 20 turnovers in seven of their first 13 games, a stretch that concluded with 23 turnovers in a 75-58 loss at Texas A&M. They've turned it over 20 times just twice in 13 games since as they look to end a six-game losing streak against the defending national champions.
Nebraska at Michigan State (Thursday): Throw in Purdue visiting Michigan the same night and there will be a lot of jockeying for position as the four teams that begin the week tied for third in the Big Ten look to shore up one of the top four spots and a bye in the first round of the conference tournament. The Cornhuskers close at home against Ohio State and could use another road win here to erase the sting of a three-game losing streak that ended Sunday.
Wichita State at Illinois State (Thursday): The Shockers are tied for first (with Missouri State) in the Missouri Valley and lead the conference in field goal offense and defense, but they face a tough test at third-place Illinois State here. The Redbirds won when these teams met in Wichita, shooting 48 percent against that otherwise-stingy defense.
Miami at Duke (Friday): This is other game for first place this week, and it'll likely be for the regular-season title (although while Miami closes at home against Boston College, Duke still has to visit North Carolina in its final game). Miami got the road win it needed at Maryland last week, but adding a victory in Durham would seem likely to lock up a No. 2 seed in the NCAA tournament. After a huge game earlier in the week against NC State, Pepper Wilson had four fouls in 15 minutes for Miami against Florida State on Sunday. The Hurricanes could use her size against the Blue Devils. Riquna Williams is just 15 of 61 from the floor in three career games against Duke.