Mathies making good on coach's prediction
February, 26, 2012
02/26/12
9:36
PM ET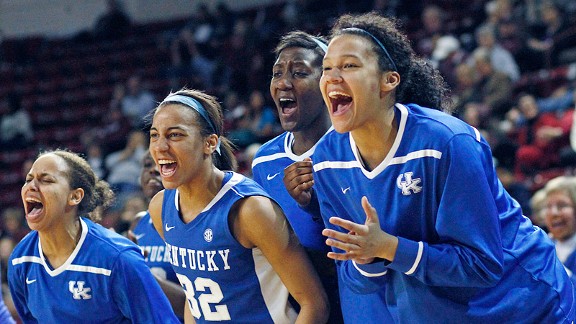 AP Photo/Kerry SmithKentucky opens the SEC tournament on Friday, facing the winner of Auburn-Florida.
A chance to be one of the best players in the nation.
That's how Kentucky coach Matthew Mitchell described what the future might hold for A'dia Mathies not long before her sophomore season began. Almost two seasons later, her exact place on such an inexact list remains up for debate, but she is the go-to player on the first Kentucky team to win an SEC regular-season title in her lifetime. It's a pretty good label in its own right.
Mathies didn't turn in a spectacular line in Sunday's 76-40 win at Mississippi State, a victory that clinched Kentucky's first regular-season title since 1982, but the Wildcats didn't need individual brilliance to get by the Bulldogs. With what is essentially an 11-player rotation, the Wildcats rarely turn one player loose on the box score, relying on that depth and collective defensive effort to force nearly 23 turnovers per game. But from her freshman season, when she scored 32 points in her first NCAA tournament game, and added 21 more in a subsequent win against top-seeded Nebraska, Mathies hinted at a knack for knocking out soliloquies, even in a supporting role alongside Victoria Dunlap.
There have been 14 instances of a Kentucky player scoring at least 20 points in a game this season; Mathies is responsible for 10 of them. Sure, a handful of those came against the likes of Northeastern and Southern Miss, but Mathies also put up 20-plus points in victories against Arkansas, Duke, Louisville and South Carolina. She also turned in a performance that ranks near the top of any list of the best singe-game efforts of the season with 34 of her team's 61 points in a one-point victory against Tennessee. Mathies' shooting percentage remains almost unchanged from an inconsistent sophomore effort, but in more than doubling her 3-point output and dramatically improving her long-range accuracy, she has become a much more efficient scorer. She's not a perfect player, nor is a Kentucky team that recently lost three in a row a perfect champion. But only Baylor need worry about perfection right now. For everyone else, it's about being better than those in the other uniform.
It took three decades for Kentucky to get a chance to celebrate a second conference championship. It shouldn't take much more than 24 months for the Wildcats to welcome a second SEC player of the year to program lore.

Making a case for March: Duke. While we're celebrating regular-season conference titles, full credit to Duke for a March-like performance in beating Miami and North Carolina in roughly the span of 72 hours to clinch the ACC regular-season title.
The math seems to add up to Duke earning a No. 2 seed, no matter the weekend results and no matter what happens in the ACC tournament, but the Blue Devils are trying to keep the calculators working right up to the final hour. More importantly, they showed both a toughness and an offensive efficiency in the two victories that they'll need regardless of seeding. As was the case in a loss against Maryland, rebounding remains an issue without injured starter Richa Jackson -- Miami piled up 19 offensive rebounds and North Carolina totaled 15 against a team that entered the weekend allowing just 12.3 offensive rebounds per game. But the champions, bedeviled so often by offensive inconsistency in recent postseasons, shot 49 percent against the Hurricanes and 52 percent against the Tar Heels, with point guard Chelsea Gray putting an exclamation point on things by setting the single-season assists record.

Novosel
Best individual weekend performance:
Natalie Novosel, Notre Dame. South Florida went on the road and made life difficult for Notre Dame over the weekend, just as it did against Connecticut four weeks ago. And just like Connecticut, which turned to Tiffany Hayes for a big scoring day, Notre Dame turned to a senior to get it out of trouble. Actually, two of them, but Devereaux Peters (17 points, 18 rebounds) has been piling up double-doubles by the bundle in recent weeks. The less predictable boost, at least by recent standards, came from Novosel, whose 32 points nearly matched her total from the previous four games combined and came after a stretch of eight games in which she hit double figures just three times.
Novosel hit all 12 of her free throw attempts against the Bulls. One of the best at getting into seams around the basket and either finishing or drawing a foul (rivaled by few this side of teammate Skylar Diggins in that regard), she's averaging 4.6 free throw attempts per game this season. That isn't bad by almost any standard, but it is down from 5.9 attempts per game a season ago. She's scoring at almost the same overall rate as a season ago, and her team is winning at an even greater rate than it did last season, so Novosel and the Fighting Irish are still doing just fine. But the more whistles you hear, the more likely it is she's driving opponents to distraction.

Best team weekend performance: Princeton. What did Princeton do to merit this? Did you see any other teams clinching berths in the NCAA tournament over the weekend? Or doing so for the third season in a row, for that matter? The Tigers spent the weekend doing what they have done with impressively numbing regularity in Ivy League play in recent seasons, beating Harvard by 30 points and Dartmouth 37 points to wrap up another conference title. That they did it with three games still to play in a league that doesn't hold a tournament is just Princeton's style. A strong contender for the weekend's top individual honors, Niveen Rasheed put up 24 points, 16 rebounds, five steals and four assists against Dartmouth, but she split the vote with teammate Lauren Edwards, who scored 29 points in the same game, including 7-of-10 from the 3-point line.

Raterman
Saving her best for last:
Justine Raterman, Dayton. Raterman's career would not have been diminished had the final week of her final regular season gone differently, but the Flyers senior did what program greats are supposed to do. Raterman scored 25 points in 23 minutes in her final home game, a rout against Xavier, but the performance that mattered most came on the road Saturday against Duquesne. Behind her 32 points (on 12-of-21 shooting), eight rebounds and three steals, the Flyers came away with a 74-69 overtime win. While the No. 3 seed in the Atlantic 10 tournament was already a given, the win keeps a team hovering around 40 in the RPI in the mix for at-large NCAA tournament consideration.

Lending a helping hand: Casey Garrison, Missouri State. Injuries took a toll on several potential mid-major powers this season, most notably those that took the likes of Northern Iowa's Jacqui Kalin and Toledo's Naama Shafir off the court. But the small matter of an injury to her shooting hand isn't stopping Garrison from fueling Missouri State's run in the Missouri Valley Conference. As the Springfield News Leader recounts, Garrison (who already donned a mask this season to play through a broken nose) simply started shooting with her left hand when she sprained the thumb on her more familiar shooting hand. Her first game as a southpaw? She scored 20 points. A lefty off the court, shooting with that hand was apparently nonetheless a relatively new experience. With Garrison leading the way, Missouri State owns first place in the league and 10 victories in a row, including Sunday's 80-76 win at second-place Illinois State.
The week ahead (Monday-Friday)
Notre Dame at Connecticut (ESPN2, 9 p.m. ET Monday): Are we headed for a season in which neither Connecticut nor Tennessee win regular-season conference titles? Kentucky already locked up the SEC, and Notre Dame, which already clinched a share of the Big East title, can go for its first outright title with a win in Hartford. Of course, it might also be just the first of two games between the team in Hartford in the next eight days, if the conference tournament leaves them opposite each other in the final. Skylar Diggins and Natalie Novosel combined for 19 free throws when the Fighting Irish won an overtime thriller in South Bend earlier this season. In 15 games since, only one Connecticut opponent -- the entire team -- attempted as many as 19 free throws (Louisville's 21 attempts on Feb. 7).
Baylor at Texas A&M (ESPN2, 7 p.m. ET Monday): Forget the 12th man; Texas A&M could use a sixth player. In five meetings between these two since the beginning of last season, Texas A&M's bench scored a total of 21 points (17 from Karla Gilbert). That worked out on the fourth try a season ago, and it's not like the Aggies roll bench points against everyone else. But without Danielle Adams and Sydney Colson around, it's a tough way to go about stopping the nation's No. 1 team.
St. John's at Georgetown (Monday): There are still matters of Big East tournament seeding at stake, in addition to a chance for St. John's to post the program's best league record, but this one is big for momentum alone. St. John's didn't win a true road game until Jan. 11 at Syracuse, but wins at Rutgers and, as you might have heard, Connecticut beefed up that road profile. With Da'Shena Stevens coming off a 21-point effort over the weekend, it's worth noting no St. John's player has hit more than five field goals in a game against Georgetown since the 2007-08 season.
Appalachian State at Chattanooga (ESPN3, 7 p.m. ET Monday): It's a chance for Appalachian State to clinch the outright Southern Conference regular-season title, but only if it can beat third-place Chattanooga on the road. Appalachian State's Anna Freeman is one of those quintessential do-everything mid-major players, averaging 15.1 points, 6.3 rebounds, 3.7 steals, 2.7 assists and 2.1 blocks per game.
Florida Gulf Coast versus East Tennessee State (ESPN3, 12 p.m. ET Wednesday): Get Championship Week started by watching a team that has the potential to do something in the main draw -- if it can take care of business in the Atlantic Sun tournament. Florida Gulf Coast faces East Tennessee State in a quarterfinal. This game comes just four days after the same teams met to end the regular season, a 71-64 win for the Eagles that was one of just four wins by single-digit margins in an unbeaten conference season.
Kansas State at Iowa State (Wednesday): There isn't much doubt Kansas State will be in the NCAA tournament, but an overtime loss at Missouri raised more eyebrows when it comes to a team that already seemed to have an inflated RPI. For a team that has shown an ability to go on the road and win, notably at Marist, South Dakota State, Kansas, Oklahoma State, Texas and Texas Tech, adding a win in Ames, Iowa, would be a boost. On the other side, Iowa State needs a win badly, if not desperately, to shore up its own at-large r´esumé.
Oklahoma State at Kansas (Wednesday): Both teams need victories in the struggle for NCAA tournament at-large consideration. Kansas got a badly needed result with a win at Texas Tech last week, fueled by 20 points and eight assists from Angel Goodrich. But the Jayhawks are just 3-8 in their last 11 and playing without Carolyn Davis, do they need to sweep Oklahoma State and Oklahoma?
Louisiana Tech at Fresno State (Thursday): Such is life for a mid-major like Fresno State, that all of the work of a 12-game winning streak and clinching at least a share of the WAC regular-season title can be partly negated by one tough loss. But a 62-61 loss at mid-table San Jose State does damage Fresno State's NCAA tournament at-large potential. Before they can worry about that, or even the conference tournament, the Bulldogs face the best women's basketball rivalry in the WAC. Ki-Ki Moore scored 20 when Fresno State won 61-59 in Louisiana.