Don't overlook Delle Donne's teammates
March, 1, 2012
03/01/12
7:52
PM ET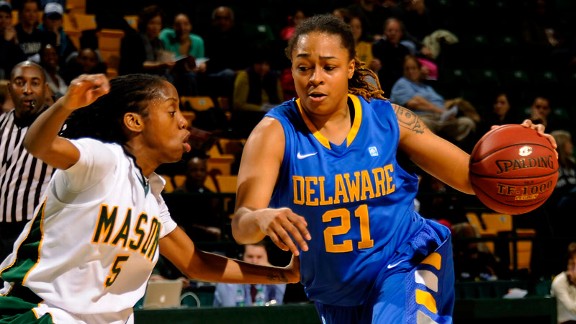 Rafael Suanes/US PresswireTrumae Lucas and Delaware (27-1) already have set a school mark for wins in a season.
1. Delaware (26-1 overall, 17-1 Colonial Athletic Association)
Delaware is the best mid-major in the nation because it has arguably the best player in the nation, mid-major or otherwise, in Elena Delle Donne. But it's also No. 1 because of the players around Delle Donne. A season ago, Delaware averaged 8.7 assists and 16.7 turnovers per game. Entering this postseason, the Blue Hens average 14.7 assists and 13.9 turnovers per game. That's not all Delle Donne. That's Lauren Carra cutting her turnovers in half and Trumae Lucas, eligible after sitting out last season as a transfer, already totaling more assists than any player did last season. The Blue Hens are shooting 44.6 percent from the floor this season, up from 39.3 percent last season. That's because Delle Donne is healthy, shooting 52.4 percent and drawing double- and triple-teams, but it's also because players like Danielle Parker (41.4 percent last season, 51.8 percent this season) are making those open looks count.
Who they need to look out for: Drexel did as good a job as any team of slowing Delle Donne and the Blue Hens. Delaware won both meetings in the regular season, 60-49 at home and 40-39 on the road, but Delle Donne shot a season-worst 4-of-19 in the second game (those who contend she doesn't always get the same calls from officials as smaller players would note she had just seven free throw attempts in those two games). The good news for the top seed is that the CAA tournament takes place on a neutral court in Upper Marlboro, Md., close enough to Newark, Del., that the Blue Hens should have the loudest group of fans in the building.
• CAA tournament bracket
2. St. Bonaventure (27-2 overall, 14-0 Atlantic 10)
[+] Enlarge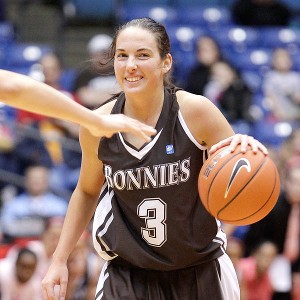 Tim G. Zechar/Icon SMIJessica Jenkins, one of 30 Naismith finalists for player of the year, ranks 18th all-time in NCAA Division I with 321 3-pointers.
This is the third season in a row the Atlantic 10 produced an undefeated regular-season champion, but it's difficult to imagine a contrast more stark than that between the Xavier teams of the past two seasons and this squad. Where those Xavier teams were built around two players, Amber Harris and Ta'Shia Phillips, with the size and skills to play anywhere, the Bonnies are built to the specifics of coach Jim Crowley's unique system. They have a star, Jessica Jenkins, who is in the top 20 in NCAA history in 3-point field goals, but balance is their calling card. Five Bonnies attempted between 74 and 88 free throws, and only one of them shot worse than 72 percent from the line. That total doesn't even include the team's leading scorer, Jenkins, who hit 59 of 61 free throws during the regular season. As an aside, with victories at West Virginia and St. John's, the Bonnies also have better road wins than those Xavier teams.
Who they need to look out for: Temple and Dayton are the big threats in the Atlantic 10 tournament, but only one can make the championship game. A more immediate stumbling block could come in the quarterfinals from tournament host and No. 5 seed Saint Joseph's, should it advance. The Bonnies won the regular-season meeting 68-61 at home, but the Hawks limited Jenkins to 2-of-8 shooting and forced the champs into an uncharacteristic 16 turnovers.
• A-10 tournament bracket
3. Green Bay (25-1 overall, 15-1 Horizon League)
In a place where the culture of team is as ingrained as the accents and the fondness for deliciously unhealthy foodstuffs, it takes someone special to make celebrating the individual acceptable. Julie Wojta, freshly backed by her own website put together by Green Bay, is someone special. The senior put up 27 points, 13 rebounds, 5 assists and 6 steals in her final regular-season home game, and that wasn't even her best line of the season. In fact, it was kind of average for someone putting up 19.4 points, 10.4 rebounds, 3.6 assists and 3.7 steals per game. As is the case with Delaware, individual brilliance overshadows a strong supporting cast of guards, Adrian Ritchie, Lydia Bauer, Sarah Eichler and Megan Lukan, who shoot well from the 3-point line, defend well in the team's trademark 2-1-2 trapping zone and don't turn over the ball.
Who they need to look out for: The Phoenix will play on their home court as the Horizon No. 1 seed. The obvious sleeper is Detroit, which was responsible for Green Bay's lone loss on Feb. 9, but Wright State is also in the mix. Tied for second entering the final weekend of the regular season, Wright State has a good post threat in Molly Fox (15.9 ppg, 9.8 rpg) and a boom-or-bust freshman guard with Big Ten athleticism in Kim Demmings (17.6 ppg, 4.4 apg).
• Horizon tournament bracket
4. Florida Gulf Coast (27-2 overall, 18-0 Atlantic Sun)
The Eagles do two things really well, one better than any other team in Division I. The latter relates to the 3-pointer. No team hits more of them per game than Florida Gulf Coast at almost 11 3-pointers per game, and not many teams shoot them more accurately than nearly 36.8 percent in the regular season. Six players average at least one 3-pointer per game, a list that doesn't include leading scorer Sarah Hansen. Florida Gulf Coast's other specialty is forcing turnovers, something it did 20.7 times per game in the regular season. The team's leading scorer and rebounder in the regular season, Hansen also doubles as the Atlantic Sun's Scholar Athlete of the Year.
Who they need to look out for: The Eagles got past the first postseason hurdle in Wednesday's Atlantic Sun quarterfinal against East Tennessee State, a rematch of a close game from the past weekend. Stetson and Belmont, the Nos. 2 and 3 seeds, respectively, both gave Florida Gulf Coast good games away from the latter team's home gym. The conference tournament takes place on a neutral court at Mercer, which didn't qualify for the games.
• A-Sun tournament bracket
5. Princeton (21-4 overall, 11-0 Ivy League)
[+] Enlarge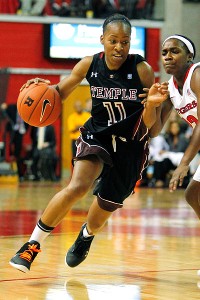 Jim O'Connor/US PresswireShey Peddy leads Temple with 17.0 points per game.
Princeton plays in the same gyms as the rest of the Ivy League, but it doesn't play the same game. The Tigers mauled league opponents by an average of almost 33 points in wrapping up the conference title in 11 games. They limited conference opponents to 29.7 percent shooting and beat them on the boards by 19.4 rebounds per game in those contests. But take out that domination, and Princeton still measures up with just about any team on this list. Against a quality nonconference schedule, coach Courtney Banghart's team still outscored opponents by eight points per game and held a distinctly non-Ivy-like edge on the boards (5.8 more rebounds per game than its foes). The core players of this team -- seniors Lauren Edwards and Devona Allgood and juniors Niveen Rasheed, Lauren Polansky and Kate Miller -- are headed for their third NCAA tournament, and they play like it.
Who they need to look out for: Actually, it's more of a what than a who. With the Ivy's automatic bid already wrapped up, Princeton needs to navigate the fine line between avoiding injuries and losing momentum.
6. Gonzaga (25-4 overall, 14-2 West Coast Conference)
How has life been without Courtney Vandersloot? All things considered, pretty darn good, especially compared to Xavier, the other mid-major power that lost All-American talent after last season. Gonzaga remains a team that pushes tempo, takes care of the basketball and plays an athletic game -- it's the only mid-major program to rank in the top 20 nationally in both scoring offense and rebound margin, joining the likes of Baylor, Connecticut, Duke, Maryland, Notre Dame, Stanford and Tennessee. Transfers Haiden Palmer and Taelor Karr have saved the team on the perimeter, accounting for 80 of Gonzaga's 129 3-pointers.
Who they need to look out for: The top two seeds in the West Coast Conference tournament advance automatically to the semifinals, so the candidates are limited. The other team in these rankings, BYU, is the logical choice after the teams split blowout wins during the regular season. But San Diego, which is a potential semifinal opponent for BYU, is one to watch, too. While it lost both games, it kept Gonzaga below its scoring average in both regular-season meetings.
• WCC tournament bracket
7. Temple (20-8 overall, 13-1 Atlantic 10)
Temple paid the price for a rugged nonconference schedule, losing five games in a row and seven of 10 at one point in November and December, but it righted the ship in conference play. It's always difficult to separate actual improvement from diminished competition when mid-major numbers rise in conference play, but Shey Peddy's resurgence seems linked to the team's rise. Peddy is shooting 52.5 percent from the floor in A-10 play, including 38.4 percent from the 3-point line, with an assist-to-turnover ratio of better than 2-to-1. That's in contrast to 43.1 percent shooting out of conference and essentially a 1-to-1 assist-to-turnover ratio.
Who they need to look out for: Temple's ability to play with opponents like Ohio State, Texas A&M and St. John's speaks well of its ability, but close losses don't guarantee at-large bids to the NCAA tournament. Charlie Creme had the Owls comfortably in the field in his latest Bracketology, but it would behoove them to get past a potentially tricky A-10 quarterfinal against Duquesne (should that team beat George Washington in its first game). Temple committed 23 turnovers and barely escaped with a 67-64 win at home against the Dukes in January.
• A-10 tournament bracket
8. Middle Tennessee (24-5 overall, 16-0 Sun Belt)
The Blue Raiders are not a statistically impressive bunch, at least not by the standards of a program that produced box-score stuffers like Chrissy Givens, Amber Holt and Alyssa Clark. This team doesn't shoot particularly well from the field or the free throw line, doesn't score like many of Rick Insell's teams, doesn't dominate the glass and gives away a lot of turnovers. What this team does with unerring consistency? Win. The Blue Raiders haven't lost since dropping a 58-47 decision against Georgia Tech on Dec. 11, an 18-game winning streak that includes a victory against Kentucky. Give credit to a defense that is holding opponents to 40.2 percent shooting, best since the 2003-04 season.
Who they need to look out for: Potential quarterfinal opponent Western Kentucky gave Middle Tennessee one of its toughest games during conference play, on the latter team's court, but the Blue Raiders won going away in the rematch. With the conference tournament in Hot Springs, Ark., the obvious challenger, No. 2 seed Arkansas-Little Rock, is that much more obvious.
• Sun Belt tournament bracket
9. Fresno State (23-5 overall, 11-1 WAC)
If you want 3-pointers out of your NCAA tournament sleeper but Florida Gulf Coast isn't your cup of tea, Fresno State is your team. The Bulldogs are third in the nation in 3-pointers per game and 19th in the nation in 3-point accuracy. Their four most prolific shooters from long distance all hit at least 35.9 percent of their shots from behind the arc, paced by freshman Madison Parrish at 42 percent (42 of 100). Yet it's interesting, and perhaps encouraging, that they hit just 7 of 24 shots from behind the 3-point line in a win against Oklahoma, their signature result of the season. Not unlike Florida Gulf Coast, the Bulldogs balance out their shooting by taking care of the ball and forcing oodles of turnovers.
Who they need to look out for: Fresno State dropped out of the top 60 in the RPI after a loss at San Jose State over the weekend, the team's first loss in conference play. That's a good indication that an at-large bid is an iffy proposition should the team fail to win the WAC tournament. The Bulldogs still have a regular-season game left against Louisiana Tech on Thursday, and a strong showing by the Lady Techsters will have people itching for a third meeting.
• WAC tournament bracket
10. BYU (24-6 overall, 12-4 West Coast Conference)
February wasn't kind to BYU, which went just 4-3 in the shortest month and watched Gonzaga race past it, literally, in a 77-60 win for the Bulldogs in the regular-season finale, for a conference title. But the Cougars simply do too many things too well to bump them completely out of the top 10. No other team in the running for this spot can compete with BYU's field goal differential (the Cougars shoot 43.8 percent and limit opponents to 34.4 percent) or its assist-to-turnover ratio. None of the other contenders has a point guard like Haley Steed, either, the sixth-year senior deservedly earning a spot among eight finalists for the Nancy Lieberman Award. Kristen Riley averaged 11.8 points and 7.9 rebounds per game overall but earned WCC Player of the Year honors by averaging 14.4 points and 9.3 rebounds in the league.
Who they need to look out for: The Cougars are very much a bubble team if they fail to win the WCC tournament. That likely means beating Gonzaga in a final on a neutral court in Las Vegas, but it also likely means beating San Diego a third time in a potential semifinal.
• WCC tournament bracket
Next five: Missouri State, Dayton, Marist, UTEP, South Dakota State