Brian Giorgis makes Marist magic happen
March, 18, 2012
03/18/12
5:27
PM ET
The master of the mid-majors, Marist coach Brian Giorgis did it again.
A day after Green Bay and Gonzaga booked appearances in the second round, No. 13 seed Marist extended its own run of postseason success with a 76-70 victory against fourth-seeded Georgia. It's Marist's second win in the past six tournaments as a No. 13 seed, meaning it's responsible for a third of all such wins since the field expanded to 64 teams. The last time it happened, in 2007, the Red Foxes didn't stop there, winning a second-round game to reach their first Sweet 16.
Doing more with less has become a way of life for Marist in March.
[+] Enlarge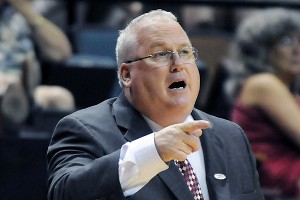 Melina Vastola/US PresswireBrian Giorgis and Marist now meet fifth-seeded St. Bonaventure on Tuesday.
No program beyond the borders of the ACC, Big 12, Big East, Big Ten, Pac-12 or SEC has a longer active streak of consecutive NCAA tournament appearances than the Red Foxes, who are in the midst of their seventh trip in a row. They are 5-6 in those games, a remarkable record of success considering they were the lower seed on all but one occasion (a 76-57 win as the No. 7 seed against DePaul in 2008, the only season in the streak Marist wasn't a double-digit seed).
In fact, if not for an injury that knocked the team's best player, Erica Allenspach, out of action early in a second-round road game against Duke last season, that NCAA tournament record might be .500 or better. The Red Foxes lost that game by just five points, despite having the MAAC Player of the Year for just 13 minutes.
But Giorgis doesn't need what-ifs to make his case. Year by year, the evidence keeps accumulating to make the case that he's one of the best coaches in the country for a simple reason.
Players get better at Marist. It's why the players bigger schools didn't want keep beating those schools in March.
Corielle Yarde (21 points, eight rebounds) and Brandy Gang (18 points) provided two more compelling statements against Georgia.
As Giorgis would be the first to point out, the Red Foxes beat Ohio State in the first round and Middle Tennessee in the second round in 2007 because they had pieces like a veteran point guard in Alisa Kresge, a versatile forward in Meg Dahlman and a freshman just scratching the surface of her talent in Rachele Fitz. They beat DePaul the following season because Fitz had emerged as a bona fide star. They advanced to the second round last season, the first without Fitz, because Allenspach emerged as a cornerstone to lead them through the campaign.
It's always about having the right players for the moment for Giorgis; it's just that those players keep changing.
And so it is that they beat Georgia in no small part because Yarde and Gang emerged as reliable assets after a 5-6 start to the season that included losses against NCAA tournament teams Princeton, St. Bonaventure and Kansas State.
Yarde built toward her role for four seasons. A gifted athlete (just 5-foot-8, she has 31 blocks this season), she served an apprenticeship behind Fitz and Allenspach and inherited the go-to role well prepared for it. As recently as last season, Gang shot 43 percent the floor and averaged essentially eight points and four rebounds per game. To be sure, she played a valuable role behind Allenspach and Yarde, but it wasn't one that necessarily suggested she would be a key figure in a tournament win against Georgia. But after shooting 53 percent from the field and 40 percent from the 3-point line in conference play this season, supplanting Yarde as the leading scorer in MAAC play, she excelled on the biggest of stages Sunday in Tallahassee.
Were that to happen once, it might have nothing to do with coaching. For it to happen again and again, player after player finding her way in Giorgis' system, is more than chance.
If Ohio State coach Jim Foster, who complained bitterly about his team's seed and then went out and lost to a lower seed yet again, wants a real test, he ought to walk a season in Giorgis' shoes. Your opportunity in March is what you make of it, just as your players are what you make of them. Nobody does that better than Giorgis.