PSU's Maggie Lucas diversifies game
March, 24, 2012
03/24/12
3:21
PM ET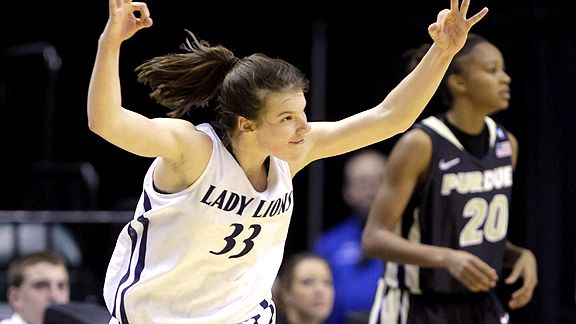 AP Photo/Michael ConroyMaggie Lucas has almost as many free throw attempts (170) as 3-point attempts (189) this season.
KINGSTON, R.I. -- Like a lot of sophomores coming off sensational freshman campaigns, Penn State's Maggie Lucas did a little less this season of that which made her so sensational the first time around. Unlike so many of her peers, it had nothing to do with suffering through any kind of sophomore slump or opposing defenses catching on to her tells.
In fact, doing less of what she did so well last season is the main reason Lucas could be such a headache for Connecticut in Sunday's Sweet 16 game (ESPN2/ESPN3, 4:34 p.m. ET).
Asked Saturday what impressed him most about Penn State's backcourt, Connecticut coach Geno Auriemma went first to the versatility of the Lady Lions, who start Lucas, Alex Bentley and Zhaque Gray in a three-guard lineup. That versatility exists collectively, as the combined skills of the three cover a lot of space on a scouting report. But it's also increasingly true individually for the team's leading scorer.
The best shooter in the Big Ten, Lucas has shed such a one-dimensional label.
She was a deadeye markswoman from the moment she arrived in State College. She shot 42.6 percent from the 3-point line and hit 112 3-pointers as a freshman, figures that ranked her fourth in the nation in 3-pointers per game and 11th in 3-point accuracy. But as impressive as the long-range efforts were, they also represented the bulk of her offensive contributions. More than 60 percent of her field goal attempts as a freshman were from behind the arc, and she shot nearly four times as many 3-pointers as free throws. When the long shot wasn't working or defenses took it away, as in a second-round NCAA tournament loss against DePaul in which she hit 1 of 11 shots, she and the offense suffered together.
One of the things Lucas and the coaching staff talked about during the recruiting process was her desire to play at the next level, a goal that both agreed would require broadening her game beyond her most obvious skill. So rather than rest on her freshman accolades or fall in love with the shot that earned them, a not uncommon development for good shooters, she focused on the rest of her game. The result has been less reliance on the 3-point shot -- Lucas is shooting fewer per game and has almost as many free throw attempts (170) as 3-point attempts (189). She is also averaging 4.7 rebounds, up from 3.1 per game as a freshman, and 2.8 assists, up from 1.6 per game last season.
"The growth in Maggie's game has enhanced our offense," said assistant Kia Damon, the team's de facto offensive coordinator. "Last year she was mostly a catch-and-shoot player and was able to get shots off of Alex's penetration or just people collapsing in on our posts. And what we recognized at the conclusion of last year was in order for her to continue to grow her game and [for] our overall transition game to continue to grow, putting the ball on the floor and getting her own shot was going to become a central part of it."
None of which diminishes the reality that Lucas remains one of the most efficient and prolific shooters in the sport, a player with the range and release to get shots against any defense. There are several good 3-point shooters among the quartet of teams in Kingston, but there is nobody quite like Lucas.
"When it leaves her hand, you don't really need to go rebound or box out," teammate Mia Nickson joked of her first impressions of her teammate's range when Lucas showed up as a freshman. "If you're on defense, go take it out, and if you're on offense, go ahead and start running back. It was just like automatic."
Connecticut has faced its share of standout shooters this season, players like Oklahoma's Aaryn Ellenberg, Louisville's Becky Burke and Duke's Tricia Liston, and has come away largely unscathed. UConn guard Caroline Doty, one of the Huskies tasked with defending perimeter talent, knows Lucas better than most. The two are friends and were former high school teammates in Pennsylvania. Doty knows, too, there aren't any shortcuts in taking away a shooter. Close to 40 minutes of hard work can easily be undone by a couple of slow closeouts or picks not eluded.
"Limit their shots or even the amount of times they touch the ball, always be aware of where they are on the court, know that you can't really help out on [the] off side as much as you want to, or as much as you can," Doty said, cataloging the defensive points of emphasis. "So in the sense of just being aware and staying focused where they are on the defensive end. And then just try to tire them down when we're on offense and they're on the defensive end."
Connecticut's defense usually dictates how opponents play. Rare is the player who can dictate the reverse. Lucas still has to prove she's someone who can do that against the kind of championship-caliber, suffocating defense she will face Sunday afternoon. But she's more prepared than ever before to take her shot at doing just that.
Mostly because her shot could come from anywhere.