A predicament Gaines is overjoyed to be in
September, 26, 2012
09/26/12
7:36
PM ET
BRISTOL, Conn. -- Best player on the board or best player for a system?
It's a question of draft philosophy that Corey Gaines and the Phoenix Mercury will enjoy mulling over for the next six-plus months.
In a draft class headlined by three entirely distinct talents in Brittney Griner, Elena Delle Donne and Skylar Diggins, the team with perhaps the most distinctive style in the WNBA beat the odds Wednesday and landed the No. 1 pick in the draft.
Do the Mercury take a scorer like Delle Donne to push their tempo to something rarely seen beyond the Bonneville Salt Flats? Do they take a floor general like Diggins to conduct an orchestra that already includes the likes of Diana Taurasi and DeWanna Bonner? Or do they take the consensus best player on the board in Griner, even if some will wonder how a dominant post fits in a fast-breaking style?
[+] Enlarge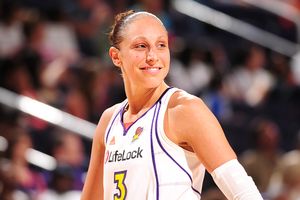 Barry Gossage/Getty ImagesDiana Taurasi's reaction to Phoenix winning the No. 1 pick? "Wow, wow, wow," she texted coach Corey Gaines.
"It's something that will be interesting," Gaines said. "We're going to take our time and look at everything. The greatest thing is now we have a long time to do that; we don't need to rush anything. We're not a traditional-style team at all. We don't do things the way other teams do it. It's because I've learned from [Paul] Westhead. … He does things that makes the team win. I'm sure I'll be making some phone calls and talk to all the coaches I've ever been under in the league and in college.
"It's not going to be a rushed thing. It's going to be something thought out, and something I think hopefully, will bring some big things to Phoenix."
Needless to say, the coach wasn't giving away many state secrets in the minutes after the Mercury defied the odds to land the No. 1 pick. So we're left to debate amongst ourselves the merits of three special players.
You'll hear a lot of scouting reports between now and April, but why not start with one from the man who will coach one of them?
First on Diggins.
"Point guard, hard-nosed, can score, take it to the basket, plays defense, definitely able to impact the game, very intelligent basketball IQ," Gaines said. "You've seen her in some of the games last year tough it out, push her team through something, which is important."
On Delle Donne.
"Pure unadulterated scorer," Gaines said. "I mean, she can score. I saw an interview with her today on NBA TV and she stated, 'I love to shoot the ball.' She loves to score. That's a gift. A lot of players don't have that gift. People don't understand, but someone who gets up 30 shots, it's hard to do. It's not something that everyone can do. If you go to your [YMCA] and try to get up 30 shots, it's not easy. It's a gift."
[+] Enlarge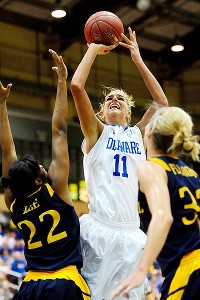 Evan Habeeb/US PresswireElena Delle Donne might be a better fit for Phoenix's up-tempo style of play, but it's hard to see the Mercury passing on Brittney Griner.
And last but never least, on Griner.
"Someone who can definitely change the game defensively and probably change it offensively, too," Gaines said. "The way our team is set up, we have scorers who can hit outside and who can slash and who play the game well -- who won championships, who won gold medals, who won European championships. And DeWanna, who is now added into the mix, has become a superstar herself. We can go really large with, if we [pick] Brittney. And Brittney can rebound, and that's something that's important for us.
"We're a fast-breaking team. There's two things you need: You need rebounding and you need stops. Defensively, she'll get us stops, offensively she'll get us rebounds to go get that break going. And the top teams in the league that play defense -- half court, if I give you a play, you can stop that play. Fast break, you can't. That's why fast breaking is so dangerous. There's nothing you can do. You can't say, 'Run back fast.' That's not going to cut it."
If you choose to read between the lines, it's interesting that Gaines spoke about Diggins and Delle Donne in general terms. He spoke about Griner in terms of how she would specifically fit with the Mercury. Although for what it's worth, if we're delving deep into the intangibles file, he also sounded and looked genuinely captivated by Delle Donne's scoring prowess, like someone talking about the way Coltrane played the saxophone.
A pure hunch is that there will be days between now and April that Delle Donne sits atop the team's draft board. You couldn't design a more perfect player for the system than a 6-foot-5 all-court scorer, who, by the way, is also a terrific rebounder and shot-blocker by any scale that doesn't include Griner.
But in the end, there is no way the Mercury pass on Griner. For good reason. Gaines is a disciple of Westhead, and however things ended in Los Angeles, the latter won an NBA championship with the Lakers in 1980 by pairing Magic Johnson and Kareem Abdul-Jabbar on a team that finished second in the league in points per game. Post players and fast breaks aren't mutually exclusive. And Griner is hardly sedentary; her agility and athleticism at her height are what make her a paradigm-shifting player.
One thing is certain, whether the Mercury take the best player, the best player for the system or someone they think fits both descriptions.
"Those three, you're going to get something," Gaines said.
A text message he received from Taurasi shortly after the results were revealed got to the same point.
"Wow, wow, wow."