Charles thanks Thibault after winning MVP
September, 28, 2012
09/28/12
1:16
AM ET
UNCASVILLE, Conn. -- A few thoughts on the awards handed out to Connecticut Sun players Tina Charles (MVP), Renee Montgomery (Sixth Woman) and Kara Lawson (Kim Perrot) before Thursday's game, a ceremony clearly highlighted by Montgomery and WNBA president Laurel Richie losing their shared grip on the award while posing for photographs and watching in shock as it crashed to the floor, thankfully none the worse for wear. (Insert your own simultaneous possession joke here.)
[+] Enlarge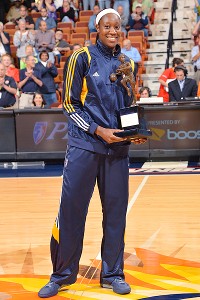 Jesse D. Garrabrant/Getty ImagesTina Charles became the first Connecticut Sun player to win regular-season MVP honors.
The Sun won a playoff game for the first time since 2008 in beating the New York Liberty on Thursday night, but they also picked up a franchise first when Charles was named WNBA MVP, the second win in a row for an Eastern Conference player after more than a decade of dominance by the West. The third-year center who led the league in rebounding during the regular season said all the right things in accepting the award, thanking her mother, who was in attendance at the ceremony, and her teammates.
But the most interesting part was her praise for Sun coach Mike Thibault, if only because it's all too easy to forget that there is more than one great women's basketball coach in the state of Connecticut. There are a hundred ways in which Thibault doesn't get the credit he deserves, but expanding on the work Geno Auriemma did with Charles ranks high among them.
"Ever since I got drafted to the Connecticut Sun, he's just definitely gave me the confidence to go out there and play my best and definitely helped me in that area," Charles said of Thibault. "I think he makes it comfortable for everybody here to go out and just explore their game. He allows us to make mistakes and then to correct it. He's a great coach. He communicates with us, he's there for us, he does his best to discipline us. And he tells us what he wants from us individually. I think that that's one of the main things you can have with a coach is communication."
That Montgomery isn't entirely built for patience was clear when she hopped out of the director's chair in which she sat after the first sentence of Richie's introduction, only to have to admit her false start, sit back down and wait out the rest of the president's words. She is not a natural sixth woman, content to bide her time until called upon, but she made the most of the role this season.
"I just wanted to pretty much do whatever role was given to me," Montgomery said. "At the end of the day, this is your job. So if your boss tells you to do something, you should do it. I wasn't going to help my team or myself just sitting around sulking about not starting. Now that we're in this position -- and we still haven't won a playoff game, so at the end of the day that's the ultimate goal -- but as long as this is helping the team, I'm fine with it."
More to come tomorrow on Lawson, who won the sportsmanship award for the second time after a season in which the veteran clearly deserved some sort of major accolade.