March, 7, 2012
03/07/12
11:07
PM ET
Some updates after Wednesday's conference tournament games:
NOTABLE
• Texas lost to Texas Tech, but stays in the field as the last team in, maintaining a slightly better overall profile than other bubble teams.
• Which teams could bump the Longhorns? With runs in their respective conference tournaments, Southern California (Pac-12), Kansas (Big 12) or James Madison (Colonial) are the teams to watch.
• A Delaware loss in the CAA tournament, or a Green Bay loss in the Horizon tournament, would also knock out Texas because those leagues would gain an at-large bid to go with the automatic berth.
• For historical perspective, Texas' 2011 team, with a less impressive profile than this edition of the Longhorns, received a No. 9 seed.
LAST FOUR IN
Temple
Iowa State
Michigan State
Texas
FIRST FOUR OUT
North Carolina
Southern California
Michigan
James Madison
NEXT FOUR OUT
Kansas
Oklahoma State
Wake Forest
Arizona State
CONFERENCE BREAKDOWN
Big East (8)
SEC (8)
Big Ten (6)
Big 12 (6)
ACC (5)
Atlantic 10 (3)
Pac-12 (2)
WCC (2)
Sun Belt (2)
Arkansas-Little Rock (Sun Belt)
BYU (WCC)
Connecticut (Big East)
Florida Gulf Coast (Atlantic Sun)
Dayton (Atlantic 10)
Marist (MAAC)
Maryland (ACC)
Princeton (Ivy)
Purdue (Big Ten)
Tennessee-Martin (OVC)
Tennessee (SEC)
Samford (Southern)
South Dakota State (Summit)
March, 6, 2012
03/06/12
5:36
PM ET
Check back later Tuesday night for our full bracket. But for now, here are the main changes after Tuesday's Sun Belt championship game:
NOTABLE
• Middle Tennessee lost in the Sun Belt final to Arkansas-Little Rock but stays in the field.
• As a result, North Carolina falls out of the field.
• Middle Tennessee slips to the No. 10 seed line, Princeton rises to the No. 9 line and UALR enters as a No. 14 seed.
LAST FOUR IN
Temple
Iowa State
Michigan State
Texas
FIRST FOUR OUT
North Carolina
Southern California
Michigan
James Madison
NEXT FOUR OUT
Oklahoma State
Kansas
Wake Forest
Arizona State
CONFERENCE BREAKDOWN
Big East (8)
SEC (8)
Big Ten (6)
Big 12 (6)
ACC (5)
Atlantic 10 (3)
Pac-12 (2)
WCC (2)
Sun Belt (2)
AUTOMATIC QUALIFIERS
Arkansas-Little Rock (Sun Belt)
BYU (WCC)
Florida Gulf Coast (Atlantic Sun)
Dayton (Atlantic 10)
Marist (MAAC)
Maryland (ACC)
Princeton (Ivy)
Purdue (Big Ten)
Tennessee-Martin (OVC)
Tennessee (SEC)
Samford (Southern)
South Dakota State (Summit)
March, 5, 2012
03/05/12
12:28
AM ET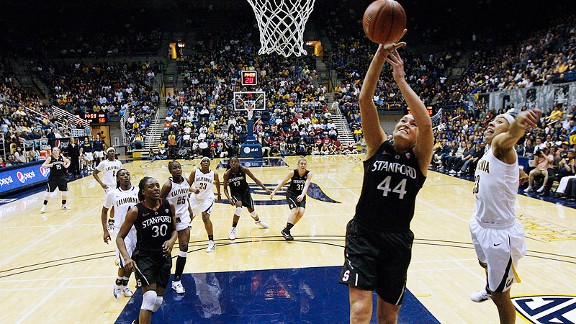 AP Photo/Marcio Jose SanchezJoslyn Tinkle scored 16 points Sunday for Stanford, which has won 24 consecutive games.
BERKELEY, Calif. -- Sunday's game between No. 2 Stanford and California meant nothing in the Pac-12 standings, affected not a single seed or matchup in the upcoming conference tournament.
But to say it meant nothing, well, that's simply not the case.
It meant something to Stanford, still in line for a No. 1 seed in the NCAA tournament after an 86-61 win in Haas Pavilion over the same Cal team that took it to overtime at home in late January.
It meant something to Cal (22-7, 13-4), the Bears still looking for one signature win for their NCAA résumé and smarting from a nationally televised pasting by their rival.
But the biggest question of the day is, what does it mean to the NCAA selection committee and its view of the Cardinal in the NCAA bracket?
Stanford coach Tara VanDerveer has been on the defensive for a few weeks now, advancing her opinion that her team has not been respected enough for what it has done this season -- a 28-1 record, 24 consecutive victories and a 79-game home-court winning streak.
But it's this last impressive stat that is the crux of the problem. Stanford has collected 75 straight wins over conference opponents, first in the Pac-10 and now in the new, but not-so-improved Pac-12.
So the question becomes, are the Cardinal padding their record against an inferior league, or are they just that much better than some decent teams? And does a 25-point victory over the second-place team in the Pac-12 cement the perception that the Cardinal are a powerhouse ready to go toe to toe with Baylor and Notre Dame, or show them to be the very biggest fish in a underwhelming pond?
"I hope people saw that we have a really strong team," VanDerveer said. "What do people look at? Yes, Nneka and Chiney [Ogwumike] are great players, we've got perimeter shooting, we worked really hard defensively -- Cal is an excellent offensive team -- I feel like we just need to keep everyone healthy. Our team knows we can play with anyone. We just want the chance."
"

Our team knows we can play with anyone. We just want the chance.

"

-- Stanford coach Tara VanDerveer
VanDerveer was upset several weeks ago when ESPN studio analyst Carolyn Peck suggested Duke should get consideration for a No. 1 seed because Stanford hadn't been challenged in the Pac-12, which has no other ranked teams and might get only two teams into the NCAA field. (Editor's note: Charlie Creme's March 5 Bracketology includes three Pac-12 teams, California, Stanford and Southern California.)
Over the past few days, in the San Francisco Chronicle, VanDerveer voiced frustration that her team likely will have to travel two time zones for the first and second rounds of the NCAA tournament, and could well end up playing on the home court of a lower seed -- while in all likelihood the other No. 1 seeds will be playing either at home (Notre Dame) or close to home on a neutral court (Connecticut in Bridgeport, Conn., and Baylor in Little Rock, Ark.).
But none of it would have mattered if the Cardinal couldn't win Sunday. Because a loss in Berkeley probably would have cost Stanford a No. 1 seed.
That scenario, however, was quickly irrelevant. Stanford ran to a double-digit lead less than nine minutes into the game, and led 43-24 at the half thanks to strong perimeter shooting (five first-half 3-pointers) and 19 points off nine Cal turnovers.
The Bears couldn't mount a comeback in the second half because they couldn't stop the Ogwumike sisters (who finished with a combined 34 points and 21 rebounds), and they didn't contain sophomore guard Toni Kokenis, who finished with 23 points, six rebounds and four assists. Junior post Joslyn Tinkle added 16 points and five blocks for Stanford, which also was 24-of-27 from the free throw line.
"I told Tara before the game that I almost called her after she made those comments to say 'Good for her,'" Cal coach Lindsay Gottlieb said. "If you put [the Cardinal] in any BCS conference, they are successful, they are at the top, they are really, really good. And I think the separator with them is that they have some of the best players in the country and they are incredibly well-coached. Period.
"I do think they don't get the credit they deserve, and I hope the rest of the country will not knock the conference, but give Stanford the respect that they deserve."
Cal has been a team on the fringes of the rankings all season. The Bears played close against Rutgers, Texas and Ohio State, and Stanford earlier in Pac-12 play, losing 74-71 in overtime at Maples.
But Stanford thoroughly outclassed the Bears on Sunday, and that's going to require a regroup heading into the conference tournament, where Stanford is an overwhelming favorite, and Southern California looms as a talented and desperate team that could be a dark horse candidate to snare the automatic bid.
"I hope that we can use this to teach us a lesson that we have to be the team that plays the hardest for 40 minutes," Gottlieb said. "Hopefully we can use this to kick-start us into the postseason."
March, 4, 2012
03/04/12
8:15
PM ET
A lot of things could have happened to give Georgia Tech its first ACC tournament title. Instead, the pendulum swung just enough to give Maryland its 10th. And while the most celebrated performance of Sunday's title game -- for obvious reasons -- was that of ACC player of the year Alyssa Thomas, maybe the most gratifying for the Terps was that of Kim Rodgers.
In No. 3 seed Maryland's down-to-the-wire 68-65 victory over No. 4 seed Georgia Tech, the sophomore Thomas had a career-high 29 points and ultimately proved to be the force the Yellow Jackets just couldn't overcome. She will be a major handful for whoever has to face the Terps in the NCAA tourament.
But the 10 points, three assists and two rebounds Rodgers provided off the bench were very crucial for Maryland as well. Rodgers came out of Princess Anne High in Virginia Beach, Va., back in 2007 as one of the better prep guards in the nation. She's about to close out her Terps career as a fifth-year senior who is a model of perseverance and courage.
The great promise of her high school career was never realized in full because of injuries. After a serious knee injury in the preseason in 2007, Rodgers sat out what was to have been her freshman year. Of course, we always say "sat out" when in fact, those who are rehabbing injuries are never just sitting around. They are going through the painful, frustrating and often lonely process of getting their bodies back as close as possible to the way they used to be.
[+] Enlarge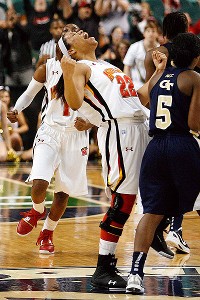 Mark Dolejs/US PresswireKim Rodgers doesn't start and might not play much, but she delivered back-to-back 3-pointers when Maryland needed it most Sunday.
Rodgers went through that and other injury setbacks. She never gave up. Brenda Frese talked about what an inspirational player she was, because of how much effort Rodgers had put into every minute she got on the floor.
Rodgers saw action in 17 games as a redshirt freshman, when the team led by then-seniors Kristi Toliver and Marissa Coleman won the 2009 ACC tournament. Then Rodgers played more regularly the next two years. She averaged more than 20 minutes per game as a sophomore and junior, when the Terps went to the WNIT and then the NCAA tournament second round.
This season, on a deeper and more talented Maryland team, Rodgers played just less than 11 minutes a game. But she was there Sunday in Greensboro Coliseum right when the Terps needed her. And Maryland definitely had to have all the help it could get in this tough battle.
Georgia Tech, playing in the program's first ACC final since 1992, was not about to back down at all. Always overshadowed in this league that has been so dominated by the North Carolina schools and Maryland, Georgia Tech was the sentimental favorite in Sunday's game. It seemed like it might finally be the Yellow Jackets' turn.
Led by standouts Tyaunna Marshall and Sasha Goodlett -- who finished with 25 and 20 points, respectively -- Georgia Tech was trying to win its first automatic bid into the NCAA tournament. It has been a grueling season for the team, with its home games moved to the Arena at Gwinnett, outside of Atlanta proper, because of construction to renovate Alexander Memorial Coliseum into a different facility.
Georgia Tech will move next season into its new home, renamed McCamish Pavilion, and would have loved to raise an ACC banner in there.
Instead, Maryland got its 10th ACC tournament championship, meaning Rodgers opened and closed her ACC career with tourney titles. On Sunday, she played 18 minutes. She scored all 10 of her points in about a five-minute stretch of the second half, going 4-for-4 from the line and 2-for-2 from behind the arc. She made every shot she took, and the two 3-pointers -- at the 7:58 and 7:23 marks -- were important both for the points they provided and for how they stretched the Georgia Tech defense.
Rodgers already has her bachelor's degree in communication and is working on a second degree in psychology. And whenever she looks at her two ACC tournament rings, she'll know just how much sweat (and some tears, too) went into winning both of them.
Rodgers is not the one who stands out most from Sunday's box score … but for Terps fans, she's a player they won't forget.
March, 4, 2012
03/04/12
8:15
PM ET
Tennessee's Glory Johnson and Shekinna Stricklen talk about winning another SEC tournament title for coach Pat Summitt.
Tennessee's Vicki Baugh talks about how she and her fellow seniors have played in recent weeks, plus the team's greater commitment to defense, and how that helped in winning the SEC tournament title.
LSU coach Nikki Caldwell talks about her pride in the Lady Tigers making the SEC title game and their hopes for the NCAA tournament.
Tennessee associate coach Holly Warlick talks about what Pat Summitt continues to mean to the team, and how Summitt cut down the net Sunday after the SEC title game.
March, 3, 2012
03/03/12
8:00
PM ET
Courtney Jones talks about how LSU has dealt with injuries and the impending arrival of coach Nikki Caldwell's baby, all while making it to the SEC tournament final.
NASHVILLE, Tenn. -- LSU coach Nikki Caldwell has certainly had an interesting first season in Baton Rouge, La. And the most exciting stuff hasn't even happened yet.
On March 24, Caldwell is due to deliver her first child … although she wouldn't mind if the little one showed up before that. But not too soon, considering her team is still playing in the SEC tournament.
The fourth-seeded Lady Tigers upset No. 1 seed Kentucky 72-61 in Saturday's semifinal at Bridgestone Arena. LSU has had the Wildcats' number this year, having also defeated Kentucky 61-51 back on Feb. 5 in Baton Rouge. That game marked the end of LSU's midseason skid -- the Lady Tigers had lost five of their previous six games -- and the start of a six-game winning streak.
Caldwell, the former Tennessee player and assistant coach who spent the past three seasons guiding UCLA, also has dealt with losing the most irreplaceable player on her roster. Point guard Destini Hughes, one of five seniors for LSU, suffered a knee injury in a Jan. 19 defeat at Tennessee. That ended her college career, but not the hopes of the Lady Tigers.
Caldwell told senior forward LaSondra Barrett -- one of the team's better ball handlers despite being 6 feet, 2 inches -- that she'd need to start spending some time at point guard. Others would have to help out with that, too. But Barrett -- whose nickname is "Boogie" -- had to accept her expanded role. Especially because at that point, LSU was also without guard Jeanne Kenney.
"That was a big adjustment," Caldwell said. "There's not too many players you can move from the 5 or 4 all the way to the point guard. Usually, you'll move a swing guard into that situation, but we had also lost Jeanne during that stretch with a concussion.
"By [Barrett] stepping up at that point and playing the point guard, it really helped us. It gave us a different sense of ball security. And we had to move Courtney Jones out to the perimeter, too. We were really shuffling players around, and I think it took us a little bit to settle in. Once we did, we started on that run."
The only game the Lady Tigers have lost since Feb. 2 was the regular-season finale at Georgia, 62-46 on Feb. 26. They got a scare here during the quarterfinals Friday, when it took a rally in the last two minutes to win a defensive war with Arkansas, 41-40. The Razorbacks finished that game on an 0-of-16 drought from the field.
Kentucky shot 40.7 percent (24 of 59) from the field Saturday, but the game was played at LSU's pace the whole way. After holding a 26-16 (yuck) lead at halftime, LSU shot 73.3 percent (11 of 15) in the second half, leaving Kentucky coach Matthew Mitchell with some steam coming out of his ears and his team needing to regroup before heading into the NCAA tournament.
Last year, Kentucky beat LSU in the SEC quarterfinals, and that ended the Lady Tigers' season. They didn't get an NCAA at-large berth at 19-13, and coach Van Chancellor stepped down after four seasons in Baton Rouge.
Caldwell came in after having made the NCAA field in two of her three seasons at UCLA. She immediately gave LSU a dose of needed optimism and confidence.
Jones led LSU with 18 points Saturday, and Barrett had 15. LSU outrebounded the Wildcats 38-23, and now at 22-9, relishes the opportunity to play for the SEC tourney crown Sunday (ESPN2, 6 p.m. ET).
Plus, the Lady Tigers are all looking forward to being "big sisters" to the baby. Just as Caldwell once was to Tennessee coach Pat Summitt's son, Tyler.
"You know that your path may have some … well, I wouldn't call them obstacles," Caldwell said of everything that has happened this season. "There are just things that come your way, and you deal with them the best you know how and trust in the foundation that you have as a person.
"As for the baby, people have said, 'Enjoy it, it will change your life.' Of course, in college, I had the opportunity to watch Tyler grow up. He was around all the time; it allowed us as players to see Pat as not only our coach, but as a mother. It definitely imprinted on all of us, having Tyler around.
"And I know this little one will have an unbelievable support system. It's an enjoyment that we're all enjoying right now. The kids high-five me, and they high-five my belly for the baby."
March, 3, 2012
03/03/12
7:22
PM ET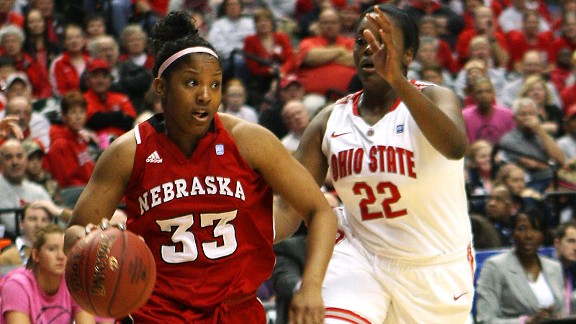 Cal Sport Media/AP ImagesAfter trailing 21-8, Rebecca Woodberry and the Huskers turned the tables on OSU.
INDIANAPOLIS -- No one could have predicted that in the final minutes of Saturday's Big Ten semifinal, Nebraska coach Connie Yori would be emptying her bench, resting her starters for the next night's final.
But that's what happened inside Bankers Life Fieldhouse. Yori's Cornhuskers, who needed Saturday's victory over Ohio State to stay on the minds of the NCAA's selection committee, dominated the Buckeyes 77-62.
No one saw it coming.
For the first 10 minutes of Saturday's game, it looked like Nebraska would be the team flying home soon from Indianapolis. Everything looked right with Ohio State. The favored Buckeyes, the Big Ten's No. 2 seed, were stockpiling buckets, swarming on defense, and looked to be on their way to a lopsided victory over the sixth-seeded Cornhuskers.
Midway through the first, Ohio State had more than twice as many points as Nebraska, leading 21-8. But by the time the Buckeyes headed back to their halftime locker room, Nebraska had flipped the numbers on the scoreboard. The Cornhuskers ended the half on a 28-9 run to take a 36-30 lead.
Nebraska came out of the break playing the same way. The Cornhuskers, who made nine 3-pointers and got 21 points from star forward Jordan Hooper, had the victory in hand for nearly all of the second half.
Except for those first few minutes, Ohio State's offense looked like little more than a series of random dribbles around the perimeter. The Buckeyes finished 2-for-16 from behind the 3-point line. On the other end, the Cornhuskers were knocking down 3-pointers and grabbing offensive rebounds. Nebraska was running its offense as if on train tracks (15 assists on 26 field goals), putting together a crushing run of 38-11 across the halves.
With 6 minutes, 24 seconds left in the game, Nebraska forward Hailie Sample grabbed back-to-back offensive rebounds, finally spinning the ball off the glass to put the Cornhuskers ahead 66-47.
Ohio State, which drops to 25-6, would get no closer than 12 points the rest of the way.
Nebraska, now 24-7, will play in Sunday's final (ESPN2, 4 p.m. ET), facing the winner of Saturday's second semifinal between Penn State and Purdue.
March, 3, 2012
03/03/12
5:51
PM ET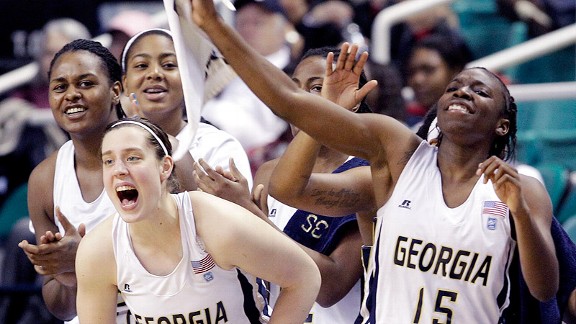 AP Photo/Chuck BurtonTyaunna Marshall, right, and Georgia Tech take aim at Maryland in Sunday's ACC final.
It's always kind of fun to look at these things from a where-were-they-then perspective. The last time Georgia Tech was in the final of the ACC women's tournament, current Yellow Jackets coach Machelle Joseph was finishing her senior season at Purdue as Big Ten player of the year. That was 1992.
Sunday, No. 4 seed Georgia Tech will meet No. 3 seed Maryland for the ACC title (ESPN2, 2 p.m. ET) in Greensboro, N.C. This is very familiar territory for the Terps as a program; they are playing in that program's 13th ACC title game, although it is just the third since 1993. They have a 9-3 record in the league finals; winning the most recent in 2009. The year Maryland won the national championship, 2006, it lost in the ACC final.
But the Yellow Jackets, as mentioned, haven't been this far in a long, long time. Back in 1992, the ACC had two of the best teams in the nation: Virginia and Maryland, both of which were ranked No. 1 during that season, with the Cavaliers a No. 1 seed in the ACC tourney and then the NCAA tournament.
Georgia Tech, coached at the time by Agnus Berenato, was overshadowed by the league's giants that year … until the Yellow Jackets got to the ACC tournament, which was then in Rock Hill, S.C. There, they went on a tear as the No. 7 seed, beating No. 2 seed Maryland and No. 3 Clemson, then falling to the top-seeded Cavaliers. Each of those games was decided by one point.
Had Georgia Tech been able to knock off Dawn Staley-led Virginia, the Yellow Jackets would have earned their first-ever berth into the NCAA tournament. Instead, they ended up in the WNIT -- the NCAA field was still just 48 teams then -- and ended up winning that title. Their Big Dance debut didn't come until the following year, when the Final Four was in Atlanta.
All told, Georgia Tech now has been to the NCAA tournament seven times, including the last five years in a row under Joseph, who took over the program in 2003-04. The Yellow Jackets will make it six straight NCAA appearances later this month, but might do something else they've never done: get the automatic berth.
To do so, though, they'll have to upset Maryland, a team they've already lost to twice this year: 77-74 in January at College Park, Md., and 64-56 in February in Atlanta. The Terps have looked good in their two victories in Greensboro, beating Virginia 70-58 and Wake Forest -- which took out No. 2 seed Miami on Friday -- 73-58.
Georgia Tech got this far after a nail-biter over No. 5 seed North Carolina 54-53 in the quarterfinals, then an 87-61 romp over No. 9 seed and surprise semifinalist NC State.
The Wolfpack did some of the heavy lifting for the Yellow Jackets by upsetting No. 1 seed Duke in the quarterfinals. But Georgia Tech (24-7 overall, 12-4 ACC), deserves a little good luck. Injuries, bad bounces, unfortunate placement/seeding, and some ill-timed poor performances all have prevented the Yellow Jackets from ever advancing past the NCAA tournament's second round.
Sophomore guard Tyaunna Marshall, along with center Sasha Goodlett and point guard Metra Walthour, both seniors, have been the stalwarts for Georgia Tech this year. They hope to make this the Yellow Jackets' most memorable season yet.
March, 3, 2012
03/03/12
1:30
AM ET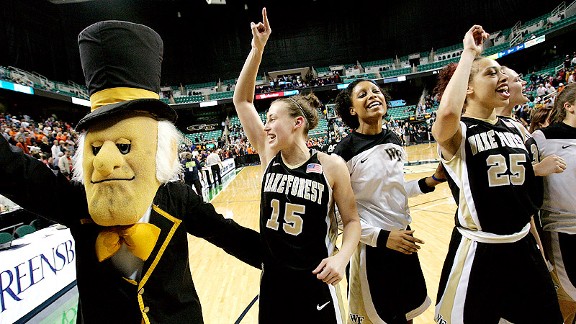 Mark Dolejs/US PresswireWake Forest knocked off No. 2 seed Miami in Friday's ACC quarterfinals.
Quarterfinal Friday at the ACC tournament was the perfect example of why conference tournaments are terrific. And it was also the perfect example of why they aren't. It all depends on your point of view, of course.
If you were wearing NC State red or Wake Forest black on Friday, then you're singing the praises of that extra chance to do something special in a second season that the league tourney provides.
But if you were clad in Duke blue or Miami green/orange, guess what? You overpacked for the trip to Greensboro, N.C., because your team's stay is finished. Then again, you can stick around to grumpily watch the 9-seed Wolfpack meet 4-seed Georgia Tech, followed by No. 3 Maryland -- the Terps avoided the upset bug in their quarterfinal nightcap victory over Virginia -- versus No. 7 Wake Forest.
Now who out there would have picked those matchups for semifinal Saturday? Probably nobody. Duke and Miami were the Nos. 1 and 2 seeds in the ACC tournament and projected as No. 2 seeds in the NCAA field, along with Maryland. Now we'll see how that holds up with both the Blue Devils and Hurricanes forced into spectator status so early.
How odd was all this? The top seed at the ACC tournament previously had never been eliminated before the semifinals. And how unlikely was it that NC State would be the one to bounce Duke? The Wolfpack were just 5-11 in conference play this season, losing 83-59 to the Blue Devils back in early January.
Furthermore, there was nothing results-wise in the last month to suggest the Wolfpack would make any noise in Greensboro: They had lost six of their eight games in February. Yet they are in the ACC semifinals thanks to a 74-71 win over Florida State, a mild upset, and a 75-73 win over Duke, a major surprise.
Meanwhile, Wake Forest's 81-74 win over Miami was actually a bit less of a surprise. The Demon Deacons had a pretty good February, winning five of eight. That came after a rough January when Wake went 2-7, but seemed to figure out some things. So have the Deacs now done enough to nudge themselves into NCAA tournament discussion? Also, did No. 5 seed North Carolina, which fell to No. 4 seed Georgia Tech 54-53 in Friday's first quarterfinal, move to the wrong side of the bubble?
One thing is for sure: The big winner seems to be Maryland, which now might well end up getting the best seeding/placement of all the ACC squads. That is, if the Terps can avoid the fate that befell Duke and Miami.
March, 2, 2012
03/02/12
10:44
AM ET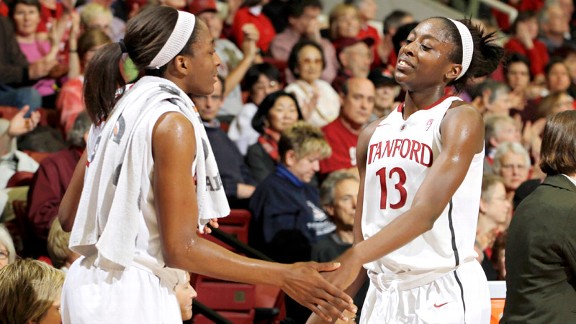 AP Photo/Paul SakumaNneka Ogwumike is an obvious pick, and sister Chiney is a second-team candidate.
There's no such thing as even one choice -- let alone five of them -- that will bring unanimous consent. But when you're talking All-Americans in women's basketball this particular season, the first team likely will get a lot of agreement.
After that, though, all heck breaks loose. You could justifiably choose any number of players for an All-American second team. In fact, you might not agree with any of my picks, and you might not be wrong. There really are that many candidates for those second five spots.
The first five are a lot easier. They have solidified themselves both with their individual performances and their teams' success in 2011-12. All five are from squads that won their conference's regular-season championship.
Only one is on the current list of finalists for the 2012 Olympics, but it wouldn't be a surprise to see all five of them play for Team USA at the Rio de Janeiro Games in 2016. In fact, you could even envision these five starting as a unit, because they could perfectly cover every spot on the floor.
One is a defensive presence like none other in the women's college game. One is the most exceptional rebounder of the group. One is a great scorer and extremely versatile. Two are highly efficient playmakers who can also rack up the points themselves.
So now, as we're just moving into the Month of Madness, here is a suggested "top 10" that is made up of two teams that could be put on the floor. (In other words, these aren't "three centers/two forwards" kind of squads.) Which 10 players actually will make up the State Farm All-America team that will be announced in Denver? We're sure at least some of them are included here.
First team
Brittney Griner, C, junior, Baylor: The numbers tell the story: 22.7 ppg, 9.7 rpg, 155 blocked shots. Baylor's opponents are shooting an average of just 30.7 percent from the field. Shooters get gun-shy or greatly rush shots because Griner is so intimidating defensively that foes start seeing her even when she isn't there. Of course, she's usually there. She's also an Olympic finalist.
Nneka Ogwumike, F, senior, Stanford: Coach Tara VanDerveer predicted that as good as Ogwumike was last year, this season she would be markedly better. That has proved true, as Stanford has pummeled its way through the Pac-12 again behind Ogwumike's fabulous senior season. She has increased her scoring (21.6) and rebounding (10.6) averages, plus is shooting a career-best 82.2 percent from the foul line. About the only one who can hang with Nneka on the boards is sister Chiney.
Elena Delle Donne, F/G, junior, Delaware: She'll get well-deserved consideration for player of the year, even though Griner appears to be the favorite. Delle Donne has blossomed as a nearly unstoppable offensive force, averaging a national-best 28.3 points per game with an amazingly versatile attack. The Blue Hens won the Colonial Athletic Association regular-season title at 18-0, and their 27 victories thus far is a school record.
G Skylar Diggins, G, junior, Notre Dame: After leading the Irish to the NCAA title game last season, her profile was raised nationally. The added attention hasn't hurt at all. This year, she has sparked Notre Dame to two victories against UConn and the program's first outright Big East regular-season title. Diggins is shooting 52.5 percent from the field while leading the Irish in scoring (17.4), assists (174) and steals (77).
Odyssey Sims, G, sophomore, Baylor: She never seems rattled, always having the right amount of energy and excitement that a team needs from its floor leader. Sims -- 14.7 ppg, 4.8 apg, 45.5 percent shooting from the field -- also has a propensity for making the big play right when needed and is an excellent defender. She and Diggins both see the floor so well.
Second team
Chiney Ogwumike, F, sophomore, Stanford: Little Sis has become, as expected, a force all her own. She is shooting nearly 60 percent from the field as she averages 16.1 ppg. She's getting 10.1 rpg, and hasn't fouled out this season after doing so four times as a freshman.
Julie Wojta, G/F, senior, Green Bay: The versatile Wojta (which is pronounced "white-UH") is the primary reason the Phoenix have had virtually no drop-off in success from last season's Sweet 16 team, despite two big losses to graduation. Green Bay is 26-1 behind Wojta's 19.6 ppg and 10.3 rpg.
Samantha Prahalis, G, senior, Ohio State: Give credit where it's due. She has been an emotionally stable leader as a senior, which was much-needed with the graduation of center Jantel Lavender. Prahalis is the Big Ten Player of the Year; her 20.4 ppg scoring average was second in the league to teammate Tayler Hill's 20.7, plus she led the conference in assists (6.5).
Shenise Johnson, G, senior, Miami: It would be hard for a player to do more for her team than Johnson does for the Hurricanes. She leads them in scoring (16.8), rebounding (7.9), assists (130) and steals (101), plus is shooting 45.3 percent from the field and 87.1 percent from the line.
Tiffany Hayes, G, senior, UConn: She still sometimes frustrates UConn coaches and fans with what seems a lack of "presence" in big moments. But the bar is wickedly high at UConn. So much so that what Hayes has done -- she's the leading scorer (15.9) and second-leading rebounder (5.7) on a team that's still going to get a NCAA No. 1 seed -- is too easily undervalued.