August, 9, 2012
08/09/12
8:29
PM ET
What's next after 40-0 for the Baylor women's basketball team? How about a little running-and-gunning with Kentucky? A journey to Hawaii, where Stanford awaits? A trip to Notre Dame for a rematch of the 2012 national championship game? A visit from a new-look Tennessee team?
All that will happen before December's over for defending NCAA champ Baylor, which hopes to end the 2012-13 season with another title -- this one in coach Kim Mulkey's home state of Louisiana.
And yes, we know that Mulkey strongly dislikes that term "defending." As she puts it, Baylor isn't defending anything, because it has already won the 2012 title and that can't be taken away. Regardless, the question "Can Baylor repeat?" is the biggest storyline going into the upcoming season.
For the third time, the Women's Final Four will be held in New Orleans, and the postseason road there should keep Baylor in pretty familiar territory. The Big 12 women's tournament will be back in Dallas, about an hour and a half north of Baylor's campus, for the first time since 2006. (This is the first year since the Big 12 formed in 1996-97 that the league's men's and women's hoops tournament are split up, as the men will play in Kansas City.)
The Lady Bears will be going for their fifth Big 12 tournament title. Baylor then will be a host for the early rounds of the NCAA women's tournament. After that, the NCAA regionals are in Oklahoma City; Spokane, Wash.; Norfolk, Va.; and Trenton, N.J. So if Baylor is the overall No. 1 seed again as it was in 2012 -- and advances out of the early rounds, of course -- the Lady Bears likely would head north for regional play in OKC (about a 4½-hour drive from Waco).
Admittedly, that's all quite a ways down the road. But it's easy to get caught up in looking ahead, considering that Baylor brings back all its starters, including reigning national player of the year Brittney Griner.
But let's back up and return to the beginning of the season, when Baylor plays back-to-back against Kentucky (Nov. 13 in Waco, Texas) and Stanford (Nov. 16 in Honolulu). The Wildcats have made it to the NCAA Elite Eight two of the last three years, while Stanford has made five consecutive trips to the Final Four. (But can the Cardinal do it this season without Nneka Ogwumike?)
On Dec. 5, Baylor will take on a Notre Dame team that the Lady Bears defeated 80-61 last April at Denver's Pepsi Center in the national championship game. Then on Dec. 18, Tennessee -- another team knocked out of the 2012 NCAA tournament by Baylor, in the Elite Eight -- comes to the Ferrell Center under Holly Warlick, who officially took over as head coach after Pat Summitt moved to an emeritus role this spring.
As for Big 12 conference play, one of Baylor's biggest rivals in recent years is no longer involved. There will be no more grudge matches for the foreseeable future with Texas A&M, which left the Big 12 along with Missouri to join the SEC. Mulkey made it abundantly clear last year she wasn't keen on starting a nonconference series with the Aggies.
But Baylor will interrupt conference play to travel to Connecticut; that game will be Feb. 18.
The Lady Bears open Big 12 play with league newcomer TCU, the Fort Worth-based school that's had consistent success in women's hoops under coach Jeff Mittie but now will be playing on a bigger stage.
The other Big 12 newcomer, West Virginia (yes, it's still hard to believe), will get its "welcome to Waco" on Jan. 19.
Baylor's matchups against a Texas team starting a new chapter under coach Karen Aston are Feb. 9 in Austin and Feb. 23 in Waco. During Aston's years as an assistant, she had two stints working at Baylor.
The target will be on Baylor's back all this season -- but that's nothing new. It really was last season, too. Mulkey didn't try to lessen expectations in 2012, and after the NCAA title game, she was already looking ahead to making a run at New Orleans in 2013.
"That's my home state, and I won't have enough tickets for family," she said in Denver. "But I'll do something to get them in the arena. That's what we want, another national championship."
April, 1, 2012
04/01/12
10:11
PM ET
DENVER -- UConn's Tiffany Hayes ended her career with two NCAA titles … and two frustrating NCAA tournament losses to Notre Dame.
The Huskies' only senior sat mostly dry-eyed at her locker room stall at the Pepsi Center following an 83-75 overtime defeat at the hands of the Irish on Sunday. She talked about being happy with a great run in her college career, but not feeling satisfied. Occasionally, tears welled in her eyes, but she fought them off.
"We gave this game away," Hayes said, upset by her team's turnovers -- she had six of the Huskies' 21 -- and failure to box out at crucial moments. "It's really hard; you want to be in that final game."
[+] Enlarge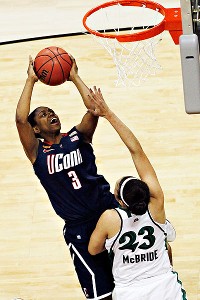 AP Photo/David ZalubowskiTiffany Hayes had 10 points and six turnovers in her final game for UConn.
Hayes was a complementary player her first three seasons at UConn, playing alongside the likes of Maya Moore, Tina Charles and Renee Montgomery. This year, Hayes was depended on more, and she came through much of the time.
In late January, she had back-to-back games in which she scored 35 and 33 points against Syracuse and then South Florida. It was a slice of Hayes at her slashing and jump-shooting best.
And in the Kingston Regional, she was pivotal in getting the Huskies into their fifth consecutive Final Four. Hayes had 32 points and 14 rebounds combined against Penn State and Kentucky in being named the regional's most outstanding player.
After the Elite Eight victory against the Wildcats, UConn coach Geno Auriemma said of Hayes: "Tiffany's grown up a lot. Being MOP was one of the highlights of her career. I'm thrilled for her."
And Hayes fully acknowledged then how her inconsistency over the years -- for which she got heat from both Auriemma and the UConn fan base -- had bothered her. She was hoping to prove at the Final Four that she wasn't going to follow a peak with another valley.
But Sunday's game is not one for which she'll have any fond memories. Along with the turnovers, Hayes took some out-of-control, wild-looking shots. Other times, she didn't seem to be looking to make a play at all, even when the Huskies really needed someone to step forward. Hayes was 4-of-11 from the field and 2-of-4 from the foul line for 10 points.
"We could have done a lot of things differently, but we're a fighting team and we didn't give up," Hayes said. "It was about all hustle plays for both teams. I don't want this to end now, but it was a good four years."
Hayes said when the buzzer went off, the thought that went through her mind was, "That's it. That's it for me. But I also knew that, like coach said, they are definitely going to be back."
March, 31, 2012
03/31/12
6:12
PM ET
DENVER -- Amid all of the hoopla that is NCAA Final Four weekend -- the bands, the practices, Tourney Town, hoops fans wearing newly made Peyton Manning Broncos jerseys -- there will be one moment that will be long remembered for years to come.
And it was a moment that came even before the first tip-off.
[+] Enlarge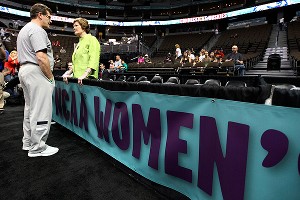 AP Photo/Eric GayGeno Auriemma and Pat Summitt shared a brief moment during UConn's practice Saturday at the Women's Final Four.
A woman wearing a bright chartreuse jacket made her way out onto the Pepsi Center floor. Not too long after she arrived, Connecticut coach Geno Auriemma made his way to the woman, and the crowd noticed.
It was Tennessee coach Pat Summitt, who was here to show support for forward Glory Johnson during Saturday's State Farm All-America Team ceremony. Auriemma and Summitt, two college basketball coaching legends simply sharing a moment for the whole arena to see. Before long, fans moved in, asking Summitt for autographs; other admirers yelled from afar.
"We love you, Pat!"
"Come back next year, Coach!"
And that's what made the scene that much more powerful: the unknown. Will Summitt return for 2012-13 after revealing before the start of this season that she was diagnosed with early onset dementia?
Many will speculate her future for weeks to come. On Saturday, at least, the women's college basketball world simply appreciated Summitt was where she belonged.
March, 31, 2012
03/31/12
3:13
PM ET
DENVER -- Who better than Connecticut coach Geno Auriemma to offer up a little expert analysis on Sunday's Baylor-Stanford game?
A. His Huskies team has played them both this season, defeating Stanford 68-58 in Hartford back on Nov. 21 and losing to Baylor 66-61 in Waco on December 18.
B. You knew he'd be willing.
"The big kid at Baylor is really good," said Auriemma, getting an easy laugh as he referred to Lady Bears star center Brittney Griner.
The Huskies' coach thinks this is a good matchup for the Cardinal.
"I think it's good because they haven't played each other," Auriemma said. "So Brittney and Odyssey Sims and Baylor, they don't know anything about how to defend Stanford. And Stanford's big kids don't know anything about playing against somebody like Brittney Griner."
Auriemma cautioned the people who think that Baylor is going to win with ease.
"I like this matchup, I really do," Auriemma said. "All the people that are saying this is a walk for Baylor, I don't think they are right.
"I'm not saying they're not going to win. I don't know who is going to win. But those people that say Baylor's got an 80 percent chance of winning tomorrow night? I think they are dead wrong. They might, but it's not going to be as easy as they think."
March, 30, 2012
03/30/12
9:09
PM ET
DENVER -- Of the 12 players who won gold in women's basketball with Team USA at the 2008 Beijing Games, six were named to the 2012 Olympic squad Friday.
Of those who weren't: USA Basketball legend and four-time Olympic gold medalist Lisa Leslie has retired; Tina Thompson, DeLisha Milton-Jones and Katie Smith are all in their late 30s, while Kara Lawson is in her early 30s. They were not part of the finalists' pool of potential 2012 Olympians.
The one 2008 Olympian who was a strong candidate for 2012 but wasn't named as one of the 11 on the team is guard Cappie Pondexter of the New York Liberty.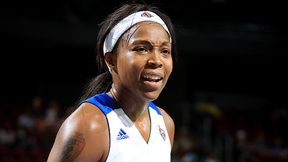 Nathaniel S. Butler/NBAE/Getty ImagesCappie Pondexter was the seventh-leading scorer in the WNBA last season.
It's possible Pondexter, the seventh-leading scorer in the WNBA last season and a past WNBA Finals MVP, still could be named to the Olympic squad when USA Basketball selects its 12th and final member for 2012. Or she could be an alternate in case there is a serious injury to someone on the U.S. team before the Olympics.
"These players are all playing overseas, and then they'll play in the WNBA [before it breaks in mid-July for the Olympics]," said Team USA national team director Carol Callan, who is on the selection committee. "Sue Bird just broke her nose, for example. So we know there is still a lot of basketball between now and London, and somebody could get injured and not be able to play. We have the flexibility to move in a more experienced player if there's a need at a certain spot."
Which leads one to believe if there isn't an injury (Bird's oft-broken beak won't keep her out), a younger player such as Baylor center Brittney Griner may get the nod.
Why wasn't Pondexter, who is definitely one of the top scoring guards in the world, one of the 11 named? Callan and U.S. coach Geno Auriemma, who isn't on the selection committee, said it was just a part of the tough process of putting together the team.
Yet there is also the fact that Pondexter didn't play in the 2010 World Championships; she told USA Basketball back then that she was too tired from her just-completed WNBA season to compete. However, Pondexter did attend Fashion Week in New York City during the time the U.S. team was practicing for those worlds, which did raise some eyebrows.
Callan on Friday tried to defuse speculation that Pondexter's choice back then was in any way related to USA Basketball's decision for 2012. But, if nothing else, it did help make way for a player such as Lindsay Whalen to get a spot on the 2010 world championship team, and now she is one of the Olympians.
"Cappie played USA Basketball starting when she was about 18," Callan said. "All of these players have shown a loyalty to us over time; that's why these are such hard decisions. Cappie's decision not to play in the World Championships was perfectly fine, so that's not it. But it's very difficult to say, 'Who's spot would she take?' I think we're really pleased with what we have, but Cappie's still in the mix, as well."
A diplomatic answer, for sure. Pondexter turned 29 in January and her scoring isn't all she brings; she's also one of the best perimeter defenders in women's hoops. But it's not as if the U.S. team isn't very strong at guard even without her.
As Auriemma said, "When you're picking this team, the committee is trying to take in consideration so many things. When we went to the World Championships two Octobers ago, that team we took there had an unbelievable run. That was a phenomenal team. We played tremendous basketball and won a gold medal against the Czech Republic on their home court.
"If the committee had asked me, 'What do you want the Olympic team to be, I would have said, 'Hey, give me that [World Championship] team back.' And I think the changes that the committee made to that team have made this team better."
March, 24, 2012
03/24/12
9:47
PM ET
RALEIGH, N.C. -- A few things I'll be watching at Sunday's regional semifinals:
(3) Texas A&M vs. (2) Maryland
ESPN/ESPN3, noon ET Sunday
Star power: Maryland's Alyssa Thomas will be the best player on the floor, but Texas A&M's Sydney Carter is a ferocious defender. If you want to teach a kid how to play hard, have him/her watch these two stars.
Stat power: Rebounds. The Terps are second in the country in rebounding margin (plus-13.9). The Aggies will have to focus on keeping the Maryland bigs off the boards.
What I'm looking for:
1. A&M "defensive coordinator" Vic Schaefer is one of the best defensive minds in the game. What can he come up with to slow down Thomas and the Maryland backcourt?
2. Who will dominate inside? Will it be A&M's Kelsey Bone or Tianna Hawkins and Lynetta Kizer for Maryland?
3. How will the game be officiated? Maryland is a different team with Thomas in foul trouble. She picked up early ones versus Louisville and it affected her the rest of the game.
(5) St. Bonaventure vs. (1) Notre Dame
ESPN2/ESPN3, 2:30 p.m. ET Sunday
Star power: Notre Dame's Skylar Diggins is one of the best point guards in the nation, but the Bonnies' Jessica Jenkins might be the purest shooter.
Stat power: Turnovers. The Fighting Irish force 22.8 turnovers a game, but St. Bonaventure leads the nation in fewest giveaways at only 12 a game.
What I'm looking for:
1. Will Notre Dame have any difficulty defending the Bonnies' 5-out motion offense? (I'll let you in on a secret: No big really likes defending on the perimeter.)
2. Will St. Bonaventure -- playing in its first NCAA tournament -- be able to keep the game close for a while? It is undersized and doesn't have much tournament experience, but plays as well together as any team in the tourney.
3. Does Megan Van Tatenhove's family really own a cheese factory? (Tune in to get the answer to that one.)
March, 19, 2012
03/19/12
12:01
AM ET
You want to know just how much No. 11 seed Kansas' 57-49 victory over sixth-seeded Nebraska in the NCAA tournament's first round meant to the Jayhawks? A whole rock-chalking lot.
Exactly one month ago -- Feb. 18 -- the interview room at Kansas' Allen Fieldhouse was a depressing place to be for the home team.
The Jayhawks had just lost to archrival Missouri 70-65. It was the Tigers' first Big 12 victory and threw what KU coach Bonnie Henrickson called "a dagger" at the Jayhawks' NCAA tournament hopes.
Six days previously, the Jayhawks had lost their leading scorer, junior post Carolyn Davis, to a gruesome-looking ACL injury early in their game at Kansas State. After she went down, her cries echoed around a hushed Bramlage Coliseum.
And as Henrickson leaned over to console her, Davis kept saying, "I'm so sorry! I'm so sorry!" As if that dastardly ligament tearing -- as it does far too often in women's hoops -- had been her fault.
And there were the Jayhawks -- still battling for their first NCAA berth since 2000 -- letting a home game slip away to the last-place team in the Big 12. Just before tipoff of that Mizzou game, Davis had been in the team huddle and fell down, the injured knee giving way suddenly, as they sometimes do. She'd fallen to the court, in pain again.
In the postgame news conference, Henrickson struggled with her emotions in saying that the team had dealt with Davis' injury better than she had. Then senior Aisha Sutherland, trying to keep her composure talking about what looked to be the downward spiral of her final college season, dissolved into tears. And Sutherland is not the crying type.
[+] Enlarge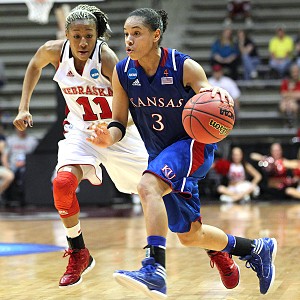 Nelson Chenault/US PresswireAngel Goodrich helped Kansas win its first NCAA tournament game since 1999.
Yeah, we told you it was depressing.
But another player, her composure unbroken, vowed that the Jayhawks were not going to give up and that they still had a chance to be an NCAA tournament team. That was junior point guard Angel Goodrich, who had been through two ACL injuries herself at KU.
Nothing came easily, though. Kansas did win its next game after the Missouri debacle, getting the program's first victory at Texas Tech since 1978. Goodrich broke the school's single-season assist record in that game.
After an expected loss to No. 1 Baylor, the Jayhawks came home to face Oklahoma State … and fell by three points. Now they really were sunk, right?
Nope, they went on the road again and won their regular-season finale, giving Henrickson her first victory over Oklahoma in her eight seasons at KU. After a respectable and hard-fought 78-63 loss to defending national champ Texas A&M in the Big 12 tournament quarterfinals, the Jayhawks were left to nervously watch the NCAA selection show to see if their roller-coaster season had been enough. And they erupted in joy when they found out it was.
All that puts into context what you saw Sunday, when KU downed familiar foe Nebraska, long a conference rival before the Huskers' move to the Big Ten this season.
The Huskers didn't have injured sophomore Jordan Hooper at full strength; she played 32 minutes but made just 4 of 18 shots. Point guard Lindsey Moore also struggled, going 5-of-21 from the field. As a team, the Huskers were 1-of-19 from behind the arc. Nebraska really didn't look like the same team that had played in the Big Ten tournament title game two weeks ago.
But credit Kansas for staying composed and holding onto a lead, something the Jayhawks have not been able to do enough over the past few years. Too many breakdowns at the ends of winnable games have cost the Jayhawks dearly, and kept them from making an NCAA appearance sooner than this.
However, despite those past disappointments, her knee problems, the injury to her close friend Davis, and the pressure of her first NCAA tournament game, Goodrich on Sunday showed why Henrickson has called her, "the most accountable kid I have ever coached."
Goodrich had a team-high 20 points and five assists. Even though she had six turnovers, the Jayhawks always feel better when the ball is in her hands for a lot of each possession. She makes things happen, including the driving basket and two free throws in the final 39 seconds that sealed this win for KU.
Sutherland had eight points and five rebounds, plus two blocked shots as her defense was important in clogging up Nebraska's attack. But the breakout star of the game was the youngster who is starting because of the injury to Davis: freshman Chelsea Gardner. Both are 6-foot-3 posts from Texas; Davis from Houston and Gardner from DeSoto. Gardner had career highs in both points (15) and rebounds (16) against the Huskers.
Kansas now will face No. 3 seed Delaware and sensation Elena Delle Donne for a trip to the Sweet 16, someplace the Jayhawks have not been since 1998.
And Goodrich's words on that bleak afternoon a month ago in Lawrence, Kan., are worth revisiting. Because it's those moments of resolve through the hardest times -- which most folks don't really see -- that are such a big part of what makes some athletes' journeys so inspiring.
"I feel like we can still pull it together," Goodrich said after the Mizzou loss. "That's the key thing right now for us: Just staying together as a team and continuing to get better. Even if you lose, just go out there and give it your all. Have no regrets. If we just do that, I'll be happy at the end of the day."
Sunday, she was very happy. She and the Jayhawks have, indeed, given it their all.
March, 13, 2012
03/13/12
3:28
PM ET
Rebecca Lobo gives a behind-the-scenes look at preparations for the set of the Selection Show.
Hardest regional: Des Moines. For Tennessee to be the 2-seed there (with No. 1 Baylor) after playing really well in the past week or so, that was the one that stuck out to me.
Easiest regional: Kingston. Connecticut's path to a potential Final Four might be the least difficult. Kentucky is probably seen as the fourth No. 2 seed, and Connecticut -- which opens in Bridgeport -- doesn't have to get on an airplane.
Best first-round game: No. 7 seed Green Bay versus 10th-seeded Iowa State in Ames, Iowa. Both teams have players who can shoot the 3 and it's a lower seed playing on its home floor.
Best potential second-round matchup: Top-seeded Baylor against No. 8 seed Ohio State. The consensus on the Buckeyes is that they deserved a better seed.
Team better than its seed: Sticking with 8-seed Ohio State on this one.
Team worse than its seed: No. 6 Nebraska. That is not meant as any disrespect to Nebraska. But in relation to Ohio State and both teams being from the Big Ten, it's just an interesting thing to look at those two seeds side by side.
Biggest snub: No. 2 seed Duke in Nashville. The Blue Devils were probably expecting to be in Chapel Hill. Instead, they have to potentially play a second-round meeting with Vanderbilt in the Commodores' town.
Biggest surprise: That No. 2 seed Kentucky and third-seeded Miami are in the same region in Kingston. That could be a pretty amazing matchup if it happens in the regional semifinal.
Possible Cinderella: Green Bay. The Phoenix play an interesting system, and most teams don't play against a team like Green Bay in the regular season. The Phoenix could get to the Elite Eight. A team that could get to the Final Four is Maryland. The Terps have depth at the post, a star in Alyssa Thomas, an experienced backcourt, and Maryland has bodies to match up with most teams. The Terps are the team that best matches up with Baylor. Of course, they have to reach the national championship to even get a shot.
Most talent in one region: Des Moines. Just looking at Baylor's and Tennessee's rosters, they're loaded with talent. Ohio State has Samantha Prahalis. Delaware's Elena Delle Donne has real star power.
Under-the-radar player: Point guard Jasmine Lister from Vanderbilt. I really like her game. I just watched (video of) her playing in a win against Tennessee at Vanderbilt, and Lister was absolutely outstanding.
Final Four: I'm going with the chalk and sticking with all the No. 1 seeds: Baylor, Stanford, Notre Dame and Connecticut.
Who wins? Baylor is still the team to beat. If it goes chalk, the Lady Bears will have beaten two of the three other No. 1 seeds that could be there. I'm picking Baylor as my champ over Notre Dame.
March, 12, 2012
03/12/12
10:01
PM ET
Iowa coach Lisa Bluder high-fives with her team after the Hawkeyes received a No. 9 seed. They will face California in the first round.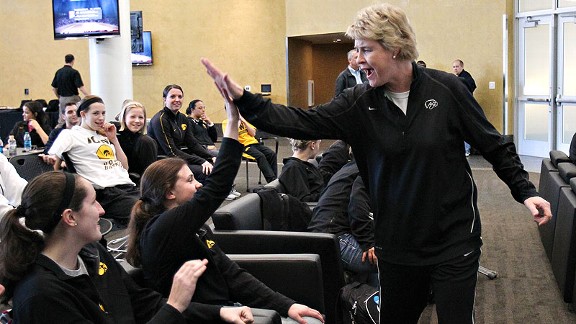 Darren Miller/Iowa AthleticsLisa Bluder and the Iowa Hawkeyes will be making their fifth straight trip to the tournament.
Coach Pat Summitt and No. 2 seed Tennessee may have to go through Elena Delle Donne and Delaware, and then Brittney Griner and Baylor to reach the Final Four.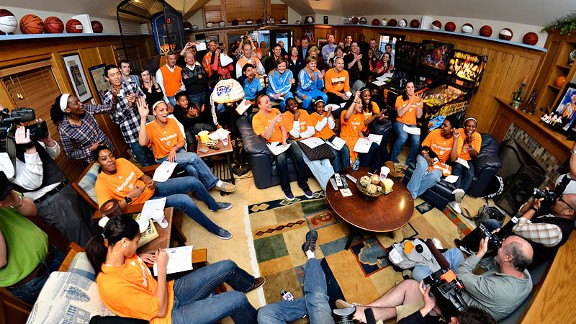 Patrick Murphy-Racey/UTADPHOTOTennessee has won the most women's basketball titles -- eight -- under coach Pat Summitt.
No. 16-seed Liberty will face top-seeded Notre Dame in the first round. Harvard, a No. 16 seed, defeated No. 1 seed Stanford in 1998.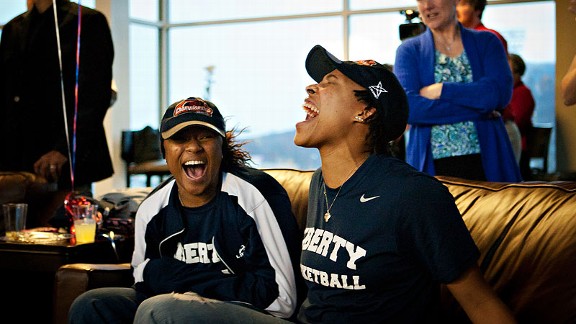 Kevin Manguiob/Liberty AthleticsLiberty players shout for joy after their school gets its NCAA matchup.
Fresno State is the No. 12 seed in the Des Moines region. The Bulldogs play No. 5 Georgetown and Sugar Rodgers.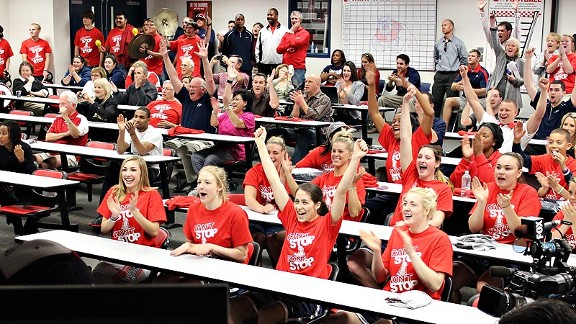 Fresno State AthleticsFresno State players raise their arms in celebration when their bracket is revealed.
Florida players will have a tough road, facing No. 8 seed Ohio State, which features one of the toughest backcourts in the country with Samantha Prahalis and Tayler Hill.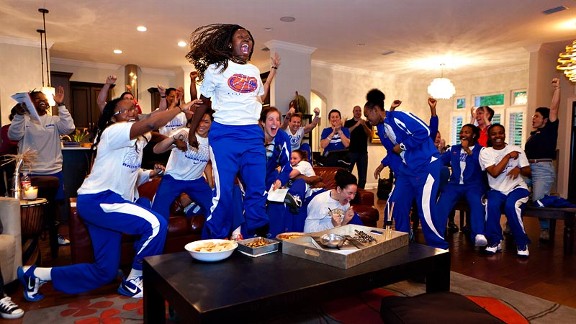 Matt Pendleton/UAAFlorida players show their vertical after being selected for the tournament.
Julie Wojta and Green Bay finished the season with a 30-1 record but received a No. 7 seed. The Phoenix also have to travel to Ames, Iowa, to face Iowa State.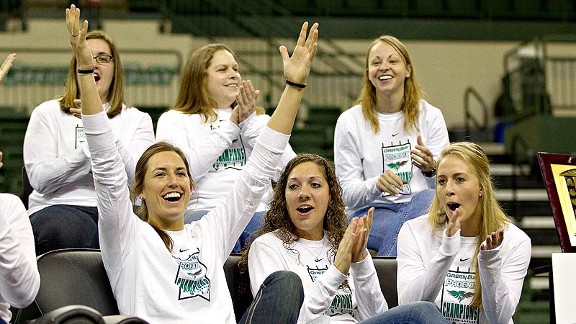 Georgia Tech AthleticsGreen Bay took a subdued approach when its name was called for the field.
Connie Yori and Nebraska went all the way to the conference tournament final in their first season in the Big Ten. The No. 6-seeded Cornhuskers play Kansas in the first round.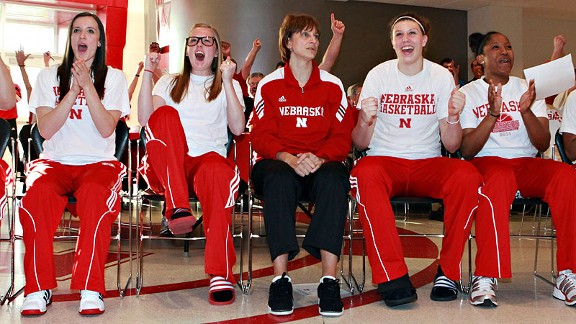 Nebraska AthleticsCoach Connie Yori and the Nebraska Cornhuskers react to their selection.
Kentucky won the SEC conference regular-season title. As their reward, the Wildcats received a No. 2 seed and will face McNeese State.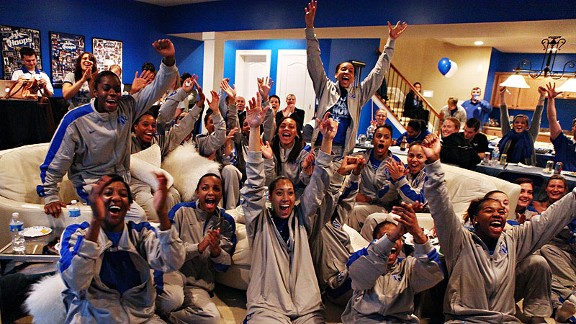 Kentucky AthleticsKentucky players are all smiles watching the "NCAA Selection Show" on Monday.
Kansas State will face Princeton in the first round. If the Wildcats win, they will likely face No. 1 seed UConn in the second round.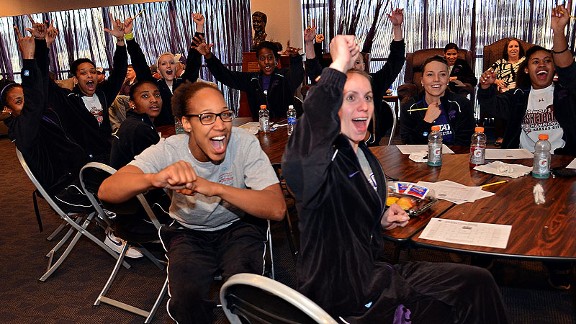 Kansas State AthleticsKansas State players fist pump as the Wildcats make the tournament field.
Oklahoma coach Sherri Coale, back left, and her team are No. 6 seed and will face Michigan. The winner could play No. 3 seed St. John's from the Big East.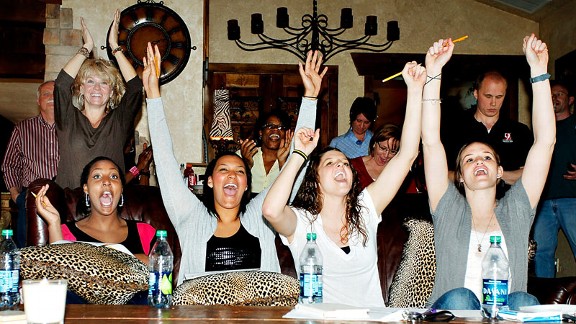 Oklahoma AthleticsOU is 20-12, but Sherri Coale credited a strong nonconference schedule for the No. 6 seed.