September, 14, 2010
09/14/10
2:51
AM ET
SEATTLE -- As you might expect, Seattle's Sue Bird shrugged good-naturedly at the news that she wasn't on the all-WNBA first team.
[+] Enlarge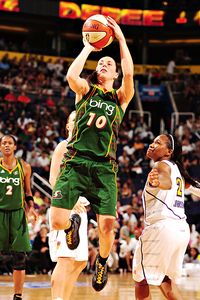 Barry Gossage/Getty ImagesSeattle point guard Sue Bird deserved a spot on the WNBA's all-league first team.
That, however, was not my reaction. Bird a second-team honoree? I was irritated. How do you not have the WNBA's best point guard on the first team in a season when the Storm had the best record in the league?
"Oh, I'm not mad about it at all," Bird said after Monday's practice at KeyArena. "I don't even know who made first team with the guards."
Told it was Phoenix's Diana Taurasi and New York's Cappie Pondexter, Bird added, "I'll take that. I don't see myself beating either of them. When you average 20-plus points … and for both of them, they also do other things. It's tough to compete with players like that."
Yes, but isn't it a clear sign how point guards are undervalued?
"I play with Diana and Cappie, and I see their value," Bird said. "They do a lot, and they score as well. And Cappie and Diana both can play point, so it's a tough argument."
Of course, this is vintage Bird. Who else in the league would so calmly and analytically try to deconstruct the case for her own candidacy for an honor?
Well, I remain unconvinced. It never crossed my mind to not have Bird on the first-team ballot. And this, of course, was before her two game-winning shots on consecutive Sundays in the postseason.
My ballot had three guards -- Bird, Taurasi and Pondexter -- and post players Lauren Jackson of Seattle and Tamika Catchings of Indiana. That is a perfectly legitimate team that you could put on the floor, and -- as far as I'm concerned -- within the guidelines of how one is allowed to vote. But the actual first team as voted on had just four of those players, with Chicago's Sylvia Fowles as the fifth.
Now, in a business loaded with clichés, maybe there's not much more cliché than a media person griping about voting by fellow media for player honors. I don't really like getting into any of that.
Plus, I think highly of all five players who did make the first team. And since Bird really doesn't seem to care, maybe you'd think I'd just let this pass. But I can't.
Some people might say, "Well, Bird has always gotten plenty of acclaim being from UConn and all, it's not like she's going unnoticed."
However, this has nothing to do with that.
Yes, Bird would finish very high every year in a women's basketball popularity contest, and for good reason. She's generous with her time in dealing with the media (and in Bird's case, that's a lot of time), she gives thoughtful answers, and she doesn't blow off people if she's having a bad day.
In fact, Bird does an exceptionally good job of making it appear she never has bad days. And when you're an athlete in a team sport, that's a very special leadership trait.
Because what we in the media present about a player is one of the windows that fans have into who the player is, and that does influence popularity. Plus, sure, Bird played for the college team that gets more media attention than any other. Also, Seattle is the best local market, as far as I'm concerned, for coverage of the WNBA.
Again, though, all of that is completely irrelevant to the issue of whether it's a big deal that Bird didn't make all-WNBA first team this season. Because this is an honor she earned through her play, period. Not because she's a nice person, or a terrific spokeswoman for the sport, or because so many kids want to have a No. 10 Storm jersey. Do all of those things make her very valuable to her franchise and the league? Yes, of course.
But this is about bare-bones stuff: Bird the basketball player.
It's not just displayed in her numbers, although they are very good at her position: 11.1 points and 5.8 assists per game during this regular season, with 190 assists to just 60 turnovers in those 34 games. (Her playoff numbers are even better: 12.2 ppg, 8.4 apg. But the voting was done before the postseason.)
Beyond the stats, though, Bird is one of those players where you don't look at measuring her so-called intangibles as if it's some esoteric exercise. In fact, those qualities aren't really "intangible" at all. They're quite tangible and very obvious. Just watch who pulls her team together the best, who is able to give instructions without ticking off anybody, who is universally respected.
"Sue is low-maintenance, she'll fly under the radar," teammate Swin Cash said. "But she can make the other team pay with a dagger at any point in time. She's always been the point guard who's going to get everyone involved. She knows everyone's tendencies.
"She knows when I need to get a basket and when she has to get me going. But at the same time, when it's crunch time and she needs to be the one to make a play, she knows that same thing about herself."
Seattle coach Brian Agler acknowledged he was very disappointed Bird wasn't on the first team for the same reasons why Cash praised Bird.
"Obviously, there are a lot of good players in this league, and the people that are on the first team are exceptional," Agler said. "But there's no question in my mind that Sue Bird does her job and plays her position better than anybody else. She makes people around her play to their maximum."
Again, Bird is not going to be bothered by this at all. It's just not how she's wired. But such honors are important. And from a legacy standpoint, I hope Bird ultimately will be evaluated not on how popular she is or how many fans will always love her from her UConn days or have grown to love her in Seattle.
But plain and simple, she should be judged by how thoroughly she has mastered a position that is undervalued only if you don't regularly watch basketball.
If you do, Bird was a textbook, complete "no-brainer" pick for the all-WNBA first team this season. I'd argue that point with anybody. Even Sue Bird herself.
September, 1, 2010
09/01/10
12:09
AM ET
A year ago, Indiana had the biggest breakthrough in the franchise's history when the Fever at last bested the Detroit Shock in the postseason and made their first appearance in the WNBA finals.
What a very happy day for Indiana. But as it turned out, for Detroit, it was an even sadder day than anyone fully realized at the time.
[+] Enlarge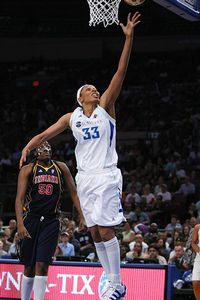 Alan Maglaque/US PresswireAfter eight games with Tulsa, Plenette Pierson has averaged 9.0 points and nearly four rebounds in 25 games for New York this season.
That Game 3 of the Eastern Conference finals was actually the very last game for the Detroit franchise. Pistons ownership cut loose its three-time champion WNBA team, which then relocated, sort of, to Tulsa.
The name "Shock" went south to Oklahoma, that is. Along with some, but not all, of the players. By late July, though, everyone who had worn a Detroit Shock uniform the previous season was no longer wearing a Tulsa Shock jersey.
Three of those players, in fact, will be in action Wednesday at Madison Square Garden for the deciding Game 3 of the East semifinal between New York and Indiana.
Taj McWilliams-Franklin, who finally won a long-deserved WNBA title with Detroit in 2008, was a free agent who signed with New York in April. Plenette Pierson started the season in Tulsa. But her disdain for the system -- or lack thereof, as far as she was concerned -- of coach Nolan Richardson made it pretty clear to her that she couldn't wait to get out.
Tulsa obliged that wish, dealing Pierson to the Liberty on June 14, aka "Flag Day." And Pierson was more than happy then to take up the flag of the Liberty, a team she'd had her battles with over the years.
Meanwhile, Shavonte Zellous, who had a solid rookie debut in 2009 with Detroit by averaging 11.9 points, would have seemed a good young player to build with in Tulsa. But just four games into the season, she was dealt to Indiana for a 2011 second-round draft pick. With the Fever, Zellous hasn't thus far matched her rookie numbers. But she has been able to provide some scoring off the bench, and was a needed addition for the Fever.
Either McWilliams-Franklin/Pierson or Zellous will move on to the East finals. Meanwhile Kara Braxton, who was dealt in late July from Tulsa to Phoenix, provides the "ex-Shock factor" in the West finals. So does Seattle's Swin Cash, whose relationship with former Detroit coach Bill Laimbeer went so sour in 2007 that she welcomed her trade to Seattle for the 2008 season.
Understandably, those Detroit fans who stayed loyal to a franchise that then was ripped away from them might not be up to watching the playoffs this year. Or if they are, they are probably viewing it with no small amount of sadness.
However, they might smile watching Wednesday's Game 3, being reminded of the former Shock players who competed so hard for them.
Pierson is a Texas native, but she fit the blue-collar mentality of the Motor City very well. She loved Detroit, almost as if she were born and grew up there.
Now Pierson says she has adjusted to New York City, even if "it's too fast-paced for me." The hassles of needing to allow for so much time to get to and from Manhattan -- she lives in White Plains, N.Y. -- have been more than bearable compared to the frustration that overwhelmed her in Tulsa.
Getting around that city had been very easy, of course. But Pierson felt she rarely knew what direction she was supposed to go on court in Tulsa. And that was what really bugged her.
Pierson appreciates the structure she has found with the Liberty, and everyone in the WNBA saw what she brought to the franchise.
"Well, of course, the addition of Cappie (Pondexter) was a huge, major move," Indiana coach Lin Dunn said of New York's team makeup. "But I did think when they were able to get Pierson from Tulsa, it added a toughness to that team.
"All of those former Detroit players have a toughness and experience about them. You can get one of those players on your team, especially someone like Pierson, it's really an advantage."
And while it's not necessarily going to make Detroit's WNBA fans feel any better, at least the legacy of what their Shock meant to the league is still alive. It's carried on by the players that made it happen for Detroit -- and now are doing the same for other teams.
August, 21, 2010
08/21/10
2:29
AM ET
Los Angeles' DeLisha Milton-Jones didn't try to avoid the obvious recently when asked about the struggles the Sparks have had this summer.
After Lisa Leslie retired, Candace Parker was going to be the team's undisputed centerpiece. But Parker's season ended after 10 games because of a shoulder injury.
"You know, you go through the whole list of clichés to try to make it seem like it won't be that bad," Milton-Jones said. "Like, 'It doesn't matter; one player doesn't make the whole team.' But at the end of the day, that one player is vital.
"When it's someone who is also one of the faces of women's basketball … that is not just a hole. That is an astronomically large crater that we have to fill. What that player brought to us is something that can't be replaced. The way teams had to formulate defenses to stop Candace when she is in transition, when she is setting a pick, when a pick is set for her, when she's on the block, when she's on the 3-point line …"
Yep, Parker is a multifaceted nightmare for defenders. Milton-Jones knew as soon as she found out that Parker was done for the season that the Sparks were in trouble. It was an additional blow to L.A. to lose guard Betty Lennox to injury, too; she appeared in just 11 games.
But Milton-Jones held on to the hope that the Sparks would find a way to still get into the playoffs. She expected it would be kind of like dragging several large pieces of heavy luggage -- which had the wheels fall off -- to an airport gate that seemed five miles away. Oh, and don't even think there is a luggage cart available to help.
Well, on Friday night, the Sparks finally made it to that gate. And they didn't miss their flight. L.A. is going to the postseason. A 98-91 win over the Minnesota Lynx put the Sparks in the playoffs.
Milton-Jones had a season-high 24 points. Her fellow "old ladies" on the Sparks were also critically important. Tina Thompson led L.A. with 26 points, while Ticha Penicheiro had 12 assists. All three players are 35; Milton-Jones and Penicheiro will be 36 in September.
Thompson, who became the WNBA's career scoring leader last week, also had nine rebounds, while Milton-Jones had seven.
"We're feeling very, very good, but we know the hard part is about to begin for us," Milton-Jones said. "This win tonight … we can't get too high off it because we want to go in [to the postseason] and represent ourselves well."
Actually, they should take some pride in just making the playoffs. Thompson, Milton-Jones and Penicheiro have all won WNBA titles, and their resolve and leadership carried the Sparks in the worst times. When the going got rough this season, they kept on going.
The Sparks' victory added one more piece to the playoff puzzle, which is still not fully formed. Now we have seven of the eight postseason teams, but the matchups remain to be determined.
There was a fair amount of drama Friday in that regard. The San Antonio Silver Stars, despite losing Chamique Holdsclaw to an Achilles tendon injury earlier this week, scrambled for an important 75-61 victory over the Indiana Fever. It put the Silver Stars closer to the last Western Conference playoff spot, while the Lynx were pushed a little further away by the loss to L.A.
Speaking of pushing, a little of that went on in D.C., as the Washington Mystics edged the New York Liberty in a 75-74 thriller that ended New York's 10-game winning streak. There was a bit of a postgame scuffle that fortunately didn't last long or amount to much … but it did show that passions are more than a little inflamed at this point in the season.
Going into the final two days of the regular season, Washington, New York and Indiana are all at 21-12 and tied for first place in the Eastern Conference.
Ready for the big finish?
August, 3, 2010
08/03/10
11:10
PM ET
Seattle's Brian Agler is in the position that the other 11 coaches in the WNBA wish they occupied. His team has the best record in the league, 25-4, and has secured home-court advantage for the duration of its stay in the playoffs. And the Storm are 15-0 this season at KeyArena.
Yet if you think Agler is just cruising through the end of the regular season and blissfully drifting off to sleep each night … well, no, it's not like that. Such is the nature of being a coach: There is always something to worry about.
And in Agler's case, it's time management for his players over the Storm's past five games: at Connecticut, at Washington, home versus Minnesota, at Phoenix and home versus Los Angeles.
All five of those foes have something to play for in the last week-plus of the regular season. The Sun are in dire straits, realistically needing to win out. Being three games behind fourth-place Washington, Connecticut is in desperation mode. The Mystics, just like Indiana, New York and Atlanta, conceivably still could wind up first in the Eastern Conference. So they will be pushing hard to the end. Same with Minnesota and Los Angeles, both trying to grab a spot in the playoffs out West.
[+] Enlarge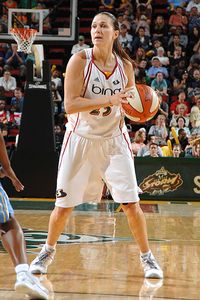 Terrence Vaccaro/NBAE via Getty ImagesIf Seattle -- which has home-court advantage throughout the playoffs -- rests its starters, Svetlanta Abrosimova will see added minutes.
Phoenix -- which would clinch a playoff spot with a loss by Los Angeles on Thursday -- appears to be pretty set in second place in the West, but the Mercury still want to finish strongly. Plus maybe put a little doubt in the Storm players' minds about this matchup. Seattle won the teams' previous four meetings this season, so the Mercury would like to let the Storm know they're not invincible.
So … weighing all this and other factors, how much does Agler play his starters for the rest of the regular season? At this point, the wins and losses don't exactly mean much, except to pretty-up the Storm's record. But how do you gauge the value of rest versus not giving away any edge?
Do you worry about players losing their timing in some way? Are you concerned that if your stars' stats decline a little over the final week as they sit, it might impact voting on individual awards? And while some might say, "Oh, that shouldn't matter," the reality is that there is a monetary value to those honors, and it's not as though WNBA players are just so rich that they would scoff at that.
That said, nothing is more important than winning the league title, and that's definitely how the Storm players are looking at this. Agler values the opinions of his players and listens to them. But he'll still make playing-time decisions based on both planning and instinct.
Tuesday night in Atlanta, for example, the idea was to play the starters in the first half and then mostly rest them in the second half. But the Storm weren't clicking early, thus the reserves carried Seattle for most of the first half. Then the starters closed the deal. It still meant that nobody played more than 25 minutes in an 80-70 victory.
Seattle has gone through the frustration of not having Lauren Jackson in the postseason the past two years, and the Storm want her to be in the best shape possible for the 2010 playoffs. Sue Bird has been an iron woman throughout her WNBA career, but she does have a back issue to think about. And certainly for the Storm's other starters -- Swin Cash, Camille Little and Tanisha Wright -- some rest wouldn't hurt.
Furthermore, it will help the Storm's bench to get a little more time before the postseason. It won't be surprising at all if Seattle ends up getting some key performances from players such as Svetlana Abrosimova, Le'coe Willingham or even Jana Vesela during the playoffs.
Coaching is, by nature, a pretty inexact science. That's not to say you don't have good models to follow about what usually works. It's just that there is no absolute right answer for some situations, and the position that Seattle is in now is one of them.
[+] Enlarge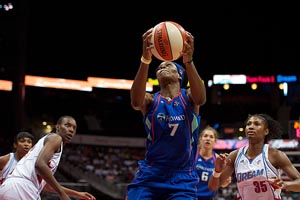 Dale Zanine/US PresswireTaj McWilliams-Franklin and New York have won six straight and are tied for second place in the East.
These are relatively rare occurrences, really, in most sports. Certainly in the WNBA, more often than not, it's a hard push through all 34 games because something is hanging in the balance right until the end.
Whatever the Storm do, there might be second-guessers, but there's no point worrying about that. The maturity and focus of this team is such that I think getting a little rest for the starters is the right move, and I wouldn't be concerned about it negatively impacting anything.
For a lot of other teams, though, the outcome of their last week-plus of games is vitally important.
The hottest of the East's teams, New York, has won six in a row and eight of its past nine. The Liberty have four games left at home and two on the road. East-leading Indiana has two at home and three on the road.
Atlanta, which has played in streaks most of the season, is on a three-game slide now. The Dream have three games left at home, one on the road. And Washington, which has been as hard to predict as any team, has three games at home and two on the road.
As for the West, Minnesota and San Antonio have not shown a significant difference between home or away results. In fact, the Silver Stars have won more on the road (six) than they have at home (five). Those numbers are reversed for Minnesota.
Still, by conventional wisdom, the Lynx have the harder of the two's remaining slates. Minnesota plays four of its last six on the road, including the final three. Meanwhile, San Antonio has five games left, with four at home.
Los Angeles is not out of the playoff picture. But the Sparks have the second-worst road record -- 3-11 -- in the league, better only than Tulsa's 2-12. And three of the Sparks' last five games are away from home.
So while the Storm understandably fret about fine-tuning in preparation for the playoffs, everyone else will be concerned with trying to win.
July, 8, 2010
07/08/10
8:49
PM ET
TULSA, Okla. -- Nicole Ohlde was eating breakfast Friday in Tulsa, anticipating Phoenix's trip to play Minnesota the next day. Ohlde played five seasons for the Lynx before being dealt to Phoenix in January 2009, and she was eager to visit friends in Minneapolis.
[+] Enlarge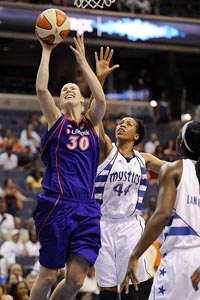 Rafael Suanes/US PresswireNicole Ohlde scored 14 points Tuesday on 7-for-13 shooting and added seven rebounds.
Ohlde's parents had come to Tulsa to see her and the Mercury play Thursday, and they were about to leave the next morning to head back to their home in Clay Center, Kan., about five hours north. And Ohlde herself was headed for the team bus when she got the news from Mercury coach Corey Gaines: "You're staying in Tulsa."
Another former Detroit Shock player still on the Tulsa roster, Kara Braxton, had been dealt to Phoenix for Ohlde and a 2011 draft pick.
"Luckily, we were on a 10-day road trip, so I had a big bag full of clothes," Ohlde said of suddenly being relocated. "I've been on teams where this has happened before [a trade in season], but it's never personally affected me. So it was quite the experience, to say the least."
Mom and Dad stayed around to provide some consolation and support. Her poodle, Gus, was back in Phoenix at the pet resort. Luckily, other than that precious possession, Ohlde doesn't have many valuables in Arizona. Her brother already had a trip to Phoenix planned for this weekend, so he'll pick up her stuff (and Gus) and bring everything to Tulsa.
"There were some tears," Ohlde said. "I had to say goodbye to everyone and figure out how to get my dog. People told me when I was younger, 'You have to understand the business part of the league.' And that's what I kept telling myself. This is what happens. One door closes, and another one opens."
Of course, here in Tulsa, it has been more like a revolving door. Players have come in and come out all summer in this inaugural season for the team in Oklahoma. Coach Nolan Richardson has been wheeling and dealing -- and his critics would say other teams have been "stealing." That is, taking more talent from Tulsa than they've been giving back.
Richardson insists, though, that there is method to the apparent madness. That even though not all the trades have seemed to make the Shock any better on the floor -- their 105-89 loss to Atlanta on Tuesday afternoon was the franchise's fifth in a row after a previous 12-game skid -- they are improving the off-court chemistry as part of an overriding grand plan.
Not surprisingly, some folks aren't giving Richardson the benefit of the doubt because of his lack of previous experience in women's basketball. Others say, "Let's see where the Shock are a year from now."
I think it's accurate to view it both ways. This season has been too chaotic to reasonably be considered "just part of the plan." But maybe somehow -- even despite what seems to be pretty much a mess -- the pieces will come together for 2011.
For now, there has been so much turnover, you hear conversations like this in the BOK Center hallways as security folks try to remember who's still with the Shock and who isn't.
"So did Kara leave?"
"Yeah, Friday. She went to Phoenix."
"But Alexis is here, right?"
"No, she went to Minnesota yesterday."
"No way! Alexis is gone, too?"
Yep, 'fraid so. On Monday, one more link to Detroit was broken, as Alexis Hornbuckle was dealt to Minnesota for Rashanda McCants. In other words, Ohlde was the newest member of the Shock for all of three days. Then it was McCants' turn to be the newbie.
The introduction video played on the giant video screen for the Shock is, to say the least, way out of date. They filmed it before the season started. A relatively short time but a lot of different players ago. Plenette Pierson and Shavonte Zellous are among those former Detroit Shock members previously traded.
"It's gone both ways," said Shanna Crossley, who came to Tulsa via a trade on April 14, which actually makes her one of the longest-tenured Shock players. "There are some people who've wanted to leave and some who maybe didn't, but they weren't a good fit according to coach Richardson.
"What's done is done, and I wish them all the best of luck, whichever teams they're with. I was heartbroken to see them go, because we did have a bond of sisterhood even though it was just a little while in some cases that we played together. But … if that's what the organization wants, you can't argue with that. You just do what you can do."
Crossley says all this with the brave face and positive-sounding voice of a good soldier. But one can imagine that in her head she has been saying, "Good grief, what next?"
On Tuesday, while the other five WNBA contests had playoff implications of one sort or another for both teams involved, the matinee at the BOK certainly was not a potboiler. (Ohlde's now-former team, Phoenix, was part of one of those, though, as Seattle delighted its fans by rallying against the Mercury and clinching the West title.)
Atlanta got the chance to give its reserves some extended minutes since once the Dream took control of this game -- not very long after tipoff -- there was no worry that they were going to give it back.
Meanwhile, Ivory Latta -- who was waived by Tulsa on May 15 but then brought back July 5 and is the only player now on the Shock roster who previously played in Detroit -- led the team with 23 points.
Ohlde, who started every game while at Minnesota but then was a reserve in Phoenix, showed she's probably ready to go back to starting now that she's in Tulsa. She had 14 points and seven rebounds in 29 minutes.
Ohlde has a perpetually sunny personality and is a good fit in Tulsa because she's a good fit anywhere. She is not just low maintenance; she's no maintenance. She will learn about her new teammates as quickly as possible and do whatever is asked of her with a smile.
Although she will be smiling a little more when Gus is back with her. In the meantime, maybe a teammate can direct her to the nearest pet store to prepare for his arrival. Someone who has been in Tulsa long enough to know, that is.
At this point, the presence of players with that kind of "I'll do my very best" attitude is about all the Shock have going for them. That and the hope that they will get better for next year.
"As difficult as this is -- and I'll be the first one to tell you it's been extremely difficult -- you have to look at the future," Crossley said. "Tulsa is a great community, and they will support you. When things start to come together, this can still be a very successful city for basketball.
"We've just got to find the right combination. If this is going to be the groundbreaking season for what we can be, then I can persevere through four months, I guess."
June, 21, 2010
06/21/10
2:01
PM ET
Do you ever think this "regulator" in your brain sometimes makes decisions for your own good? I envision this tiny, frequently exhausted bureaucrat running around in our craniums, trying to keep the whole body and mind happy, with a desk overflowing with paperwork and a phone ringing non-stop. Then one day …
It says, "Enough! I need a break! You need a break! I'm benching you!"
Of course, I'm not entirely serious about this … but I'm not exactly joking, either. If your body sends messages that your conscious mind continues to ignore, or at least underestimate, maybe your mind sends a message to the body: "Look, you're going to need to do something more drastic. She's not listening."
This occurred to me upon hearing the news that Candace Parker was going to be out for the rest of the WNBA season -- and, almost certainly, the World Championship in September -- after surgery on her dislocated left shoulder.
Maybe the regulator in Parker's brain made an executive decision: "Candace, take a seat. At least for a little while."
Parker, who has also gone through an ACL tear, has shown a huge capacity in her career for pain endurance, rehabilitation and playing through injuries. Her will to play has seemed to be greater than her instinct for self-preservation.
This is fairly common in athletes but not necessarily to the degree that we've seen it in Parker … or at least how Parker has combined an ability to juggle an enormous amount of responsibility while maintaining the highest level of play.
But probably many folks who've watched her have thought, "Wow, is she ever going to hit a wall?" I admit I have. While we hoped it wouldn't happen, in some ways, we're relieved it's happening now. Parker might come back from the injury rested, refreshed and more eager to play than ever.
While the idea that a part of one's mind forcing a person to slow down is likely not a process that is that literal, that's the shorthand I use for it. It's based on how I experienced it a dozen years ago.
At that point, I'd been working as a journalist for 10 years and had called in sick to work once when I had food poisoning. It irked me to miss that one day.
Then during one particularly insane stretch, I went from August 1997 to April '98 working virtually every day, often putting in double-digit hours. Two weeks after the 1998 Women's Final Four in Kansas City, I noticed this strange little mark on my shoulder. I wasn't sure what it was … until the nurse at the newspaper took a look and said, "You need to go home immediately. You have chicken pox."
"What?" I said. "No! I don't even feel sick!"
"Trust me, you will," she said. "Now, I'm not asking you, I'm telling you. Go home this instant!"
Of course, she was right, and it would be a month before I was allowed to come back to the newspaper, finally free of the last of the roughly 8 million pox that ended up covering me. (I missed the typically less-severe kid version and hit the "jackpot" with adult onset.)
In retrospect, I've wondered if my body was at its breaking point, and my brain was being an obstinate idiot about it, so it had to come up with something that would absolutely prevent me from going into work. Chicken pox did the trick.
Now, this might not be a similar thing with Parker. But it sure seems like it. When you look at the last three years for her, you can't help but think her body and mind finally conspired to shut her down to really recover.
From March 2007 to June 2010, Parker won two NCAA titles with Tennessee, was the WNBA's top draft pick by Los Angeles in 2008, earned the '08 WNBA MVP and rookie of the year awards, won an Olympic gold medal, competed in the WNBA playoffs, got married, had a baby daughter in May '09, came back to play in the '09 WNBA season, led L.A. to the Western Conference finals, went overseas to compete, returned as the face of the Sparks, was carrying the team and then …
Her shoulder, which had been an issue going back to her time in Knoxville, apparently had been through enough. On June 13 against Minnesota, she dislocated it again, and this time it was decided surgery was needed.
Parker had led Tennessee to the '08 NCAA championship despite that shoulder popping out twice during the regional final against Texas A&M. She just accepted the pain and played through it. She has been doing that ever since.
I think when athletes are enormously gifted physically, as Parker is, we sometimes don't give them the tags that we do less-talented players. For the latter, we say things like "scrappy," "doggedly determined" and "gamer." But the reality is, all those things apply to Parker.
Her dedication to basketball, her leadership of her team and her role as one of the most prominent faces in the WNBA and women's sports is so hard-wired, it's almost to the point of obstinacy. There's nothing Parker believes she can't handle … but maybe her shoulder is telling her, "It's OK. Take a few months. Let me heal. Let yourself rest. You're 24. There's lots of time left."
For the Sparks, yes, she is irreplaceable, especially right now with Lisa Leslie having retired after last season. Parker was averaging 20.6 points and 10.1 rebounds, and you're not going to find that in many other players anywhere in the league.
So Los Angeles' tough season just got tougher. The Sparks decided to go with a lot of veteran leadership and experience to complement Parker this year, and the plan has not worked out well thus far.
Does that mean the Sparks have no chance to salvage this season and make the playoffs? No, it doesn't. This team still has talent. I think it's a lot to ask Tina Thompson and DeLisha Milton-Jones to stave off the ravages of time and play as if they're five years younger than they actually are. But they are among the players in the WNBA that I think are capable of somehow doing that.
Maybe this is where we find out just how much growth potential and maturity there is in players such as Noelle Quinn, Kristi Toliver and Lindsay Wisdom-Hylton. They're all 25 or younger and should have pretty much boundless energy at this point in their careers. Parker being out, as devastating as it is, means there is a void to be filled that they should see as a tremendous opportunity.
Whatever happens with the Sparks, that is not Parker's worry now. This is a time to focus on taking care of herself and realize it's more than OK to do so. It's absolutely necessary.
June, 7, 2010
06/07/10
7:38
PM ET
It's really folly to believe in the idea of franchises being jinxed, isn't it? In any professional sports league, if you consistently struggle, it pretty much has to come down to it being your fault, right? There's no such thing as just perpetual bad luck. There is such a thing as continual management missteps that seep down to coaching moves and player performance, though.
[+] Enlarge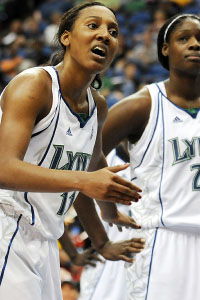 AP Photo/A.J. OlmscheidCandice Wiggins, Nicky Anosike and the Lynx (2-7) play just one more home game in June.
Yet, it can feel like a team is under a constant hex. And while it's probably still too early in the WNBA's history to proclaim any of its franchises to be, say, "Clippers-like" in terms of never-ceasing bad mojo, if any WNBA team were to be proclaimed as such, it would have to be the Minnesota Lynx.
Oh, I know. It's still too soon this season to begin burial preparations for the Lynx. After all, if there's generally one truism about the WNBA, it's that often just when a team appears unequivocally headed in a certain direction, it changes course.
It's just the start of June, and so a lot can still happen in the remainder of the regular season to take the pain out of what right now appears to be a giant toothache of a season for the Lynx.
But it might be as bad as it looks. Or … yikes … it might get worse. Although despairing Minnesota fans might say to that, "Really? How?"
Admittedly, the Lynx technically don't have the league's worst record. That belongs to the 1-6 Sparks, who also are obviously unhappy. But Los Angeles has lost its games by an average of just 7.7 points, including two excruciating one-point losses to Phoenix. The Sparks should be very irritated, but not completely dispirited.
The Lynx, though, might be only a step away from demoralized. They are 2-7, and while that's one more victory than the Sparks, Minnesota's losses are by an average of 16.9 points. And the misery was punctuated by Sunday's 38-point defeat at home to Indiana -- the 89-51 blowout being the Lynx's worst pounding this season.
Yes, Lynx guard Lindsay Whalen missed the game because of an "undisclosed" illness, and forward Seimone Augustus is still out after abdominal surgery. Plus it's a bad time right now to face the Fever -- it might stay that way the rest of the season -- as the defending Eastern Conference champs have won three in a row and five of their last six.
Still, this is exactly opposite of what the Lynx were hoping for this summer. After an offseason trade to bring home-state legend Whalen home, Minnesota looked poised to change its fortunes. The Lynx have made the playoffs just twice in their previous 11 seasons, but a young, talented team with Whalen's leadership at point guard was supposed to make 2010 a very different story.
And, as mentioned, it still could be. Hey, it was just a week ago -- June 1 -- that the Lynx defeated 2009 WNBA champion Phoenix. After a rough start to the season, that looked like a potential turning point.
But then came a 92-79 loss to Tulsa on Friday, followed by the truly awful game against the Fever. How bad was it versus Indiana? Try 20.7 percent shooting from the field by the Lynx (12 of 58).
Admittedly, Indiana's defense is very good. But come on. The Lynx should be able to shoot as if they're not catastrophically visually impaired even against the Fever, and even without Whalen.
This was primarily a guard/wing problem, with three principle offenders: rookie Monica Wright (1 of 13), recently back-from-injury Candice Wiggins (1 of 8), and sometimes-also-went-cold-at-North Carolina Rashanda McCants (0 of 6).
Wright started her first WNBA season well, scoring 18 points at Tulsa in a victory on May 15. And in the Lynx's other win, against the Mercury, she had 32 points. But there have been some rough waters otherwise for Wright, who finished college as the Virginia program's all-time leading scorer.
She has taken more shots, 127, than any Lynx player thus far, but has made just 40 of them (31.5 percent). As a team, Minnesota is shooting a league-worst 37.7 percent from the field, while allowing its opponents to shoot 44.4 percent.
Coach Cheryl Reeve summed it up Sunday by saying, "We are a bad basketball team," and you've got to figure nobody is more surprised about this than she is. Reeve apprenticed under Bill Laimbeer at Detroit and seemed very ready to have her chance at running the show with the Lynx. Which she got when Jennifer Gillom left to coach the Sparks.
Reeve didn't dodge high preseason expectations. To the contrary, she embraced them, saying it was time for the Lynx to take some big steps forward, including making the playoffs. And she fully endorsed the Whalen deal that sent the No. 1 pick to Connecticut, which used it to select Tina Charles (who -- no surprise -- is leading all rookies in scoring, rebounding, field goal percentage, blocks and efficiency rating).
Reeve might have underestimated the effect and duration of the various injuries Minnesota has dealt with. And team chemistry perhaps has been more elusive because of that.
And, unfortunately, we've saved the worst part for last, Lynx fans. Minnesota has only one home game left in June, which will be on the 18th, against Tulsa. From Thursday, June 10, through July 1, the Lynx have six of their next seven games on the road. Which could be lethal for a team trying to right itself.
Then again, considering how horrible Sunday's game must have looked to the home fans at the Target Center, maybe the road is not such a bad place after all for the Lynx.
May, 24, 2010
05/24/10
3:50
PM ET
So here we are a week into the WNBA season, and everything is working out precisely as we all thought it would to this point, right? Not entirely.
Chicago's struggles? Not very surprising. But Atlanta's hot start? I admit I wasn't expecting the Dream to race to a 4-0 record.
What about Los Angeles being winless? Well, not a huge stunner, considering the Sparks' opening three games were on the road. But with six of its next eight at home, L.A. has a chance to effectively negate the slow beginning. Still, this might be an intense week at practice for the Sparks. Because there were moments in Saturday's loss at San Antonio where Sparks coach Jennifer Gillom looked ready to really go Vesuvius on her team.
And what an upbeat Silver Stars debut for Chamique Holdsclaw, wasn't it? She had 19 points and five assists for San Antonio against L.A., and seemed to bring a lot of energy to the AT&T Center. So far, it doesn't appear that Holdsclaw's departure is hurting Atlanta, while her arrival has helped the Silver Stars. "Chamique Part IV" is off to a good launch, and now just needs to stay on course.
Overall, it has been an entertaining start to the WNBA. And Tuesday offers a doubleheader with each game providing a very different story line. At 7 p.m. ET on ESPN2, defending WNBA champion Phoenix visits Tulsa. Then at 10 p.m. ET, Washington is at Seattle, with the Storm leading the Western Conference at 3-0.
The Mercury-Mystics game is scheduled to be available online with WNBA Live Access, which fans hope is truly "accessible." The webcasts have had some glitches early on, not unlike some of the teams themselves.
The Storm, though, have been glitch-free so far, including an overtime win at Phoenix on Saturday. The Storm's Lauren Jackson seems to be uber-motivated every time she faces the Mercury, and that was the case again as she had 25 points and eight rebounds.
Whenever a team goes into Phoenix and "steals" a victory on the Mercury's home court, it's almost like winning two games instead of one. That said, the Storm will have to consolidate it by slowing down a Mystics team that is 3-1, with the loss coming at Connecticut.
Entering the season, I thought the Mystics had legitimate high expectations to be a playoff contender even without injured Alana Beard. And Tuesday's game in Seattle could be one of those potential early season statement games for the Mystics if they win.
As for the Tulsa-Phoenix game, too many key Shock players are no longer with the franchise for the game to remind us very much of the 2007 WNBA finals that went the distance between Detroit and Phoenix. And, of course, Cappie Pondexter is not with the Mercury anymore, either.
But what's interesting with this matchup is the concept of pitting a high-octane offense like Phoenix's against a Tulsa team that is, Shock coach Nolan Richardson hopes, learning what "40 minutes of hell" is really about defensively. And with Tulsa having gotten its first victory, a double-digit win at Minnesota on Sunday, the Shock at least now can bring some legitimate confidence against the preseason favorite.
April, 8, 2010
04/08/10
10:51
AM ET
Editor's note: ESPN.com senior writer Elizabeth Merrill spent the day with Connecticut Huskies senior Tina Charles, who was the top pick in Thursday's WNBA draft.
3:27 p.m. ET
About four hours ago, Tina Charles said she wasn't nervous. All that changed in the moments before the draft, when Charles said her heart was about to pound out of her chest.
She composed herself and stood in front of about 15 media members and told them that going No. 1 to the Connecticut Sun was "a dream come true."
She'll stay close to her home in Queens, N.Y., and will get to play in front of the same rabid fan base that cheered her on with the Connecticut Huskies.
"My family is Connecticut now," she said.
3:10 p.m. ET
Well, it's official. Tina Charles goes No. 1 overall to the Connecticut Sun. She hugged her mom and dad, then Geno Auriemma, and grabbed her new jersey.
2:20 p.m. ET
Basketball players do not roam around in 4-inch heels with perfectly sprayed hairdos very often. That's why a couple of WNBA reps are running the draftees through a pre-draft rehearsal, sort of a walk-through, just before the draft.
"Make sure you're standing up straight," one WNBA official says.
"When your name is called, take your time … hug it out [with friends and family]."
No cell phones, the players are told. No gum chewing, either.
Each player will sit at her own table with a select group of loved ones. UConn coach Geno Auriemma is expected to be perched at Tina Charles' spot, which is positioned in the middle of the room.
A number of Huskies players are making the trek to New Jersey, too, to show their support.
"I miss my team," Charles says. "I miss waking up and seeing my teammates. That's my comfort zone."
12:29 p.m. ET
Here's a strange scene: Tina Charles has just arrived at the WNBA draft, and in the players lounge, she's laughing and chatting it up with Jayne Appel. You remember Appel? Two nights ago, the Stanford center was battling Charles in the national championship game. Now she's Charles' buddy?
Actually, they've been friends for years, since fighting for rebounds on the AAU circuit, and Appel and Charles are BlackBerry Messenger friends and chat all the time. A few hours after Tuesday's game, Charles and Appel texted and eventually met up and hung out on the River Walk in San Antonio. They also had talked before the Final Four semifinals, wishing each other luck.
Appel's boyfriend thinks it's kind of strange how Appel and Charles can be fierce competitors on the court, then hang out after a game. Then again, Appel's boyfriend is Chris Marinelli, a 6-foot-7, 301-pound offensive lineman from Stanford who's gearing up for the NFL draft.
"A lot of male athletes don't have that [camaraderie]," Appel says. "I think it's special."
Marinelli will be here for the WNBA draft, and Appel could no doubt use somebody to lean on. She's hobbling around with a stress fracture in her foot and a twisted ankle. Appel says she feels fine thanks to some pain medication and is eager to play regardless of where she's drafted.
Still, she needed a few hours to compose herself after Tuesday night's 53-47 loss. When she finally met up with Charles and some of her UConn teammates, Appel tried to turn away when highlights played on the TV. But Appel was glad she spent her last night in San Antonio with her old friend.
"Tina is a great person," Appel says. "A very classy player."
11:30 a.m. ET
OK, so it's not even noon yet, and Tina Charles has shaken at least 20 hands and done four interviews. But the thing she dreaded the most about today? Getting dressed up.
"Getting all dolled up … this is a drag," Charles said as she fidgeted in her seat.
Charles will head over to the draft in a few minutes.
A little-known fact: Charles, a Queens, N.Y., native, is a Mets fan, and actually thought as a kid that baseball would be the sport she'd play the longest.
Charles won her first trophy in baseball and kept it displayed prominently in her family's house.
9:15 a.m. ET
The alarm on Tina Charles' BlackBerry went off a little bit ago. Most Thursdays, it wakes her up for a morning class at UConn. This morning, she glanced at it and hit the off button.
Charles has been up for a couple of hours, and it's a big day. In six hours, she's expected to be the No. 1 pick in the WNBA draft.
Charles says she isn't nervous, because, really, this is nothing compared to the past month or so. Her Huskies have carried the weight of a two-year winning streak and just made it 78 in a row Tuesday night with a win over Stanford in the national championship game.
Critics said UConn's dominance was bad for women's basketball. Charles bristled at that. "Because we knew all the hard work we put in at practice," Charles says. "People were still diving on the floor for loose balls.
"We take pride in what we do. That was ridiculous."
This has been a whirlwind week for Charles. There was the late-night national championship reception in San Antonio, the flight back to Connecticut, the pep rally on campus. Charles rolled into Secaucus, N.J., late Wednesday.
Today, she's doing the media circuit in Manhattan before ending up back in New Jersey to hear her name called.
Traffic has been the only headache so far. She spent an hour in an SUV with her mom, Angella, and passed the time by fiddling with her phone, reading e-mails and playing games.
April, 7, 2010
04/07/10
11:19
PM ET
So Tina Charles seems to be making a regular habit of extinguishing suspense. Her UConn team was predicted to win the past two NCAA titles. And despite things looking shaky for a while against Stanford on Tuesday, the Huskies did just that.
[+] Enlarge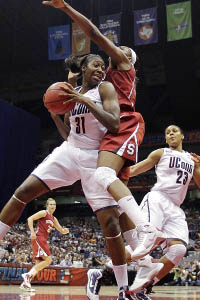 AP Photo/Eric GayProjected No. 1 draft pick Tina Charles led UConn to the NCAA title and its second consecutive unbeaten season on Tuesday.
Similarly, Charles has been the cinch No. 1 pick in the WNBA draft pretty much all her senior season. Thus, we can be certain how things will get started in Thursday's draft (ESPN2/ESPN3.com, 3 p.m. ET).
"With the first pick of the WNBA draft, the Connecticut Sun select … Tina Charles."
After that, it's hard to say who's going to go where. But it's not difficult to recognize how to label this draft. Someone like Charles aside, it's not regarded as a superstar-potential senior class.
In a teleconference last week, coach Nolan Richardson of the relocated Tulsa Shock said, "I may have to move my pick. We've got a lot of gaps and things we need to do."
Meaning he didn't think that at No. 7, he was going to get what he needed. So, indeed, on Wednesday the Shock sent their 2010 first-round pick and a 2011 second-round selection to Connecticut for Amber Holt and Chante Black.
Which one could assume is Richardson's way of saying, "Kinda slim draft pickings."
Richardson is, of course, getting a crash course on the women's game and is trying to rebuild a Shock team that isn't the same squad that was in Detroit. Several of those veterans seem to have treated Oklahoma as if it's rampant with the plague and wanted no part of going to Tulsa. Kudos to those Shock players who are giving the new WNBA city a chance.
[+] Enlarge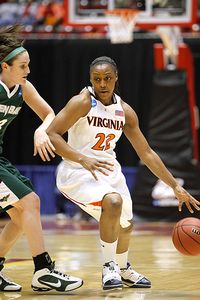 AP Photo/Charlie NeibergallVirginia guard Monica Wright is among the players rumored to be picked not long after Tina Charles goes first in the WNBA draft.
Richardson, understandably, would prefer experienced average players to rookie average players. And if that sounds like a harsh assessment of the class of 2010, it's not meant to be. Just realistic.
With only 12 teams and jobs at a premium, rookies will find it hard to make rosters unless they bring specific needs to teams. Being a good role player, though, is indeed filling a need.
Minnesota has the second and third picks, and new Lynx coach Cheryl Reeve suggested a couple of weeks ago that she thought she had her mind made up about who the franchise needed to take. We'll see if she has had second thoughts since then, in the wake of NCAA tournament performances.
"I think the people we've all projected to be solid players in the league are still solid," Reeve said. "How deep is this draft? It's an interesting time with the contraction. With the way we shape our rosters, positional need is becoming more important.
"I use the word 'serviceable.' There are a lot of serviceable players in the draft. There's not the Cappie Pondexters and the Candace Parkers. But still some good players. We have two high draft picks. We'll try to maximize them."