October, 19, 2012
10/19/12
4:13
PM ET
INDIANAPOLIS -- A ho-hum Friday morning shootaround before Game 3 of the WNBA Finals?
Not exactly. Instead, the media were crowded around Fever coach Lin Dunn and Lynx coach Cheryl Reeve to play a couple rounds of she said/she said.
Dunn appeared to try to diffuse Thursday's comments, which appeared critical of Reeve for both her team's physical play and the technical foul the Minnesota coach drew after throwing off her jacket in protest of a technical called on Lindsay Whalen.
Dunn said Thursday that Reeve showed a "lack of respect" for the game and the officials and should have been ejected.
On Friday, Dunn said she wasn't criticizing Reeve but questioning why the officials didn't hit her with a second technical since she threw her jacket after receiving the initial call. Dunn also received a technical in the game.
"I wish I had been wearing a jacket," Dunn said.
As far as Reeve's halftime comments to her players -- encouraging them to go to the basket with their "elbow out" -- Dunn said she was just gaining an "understanding" of how the Lynx wanted to play.
"What I was commenting on was if that is how she is teaching them to play, then we have to understand that and understand how someone could get a concussion or an injury," Dunn said.
She said her team is willing to be "just as physical as [the Lynx] are going to be."
Dunn said she and Reeve are "great friends."
Asked if this will impact their relationship, Dunn said, "Oh, hell, I mean heck, no."
For her part, Reeve wasn't backing down.
Asked what she thought of Dunn's criticism, Reeve said she didn't read the comments and "doesn't give a hoot what Lin thinks about me or my players. We don't answer to her."
Reeve added that Dunn's criticism "seems a little bit to me as the pot calling the kettle black," especially since, Reeve indicated, Indiana is regarded as one of the league's most physical teams.
"After Game 1," she said, "we decided that if this was how it was going to be played, we were going to join the party."
Reeve had no comment on being fined by the league for throwing off her jacket, but said she has "no regrets."
Indiana guard Katie Douglas, whose injured left ankle has kept her out of the Finals, was not at shootaround and is not likely to be able to play Friday night. Dunn talked with Douglas on Thursday as well as her doctors, and she will be sitting for Game 3.
"There is a very little window of hope for Sunday," Dunn said. "But it's very little." Jeanette Pohlen, who sustained what appeared to be a potentially serious knee injury in the second quarter of Game 2, was at practice, her left knee wrapped in a bandage. She will also be out for Game 3. Neither Dunn nor Pohlen were specific about her diagnosis.
October, 7, 2012
10/07/12
3:35
PM ET
LOS ANGELES -- The biggest surprise for Nneka Ogwumike in her first season in the WNBA?
Just how easy it was.
Well, maybe she didn't put it exactly like that, but as the Los Angeles Sparks forward accepted the WNBA Rookie of the Year award Sunday morning before Game 2 of the Western Conference finals, she talked about how "smooth" her transition into the professional game has been.
[+] Enlarge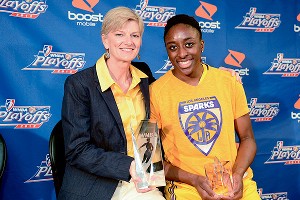 Jon SooHoo/NBAE/Getty ImagesBoth coach Carol Ross and Nneka Ogwumike are in their first season with the Los Angeles Sparks.
She did it while sitting next to Carol Ross, who also was named the league's coach of the year after leading the Sparks to a 24-10 regular season.
"I expected a lot of things," said Ogwumike, who became the fifth consecutive No. 1 overall draft pick to win rookie of the year honors. "The program I was welcomed into, it was a blessing. From Penny [Toler] to the Madisons [the team's owners] to the coaches and the teammates … I haven't had any complaints about how they have helped me develop this season, and I couldn't have asked for a better place to be. It's not just a program, it's a family, and I'm all about that type of situation."
Blessed with remarkable athleticism and composure, Ogwumike was mentored all season by Candace Parker, the runner-up for the WNBA MVP award, and DeLisha Milton-Jones, a 14-year-veteran. Ogwumike averaged 14 points and 7.5 rebounds in her first professional regular season and made an immediate impact, helping the Sparks' contend for the league title.
Ross said Parker and Ogwumike have made a potent combination in the frontcourt. And they made her job easier.
"Any coach would be fortunate to coach either one of them, much less both," Ross said. "Both bring different things. Candace has already experienced so much, and for Nneka to be able to play in that tandem and have some on-the-job training while she's growing as a pro player has been beneficial.
"We have the youth and energy and enthusiasm of the best rookie in the league in Nneka and the experience and wisdom of one of the most talented players in the world in Candace Parker. It's been great for them to work together."
Ross is in her first season with Los Angeles after serving as an assistant in Atlanta, where as the Dream's defensive guru she helped them to two straight trips to the WNBA Finals.
Ross, who feels fortunate to have inherited a roster full of both experience and talent, said it was her goal this season to teach her team to overcome adversity.
"That's been one of the biggest things with this team, to get through the tough stuff," Ross said. "Anybody can play when everything is going your way. But how do you bounce back?"
October, 6, 2012
10/06/12
10:54
PM ET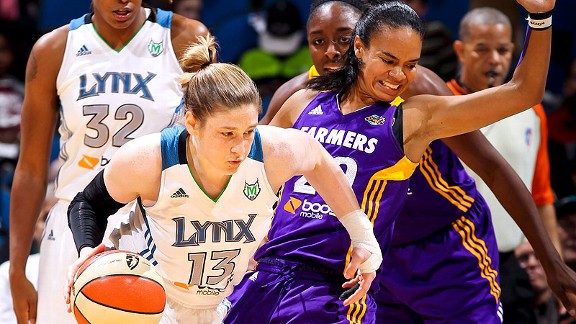 David Sherman/NBAE via Getty ImagesKristi Toliver and the Sparks host the Lynx in a must-win Sunday (ABC, 3:30 p.m. ET).
In the immediate aftermath of falling surprisingly flat to open the Western Conference finals Thursday, the Los Angeles Sparks had different ideas about what had gone wrong in a 94-77 loss to Minnesota.
Candace Parker was irritated by her team's indecisive pick-and-roll defense and lack of overall fight. DeLisha Milton-Jones saw a deficient sense of urgency. Alana Beard thought the Sparks didn't defend or rebound well enough to get their all-important transition game going. Kristi Toliver felt the Sparks started the game back on their heels, and never recovered.
Coach Carol Ross noticed all of the above, along with delivering the quintessential coach's line, "I'm going to have to look at film to review it all, but …"
It was bad, period. However, it's because the Sparks are such a good team that they can be that blunt about it.
[+] Enlarge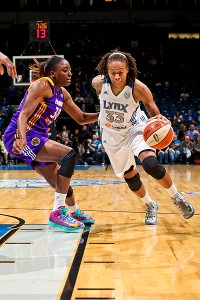 Jordan Johnson/NBAE/Getty ImagesSeimone Augustus and the Lynx outrebounded Nneka Ogwumike's Sparks 37-25 in Game 1.
The Sparks now have a do-or-die game Sunday at the Staples Center (ABC, 3:30 p.m. ET). Parker indicated maybe it was just as well that the Sparks feel the heat.
"I would take our team down 10 or 15 than up 20 any day," Parker said, "because I think we play with a lot more aggression, a lot more heart and effort, when we're down."
That's the kind of spin a player needs to make the best of the predicament the Sparks are in. Parker undoubtedly would have preferred that Los Angeles never gets into the situation of being forced to rally in a game or a series. But since that's where the Sparks are, she will remind them that they actually did play their best basketball Thursday when they were in comeback mode.
There wasn't any panic in L.A.'s locker room at an otherwise joyful Target Center after Game 1. The Sparks seemed annoyed at themselves more than anything else.
Which they should have been. The Sparks had to travel for the series opener, but they were the more rested team considering that in the time since they had finished their first-round sweep of San Antonio, the Lynx had played twice.
During the first round, it seemed Seattle had revealed a potential crack in Minnesota's title defense and that the Sparks just needed to come in and pound away at that vulnerability. It just didn't turn out that way.
After a close first quarter, Minnesota all but sealed the victory by scoring twice as many points as Los Angeles in the second quarter. The Sparks went on some runs in the second half, but every time they'd be on the verge of making the Lynx uncomfortable, Minnesota would get a basket or defensive stop.
"When you don't rebound, No. 1, you don't deserve to win," Ross said of the Lynx's 37-25 edge on the boards. "And, No. 2, everything else you try to do is more difficult. They had 24 more shot attempts than us, and quite a few came off offensive rebounding."
The Sparks, like the Lynx, were very good at home this summer, going 16-1 in the regular season in L.A. Their only loss there was June 24 against San Antonio.
Los Angeles is trying to make the league finals for the first time since 2003, which is a long time ago in terms of personnel in the league. But the Sparks do have one player, Milton-Jones, who was with them, in 2001-02, when they won back-to-back WNBA titles.
"It looked very chaotic," Milton-Jones said of the Sparks at their worst Thursday.
Then, like Ross, her former college coach at Florida, she stressed how imperative it is for the Sparks to hit the boards Sunday in order to extend their season.
"We really have to put a lot of our focus on our effort and what we do once the ball is shot and hits the rim," she said. "From that moment on, we have to know the ball is the most important thing."
September, 27, 2012
09/27/12
9:59
PM ET
LOS ANGELES -- Sparks coach Carol Ross never doubted that she had a scorer on her team in point guard Kristi Toliver. Whether Toliver could put the ball in the basket was never the issue.
But Toliver marked the 2012 season by rounding out her game in a few more very important ways.
The fifth-year player from Maryland shook off previous disappointments. She became a distributor and a defender. And on Thursday, as the Sparks were preparing to open the WNBA playoffs against the San Antonio Silver Stars at the Galen Center, she officially became the WNBA's most improved player for 2012.
Toliver stopped warming up and walked over with a shy smile to talk about an honor that felt hard-won.
"I'm going to enjoy it because it's proof that hard work pays off, all the hours in the gym and outside of the gym," Toliver said. "The persistence and resilience that I've had in my pro career, the success and good things didn't happen right away, and it's nice that it's all paying off now."
Toliver started 33 games for Los Angeles, establishing career highs in scoring (17.5), assists (4.9), rebounds (3.2) and steals (1.3), as well as field goal percentage (.491) and minutes (31.5 mpg).
Her offense propelled Los Angeles into the postseason, as she scored at least 20 points in every game in August and was the Western Conference player of the month.
"It's a credit to all her hard work and her belief in herself," Ross said. "To see it all come together, for her to have success, it's not a secret anymore. Everybody is acknowledging it now, really, what I think people should have known all along. She's a heck of a player."
Earlier in her career, Toliver was a scoring spark off the bench. Now, she's a go-to talent with all-around game.
"To not just shoot, but be a great distributor, and her ability to pass has been under-acknowledged," Ross said. "On the defensive side, she's been more engaged, more accountable. She's wanted to be complete. This isn't football, you don't sub out when you cross half-court. She has embraced being a complete player."
Toliver isn't done yet.
"I feel like there's belief that I can be an elite player at this level, but I'm not there yet," Toliver said. "I wanted to be higher in the league in assists and I was fourth, and that's a step. That will be another goal for me, to be the top assist person.
"I'm never satisfied, that's how I'm built. I was sixth in scoring and fourth in assists and I want to be No. 1 in both. That's just how I approach things."
September, 24, 2012
09/24/12
8:19
PM ET
It looks like a "changing fortunes" kind of week for the Washington Mystics. And if any WNBA team needs a new direction and new blood, it's them. They ended the regular season Saturday with a 5-29 record, somehow doing even worse than last year's moribund 6-28.
Just two years removed from finishing first in the Eastern Conference, the Mystics seem eons away from that kind of success. So what can stop their downward spiral and give their exasperated fans hope for 2013?
[+] Enlarge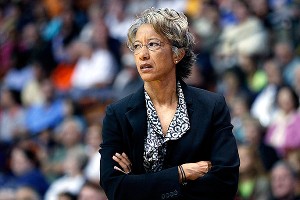 David Butler II-US PresswwireTrudi Lacey went 11-57 in two seasons as the Mystics' head coach.
The first essential step came Monday, with the announcement that the team and coach/general manager Trudi Lacey were -- as the Mystics' news release said -- "parting ways." The team also did not retain assistant coaches Marianne Stanley and Jennifer Gillom, both of whom are former head coaches in the WNBA.
Lacey, the architect of two consecutive teams that went nowhere, was hired in November 2010, a time that will live in infamy in Mystics' lore. Washington had, for the first time, finished in first place in the Eastern Conference earlier that year under the guidance of coach Julie Plank and general manager Angela Taylor.
Despite Washington's first-round playoff loss to Atlanta, it looked like the often-snakebit Mystics finally had found a really good blueprint for consistent success. Then, apparently over salary and/or control issues, it all blew up. Taylor left, and Plank did not want the combo job of coach/GM.
There was an infamous teleconference in which Mystics president and managing partner Sheila Johnson told the media that she would "idiot-proof" for them her explanation of what went down with Plank's and Taylor's departures. Instead, the Mystics' management looked clueless and desperate, with Johnson referring to the just-hired Lacey's chances for success as a "crap shoot."
It was a losing move for Washington, which now will try to turn the tide yet again. Whoever is hired will be the 13th coach in the history of a franchise that began play in 1998. The Mystics have been to the playoffs six times, while subjecting their fans to now four seasons of only single-digit victory totals.
Will the Mystics now hire two people -- one a coach and one a GM -- or go with a combo job again? That decision will impact who might be candidates for the Mystics to consider.
Getting the No. 1 pick, especially, and a new mentor might not cure everything that has ailed the Mystics the last two years, but could go a long ways to doing that.
Another factor in the hiring(s), though, will be how Wednesday's draft lottery goes. The Mystics, with the league's worst record, have a 44.2 percent chance of getting the No. 1 pick in the 2013 draft, which seems a virtual lock to be Baylor center Brittney Griner.
So the Mystics organization will already know its lottery position before it hires its next coach, which could make the job more attractive and could also impact whom the franchise prefers to be in charge of X's and O's.
The Mystics "celebrated" their 15 seasons in Washington this summer, but that was bittersweet at best, coming in the midst of so many losses. Post player Crystal Langhorne had another solid season, averaging 14.7 points and 6.3 rebounds. She turns 26 in October, so she's still in the heart of her prime as a pro.
But Langhorne needs more help, and the Mystics need a major confidence boost. They lost their last 13 games in a row and won just once on the road all season. Add to the team's frustration that former Mystics star Alana Beard has had a very good comeback season for playoffs-bound Los Angeles. She signed as a free agent with the Sparks after missing the past two seasons in Washington with ankle problems.
Getting the No. 1 pick, especially, and a new mentor might not cure everything that has ailed the Mystics the past two years but could go a long ways to doing that.
If, that is, the lottery balls fall in the Mystics' favor and the team's management makes a wiser decision when handing over the reins.
The Mystics have plummeted a long way in the past two years. Now is a chance to start climbing back out of that hole.
September, 20, 2012
09/20/12
10:13
PM ET
The participants in the WNBA playoffs and the draft lottery are now set. Washington, Phoenix, Tulsa and Chicago -- which lost Thursday and was eliminated from postseason contention -- are the teams that will be in the Brittney Griner sweepstakes.
We'll have a whole lot more on that topic next week, in preparation for the live "SportsCenter" announcement of the lottery results Wednesday. There's plenty of ground to cover in that regard, including the considerable ire directed toward Phoenix by some other teams' fans, while the Mercury's own supporters seem quite OK with just letting 2012 go and looking toward 2013.
[+] Enlarge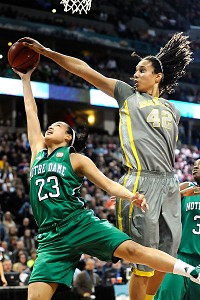 Ron Chenoy/US PresswireBrittney Griner, the 6-foot-8 star who led Baylor to a 40-0 record last season, is expected to be the top pick in the 2013 draft.
But this last weekend of the regular season, about all that's left to decide is which team ends with the worst record in the WNBA. Right now, that's 5-27 Washington, which finishes Friday against Indiana and Sunday at Chicago. The Mystics have lost 11 in a row, but are playing two teams with nothing on the line. The Fever's playoff spot is set, as is the Sky's position as the team with the best record in the lottery.
Still, it seems a safe bet that even against even those unmotivated foes, Washington will continue sinking until firmly settling on the bottom. Most chances in the lottery, here we come.
Meanwhile, the team with the second-worst mark is Phoenix, which at 7-25 has lost five games in a row. The Mercury finish Friday against defending WNBA champion Minnesota and Sunday against Seattle. That finale will be televised at 3 p.m. ET Sunday on ESPN2. Not exactly a barn burner.
The Storm, who also have two regular-season games left, realistically are thinking about their first-round playoff series against the Lynx. Minnesota went 3-1 against Seattle this season. The Storm are not coming into the postseason with a full head of steam, having gone 5-8 since the Olympic break. Seattle hosts another playoff team, San Antonio, on Friday.
And on the other side of Sunday's matchup in Phoenix, you have the tattered remnants of the Mercury, a team besieged both by myriad injuries and rumors that at some point this season, they rolled over and played dead. Phoenix coach Corey Gaines says that's nonsense. He says that, in fact, the Mercury did what they could to be competitive until the playoffs were mathematically impossible to reach, and then they decided there was no reason not to shut down star Diana Taurasi and give her rest.
Whether you believe that or subscribe to one of the various Mercury tanking theories, this much is not debatable: Phoenix will benefit next year from the advancements players such as DeWanna Bonner have made in their games. Bonner, in her fourth year out of Auburn, has become a starter this season and carried a huge load.
Phoenix president and chief operating officer Amber Cox praises Bonner for keeping the Mercury's attitude as upbeat as possible.
"You can give her a ton of credit for that, because she really has been the leader of this team," Cox said. "She's been the one to make sure everybody keeps working hard. But also become more of a vocal leader in a positive manner."
In this clunker season for the Mercury, Gaines insists that his players consistently attempted to play hard.
"Our game is up-tempo and we'd have games where we just ran out of gas," Gaines said. "Even when games got out of hand, we had to strive for some kind of goal. Like, 'Let's try to win these next few minutes.' You have to do that, and that's what we did."
Meanwhile, Tulsa's goal was simply to get as many victories as it could in a season in which the Shock again were often at a pure-talent deficit against foes. Tulsa is now 9-23 after winning its third game in a row Thursday, beating New York. In their two previous seasons in Oklahoma, the Shock went 6-28 and 3-31. Liz Cambage's decision not to return to Tulsa for the last 10 games hasn't dampened any of the Shock's enthusiasm for finishing this season as strongly as possible -- even if that gives them worse odds in the lottery.
It seemed fitting that the final Eastern Conference playoff spot was clinched by a team on a night when it lost. Neither New York nor Chicago grabbed the East's No. 4 spot with gusto. It went to the Liberty, and the Sky again are left on the outside looking in at the playoffs.
Some might say it's just as well, that Chicago potentially might benefit more from the lottery in 2013 than by making the franchise's first postseason appearance now. Still, it has to be looked at as a disappointment for a team that appeared to have a good chance at making the playoffs this season.
September, 4, 2012
09/04/12
11:38
PM ET
The first few weeks of this WNBA season, it appeared Minnesota undoubtedly was on its way to a second championship. Then the Lynx had a hiccup in early July, losing three in a row. Well … maybe not so fast on that repeat thing.
But, now, it again appears we might already know the winner for this year's WNBA race. Since the Olympic break ended, the Lynx have looked like they're ready to make like Usain Bolt on the rest of the league.
Tuesday in Minneapolis, the Lynx beat Los Angeles 88-77, giving Minnesota its ninth consecutive victory. And they did it in the now-standard Los Lynx way: spectacular performances from their two superstars, Seimone Augustus and Maya Moore, excellent game management from point guard Lindsay Whalen, very solid interior defense, and good contributions off the bench.
[+] Enlarge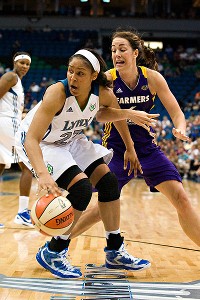 Marilyn Indahl/US PresswireMaya Moore tied a Lynx record with five first-half steals Tuesday en route to a career-high seven.
How do you beat the Lynx? When they're playing like this, nobody else in the league can.
It was a historic night for Augustus, who passed Katie Smith to become the franchise's all-time scoring leader. Of course, it was a very different Lynx franchise that Smith played for -- one that had little postseason success and always seemed mired in mediocrity. One of Minnesota's low points was trading away Smith in 2005 for what ended up being essentially nothing.
But Augustus arrived the next year, as the No. 1 draft pick in 2006, and that was when you could perhaps start to see the faintest light at the end of the tunnel. Well, maybe. Truth is, it was still hard to find a lot of optimism about the Lynx even then. Augustus got through those hard times, though, accepting the fact that much of the franchise's future was on her shoulders.
She was more than happy to share some of that load with the Lynx's No. 1 draft pick in 2011, Moore. And all the parts that have surrounded them last season and this one have fit pretty perfectly, too.
Moore said at the start of 2012 that the challenge for the Lynx would be to stay as hungry as they were last year when they were chasing the franchise's first title. Well, the Lynx appear to be just as ravenous now as they were a year ago.
Augustus had 23 points and four assists against the Sparks. Moore had 23 points, nine rebounds and a career-high seven steals. She threw in two assists and a blocked shot, too. If you wanted to do an instructional video on hustle from a great player, this game by Moore would be fantastic footage.
Rebekkah Brunson and Taj McWilliams-Franklin led the effort to clog up the Sparks' inside game. Guard Alana Beard led the Sparks with 17 points, and she's really coming into her own again offensively. Since the Olympic break, Beard has scored in double figures in six of the Sparks' seven games.
The problem is, the Sparks are not playing as well on either end of the court as they need to. It seems pretty clear that center Candace Parker is not physically 100 percent; on Tuesday she had just six points on 3-of-8 shooting.
The Sparks have lost three in a row. They have two road games left before finishing out the regular season with four at home. The best news L.A. has right now is that next up is the team with the league's worst record, 5-22 Washington.
The D.C. fans are likely to give a warm greeting to former Mystic Beard, but she will have serious business on her mind in trying to get the Sparks out of this slump. Now four games back of first-place Minnesota in the West, it seems unlikely that the Sparks are going to catch the Lynx. Instead, L.A. has to concentrate on getting Parker in as good a shape as possible for the postseason, and trying to go into the playoffs with some momentum.
That's something the Lynx have in abundance right now. The biggest challenge Minnesota faces for the rest of the regular season is weariness from travel: The Lynx play six of their last eight games on the road.
If any team is prepared for that grind, though, it appears to be Minnesota. The Lynx look ready for anything.
October, 4, 2011
10/04/11
10:26
PM ET
Atlanta's Iziane Castro Marques talks about having back center Erika de Souza and how that impacts her role and the rest of the Dream.
Minnesota's Maya Moore talks about the adjustments she expects both teams to make for Game 2 of the WNBA Finals.
June, 22, 2011
06/22/11
12:34
AM ET
Seattle's Sue Bird and Swin Cash talk about their memories of the WNBA's launch on June 21, 1997. That summer, they were getting ready for their high school senior year.
September, 21, 2010
09/21/10
11:27
AM ET
This truth is self-evident: We ought to be just as surprised when not-very-well-explained things happen with the New York Liberty as we are when cats express an interest in chasing mice.
And so it is after 14 years of Carol Blazejowski being the Liberty's general manager, she is out of that job following … a very good season. Of course.
To paraphrase what a friend who is a Liberty season ticket-holder once told me about the relationship between the team's front office and its fandom, "The way they always seem to miss opportunities to connect with us, but never miss a chance to make us wonder what in the hell is going on … I'm telling you, that's a skill."
Blaze has long had her detractors, in part because hard-core New York fans don't miss anything, nor do they forget. They can recite chapter and verse since 1997 how this move led to … that move which … should have been a different move because … ultimately, we were left totally … hosed. (Although that might not be the word they'd use.)
A scoring legend from when the ground floor was being laid for modern-day women's collegiate hoops in the 1970s, Blazejowski was also in at the beginning of the WNBA in 1997. She has presided over the best and worst moments for the Liberty. She has celebrated successes and lamented disappointments. She has been praised, and she has caught plenty of hell (including some from me).
Blaze's love for the sport couldn't be questioned, even if some of her trades could be. Moves like the one that sent Becky Hammon to San Antonio for nothing that ended up helping New York, or the one that cost the Liberty a chance at drafting UConn star Tina Charles … those ate away at the fan base.
A good trade, though, brought Cappie Pondexter to New York; she requested the deal from Phoenix.
And after watching Pondexter and the Liberty end their season in the Eastern Conference finals, Blaze from all accounts was looking forward to 2011's challenges and possibilities.
Then -- bam -- a brief announcement came Monday afternoon from MSG Sports president Scott O'Neil: Liberty president/GM Blazejowski was leaving the team. O'Neil called Blaze a "class act" and wished her the best in "future endeavors." No quote from Blaze, but there was a sentence that said the search for new leadership for the Liberty would "begin immediately."
So let's recap, quickly, the last couple of weeks for the New York franchise. The Liberty beat Indiana in the first round of the playoffs, but Janel McCarville got hurt. They lost to Atlanta in East finals, which ended coach Anne Donovan's brief stay, as she went to take over at Seton Hall. The team's home for the next three seasons was finally announced: Hello, Newark! Pondexter ended up not being on the FIBA World Championship team for the United States, and she said that was her decision for personal reasons. Then it was announced Blaze was departing.
Thus, the Liberty went from a splendid second half of the WNBA season to a late September filled with question marks. MSG Sports, which owns the team, must have at least some idea already what those answers are. If not, the Liberty really are in trouble.
There are decisions to be made about a number of things that will affect the team's future. And if there were ever a time fan relations needed to be paramount, it's now.
Because of renovations to Madison Square Garden that will be done over the next three summers, the Liberty will play at the Prudential Center in Newark, N.J. Fans need to believe they are listened to and valued as many have to change their routines to travel to Jersey to see the team.
Whatever fans thought of Blaze, at least they had a pretty clear idea that was where the buck stopped in terms of Liberty decisions. Now, they'll have to wait to see who's going to be calling the shots.