Category archive:

North Carolina State Wolfpack
March, 3, 2012
03/03/12
1:30
AM ET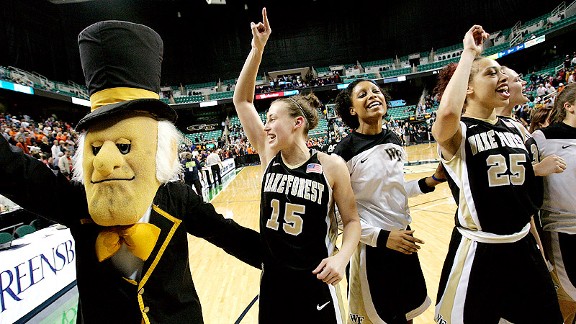 Mark Dolejs/US PresswireWake Forest knocked off No. 2 seed Miami in Friday's ACC quarterfinals.
Quarterfinal Friday at the ACC tournament was the perfect example of why conference tournaments are terrific. And it was also the perfect example of why they aren't. It all depends on your point of view, of course.
If you were wearing NC State red or Wake Forest black on Friday, then you're singing the praises of that extra chance to do something special in a second season that the league tourney provides.
But if you were clad in Duke blue or Miami green/orange, guess what? You overpacked for the trip to Greensboro, N.C., because your team's stay is finished. Then again, you can stick around to grumpily watch the 9-seed Wolfpack meet 4-seed Georgia Tech, followed by No. 3 Maryland -- the Terps avoided the upset bug in their quarterfinal nightcap victory over Virginia -- versus No. 7 Wake Forest.
Now who out there would have picked those matchups for semifinal Saturday? Probably nobody. Duke and Miami were the Nos. 1 and 2 seeds in the ACC tournament and projected as No. 2 seeds in the NCAA field, along with Maryland. Now we'll see how that holds up with both the Blue Devils and Hurricanes forced into spectator status so early.
How odd was all this? The top seed at the ACC tournament previously had never been eliminated before the semifinals. And how unlikely was it that NC State would be the one to bounce Duke? The Wolfpack were just 5-11 in conference play this season, losing 83-59 to the Blue Devils back in early January.
Furthermore, there was nothing results-wise in the last month to suggest the Wolfpack would make any noise in Greensboro: They had lost six of their eight games in February. Yet they are in the ACC semifinals thanks to a 74-71 win over Florida State, a mild upset, and a 75-73 win over Duke, a major surprise.
Meanwhile, Wake Forest's 81-74 win over Miami was actually a bit less of a surprise. The Demon Deacons had a pretty good February, winning five of eight. That came after a rough January when Wake went 2-7, but seemed to figure out some things. So have the Deacs now done enough to nudge themselves into NCAA tournament discussion? Also, did No. 5 seed North Carolina, which fell to No. 4 seed Georgia Tech 54-53 in Friday's first quarterfinal, move to the wrong side of the bubble?
One thing is for sure: The big winner seems to be Maryland, which now might well end up getting the best seeding/placement of all the ACC squads. That is, if the Terps can avoid the fate that befell Duke and Miami.
March, 8, 2010
03/08/10
1:14
AM ET
The day of "almost" upsets started in Greensboro, N.C., where one of the participants used to be on the other side. Kellie Harper won three SEC tournament titles as a player for powerhouse Tennessee.
Now in her first season as head coach at NC State, Harper was on the underdog side. Her Wolfpack, the No. 6 seed in the ACC tournament, were trying to knock off top-seeded Duke. NC State was attempting to win the program's fifth ACC tourney title, but first since 1991.
Iowa, meanwhile, was in the Big Ten tournament final for the first time since 2001. And in the SEC final, Kentucky was making its first appearance since 1982. So …
It could have been a huge day for long shots getting automatic NCAA tournament bids. But none of them quite came through. Instead, the top seeds came away with hard-fought and well-earned victories in the ACC, Big Ten and SEC -- but their opponents proved something, too.
We'll start with the ACC, which except for Maryland's title last year has been the province of Duke or North Carolina for the past decade -- although the Blue Devils hadn't won a championship since 2004.
Duke lost its regular-season finale to the Tar Heels, and then just squeaked past Maryland by a basket in the ACC quarterfinals. Duke beat Georgia Tech in the semis.
Meanwhile, the Wolfpack upset third-seeded Virginia in the quarterfinals and then defeated another tourney upstart, Boston College, in the semis.
NC State had hit a low point in losing 70-39 to Duke on Feb. 11; after that loss, the Wolfpack were 13-11 (3-6 ACC). But soon the "magic" of the Pink Zone came through again. On Valentine's Day, during a stretch when teams across the country wore pink to honor the late Kay Yow and raise funds for cancer research, NC State beat Miami to start a run in which the Wolfpack won seven of their next eight games entering the ACC final.
Duke won the championship 70-60 Sunday afternoon, and the Blue Devils have finished their 27-5 résumé to submit to the NCAA committee for a likely a No. 2 seed. Meanwhile, NC State (20-13) hopes its strong finish is enough to earn an at-large bid, which is expected.
"I'm extremely proud of our team for so many reasons," said Harper, who had the difficult job of replacing the legendary Yow in Raleigh. "For improving, for believing, for working hard in practice, for playing together. In that locker room, I was proud of them for wanting more. They are hurt they didn't win this game, and I am so proud of that.
"I think our kids have proven over the last few weeks that we're an NCAA tournament team."
In Indianapolis, Iowa came oh-so-close to finishing off an amazing turnaround from being in last place in the Big Ten in mid-January. The Hawkeyes lost to Ohio State 66-64 in the league tournament final, but this is one time when quite honestly Iowa had to be pretty happy just to be there.
Starting last November, it seemed this season would be nothing but awful news for the Hawkeyes. They lost their only senior, JoAnn Hamlin, to a serious blood clot that forced her to end her career. Freshman Theairra Taylor (ACL) and sophomore Hannah Draxten (herniated disk) were also lost for the season.
The Hawkeyes were 8-10 and had lost four in a row going into their Jan. 21 game at Illinois.
But then, everything changed. A switch was flipped, and Iowa has since won 11 of its last 14. That was almost 12 of 14, as Iowa built a lead as large as 16 points against Ohio State in the Big Ten final.
But the Buckeyes had a little too much Jantel Lavender, who had 35 points and 10 rebounds. Her layup with 1 minute, 20 seconds left tied the score, and her two free throws with 1.9 seconds left won it.
Ohio State (30-4) now just waits for a great seed while the Hawkeyes (19-13) wait for an invitation. But two months ago, nobody was expecting Iowa would be doing anything at this point except getting ready for next season.
Lastly, Tennessee now has won 14 SEC tournament titles, but this one -- thanks to a 70-62 victory over No. 2 seed Kentucky in Sunday night's final -- means a lot because of the trials of last season.
Tennessee, of course, lost in the first round of the 2009 NCAA tournament -- the program's first loss ever in the first round (the Lady Vols had never failed to reach the Sweet 16 until last season). That ended an extremely frustrating 2008-09 for coach Pat Summitt and her young team.
This season, Summitt still hasn't solved all of Tennessee's concerns, but it's a significantly more accomplished team. Don't look now, but Tennessee is 30-2 -- yet almost absurdly under the radar.
Most of the attention has been going to that one team from the Northeast that Tennessee doesn't play in the regular season anymore, plus the surprising and undefeated Nebraska Cornhuskers, a new kid on the NCAA title-contending block.
But anyone who overlooks Tennessee as a potential national championship threat should think twice. The Orange Crush will be a No. 1 seed again and surely in the Memphis Regional.
Tennessee advanced to San Antonio the last time the Women's Final Four was there (2002) and could be making a return trip this year.
But Kentucky has been a great story this season, too. Victoria Dunlap was named the SEC Player of the Year, while A'dia Mathies won the rookie honor and Matthew Mitchell the coaching award. And the Wildcats, despite being picked to finish second-to-last in the league, instead finished runner-up to Tennessee -- both in the regular season and the tournament.
Kentucky (25-7) lost by 16 points at Tennessee on Feb. 25. Cutting that gap in half on a neutral court Sunday is not a bad way for the Wildcats to head into the NCAA tournament.