Category archive:

North Carolina Tar Heels
February, 25, 2012
02/25/12
11:32
AM ET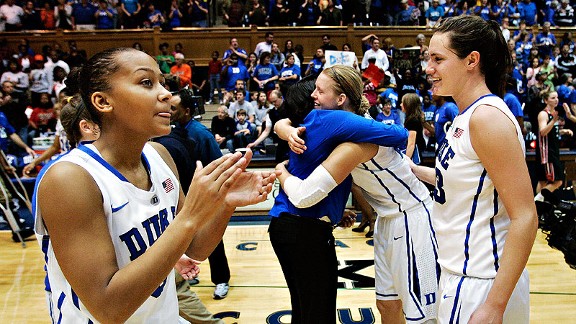 Mark Dolejs/US PresswireDuke clinched the No. 1 seed in the ACC tourney and at least a share of the league title.
Friday morning, I listed some of the candidates for the coach of the year … but, of course, there are always others who deserve mentioning. One, in fact, got a big victory Friday night.
Duke maintained its mastery over Miami, and in the process earned the No. 1 seed in the ACC tournament and at least a share of the league's regular-season championship.
The No. 7 Blue Devils' 74-64 victory over the No. 5 Hurricanes moved Duke's all-time record over Miami to 9-0. And Duke coach Joanne P. McCallie did it with a team that doesn't really look like what she was hoping/expecting it to when the school year began.
The two biggest puzzle pieces -- sophomore guard Chelsea Gray and freshman center Elizabeth Williams -- have stayed in place all season for Duke. And they were excellent Friday at Cameron Indoor Stadium. Williams had 19 points, nine rebounds and four steals. Gray had 12 points and nine assists.
Even more weight has been on them because Duke has taken such a large personnel hit. The Blue Devils have lost two forwards to injury -- freshman Amber Henson is redshirting the season with a knee injury and sophomore Richa Jackson suffered a torn ACL on Feb. 15 -- and guard Chloe Wells was suspended for this semester because of a violation of university policy.
Add in the fact that Duke lost three senior starters from last season: Jasmine Thomas, Krystal Thomas and Karima Christmas. There also are two assistant coaches in their first year in that role with the Blue Devils, both of whom previously played for McCallie: Candace Jackson at Michigan State and Joy Cheek at Duke.
As a result of all of this, McCallie has needed to do as much nurturing of young talent as any coach of a top program this season. Duke is 23-4 overall and 14-1 in the ACC. Friday, the Blue Devils showed both the defensive prowess that McCallie's teams are know for … but also more of a needed consistency on offense. Duke shot 48.5 percent from the field.
All things considered -- including the fact that Miami was riding a 13-game winning streak -- Duke appeared vulnerable coming into this game. But that didn't manifest itself the way the Hurricane would have hoped.
One of Duke's primary storylines this season is how a young squad is playing older than its years. Yet Friday showed that some credit does go to Duke's two seniors, Kathleen Scheer and Shay Selby, too. Both had a memorable senior night Friday, starting and combining for 12 points and nine rebounds.
It's been a decade since Duke's "Eight is Enough" team made it to the Women's Final Four in 2002. This squad is also down to eight scholarship players, and Friday's win gives the Blue Devils just a little more cushion come NCAA tournament time in regard to seeding.
That said, Duke still has to face North Carolina in Chapel Hill on Sunday (ESPN2, 3 p.m. ET). The Tar Heels -- who lost by 20 points Friday at Maryland -- definitely have something to play for in terms of adding more security to their postseason position. UNC is 19-9 overall and 9-6 in the ACC.
Duke absolutely shellacked the Tar Heels 96-56 in Durham on Feb. 6, so there is a bit of a pride factor for UNC, too.
Duke has displayed a lot of pride this season. This past Sunday -- just four days after the disappointment and sadness of seeing Jackson get hurt -- the Blue Devils played a gutsy game at Maryland. Though Duke lost 63-61 for its first ACC defeat this year, it showed the Blue Devils' resiliency.
Meanwhile, Miami could still share the ACC title if the Hurricanes (24-4, 13-2) beat Boston College at home Sunday and UNC defeats Duke. But the top seed in next week's ACC tournament is set, as Duke secured it for the third consecutive season.
McCallie's Blue Devils have won the league tournament title the last two years, and were expected to challenge for it again this season, of course. But to still be in such strong position to do that despite the setbacks Duke has faced is one of the national success stories that perhaps has been underappreciated this season.
March, 27, 2011
03/27/11
4:05
AM ET
Stanford's Tara VanDerveer talks about the Ogwumike sisters' performance against North Carolina and facing Gonzaga in the Elite Eight.
SPOKANE, Wash. -- Stanford's Jeanette Pohlen wasn't really sure what was off for her on Saturday, but something definitely was.
"I felt like I was getting really good looks, actually, and screens set for me," Pohlen said after the No. 1 seed Cardinal's close call against North Carolina in the Sweet 16. "The shots I was taking were usually ones where I was open. I didn't have anybody on me. I really don't have an explanation for it. I felt like I was pretty hot in practice and in shootaround."
[+] Enlarge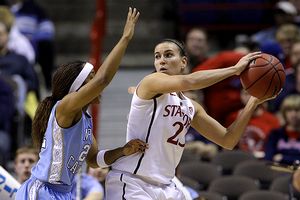 AP Photo/Elaine ThompsonPac-10 player of the year Jeanette Pohlen went 1-for-9 from the field Saturday.
But she was cold in the game, going 1-of-9 and missing all seven of her 3-point attempts in the Cardinal's 72-65 victory over the fifth-seeded Tar Heels. Stanford looked in peril of suffering an upset, but instead survived to face No. 11 seed Gonzaga in the Spokane Regional final.
"I'm going to keep shooting; I'm very confident in my shot," said Pohlen, who was the Pac-10 player of the year and has made 88 3-pointers this season. "I feel like we were running plays for me, so I know my team had confidence in me.
"This was one of those games where we obviously had to fight hard. I felt if we had made some of those 3s, it could have been a better game for us. At the end, though, people stepped up and we took care of the ball, made some big stops. To win the game like that against a very aggressive team that rebounds like that, without shooting the way we normally do, it kind of gives us confidence."
Pohlen finished with six points, four rebounds and three assists Saturday. She and the Cardinal met Courtney Vandersloot and Gonzaga at the beginning of this season, with the Cardinal winning 84-78 on Nov. 21. Vandersloot had 24 points in that game, Pohlen 19.
"I think it may help us that we've played them already, but it's also helped them that they've played us," Pohlen said. "Both teams have some familiarity with each other.
"We have to have a game plan not only for Courtney, but they've got some other great shooters as well. She distributes to people who can really knock down shots."
The Cardinal also will have to beware of putting Vandersloot on the line, as she was 12-of-14 there Saturday in the Bulldogs' 76-69 victory over Louisville.
"That's something that's helped me throughout the NCAA tournament -- getting the flow at the free throw line," Vandersloot said. "So I try to get there early.
"It does help a little that we've played Stanford. A lot of times in the NCAA tournament, you're not familiar with the other team. From the get-go, we hoped we might get the opportunity to play Stanford again."
March, 27, 2011
03/27/11
1:58
AM ET
Stanford's Tara VanDerveer talks about the Ogwumike sisters' performance against North Carolina and facing Gonzaga in the Elite Eight.
SPOKANE, Wash. -- Last season, Stanford's heart-stopping victory on the way to the Women's Final Four came in the Elite Eight. This year, while it wasn't quite as dramatic as Jeanette Pohlen's coast-to-coast winning layup over Xavier, the Cardinal's 72-65 survival against North Carolina in the Sweet 16 was very tense.
This time, Pohlen -- who had an awful night from the field at 1-of-9 -- sewed up the victory with free throws in the closing seconds. But it was the Ogwumike sisters -- Nneka had 19 points; Chiney 16 points and 11 rebounds -- who primarily saved Stanford.
As anyone who has ever faced the Ogwumikes -- in a game, in practice, on a playground -- could tell you, if one sister doesn't get you, the other one probably will.
"Stanford is fortunate to have even just one of them, but with both of them there, they're going to win a lot of games," North Carolina coach Sylvia Hatchell said. "Even when you get a box-out on them, they're still just everywhere. And they can intimidate on defense, too, with how athletic they are."
Senior Kayla Pedersen also did her part, with 15 points, nine rebounds, five assists and a steal with 25 seconds left that helped the No. 1-seeded Cardinal advance to an Elite Eight matchup with No. 11 Gonzaga on Monday (ESPN, 9 p.m. ET).
While Tennessee did get pushed in the second round against Marquette, Saturday's Stanford-UNC game really was the closest call any of the No. 1 seeds have yet faced in this tournament. It was a two-point game in the final minute, when Chiney Ogwumike made the play of the night for Stanford.
With 40 seconds left and Stanford up just 67-65, Nneka missed a shot inside, but Chiney grabbed the rebound and scored, getting fouled in the process. She missed the free throw, but Stanford still had a four-point lead.
"I always have faith that Chiney is there," Nneka said. "She's very aggressive in every way she can possibly be on the court. I'm just really glad she got that, because it changed the dynamic of the game."
She's right -- even though it was the final minute. With that play, the game went from a feeling of "Wow, Stanford could lose this," to "the Cardinal are in control now."
[+] Enlarge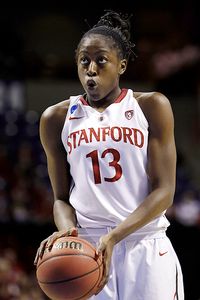 AP Photo/Elaine ThompsonFreshman Chiney Ogwumike tallied 16 points (on 8-for-14 shooting) and a game-high 11 rebounds.
Both Ogwumike sisters -- who were a combined 15-of-32 from the field -- asserted themselves inside at crunch time.
"I definitely felt like I was shooting 3-pointers from the block because it's hard to get the accuracy down in between everybody's arms," Nneka said of the Tar Heels' swarming defenders. "It's like their arms go forever. Really, it was difficult.
"They were fighting hard, and we couldn't extend the lead. I guess you could say that I felt I needed to do a little extra in the closing minutes. But at the same time, I wasn't trying to do too much -- because sometimes then you get crazy and out of control."
Those are adjectives that are sometimes used to describe the Tar Heels' style of play, but give them credit for this effort. In her final college game, guard Italee Lucas had 22 points to lead UNC (28-9). Fellow senior Jessica Breland didn't fare as well. She had just two points on 1-of-13 shooting and seven rebounds.
Every season, North Carolina is loaded with great athletes. Whether they are all very good basketball players is sometimes another story.
But this year's Tar Heels team grew in its basketball ability as the season went along. It might not have seemed like it when the Tar Heels lost their last four games of the regular season, but it became obvious as they advanced to the ACC tournament title game, which they lost to Duke.
Anyone who saw the things the Tar Heels were capable of doing knew they would not be an easy out in the NCAA tournament. And they weren't. While most folks in North Carolina likely were asleep -- the game started around 11:30 p.m. on the East Coast -- and dreaming of Sunday's Elite Eight men's game between the Tar Heels and Kentucky, the UNC women came close to earning their own regional final berth.
Of course, it has always been like this for the Tar Heels women. Even more than at most schools with a hugely popular and successful men's team, the UNC women are typically lost in that large shadow. Plus, the UNC women fell short in recent years on attempts to win their second NCAA title. The Tar Heels might well have been the best women's team in the country in 2006, and perhaps in 2007, too. But both seasons, they lost in the semifinals of the Final Four to the eventual national champion (Maryland, Tennessee).
Saturday, the Tar Heels did a lot right, but when it came down to the final minute-plus and executing, the Cardinal did that better.
"I was hungry. I wanted it so bad, not just for me, but my teammates," Lucas said. "And we were so close. In the last two-minute stretch, it was in our hands."
In the second semifinal of the night at Spokane Arena, the biggest cheers came when Gonzaga's players took their seats to watch Stanford-UNC following their victory over Louisville. Those folks will be back to cheer for the Bulldogs on Monday against Stanford. The Cardinal won at Gonzaga, 84-78, on Nov. 21, so these teams have familiarity with each other.
By contrast, Stanford and North Carolina had not faced each other since the 1995 NCAA tournament. But those who thought this would be a cruise for the top-seeded team against the No. 5 seed Tar Heels were wrong. Stanford really had to sweat for this one.
After Stanford's big victory over UConn on Dec. 30, the Cardinal didn't face many challenges save a comeback win over UCLA in the Pac-10 tournament title game. That is, until Saturday, when the Tar Heels' rebounding was a big factor, as expected.
"They're a very big team, they're very aggressive," Pedersen said. "They're very scrappy. They rebound really hard. They send four to five people to the offensive boards, and that's tough to deal with."
Indeed, UNC did outrebound the Cardinal 50-47. And the Tar Heels' defense used their quickness and physicality to really disrupt Stanford's offensive flow. The Cardinal entered Saturday averaging 80 points per game, and were shooting 49.4 percent from the field. Against UNC, they shot just 36 percent (27-of-75).
Another key issue for Stanford was the struggle from 3-point range, particularly for Pohlen. As a team, the Cardinal were 4-of-21 from behind the arc, with Pohlen 0-for-7. But she did make the big free throws with 16 seconds left.
And Stanford had only seven turnovers, preventing the Tar Heels from getting many easy baskets.
So Stanford was able to breathe a sigh of relief after this one. Now comes a Gonzaga team that might be seeded 11th, but is playing very well and will have the loud crowd behind them.
But Stanford, after such as scare from the Tar Heels, has to be glad to have the opportunity to face that.
"The matchup is going to be a challenge," Nneka Ogwumike said of meeting the Bulldogs. "They have a lot of fine shooters, and I think it's going to be up to our aggressive defense, taking care of the ball and hitting shots. Because tonight we didn't shoot too well."
Yet when the Cardinal most needed a basket, they got one.
March, 26, 2011
03/26/11
12:09
AM ET
Stanford's Nneka Ogwumike talks about the challenge of rebounding against a team such as North Carolina and about how the Cardinal is playing right now.
North Carolina senior Jessica Breland talks about her strength being back more after sitting out last season, and how well the Tar Heels will need to rebound against No. 1 seed Stanford.
Italee Lucas, a native of Las Vegas, talks about being on the West Coast for the NCAA tournament in her senior season, and how the Tar Heels came back after losing four in a row to end the regular season.