Category archive:

Ohio State Buckeyes
March, 3, 2012
03/03/12
7:22
PM ET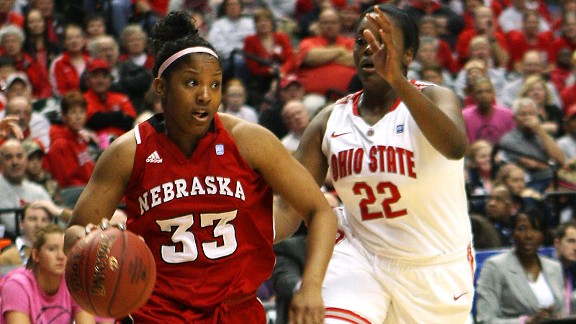 Cal Sport Media/AP ImagesAfter trailing 21-8, Rebecca Woodberry and the Huskers turned the tables on OSU.
INDIANAPOLIS -- No one could have predicted that in the final minutes of Saturday's Big Ten semifinal, Nebraska coach Connie Yori would be emptying her bench, resting her starters for the next night's final.
But that's what happened inside Bankers Life Fieldhouse. Yori's Cornhuskers, who needed Saturday's victory over Ohio State to stay on the minds of the NCAA's selection committee, dominated the Buckeyes 77-62.
No one saw it coming.
For the first 10 minutes of Saturday's game, it looked like Nebraska would be the team flying home soon from Indianapolis. Everything looked right with Ohio State. The favored Buckeyes, the Big Ten's No. 2 seed, were stockpiling buckets, swarming on defense, and looked to be on their way to a lopsided victory over the sixth-seeded Cornhuskers.
Midway through the first, Ohio State had more than twice as many points as Nebraska, leading 21-8. But by the time the Buckeyes headed back to their halftime locker room, Nebraska had flipped the numbers on the scoreboard. The Cornhuskers ended the half on a 28-9 run to take a 36-30 lead.
Nebraska came out of the break playing the same way. The Cornhuskers, who made nine 3-pointers and got 21 points from star forward Jordan Hooper, had the victory in hand for nearly all of the second half.
Except for those first few minutes, Ohio State's offense looked like little more than a series of random dribbles around the perimeter. The Buckeyes finished 2-for-16 from behind the 3-point line. On the other end, the Cornhuskers were knocking down 3-pointers and grabbing offensive rebounds. Nebraska was running its offense as if on train tracks (15 assists on 26 field goals), putting together a crushing run of 38-11 across the halves.
With 6 minutes, 24 seconds left in the game, Nebraska forward Hailie Sample grabbed back-to-back offensive rebounds, finally spinning the ball off the glass to put the Cornhuskers ahead 66-47.
Ohio State, which drops to 25-6, would get no closer than 12 points the rest of the way.
Nebraska, now 24-7, will play in Sunday's final (ESPN2, 4 p.m. ET), facing the winner of Saturday's second semifinal between Penn State and Purdue.
March, 2, 2012
03/02/12
10:44
AM ET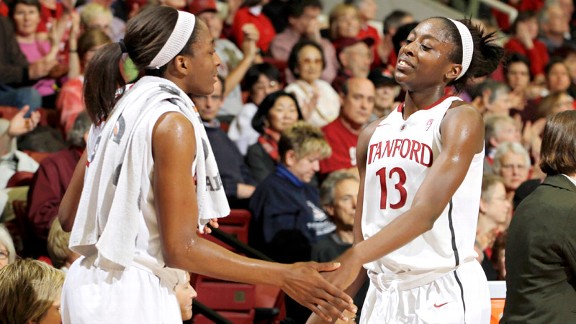 AP Photo/Paul SakumaNneka Ogwumike is an obvious pick, and sister Chiney is a second-team candidate.
There's no such thing as even one choice -- let alone five of them -- that will bring unanimous consent. But when you're talking All-Americans in women's basketball this particular season, the first team likely will get a lot of agreement.
After that, though, all heck breaks loose. You could justifiably choose any number of players for an All-American second team. In fact, you might not agree with any of my picks, and you might not be wrong. There really are that many candidates for those second five spots.
The first five are a lot easier. They have solidified themselves both with their individual performances and their teams' success in 2011-12. All five are from squads that won their conference's regular-season championship.
Only one is on the current list of finalists for the 2012 Olympics, but it wouldn't be a surprise to see all five of them play for Team USA at the Rio de Janeiro Games in 2016. In fact, you could even envision these five starting as a unit, because they could perfectly cover every spot on the floor.
One is a defensive presence like none other in the women's college game. One is the most exceptional rebounder of the group. One is a great scorer and extremely versatile. Two are highly efficient playmakers who can also rack up the points themselves.
So now, as we're just moving into the Month of Madness, here is a suggested "top 10" that is made up of two teams that could be put on the floor. (In other words, these aren't "three centers/two forwards" kind of squads.) Which 10 players actually will make up the State Farm All-America team that will be announced in Denver? We're sure at least some of them are included here.
First team
Brittney Griner, C, junior, Baylor: The numbers tell the story: 22.7 ppg, 9.7 rpg, 155 blocked shots. Baylor's opponents are shooting an average of just 30.7 percent from the field. Shooters get gun-shy or greatly rush shots because Griner is so intimidating defensively that foes start seeing her even when she isn't there. Of course, she's usually there. She's also an Olympic finalist.
Nneka Ogwumike, F, senior, Stanford: Coach Tara VanDerveer predicted that as good as Ogwumike was last year, this season she would be markedly better. That has proved true, as Stanford has pummeled its way through the Pac-12 again behind Ogwumike's fabulous senior season. She has increased her scoring (21.6) and rebounding (10.6) averages, plus is shooting a career-best 82.2 percent from the foul line. About the only one who can hang with Nneka on the boards is sister Chiney.
Elena Delle Donne, F/G, junior, Delaware: She'll get well-deserved consideration for player of the year, even though Griner appears to be the favorite. Delle Donne has blossomed as a nearly unstoppable offensive force, averaging a national-best 28.3 points per game with an amazingly versatile attack. The Blue Hens won the Colonial Athletic Association regular-season title at 18-0, and their 27 victories thus far is a school record.
G Skylar Diggins, G, junior, Notre Dame: After leading the Irish to the NCAA title game last season, her profile was raised nationally. The added attention hasn't hurt at all. This year, she has sparked Notre Dame to two victories against UConn and the program's first outright Big East regular-season title. Diggins is shooting 52.5 percent from the field while leading the Irish in scoring (17.4), assists (174) and steals (77).
Odyssey Sims, G, sophomore, Baylor: She never seems rattled, always having the right amount of energy and excitement that a team needs from its floor leader. Sims -- 14.7 ppg, 4.8 apg, 45.5 percent shooting from the field -- also has a propensity for making the big play right when needed and is an excellent defender. She and Diggins both see the floor so well.
Second team
Chiney Ogwumike, F, sophomore, Stanford: Little Sis has become, as expected, a force all her own. She is shooting nearly 60 percent from the field as she averages 16.1 ppg. She's getting 10.1 rpg, and hasn't fouled out this season after doing so four times as a freshman.
Julie Wojta, G/F, senior, Green Bay: The versatile Wojta (which is pronounced "white-UH") is the primary reason the Phoenix have had virtually no drop-off in success from last season's Sweet 16 team, despite two big losses to graduation. Green Bay is 26-1 behind Wojta's 19.6 ppg and 10.3 rpg.
Samantha Prahalis, G, senior, Ohio State: Give credit where it's due. She has been an emotionally stable leader as a senior, which was much-needed with the graduation of center Jantel Lavender. Prahalis is the Big Ten Player of the Year; her 20.4 ppg scoring average was second in the league to teammate Tayler Hill's 20.7, plus she led the conference in assists (6.5).
Shenise Johnson, G, senior, Miami: It would be hard for a player to do more for her team than Johnson does for the Hurricanes. She leads them in scoring (16.8), rebounding (7.9), assists (130) and steals (101), plus is shooting 45.3 percent from the field and 87.1 percent from the line.
Tiffany Hayes, G, senior, UConn: She still sometimes frustrates UConn coaches and fans with what seems a lack of "presence" in big moments. But the bar is wickedly high at UConn. So much so that what Hayes has done -- she's the leading scorer (15.9) and second-leading rebounder (5.7) on a team that's still going to get a NCAA No. 1 seed -- is too easily undervalued.
February, 20, 2012
02/20/12
11:23
PM ET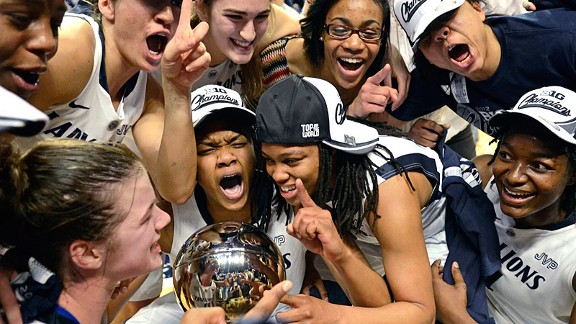 AP Photo/John BealePenn State has won six consecutive games, and 11 of its last 12 contests overall.
It might be trite to say Penn State needed this, but it's still true. The school, buried under so much harsh publicity in the last three months, needed it. The program, which hadn't won a Big Ten championship since 2004, needed it. The players, who this season lost two of their first three league games (both at home), needed it. And coach Coquese Washington, who took over at Penn State in 2007 hoping to give the program a completely fresh outlook and atmosphere, needed it.
You also can say that Washington and the players didn't just need it, they deserved it and earned it.
"It" is the Big Ten regular-season title, which No. 17 Penn State has at least a share of now after an 84-66 victory over No. 11 Ohio State on Monday.
This game felt like it had an even greater margin than 18 points. In fact, the Buckeyes looked so lethargic during stretches that you were reminded of Joaquin Phoenix's infamous appearance on David Letterman's show back in 2009. Phoenix's fake catatonic-like behavior prompted Letterman to quip, "Joaquin, I'm sorry you couldn't be here tonight."
Ohio State coach Jim Foster probably felt that way about his team's defense against Penn State, which had five players score in double figures Monday. Nikki Greene led the way with 25 points and 15 rebounds. Fellow junior post player Mia Nickson had 18 points and 15 boards.
It's not a regular occurrence for three players from the same team to pull down double-digit rebounds. But it happens when you clobber your opponent 60-32 on the boards, as Penn State did. Guard Maggie Lucas joined Greene and Nickson in Monday's double-double effort, with 12 points and 10 rebounds.
Penn State (22-5 overall, 12-3 in the Big Ten) has just one regular-season game left: Sunday at home against Minnesota, a team in the lower half of the league. Technically, Penn State still might have to share the regular-season championship -- if the Lions slip up against the Gophers and Ohio State wins Thursday versus Minnesota and Sunday versus Nebraska. To win those games, though, the Buckeyes will have to play with a lot more purpose and energy than they did against Penn State.
But the Lady Lions should get some credit for that, too: They came out Monday clearly determined to put their hands on the Big Ten trophy. And even if that title is shared, Penn State -- with this win over Ohio State -- has the tiebreaker and No. 1 seed in the upcoming Big Ten tournament, March 1-4 in Indianapolis.
Ohio State, which won or shared six regular-season Big Ten titles from 2005 to '10, has won in the league tournament the past three years in a row. Last season, the Buckeyes prevailed 84-70 in the final over Penn State.
In fact, it has been quite a long time since the Lady Lions won that particular title. Penn State triumphed in the first two Big Ten tournaments, in 1995 and '96, but hasn't won that championship since.
But right now, Penn State certainly looks like the favorite for next month in Indy.
January, 2, 2012
01/02/12
1:16
PM ET
There's no surprise among the No. 1 seeds, which would be Baylor, Connecticut, Notre Dame and Stanford. But which teams join Maryland as a No. 2? ESPN.com's Charlie Creme gives us a brief Bracketology update, with a full field of 64 coming Jan. 9.
March, 8, 2010
03/08/10
1:14
AM ET
The day of "almost" upsets started in Greensboro, N.C., where one of the participants used to be on the other side. Kellie Harper won three SEC tournament titles as a player for powerhouse Tennessee.
Now in her first season as head coach at NC State, Harper was on the underdog side. Her Wolfpack, the No. 6 seed in the ACC tournament, were trying to knock off top-seeded Duke. NC State was attempting to win the program's fifth ACC tourney title, but first since 1991.
Iowa, meanwhile, was in the Big Ten tournament final for the first time since 2001. And in the SEC final, Kentucky was making its first appearance since 1982. So …
It could have been a huge day for long shots getting automatic NCAA tournament bids. But none of them quite came through. Instead, the top seeds came away with hard-fought and well-earned victories in the ACC, Big Ten and SEC -- but their opponents proved something, too.
We'll start with the ACC, which except for Maryland's title last year has been the province of Duke or North Carolina for the past decade -- although the Blue Devils hadn't won a championship since 2004.
Duke lost its regular-season finale to the Tar Heels, and then just squeaked past Maryland by a basket in the ACC quarterfinals. Duke beat Georgia Tech in the semis.
Meanwhile, the Wolfpack upset third-seeded Virginia in the quarterfinals and then defeated another tourney upstart, Boston College, in the semis.
NC State had hit a low point in losing 70-39 to Duke on Feb. 11; after that loss, the Wolfpack were 13-11 (3-6 ACC). But soon the "magic" of the Pink Zone came through again. On Valentine's Day, during a stretch when teams across the country wore pink to honor the late Kay Yow and raise funds for cancer research, NC State beat Miami to start a run in which the Wolfpack won seven of their next eight games entering the ACC final.
Duke won the championship 70-60 Sunday afternoon, and the Blue Devils have finished their 27-5 résumé to submit to the NCAA committee for a likely a No. 2 seed. Meanwhile, NC State (20-13) hopes its strong finish is enough to earn an at-large bid, which is expected.
"I'm extremely proud of our team for so many reasons," said Harper, who had the difficult job of replacing the legendary Yow in Raleigh. "For improving, for believing, for working hard in practice, for playing together. In that locker room, I was proud of them for wanting more. They are hurt they didn't win this game, and I am so proud of that.
"I think our kids have proven over the last few weeks that we're an NCAA tournament team."
In Indianapolis, Iowa came oh-so-close to finishing off an amazing turnaround from being in last place in the Big Ten in mid-January. The Hawkeyes lost to Ohio State 66-64 in the league tournament final, but this is one time when quite honestly Iowa had to be pretty happy just to be there.
Starting last November, it seemed this season would be nothing but awful news for the Hawkeyes. They lost their only senior, JoAnn Hamlin, to a serious blood clot that forced her to end her career. Freshman Theairra Taylor (ACL) and sophomore Hannah Draxten (herniated disk) were also lost for the season.
The Hawkeyes were 8-10 and had lost four in a row going into their Jan. 21 game at Illinois.
But then, everything changed. A switch was flipped, and Iowa has since won 11 of its last 14. That was almost 12 of 14, as Iowa built a lead as large as 16 points against Ohio State in the Big Ten final.
But the Buckeyes had a little too much Jantel Lavender, who had 35 points and 10 rebounds. Her layup with 1 minute, 20 seconds left tied the score, and her two free throws with 1.9 seconds left won it.
Ohio State (30-4) now just waits for a great seed while the Hawkeyes (19-13) wait for an invitation. But two months ago, nobody was expecting Iowa would be doing anything at this point except getting ready for next season.
Lastly, Tennessee now has won 14 SEC tournament titles, but this one -- thanks to a 70-62 victory over No. 2 seed Kentucky in Sunday night's final -- means a lot because of the trials of last season.
Tennessee, of course, lost in the first round of the 2009 NCAA tournament -- the program's first loss ever in the first round (the Lady Vols had never failed to reach the Sweet 16 until last season). That ended an extremely frustrating 2008-09 for coach Pat Summitt and her young team.
This season, Summitt still hasn't solved all of Tennessee's concerns, but it's a significantly more accomplished team. Don't look now, but Tennessee is 30-2 -- yet almost absurdly under the radar.
Most of the attention has been going to that one team from the Northeast that Tennessee doesn't play in the regular season anymore, plus the surprising and undefeated Nebraska Cornhuskers, a new kid on the NCAA title-contending block.
But anyone who overlooks Tennessee as a potential national championship threat should think twice. The Orange Crush will be a No. 1 seed again and surely in the Memphis Regional.
Tennessee advanced to San Antonio the last time the Women's Final Four was there (2002) and could be making a return trip this year.
But Kentucky has been a great story this season, too. Victoria Dunlap was named the SEC Player of the Year, while A'dia Mathies won the rookie honor and Matthew Mitchell the coaching award. And the Wildcats, despite being picked to finish second-to-last in the league, instead finished runner-up to Tennessee -- both in the regular season and the tournament.
Kentucky (25-7) lost by 16 points at Tennessee on Feb. 25. Cutting that gap in half on a neutral court Sunday is not a bad way for the Wildcats to head into the NCAA tournament.