Category archive:

Oklahoma State Cowgirls
March, 22, 2010
03/22/10
1:45
PM ET
No matter what happens in the Georgia-Oklahoma State game (ESPN2/ESPN360.com, 9:40 p.m. ET) -- whether Andrea Riley's college career comes to an end or she leads the Cowgirls to the Sweet 16 -- I know what a lot of folks' reaction will be.
"Andrea Riley is selfish! She shoots too much! She takes crazy shots! She stands around too much on defense! She's got a lousy attitude! She's …"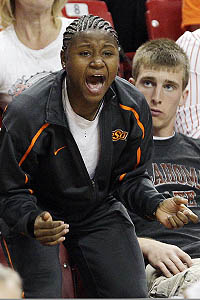 AP Photo/Ross D. FranklinOklahoma State won in the first round despite Andrea Riley -- who accounts for 36 percent of the Cowgirls' offense -- sitting out on a one-game suspension.
I hear that stuff from a lot of people. I think Riley is the most criticized star I've seen in the Big 12, and I'm not even sure who would be No. 2.
But consider that Riley is not just the Big 12's all-time leading scorer. She's also her school's all-time assists leader. And she joined an Oklahoma State program that had won a grand total of eight Big 12 games in the four seasons before she got there. The Cowgirls had finished 0-16 in the league in coach Kurt Budke's first season in Stillwater, the year before Riley's arrival.
In Riley's four seasons, Oklahoma State has been 8-8, 11-5, 4-12 and 9-7 in the Big 12. The Cowgirls have reached the NCAA tournament three times. Riley's freshman season brought Oklahoma State's first NCAA tournament berth since 1996 -- the year before the Big 12 started.
No one could possibly argue that Riley hasn't dramatically changed the Oklahoma State program for the better in terms of results. Yet her style of play is criticized, and many fans usually paint her in unflattering ways.
Yes, Riley shoots a lot. She also passes a lot. Yes, she let her emotions get the best of her when she popped Texas' Earnesia Williams during a ball scramble in the 2008 Big 12 tournament and then did the same to LSU's Erica White as they were jostling back and forth during a Sweet 16 game not long after.
The first incident did not cost Riley any playing time, but the second did. The NCAA suspended her for one NCAA tournament game, a penalty she did not have a chance to pay until this year. Riley sat out Saturday as the Cowgirls followed a horrible first half with an inspired second half and beat Chattanooga 70-63.
Riley knows that a lot of people have a negative opinion of her. She wishes she could change it. She would like them to see someone different -- the person she thinks she is.
"I wish people would see who I am around my teammates and everybody at Oklahoma State every day," she said. "I have the biggest heart, and I'm very sensitive. I'm not disrespectful. I try to do the best thing possible. I know I made mistakes."
The person Riley wishes people saw is someone who loves basketball more than pretty much anything else in the world. Taught -- drilled, in fact -- from a young age by her father, Roosevelt, Riley started playing when she was a toddler.
"From the time I was born, I was in the gym," Riley said. "I was always around basketball. I really grew up willing to learn it, and it took up most of my time.
"Coach Budke talks about the basics all the time: You focus on defense and rebounding. And that's what my daddy always talked about. He never cared about offense. So people ask me, 'Why don't you care about breaking scoring records?' And I say, 'I want to do the other things, too.'"
Indeed, when asked about the scoring records she set at the Big 12 tournament, Riley seemed embarrassed and turned the topic toward the record she was proud of, which was the Cowgirls' career assists mark.
I understand all this. We're constantly bombarded with this message from coaches about how great it is to be unselfish and get your teammates involved. Coaches and observers of the sport compliment players for sharing the ball and being selfless and all that.
But you know what? It makes no sense to me for someone to feel she needs to downplay a scoring record. Last I checked, you can win a game even if your team has fewer assists than the other team. But you can never win if your team has fewer points.
I know that it's a team sport, you get everyone involved … but it's still about putting points on the board. And if you've done more of that than any player in the history of your league, plus helped your program completely change its status, shouldn't you get a fair amount of credit for what you've done?
But, again, people see Riley's game as selfish and say, "But are those shots she's taking always the best the team could get in that possession?"
No, probably not every possession. However, Budke has decided that Riley shooting a lot, lot, lot is the best way for his team to win. So Riley is doing what she's told. And again: She is the assists leader for her program. So she hasn't just been shooting.
There are also criticisms of movement without the ball, her defense, etc. I'm not saying there aren't things to point out wrong; that can be done with most players. It just seems to me that what bothers observers most about Riley is that they don't like the way her game looks.
Folks might not realize that after every game, the first thing Riley hears after Budke's analysis is what her father thinks. If Roosevelt isn't at the game, she calls him.
"He is not the type to just give me a compliment," Riley said. "He might say it in his own way, but he's never going to just say, 'Good job, Andrea.' Because he wants me to do better. We always talk about how he wants me to get my degree, go to the WNBA and be as successful as I can as a person. He was always hard on me, and he stays on me now.
"I grew up playing in this hot gym, with no windows, just putting in work. We would do these drills he was really specific about. He wanted the expectations to be very high, and I wanted to be perfect. That's why I'm hard on myself when I mess up."
And Riley admits she messed up with the in-game hitting-another-player incidents during her sophomore year. It pains her that those things seem to have permanently altered the perception a lot of people have of her. Riley became, in their eyes, a "bad apple" who is always trying to stir things up on court.
As someone who has watched her career, I think people see these things even when they aren't actually happening. It became difficult for fans to distinguish between Riley just being enthusiastic and scrappy and her being a so-called trouble-maker.
An aggressive play that some other player might make would be called competing hard. Riley would make it, and it would be called something else.
Consider that one of the more universally popular players in the Big 12, Kansas State's Shalee Lehning, got all these titles: "tough," "scrappy," "great leader." She was indeed all those things, and because K-State was size-challenged her entire career, she also had to be a phenomenal rebounder. She finished her career last season with 1,189 points, 800 assists, 914 rebounds and 235 steals.
Riley, entering Monday night's game against Georgia, has 2,804 points, 700 assists, 399 rebounds and 287 steals. At 5-foot-5, she's 4 inches shorter than Lehning.
I bring up the comparison -- even though they are different types of guards -- just because each put up a lot of big numbers and was/still is absolutely essential to her team's success.
Lehning richly deserved all the bouquets that fans tossed her way during her career. But I don't think Riley deserves all the criticism that fans have thrown at her.
Now, you might hasten to say, "But what about the punches Riley threw?" And, again, I realize that has permanently changed how some fans view her.
Last season, the Cowgirls did have chemistry problems, and that did have something to do with how some players felt the shots and the glory were distributed at Oklahoma State. But not the bulk of the players.
The way the Cowgirls competed in the second half of their comeback win over Chattanooga -- and the comment by senior Ally Clardy that she "couldn't imagine" playing her final game without her roommate, Riley, on the floor -- showed how much the team rallied around Riley even when she couldn't play.
And I would think even the most hard-core Riley critics had to be at least a little moved at the shot of her crying tears of relief and gratitude in the stands as the Cowgirls closed out that victory.
Some might say Riley's dad has been too hard on her. I must admit I've considered that myself. But those things are always very difficult to judge for outsiders. The dynamic between talented child and encouraging parent is always a tightrope that even the best of parents fall off from time to time. That Riley credits her father so much tells you of her gratitude.
And whatever you think of Riley, at least consider this image of what she thinks of herself as a player.
"I do always go back to the basics, the fundamentals, that I did all the time when I was growing up," she said. "I still think about that every day. I used to pray to be a little bigger, but around sixth grade, I accepted my size. My dad told me, 'Because you're small, you have to work harder than everybody else.' I have to have a different kind of mindset.
"He knew how to motivate me: 'You can't do it because you're too little.' That would burn me up and make me so fiery. It's why I'm so competitive."
March, 13, 2010
03/13/10
1:00
AM ET
KANSAS CITY, Mo. -- Quarterfinal day at the Big 12 tournament started with the road to perfection continued, and ended with the road to redemption established. In between, Texas lost the ball a lot, and Oklahoma State's Andrea Riley shot it a lot.
[+] Enlarge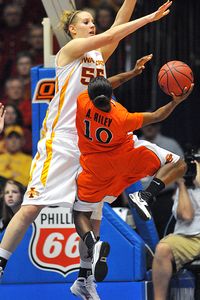 AP Photo/Denny MedleyOklahoma State's Andrea Riley set two Big 12 tournament marks Friday: a single-game record 43 points on a tourney-record 44 field goal attempts.
Now we get this: Nebraska, which improved to 30-0 after beating Kansas State 63-46, trying to move to its first Big 12 tournament final and … Bedlam No. 3, as Oklahoma and Oklahoma State face off in the other semifinal.
The Huskers will meet Texas A&M, which forced 26 Texas turnovers in beating the Longhorns 77-64. Oklahoma State then pulled the day's upset, as the No. 7 seed Cowgirls topped No. 2 Iowa State 62-59 behind Riley's 43 points, a Big 12 tournament single-game record.
Riley took a Big 12-record 44 shots from the field -- she'd had the record previously with 42 earlier this season -- and made 16 of them. With her first basket, she became the conference's all-time leading scorer, surpassing Oklahoma's Courtney Paris.
Riley now has 2,772 career points, and said coach Kurt Budke told her if she had to shoot it 50 times on Friday, he was fine with that.
"And I got close!" Riley said, laughing. (Budke confirmed he did, indeed, tell her to basically shoot until the game ended or her arm fell off, whichever came first.)
Then the highlight of Friday at Municipal Auditorium was the last game, in which Baylor freshman Brittney Griner returned after a two-game suspension and did the same thing to No. 12 Oklahoma that she had during two regular-season meetings: made it very difficult for the Sooners to get much inside.
Griner blocked 10 shots -- she had 11 blocks in both other matchups with the Sooners -- and had 13 points and six rebounds in 40 minutes. Plus, No. 18 Baylor's "glue" player, Melissa Jones, who has been battling a stress reaction in her leg and hadn't played since Jan. 31, returned for 17 minutes of action.
It wasn't enough, though, on a night when Oklahoma had just seven turnovers, none by point guard Danielle Robinson. It was the fourth meeting between Oklahoma and Baylor in Big 12 tournament history, and the Sooners have won all four.
This one went down to the wire, 59-54, and afterward OU coach Sherri Coale said Griner coming off the suspension, "Looked exactly the same to me."
Griner said she felt with her first blocked shot, "I was back in the groove. I missed being out there with my team. It felt good to be back and playing with everybody."
But Baylor coach Kim Mulkey voiced what seemed pretty obvious to most observers, "I thought she was tentative. She probably wasn't as much of a presence in the paint as she had been."
That would be understandable with Griner facing the degree of public scrutiny she has since punching a Texas Tech player March 3.
Griner said she wasn't nervous before the game and didn't really hear the smattering of boos that came from the crowd when she was announced. However, Mulkey noticed and said, "I was disappointed. It's a teenager that made a mistake. She's good for the women's game, and she's human."
Griner did look more comfortable in the second half, saying that while she didn't think she was really holding back before that, "I knew I had to step it up. I was trying to help my team out."
Mulkey gave an impassioned and heartfelt explanation of what Griner has been going through the past nine days.
"I'm a mother, and when I go into that home and recruit a kid," Mulkey said, "and I look at her parents in the eyes and they say, 'I want that kid to play for you because you run a disciplined program' -- that came out of Brittney Griner's father's mouth.
"And he expects, when she fails, for me to discipline her and not throw her on the street. I would think if I coached your daughter, you would want that, too. Brittney Griner will learn from this. And if she doesn't, Brittney will eliminate herself."
Mulkey has spoken often about Griner's gentle demeanor, and she reiterated that in regard to how one action in the heat of battle is not at all indicative of Griner's real personality.
"She is the sweetest child in a 6-8 body," Mulkey said. "All I ask is that you judge Brittney Griner before the incident and you judge her after the incident. What made [it] so bad is it was done in a public forum. There is not a coach in America that has not had to discipline a kid for taking a swing at a teammate in private that none of you ever knew about. Not on the men's side, not on the women's side. … It was, again, a horrible, horrible thing, and she hurts because of it."
But it's also over. And with Griner back in action -- still facing, however, private disciplinary measures from Mulkey to help her learn from the mistake -- there's not much else to say about it. It's time to move forward and look at Baylor's NCAA tournament chances.
Jones was not her normal self in some ways, going 1 of 7 from the field, but her mere presence made Baylor function better. Baylor also got Morghan Medlock's best game of the season; the team's lone senior had 18 points and five rebounds.
If Jones can return to full health -- or close to it -- and Griner feels comfortable asserting herself, Baylor is going to be a really tough NCAA matchup.
"I was excited to have those two back in the lineup," Medlock said, no doubt speaking for all Baylor followers, too.
But now while Baylor prepares for the NCAA tournament, Oklahoma faces its third meeting this season with in-state rival Oklahoma State. Well, actually it hasn't been that much of a rivalry: the Cowgirls have won only once in the last 22 meetings.
Oklahoma won this season's matchups 77-66 in Stillwater and 95-62 in Norman. The latter game was the regular-season finale, and the Sooners could do no wrong in that game.
The semifinal meeting will pit two of the top point guards in the women's college game, with Riley and Robinson, who had 26 points and four assists Friday.
And Nebraska -- whose only "worry" against the Wildcats was an ugly 1-for-21 struggle from behind the arc, not that it mattered -- will go against an A&M team that is looking really good in March -- much like the Aggies did two years ago when they won the Big 12 tournament here in KC.
"Well, obviously, no one would have expected us to be 30-0 -- nor did I," Nebraska coach Connie Yori said. "You've got to find different ways to win. This is a rarity. I might coach for another 30 years and not have this happen."
March, 12, 2010
03/12/10
2:06
AM ET
KANSAS CITY, Mo. -- Brittney Griner sat in the stands behind the Baylor bench at the Big 12 tournament and watched her teammates figure out a way to beat Colorado without her. They will not have to do the same thing Friday against Oklahoma.
Griner will be back after her two-game suspension for punching Texas Tech's Jordan Barncastle, and Baylor will be oh-so-happy to have her return to the floor.
With Griner in the lineup in February -- getting a triple-double that included 11 blocked shots -- Baylor beat Colorado by 34 points. Without Griner, No. 6 seed Baylor had to throw on a full-court press and get a very special guest-star appearance from Whitney Zachariason to beat the Buffaloes 72-65 in the first round.
Baylor trailed by eight points at halftime and was still down by that much with 13:40 left in the game. But then Baylor gained back the momentum with pressure defense, and the Buffs had no answer for Zachariason. Of course, they weren't expecting she'd be such a problem.
Zachariason's career high in points coming into Thursday's game was seven. But with the Buffs fully committed to a zone defense, Baylor coach Kim Mulkey called on the "Z" to bust it up. And she did, hitting five 3-pointers on the way to a team-high 17 points.
Asked if using Zachariason was a game-time decision, Mulkey said, "Yeah, it was sittin' on the bench and watching us miss shots from the perimeter. And I thought, 'Hell, give her a shot.'"
Baylor's comeback was the nightcap of four closely contested games in Big 12 first-round action; all were decided by single digits. The day started with a reminder of the Griner-Barncastle tussle; Barncastle was wearing a face mask to protect her broken nose. That is, until she couldn't stand it anymore.
At one point, she became so irritated with the mask that she took it off, but then later put it back on. She never seemed comfortable the whole game, and didn't score in Tech's 59-51 loss to Kansas State.
"I thought she didn't look herself today, defensively especially," Tech coach Kristy Curry said of Barncastle. "She was way too passive."
What will be interesting to see is if Griner is somewhat passive against the Sooners, or if she'll feel comfortable asserting herself. The No. 3 seed Sooners and Baylor split their meetings during the regular season, with Baylor winning 57-47 in Waco, Texas, on Jan. 13 and Oklahoma taking a 62-60 overtime win in Norman, Okla., on Feb. 10.
Griner had two of her bigger rejection games against the Sooners; in each meeting, she blocked 11 shots. She had 12 points in the victory against OU and 17 in the loss.
Friday's quarterfinal will be the fourth Big 12 tournament meeting between Oklahoma and Baylor, and the Sooners have won the previous three. Two of those were for the championship (2002, '06) and the other was in the semifinals ('07).
In those last two tourney meetings with Baylor, the Sooners were led by Courtney Paris. She remains the Big 12's leading career scorer … but only for a little while longer.
In the outstanding individual performance of Thursday, Oklahoma State guard Andrea Riley had 37 points in a 76-69 victory over Kansas. Riley's total bested Paris' single-game tournament record of 36 points set in 2006. And with that performance, Riley now has 2,729 points in her career, which ties her with Paris. Riley's first basket or free throw Friday when the Cowgirls face Iowa State will give her the record.
"To us, she is the MVP of the conference," Oklahoma State coach Kurt Budke said. "There is nobody more valuable to a team."
Well, Nebraska fans would disagree, as their star, Kelsey Griffin, is the Big 12 Player of the Year and has led the Huskers to a 29-0 record. Top-seeded Nebraska, which has never won the Big 12 tournament title and never reached the final, will start its quest in the day's first game against Kansas State.
The other matchup Friday will pit Texas -- which survived Missouri in Tigers coach Cindy Stein's last game, 64-59 -- against Texas A&M. The Aggies have vexed Texas coach Gail Goestenkors since she arrived in Austin for the 2007-08 season. She has lost all six meetings with Texas A&M. In fact, Texas has beaten A&M just once since 2005.
But the game of the day could well be the last one, with Baylor and Oklahoma both trying to boost their NCAA tournament seeding. Baylor got a lift from an unexpected source on Thursday. But Friday, Mulkey hopes to see everything back to normal, with Griner crowding the lane, not sitting in the crowd.
March, 11, 2010
03/11/10
2:02
AM ET
KANSAS CITY, Mo. -- Were it some coach other than Nebraska's Connie Yori, you might just think it was sandbagging. But few folks in the business are as straightforward as she is … plus what she says just makes a lot of sense.
The Huskers are undefeated and the top seed in the Big 12 tournament; they'll open play in Friday's quarterfinals. Still, Yori doesn't see Nebraska as the "favorite."
"We are not built to play three games in three days," the Big 12 coach of the year said. "Because we play full-court defense. We expend a lot of energy -- that's who we are. In order to do that for three games in a row, that's hard.
"We're not a half-court execution team. So I think it will be a huge challenge for us, because of our style, to win the Big 12 tournament."
Two games in three days -- which is the NCAA tournament setup -- is a different story. Yori is not concerned about that.
But three in three just might tax her Huskers -- including Big 12 player of the year Kelsey Griffin -- too much. This is all new ground anyway for Nebraska, which has never won a league tournament title in the Big 12 or Big Eight eras.
Further, no North Division team has won the conference tournament since Iowa State did it in 2001. This year, for the first time in Big 12 history, the top two seeds -- Nebraska and Iowa State -- are from the North Division.
Although the Huskers come in feeling fully healthy, the Cyclones don't. Senior point guard Alison Lacey is not expected to play in Iowa State's quarterfinal game Friday because she's recovering from pneumonia.
Iowa State released a statement that Lacey's status beyond the quarterfinal is uncertain, although she is expected to be ready to play in the NCAA tournament if the Cyclones get a bid (which, of course, they will).
If Lacey is absent the entire Big 12 tourney, it seems unlikely the Cyclones can really make a run at winning. Thus, if neither of the top two seeds is the so-called favorite, who is?
Well, would it be crazy to say No. 3 seed Oklahoma? Nope. Despite all the graduation and injury losses, the Sooners still tied with Iowa State for second place in the league at 11-5. (The Cyclones won the head-to-head matchup as the tiebreaker.)
How about Texas A&M, which is the No. 4 seed (the same spot from which the Aggies won this title two years ago in K.C.)? All three of Texas A&M's leading scorers, by the way, are from Kansas City (Danielle Adams, Tanisha Smith and Tyra White).
Who outside the top four seeds -- they have first-round byes -- might challenge to win the title? It would be a stretch for any of them. That would mean four games in four days. Only one team outside the top four has won the title previously, and that was Oklahoma as a No. 6 seed in 2004.
However, back then the tournament still had a rest day between the semifinals and final. Now, it no longer has that.
No. 5 seed Texas has had its ups and downs, although the Longhorns did close the regular season with a victory over Baylor. However, that came with Brittney Griner suspended for a punch thrown in Baylor's game at Texas Tech on March 3.
Speaking of Baylor, the No. 6 seed, Griner is suspended for one more game -- the opener Thursday night against No. 11 Colorado. She didn't come to Baylor's open-to-the-media practice. Asked about it after the workout, Baylor coach Kim Mulkey did not explain Griner's absence but just repeated that Griner was suspended for the first game of the tournament. Mulkey didn't seem very pleased to be talking to any of us reporters, you might say.
Being the fierce competitor she is, Mulkey seems to be taking an "us against the world" attitude. And even though Melissa Jones (injury to right lower leg) apparently is out of the Big 12 tournament, Baylor shouldn't be underestimated. This is the program that won the league tournament last season -- although the personnel is quite different.
Lastly, the only other team that merits a mention as having an outside shot at the title is No. 7 Oklahoma State. Despite its season-ending 95-62 smackdown at Oklahoma in the regular-season finale, the Cowgirls and Andrea Riley do have title-game experience. They made it to the championship game in 2008.
The Big 12 is not the only big show in women's basketball still going on. The Pac-10 tourney, in which Stanford is nearly a prohibitive favorite, will be contested through the weekend, too.
But the Big 12 should provide a bit more drama because several teams are trying to improve their NCAA tournament position. Plus, despite the Huskers' 29-0 mark, as Yori said there is still a feeling that Nebraska might have its troubles here.
Then again, so might everybody else.