Category archive:

Dayton Flyers
March, 22, 2010
03/22/10
7:40
PM ET
Did you think you knew just how this women's NCAA tournament was going to turn out? Well, yes, UConn remains the big favorite. But a whole lot else has gone haywire on most people's brackets.
After a Sunday of upsets in which 10th-seeded Vermont, No. 12 Green Bay and 11-seeds Arkansas-Little Rock and San Diego State all won, Monday was another big night for a team outside of the "big six" conferences.
This time, it was No. 7 seed Gonzaga, a program that has been knocking on the door of the nation's elite for a while. Monday, the Bulldogs officially stopped just knocking and marched right into the Sweet 16 for the first time in program history with a thrilling 72-71 victory over No. 2 seed Texas A&M.
Furthermore, the Bulldogs did it with star point guard Courtney Vandersloot on the bench after fouling out with 1 minute, 23 seconds left. The winning basket came from Vivian Frieson, whose jumper with 21 seconds left gave her a game-high 23 points. She also had nine rebounds and five assists on the biggest night of the senior's Gonzaga career.
A school that has celebrated its men's program as "giant-slayers" in the past now has the women to laud for the same thing. It was a crushing defeat for Texas A&M, which won the Big 12 tournament and came into the NCAA tournament considered a realistic challenger to top seed Stanford in the Sacramento Regional for a Final Four berth.
But the Aggies won't even make it to California's capital; they go home while the Bulldogs move on to face the winner of Tuesday's Xavier-Vanderbilt game.
It was a rough evening for the Big 12 as two of its three teams in action fell. No. 4 seed Oklahoma State lost 74-71 in overtime to No. 5 Georgia. No. 4 seed Baylor, though, did beat No. 5 Georgetown 49-33 and will meet Tennessee in the Sweet 16.
Earlier in the evening, two ACC teams had to scramble to avoid being upset.
Nobody but the most gung-ho (and slightly delusional) ACC fans would have proclaimed this as a very strong year for the league. Even ardent followers of the ACC understood that a combination of graduation losses, injuries and illness -- specifically with the league's top post player, North Carolina's Jessica Breland, who battled cancer over the summer -- had left the ACC below where it's been in some previous seasons.
That said, few were expecting the ACC might go down in flames before even the NCAA Sweet 16. Yet the league had some anxious moments Monday night -- after a very bad weekend in which North Carolina, Georgia Tech, Virginia and NC State lost -- that just that might happen.
Duke, seeded No. 2 in the Memphis Regional, and Florida State, No. 3 in the Dayton Regional, were both in peril -- worse yet, it was on their home courts. But the Blue Devils and Seminoles, who finished 1-2 in the ACC this season, both pulled out victories and will head to the regional semifinals with a sigh of relief.
Duke pulled away for a 60-52 victory over seventh-seeded LSU in what was, as expected, a defensive battle. In the closing minutes, though, the Blue Devils got the upper hand with hustle plays -- led by Jasmine Thomas -- and avoided a second consecutive loss in the NCAA second round. Last year, playing on Michigan State's home court as a No. 1 seed, Duke was upset by the Spartans.
The Blue Devils made just 1 of 10 3-point attempts, and Thomas was the only Duke starter in double figures with her 15 points. Duke got a lift off the bench from Bridgette Mitchell, who had 12 points and six rebounds.
Duke forced 22 turnovers -- although the Blue Devils did have 19 of their own. LSU star Allison Hightower finished her career with a 19-point game as the Tigers became the first of the six SEC teams to lose in this NCAA tourney.
After Duke survived, Florida State did the same -- although the Seminoles had to go to overtime to do it against No. 6 seed St. John's, 66-65. The Red Storm were trying to make the Sweet 16 for the first time in program history, and they came agonizingly close.
FSU senior post player Jacinta Monroe hit a tying layup with 17 seconds left, then St. John's freshman Eugeneia McPherson missed a shot at the buzzer and the teams went to overtime at 62-62.
All the Red Storm were able to get in the extra period was a free throw from Da'Shena Stevens and a layup from Joy McCorvey. The Seminoles didn't get much more -- baskets from Cierra Bravard and Monroe -- but that was enough to send Florida State to the Sweet 16. Monroe led FSU with 16 points, and Nadirah McKenith had 15 for St. John's.
Stevens missed a good look at game's end that could have won it. But instead, the Red Storm finished the season 25-7, intensely disappointed but with a lot to look forward to next season. Six of St. John's top eight players -- including this season's leading scorers Stevens and Shenneika Smith -- are returning.
March, 20, 2010
03/20/10
11:09
PM ET
Oklahoma State star Andrea Riley said after the Big 12 tournament -- during which she scored 112 points in three games -- that she had total faith that her teammates would win their first-round NCAA tournament game without her.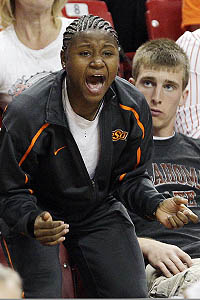 AP Photo/Ross D. FranklinOklahoma State won in the first round despite Andrea Riley -- who accounts for 36 percent of the Cowgirls' offense -- sitting out on a one-game suspension.
But during a first half in which the Cowgirls struggled mightily and trailed Chattanooga by 18 points, that faith had to have been tested. However, Oklahoma State had just as good a second half as it had a lousy first half. And Riley, the Cowgirl's leading scorer who was suspended for the first round because of a punch thrown in a 2008 Sweet 16 game, will not end her Oklahoma State career sitting in the stands.
That's where she was in Tempe, Ariz., on Saturday as No. 4 seed Oklahoma State rallied for a 70-63 victory over 13th-seeded Chattanooga.
In some ways, this game was like the Cowgirls' season -- some really down moments, but ultimately good stuff prevailing. Oklahoma State got pounded at Nebraska on Feb. 3 to start a five-game losing streak, which included what seemed like a season-killing three consecutive losses at home.
Then the Cowgirls were down to Texas in Stillwater, Okla., on Feb. 24, and it really appeared they were headed to the ocean floor. But … Oklahoma State rallied and won that game in overtime, and their only losses since have been to Oklahoma (in the regular-season finale and in the Big 12 semifinals).
During Oklahoma State's slump this season, coach Kurt Budke was frustrated with his seniors and said that freshman Toni Young was doing the best job of being a leader. Saturday, it was both senior Tegan Cunningham and the rookie Young who led the Cowgirls.
Young had her best game of the season, scoring 22 points on 9-of-14 shooting. Meanwhile, after a nightmarish shooting performance in the first half, Cunningham was terrific in the second half, finishing with 25 points.
But defense was also a critical part of the comeback, as the Cowgirls forced 23 turnovers from Chattanooga compared to committing just 10 themselves. Now, Riley will be back Monday night -- against either 5-seed Georgia or 12th-seeded Tulane -- for Oklahoma State in the second round.
Meanwhile, the other close game of the first evening session Saturday had the exact same score as Oklahoma State-Chattanooga. No. 8 seed Iowa beat No. 9 Rutgers 70-63 behind 18 points from Kachine Alexander.
The Hawkeyes had not won an NCAA tournament game since 2002, and they won this one against former Iowa coach C. Vivian Stringer, whose own up-and-down season came to an end.
But another Big East team, Georgetown, kept its season going. Playing in the program's first NCAA tournament game since 1993, the 5-seed Hoyas crunched No. 12 Marist 62-42. And the Big 12 tournament champion, No. 2 Texas A&M, got off to a strong start as the Aggies downed Portland State 84-53.
March, 20, 2010
03/20/10
5:32
PM ET
After a nearly three-decade wait to get into the women's NCAA tournament, the Dayton Flyers made the most of their first appearance.
In the most exciting finish of Day 1's eight afternoon games, the Flyers rallied to beat TCU 67-66 on redshirt freshman Brittany Wilson's putback with just more than one second left after a Dayton miss.
Dayton was the No. 8 seed and TCU No. 9, but the Frogs have far more NCAA tournament experience as a program (this was TCU's ninth appearance) than the Flyers. Which wouldn't really take much, since Dayton had never made the field before.
Coach Jim Jabir's Flyers had won at least 21 games in both of the past two seasons and came very close to making an NCAA breakthrough, but it didn't come until this year.
And what a memorable first game it was. Dayton trailed by eight points at halftime, and was down by 18 with just less than 14 minutes left. Thank you for showing up and good bye, Dayton, right?
[+] Enlarge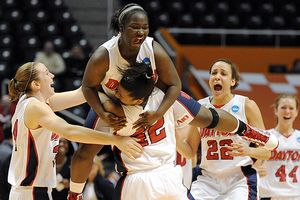 Don McPeak/US PresswireBrittany Wilson's last-second putback helped Dayton win its first NCAA tournament game.
Didn't turn out that way. Wilson started the rally with a jumper at the 13:36 mark, and then finished it with that last-second layup. Wilson had just six points in the game, but they were big. Senior Kendel Ross led Dayton with 17 points.
The Flyers' next assignment is, shall we say, even tougher: facing No. 1 seed Tennessee at Thompson-Boling Arena in Knoxville. Tennessee lost to an NCAA tournament first-timer last season, Ball State, but it's going to take nothing short of an astonishing effort by Dayton to replicate that Monday.
Also during the day's second set of games, Duke pounded No. 15 Hampton 72-37. The second-seeded Blue Devils, who have home-court advantage in the early rounds, should have a much harder game Monday at Cameron Indoor Stadium when they face LSU. Van Chancellor's squad had a so-so season in the SEC (9-7) but LSU is an athletic team that could give Duke's offense some problems.
Saturday afternoon's other games looked like they had upset potential for a while, but in both cases the favorites prevailed. Fourth-seeded Kentucky, the SEC runner-up, held off a Liberty program that knows something about beating big-conference schools, 83-76. SEC freshman of the year A'dia Mathies had a career-high 32 points to lead the Wildcats.
Kentucky, playing in Louisville, should almost feel like it has a home-court advantage against Michigan State in the second round Monday.
And in Tallahassee, Fla., Florida State will indeed have that edge, as the third-seeded Seminoles will face No. 6 St. John's next. Florida State had to scrap to beat Teresa Weatherspoon's No. 14 Louisiana Tech team 75-61 in Tech's return to the NCAA tournament after a three-year absence.