Category archive:

Kansas Jayhawks
March, 19, 2012
03/19/12
12:01
AM ET
You want to know just how much No. 11 seed Kansas' 57-49 victory over sixth-seeded Nebraska in the NCAA tournament's first round meant to the Jayhawks? A whole rock-chalking lot.
Exactly one month ago -- Feb. 18 -- the interview room at Kansas' Allen Fieldhouse was a depressing place to be for the home team.
The Jayhawks had just lost to archrival Missouri 70-65. It was the Tigers' first Big 12 victory and threw what KU coach Bonnie Henrickson called "a dagger" at the Jayhawks' NCAA tournament hopes.
Six days previously, the Jayhawks had lost their leading scorer, junior post Carolyn Davis, to a gruesome-looking ACL injury early in their game at Kansas State. After she went down, her cries echoed around a hushed Bramlage Coliseum.
And as Henrickson leaned over to console her, Davis kept saying, "I'm so sorry! I'm so sorry!" As if that dastardly ligament tearing -- as it does far too often in women's hoops -- had been her fault.
And there were the Jayhawks -- still battling for their first NCAA berth since 2000 -- letting a home game slip away to the last-place team in the Big 12. Just before tipoff of that Mizzou game, Davis had been in the team huddle and fell down, the injured knee giving way suddenly, as they sometimes do. She'd fallen to the court, in pain again.
In the postgame news conference, Henrickson struggled with her emotions in saying that the team had dealt with Davis' injury better than she had. Then senior Aisha Sutherland, trying to keep her composure talking about what looked to be the downward spiral of her final college season, dissolved into tears. And Sutherland is not the crying type.
[+] Enlarge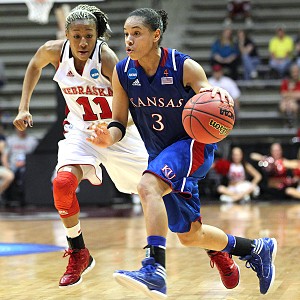 Nelson Chenault/US PresswireAngel Goodrich helped Kansas win its first NCAA tournament game since 1999.
Yeah, we told you it was depressing.
But another player, her composure unbroken, vowed that the Jayhawks were not going to give up and that they still had a chance to be an NCAA tournament team. That was junior point guard Angel Goodrich, who had been through two ACL injuries herself at KU.
Nothing came easily, though. Kansas did win its next game after the Missouri debacle, getting the program's first victory at Texas Tech since 1978. Goodrich broke the school's single-season assist record in that game.
After an expected loss to No. 1 Baylor, the Jayhawks came home to face Oklahoma State … and fell by three points. Now they really were sunk, right?
Nope, they went on the road again and won their regular-season finale, giving Henrickson her first victory over Oklahoma in her eight seasons at KU. After a respectable and hard-fought 78-63 loss to defending national champ Texas A&M in the Big 12 tournament quarterfinals, the Jayhawks were left to nervously watch the NCAA selection show to see if their roller-coaster season had been enough. And they erupted in joy when they found out it was.
All that puts into context what you saw Sunday, when KU downed familiar foe Nebraska, long a conference rival before the Huskers' move to the Big Ten this season.
The Huskers didn't have injured sophomore Jordan Hooper at full strength; she played 32 minutes but made just 4 of 18 shots. Point guard Lindsey Moore also struggled, going 5-of-21 from the field. As a team, the Huskers were 1-of-19 from behind the arc. Nebraska really didn't look like the same team that had played in the Big Ten tournament title game two weeks ago.
But credit Kansas for staying composed and holding onto a lead, something the Jayhawks have not been able to do enough over the past few years. Too many breakdowns at the ends of winnable games have cost the Jayhawks dearly, and kept them from making an NCAA appearance sooner than this.
However, despite those past disappointments, her knee problems, the injury to her close friend Davis, and the pressure of her first NCAA tournament game, Goodrich on Sunday showed why Henrickson has called her, "the most accountable kid I have ever coached."
Goodrich had a team-high 20 points and five assists. Even though she had six turnovers, the Jayhawks always feel better when the ball is in her hands for a lot of each possession. She makes things happen, including the driving basket and two free throws in the final 39 seconds that sealed this win for KU.
Sutherland had eight points and five rebounds, plus two blocked shots as her defense was important in clogging up Nebraska's attack. But the breakout star of the game was the youngster who is starting because of the injury to Davis: freshman Chelsea Gardner. Both are 6-foot-3 posts from Texas; Davis from Houston and Gardner from DeSoto. Gardner had career highs in both points (15) and rebounds (16) against the Huskers.
Kansas now will face No. 3 seed Delaware and sensation Elena Delle Donne for a trip to the Sweet 16, someplace the Jayhawks have not been since 1998.
And Goodrich's words on that bleak afternoon a month ago in Lawrence, Kan., are worth revisiting. Because it's those moments of resolve through the hardest times -- which most folks don't really see -- that are such a big part of what makes some athletes' journeys so inspiring.
"I feel like we can still pull it together," Goodrich said after the Mizzou loss. "That's the key thing right now for us: Just staying together as a team and continuing to get better. Even if you lose, just go out there and give it your all. Have no regrets. If we just do that, I'll be happy at the end of the day."
Sunday, she was very happy. She and the Jayhawks have, indeed, given it their all.
March, 11, 2012
03/11/12
7:18
PM ET
Some updates after Sunday's conference tournament games:
NOTABLE
• Delaware (Colonial) and Green Bay (Horizon) won their respective tournament championship games, removing any bid-stealing possibilities on the final day of conference tournaments.
• Creighton (Missouri Valley), Liberty (Big South) and Sacred Heart (Northeast) also held their spots in the field with tournament titles.
• Kentucky holds onto the final No. 2 seed. The Wildcats had more quality wins (11) than Miami (five) or Delaware (five), had a better SOS than both, and won a regular-season title in the second-rated conference.
• Texas remains the last team in. The Longhorns are no slam dunk, but the decision came down to fact they have more wins against other teams under at-large consideration (seven) than North Carolina (three), Michigan (four), Southern California (four), James Madison (one), Oklahoma State (five) and Kansas (six). Of course, there a number of other factors to consider, but this was the deciding measurement. Victories over Michigan State, California and Virginia were a collection of nonconference wins none of the other teams have.
LAST FOUR IN
Temple
Iowa State
Michigan State
Texas
FIRST FOUR OUT
North Carolina
Michigan
Southern California
Oklahoma State
NEXT FOUR OUT
Kansas
James Madison
Wake Forest
Arizona State
CONFERENCE BREAKDOWN
Big East (8)
SEC (8)
Big Ten (6)
Big 12 (6)
ACC (5)
Atlantic 10 (3)
Pac-12 (2)
WCC (2)
Sun Belt (2)
• Automatic qualifiers
• Saturday's update
• Friday's update
• Wednesday's update
• Tuesday's update
March, 11, 2012
03/11/12
12:10
AM ET
Some updates after Saturday's conference tournament games:
NOTABLE
• Eastern Michigan (MAC), Hampton (MEAC), UC Santa Barbara (Big West), Navy (Patriot), Idaho State (Big Sky), San Diego State (MWC), Albany (America East), Prairie View (SWAC), UTEP (C-USA), Fresno State (WAC), Stanford (Pac-12) and Baylor (Big 12) all earned automatic NCAA bids on Saturday.
• James Madison took itself out of at-large consideration with a loss in the CAA semifinals.
• Creighton replaced Missouri State as the MVC representative by beating the Lady Bears. The Bluejays meet Drake on Sunday for the MVC's only bid.
• Drexel and Detroit could steal bids on Sunday. Delaware (CAA) and Green Bay (Horizon), the favorites in the those respective games, would be at-large entrants.
LAST FOUR IN
Temple
Iowa State
Michigan State
Texas
FIRST FOUR OUT
North Carolina
Michigan
Southern California
Oklahoma State
NEXT FOUR OUT
Kansas
James Madison
Wake Forest
Arizona State
CONFERENCE BREAKDOWN
Big East (8)
SEC (8)
Big Ten (6)
Big 12 (6)
ACC (5)
Atlantic 10 (3)
Pac-12 (2)
WCC (2)
Sun Belt (2)
• Automatic qualifiers
• Friday's update
• Wednesday's update
• Tuesday's update
March, 9, 2012
03/09/12
11:07
PM ET
Some updates after Friday's conference tournament games:
NOTABLE
• Kansas State lost to Baylor in the Big 12 semifinals, but it doesn't affect the Wildcats' place in the field. They are No. 33 overall on the board, the first No. 9 seed.
• Iowa State, which lost to Kansas State in Thursday's Big 12 quarterfinals, remains among the last four in.
• Kansas, which lost to Texas A&M in the Big 12 quarterfinals Thursday, remains among the next four out.
• Texas A&M's win over Oklahoma in the Big 12 semifinals leaves both teams unchanged. The Aggies are a No. 4 seed playing in College Station. The Sooners are a No. 8 seed playing in Norman.
• Southern California lost to Washington State in the Pac-12 quarterfinals, which dropped the Trojans on the board and eliminates them from the field.
• Upsets in the Big West put UC Santa Barbara in as the conference representative for now.
• Bowling Green's loss in the MAC semis knocks out the Falcons. They are replaced by Eastern Michigan in the field as the No. 13 seed, still playing in Bowling Green.
LAST FOUR IN
Temple
Iowa State
Michigan State
Texas
FIRST FOUR OUT
North Carolina
Michigan
James Madison
Southern California
NEXT FOUR OUT
Oklahoma State
Kansas
Wake Forest
Arizona State
CONFERENCE BREAKDOWN
Big East (8)
SEC (8)
Big Ten (6)
Big 12 (6)
ACC (5)
Atlantic 10 (3)
Pac-12 (2)
WCC (2)
Sun Belt (2)
Arkansas-Little Rock (Sun Belt)
BYU (WCC)
Connecticut (Big East)
Florida Gulf Coast (Atlantic Sun)
Dayton (Atlantic 10)
Marist (MAAC)
Maryland (ACC)
McNeese State (Southland)
Princeton (Ivy)
Purdue (Big Ten)
Tennessee-Martin (OVC)
Tennessee (SEC)
Samford (Southern)
South Dakota State (Summit)
March, 7, 2012
03/07/12
11:07
PM ET
Some updates after Wednesday's conference tournament games:
NOTABLE
• Texas lost to Texas Tech, but stays in the field as the last team in, maintaining a slightly better overall profile than other bubble teams.
• Which teams could bump the Longhorns? With runs in their respective conference tournaments, Southern California (Pac-12), Kansas (Big 12) or James Madison (Colonial) are the teams to watch.
• A Delaware loss in the CAA tournament, or a Green Bay loss in the Horizon tournament, would also knock out Texas because those leagues would gain an at-large bid to go with the automatic berth.
• For historical perspective, Texas' 2011 team, with a less impressive profile than this edition of the Longhorns, received a No. 9 seed.
LAST FOUR IN
Temple
Iowa State
Michigan State
Texas
FIRST FOUR OUT
North Carolina
Southern California
Michigan
James Madison
NEXT FOUR OUT
Kansas
Oklahoma State
Wake Forest
Arizona State
CONFERENCE BREAKDOWN
Big East (8)
SEC (8)
Big Ten (6)
Big 12 (6)
ACC (5)
Atlantic 10 (3)
Pac-12 (2)
WCC (2)
Sun Belt (2)
Arkansas-Little Rock (Sun Belt)
BYU (WCC)
Connecticut (Big East)
Florida Gulf Coast (Atlantic Sun)
Dayton (Atlantic 10)
Marist (MAAC)
Maryland (ACC)
Princeton (Ivy)
Purdue (Big Ten)
Tennessee-Martin (OVC)
Tennessee (SEC)
Samford (Southern)
South Dakota State (Summit)
February, 12, 2012
02/12/12
7:27
PM ET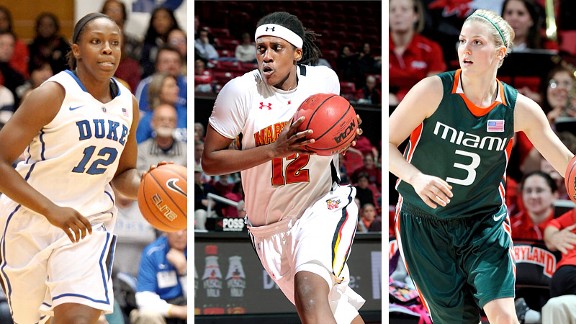 Getty ImagesTeams from the ACC -- Duke, Maryland and Miami -- have a hold on three of the No. 2 seeds.
One month from Monday we will know the field for the 2012 women's NCAA tournament, so Play 4Kay, which dominates the landscape of women's college basketball for these two days, not only serves as awareness for a great cause, it also marks the beginning of the final sprint in the selection process. Every game from here on out has ramifications for teams fighting for conference positioning, a place in the NCAA field, or a better seed. So which teams used Sunday to get out of the gates quickly for this final stretch, and which squads might now be running the race from behind?
Bracketology winners
West Virginia: The Mountaineers were the biggest winner Sunday and it wasn't even close. On the outside looking in most of the season, West Virginia was creeping closer to the field. Then with one tremendous, 40-minute effort at Notre Dame, Mike Carey's always hard-working team exploded into the field. West Virginia's 65-63 out-of-nowhere upset of the Irish was the biggest surprise of the season so far.
It's not as if the Mountaineers hadn't been making noise -- they had just beaten Louisville and won five of six games before arriving in South Bend. But Notre Dame has just been that good. St. John's 15-point loss was the closest anyone had come against the Irish since Jan. 7, and Notre Dame had gotten into a habit of rendering the outcome academic by halftime. West Virginia slowed down the Irish and then knocked them around. The deliberate, physical play wasn't to Notre Dame's liking, and West Virginia grabbed the win it needed, the same kind of victory every bubble team strives for this time of year.
Texas Tech: The Lady Raiders were fading and about to play themselves out of the field. The only wins they've managed since Jan. 7 were over lowly Missouri and even faster-fading Texas. Tech couldn't let Iowa State get of Lubbock with a win. It didn't, even on a day when the ball and the basket did not meet very often. Chynna Brown scored 19 points in her first start of the season and Texas Tech used defense and second-chance points to win 51-41. Nothing about the game looks that impressive, except the Lady Raiders had to have it. Why? Four of Tech's final six games are on the road and all except a visit from Texas on Wednesday are against teams ahead of Tech in the standings. The Lady Raiders survived as a winner this Sunday but might need to win on a few more Sundays before this race is over.
Miami: On a day when top scorers Shenise Johnson and Riquna Williams weren't shooting it all that well, and the Hurricanes got outrebounded by 10, Miami still managed to waltz into College Park and steal a win (and a season sweep) over Maryland. The outcome was huge for two reasons. By beating the Terps, Miami kept alive its hopes that the Feb. 24 game at Duke will mean something (that game will likely now be for the ACC regular-season championship). It also nearly assures that Miami will end up with a No. 2 seed in the NCAA tournament. Barring a few unforeseen results, it's extremely unlikely for other contenders -- Maryland, Texas A&M, Tennessee, Ohio State, Delaware or Georgetown -- to catch Miami. A loss on Sunday coupled with another to Duke, and the Hurricanes might have been vulnerable.
Bracketology losers
Kansas: While not officially part of the Play 4Kay lineup, Kansas versus Kansas State was one of the day's biggest games because it pitted two teams in a battle in the Big 12 standings and fighting to gain ground on the selection board. Just a few minutes into this rivalry game, however, the Jayhawks lost leading scorer and junior forward Carolyn Davis to a leg injury. If the injury is severe as it appears and Davis is lost, Kansas' outlook for the NCAA tournament changes. That puts more pressure on senior forward Aishah Sutherland, who was good (12 points, 17 rebounds) without her running mate against Kansas State -- but not good enough as the Wildcats won 47-43. The Jayhawks were on their way to a bid in their best season in a decade or so. But they don't appear to be good enough to survive the final six regular-season games without one of the nation's top post players.
Florida: This time of year is all about taking advantage of opportunity. Losing to South Carolina in a close game on the road by no means kills the Gators' chances of making the field, but winning a game like this would have vaulted Florida into a significant position of safety. But while the Gamecocks provided an open door, the Gators failed to walk through. Twice in the final minute South Carolina missed free throws, keeping it a one-possession game. But after one of those misses, Florida failed to secure the rebound. After the second, Florida got a great look at a 3-pointer that would have tied the score, but Lily Svete couldn't knock it down. The Gamecocks won by four, and Florida waved goodbye to an easier path to March.
Rutgers: The good news was that Khadijah Rushdan was back after missing three full games following a concussion, and led the Scarlet Knights in scoring. The bad news was the offense still sputtered and Rutgers lost to St. John's, the Scarlet Knights' fourth straight defeat. Once thought of as possibly the third-best team in the Big East and a possible No. 3 seed in the NCAA tournament, the Scarlet Knights are now in eighth place in the conference and fighting for a No. 5 or 6 seed. Sunday's game against St. John's was one of the final shots Rutgers had at a true résumé-worthy win, but once again, the shooting woes that early in the season looked to be a thing of the past were impossible to overcome. A trip to West Virginia is up next, and then it's a run of games that Rutgers should (and must) win to stabilize its tournament position. That was something a better showing against St. John's on Sunday could have done.
February, 6, 2010
02/06/10
12:17
AM ET
Friday marked our annual Women's Sports Awards Luncheon event in Kansas City. It benefits an organization called Win for K.C., a local incarnation of what the Women's Sports Foundation is nationally.
It's an inspiring, energy-charged event, and this year was especially a big deal, with women's sports legend Billie Jean King as keynote speaker. She started the WSF back in 1974, so this was her chance to see the microcosm of her life's work represented in this Midwestern community.
Among the award winners this year was a 73-year-old grandmother who has run 97 marathons. Yes -- 97! Her goal is to reach 100, although I seriously doubt she'll stop there. She has run a marathon in all 50 states and on all seven continents. And guess when she actually took up running? When she was 50.
I swear I'm not making up this stuff. Each luncheon, we hear stories like this, so it's always one of the best days of the year for me. Except …
This year, right as the luncheon was about to start, I saw a message on my BlackBerry that Kansas senior Danielle McCray had suffered an ACL injury and was out for the season.
I had to look at it three times to believe it. I kept thinking -- hoping? -- I was reading it wrong. You'd think after all the ACL injuries I've had to report about in 26 years of covering women's basketball, they would lose the power to upset me. But that isn't the case.
They still do. Some, though, hit harder than others. When they happen to someone whom you talked to on her first college media day, whom you've watched grow from a uncertain freshman to a confident senior, whom you've seen blossom into an excellent pro prospect and also a fine young woman … those hit really hard.
After the luncheon, I ran into former Kansas State players Danielle Zanotti and Marlies Gipson, who finished their careers last season and now are helping on Deb Patterson's staff. Even though Kansas and Kansas State are big rivals, rivalries go out the window when it comes to injuries, one of the unifying miseries of sports.
Zanotti looked stricken when I told her of McCray's ACL.
"Oh, God, no," she said. "I feel sick to my stomach. It's like Dietz."
She was referring to former teammate Kimberly Dietz, who suffered a torn ACL in the quarterfinals of the 2008 Big 12 tournament, in her senior season. All ACLs are awful, but they are most painful when they happen to a senior.
Kansas and Kansas State face off for the 100th time in series history Sunday in Lawrence. It's notable that both schools actually had varsity women's hoops programs before Title IX, starting them in the 1968-69 season.
Both have had sustained periods of success, but Kansas started a down cycle at the start of the last decade. The Jayhawks haven't been to the NCAA tournament since 2000, but this year was supposed to change all that.
With a team led by seniors McCray, the Big 12 preseason player of the year, and Sade Morris, plus redshirt freshman Angel Goodrich back from an ACL injury that delayed the start of her college career, Kansas was picked, in a tie with Texas, to finish second in the league by the coaches.
However, Goodrich suffered another ACL injury on Jan. 13 against Oklahoma State. Talking to McCray after that game, I was struck by her resolve and leadership. She immediately began bolstering the confidence of teammate LaChelda Jacobs, whom she knew would have to take on a bigger role with Goodrich out.
This was the player McCray had become in her time at Kansas. And that was quite a journey from the athletically gifted freshman who at times butted heads with coaches early on because she always wanted to know "why?" something was done a certain way. She wasn't obstinate, but she tended to be a bit stubborn and wary about things.
Her mother, though, told her, "You listen to your coaches," and McCray did. An excellent track and field athlete as well as a hoops player in high school, McCray had to reshape her body more toward basketball. She had to learn how to be a perimeter player. She had to realize that her teammates always followed her lead. She didn't "ask" to be the leader. But sometimes you don't choose that role. It chooses you.
KU coach Bonnie Henrickson worked with McCray though all of this. She was very confident that McCray had developed into an all-around star certain to be a WNBA first-round draft pick in April.
"What a phenomenal career she has had here," Henrickson said. "I've never had a kid who's wanted the ball in her hands and wanted to take the big shots at crunch time more than she did."
Unfortunately, Henrickson has to speak of McCray's KU career in the past tense now. On Thursday, during a simple practice drill in which McCray neither did a jump stop nor cut hard nor had any contact with anyone, she simply passed the ball and turned to run …
"And then there was the blood-curdling scream," Henrickson said. "It didn't buckle like you sometimes see. Plus, you look at the kid -- she's so strong, especially in the lower body. She said, 'Coach, I've done that [move] thousands of times.'"
Of course, we all know that's how it can be with ACL injuries. They're the perplexing, infuriating, heartbreaking, soul-shattering boogeyman of women's basketball.
The good news, since we always have to look for some, is that while she suffered an ACL tear, she did not sustain any other damage to her knee. When McCray heard that, she suggested trying to brace it and play through the rest of the season.
Henrickson, though admiring her resolve, told McCray that would not be in the best interest of her future.
"I have no doubt she's going to be drafted and she's going to be a good player at the next level," Henrickson said. "She'll get surgery, she'll rehab … this will make her even stronger. That's the big thing we communicated to her, 'Your basketball career is not over; there is still a lot left.'"
However, the 5-foot-11 McCray -- who was averaging 19.8 points and 7.2 rebounds -- won't get to play in her last Big 12 tournament, which is in K.C. She went to high school in nearby Olathe, Kan. And if the 13-7 Jayhawks can manage an NCAA tournament bid, she won't get to participate in the Big Dance.
The Jayhawks have the deepest team they've had since Henrickson has been at KU, so there are at least other talented players who now will have to do more. As a coach, Henrickson has to focus on that, although she admitted she had some depressed moments Friday, when she still had a hard time believing McCray's career as a Jayhawk was finished.
"It's such a horrible part of our profession," Henrickson said. "Every coach has had to deal with it. It's such a horrific injury for the kids, and then meeting with their parents and trying to be strong for them. You have to let them know how many kids have gotten hurt this way but continued on. But it's gut-wrenching to watch them go through it."
As women's basketball followers, we all feel that. I wish McCray's story was a rare one; unfortunately, it's not.
A ray of light? Hours after this happened to McCray on Thursday, Southern Cal's Jacki Gemelos -- who has been through four ACL surgeries -- made her long-awaited college debut. She had eight points and five assists in 28 minutes.
The ACL "club" is something no one wants to join, and it has far, far too many members. But it means McCray has a whole lot of great examples to follow.