Category archive:

Marist Red Foxes
March, 19, 2011
03/19/11
12:14
PM ET
There are times when you just kind of wonder if the NCAA selection committee really believes the seeds it gives out. As soon as this year's bracket came out, No. 10 seed Marist versus No. 7 seed Iowa State looked like an easy upset pick lit up in neon.
If you watched these two teams leading into the NCAA tournament, you probably thought these seeds should have been reversed. And that's exactly how the game played out at Duke's Cameron Indoor Stadium on Saturday.
The Red Foxes (31-2) were the team in control, and the Cyclones were the team that appeared to be trying to get the upset victory … and falling short 74-64.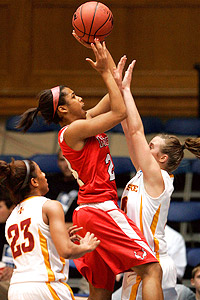 Mark Dolejs/US PresswireCorielle Yarde and Marist, winners of 27 straight games, won their NCAA opener for the first time in three years.
Marist came into NCAA play having won 26 in a row. Iowa State came in starting to leak oil after having lost to Missouri to end the regular season, struggling to beat Nebraska in the Big 12 tournament first round and then falling to Kansas State in the league quarterfinals.
Iowa State doubled up Kansas 72-36 on senior night in Ames, Iowa, on March 1. In retrospect, the Cyclones might have peaked that night as they honored the career of lone senior Kelsey Bolte, the team's leading scorer this season.
Iowa State went to the Elite Eight in 2009 and the Sweet 16 in 2010, losing to Stanford and UConn, respectively. But the loss of starting point guard Alison Lacey to graduation off last year's team left the Cyclones with a very young group that Bolte had to take care of.
She did an admirable job all the way through her final moments as a Cyclone, with 18 points, 7 rebounds and 5 assists. The best news of the day for Iowa State was the performance of 6-foot-7 sophomore center Anna Prins, who had 25 points and 11 rebounds. She's one of seven underclass players who'll return for the Cyclones.
If anyone wanted to put together a real-genius coaching clinic, a great duo to invite to be the headliners would be the two who faced off in this matchup. Iowa State's Bill Fennelly and Marist's Brian Giorgis both have built programs not with top-notch, All-American recruits, but with players whom they develop to excel in their systems.
All five Marist starters scored in double figures on Saturday -- led by Kate Oliver's 16 points -- and getting outrebounded 42-27 didn't bother the Red Foxes at all. However if Marist meets No. 2 seed Duke in the second round, the Blue Devils' defense will chase in a way Iowa State really couldn't.
Still, Marist has been to the Sweet 16 before, making it that far in 2007, so Giorgis knows the way.